---
3 Ingredient Microwave Fudge Variations – Quick and EASY Fudge Recipes ANYONE Can Make Even If You've Never Made Fudge Before!
When it comes to super simple desserts, these easy ingredient fudge recipes are at the top of my list since they have VERY few ingredients (these microwave fudge recipe variations only have TWO or THREE ingredients!)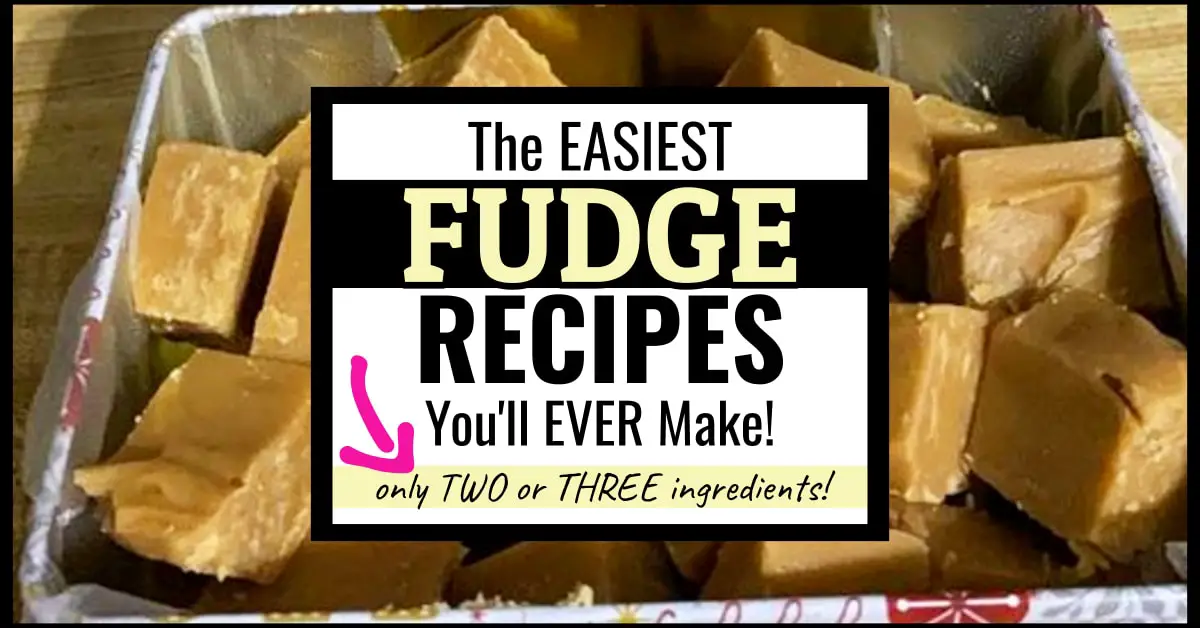 ---
Updated on October 5, 2022
posts may contain affiliate links -Enjoy and feel free to share with your friends!
---
I'm a HUGE fan of super simple sweet treats and desserts when I'm baking and cooking for a crowd or in large batches to give as homemade gifts. Let me share some of my favorite super simple and FAST fudge recipe variations with you – they're SO easy – you can even microwave them!
Every, single holiday party I go to, I am asked (ok, BEGGED) to bring at least one of these microwave fudge flavors below. I also give these as gifts for co-workers, family and friends over the holidays – and put a batch or two in my DIY sympathy baskets when visiting a grieving family (yes, these make great 'funeral food' ideas to take!).
Microwave Fudge Recipe Variations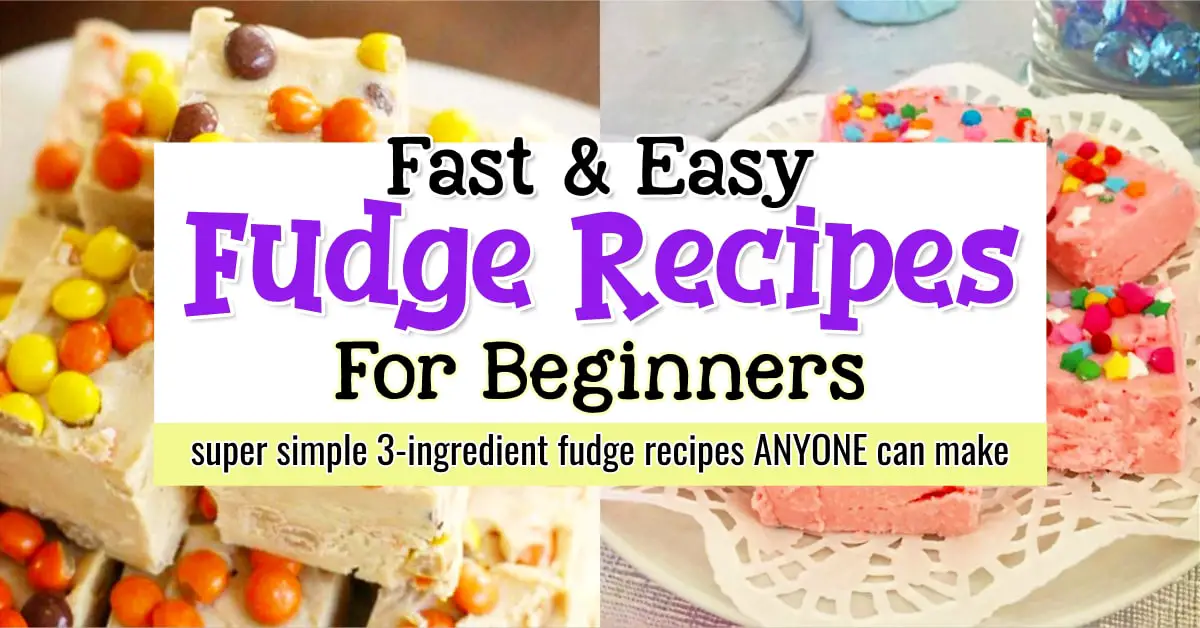 First time making fudge? You're gonna LOVE these simple 3 ingredient fudge recipes below.
Yummy and FAST – perfect, right?
Some of these easy fudge recipes below use condensed milk, some don't and instead, use another cheap grocery item (and it's kind of brilliant!). Each fudge recipe has the ingredients listed below it and an option to print the recipe.
Once you try any of the simple microwave fudge recipes, try it again with other flavors of candy or cookies or frosting – you can come up with the perfect fudge flavor combination that is YOUR signature fudge.
Enjoy!
FAST 2-Minute Microwave Fudge
You can make fudge in only TWO minutes?
Yes! You can! And this is the BEST fudge recipe for beginners – you have got to try it!
3-Ingredient Oreo Fudge
Just 3 simple ingredients in this super simple Oreo fudge recipe: Print the recipe
These are the only 3 ingredients in this Oreo fudge recipe – amazing and SO delicious!
3-Ingredient Mint Fudge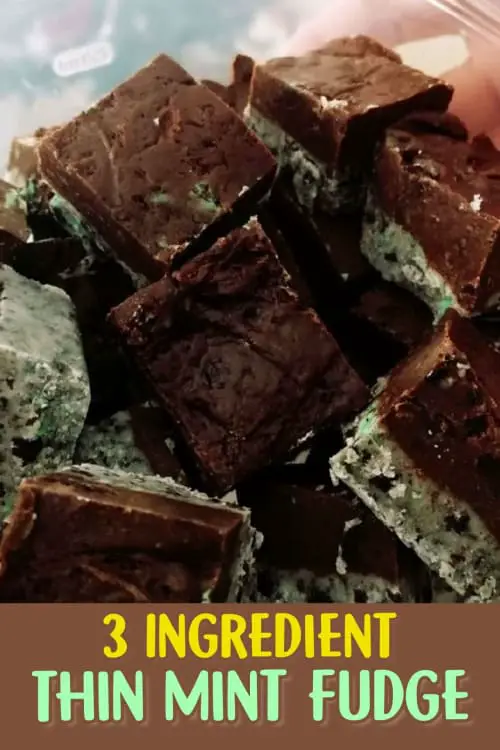 For a fun and tasty twist on the same Oreo fudge recipe above, just use the mint Oreo cookies and you'll have some super simple fudge that tastes just like those Thin Mints Girl Scout Cookies!
Don't like chocolate THAT much, use the vanilla Golden Oreos…. want to really be different? Try the red velvet Oreo Cookies.
Peanut Butter Cup Fudge
Just THREE simple ingredients in this EASY peanut butter cup microwave fudge recipe – and it is SO good!
3-Ingredient Reese's Fudge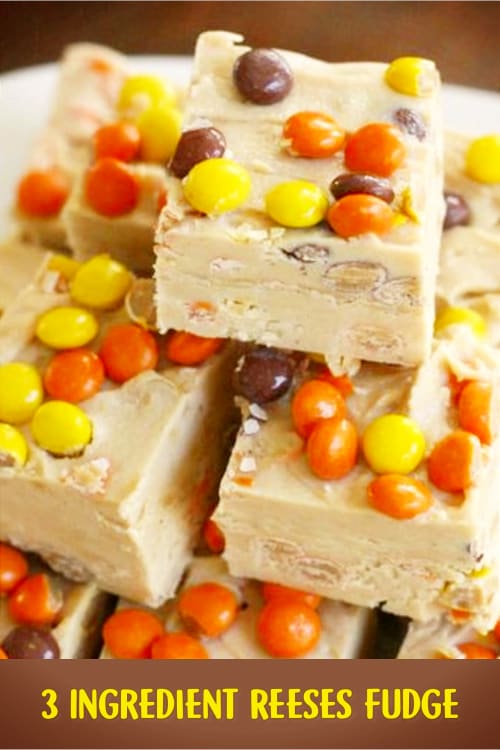 Now this easy-peasy 3 ingredient microwave fudge recipe does NOT use condensed milk – it uses a container of ready-made cake frosting instead. Clever, right?
Pink Frosting Unicorn Fudge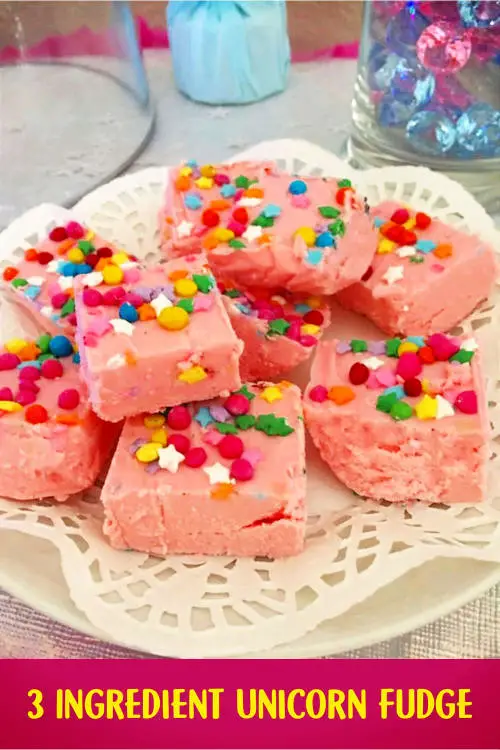 This needs to be added to our Unicorn Party Ideas page because this 3 ingredient Unicorn Fudge is so cute and perfect for a unicorn-themed birthday party. This super simple fudge is very sweet – but the kids love it! The kids also love to help make it, too!
Microwave Peanut Butter Fudge
This super simple peanut butter microwave fudge recipe has exactly THREE ingredients:
powdered sugar,
butter and
peanut butter.
That's right, NO condensed milk – or any sort of milk.
Just mix it together and throw it in the microwave – easy!
But be careful – this peanut butter fudge is addicting AND it's a serious crowd-pleaser – so be sure to make enough at your next family party or get-together so no one fights over it!
Easy 3-Ingredient Christmas Fudge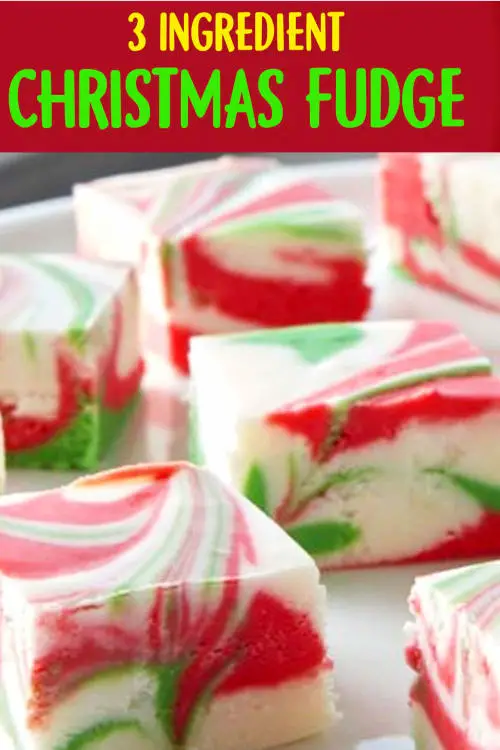 If you need an easy Holiday dessert or sweet treat to take to a holiday party, give as homemade Christmas gifts to friends, family, co-workers, neighbors, etc, this 3 ingredient Christmas fudge is exactly what you need. Print the recipe
Valentine's Fudge Candy Recipe
This pink Valentine's Day fudge recipe has only 3 ingredients (including the sprinkles) – it is super simple to make and soooooo good!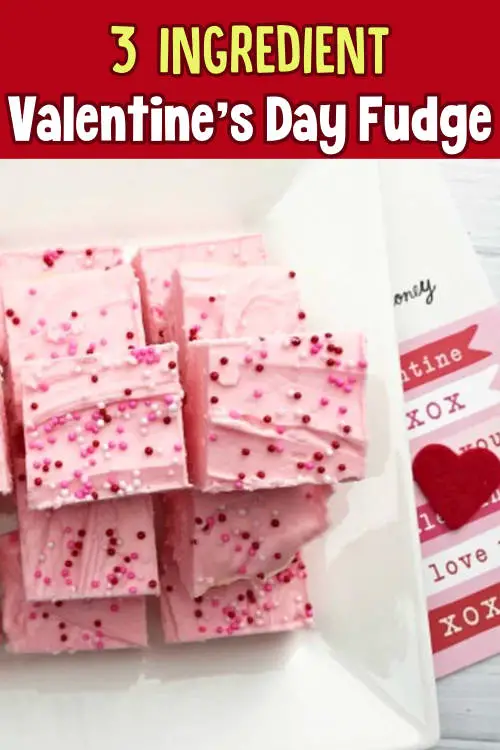 Low Calorie Chocolate Banana Fudge Recipe
It's hard to believe that a simple 3 ingredient fudge could actually be low calorie, let alone GOOD for you, but this Chocolate Banana "Fro Yo" fudge is!
There's only THREE ingredients to this frozen "fudge" recipe too:
Yogurt, Banana, Cocoa
Yep, that's it!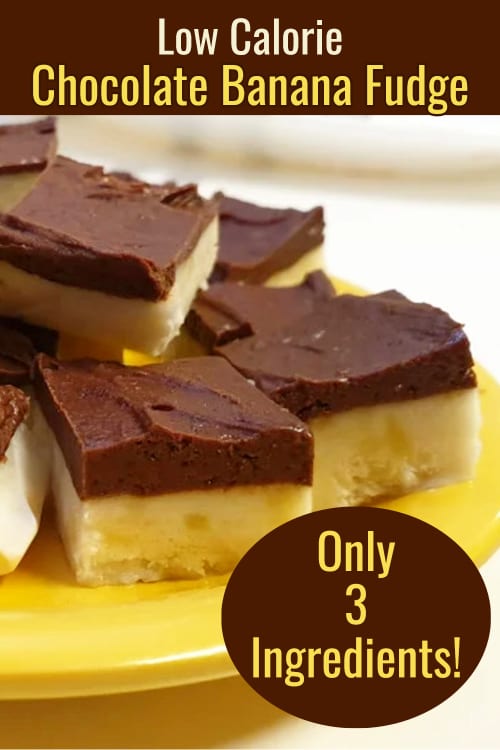 And they are SOOOOOO very good (the kids love 'em too!)
I found the recipe here on Reddit.
Fast Peanut Butter Fudge Recipe
Here's one last SUPER simple peanut butter fudge recipe, but it has 4 ingredients and is made WITHOUT condensed milk.
You can click the recipe picture to see more easy Christmas desserts that I make to take to parties (serious crowd-pleasers!)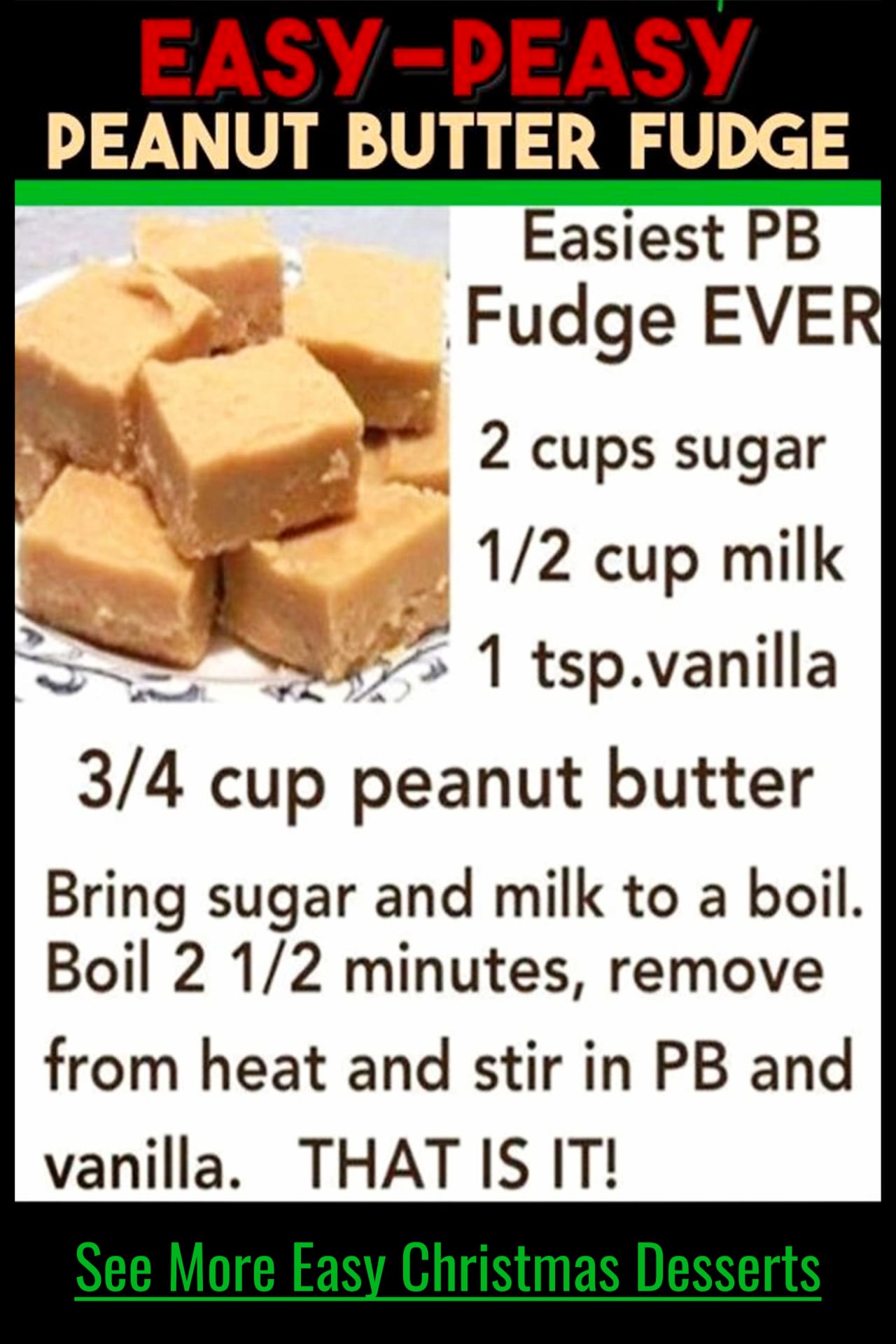 ---