---
Fall Front Porch Decorating Ideas We LOVE!
Looking for a cheap, simple and GORGEOUS Fall decor idea for your front porch? Take a look at this super pretty idea for your porch this Autumn. It's really easy to do – we'll show you where to find everything you need and how to recreate it.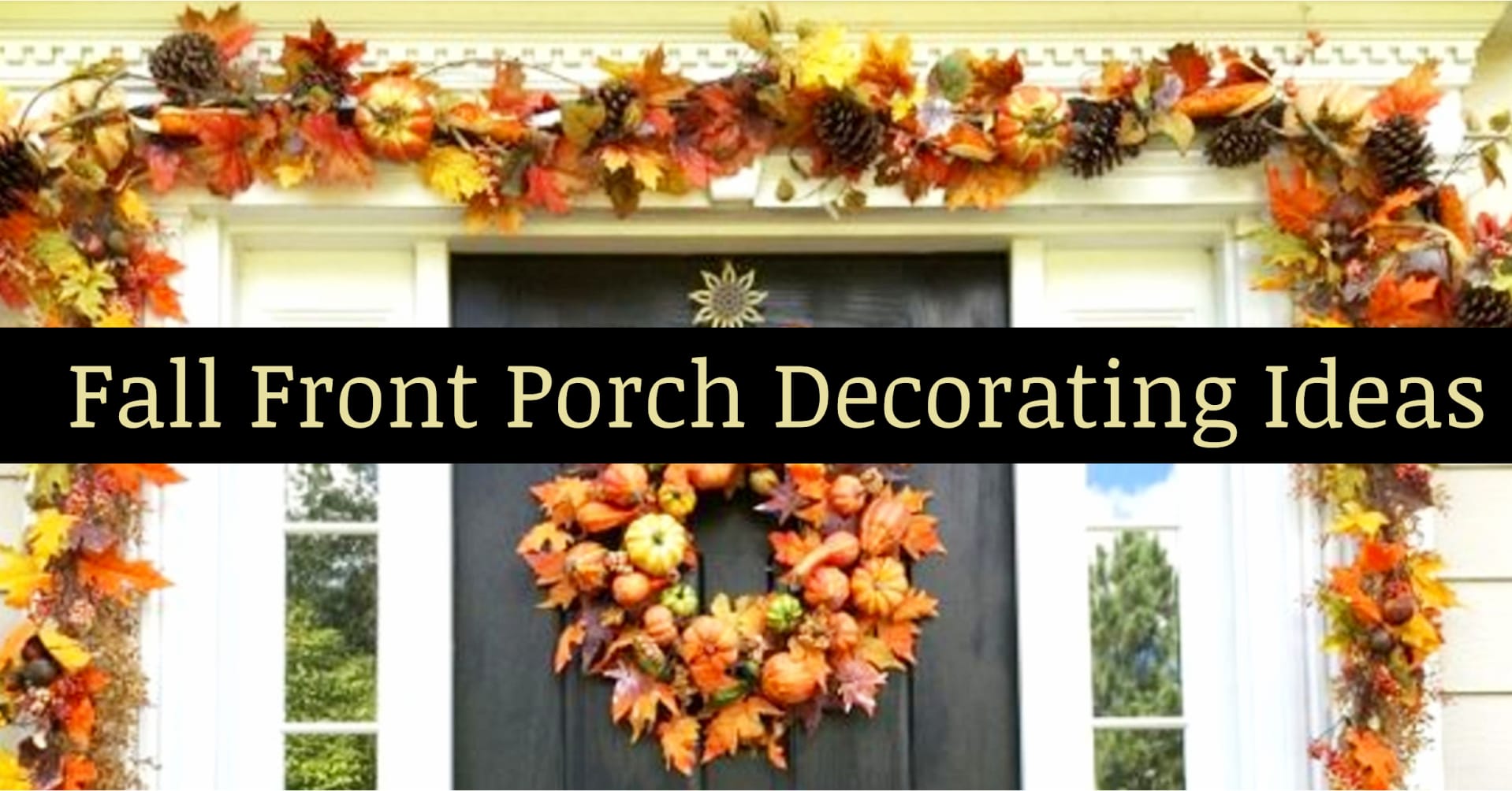 ---
Updated on August 10, 2019
posts may contain affiliate links -Enjoy and feel free to share with your friends!
---
Love this DIY Fall front porch decorating idea?
Want to recreate the look for YOUR front porch?
==> Here is where I found each item to recreate this look at YOUR house.
Don't you just HATE finding a great decorating idea picture on Pinterest and no one says WHERE to find the things IN the picture?
Me too!
I recently found this picture and loved the idea for MY front porch this Fall – but it took me forever to FIND each thing to copy that look at home.
See how pretty it is?
The page it linked to was NO help at all – just a picture of an idea – oh, that drives me nuts.
Who has time to go from store to store HOPING to find each item to make your front porch look this good for Fall?
Not me!
I want everything I need in one nice, neat list – then have it all sent TO me so I can decorate all at one time… and be done.
So, I put a list together for myself that has all the things in that picture.
==>> Here's my shopping list for all the decor items in the picture
I found the exact fall wreath in the picture (and it has lights!)
I think it's so pretty – the picture really doesn't do it justice.
Amazon has a LOT of gorgeous Fall wreaths for your front door here – I had a tough time deciding!
I LOVE sunflowers and when I found THIS wreath, I almost went with it – so pretty!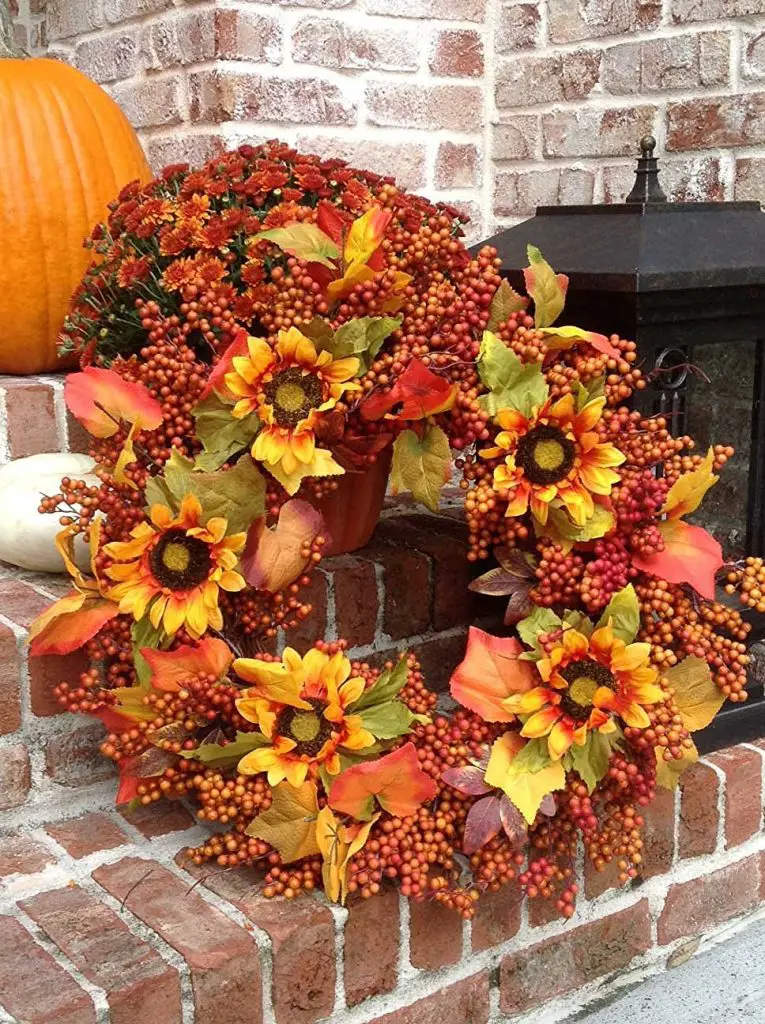 I found the sunflower Fall wreath here.
I did decide to make one little change for MY front door Fall look…
In the picture, you see the 3 stacking pumpkin gourd things on top of each planter?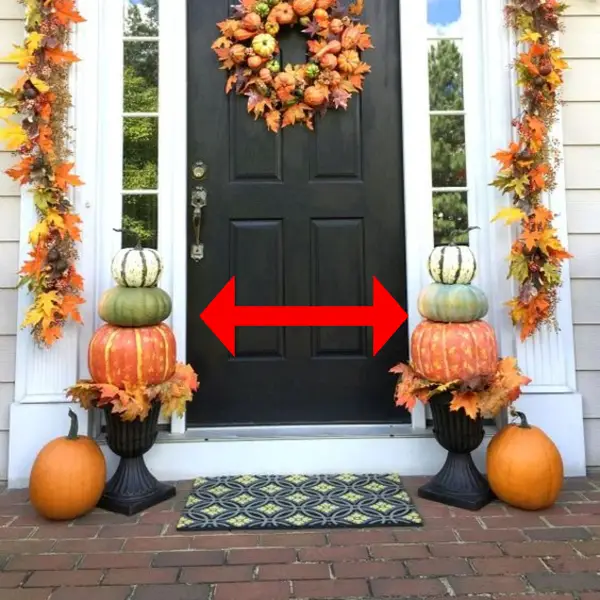 I decided to go with this 3 stacking pumpkins idea instead – it matches my house better.
Now, I know I COULD go get some real pumpkins and stack them…. but I know me and my lack of craftiness, I would never be able to get them to stack pretty AND look balanced on each side.
In short, it would drive me nuts and I'd feel compelled to try and fix it every, single time I looked at it!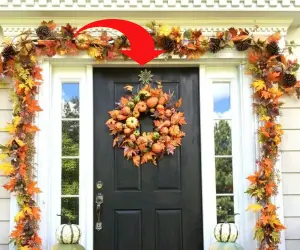 Oh, and did you see the wreath hanger on the door? I love it!
So much prettier than just a plain ol' cheap wreath hanger, don't you think?
For that, I chose this adjustable wreath hanger that has interchangeable icon things (has 4 of them that you can change out).
I want, and NEED, an adjustable wreath hanger because all the wreaths I put on my front door throughout the year are different sizes and need to be hung at different heights to look good.
How about that rug in the picture? Do you like it?
At first I thought, a BLUE rug? for a FALL porch?
But the more I looked at it, the more I really liked it.
Only thing is, the rug in the picture is an indoor rug. If your front porch is covered, it might be ok if it's only out there during the Fall.
But, if the rug will get any rain or weather on it at all, you need a real outdoor rug.
I picked this rug that is really close to the one in the picture… do you like it?
Anyway, that's how I recreated this Fall decor idea for me front door.
Here's the full list of everything I got (including the hangers for the garland)
And if you're a BIG fan of Fall like I am…
You HAVE to get these Fall candles!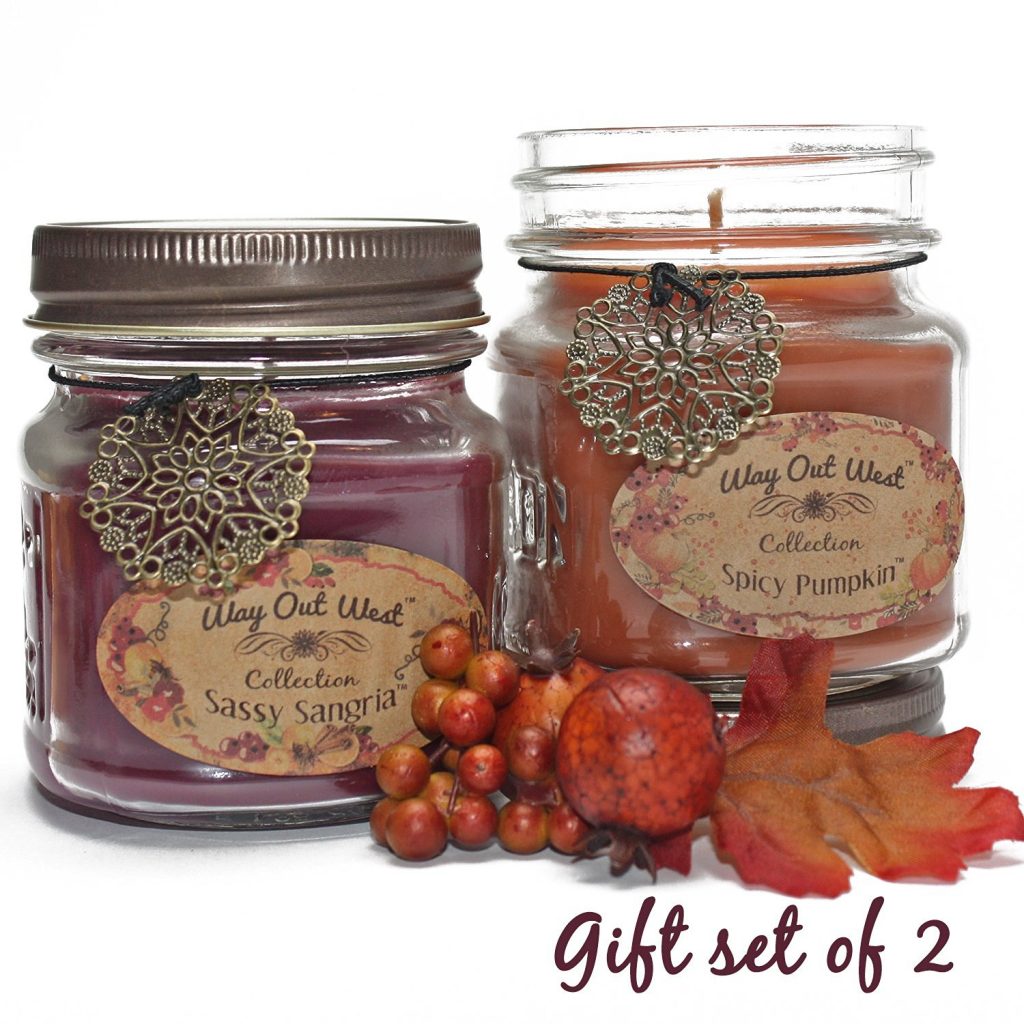 They are fabulous!
I found the Fall candles here.
Not only do they smell fantastic, but they are very pretty to look at.
---
---