---
Need hamburger meat recipes for a cheap easy dinner tonight? Below is the ultimate list of EASY ground beef dinner recipes for cheap, easy and FAST meals…
Need some dinner ideas with ground beef? Try these quick easy meals with cheap hamburger meat, leftover taco meat or leftover ground beef. Simple healthy casseroles, fast low carb tacos, crockpot soups, comfort food pasta noodles, air fryer burgers, Mexican pizzas, wraps, quick one pot ground beef skillets for two and frugal family weeknight ground beef meals on a budget.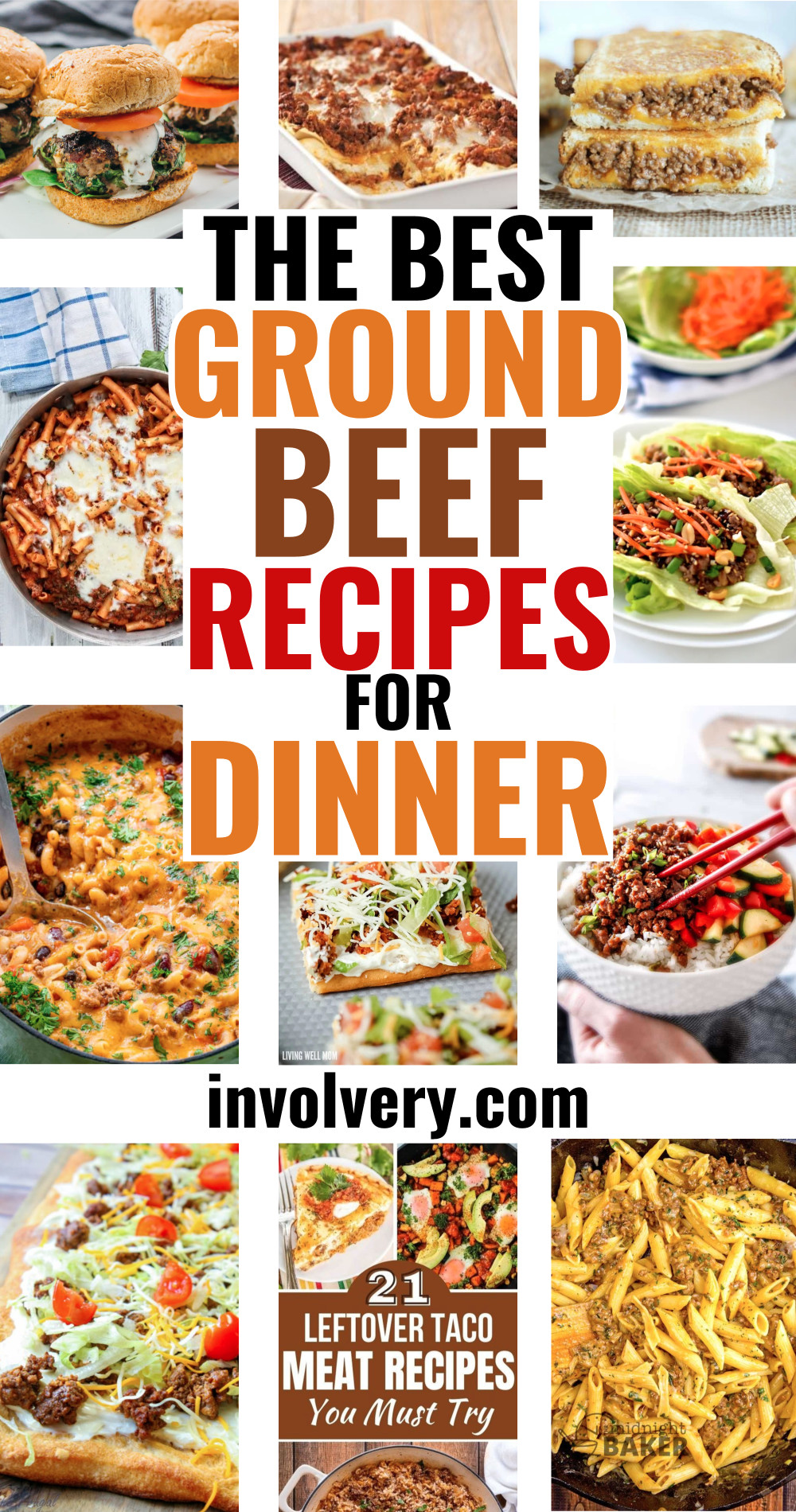 ---
Updated on September 26, 2023
posts may contain affiliate links -Enjoy and feel free to share with your friends!
---
Quick and Cheap Ground Beef Meals
Let's fill up your recipe book some some family favorite ground beef dinner recipes. Whether you're cooking for two and eating healthy or need a large family meal that is quick and cheap to make, you are sure to find a LOT of dinner recipes and easy meals all made with ground beef.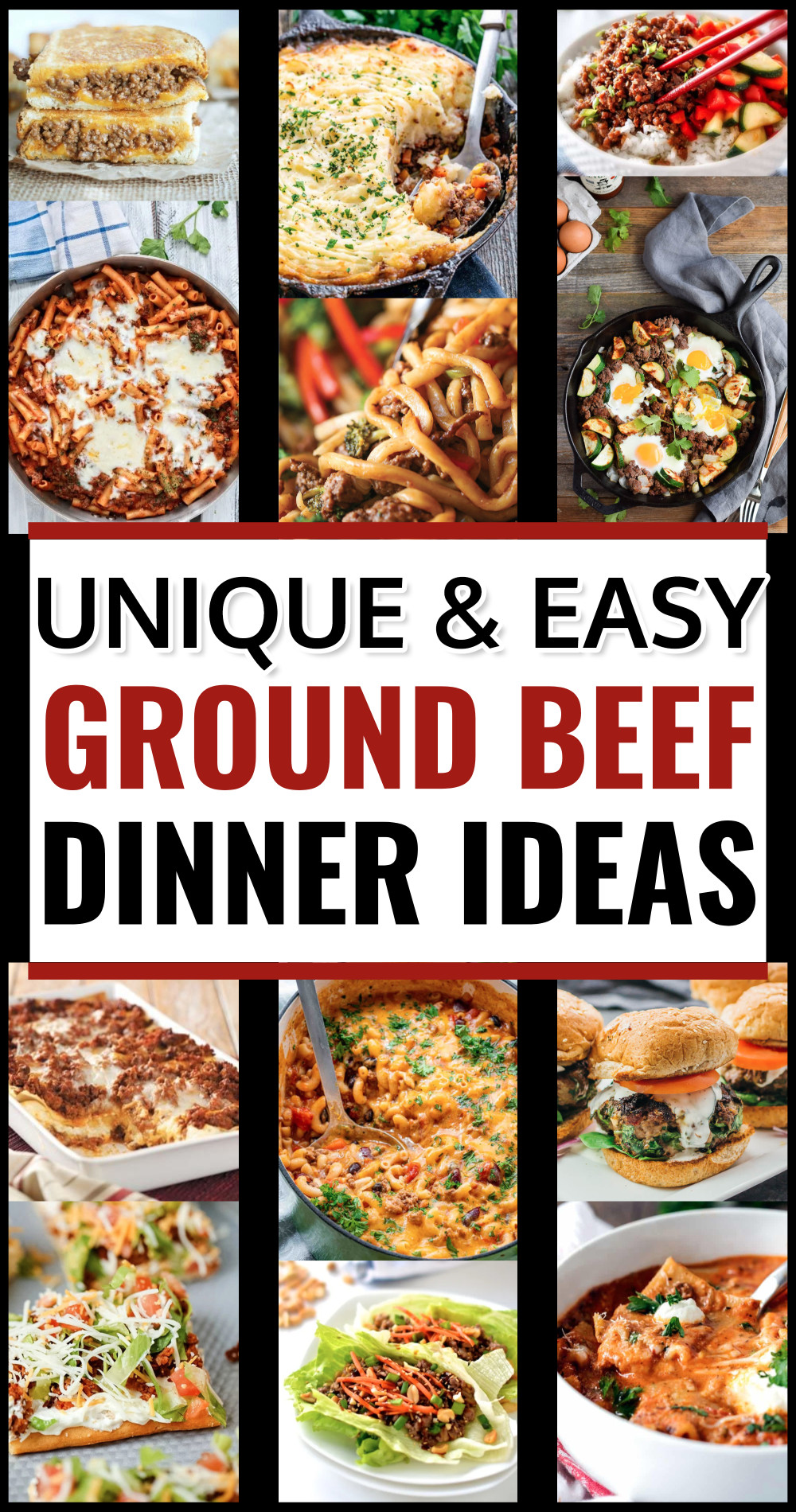 Here are some quick and cheap dinner ideas that you can make with one pound of ground beef (from the pictures above):
– One Skillet Baked Ziti: Toss the whole skillet into the oven for an extra-cheesy baked pasta recipe the whole family will love. Get the recipe here.
– Sheet Pan Beef Nachos: You can make these nachos on a single sheet pan so there's virtually no mess. Oh, and they take 30 minutes from start to finish. Get the recipe here.
– Taco Grilled Cheese: Best Loaded Grilled Cheese Sandwiches that your family will go CRAZY for. Deliciously yummy, cheesy goodness for kids and adults alike – our favorite is the taco grilled cheese Get the recipes here.
– 15 Minute Zucchini Beef Skillet: 6 ingredients. One-pan. 15-MINUTES. HELLLLO easy skillet meal loaded with all the healthy things. Perfect for breakfast, lunch, or dinner. Get the recipe here.
– Ground Beef Empanadas: Made with puff pastry dough, and filled with a ground beef and olives mixture, these empanadas are quick to prepare, and they're absolutely delicious. Get the recipe here.
– Korean Beef Bowls with Veggies: These Korean Beef Bowls are made with lean ground beef, smothered in an irresistible sweet, savory, spicy Korean BBQ sauce, with stir fried veggies and steamed rice. They are a meal-in-one and one of the easiest dinners you will ever make. Get the recipe here.
– Skillet Shepherd's Pie: This Skillet Shepherd's Pie recipe, also known as cottage pie, is loaded with flavorful beef and veggies, topped with fluffy and creamy mashed potatoes, then baked to perfection. Get the recipe here.
– Mexican Beef Bowls: The base of these filling bowls is made of rice and ground beef, but the best part is that you can mix and max any of your favorite Tex-Mex toppings like tortilla strips, avocado, pico de gallo, and jalapeño. Get the recipe here.
– Greek Burgers with Spinach, Feta, and Sun-Dried Tomatoes: These flavor-packed Greek burgers are made using ground beef mixed with fresh spinach, feta cheese, and sun-dried tomatoes. After grilling or pan-searing the burgers, they're drizzled with tzatziki sauce and served with fresh toppings on a toasted bun. Get the recipe here.
– One Pot Chili Mac and Cheese: This Chili Mac and Cheese is two great comfort foods all in one! Delicious and hearty, quick and comforting, perfect dinner for back to school and ready in under 30 minutes and in just one pot. Get the recipe here.
– Healthy Asian Lettuce Wraps: If lettuce wraps aren't filling enough, you could also serve this stir-fry Asian beef like mu-shu beef in flour tortillas or piled high with veggies over rice. Get the recipe here.
– Easy Taco Pizza: this delicious taco pizza is made with a crescent roll crust and simple ingredients. It's fast and easy too; you can whip up this quick dinner ideain 30 minutes or less. Get the recipe here.
– One Pot Lasagna Soup: This One Pot Lasagna Soup recipe can't get any easier or more delicious! It boasts layers of cheesy noodles smothered in rich marinara infused with garlic, onion and Italian spices all smothered Parmesan, mozzarella and ricotta. Get the recipe here.
– Ground Beef Noodle Stir-Fry: This simple stir-fry sauce made with soy sauce, rice wine vinegar, brown sugar, garlic, ginger, sesame oil, and sriracha would take any weeknight dinner to the next level. Get the recipe here.
– Traditional Lasagna: This classic lasagna recipe is requested often by my sister's Italian in-laws—I consider that the highest compliment. Get the recipe here.
7 Easy Dinners With Ground Beef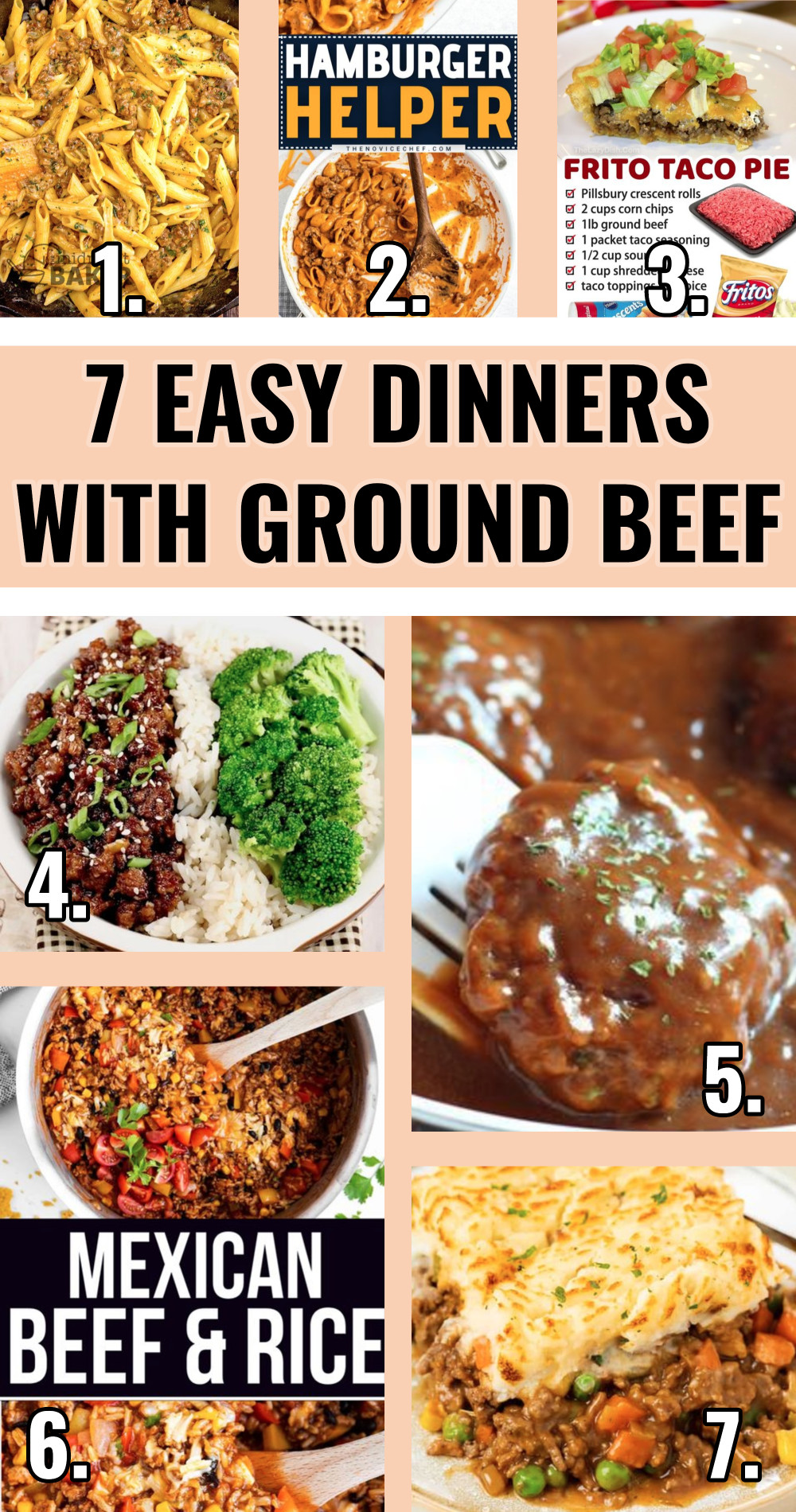 1 – Cheesy Ground Beef Pasta Skillet – Delicious ground beef, cheese and pasta dinner the whole family will love–even the pickiest eater will ask for seconds when you make this. Get the recipe.
2 – Homemade Hamburger Helper – This easy weeknight dinner is sure to become a favorite! Kids just love this Homemade Hamburger Helper that combines pasta and ground beef in a creamy tomato and… read more
3 – Frito Taco Pie – This fun twist on tacos is made with a crescent dough crust filled with taco seasoned ground beef, shredded cheese, corn chips, and sour cream, then topped with your favorite fresh produce such as lettuce, tomato and avocado. Print the recipe
4 – Easy Korean Ground Beef and Broccoli – Easy Korean Ground Beef and Broccoli is a delicious meal that comes together in about 30 minutes! Great flavors that the whole family can agree on. See the recipe
5 – Salisbury Steak with Brown Gravy – This easy Salisbury Steak recipe is classic comfort food like your mom used to make. It's perfectly seasoned beef patties served with a rich brown gravy. See the recipe
6 – One Pot Mexican Beef and Rice Skillet – This Mexican Beef and Rice Skillet is an easy weeknight dinner – all cooked in one pot. See this recipe.
7 – Easy Shepherd's Pie – This Easy Shepherd's Pie recipe is made with ground beef, brown gravy, and frozen vegetables in less than 30 minutes on the stove top… read more
Dump and Go Ground Beef Crockpot Dinners
1 – Crockpot Spaghetti Casserole – Crock Pot Spaghetti Casserole is even easier to make than the traditional method. And fewer dishes to wash. Simply brown the beef, drain and throw all of the ingredients into your slow cooker. See the full recipe.
2 – Slow Cooker Meatloaf – With this Slow Cooker Meatloaf, you can whip up the classic comfort of meatloaf with slow cooker convenience. See the recipe.
3 – ✅ Dump n' Go Hamburger Vegetable Soup – the easiest crockpot soup with ground beef EVER! Just dump the few ingredients into your slow cooker and walk away. Dinner is ready when YOU are! See the soup recipe here.
4 – Ground Beef Stew – This ground beef stew can be made in the instant pot, crockpot, or on the stove for dinner. See the recipe.
7 Easy Recipes With Hamburger Meat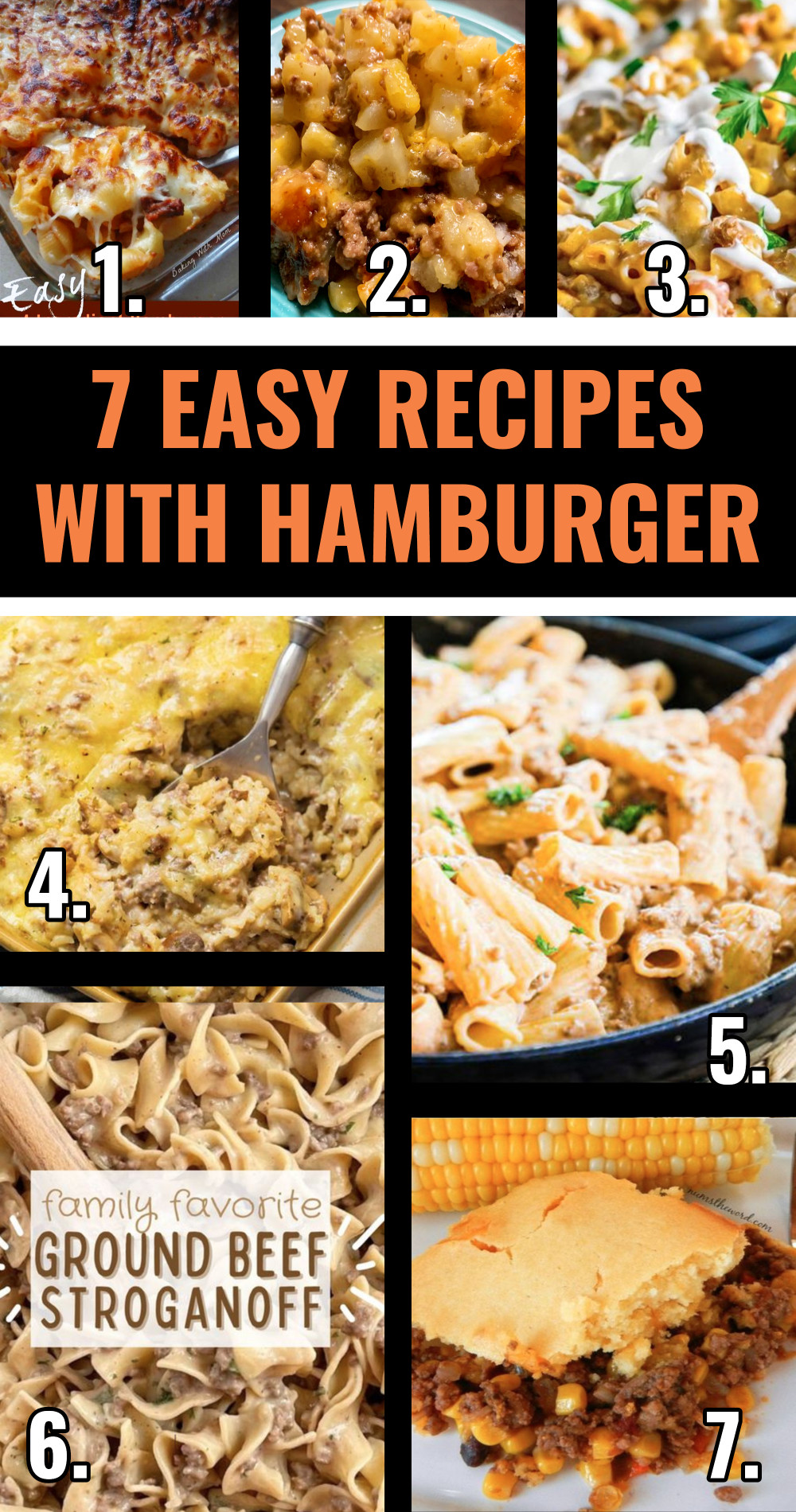 1 – Hamburger Casserole – This hamburger casserole is made of easy ingredients tomato soup, hamburger and noodles. Melted cheese makes this casserole a favorite. See the recipe.
2 – 5-Ingredient Ground Beef Casserole – This 5-Ingredient Ground Beef Casserole is a budget-friendly and simple dinner for the entire family. See the recipe.
3 – One Pan Cheesy Taco Skillet – An easy taco skillet that's like a gourmet version of Hamburger Helper. Perfect to make on busy weeknights. Plus, you can make it as spicy (or not) as you want. See the recipe.
4 – Ground Beef and Rice Casserole – This Cheesy Ground Beef and Rice Casserole is easy to make with pantry ingredients like cream of mushroom soup. Your family will LOVE this quick dinner recipe. See this recipe.
5 – Cheeseburger Pasta – This Cheeseburger Pasta is a family friendly pasta recipe that has everyone asking for seconds! Made in one-pot with minutes of prep it's perfect for busy nights. See this recipe.
6 – Easy Ground Beef Stroganoff Recipe – Ground Beef Stroganoff is an easy dinner that's simple to make with shortcut ingredients like a gravy packet and cream of mushroom soup. Find the recipe here.
7 – Easy Tex Mex Bake – This Easy Tex Mex Casserole is full of flavorful ground beef topped with corn bread & makes an easy casserole even the kids will love… continue reading.
Air Fryer Ground Beef Recipes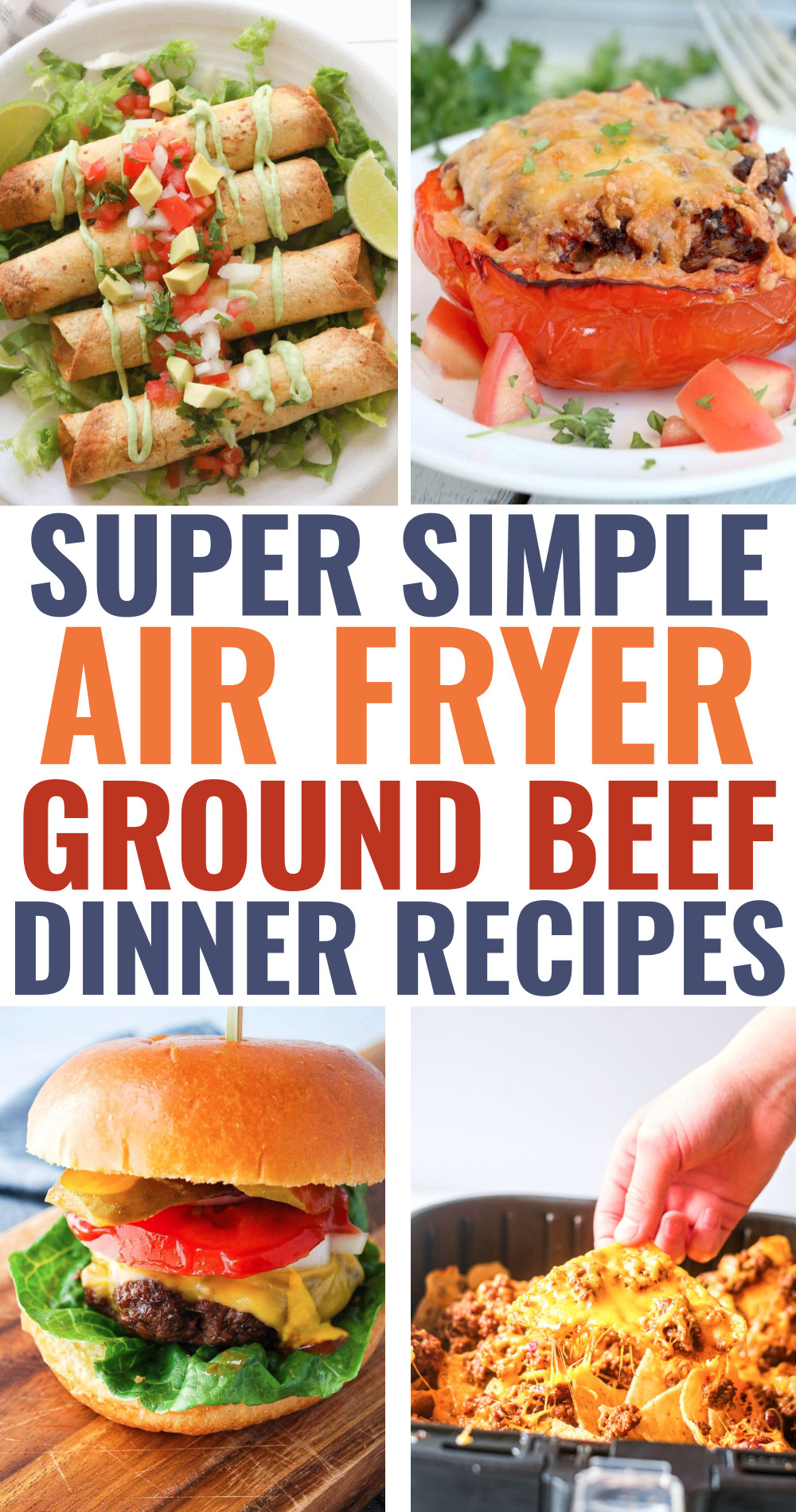 1 – Air Fryer Beef Taquitos – Easy and healthy air fryer beef taquitos in under 30 minutes. These taco-seasoned ground beef with cheese rolled in a corn and flour blend tortilla are super tasty and crunchy. See the recipe.
2 – Best Air Fryer Stuffed Peppers – These air fryer stuffed peppers are so good. Using hamburger meat or spicy ground sausage you'll love them too. See the recipe.
3 – Juicy Air Fryer Hamburgers – Say goodbye to dry burgers! These step-by-step instructions will show you how to make juicy hamburgers in your air fryer or Ninja Foodi in 15 minutes or less with only 3 ingredients. See the recipe.
4 – Air Fryer Chili Beef Nachos – This really easy Air Fryer Nachos dish is a delicious southwestern meal the whole family will love. Even better is the fact they are made with leftover pantry staples, and cook in less than 5 minutes with minimal prep work. See the recipe.
Leftover Ground Beef Recipes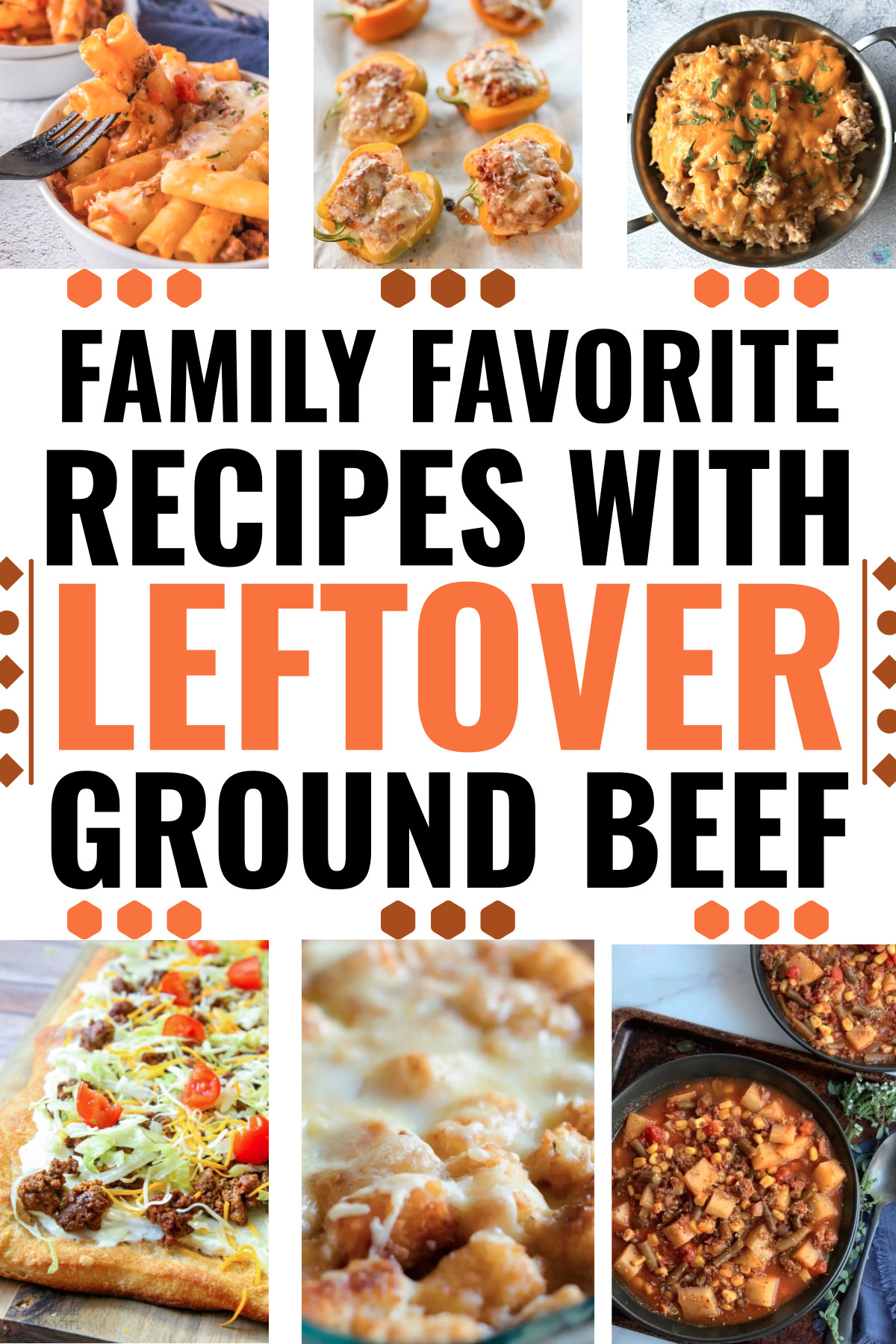 1 – Easy Baked Ziti – This Easy Baked Ziti pasta with its rich tomato-meat sauce and gooey cheese will make you feel like an expert in the kitchen. It's super comforting American-Italian food that everyone will love! It's easy to make and is even better the second day! See the recipe here.
2 – How To Make Smoked Stuffed Peppers – These stuffed bell peppers are made with seasoned ground beef, hearty rice, and healthy cabbage, and topped with a layer of melty cheese. See the recipe.
3 – Slow Cooker Hamburger Hash – Slow cooker hamburger hash is a decadent mash-up of ground beef and shredded potatoes covered in cheesy goodness. This easy, budget-friendly dish is picky-eater approved and will disappear fast. See the recipe.
4 – Easy Homemade Taco Pizza Recipe – Have you ever heard of a taco pizza? It's a pizza but without the sauce and with taco toppings. It's made a bit different but when you look at it it looks like a pizza and it's eaten like a pizza but it tastes like a taco… read more
5 – Ground Beef and Cheese Tater Tot Casserole – Tater tot fans will LOVE this beef and cheese tater tot casserole that's packed with spices, homemade cream sauce, cheese, beef and tater tots! Indulge in a comfort food ,family-style casserole. See the recipe.
6 – Cowboy Hamburger Soup – his easy homemade Cowboy Hamburger Soup recipe is just that, flat out easy. See the recipe.
Leftover Taco Meat Recipes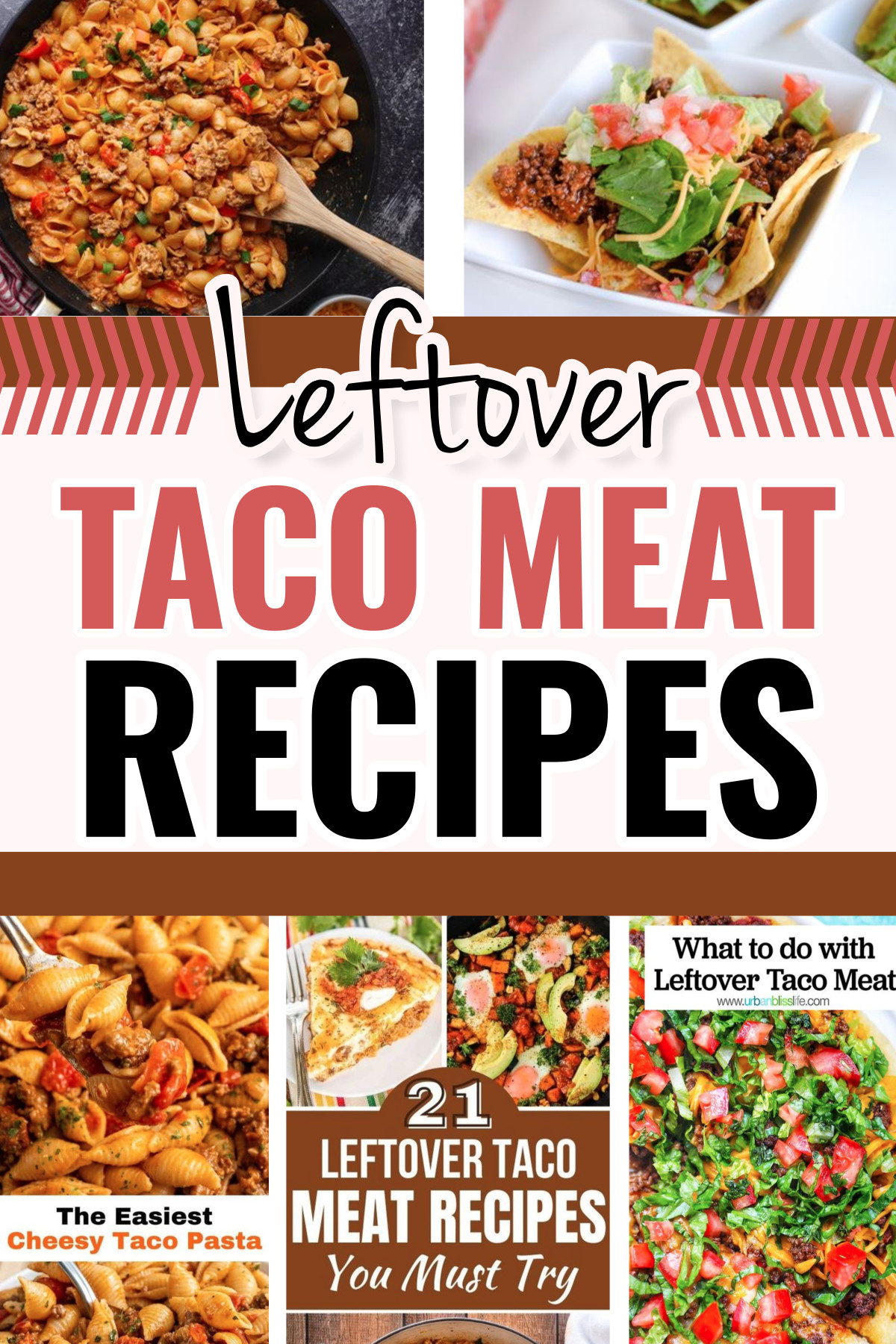 1 – Easy & Delicious Creamy Taco Pasta – This creamy taco pasta comes together in just 30 minutes and can easily be made from scratch or by using leftover taco meat… continue reading.
2 – 30+ Ways: What to do with Leftover Taco Meat – A great list of what to do with leftover taco meat: It can be handy to use it in other dishes or dinner ideas instead of throwing it away… see the list here.
3 – Cheesy Taco Pasta – This leftover taco meat recipe is delicious. The sauce is like a Mexican bolognese. Instead of using Parmesan and Italian spices, this taco pasta casserole is infused with leftover taco meat and gooey cheddar. See the recipe.
4 – 21 Easy Leftover Taco Meat Recipes You Must Try – If you are looking for some taco recipes to change your mood and weekly nightly, these amazing leftover taco meat recipes are best for lunch or dinners for your whole family. See the list of recipes.
5 – What to do with Leftover Taco Meat – From Taco Pizza to Taco Mac & Cheese to Taco Salad, here are some of our favorite ideas for What to Do with Leftover Taco Meat. See the full list here.
Baked Pasta Ground Beef Casseroles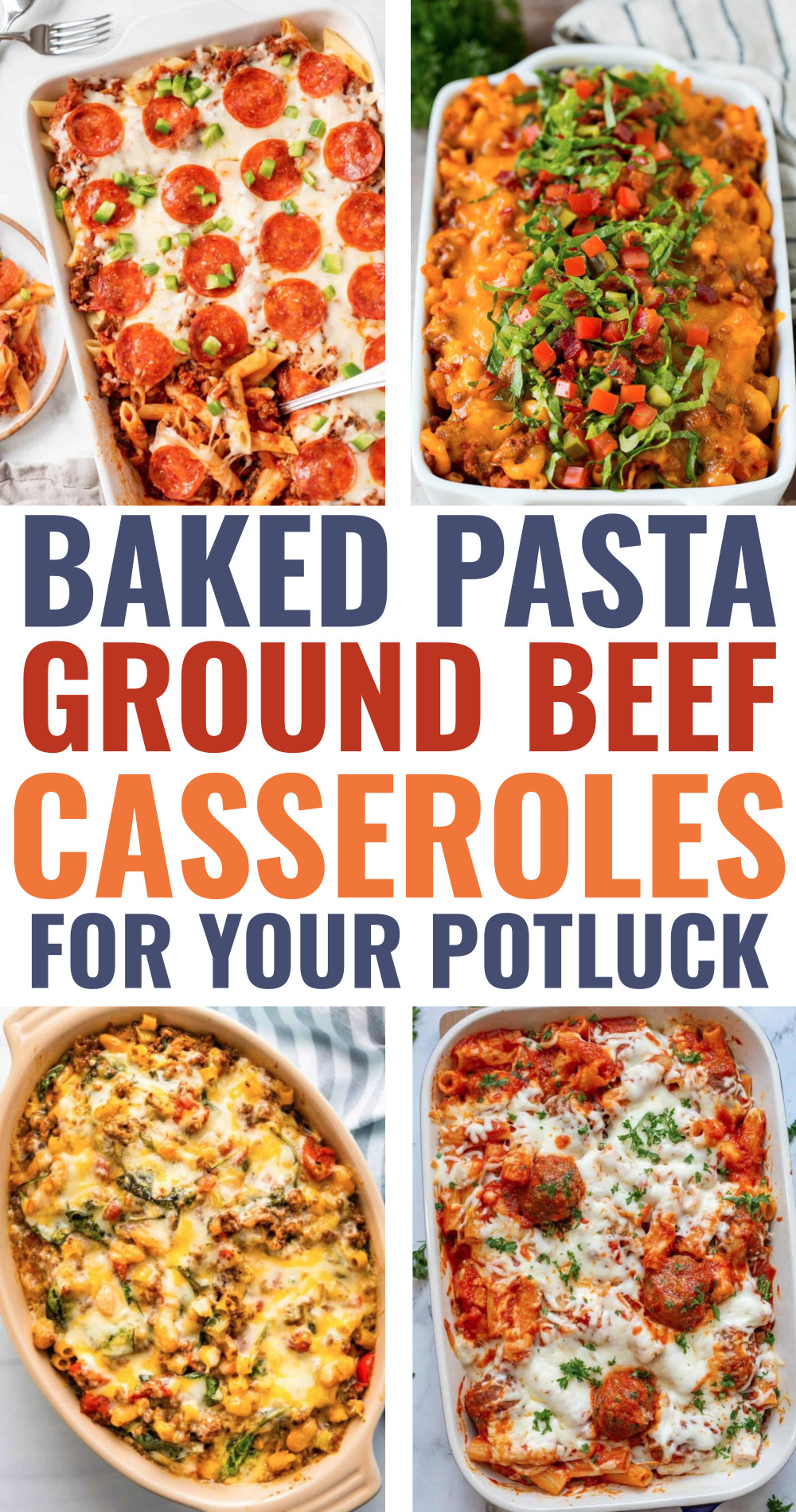 1 – Ground Beef Pizza Casserole – Stretchy cheese, al dente pasta, and your favorite pizza toppings make this easy Pizza Casserole recipe a guaranteed winner with the family for a simple weeknight dinner. See the recipe.
2 – Cheeseburger Casserole – This cheeseburger casserole is ground beef, bacon, macaroni and plenty of cheese, all baked together to perfection. A quick and easy dinner option that's always a hit with both kids and adults. See the recipe.
3 – Southwest Style Cowboy Casserole – This southwest casserole is a homestyle bake with country sausage, ground beef and noodles with canned white beans. See the recipe.
4 – Baked Ziti with Meatballs – easy weeknight dinner that you can have on the table quickly. Using homemade or store-bought ground beef meatballs, this cheesy casserole will soon become a family favorite. See the recipe.
Miss Anything?