---
• Best Sissy Bar Bags and Backpacks •
When you have a motorcycle, it isn't long before you start planning to take a trip on your bike. You are going to need a sissy bar bag to store your essentials on your trip. Even if you aren't taking a trip, sissy bar bags for motorcycles can come in handy for carrying things you'll need during your travels.
See all Top-Rated Sissy Bar Bags Here
What is a sissy bar bag?
It's simply a bag that is strapped to your bike's sissy bar, the metal bar on the back of your motorcycle. Sissy bar bags allow you to store and transport items. 
In short, it's luggage for your bike.
See the sissy bar bag in the picture here.
This page will talk about some the more popular sissy bar bags for motorcycles  – from big luggage travel bags for long trips to small/everyday roll bags (that can be used like a backpack) made from leather and nylon.  We share some great motorcycle bags that are both hard bags as well as soft from great brands like Saddlemen, Kuryakyn, Riggpaks and more .  We'll discuss stitching, straps, zippers, and water proof qualities, studs, fringes, braided  and more.  Whether you have a BMW, Suzuki, Yamaha, Honda, Kawasaki, or Harley Davidson motorcycle, you're sure to find a great deal on the perfect sissy bag for your bike here.
&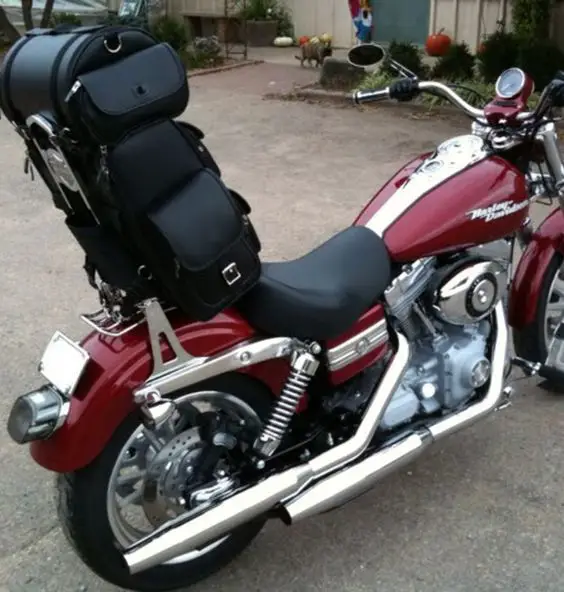 Top-Rated & Best Selling Motorcycle Sissy Bar Bags
& 
---
Updated on November 22, 2021
posts may contain affiliate links -Enjoy and feel free to share with your friends!
---
When you purchase a sissy bar bag, there are a lot of things you need to keep in mind.  Naturally price is important as well as how the bag is rated.  Take your time to compare and read reviews as you shop around.  There are many brands of sissybar bags and other motorcycle accessories – LOTS of options and sizes.  Here are just a few of the things you should consider when buying a sissy bar bag:
& 
Sissy Bar Bag or Saddlebags for Your Motorcycle?
7PC Leather Motorcycle Luggage (comes with Sissy Bar Bag AND Saddle Bags – Read Reviews/Check Price Here
For many bikers, this is the big question – should you get a sissy bar bag or saddlebags? Or both?
There are pros and cons of each – saddlebags stay on all the time and can be locked securely – buy sissy bags can come on and off so it's easy to carry your stuff when your OFF the bike when traveling (going into a hotel for the night, for example).
Here's what one biker said in this forum about his thoughts on the sissy bar bag he has on his motorcycle:
"I have the sissy bar bag and you can easily pack enough for 2 days plus just take it off the bike when you turn in for the night. Comes in handy when you just need to pick up something on the way home too. "
 Economy Line Motorcycle Sissy Bar BagRead Consumer
Reviews
See Rating
After checking around with other bikers, it seems most motorcycles owners have BOTH because saddlebags and sissy bar bags each serve their own unique purpose – meaning it's not really an either/or question at all.
Sissy bar bags come in handy for:
Short 2-3 day motorcycle trips
Transporting your stuff when you go to the gym
When you ride your bike back and forth to work
When YOU go shopping
For your jacket or extra jackets
For your laptop
Day to day use of your bike
Kuryakyn Motorcycle Sissybar Bags and SaddleBags
& 

Kuryakyn 4141 Black GranTour Bag
Check Price
Read Reviews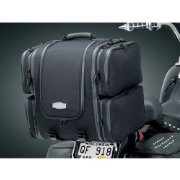 Kuryakyn Ultra Tour Sissybar Bag 4148
Check Price
Read Reviews

Kuryakyn Throw-Over Saddlebags 4171
Check Price
Read Reviews
& 
Sissy Bar Bags Sizes
The size of your sissy bag depends on how many items you'll try to fit in there. If you're taking a trip, you might need a larger sissy bar bag than if you're just taking your motorcycle for a quick ride.
Size is something you have to be careful about. Obviously, if the sissy bag is too small, you won't be able to carry some things on your motorcycle. That may make you feel as if the bag isn't worth it. However, if the bag is large, you have to be sure that it straps in well and doesn't cause your bike to become difficult to handle.
Leather or Nylon?
There are a number materials that can be used for sissy bar bags, but the two materials primarily used are leather and nylon.
Leather looks sleek and stylish on any motorcycle, but nylon/synthetic typically has a longer life. Think about what kind of weather you are likely to encounter on your motorcycle, and that will help you make a decision.  Don't let price be your overall deciding factor.
For example, Kuryakyn motorcycle bags tend to have a higher price tag, but they very well-rated and high-quality.  Saddlemen motorcycle bags also carry a higher price tag, but they also make some of the best sissy bags you can get. T-bags and Tourmaster are also good brands to check out.
Top-Rated Leather Motorcycle Sissy Bar Bag – Read All Reviews/Check Current Price Here
Securing Your Sissy Bar Bag to your Motorcycle
You need to be sure that any motorcycle bag you use can be easily and securely attached to your bike. When you choose a bag for your sissy bar, be sure that you can put it on and make sure that it stays on.
After all, you don't want your things falling all over the road when you hit a certain speed now do ya?
How To Install Your Sissy Bar Bag on Your Motorcycle
See the Sissy Bar Bag in the video here.
Sissy Bar Bags with Locks
See this Sissy Bar Bag/Read Reviews/Check Current Price Here
You need to consider whether your sissy bag will have a lock or not. If not, anyone could walk by and take your things out of your bag, if they don't walk away with the bag itself. Think about this possibility before you buy a bag, so that you are aware of how you can protect it. Try to get a bike bag that has some kind of security features.  Knowing your stuff is safe is worth the extra price of a lock.
Pockets and Other Features
Make sure that your sissy bar bag has extra pockets and other features that make it a convenient bag to have with you. With good quality zippers and clasps you should have no trouble getting something out of the bag quickly.
Taking the time to seriously consider your needs when buying your sissy bag is important because if you make the wrong choice, you'll be dissatisfied with your purchase.  Think about your sissy bag as a good piece of luggage that you expect to last.  This is not the time to go cheap (remember, you get what you pay for).  Read reviews to see what other bikers and cruiser owners think of their sissy bar bag – check and see if they went for bags from Saddlemen or from Kuryakyn.  All this info will really help you find the right sissy bag for you.
For example, if you buy a sissy bar bag that is too big, you'll throw off the balance of your bike and handling it can be a problem. Not only that, but a bag that is too heavy with your items is likely to cause strain on your sissy bar. In extreme cases, your sissy bar could bend or break.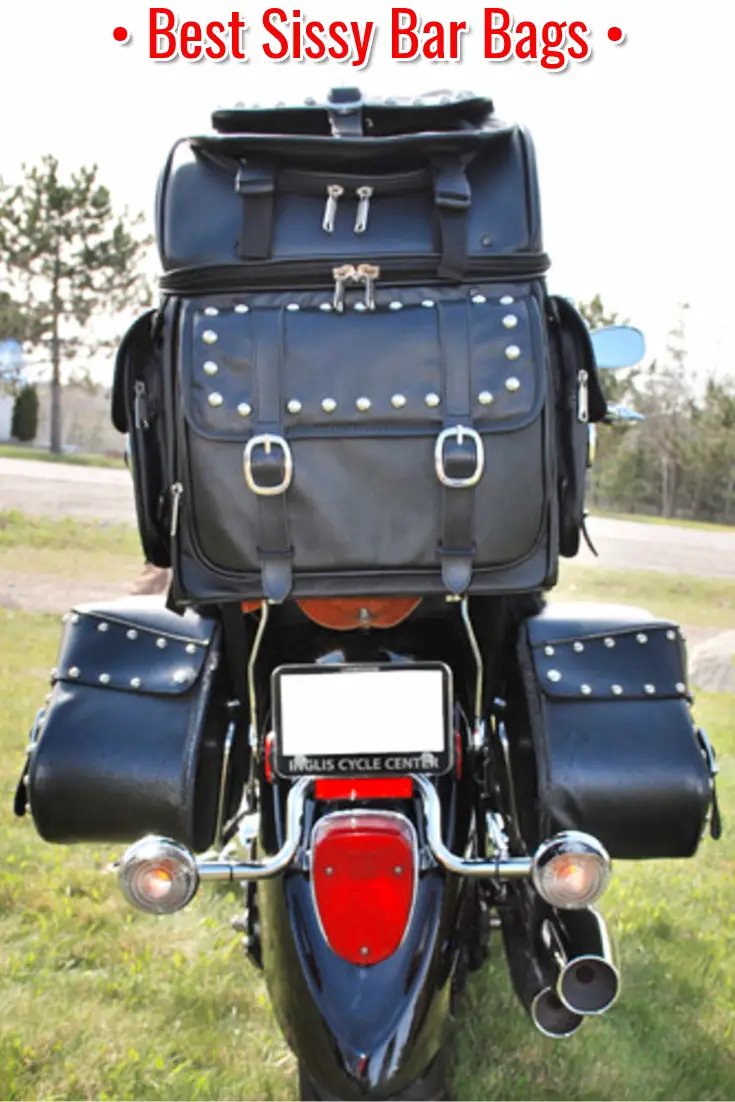 ✅ Best Sissy Bar Bags
Best Rated Sissy Bar Bag: Saddlemen BR3400 Sissy Bar Bag – Read all reviews/Check Price here
A good sissy bar bag is one that is water-resistant (remember to get a cover if necessary), attaches and comes off easily, and allows you to get to your belongings without too much trouble. When you get a bag, make sure that it has all of these qualities, so that you are able to go riding.
Best Deals on Sissy Bar Bags
Now that you know a bit about sissy bar bags for motorcycles, you need to know where to buy them. You can purchases some through the company you bought your motorcycle from, for instance. They likely offer a number of accessories that will fit your bike perfectly. However, the bags they offer might be more expensive than you want to pay, or they may not be the style you're looking for.
[sc:gads ]
That's why a great place to get sissy bar bags for motorcycles is on the Internet.
When you go shopping online, you are much better able to find a bag that fits into your budget. Not only that, but there are countless styles available. You are able to browse bags at your leisure, so you can choose the perfect bag for you after a few hours.
& 
Best Rated Kuryakyn, Saddlemen, Riggpaks, and T-Bags
LEATHER SISSY T BAR LUGGAGE BAGRead Reviews Check Current Price vs MSRP
Waterproof Motorcycle Sissy Bar Bag SB1PURead Reviews Check Current Price vs MSRP
Sissy Bar Bags – Motorcycle Sissy Bar Bags Read Reviews Check Current Price vs MSRP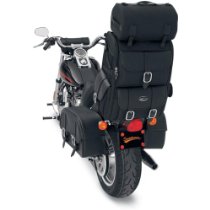 Saddlemen S3500 Deluxe Sissy Bar Bag 3515-0082Read Reviews Check Current Price vs MSRP
Nelson-Rigg RiggPak Luggage/Seat BagRead Reviews Check Current Price vs MSRP
Kuryakyn-Ultra-Tour-Bag Kuryakyn Heavy DutyRead Reviews Check Current Price vs MSRP
& 
& 
Sissy Bar Bag Reviews
How can you find the best deal for sissy bar bags for motorcycles online? The easiest way is to just do quick search for "sissy bar bags". You'll find hundreds that way. However, that might be overwhelming, as you have no point of reference. You might not be sure which sites have better prices, or you might not want to wade through hundreds of sites.
That is why you may want to consider joining online forums for bike riders. You can join a forum for bikers in your area, or you might look for online forums for people who own your particular brand of motorcycle.
Forums can be a great way for you to avoid endless searching. The bikers posting in those forums will have suggestions for you about which sites are the best to buy from. They can also offer tips on buying a bag, and they can tell you which bags have worked well for them.
Talking to others who share your hobby can be fantastic. It saves you a lot of time and you get a lot of information that way. You can also share what you know with them.
Also, take some time and read the reviews on the sites that sell these sissy bar bags.  Real feedback from REAL consumers is invaluable when making a decision.
& 
About Buying Online
Once you have a specific site and bag in mind, it's a good idea for you to check around the internet and see if there are any coupon codes out there. Free shipping coupons and discounts are not uncommon, so make sure to check before placing your order. Make sure you know about the refund policies of the company you are buying from.
Sissy bar bags for motorcycles can be a great addition to your biking life. Use the information above to help you make a good decision about which to buy. Once you have your bar bag, you'll wonder how you ever did without it.
& 
Current Deals on Kuryakyn Sissy Bags and Reviews
& 

Kuryakyn Daily Tour Bag 4133
Check Price
Read Reviews

Kuryakyn 4172 GranTailgater Bag
Check Price
Read Reviews

Kuryakyn 4166 Custom Roll Bag
Check Price
Read Reviews
& 
Current Best Deals on Saddlemen Sissy Bar Bags and Reviews
 Willie & Max 59591-00 Sissy Bar BagSee This Nelson-Rigg CTB-350 RiggPak Black Dayrunner Luggage/Seat BagSee This Saddlemen R1300LXE Delux Roll Bag – BlackSee This Saddlemen S3500 Deluxe Sissy Bar Bag 3515-0082See This Saddlemen – 3515-0139 – FTB1500 Sport Sissy Bar BagSee This Saddlemen BR1800 Back Seat or Sissy Bar Bag 3515-0113See This Saddlemen BR3400 Sissy Bar Bag – BlackSee This Sissy Bar Bags – Leather Motorcycle Sissy Bar Bag SB1See This Saddlemen Large Cruis'n Sissy Bar Bag – Large/BlackSee This Studded Leather Motorcycle Sissy Bar Bags Travel Luggage Roll Bag Quick Release Buckles Rk-Sbb301See This Leather Saddlebag 4-Piece Set(1-leather saddle bag, 1-Diamond Buffalo Leather Motorcycle Barrel Bag ,1-Sissy Bar Bags – Motorcycle Leather,1-cover for bad)See This Saddlemen – 3515-0097 – EX2200S Desperado Deluxe Sissy Bar BagSee This Shaf International (SH539) Black Heavy Duty Sissy Bar Bag with New Mounting SystemSee This Willie & Max Ranger Studded Sissy Bar Bag SBB452See This 3pc Leather Motorcycle Luggage Set Sissy Bar Barrel Tool Trunk Bag Universal NewSee This BNFUSA LUMCOOLTR Motorcycle Cooler Bag With Hook & Loop Sissy Bar StrapSee This
& 
&