---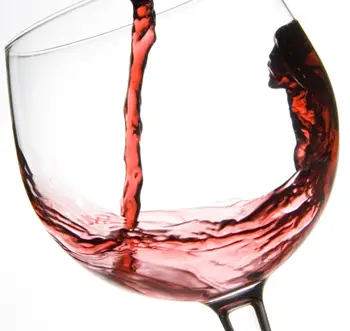 Wine Drinkers are LESS Likely to Be Overweight
Wine drinkers, let's gather together and rejoice!  According to a study, drinking wine before bedtime could help us lose weight!
Supposedly, there is some connection between wine drinking and weight loss.
Now, THERE'S a win for all the wine lovers out there!
(sidenote: Here are some unique wine gifts that we love)
From what they say (quoted below) those that drink 2 glasses of wine a night are 70% LESS likely to be overweight.
Like we need a reason to drink wine! haha!
According to The Drinks Business, Washington State University scientists found that resveratrol, a polyphenol found in red wine, can help transform stubborn white fat into burnable brown fat. A separate study at Harvard found a link between wine and weight loss. Researchers examined 20,000 women over 13 years and saw that those who drank two glasses of wine daily were 70% less likely to be overweight.
This might be a "in your dreams" type of internet thing, but the concept behind it sure makes sense to me.
Well, that's MY story =)
It makes sense that there are some health benefits to drinking wine.
Wine IS made from grapes, and grapes are packed full of healthy stuff.
How Big of a Glass of Wine?
Now, don't get too excited at the 2 glasses each night thing.
You don't want your wine glass to look like this:
The standard size of a glass of wine in restaurants is anywhere from 4 ounces to 8 ounces per glass (my favorite restaurants are the 8oz plus ones!)
So no, one BOTTLE does NOT equal "one glass" <grin>
But I'm more than happy to have my two glass of wine and my crushed ice like Sonic serves each night, how about you?
Unique Wine Lover Gifts 2017 – Best Inexpensive Gifts for Wine Lovers