---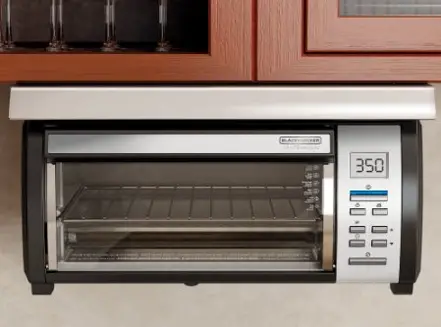 There are a lot of options when it comes to buying an under the cabinet toaster oven which makes it really hard to choose the BEST under cabinet toaster oven.
Some toaster ovens have a touch-button control panel and/or a LCD display.
---
Updated on May 30, 2018
posts may contain affiliate links -Enjoy and feel free to share with your friends!
---
Some have bake, toast and keep warm functions, 30-minute timers, and time/temp increase options, have infrared options, are also convection toaster ovens.
We're a big fan of the Black & Decker Spacemaker Under the Cabinet Toaster Oven line.
 BLACK+DECKER TROS1000D Space Maker Digital Toaster Oven, Stainless Steel/BlackRead Consumer
Reviews
See Rating
& 
The Black & Decker TROS1000 Spacemaker toaster oven is designed to fit perfectly under the cabinet to save counter space. The stainless steel is a huge plus for us – it not only LOOKS great, but is soooo much easier to keep clean. Perfect for cooking 4 slices of toast all the way to a full meal.
Black & Decker TROS1000 Toaster Oven:
Saves valuable counter space due to its space-design that can fit even under the cabinet
Energy efficient option as compared to a full-size oven
Touch-button control panel and LCD display
Sleek design that complements any modern kitchen decor
Bake, toast, and keep-warm functions
7 toast-shade settings from light to dark
30-minute timer with signal bell
Lets you increase or decrease the time and temp increase or cancel the session at any time
Spacious interior fits a 9-inch pizza or up to 4 slices of bread at a time
Excess cord can be tucked away at the back
The Save-A-Plug outlet allows to connect another Spacemaker appliance
Instructions and mounting template included for easy installation
Measures approximately 18 by 11-2/5 by 10-3/5 inches
All the customers at Walmart really love this Black & Decker toaster oven as well – it has a strong 4.5 star rating and the reviews are fantastic.
I love this Spacemaker Toaster Oven. It is beautiful. Installation of the plate on the bottom of the cupboard was very easy…. I am a handy female and had no problems. You just have to drill 4 holes using the template supplied, measure the spacers correctly and screw in the toaster oven. I LOVE IT…… The only complaint that I have is the Font for the buttons….. "Toast", "Timer", "Start" etc. If it was made bigger, it would be much more convenient (I have to always have my eyeglasses nearby) I also bought the Spacemaker Can Opener which is a perfect companion…. they were made to be side by side….. installation of that was super easy……
It's really easy to clean, too!
Are Under Cabinet Toaster Ovens Safe?
If the toaster oven is MADE to be installed under a cabinet, then it should be safe. Its possible you read this article that says that NO toaster ovens are safe when installed under cabinets, but please keep in mind, that article was written back in 2014.
Black and Decker has this Space Maker Under Cabinet Toaster Oven that is designed to be installed under your cabinets. That toaster oven has GREAT reviews (you can read all the reviews on Amazon here).
More About This Under Counter Toaster Oven:
Here are more specs and details…
Easy Installation – The SpaceMaker comes with thorough instructions and a mounting template to make under-the-cabinet installation a breeze
Digital Controls – The intuitive control panel has dedicated buttons for turning the oven on and off and for each of its pre-programmed functions
Three Functions – Use it to bake, toast or keep warm. You have a number of options with temperatures ranging from 200°-400°F, and toast settings from 1-7
30-Minute Timer – Set cook times with the press of a button or use it as an all-purpose kitchen timer
Save-a-Plug Outlet – The special outlet design lets you connect other SpaceMaker appliances without taking up another wall outlet
Drop-Down Crumb Tray – Opens and closes effortlessly, and can be wiped clean with a damp cloth
More Top-Rated Under Cabinet Toaster Ovens
[raw]
 BLACK+DECKER TROS1000D Space Maker Digital Toaster Oven, Stainless Steel/BlackSee This Black & Decker Toast-R-Oven Mounting HoodSee This Black and Decker Spacemaker Toaster OvenSee This Energy efficient, Touch-button Control Panel Stainless and Spacemaker Toaster Oven, Black and SilverSee This Black & Decker TMB3 Under Cabinet Heat Guard, for use with Toast-R-OvenSee This Black & Decker Spacemaker Toaster Oven, Black and StainlessSee This
& 
[/raw]