---
Let's take a look at women's folding bike options and which is best for YOU. Folding bikes are so convenient, but truth be told, not all folding bikes are truly easy and best for women. Finding a really good, and affordable lightweight folding bike can feel overwhelming, but the info and folding bike reviews below are sure to help you out.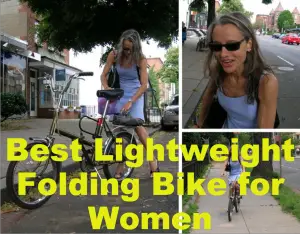 ---
Updated on August 17, 2021
posts may contain affiliate links -Enjoy and feel free to share with your friends!
---
Now, THIS folding bike is GREAT for women – very lightweight – and built with women in mind.
But it really is tough to figure out which of all the folding bikes are great for females, isn't it?
It also seems that the more suited for a woman a folding bike is, the less options you get – which makes it challenging for us ladies to pick the RIGHT folding bike.
Best advice is to START by making a list of folding bike features that YOU really want and need.
For scooting around town, traveling on vacation or camping, or easily and cheaply getting around your college campus, you simply can't beat the convenience, portability, and FUN of a folding bike.
Just fold it up, put in your trunk, and you have a bike everywhere and anywhere you go.
Super easy to keep in your dorm or apartment, too.
off topic…but…speaking of my FitBit…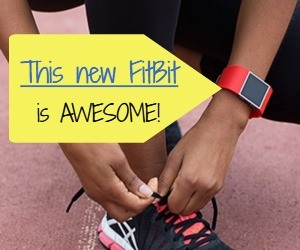 Have you SEEN the new FitBit?
(see it here) – it's pretty freakin' awesome.
Has the bigger "smart watch" face on it and does all the normal FitBit stuff, but also shows text messages and stuff – very cool!
It's definitely on My WishList!
Ok, back to folding bikes and what women need to know before buying one…
If price and weight are your two top priorities when shopping for a folding bike, be aware that you may have to give up some other options to get that lightweight and easily portable inexpensive folding bike.
If you're in a hurry….
These are the top-rated folding bikes we chose from and compared
They're ALL pretty darn awesome (just read the reviews and see), but as you'll learn on this page, the prices for folding bikes vary wildly.
If you're like me, you want an affordable/inexpensive folding bike, right?
Exactly.
Let me show you the best ones I've found.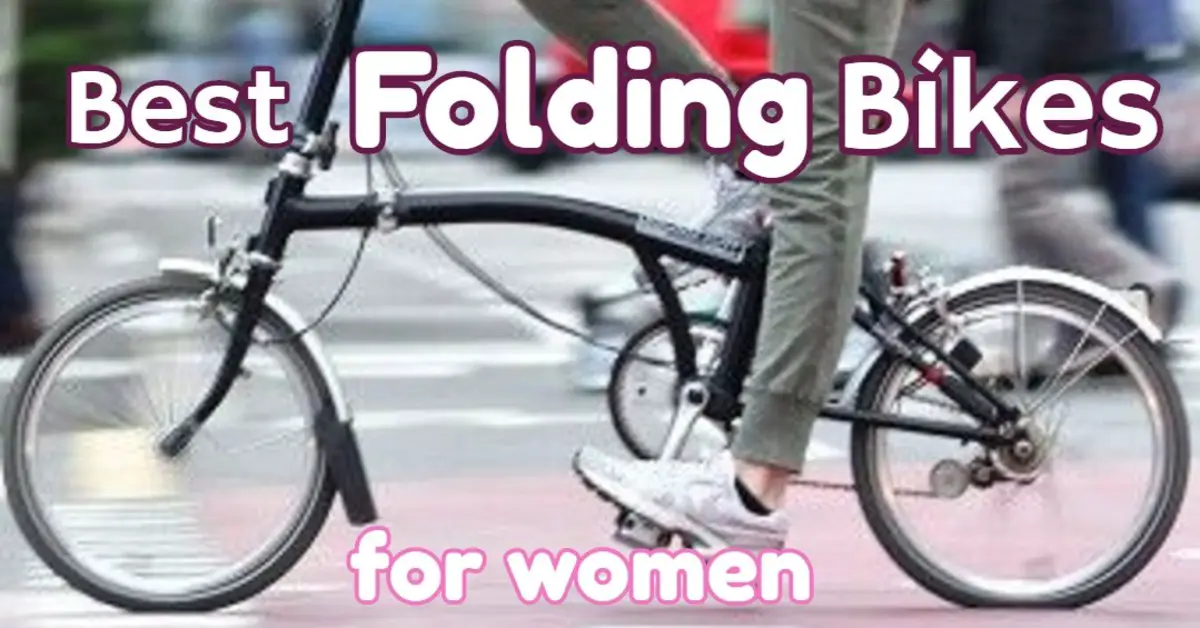 Folding Bike Buying Tips for Women
Needless to say, we girls need a few different features in our folding bikes than the guys do.
First off, we women should make sure our folding bike is made from aluminum so it is really lightweight and easy to carry.
Whats the best size folding bike for a woman?
The best size folding bike for us ladies is a 20″ bike so we can ride comfortably.
We also want a bike that folds up (and UN-folds) very easily.
If it folds easily and it's lightweight, we can truly enjoy all the benefits of a folding bike on our own.
Nothing worse than having to ask, "Honey, can you fold and lift my bike into the car, please?"
Ugh! No way!
Cute and Cheap Folding Bikes (for women)
Just look how cute these 3 super light folding bikes are!
And dang, those prices are downright affordable, aren't they?
==>> This particular folding bike is PERFECT for women
It's super lightweight, easy to fold, and the size makes for a very comfortable ride for average size women.
Even senior women love it (read these reviews to get feedback from other women who own this bike)

Affordable Options
20″ Lightweight Aluminum Folding Bike Foldable Bicycle, Rack and Fenders

Best INEXPENSIVE Folding Bike for Women
If cost is an issue, and you need to stick to a budget and get a good yet AFFORDABLE folding bike, check out this one:
Best Choice Products® 20″ Folding Bicycle Shimano 6 Speed Bike Fold Storage Silver

You can NOT beat that price, and it's a really good lightweight folding bike for women.
Best Folding Bikes for the Ladies – Our Picks
Below are more of our picks for great foldable bikes for the gals – you'll notice that some of these folding bikes are more expensive BUT they have some super cool "bells and whistles" that you should check out.
Also below, some nifty ELECTRIC folding bikes (that's right – no peddling needed!)
Yes, you read that properly… an ELECTRIC folding bike.
They're called "e-bikes" – and this pink folding e-bike we love can go up to 30 miles on one charge!
Pretty groovy, right?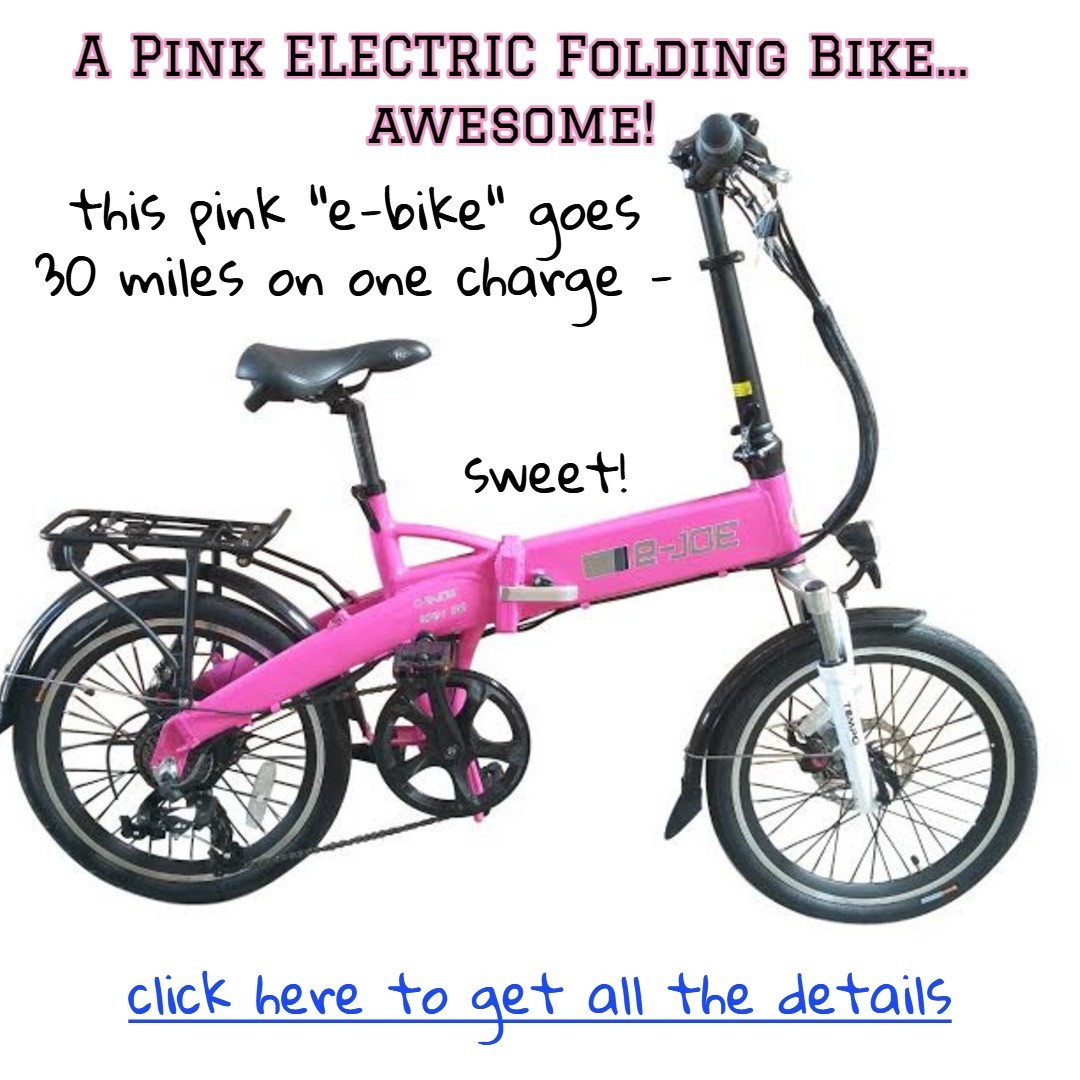 Here are the other lightweight folding bikes we think are great for women…
(keep your eye out for the e-bikes 😉
Last updated on August 27, 2023 2:53 am
More Folding Bike Reviews
If you're buying your folding bike online, spend a little time researching and be sure to read all the consumer reports and reviews.
If you have time, go check out a similar model at your local bike store, or visit online bike forums.
✅ TIP: Be extra cautious with really cheap folding bikes – they are often built to a price, not a standard, and are frequently of poorer quality.