---
Best stainless steel cookware for the money –
There sure are a LOT of stainless steel cookware sets on the market, aren't there?  SO hard to choose!  If you're looking for the best stainless steel cookware sets under $200, you might be feeling a bit overwhelmed. I get it – been there, done that. Here's the thing – some of the cheap stainless steel cookware sets ARE definitely worth the money – others, not so much. Let's talk about your best options…
---
Updated on December 14, 2021
posts may contain affiliate links -Enjoy and feel free to share with your friends!
---
After reading around to see what sets other reviewers like, I decided it was time to throw my 2 cents in and share what 3 inexpensive stainless steel cookware sets I think are the best value for those on a budget.
✅ TIP: If you can get any of these stainless steel cookware sets below for under $200, GRAB IT!
They are all EXCELLENT stainless steel cookware sets that are a great value for the money.
$97.00
$182.99
in stock
1 new from $97.00
4 used from $76.79
$147.00
$256.99
in stock
1 new from $147.00
1 used from $125.10
$59.29
$69.99
in stock
2 new from $57.06
Last updated on November 29, 2023 8:42 pm
First, let's start with what Consumer Reports has to say about stainless steel cookware sets…
To be totally honest, I don't really agree with Consumer Reports…
Consumer Reports Picks this Stainless Steel Cookware Set as "Best"
Sure, it's a good cookware set, just not my personal favorite.  Price is decent IF you can find it in stock anywhere.
Personally, I don't really like that brand for stainless steel cookware at all, but I really, REALLY like this red non-stick cookware set from the same brand.  It's really an attractive-looking cookware set that is made so well – and you sure can't beat the price!
But – we're talking stainless steel cookware sets right now, so let's get back on topic.
Best Sets Under $200
Before I start my Top 3 list, I want to let you know my "criteria" for picking stainless steel cookware.
First off, it MUST be dishwasher safe AND oven safe.  I want the cookware set to be super high-quality and built to last.  I am also VERY picky about handles and lids, too.
So…here we go.
#1 Cuisinart MCP-7N
This is really great cookware set – super high-quality.
in the picture: Cuisinart MCP-7N MultiClad Pro Stainless-Steel Cookware 7-Piece Cookware Set
Review
This stainless steel 7-piece cookware set from Cuisinart is absolutely our favorite.  And exceptional value for the money!
Perfect for small family cooking and also makes a very appreciated gift for the new bride (or for Christmas, birthday's etc).
We pick this as our all-around favorite set…and the reviews on Amazon absolutely agree with us – not a single negative thing is said about this set other than pertaining to the size of the pots and pans (these are smaller sized – if you want larger-sized stainless steel cookware of the same exceptional quality, get this set).
Pros
Best Value for the Money
Dishwasher Safe *
Oven Safe
Broiler Safe
Drip Free Pouring
Very Strong Handles That Stay Cool
Stockpot Lid Fits on Skillet
Heats Evenly
Very Easy to Clean
Food Does NOT Stick To Pans
Perfect For Small Family/Couple Cooking
Induction Safe
Perfect Oven to Table
Professional Look & Performance
Cons
Doesn't Come With Steamer Insert
Might Need To Cook at Lower Temps
Might Be Too Solid & Heavy for Some
Not Big Enough for Large Family Cooking
Worth the Money?
If you can grab this stainless steel cookware set for less than $200, you got one heck of a deal (check current price here)
I'd be willing to pay no more than $300 or so – higher than that and we have more options available.
#2  Circulon Genesis Non-Stick Stainless Steel
LOVE this set…and if you're a fan of having a little non-stick coating in your stainless steel cookware, you will LOVE this set as well.
in the picture: Circulon Genesis Stainless Steel Nonstick 10-Piece Cookware Set
Review
To be honest, this is not OUR favorite stainless steel cookware set, but this 10-piece non-stick set is a BIG favorite for many, many people.
Cooking with pure stainless steel pots and pans in a bit of an art…and it's something that not everyone enjoys.  Many people prefer a "hybrid" type of cookware that combines stainless steel with safe non-stick coating.
If that describes YOU, then we have no doubt that you will love this cookware set!
Pros
Dishwasher Safe
Oven Safe
Heats Evenly
Works on All Stovetops
VERY Easy to Clean
Perfect For Small Family Cooking
Food Release System
Stainless Steel Handles
Glass Lids
Safe Non-Stick Coating
No Oil Needed
Beautiful Appearance
Metal Utensils OK
Good Sizes for Everyday Cooking
Good Overall Value
"Hybrid" Between True Stainless Steel Cooking and Non-Stick Cookware
Cons
Too Small for Large Family Cooking
Lids Tend To Get Hot
Some May Not Like Grooves on Bottom of Pans
Hard to Find In Stock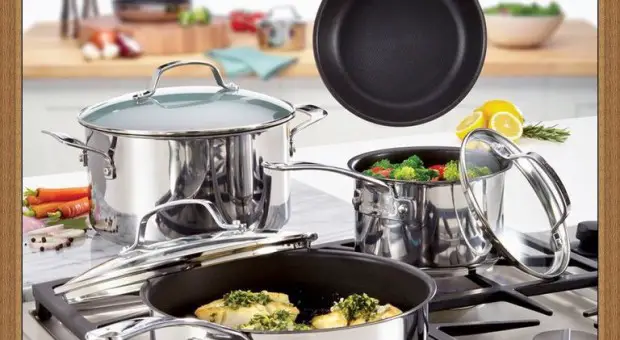 Worth the Money?
The suggested retail price of this cookware set is well over $400 so if you can get if for around $200 or so, it's a great deal (
check current price here
).
#3  Cuisinart 77-14 Chef's Classic Set
This is a BIG and beautiful stainless steel set – you WILL love it.  And if you're looking to give a cookware set as a gift, this set will be VERY appreciated.
in the picture: Cuisinart 77-14 Chef's Classic Stainless 14-Piece Cookware Set
Review
What an AMAZING stainless steel cookware set! If you can find this cookware set for under $200, like we found here on Amazon today, you should GRAB it.
This is usually a $400+ set of stainless steel pots and pans!
This set is one of those rare opportunities in life when you get WAY more than you paid for.
Pros
HUGE Set at a Great Price!
Fast, Even Heating
"Cool Grip" Handles
Stainless Steel Lids
Drip-Free Pouring
Oven Safe
Broiler Safe
Freezer Safe
Dishwasher Safe
Steamer Insert
Pasta Insert
Suitable for All Family Sizes
Beautiful Finish
Lighter than Standard Stainless Steel Cookware
Cons
Finish might be hard to maintain
Lids tend to get hot
Some may not like the lighter weight of the pots and pans
Worth the Money?
YES!  If you check the price here and see this set for $200 or so, you are getting a great deal on an amazon set of stainless steel cookware.  Suggested retail price is over $500!
Last updated on November 29, 2023 8:42 pm
More Top-Rated Sets
We're very picky about the sets we consider "best".
See All of our Picks for Best Stainless Steel Cookware Here