---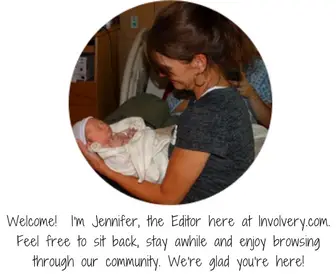 Hi – and WELCOME to Jen's Clever DIY Ideas!
I'm Jen, the owner, editor, content creator and overly enthusiastic finder of all things fun, clever, cheap or free for involvery.com.
From crafts and home decor, to recipes and party ideas, I work hard to find unique ideas to share with YOU. I know how hard it is to find truly helpful info online so I do the work for you! I'm painfully curious and love to learn new things whenever I have time to dig in and research them.
While my post topics might SEEM totally random, they're really not – I post about topics that *I* am interested in researching and learning about in hopes that they will interest my large reader base and Pinterest followers too.
I've been working online since 2007 when one fateful February night when I got the wild hair to learn how to make a website.
It's been quite a journey, but now, 15 years and multiple owned websites later, I'm SO thankful I got that 'wild hair' – I LOVE what I do!
I've done a LOT online over these 14+ years, but now I've settled into doing what *I* love best – sharing awesome finds and fun content WITHOUT all the stress that we 'in the biz' deal with day in and day out.
You could say I've found My Happy Place – and now YOU have found my happy place too!
I'm so glad you're here!
If I can help you, feel free to contact me here.
Otherwise, here are a few of MY favorite articles that I hope you'll enjoy too.