---
Crockpot Appetizers – 27 dump 'n go make ahead crockpot appetizers, slow cooker party dips and must make finger food dishes for a crowd. Perfect for Football Sunday and game day parties – we eat them as meals – especially the crockpot sandwiches (so good!)
From bite sized meatballs to serve yourself hot dips, these crockpot appetizers are the perfect make ahead party food to feed a crowd. Whether it's a bring-a-dish potluck at work or an appetizer buffet set up for a Holiday party, game day, church supper or family dinner, these crockpot appetizers are so easy to make and serious crowd-pleasers.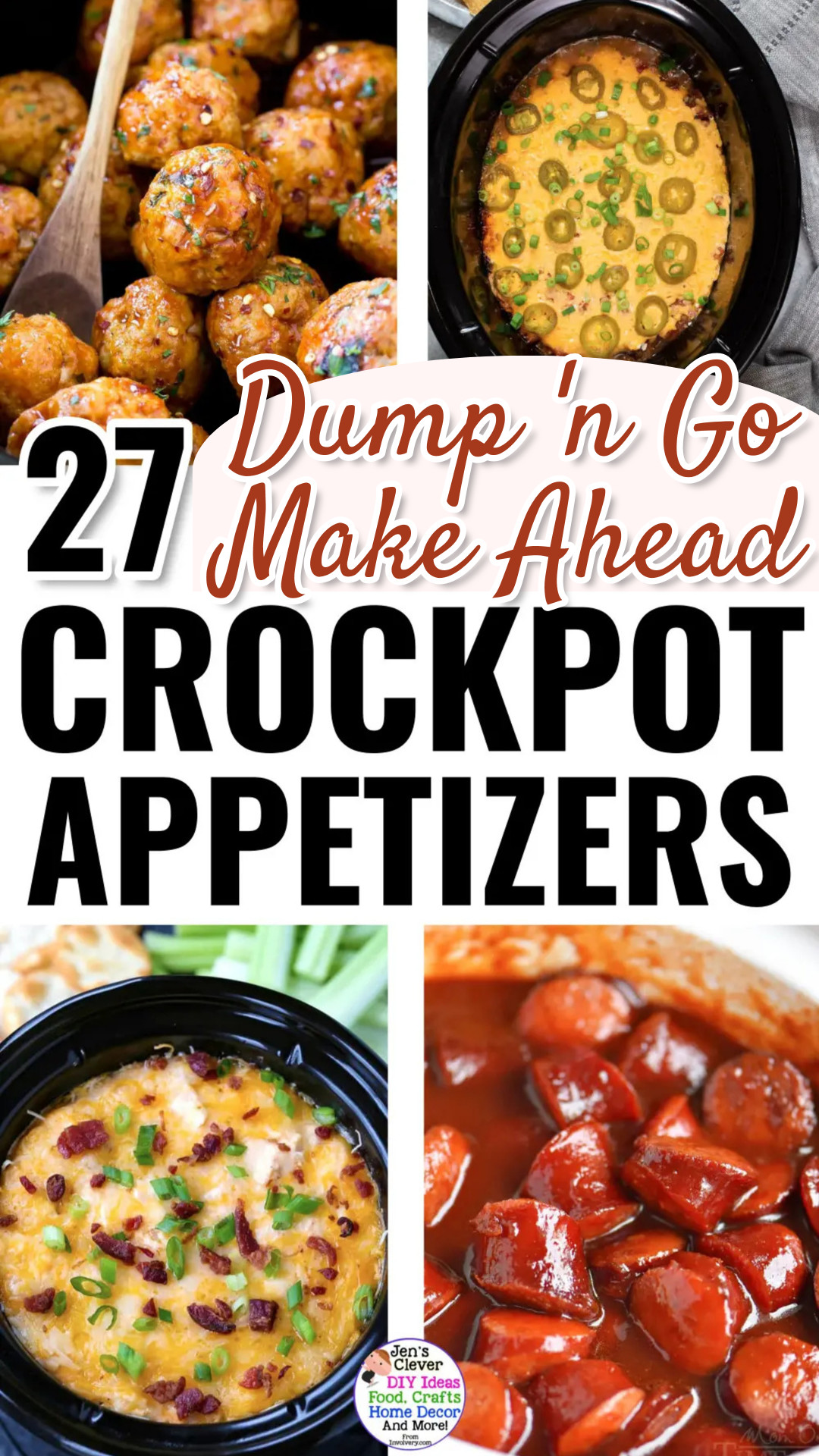 ---
Updated on October 7, 2023
posts may contain affiliate links -Enjoy and feel free to share with your friends!
---
Slow Cooker Appetizer Recipes
When it comes to making simple party food, your slow cooker Crockpot is your best friend! Just dump your ingredients in the crock and turn it on – nothing is easier than that, right? Below are some of my personal favorite slow cooker party foods that I make for ALL occasions, parties and family events. Plus, since they all travel well, they are also the perfect "make ahead and take" food for any event.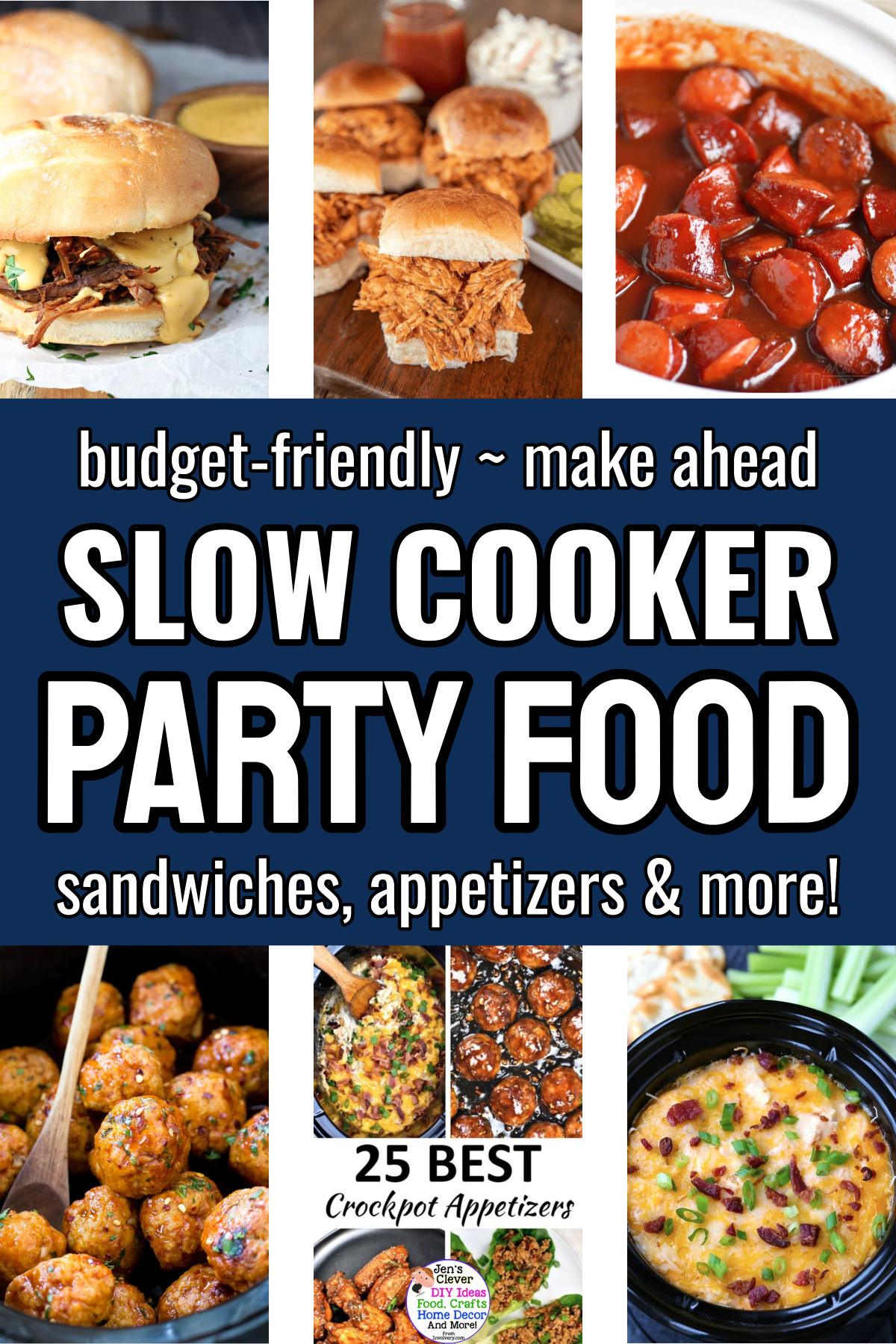 If you're like me, you want your party food ideas to be budget-friendly, EASY to make ahead of time and plenty enough to serve a large group of guests. If that's what you're looking for right now, these slow cooker party food recipes below will be YOUR new favorites as well. Let's jump in and get to the recipes!
Make Ahead Lil' Smokies
No party, shower, family gathering or potluck is complete without a Crock Pot full of Lil' Smokies cocktail wieners – and there's never a single Smokie left!
Thankfully, they are SO easy to make!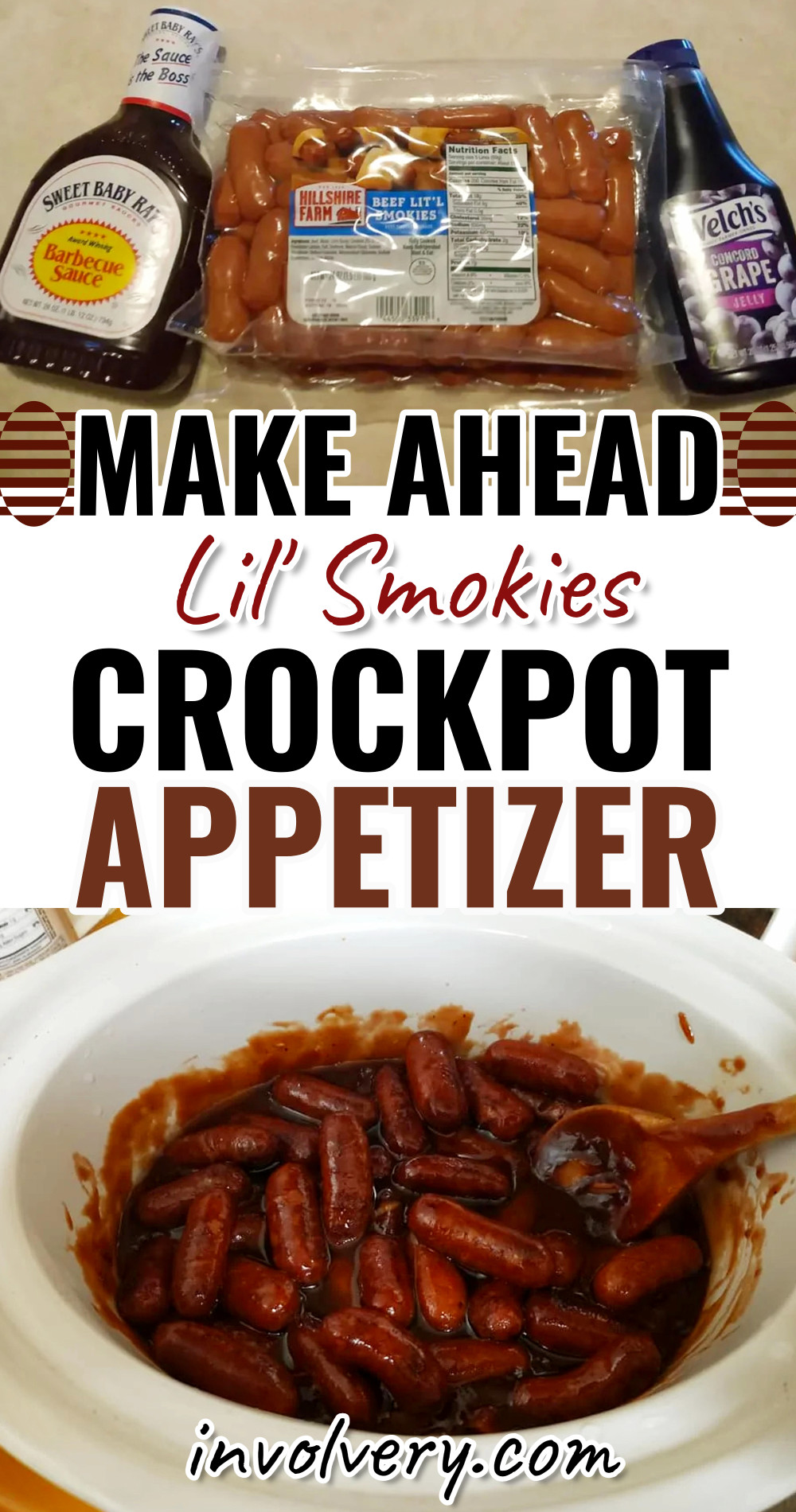 Just dump those 3 ingredients into your slow cooker ahead of time and let them heat and simmer – that's all there is to it.
TIP: If you, or your crowd, prefer a little spicy "kick" to your Lil Smokies, use the SPICY Sweet Baby Ray's BBQ sauce flavor instead. That BBQ sauces adds just enough spice that really enhance the flavor without them being too hot.
3-Ingredient CrockPot Party Dip
Speaking of EASY, this 3-ingredient crock pot dip is my GO TO for ANY event where I'm serving ANY type of snack food. It is truly, the easiest and tastiest hot cheese dip you'll ever eat.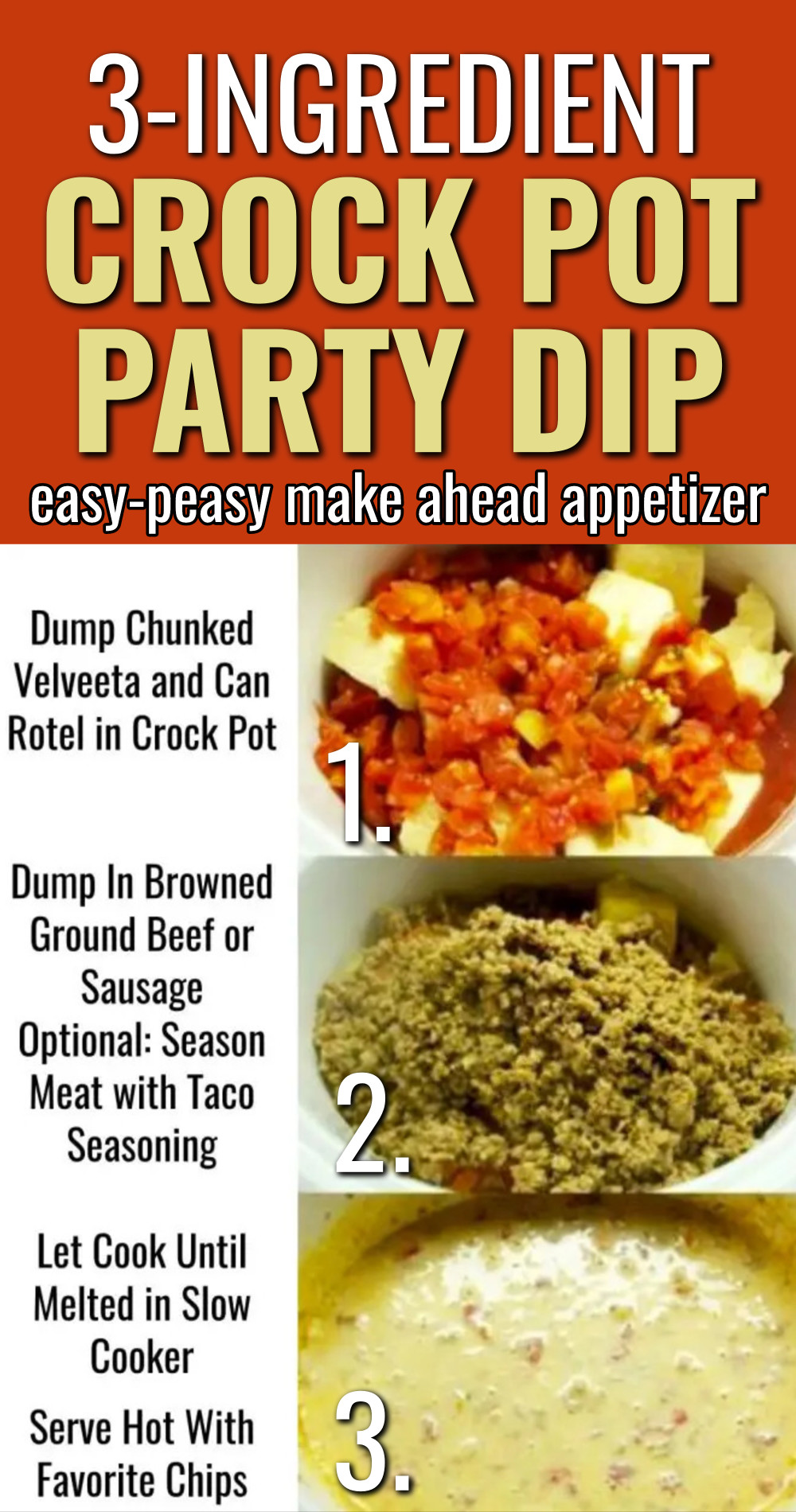 Just grab a block of Velveeta, a can of Rotel (NOT drained) and a pound of browned ground beef – dump it all in your crock pot, turn it on high… and walk away (yes, you'll want to stir it once in a while, but seriously, that's all there is to it!). For an extra kick, season the ground beef with a pack of taco seasoning when you're cooking it – makes it even better!
TIP: I have a TON of EASY ground beef recipes here.
AND, if you love easy – EASY – dinner ideas, check out my favorite Foil Pack dinner recipes.
Crockpot Cheesy Chicken Dip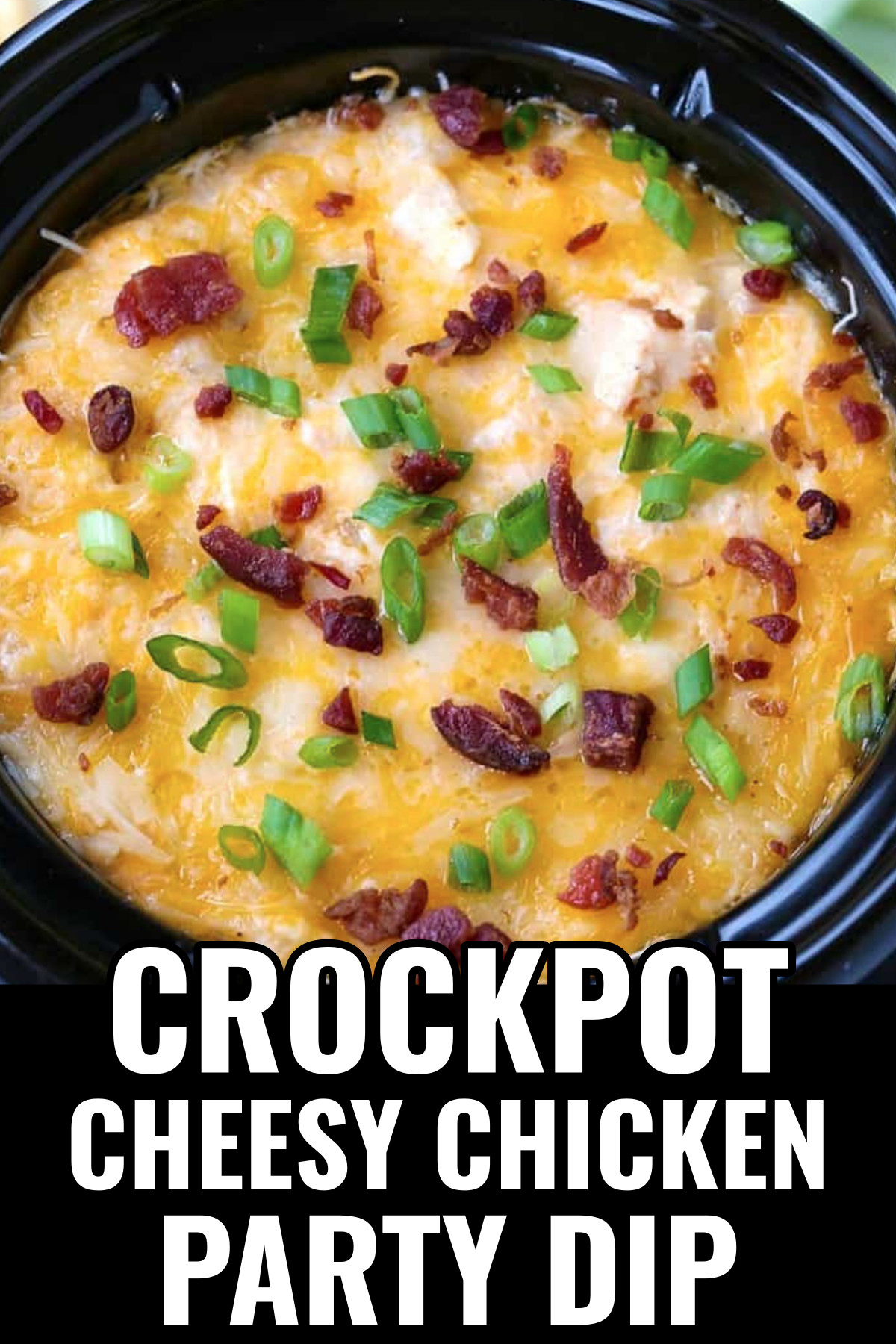 Most people would call this hot dip "Buffalo Chicken Dip", but it's so much better than the classic style Buffalo chicken dip – it's cheesier!
I make it in my slow cooker, but this recipe can also be baked in the oven as well. Personally, it works best for party type events when cooked and served from a Crockpot because it stays warm and cheesy-gooey for the duration of your event.
No one likes COLD cheesy dip!
Get the recipe at Mantitlement.com
Crockpot Firecracker Meatballs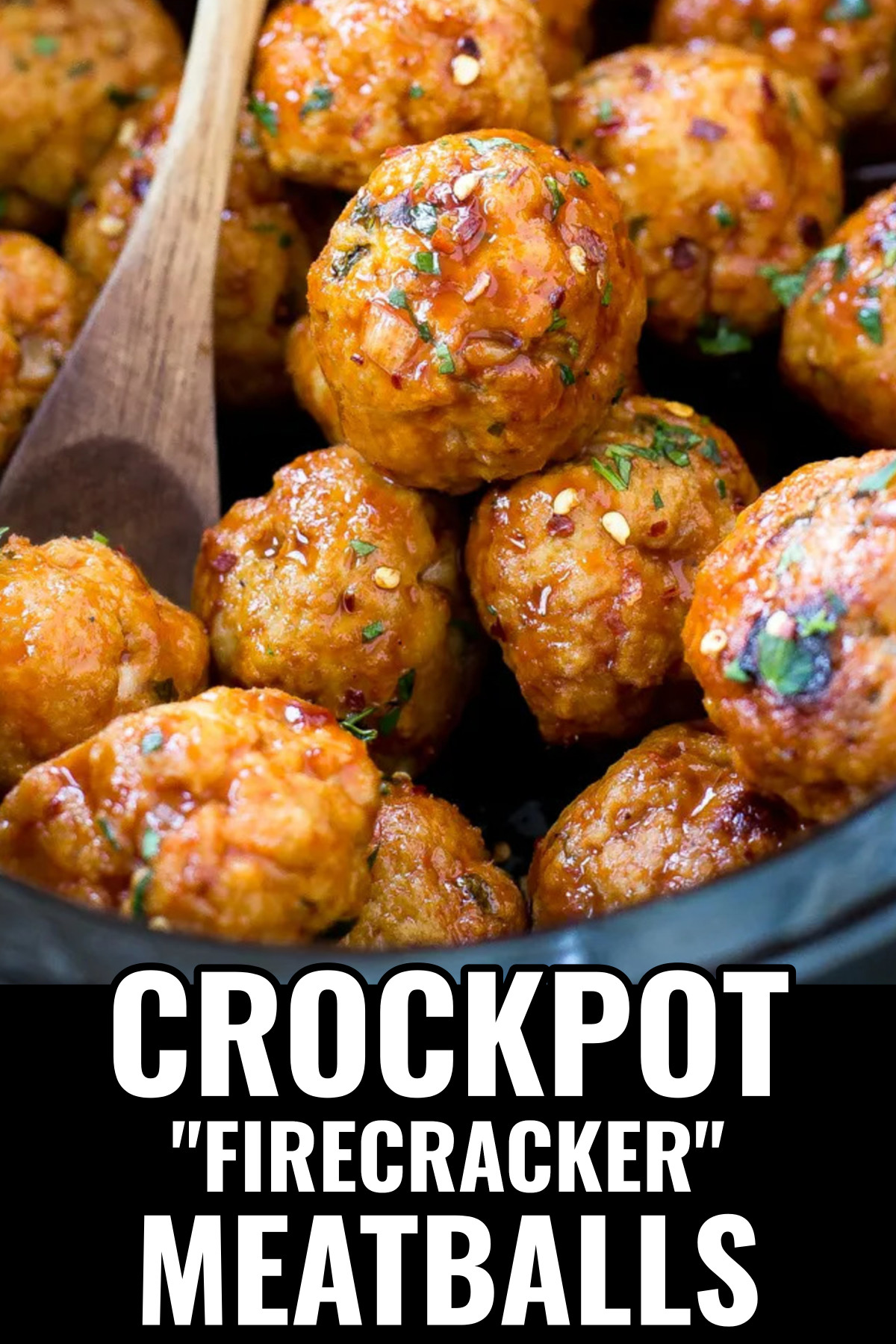 These meatball appetizers are not just like the traditional ones everyone and their Aunt Sue has made for parties. These have a "kick" (hence the "firecracker" in the name).
The recipe is for chicken meatballs made from scratch with ground chicken – and they're very good made that way, but pretty time-intensive.
When I'm in a rush, I make them with any style of frozen meatballs and they turn out fantastic every time.
Get the recipe at ChefSavvy.com
Crock Pot 7-Layer Party Dip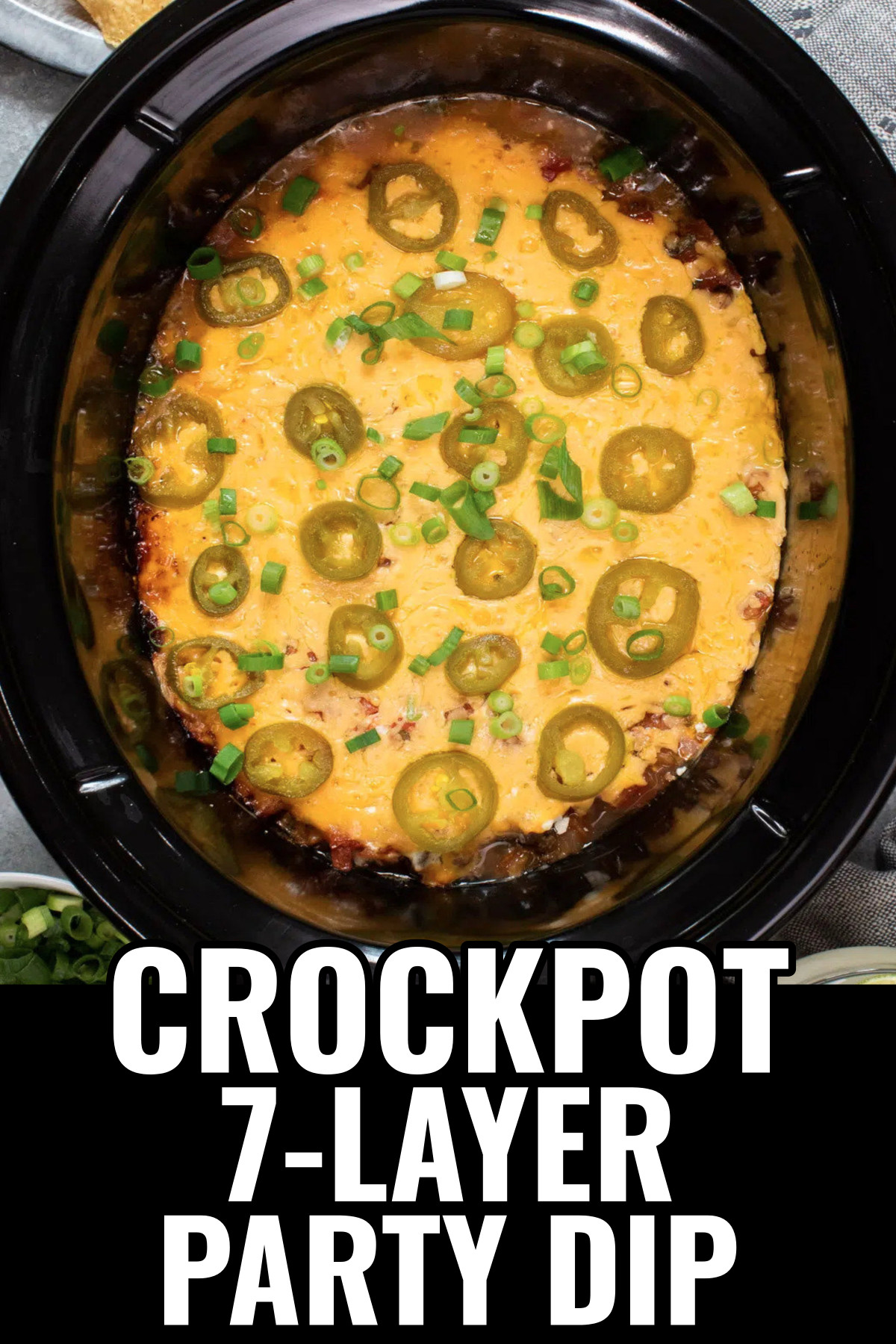 This hot cheesy dip is a bit different than the traditional 7-layer bean dip that is usually served cold.
This is a hot dip with all the bean and cheese layers PLUS it has seasoned ground beef in it which makes it more of a taco dip than just a bean dip.
VERY good and super easy to throw together.
Get the recipe at TheMagicalSlowCooker.com
Crockpot Kielbasa Party Bites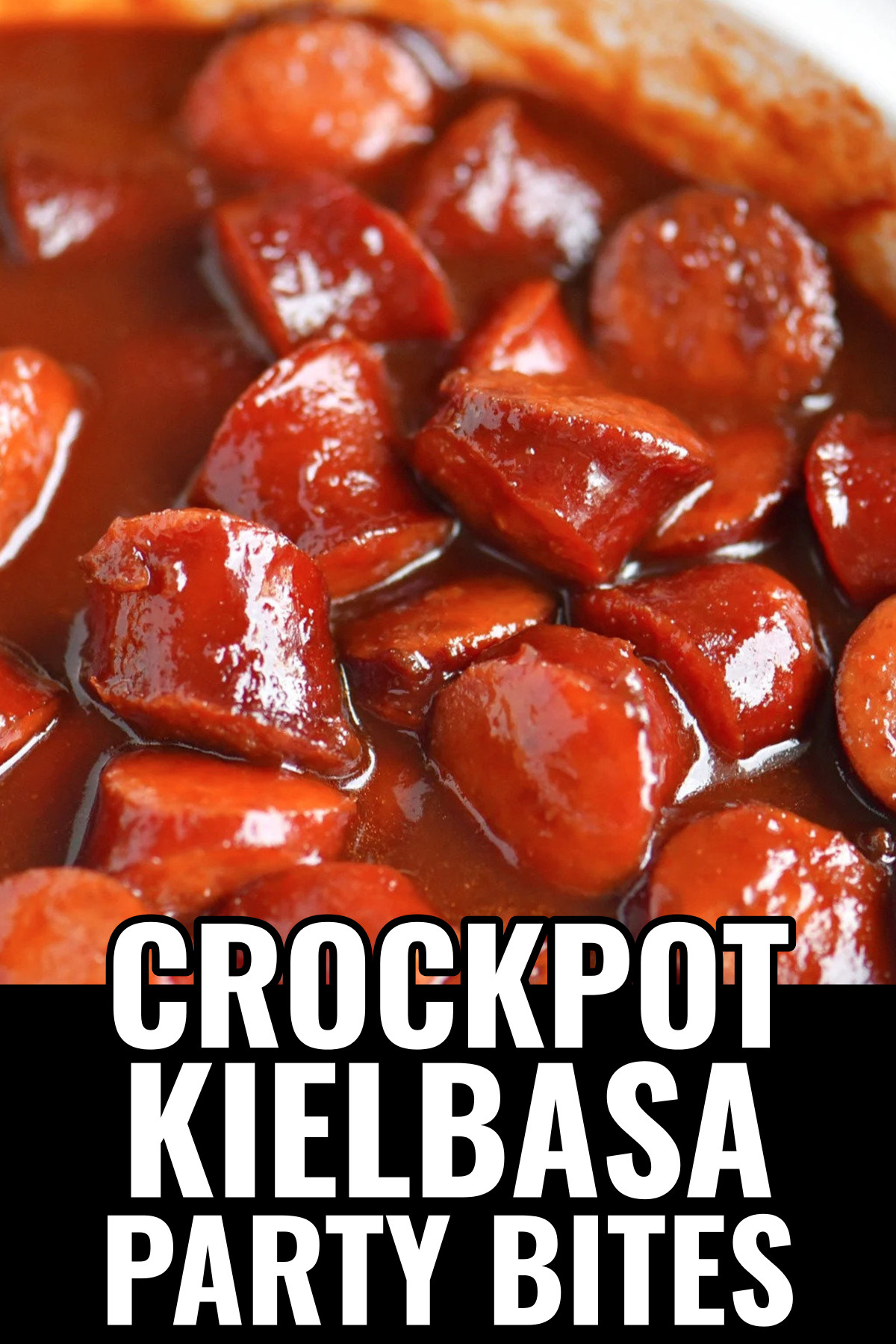 If you and your crowd love "cocktail weenies" you will LOVE these Kielbasa Bites – they're like cocktail weenies, but with a flavor upgrade with barbecue sauce, Worcestershire sauce, garlic powder, and onion powder also in the recipe.
Just cut up 2 pounds of Kielbasa, toss in your crock then add in the other ingredients – and it's ready to cook!
Extra bonus for this recipe – you can also serve these over some instant rice for a quick easy dinner.
Get the recipe at MomOnTimeOut.com
Crockpot Sandwiches For A Crowd
If you're looking for more of a "main dish" type of party food to cook in your slow cooker, these crockpot sandwiches are perfect to feed a large group.
recipes in the image above:
(1) – Slow Cooker Cheesy Barbecue Brisket Sandwiches – Slow cooked BBQ brisket topped with cheddar cheese sauce and served on rolls – see the recipe
---
(2) – Hot Ham and Cheese Crockpot Sandwiches – Hot ham and cheese slider sandwiches served dinner rolls or croissants – see the recipe
---
(3) – Crock Pot Pizza Sliders – These Crock Pot Pizza Sliders are a crowd favorite! Better yet, they are super easy to throw together and cook quickly – see the recipe
---
(4) – Slow Cooker Texas BBQ Chicken- Simple 3-ingredient sliders with chicken, chili seasoning, and BBQ sauce. Just dump in the crockpot and you are done – see the recipe
Italian Beef Crockpot Sandwiches
ALL of those make ahead crockpot sandwich recipes above are really good and your crowd will love them, but this Italian Beef slow cooker sandwich recipe is by far the favorite of my football season buddies.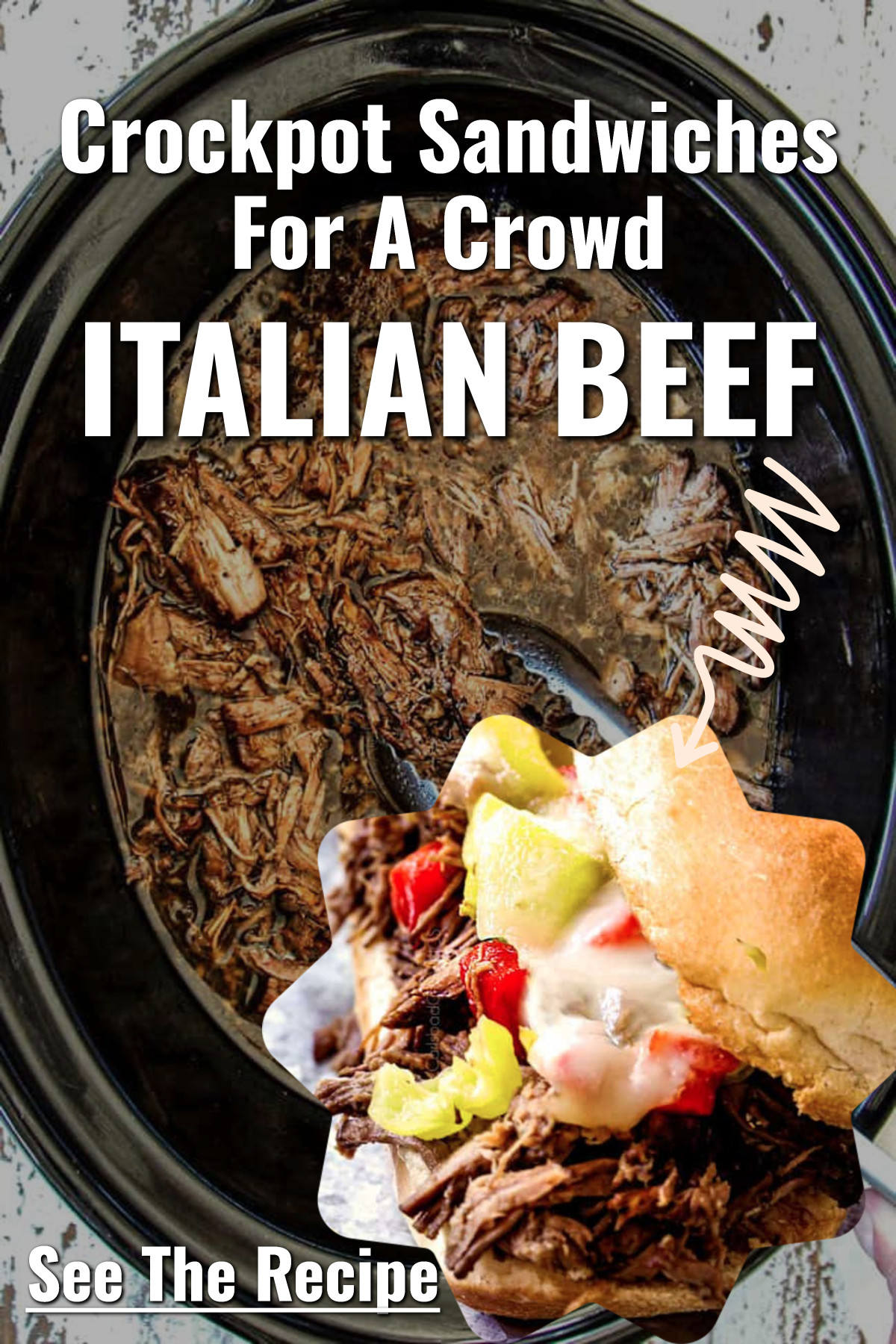 You'll slow cook a 3-5 pound beef chuck roast with various Italian seasonings, sauces, beef bouillon and 1 cup of Coca-Cola (!) for about 8 hours on low or until fall-apart tender then let your guests pile it on a toasted bun topped with cheese, pepperoncini and their favorite toppings.
Makes about 12 BIG hoagie sandwiches, but if you use small rolls, you can stretch this recipe to feed more people (which is what we do).
Crock Pot Party Food Recipes
There are so many delicious and EASY party foods you can make in your Crock Pot slow cooker.
Below are some excellent resources for easy recipes to make.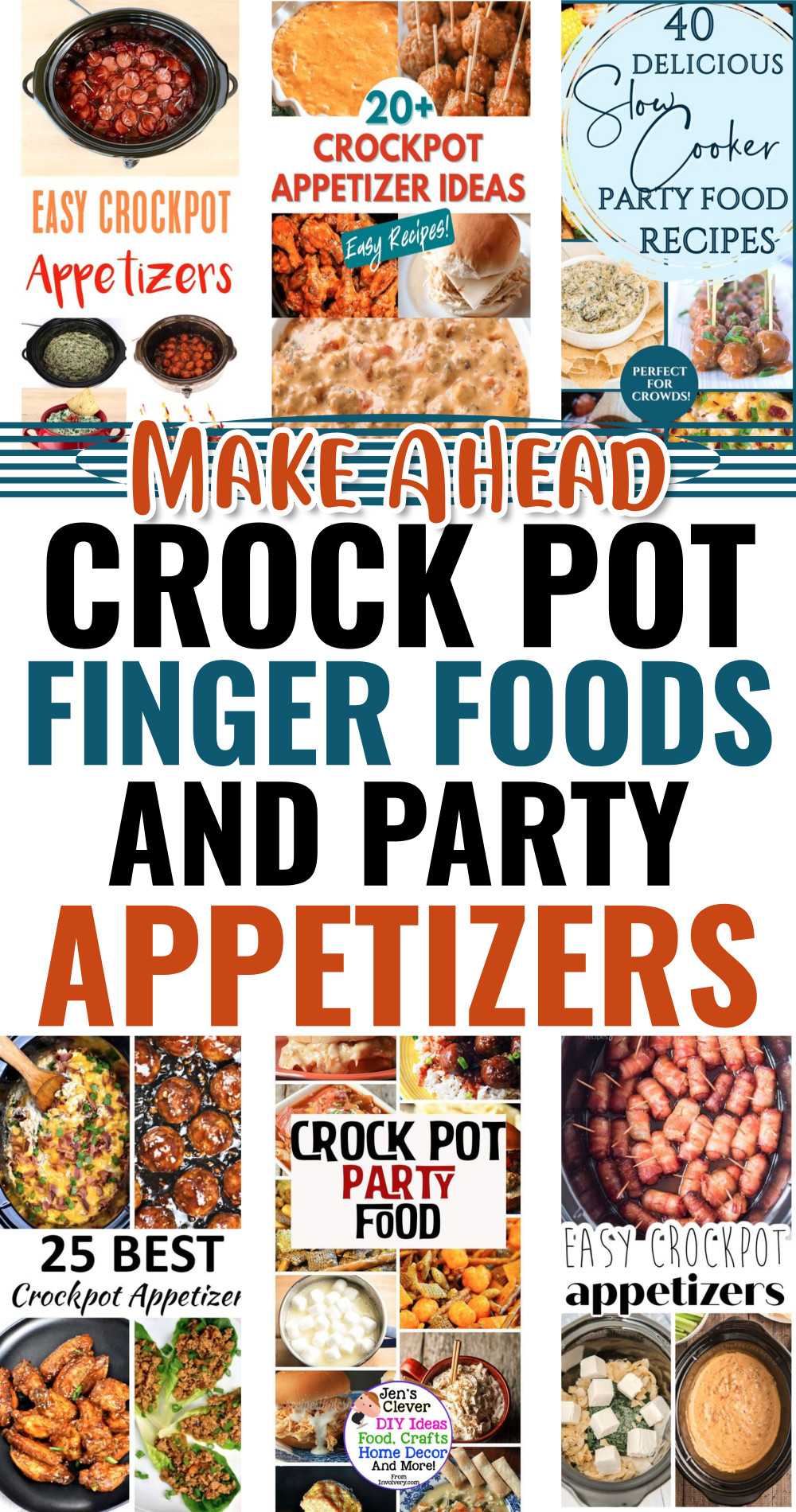 recipes in the image above:
(1) – 44 Slow Cooker Appetizer Recipes to Make Parties a Breeze – Get ready to load up on delicious Slow Cooker Appetizer Recipes. Make your next party or game day celebration very yummy for them and EASY for YOU – see the recipes
---
(2) – 20+ Crockpot Appetizers for the Holidays – Save time and space in your oven this holiday season and pull out the slow cooker to make these crowd-pleasing crockpot appetizers – see the recipes
---
(3) – 40 Delicious Crockpot Party Food Recipes – If you're looking for easy slow cooker recipes for a crowd, check these appetizers and finger foods you can make in your Crockpot and serve with ease – see the recipes
---
(4) – 25 Crockpot Appetizers – This collection of easy Crockpot Appetizers will give you plenty of entertaining ideas to cook in your slow cooker – see the recipes
---
(5) – Crock Pot Party Food – Unique slow cooker party food for anytime of year – see the recipes
---
(6) – Easy Crockpot Appetizer Recipes – If you have a slow cooker in the kitchen, grab it and make some delicious party appetizers – see the recipes
Make Ahead Party Food
Whether it's a potluck-style party or a family get-together, below are some delicious recipes and make ahead party food ideas to make and take or set out at your house.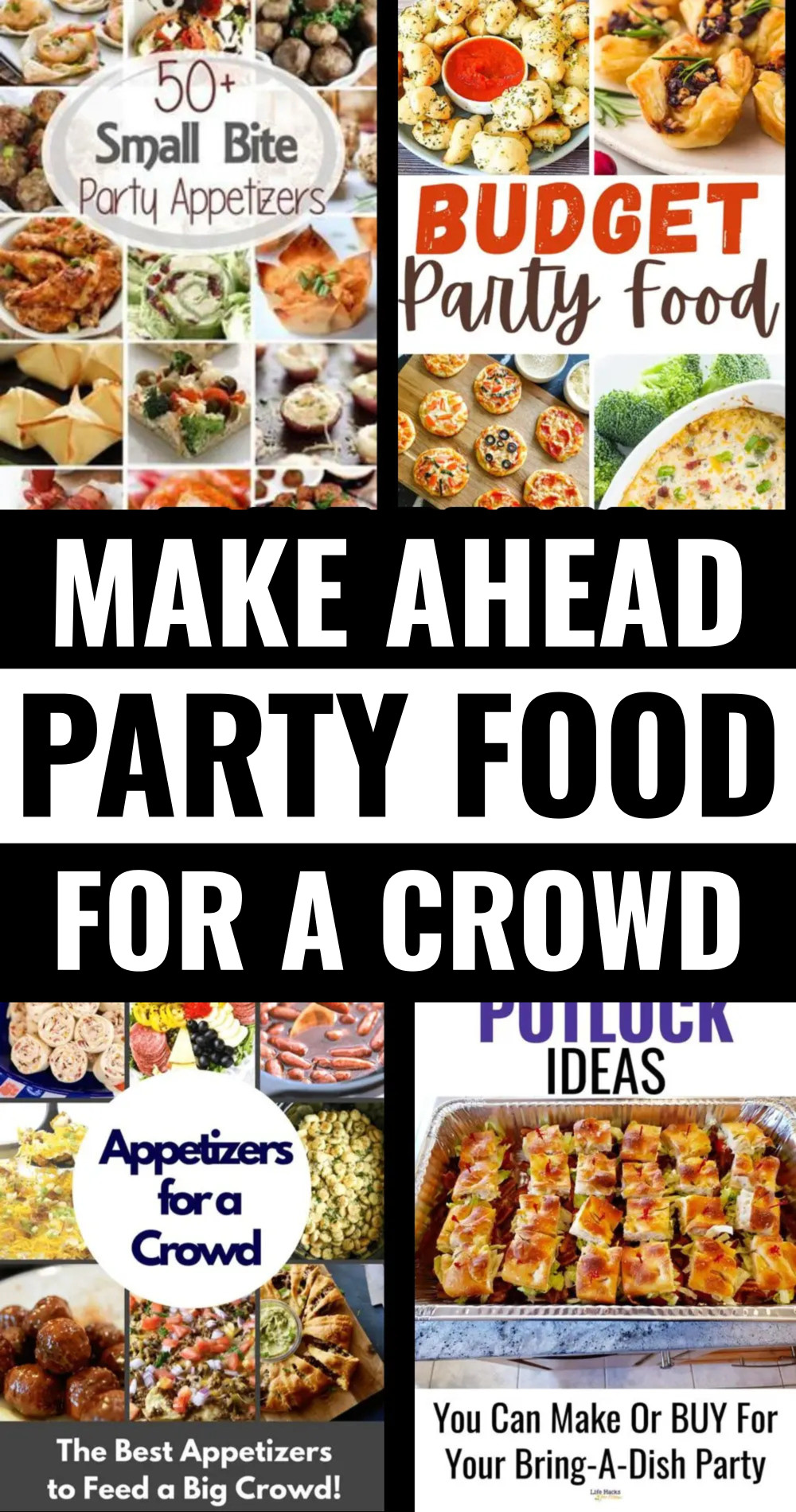 In the picture above:
1 – 50+ Small Bite Party Appetizers ~ Get ready for holiday parties and New Year's Eve! This round up has more than 50 recipes from the best bloggers – see these ideas.
---
2 – Budget Party Food – Hosting a party and need to keep your budget in check? Check out this Party Finger Foods Ideas on a Budget! Tons of yummy budget recipes – see these ideas.
---
3 – Appetizers For A Crowd – Be the hit of the party with these easy appetizers. From dips to finger foods to trays – see these ideas.
---
4 – ✅ Last Minute Potluck Food Ideas To Make Or Buy – Quick, Cheap and Easy Potluck Food Ideas: Appetizers, Side Dishes, Finger Foods, Cold Salads, Store Bought Food Ideas To Take – see these ideas.
More Party Food Ideas
---
Miss Anything?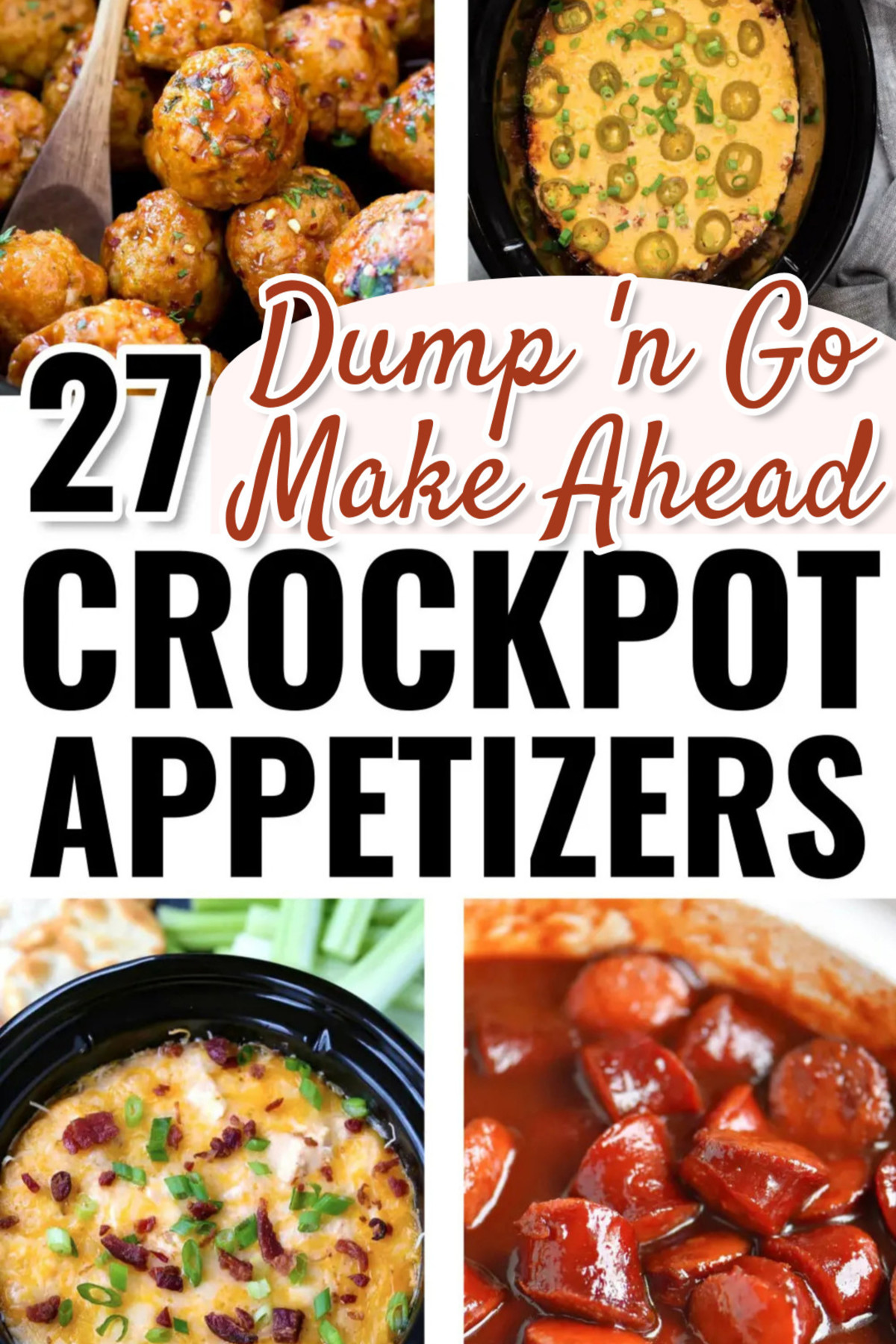 What To Read Next: