---
Farmhouse Style Tea and Coffee Station Ideas For YOUR Kitchen –
I am obsessed with coffee bar ideas (there, I admitted it! ha!) I am SO into having a countertop coffee station or corner coffee bar in my kitchen since I got my new awesome coffee maker – so I've been on the hunt for the PERFECT ideas for a farmhouse coffee bar at home – and I've found them! Let me show you the GORGEOUS coffee bar pictures, accessories and ideas I've found…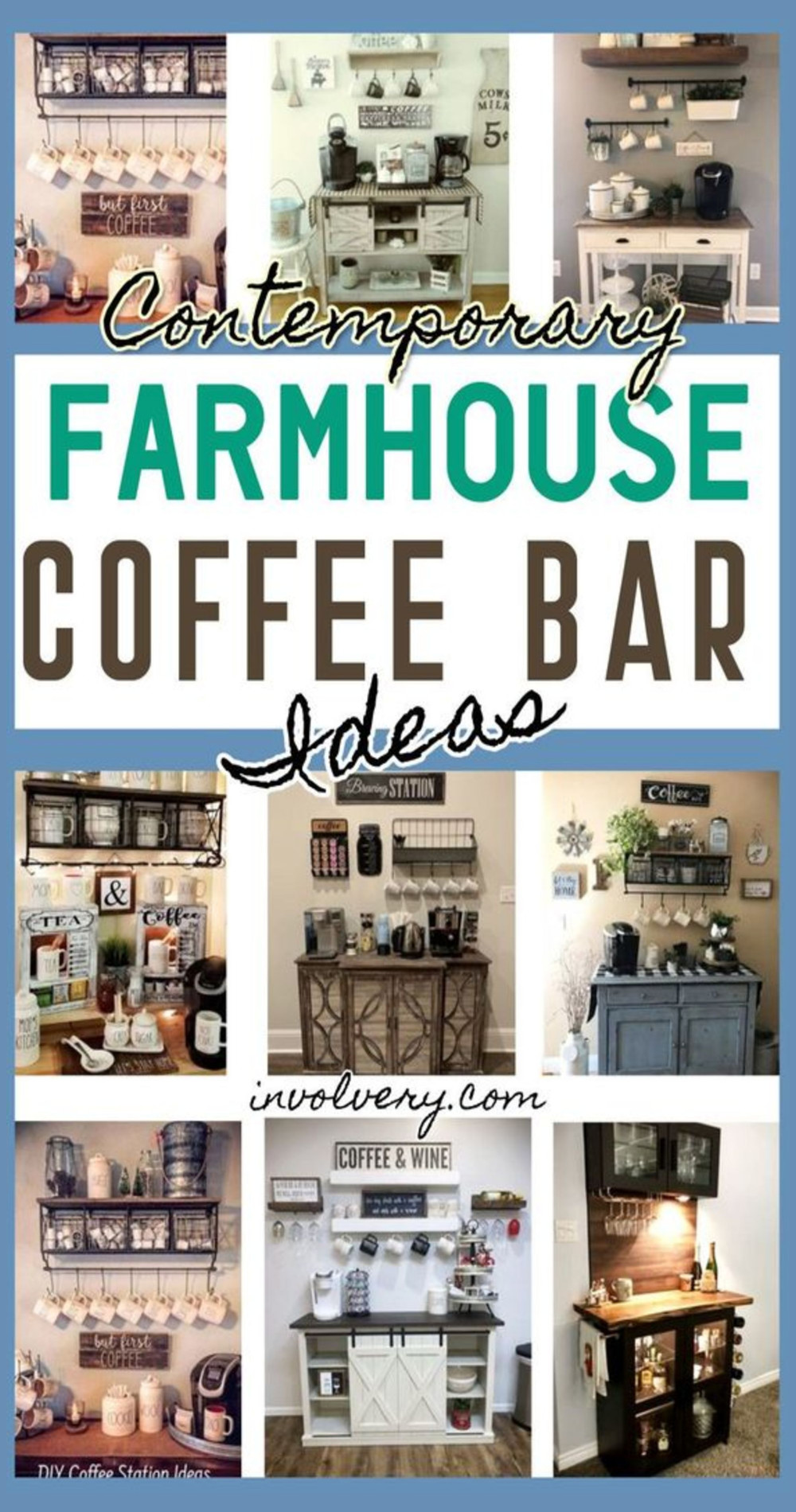 ---
Updated on May 19, 2023
posts may contain affiliate links -Enjoy and feel free to share with your friends!
---
Farmhouse Coffee Bar Ideas
As I said, I've been looking at a LOT of ideas to plan and design my own coffee bar in my kitchen.
I LOVE that rustic old country farmhouse decor style – even though I'm more of a modern farmhouse style kinda gal – so naturally, when I went looking for coffee bar set up ideas for MY kitchen, I was immediately drawn to farmhouse-style set ups.
These farmhouse coffee bar pictures were really inspirational and gave me a LOT of great ideas: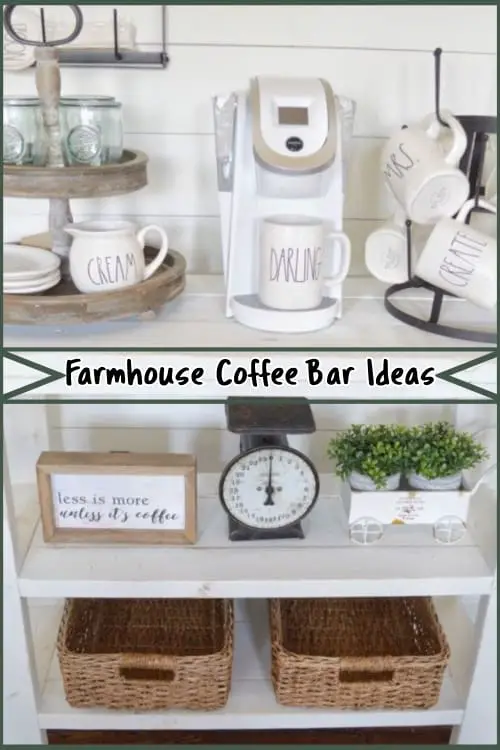 Let me show you pictures of DIY farm country kitchen coffee station ideas I just LOVE as well as home coffee bar cabinets and shelves and accessories, etc that all bring together the PERFECT coffee "nook".
Get your Pinterest "pinning finger" ready – you're gonna wanna save a LOT of these ideas to your coffee bar ideas Pinterest board!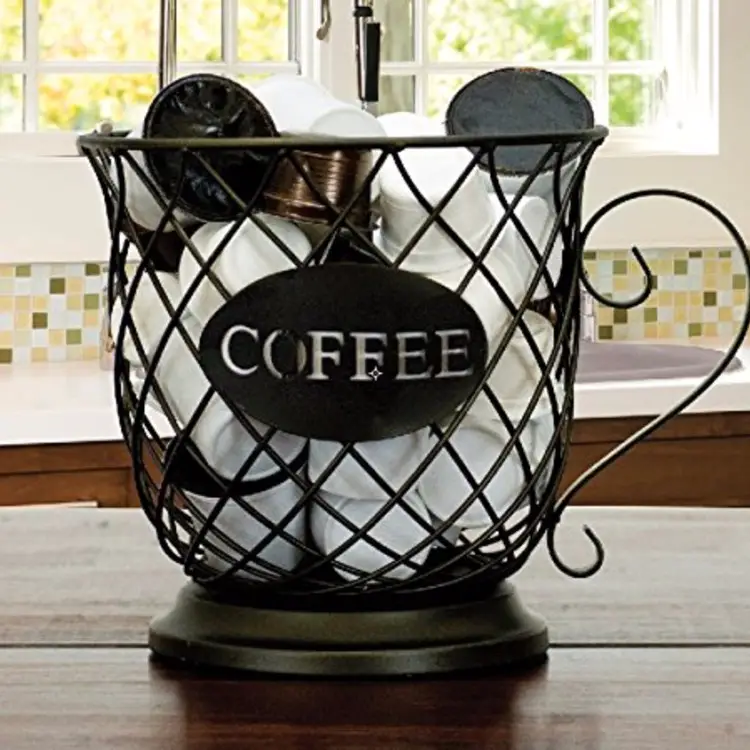 & 
I'll show you my picks for the perfect accessories to create a farmhouse style coffee bar below =)
Need To Keep It Budget-Friendly?
✅ TIP: I found LOTS of cute things for my home coffee station ON SALE here. If you're on a budget – or just want some great ideas – look on that page.
Not sure what Farmhouse Style is?
Or what style of farmhouse decorating YOU like?
✅ Read: The Ultimate Guide To Farmhouse Style
---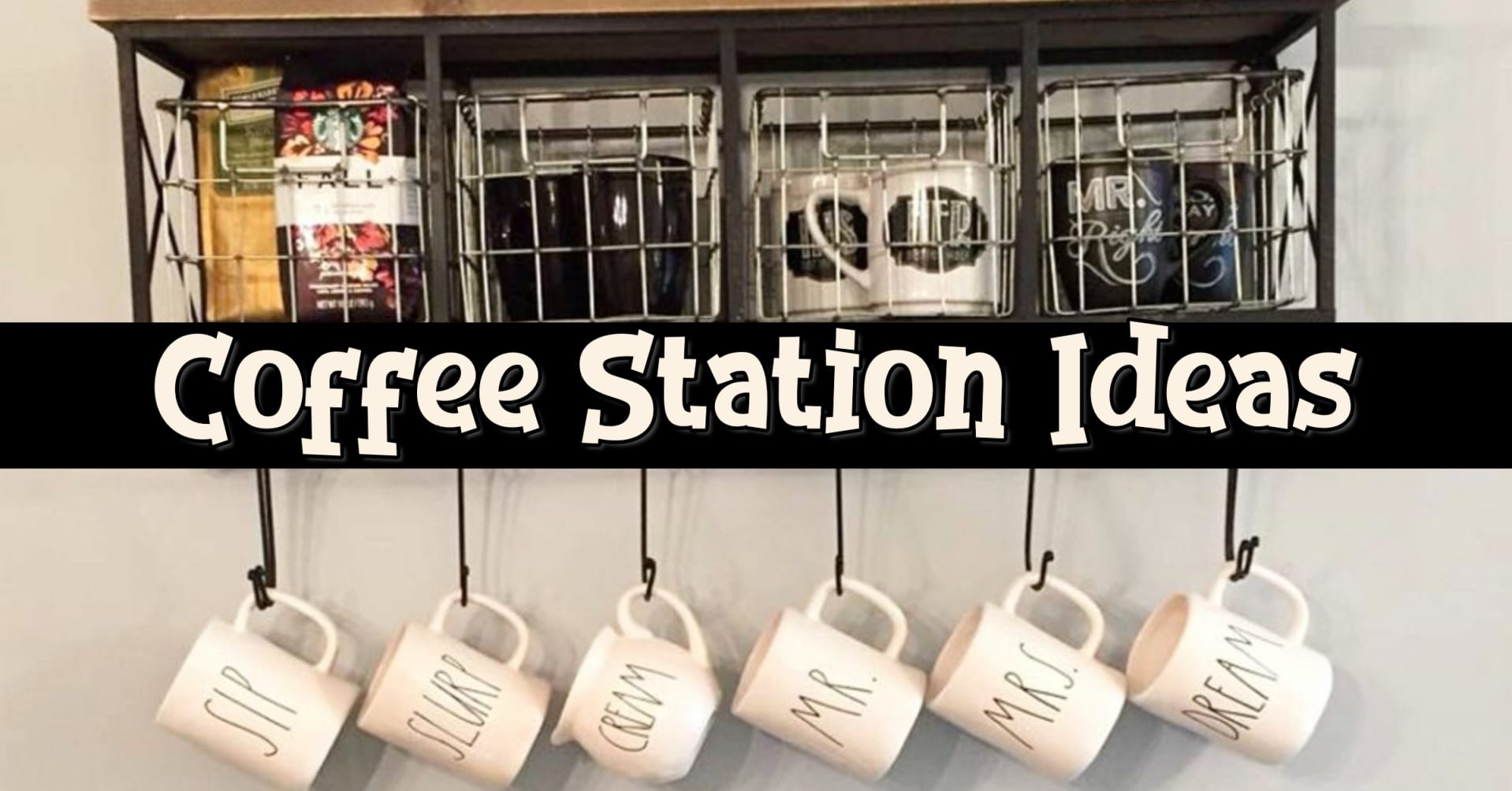 Farm Style Coffee Station Ideas
Oh my, I've found SO many great coffee station ideas – I especially love that contemporary modern rustic style coffee bar decor (the rustic country farmhouse look is more MY thing!)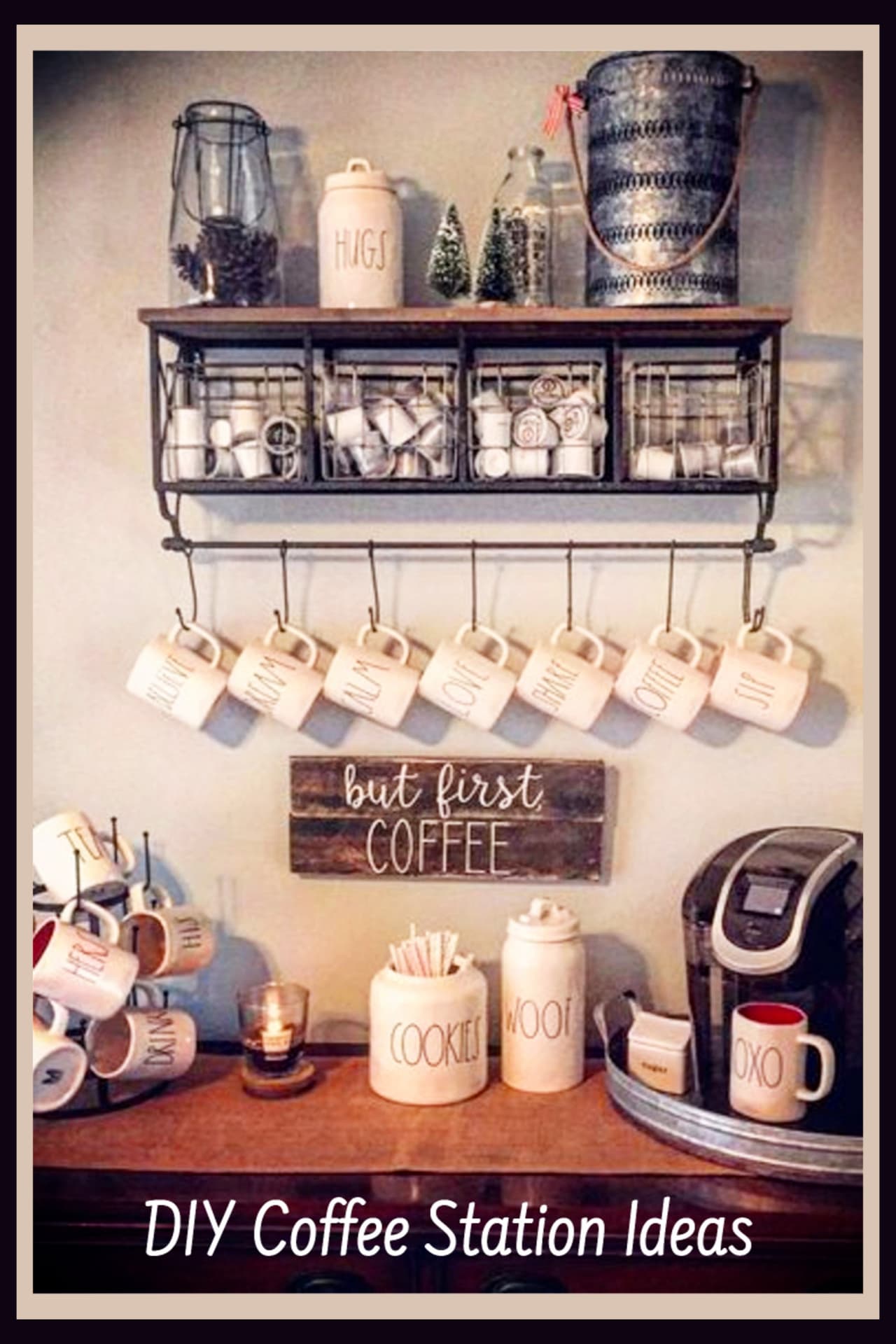 It's just gorgeous, right?
✅ This is the wall shelf used in the coffee bar picture above.
It comes with the 4 baskets and the "S" hooks to hang your coffee mugs from.
Personally, I like this coffee bar wall shelf better – it's more my style =)
But let me just show you lots of ideas for using this coffee station wall shelf and mug rack for YOUR home coffee station, kitchen coffee bar or small coffee nook.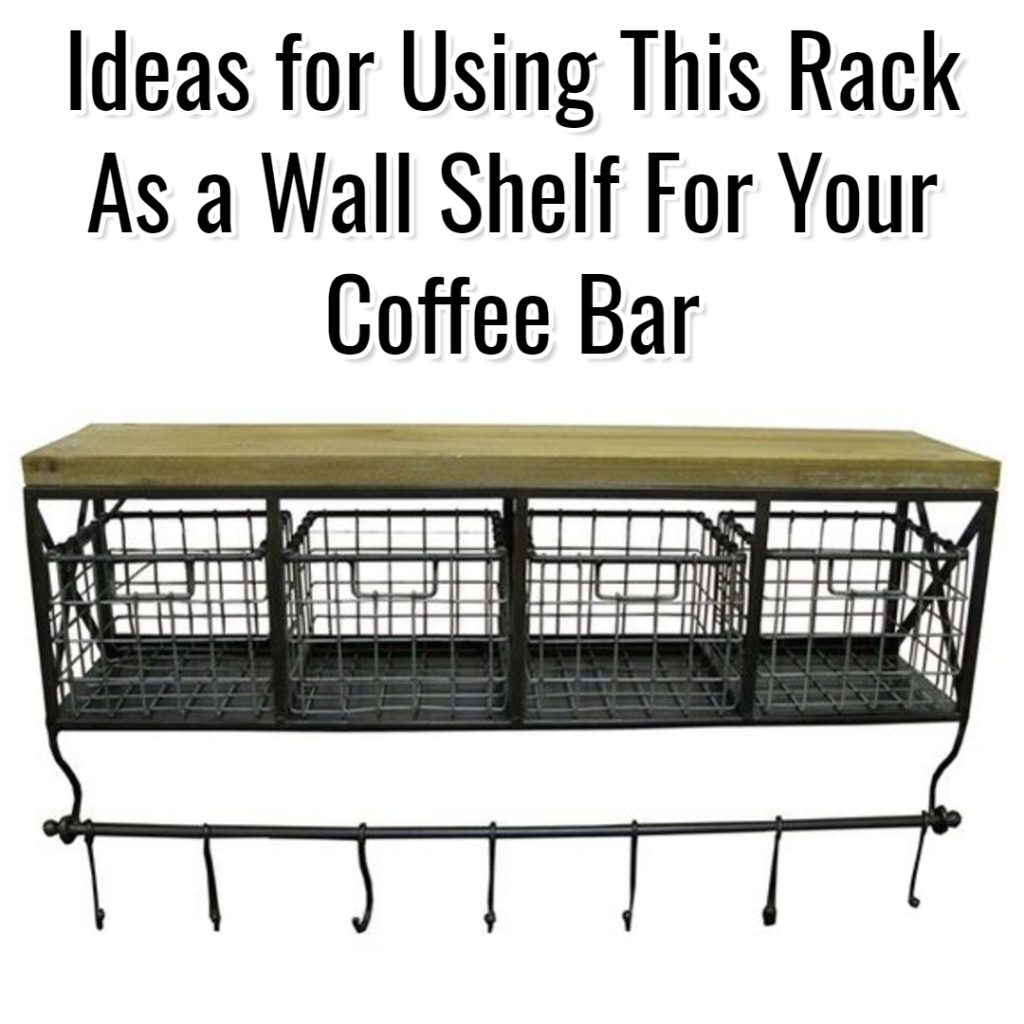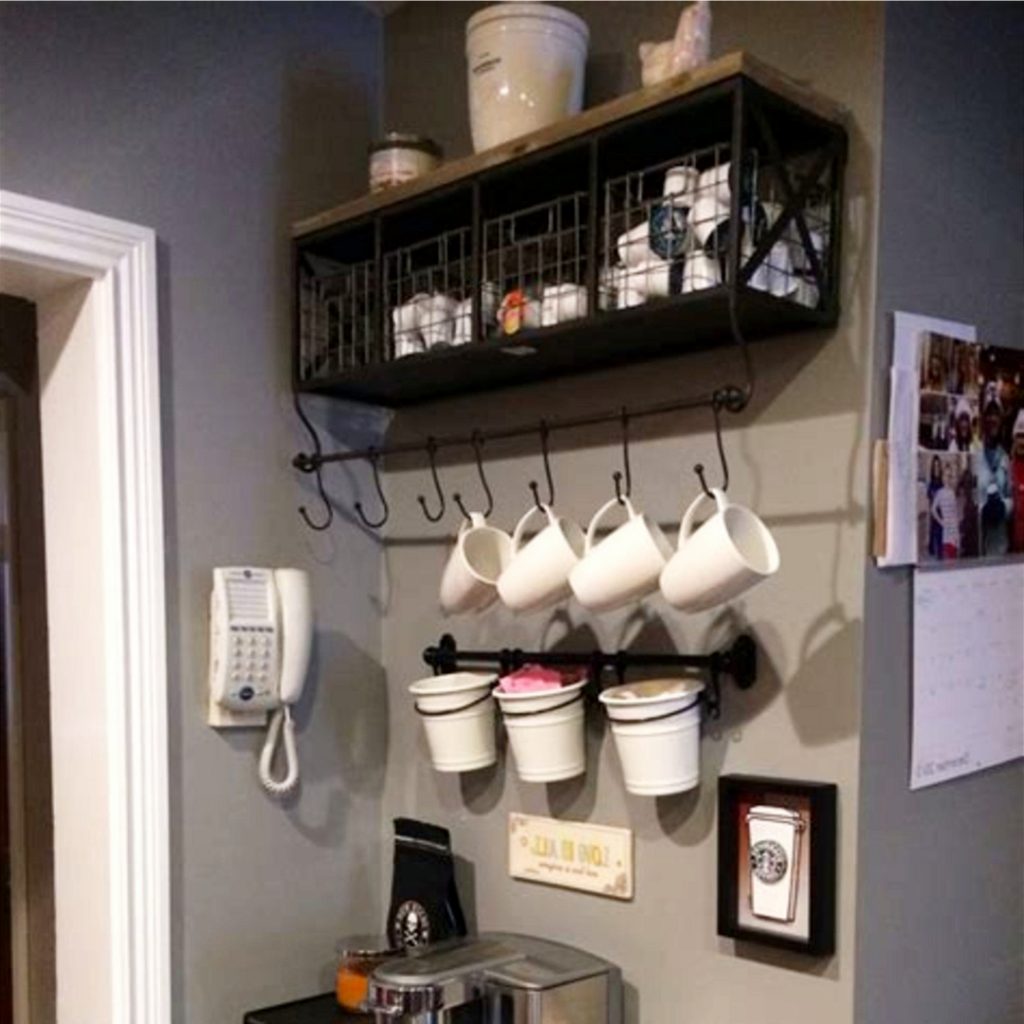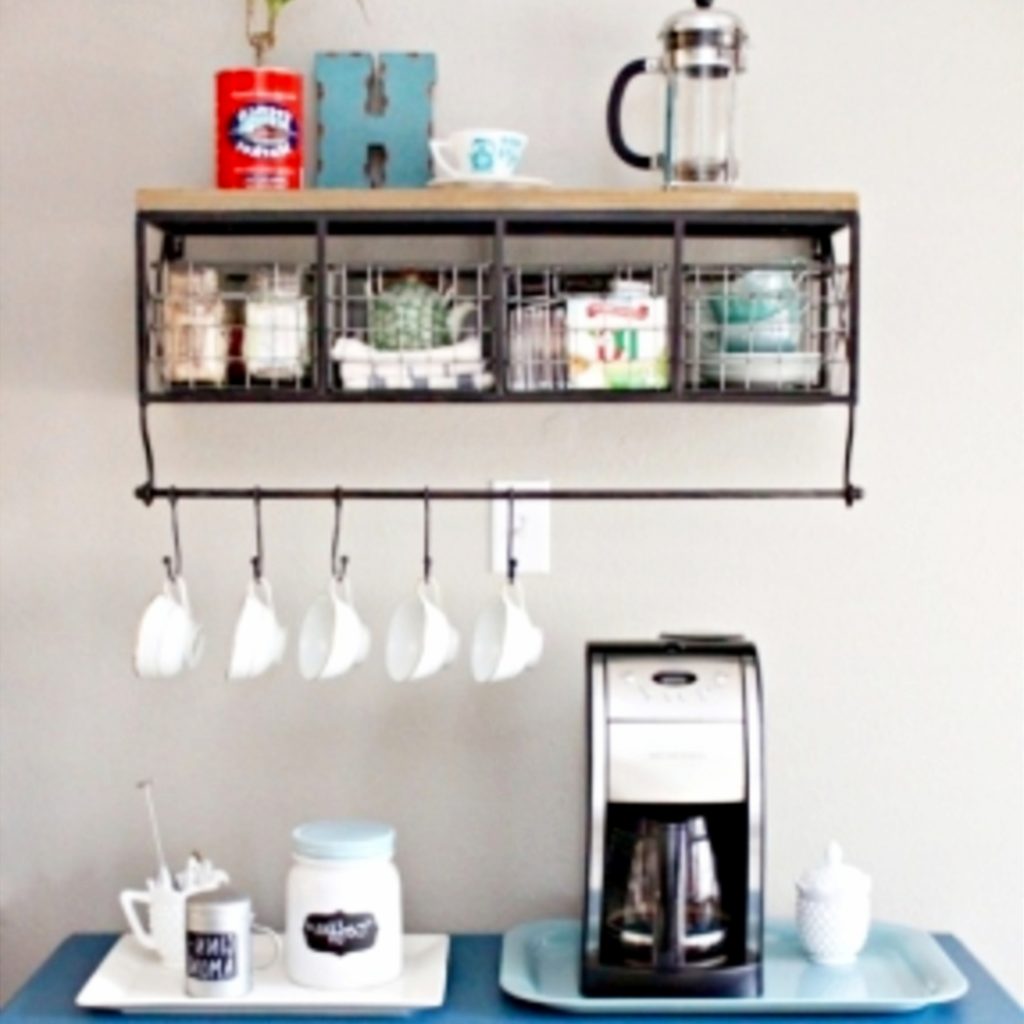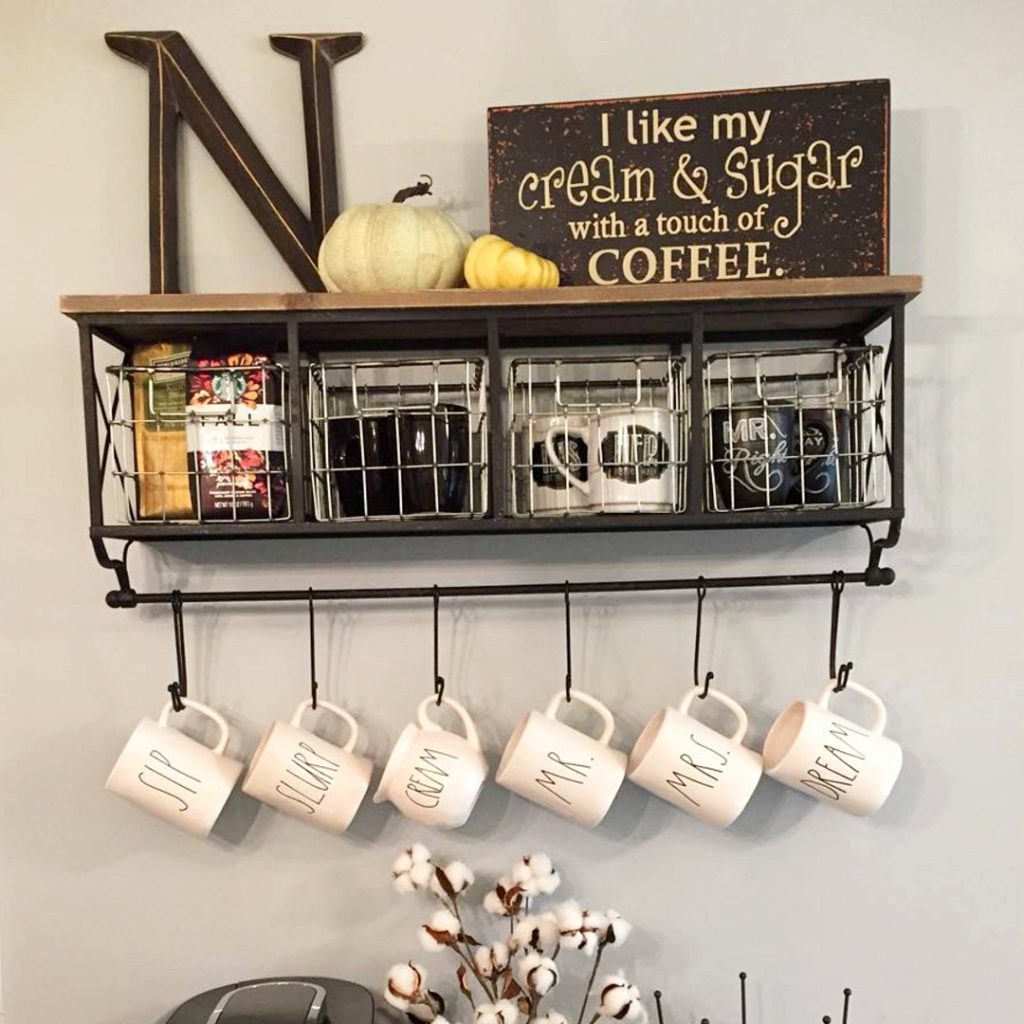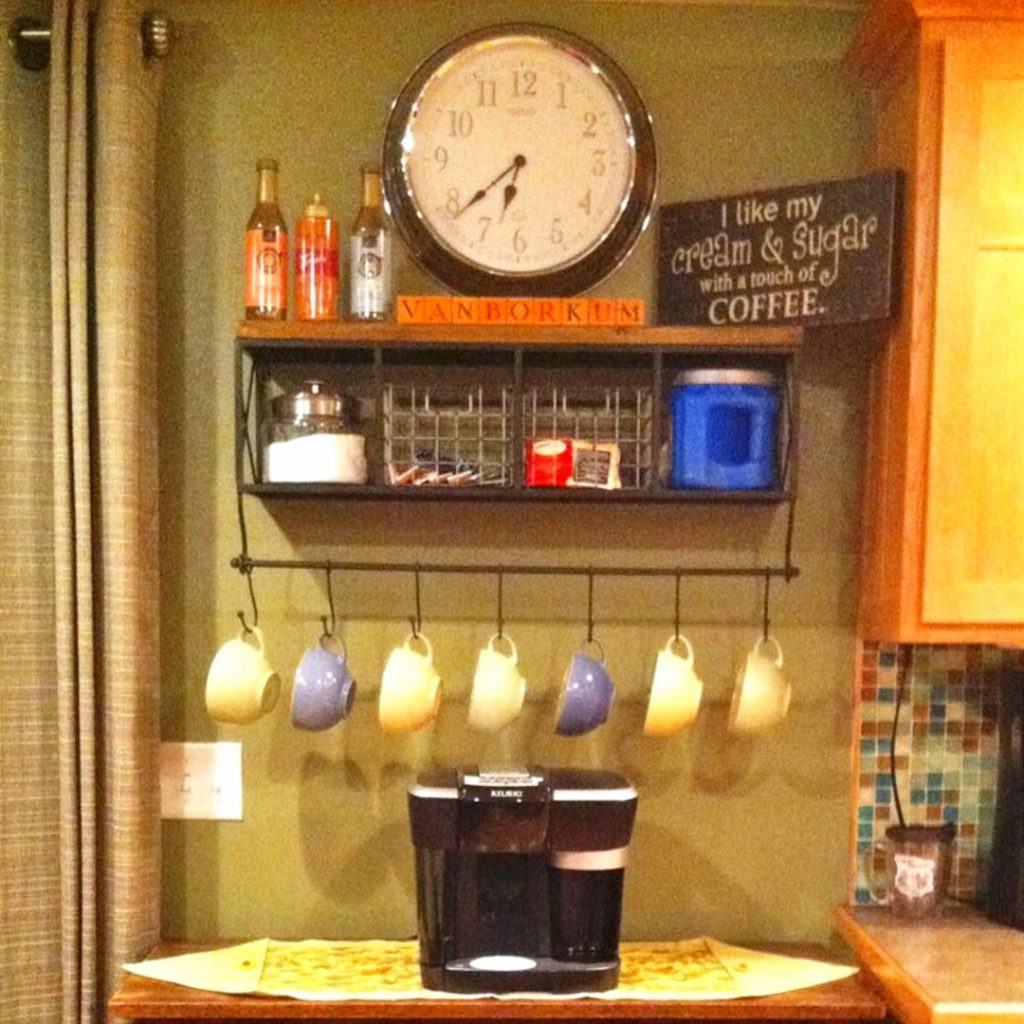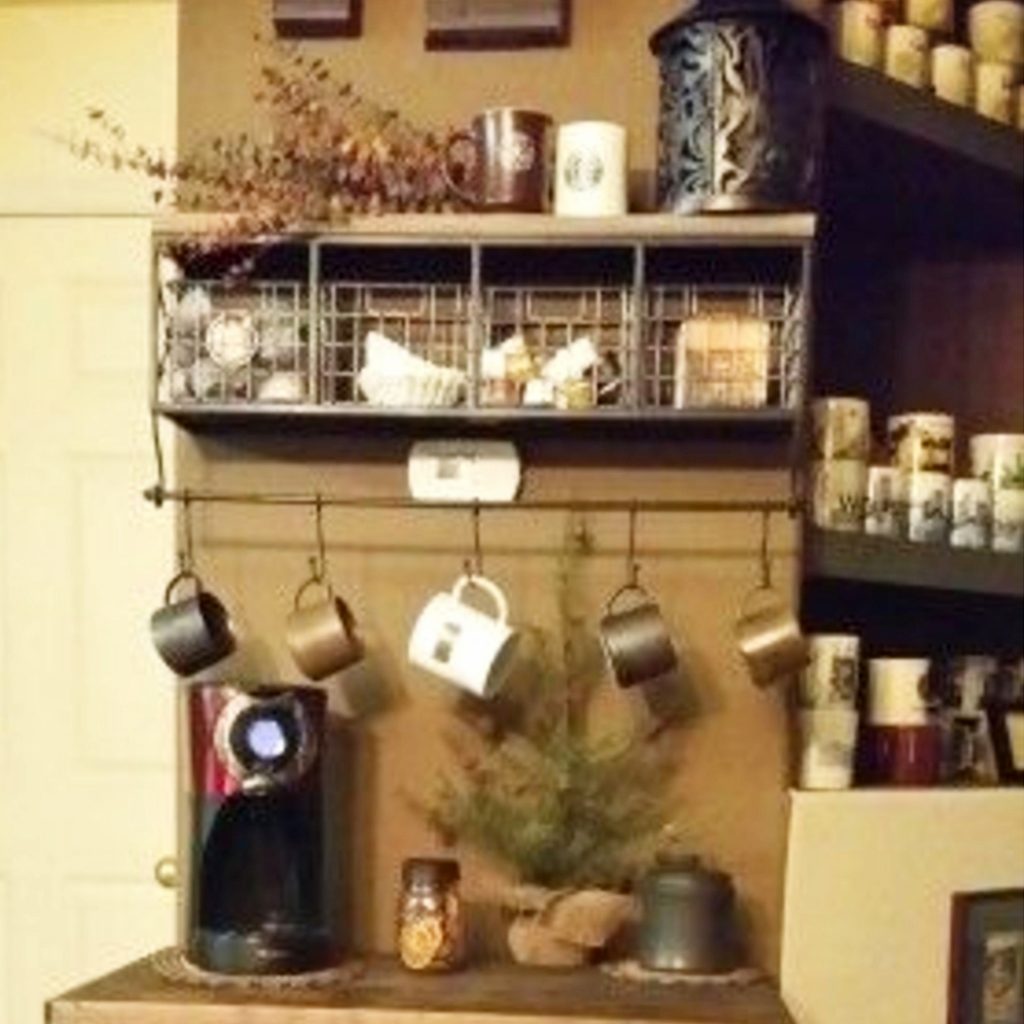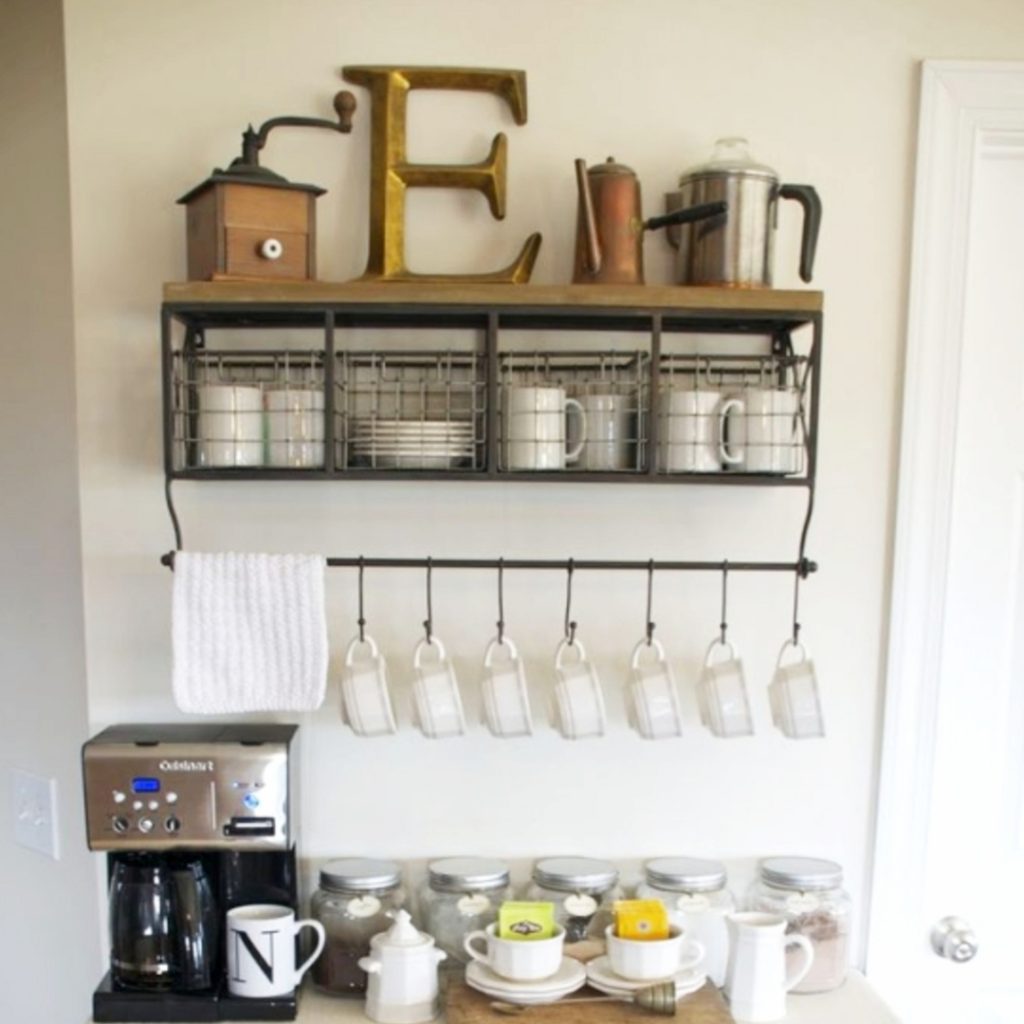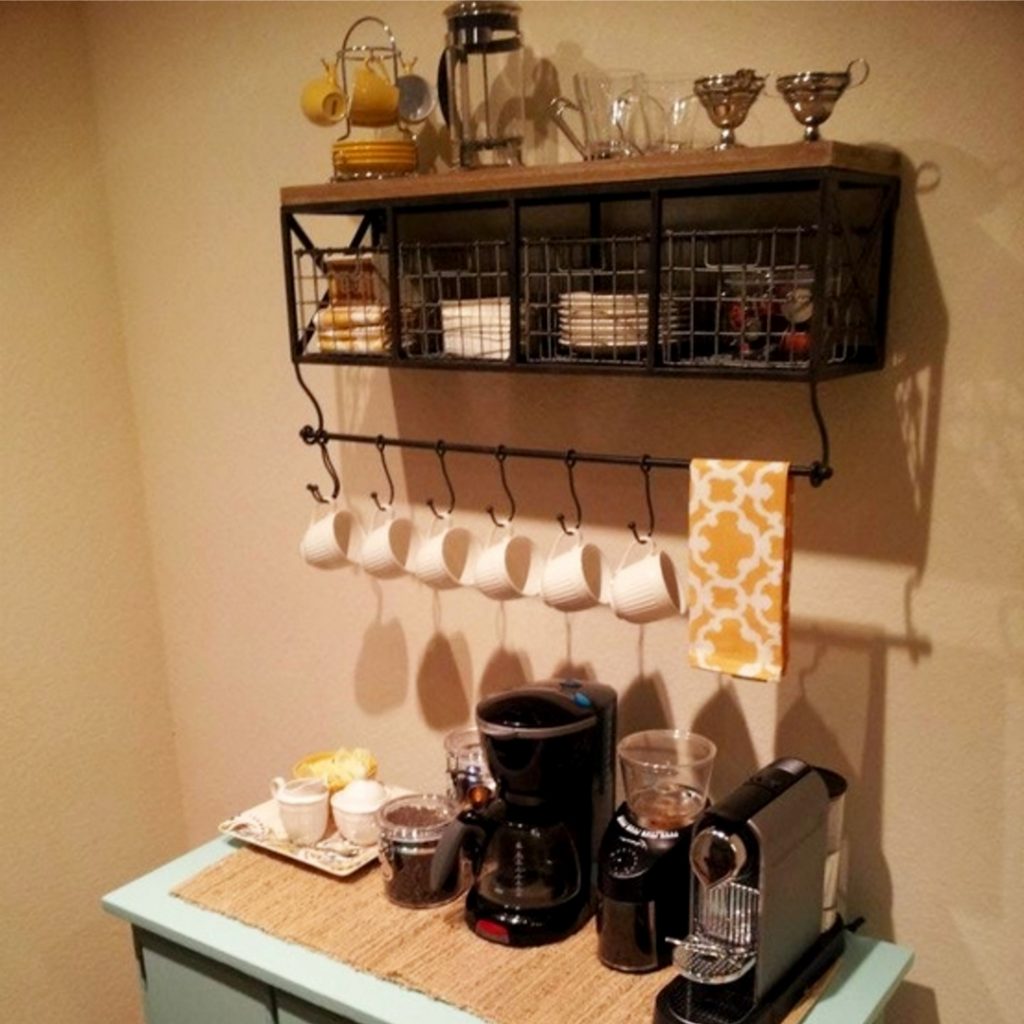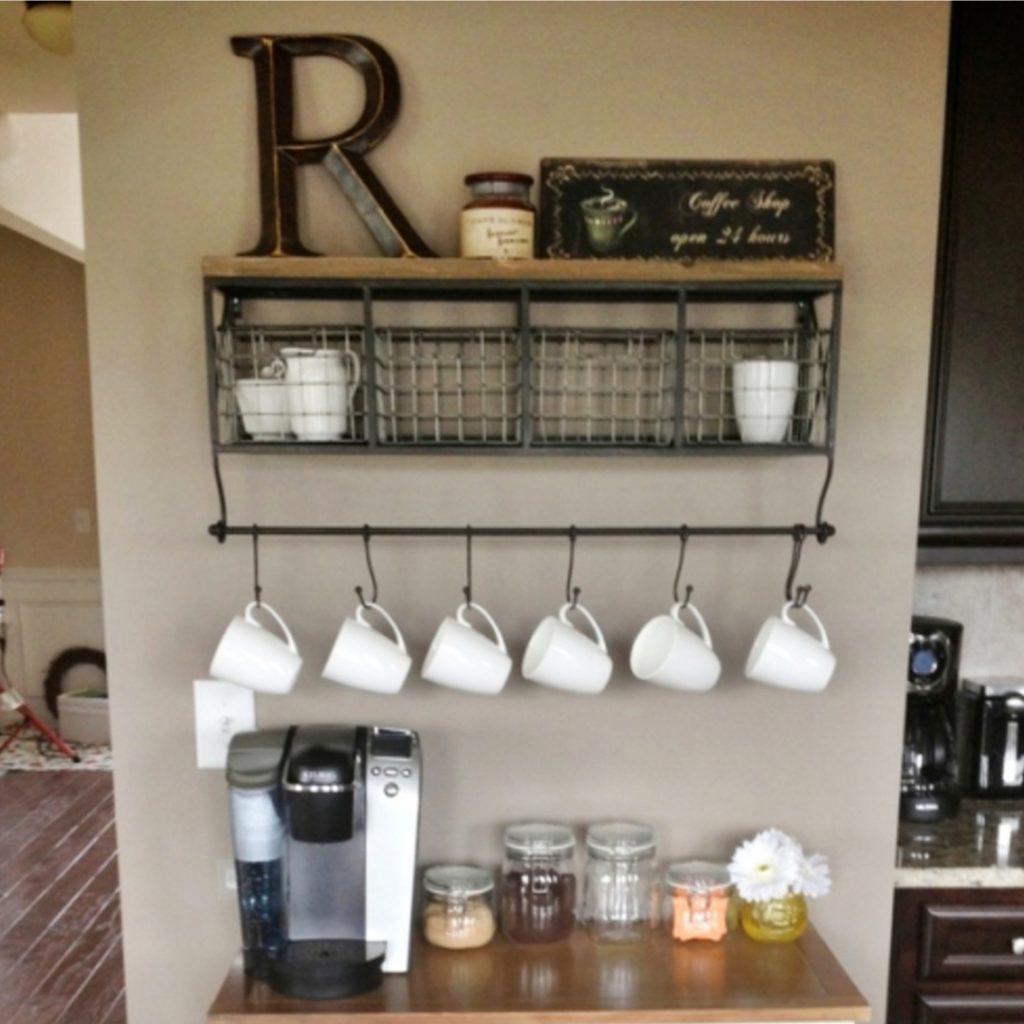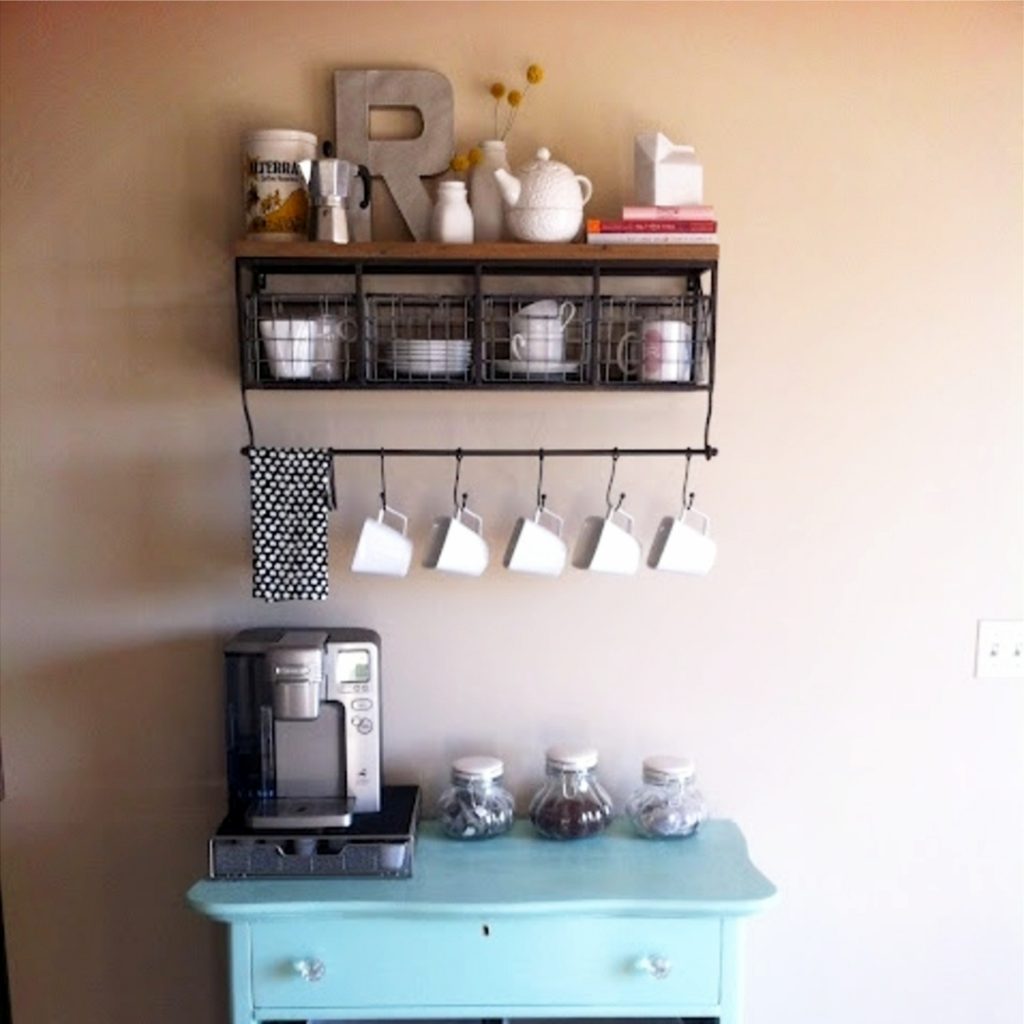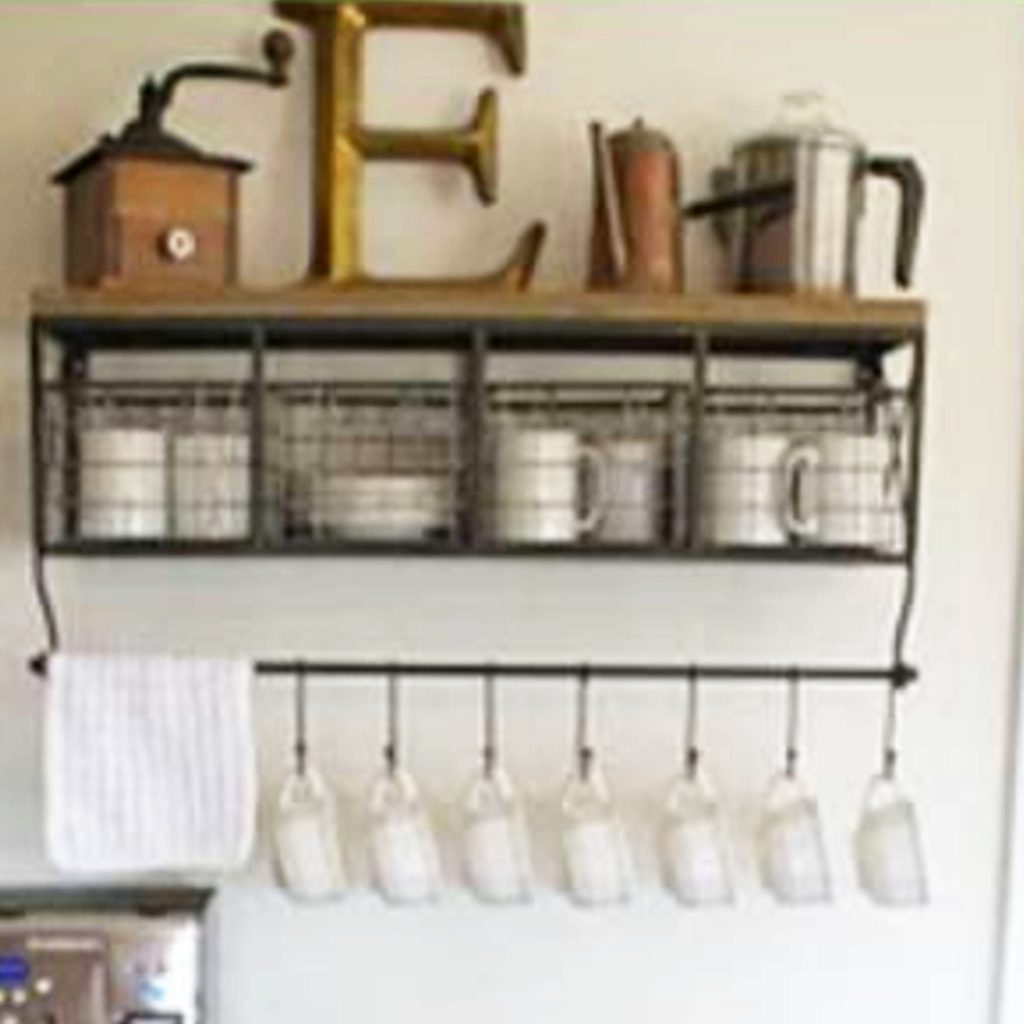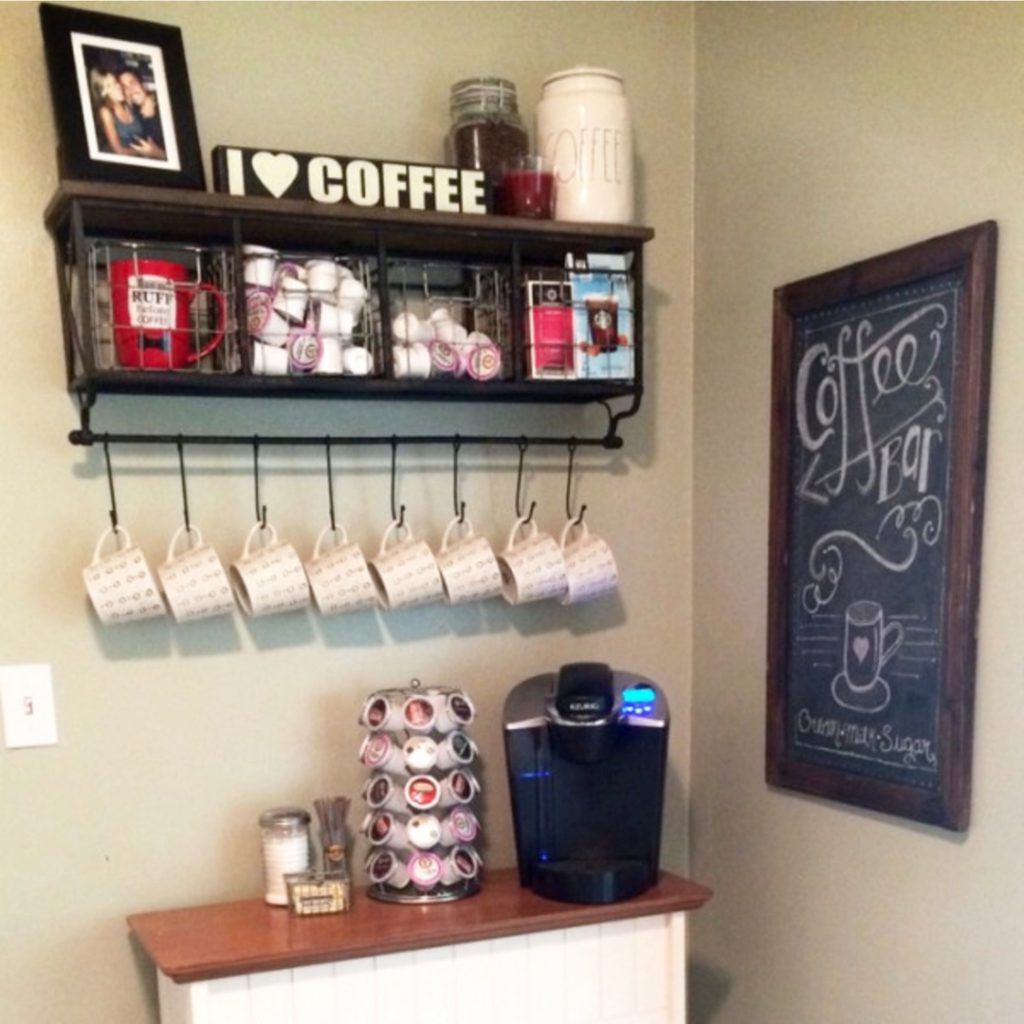 ✅ This is the shelf in the pictures
Now, you might notice the "bad" ratings – that is only because buyers think it's too expensive (but it's a GREAT coffee station wall shelf with basket and hooks!)
This coffee bar wall rack with baskets and shelves is also a great option for a kitchen coffee station.
The baskets are really nice and it's a super cute rack that is sure to look amazing in any coffee station set up you can imagine -(see it here).
I just love all the cute and fun coffee station accessories, don't you?
I especially love all these Rae Dunn canisters!
Those coffee canisters look amazing on shelves like these in a coffee bar area: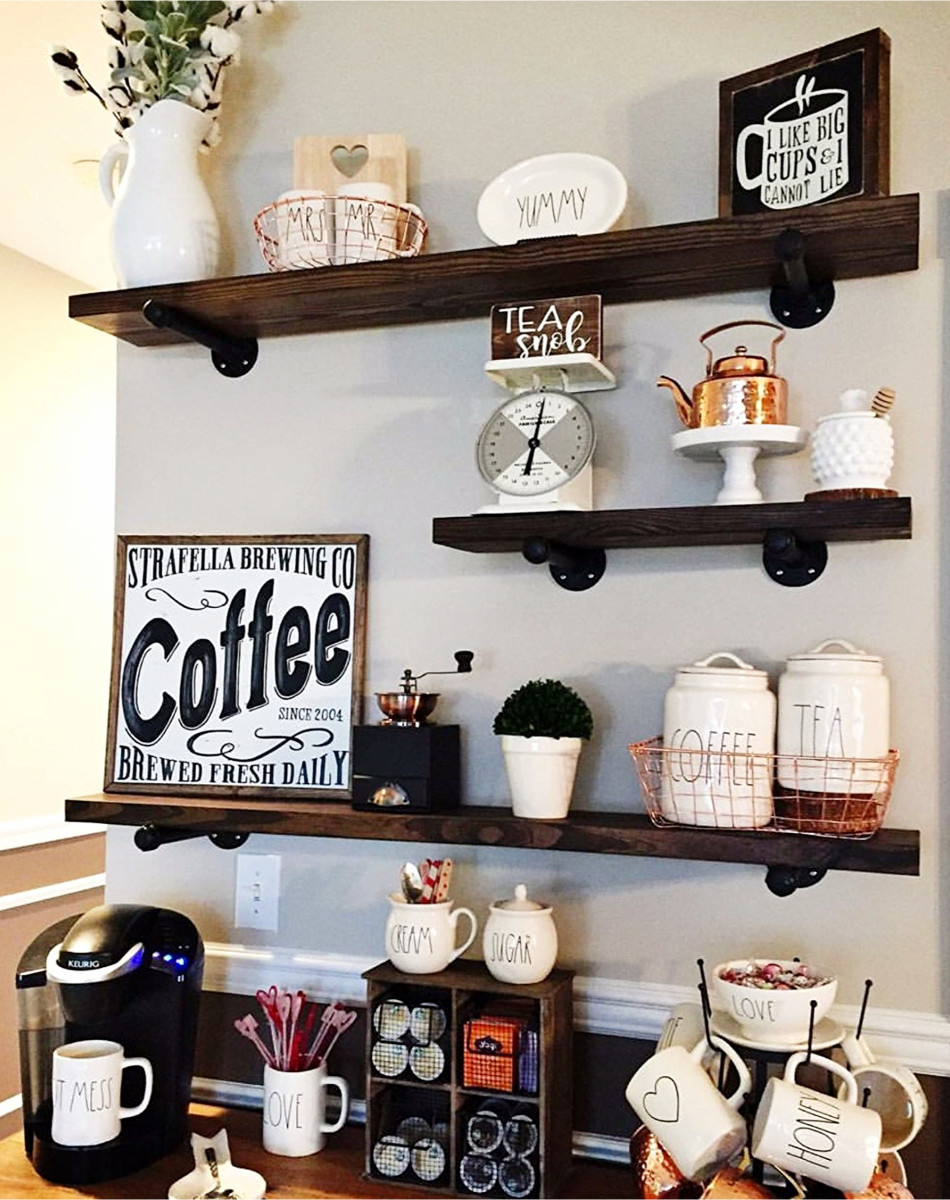 LOVE this home coffee bar area!
The Rae Dunn canisters, the industrial pipe wall shelves, the adorable coffee mugs – all of it!
You could also use industrial pipe shelves with places to hang your mugs like these shelves here: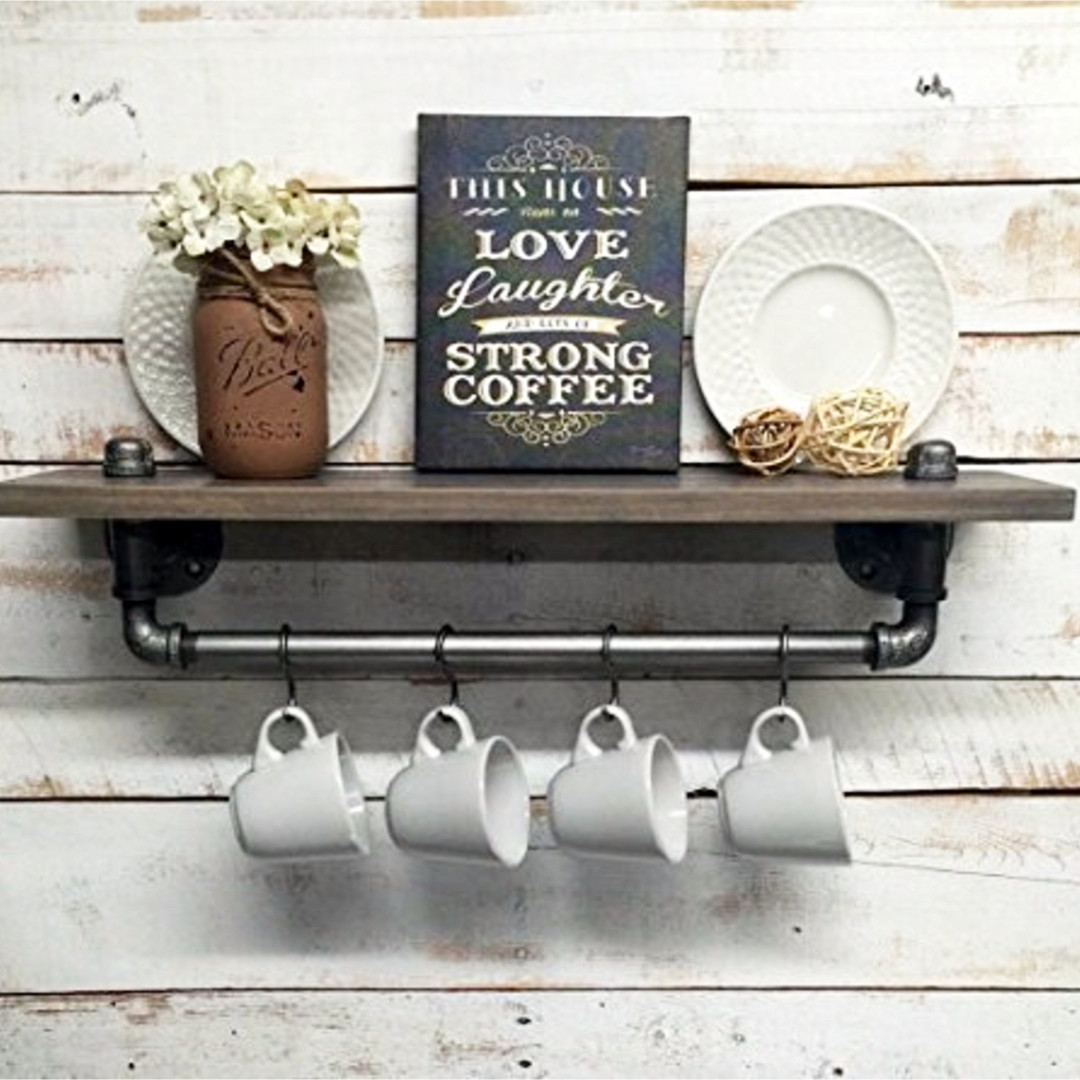 Here's another idea that looks like a simple do it yourself coffee station idea – LOVE the cabinet!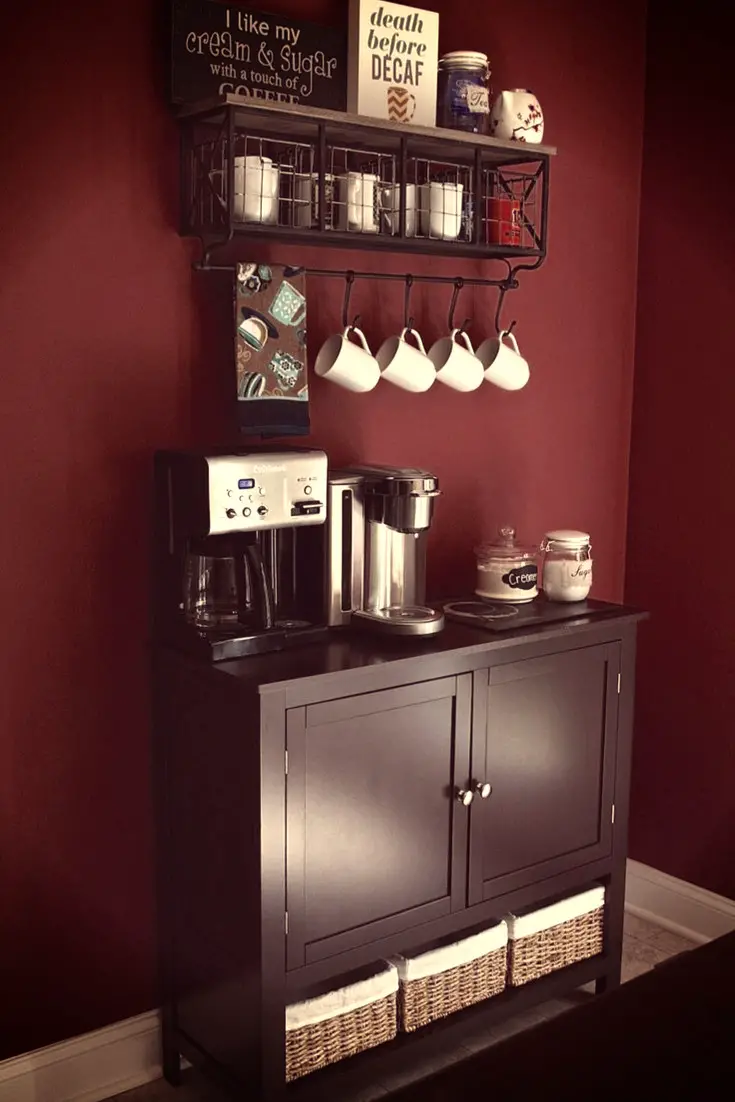 Accessories For a Farmhouse Coffee Bar
Below are my favorite farmhouse coffee bar accessories for setting up the PERFECT farm style coffee bar in your home.
To me, the farmhouse style coffee bar cabinet, mugs, wall shelf, mug rack, coffee pod holder, mug rack, etc all create the most beautiful coffee bar set up when put all together!
 Farmhouse Style Coffee Bar Mug Rack StandShow Me This Farmhouse Coffee Pod Holder For K-CupsShow Me This Farmhouse Style Coffee Bar Placemat For Coffee MakerShow Me This Rustic Farmhouse Wooden Trays For Coffee BarsShow Me This Country Farm Style Coffee Bar Canister SetShow Me This Farmhouse Coffee Station Decor and Decoration IdeasShow Me This Farmhouse Coffee Bar / Coffee Station CabinetShow Me This Farm Style Galvanized Metal Serving Tray For Coffee BarsShow Me This Farmhouse Style Rae Dunn Tea / Coffee Mug SetsShow Me This Rustic Country Farmhouse Coffee Bar Shelf w/ HooksShow Me This
Coffee Bar Organizer Ideas
Don't forget, you'll need accessories to organize all your stuff =)
If you're wondering how to organize your home coffee station, here's some ideas:
Small Tea and Coffee Station Ideas
This is great idea for small coffee station in your home. Looks great, doesn't it?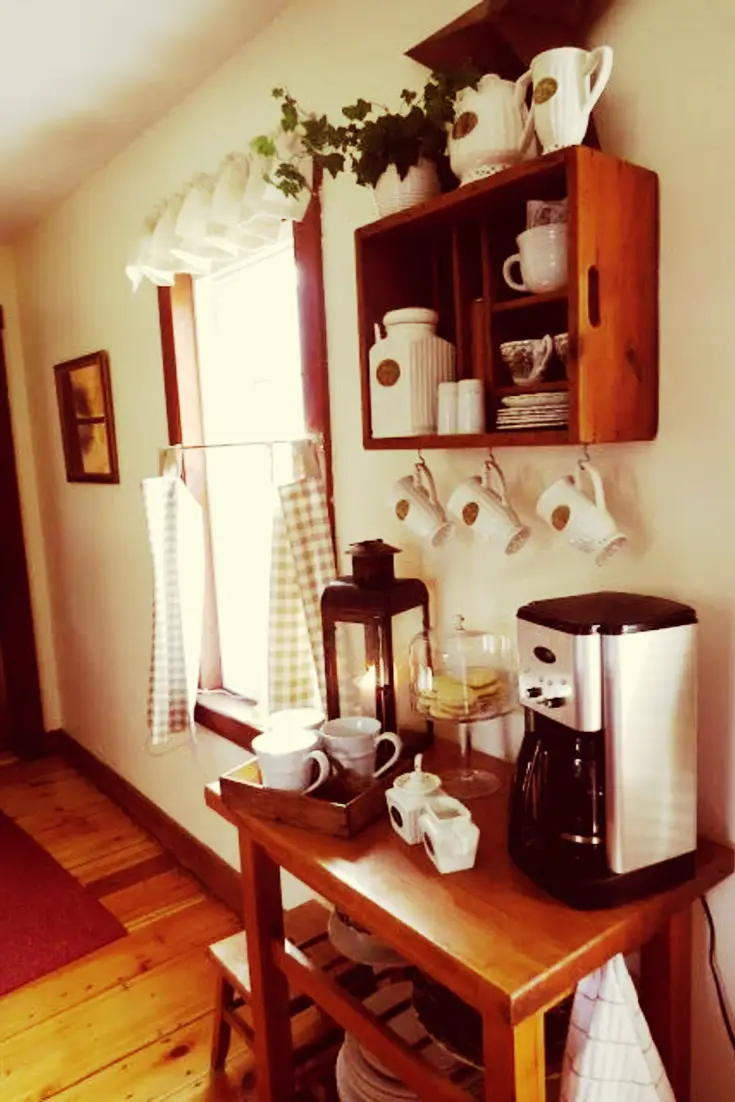 Corner Farmhouse Coffee Nook Ideas
When you have limited space to put your own home coffee station, you have to get super creative.
Here are some good ideas for a corner coffee station in your kitchen.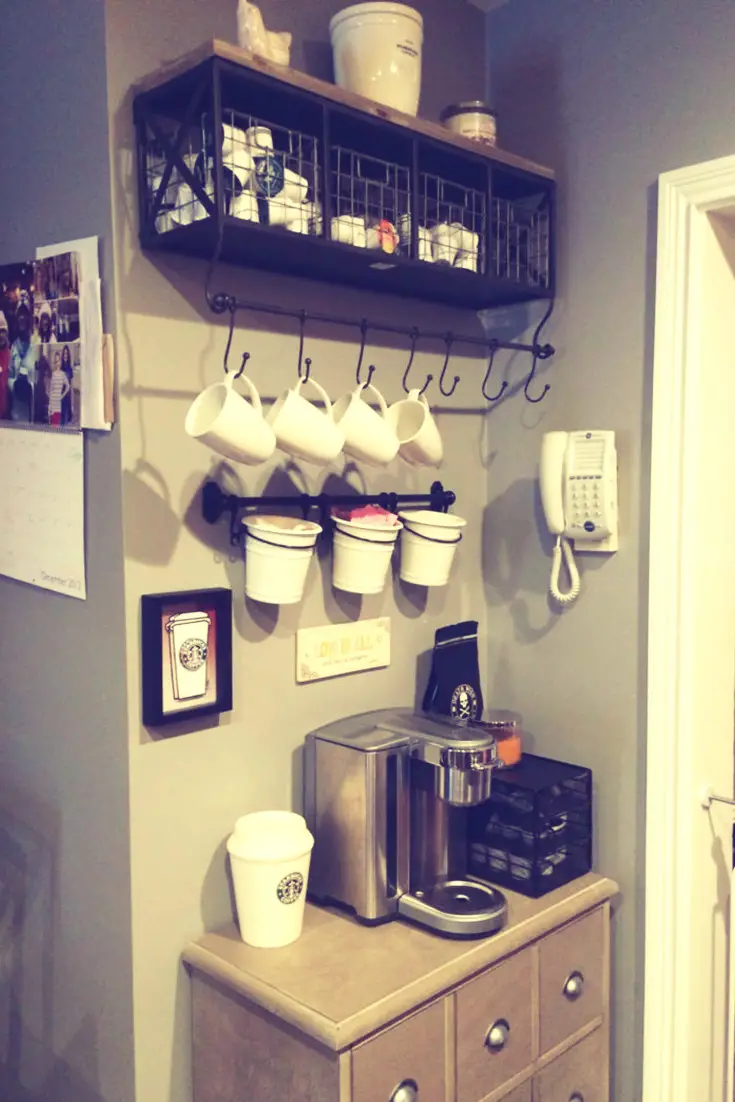 Farmhouse Kitchen Countertop Coffee Bar Ideas
If you have VERY limited space in your kitchen, why not set up your coffee station on the counter?
These are some super cute farmhouse coffee bar ideas for your kitchen counter:
Here's another idea for a small coffee nook area on your countertop: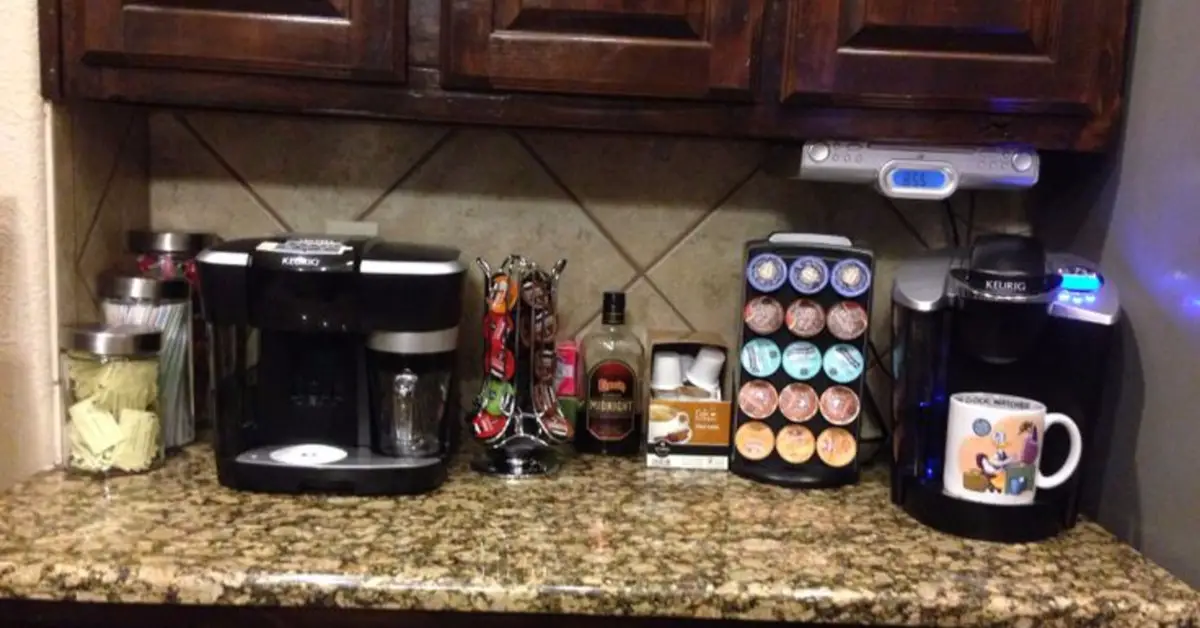 Coffee Bar Set Up DIY Tips
When you're planning a home coffee bar, the most important thing is what are you going to set up your coffee station ON?
Here's a few ideas I really like:
If you hang out on Pinterest, you may have seen this picture where fellow Pinterest user, Melinda, made her own home coffee bar after getting inspiration from all these ideas.
Look how cute her home coffee bar turned out!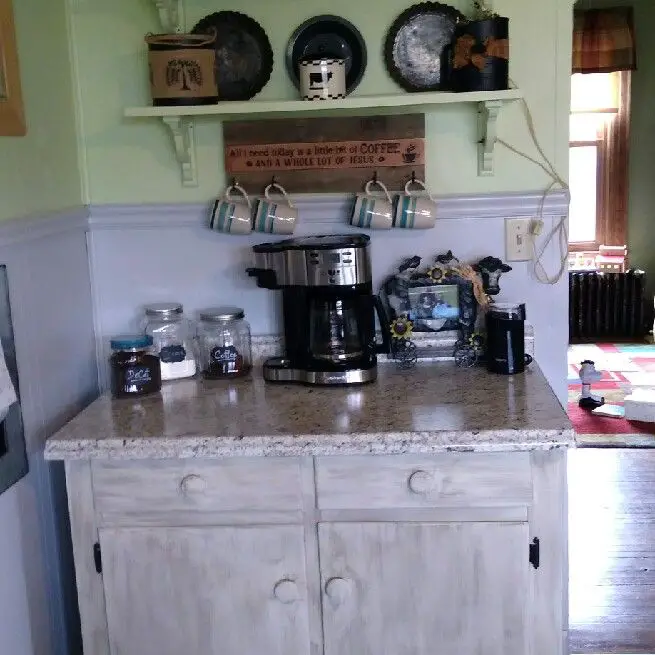 Coffee Bar Chalkboard Decor Ideas
Of course, no home coffee bar is complete without a chalkboard – that's my favorite part!
So, those are the ideas I've been considering. I'm also thinking about adding a small mini-fridge to my coffee station area.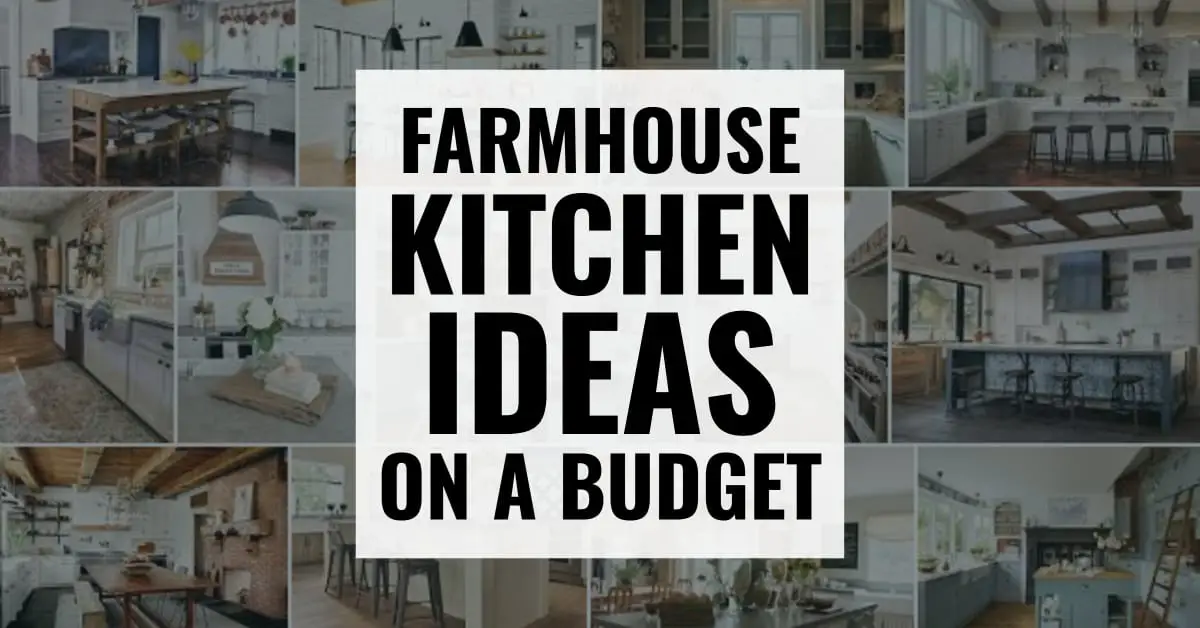 Affordable Modern Farmhouse, Industrial and Rustic Country Farmhouse Kitchen Decorating Ideas - Budget-friendly DIY farmhouse kitchen decor ideas with a ...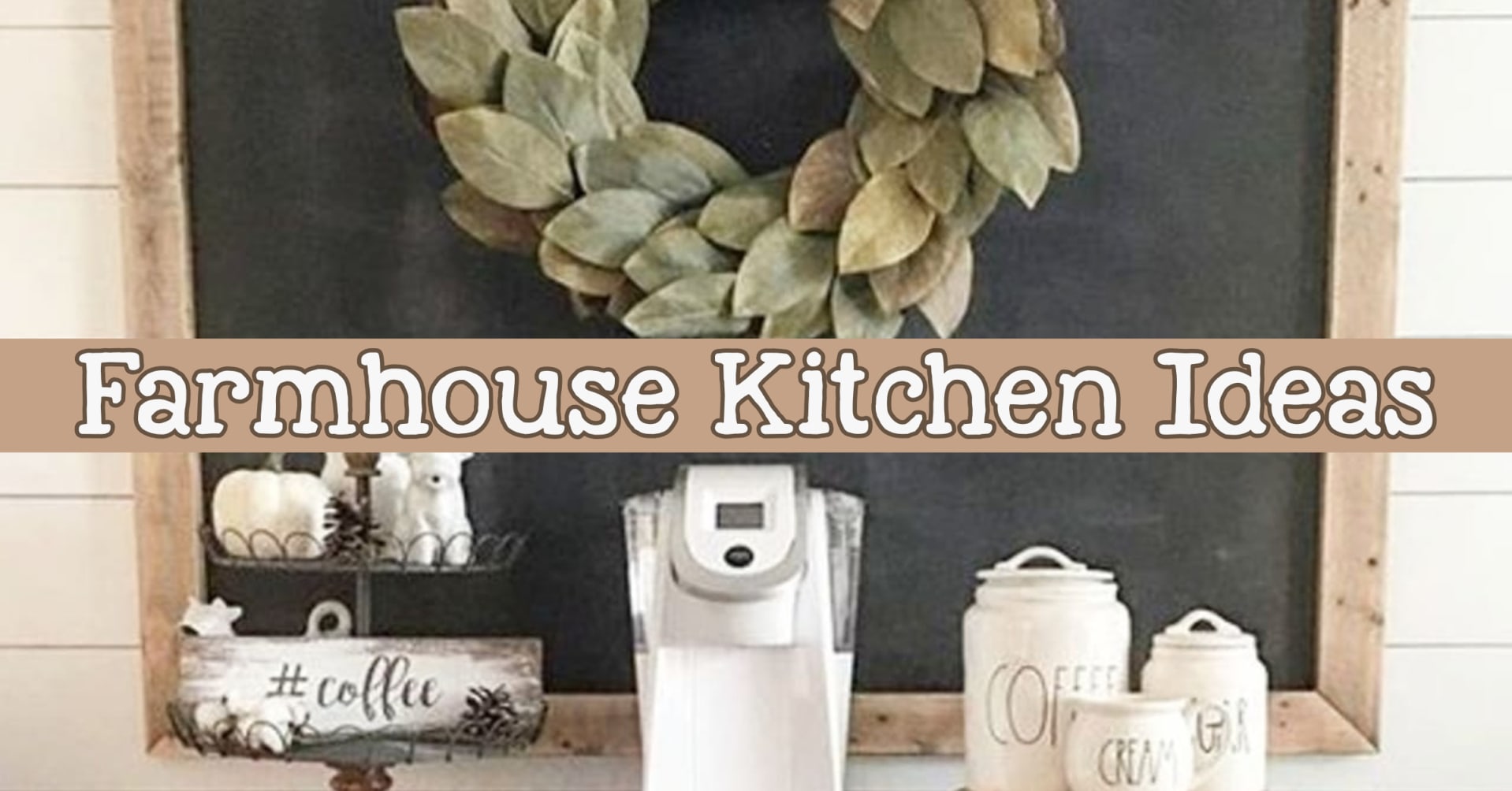 Farmhouse Kitchen Decorating Ideas With Rustic Farmhouse Canisters - Do you want to revamp your kitchen, but without upgrading everything ...

How about some cute canisters for your coffee station?