I've fallen in love with all the outdoor Christmas gnome trees I've seen lately (pictures below) so now I MUST learn how to make them. Let's watch how simple it is to make a gnome Christmas tree for decorating outside on your porch – or even inside your house.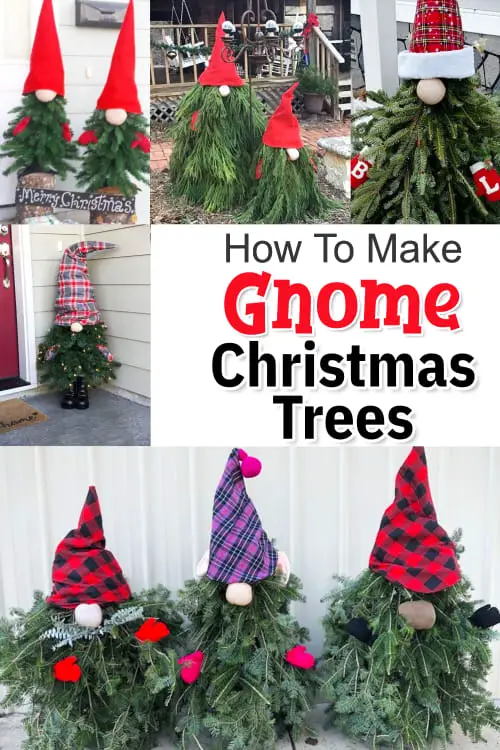 Last Holiday season, I shared this picture of some evergreen Christmas gnomes on Pinterest…
Aren't they ADORABLE?
So I decided I really wanted to learn how to make them AND ideas of ones to make.
Here's one gnome Christmas tree that is super cute –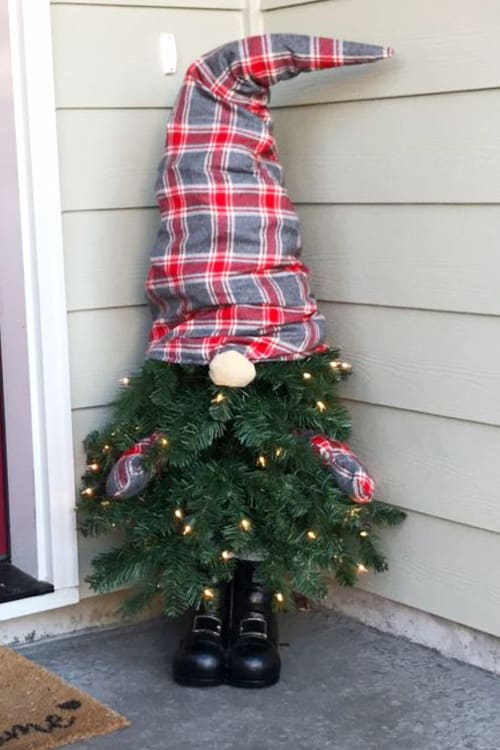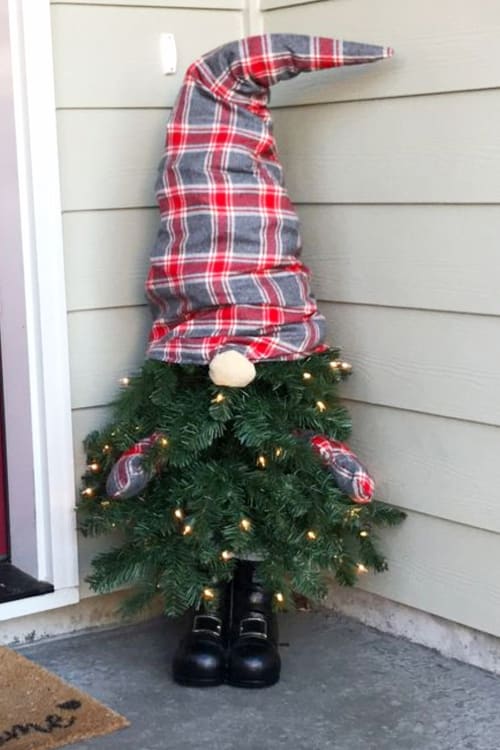 Now, one thing I noticed that is different in the gnome tree above and the picture I shared on Pinterest is…
This last little gnome was NOT made with fresh "live" pine branches – instead, it was made with a small artificial Christmas tree with lights like this one.
Personally, I think that is BRILLIANT – by making my little gnomes for my front porch with fake trees, I can use them year after year.
But all that said – I LOVE fresh pine tree branches – especially during the Holidays.
So, let's watch how to make fresh evergreen Christmas gnomes.
(hint: they use a tomato cage like this to shape the gnome and hold the pine branches in place – genius!)
How To Make a Christmas Tree Gnome
Watch the quick instructional video below to see how to make a gnome tree step by step.
Pretty simple, right?
Here's some more pictures of Christmas gnome trees you can make for your porch or garden this holiday.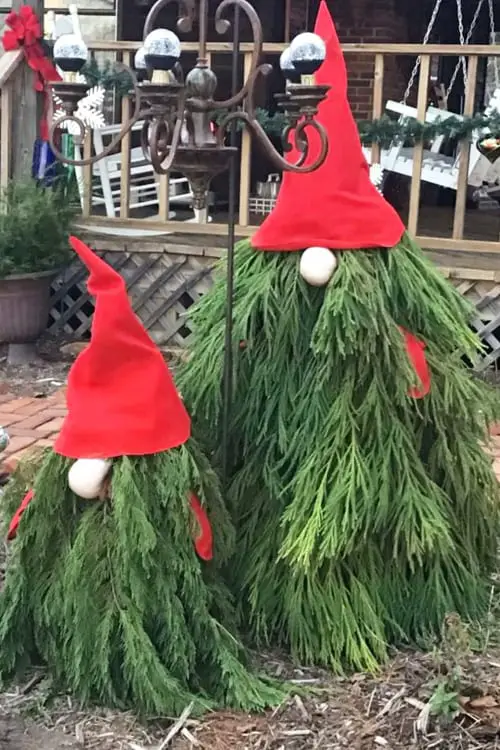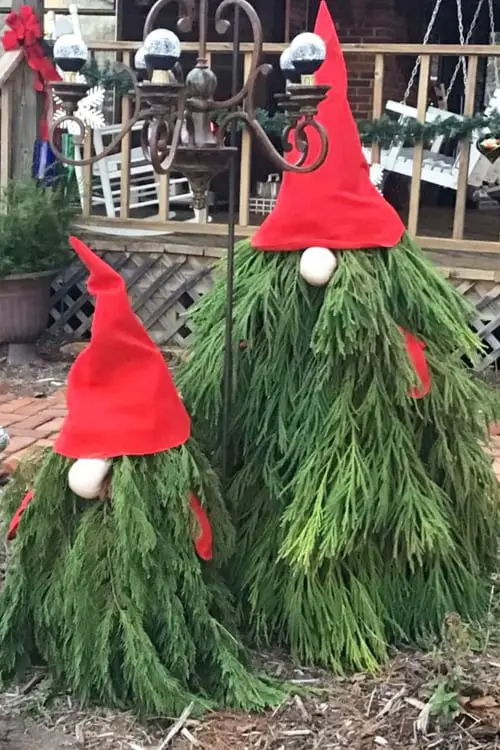 I love these 2 Christmas garden gnomes! Making one big and one smaller is a great idea!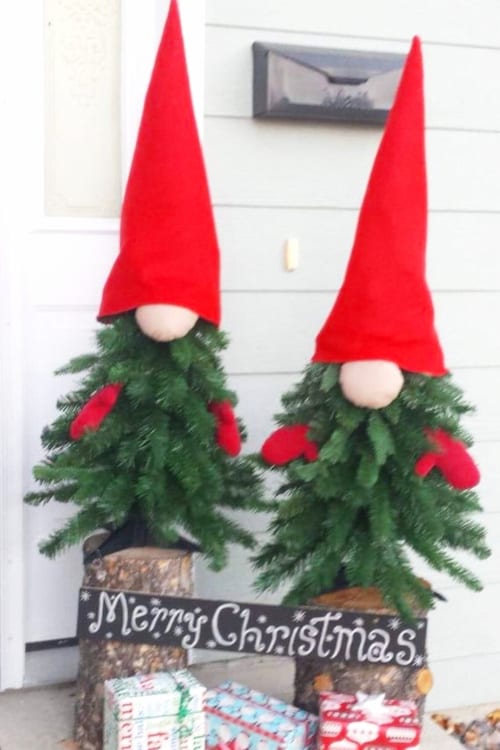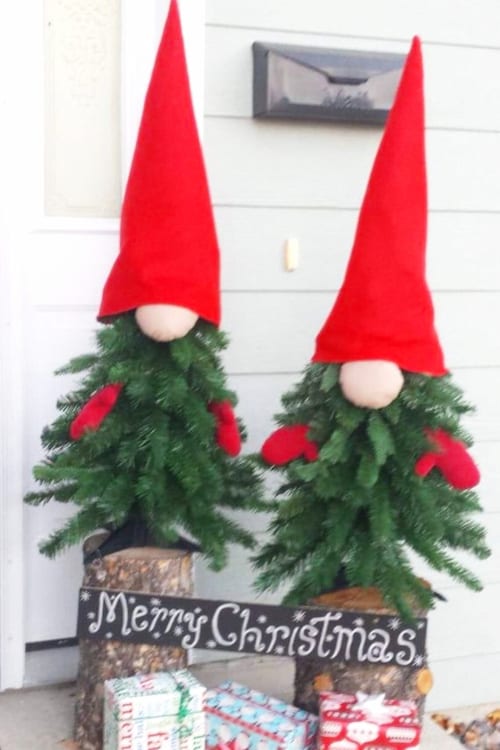 These 2 outdoor Christmas gnomes on their porch are NOT made with fresh pine limbs – instead, they used little fake Christmas trees – great idea, right?
I love how they have the gnomes set up on logs with wrapped presents and the Merry Christmas sign – such a nice touch.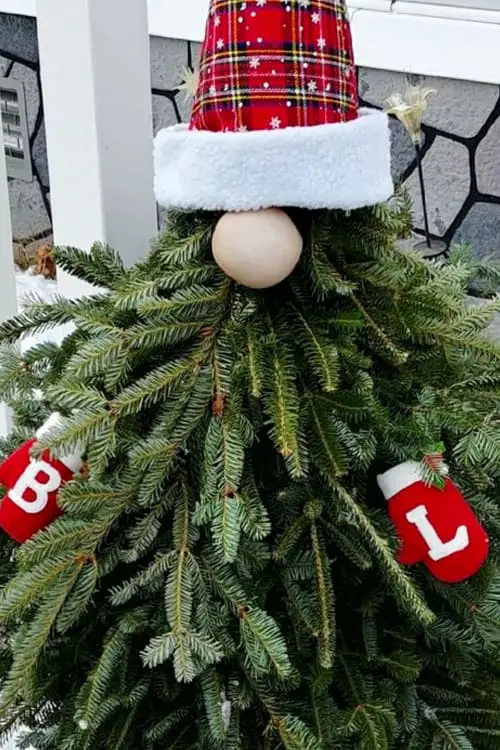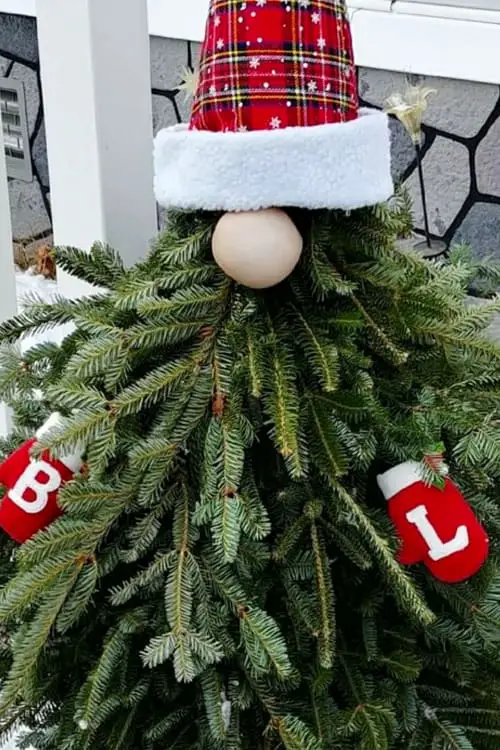 I really like how this Christmas pine gnome turned out – nice and FULL.
Alternative To MAKING One
Now, if you're not a DIY'r and/or not feeling crafty…
You can BUY one of these cute gnome Christmas trees instead.
I can't wait to make my gnomes Christmas trees to decorate this year!
I think I might do something with buffalo check for the hat – not sure, but I think it'll look really cute.
I can't wait to see how YOUR gnome trees turn out – be sure to let me know!
Enjoy!
Christmas gifts I plan to make this year for friends, family, the kid's teachers etc. If you found this page – my apologies. This post has nothing to do with decluttering your life, but it has a TON to do with decluttering my brain and reducing my stress now during Christmas time.
Fun and easy Christmas punch recipes for Christmas Day, any holiday party, Christmas morning – or for New Years (these punch recipes can also be used for big batch party cocktails, too!) Christmas Punch Recipe Ideas Easy peasy Christmas and Holiday punch recipes for Christmas morning, brunch, big batch punch …
If you want a fake Christmas tree that looks REAL, take a look at these affordable artificial Christmas trees that look SO real! From Douglas Fir to Balsam Fraser Fir, these are our picks for most real-looking fake Christmas trees this year.