---
How To Make Pine Tree Gnomes for Christmas Decorating – The Easy Way –
I've fallen in love with all the outdoor gnome Christmas tree ideas I've seen lately (pictures below) so I had to learn how to make them. Just watch how simple it is to make a gnome Christmas tree for decorating outside on your porch, your yard – or even inside your house. Keep scrolling for the video tutorial down below.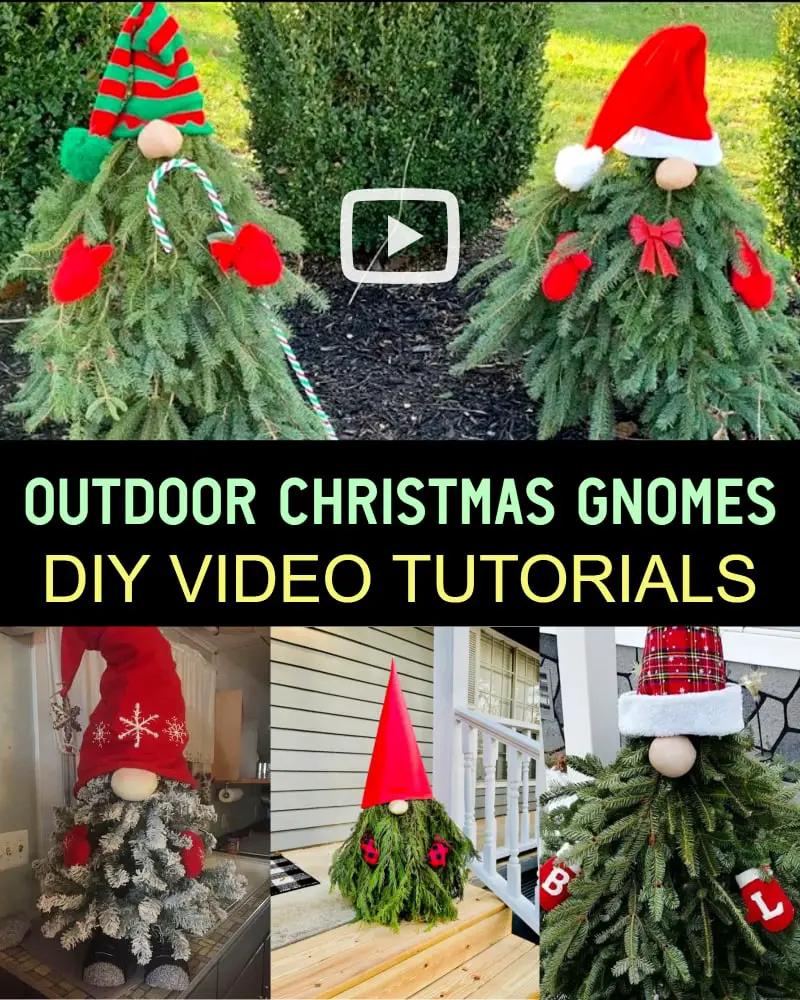 ---
Updated on December 11, 2022
posts may contain affiliate links -Enjoy and feel free to share with your friends!
---
Gnome Christmas Trees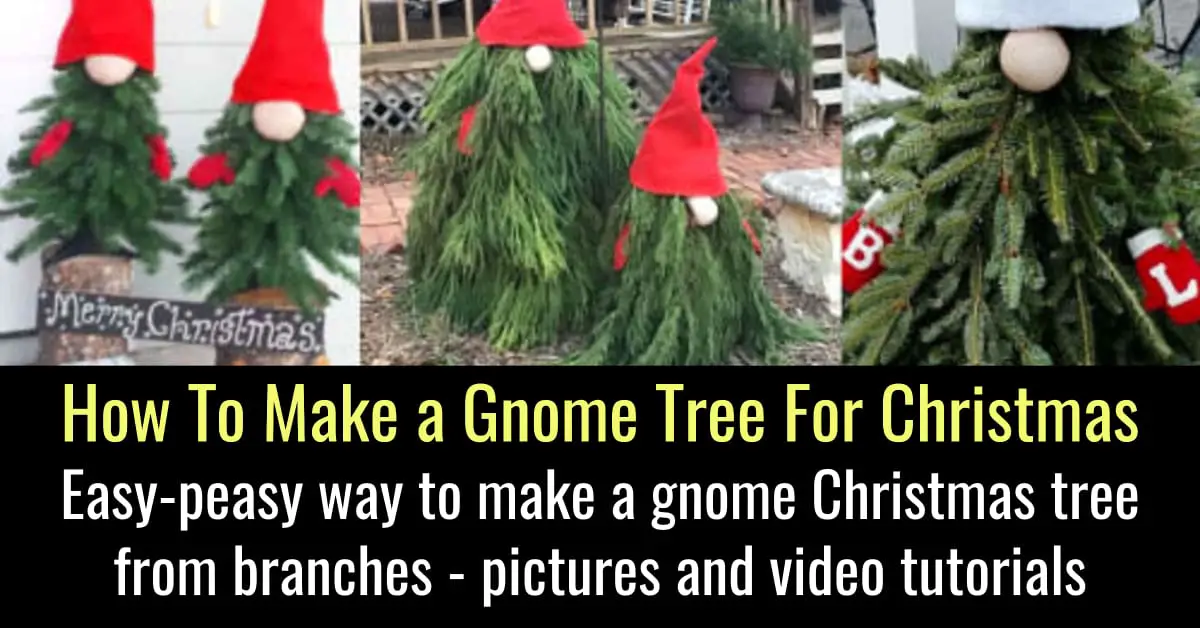 Last Holiday season, I shared this picture of some outdoor DIY Christmas gnomes made with tree branches for your front porch on Pinterest…
Aren't they ADORABLE?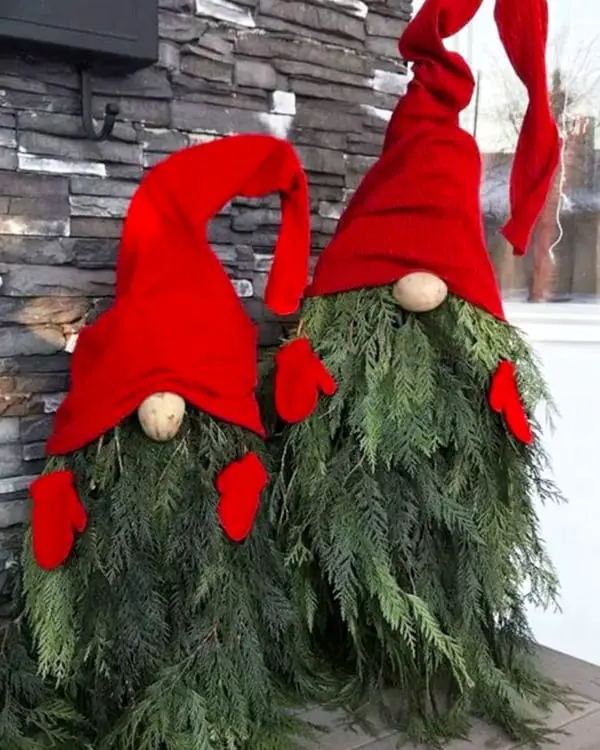 Hat, Gloves and Nose For Your Gnome TreeSee This Or this ADORABLE Gnome Tree With LightsSee This
Seriously, the potato nose and the evergreen branches are just too cute!
So I decided I really wanted to learn how to make Christmas gnomes with branches AND collect ideas of of gnome Christmas trees to make for my house.
Here's the easy way to make a gnome Christmas tree out of branches, pine trees or outdoor bushes – super easy!
 These Light Up Gnomes are SO Cute Inside…See This And this Christmas Gnome DANCES and SINGS!See This
✅ Pictures
Let's take a look at some pictures of gnome Christmas tree ideas to help you decide how to make YOUR pine tree gnome this year.
Here's one gnome Christmas tree that is super cute –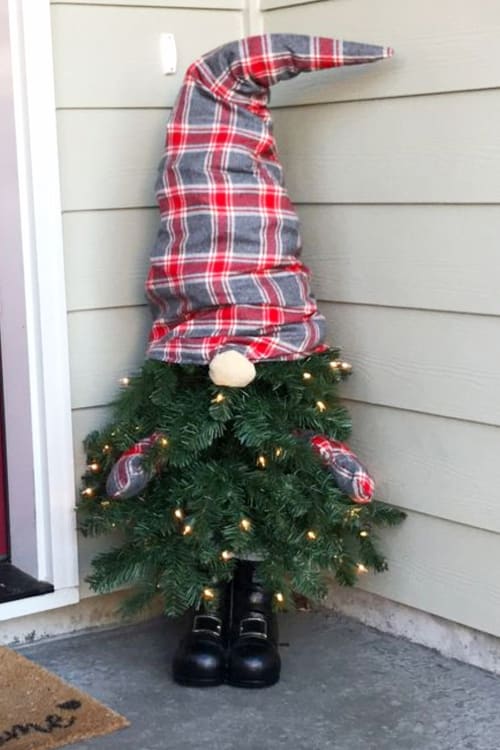 These little boots work great for gnome treesSee This Or – just get a pre-made gnome tree like this.See This
Now, one thing I noticed that is different in the gnome tree above and the picture I shared on Pinterest is…
This last little gnome was NOT made with fresh "live" pine branches – instead, it was made with a small artificial Christmas tree with lights like this one.
Personally, I think that is BRILLIANT – by making my little gnomes for my front porch with fake trees, I can use them year after year.
But all that said – I LOVE fresh pine tree branches – especially during the Holidays.
So, let's watch how to make fresh evergreen Christmas gnomes.
(hint: they use a tomato cage like this to shape the gnome and hold the pine branches in place – genius!)
How To Make a Christmas Tree Gnome
Watch the quick instructional video below to see how to make a gnome tree step by step.
 Gnome Christmas Tree Craft KitSee This Gnome Christmas Tree TopperSee This
Pretty simple, right?
Here's some more pictures of Christmas gnome trees you can make for your porch or as garden crafts this holiday.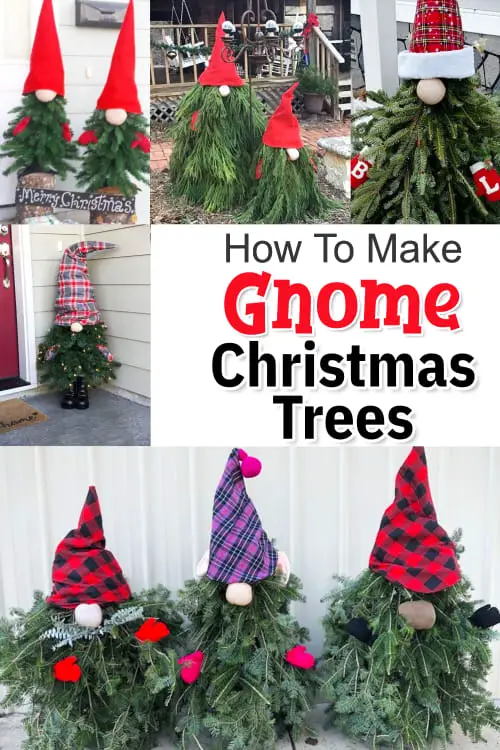 DIY Christmas Garden Gnomes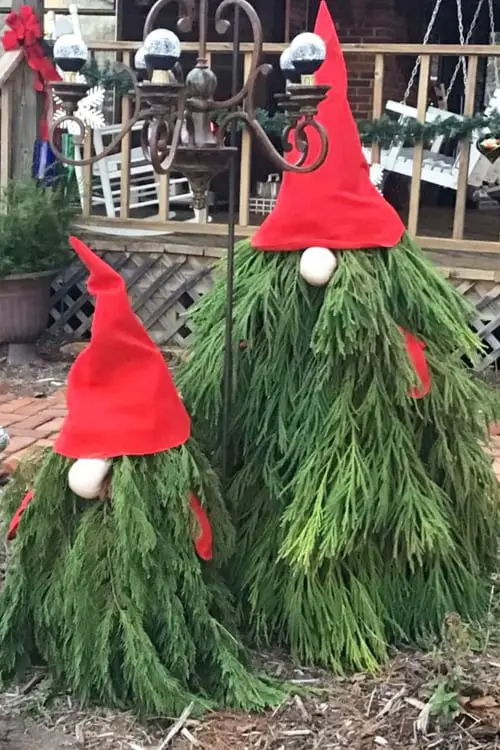 I love these 2 Christmas garden gnomes! Making one big and one smaller is a great idea!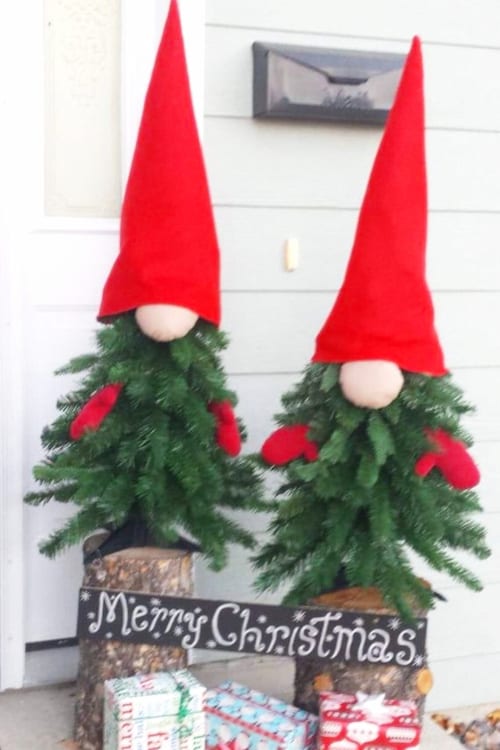 These 2 outdoor Christmas gnomes on their porch are NOT made with fresh pine limbs – instead, they used little fake Christmas trees – great idea, right?
I love how they have the gnomes set up on logs with wrapped presents and the Merry Christmas sign – such a nice touch.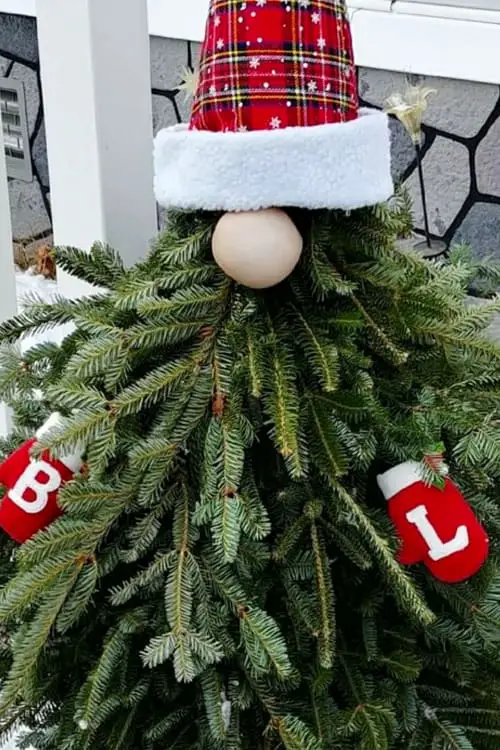 I really like how this Christmas pine gnome turned out – nice and FULL.
Using a Potted Evergreen Bush
Another option is to head to Home Depot, Lowes or any store that sells POTTED evergreen bushes and make your outdoor Christmas gnomes that look like this:
Watch how HGTV makes these front porch gnome Christmas trees in this TikTok video tutorial:
Alternative To MAKING One
Now, if you're not a DIY'r and/or not feeling crafty…
You can BUY one of these cute gnome Christmas trees instead.
Amazon has ADORABLE Gnome Trees here.
I can't wait to make my gnomes Christmas trees to decorate this year!
I think I might do something with buffalo check for the hat – not sure, but I think it'll look really cute.
Have you seen these HUGE outdoor gnome trees?
Just WOW!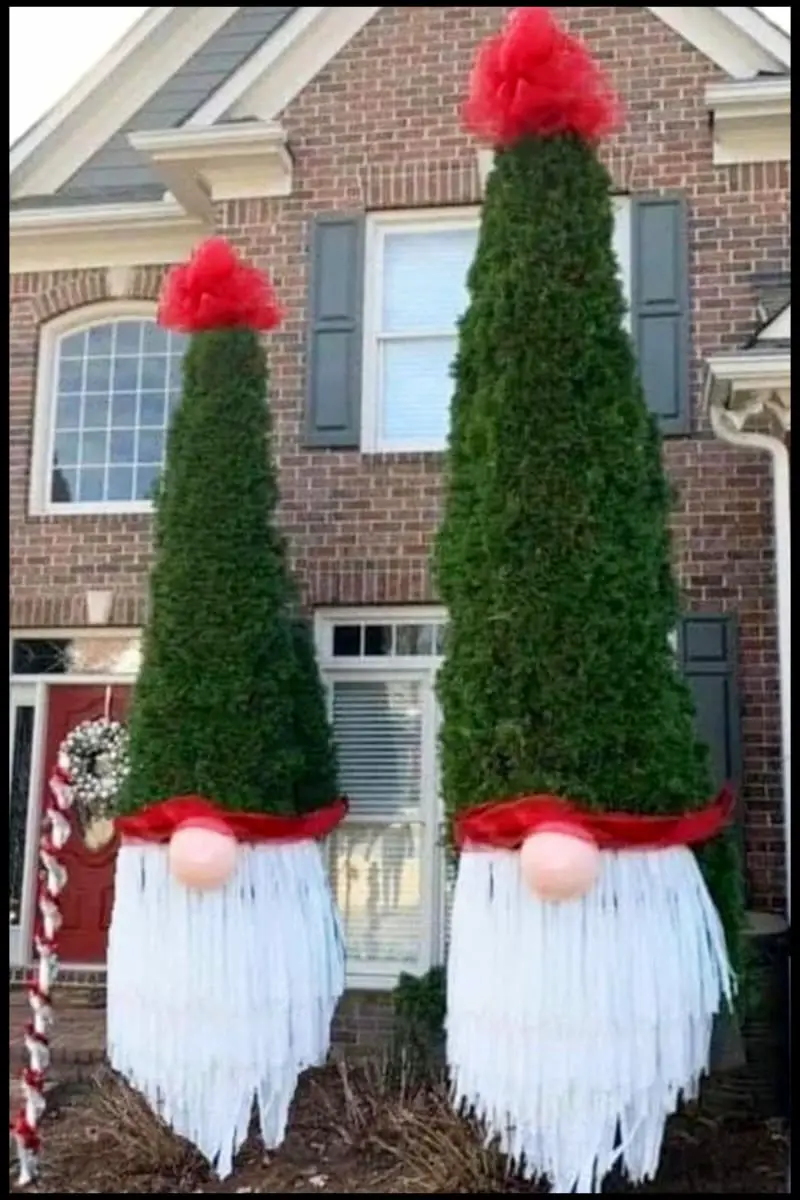 At first glance, if you know your outdoor greenery, is to think those big tall bushes are Italian Cypress… but they're not.
They are arborvitae – and fun fact – they can grow as much as 3 FEET every YEAR!
So, if you want really, REALLY big and TALL gnome bushes in your front yard, that's the type of shrub you'll want to plant =)
Now, if you don't want to make a gnome tree – why not get a gnome to stand NEXT to your Christmas tree?
Look how cute!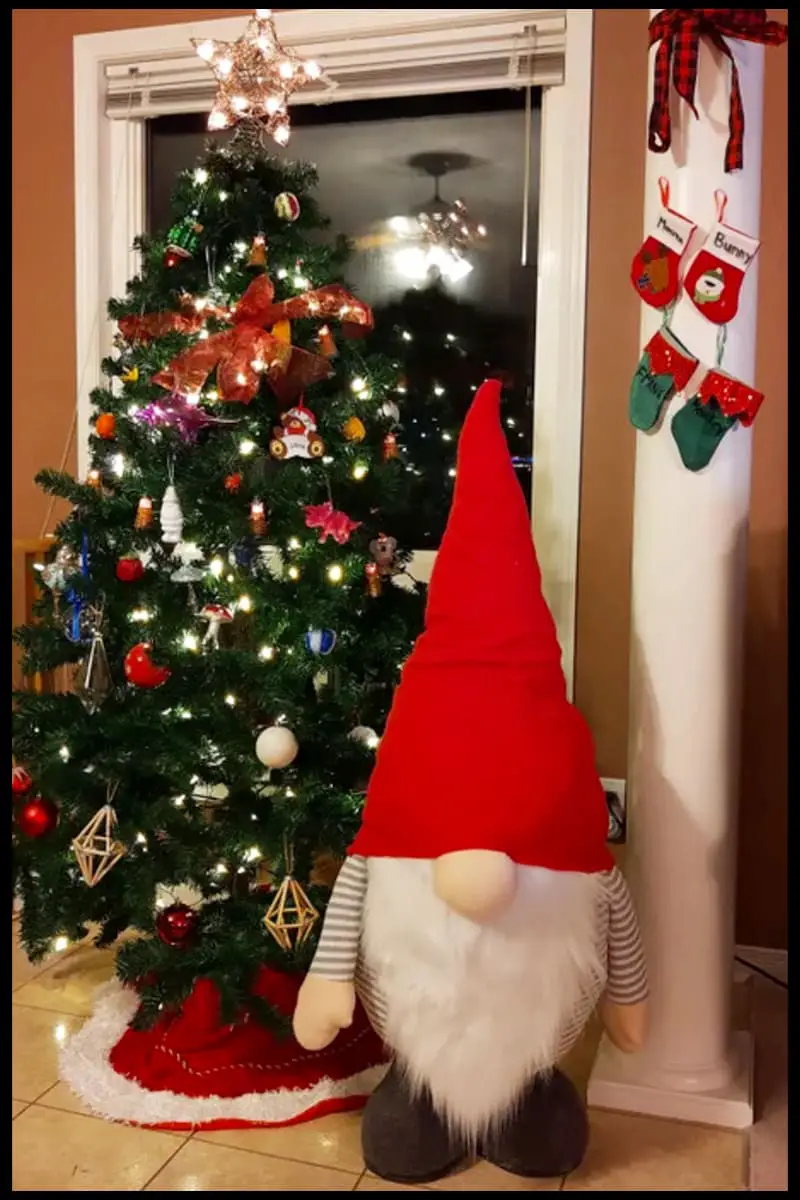 Here are some cute ones…
 Tall Mr and Mrs GnomeFound Here Love the Gnome Antlers !Found Here
Or, turn your whole Christmas tree into a giant gnome!
Just look how cute!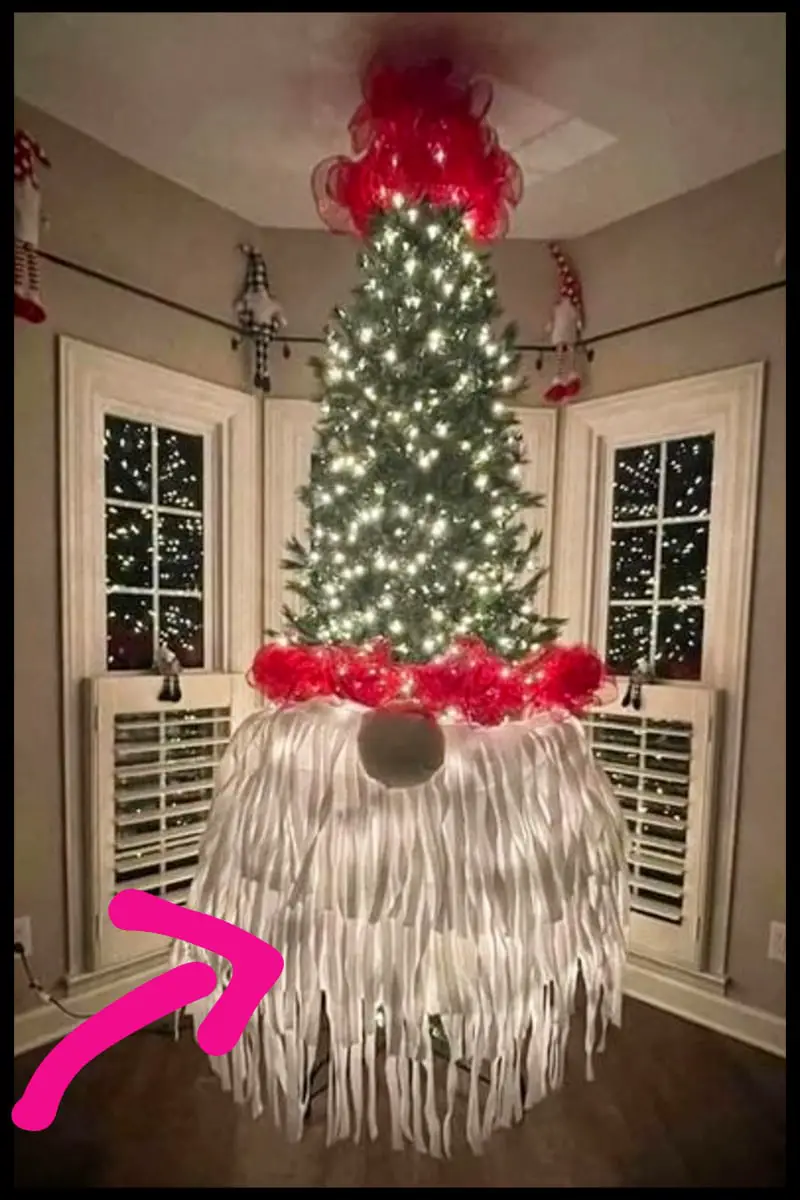 At first glance I thought – "That is a HUGE tree!"
But it's not.
Scroll back up and look at what I point to with the pink arrow in the picture.
Now, here's how to make a giant gnome Christmas tree like that:
 Get a fake pre-lit tree like thisFound Here put it on a table like thisFound Here use this for the gnome beardFound Here and decorate with thisFound Here
All in all, pretty easy absolutely adorable!
Or… why not decorate your tree with these ADORABLE Gnome Ornaments?
They are SO easy to make!
And, they're made out of an unusual craft item from Dollar Stores.
✅ See what the gnome ornaments are made out of.
Here's what they look like: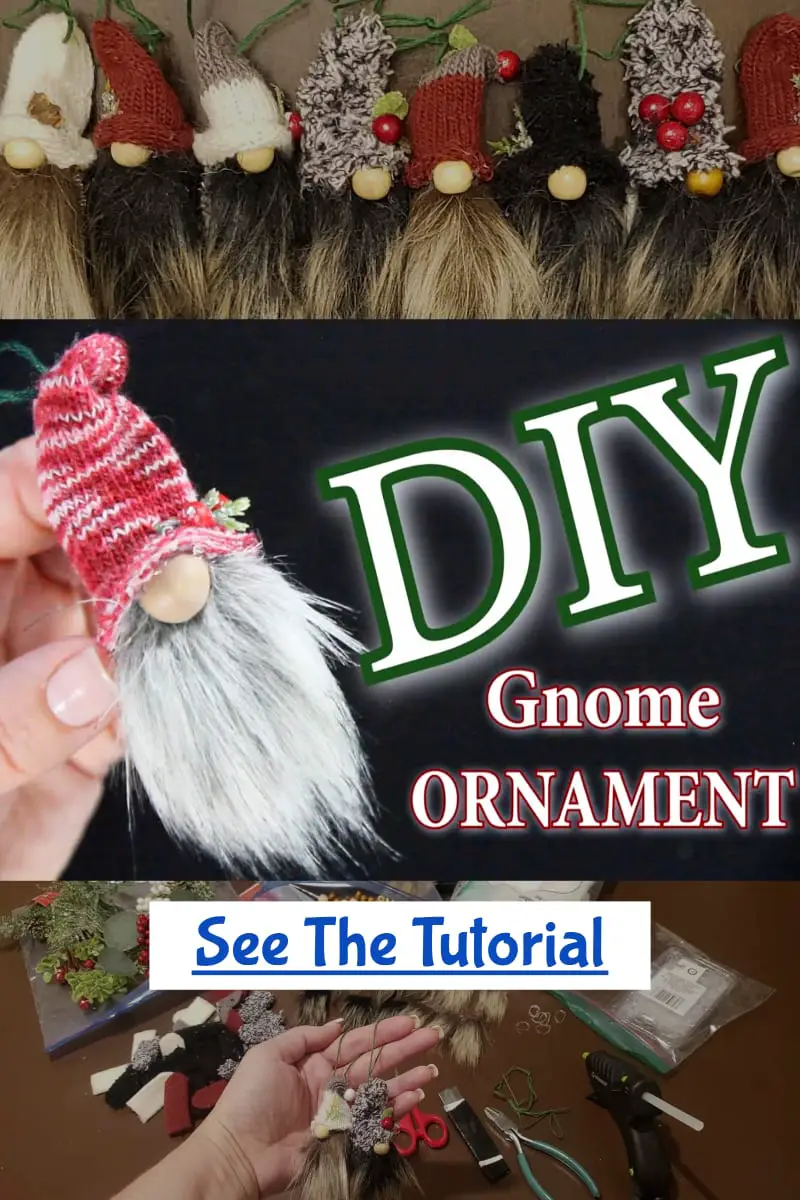 I can't wait to see how YOUR gnome trees and ornaments turn out – be sure to let me know!
Enjoy!
 Super Cute Gnome WreathSee This LOVE these Yard Gnomes!See This Gnome Window Decor With LightsSee This Gnome Banners For Your PorchSee This I have this Christmas Gnome By My FireplaceSee This Precious Christmas Gnome Tiered Tray KitSee This
More Ideas For Christmas This Year:
---
– Christmas Crafts For Kids of All Ages
---
– DIY Christmas Gifts – My Personal List Of Gift Ideas To Make This Year
---
– Christmas Punch Recipes – 12 Super Easy Christmas Themed Punch Recipes For a Crowd Or Small Gathering
---
---
– Most Realistic Artificial Christmas Tree Reviews & Deals for 2022 Holiday Season
---
– How To Make Handprint Ornaments With Your Kids
---
– How To Make a Triple Christmas Wreath For Your Front Door
---
– How To Make a Pallet Wood Christmas Tree
---
– Easy DIY Grinch Christmas Decorations
---
– HOT Toys For Christmas 2022 – What Your Kids REALLY Want This Christmas
---