---
Most expensive Christmas tree ever? Curious to see it? Would you spend over a million dollars to decorate YOUR Christmas tree? Probably not, right? But these wealthy owners spent a ton of money to decorate these very expensive Christmas trees below. These are some SERIOUS luxury fake Christmas trees!
As far as expensive fake Christmas trees for YOUR house that you can buy right now…
---
Updated on October 31, 2021
posts may contain affiliate links -Enjoy and feel free to share with your friends!
---
You have GOT to look at the prices on THESE fake Christmas trees!
I think these Christmas trees just might BE the most expensive fake trees EVER (for normal people like us)!
Heck, these 3 fake trees below are still pretty expensive, but I can spending that much on a taller and much better looking artificial tree.
Let's look the the most expensive Christmas trees in the world!
(pictures of these luxury Christmas trees are down below)
The Christmas tree originated in 7th century Germany. A monk named St. Boniface used the triangular shape of the Fir tree to illustrate the Holy Trinity in his teachings. Since then, and more prominently in 16th century Germany, families began to bring Spruce, Pine, and Fir trees into their homes and decorated them with nuts, candles, fruit, and paper flowers.
Over the years Christmas tree ideas have not only gained great popularity, but also evolved into many different variations with only one thing in common, the original triangle shape.
Now Christmas trees can be seen everywhere during the holiday season. So much, so that having the most expensive tree has become a sort of competition for some of the world's wealthiest people. Decorated trees are used to show off just how incredibly wealthy their owners are. So, just how valuable can a tree get?
These are some not-so-cheap artificial trees that people like you and me are buying for their home this Christmas. They're gorgeous, but wow… pretty expensive (you can click any picture to see the price of that tree).
Now, on to the Top 10 Most Expensive Christmas Trees…
10. Vermont pre lit artificial trees:
See the price of this fake tree here
Special features of this lighted Christmas tree include Hinged-branch construction and special memory wire. The special features of the Vermont Fir tree make it easier to set-up than earlier slim artificial Christmas Trees. This tree is 8.5 feet of multicolored holiday celebration with the latest in artificial tree technology. I wonder what they'll come up with next.
9. Pre-Lit Balsam Fir Artificial Christmas Tree:
See the price of this fake tree here
This pre lit artificial tree is adorned with 1350 colorful, mini lights. This artificial Fir tree boasts an ability for individual lights to be removed from their sockets without effecting any of the other tree lights. At 10 feet tall, it towers over most other artificial trees on sale.
==>> Wish YOUR Fake Tree Looked Fuller and More Real? Try These 2 Easy Tricks to Make Your Tree Look Better
8. Sofitel London St. James – Black Tree Decorated With Cognac:
This Black Christmas Tree is MUCH more affordable
Just another run-of-the-mill, metal frame slim tree until you look a little closer. You will notice 200 miniature sized handmade 24-carat gold bottles containing Louis XIII, Grand-Champagne Cognac. Why they would openly leave booze in a hotel lobby is anybody's guess. The tree is 16.5 feet tall so if you were going to drink the champagne cognac, for safety reasons I would suggest starting from the top and working your way down.
7. Steve Quick Jewelers – Gold Tabletop Trees: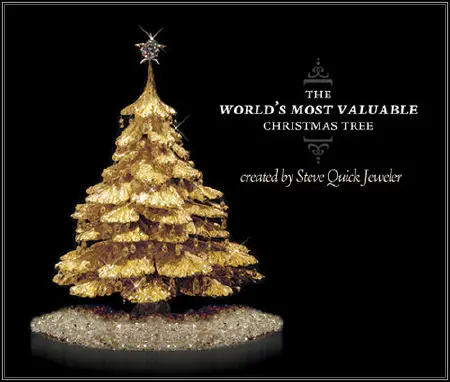 As a fund-raising project to benefit the American Cancer Society, this decorated tree was created by Steve Quick. The Chicago Jeweler casts small trees with 18K of solid gold. A couple features were added to increase the value of a larger tabletop tree, round diamond ornaments and a detachable platinum star tree topper. The star is detachable so it can be worn as a pendant. Just when you thought a 5 pound chunk of solid gold couldn't look any better, they topped it with 4.52 carats of bling, and that's just the one diamond in the platinum star!
6. Soo Kee Jewelery Shop – Diamond Tree: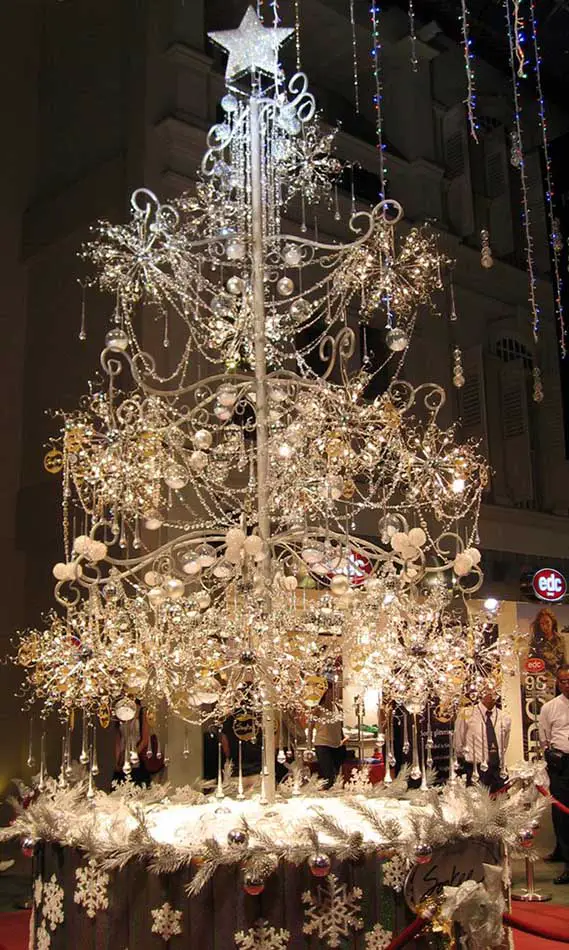 Displayed at a shopping mall in Singapore called Bugis Junction, a 20 foot – 7,000 pound silver Christmas tree made everybody feel very poor as they looked for slightly more affordable gifts for their loved ones. A shiny-silvery glow of 21,798 diamonds and more than 3,000 crystals adorned this fabulous holiday spectacle. Would they really notice if one or two went missing?
==>> See Our List of the Most Realistic-Looking Fake Christmas Trees here
5. Washington D.C. – Capitol Christmas Tree: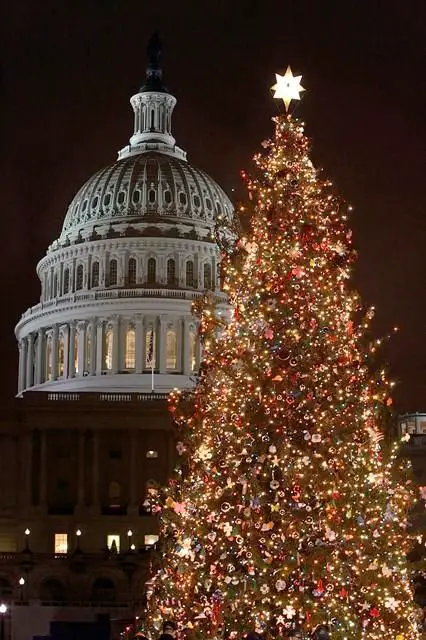 The tradition of standing a tall Fir tree on the West front of The Capitol in Washington, D.C. began in 1964. Every year the outdoor tree is cut, transported, and replanted. Rumors speculate that the cost of such an operation is well over $1 Million thus making this outdoor Christmas decor one of the most expensive in the world.
4. Ginza Tanaka Jewelry Shop – Tabletop Tree:
Value –> $1.6 Million USD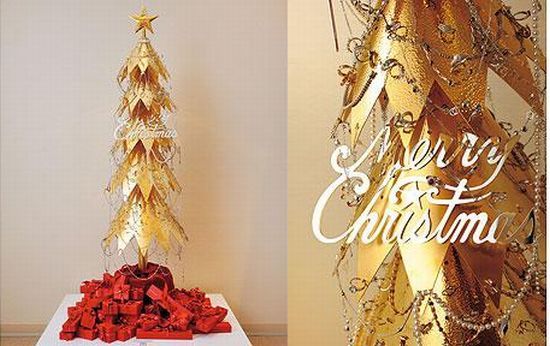 Ginza Tanaka Jewelry in Shinsaibashi, Osaka, Japan displayed this beautiful slim tree that was decorated with over 240 priceless gems. It is a 24K gold small tree laced with an array of diamonds and pearls weighing a total of 46 pounds. It stands as the fourth most expensive decorated Christmas tree in the world.
3. Takashimaya Department Store – Preserved Rose Mini Christmas Tree:
Value –> $1.8 Million USD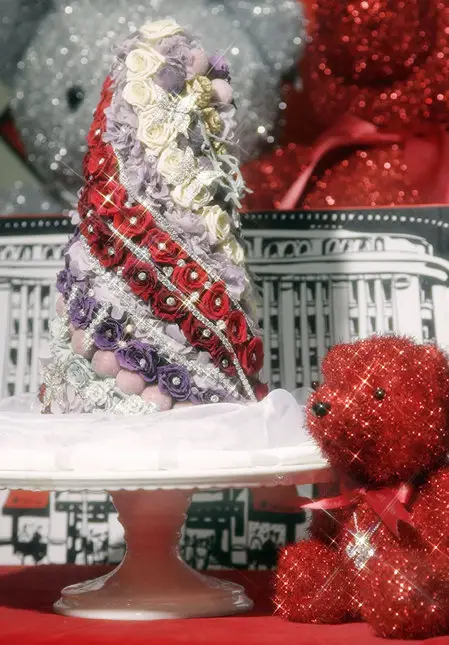 Definite proof that size does not matter. Well, when you're talking about fake Christmas trees for sale that is. The 16 inch table top Christmas trees is made from preserved flowers and decorated with 400 diamonds. I wonder if the department store ever did collect on the $1.8 million price tag however, they did throw the teddy bear in to sweeten the deal.
2. Hong Kong Swarovski Crystal – LED Prelit Christmas Tree: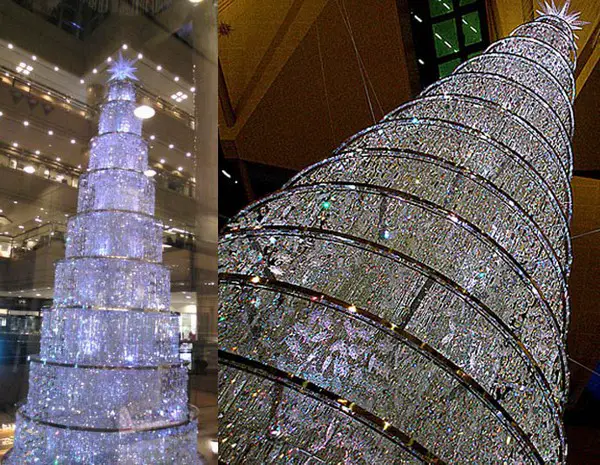 Standing a staggering 90 feet tall, the 40,000 Swarovski crystals are piled high into one spectacular Christmas tribute as part of the annual Hong Kong "Winterfest". While this outdoor LED Christmas tree is fairly impressive during the day just wait till the sun goes down. Unfortunately, the cost of such a tree is unknown to us at this time, so the question "where does it place on this list?" can be answered with another question "Does your Christmas tree flash it's lights to the beat and shoot fireworks out the top?" I didn't think so.
1. The Emirates Palace Hotel – Decorated Christmas Tree: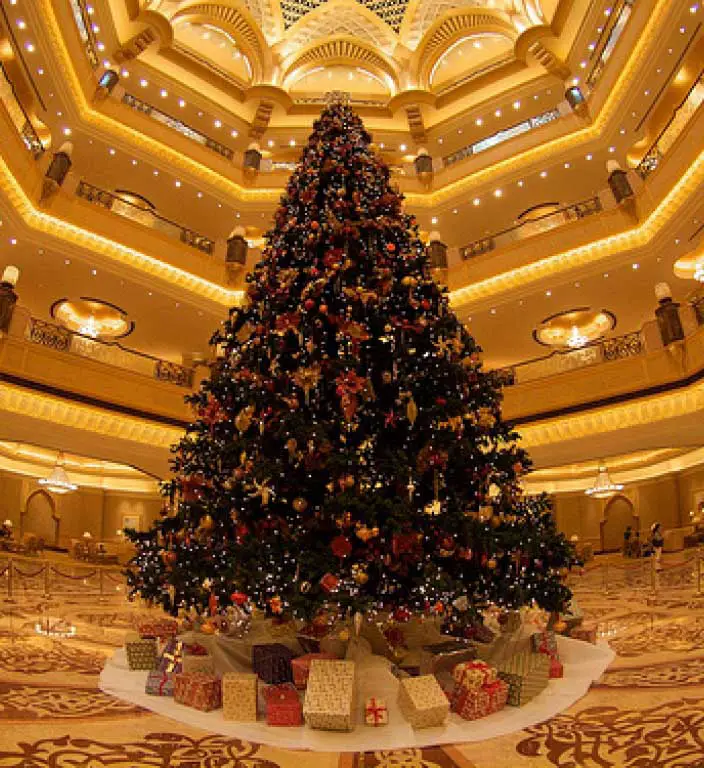 The seven star hotel in Dhabi displayed a 40 foot Christmas Pine covered with $11 million worth of diamonds, pearls, emeralds, and the like. This tree was on loan from a gallery in Abu Dhabi
If you were thinking about staying at The Emirates Palace Hotel you can expect to pay around $1 million every week. Expensive? Maybe, but your room comes with a Butler, a Maybach luxury car & driver, and a privet jet just in case you need to run to the supermarket in Edmonton, Canada to pick up a few things before dinner.
==>> Need an AFFORABLE Fake Christmas Tree That Looks Real? Check this list out
Miss Anything?
Pin For Later?