Small Kitchen Ideas: DIY Tiny Kitchen Remodel & Apartment Kitchen Redesigns Before and After Pictures. Great ideas for a tiny kitchen makeover on a budget! Let's take a look at lots of tiny apartments kitchen remodel ideas and space saving tiny kitchen ideas that are true kitchen inspiration for compact living and organizing small houses.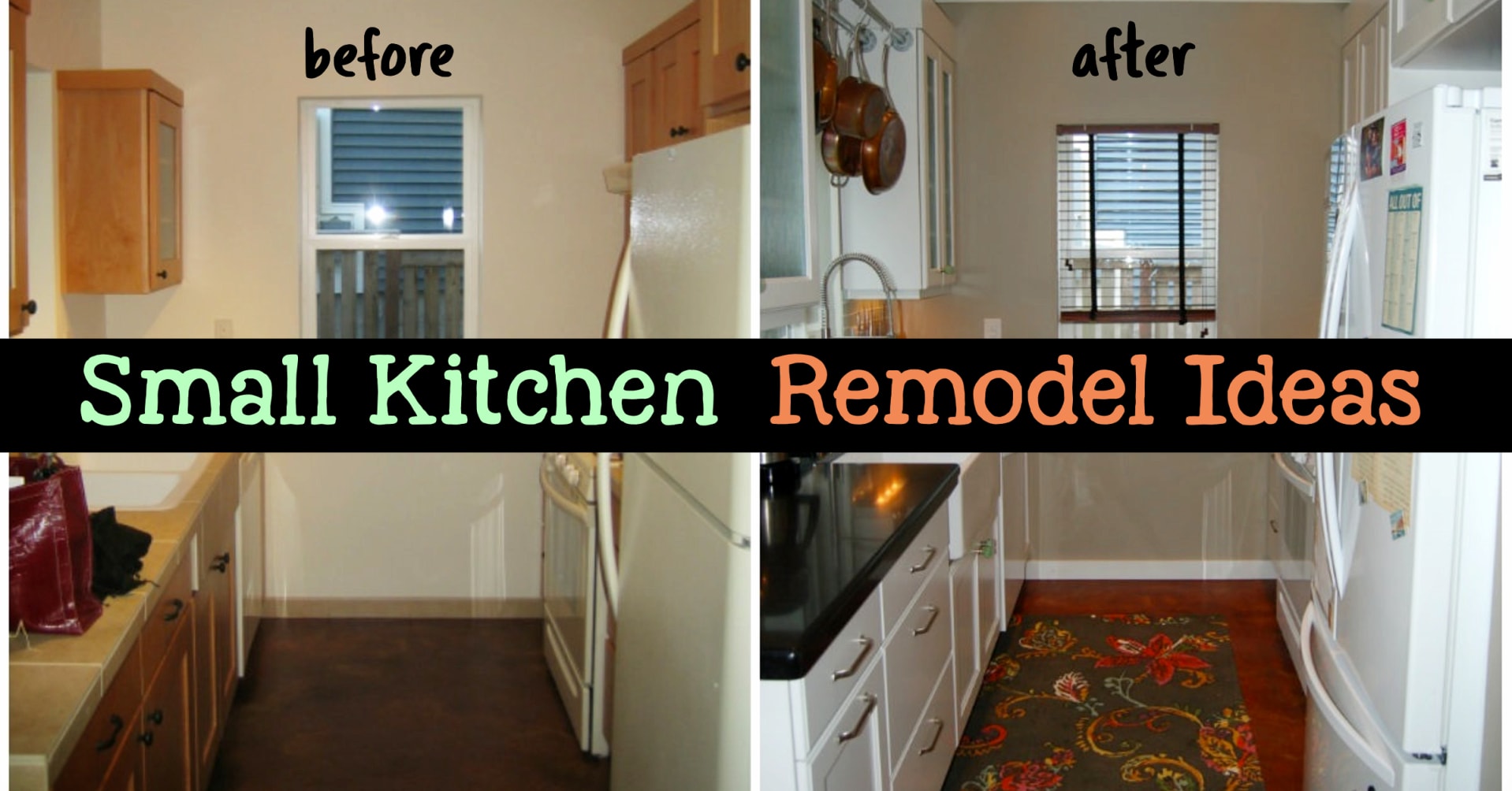 Tiny Kitchen DIY Ideas: If you have a tiny kitchen AND you're on a budget, a small kitchen remodel can seem almost impossible with limited space and limited funds. Good news is, no matter what the layout of your small kitchen is, there are many inexpensive and affordable ideas to give your kitchen a makeover and a fresh new look (even if it's a tiny apartment kitchen). Just take a look at all the small kitchen before and after pictures below to get some great ideas for your kitchen remodel.
Small Kitchen Colors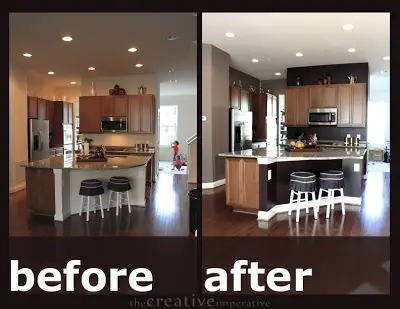 Tiny Kitchen DIY Before and After – Amazing what a drastic change new paint can make in a small kitchen.
Even though the 'after' picture looks dramatically different, if you really look, you'll notice that the only change is new paint colors.
Tiny Kitchen Remodel on a Budget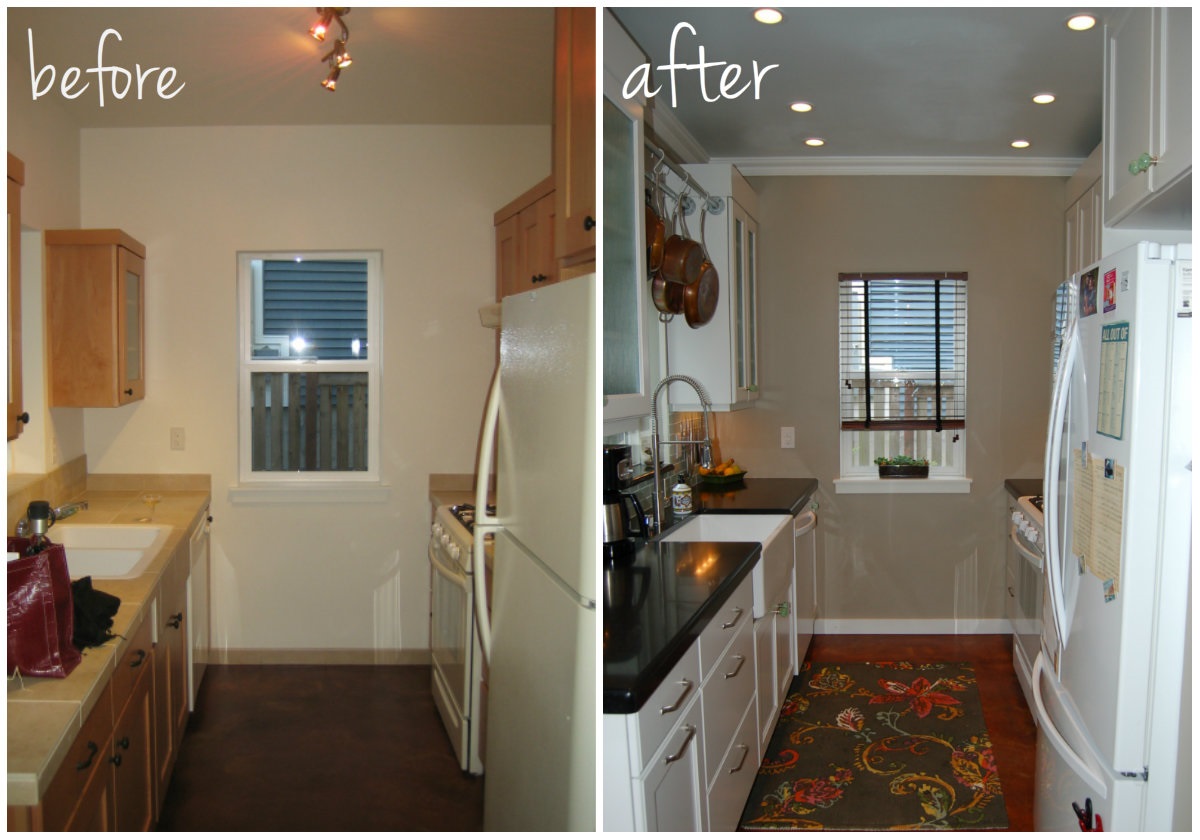 ---
---
Small Kitchen DIY Makeover/remodel idea – before and after pictures.
The tiny kitchen above was made VERY different with a whole new look – and done very inexpensively. Again, fresh paint colors make a big change.
Paint the cabinets white to open up the space, new counter top, and a beautiful new kitchen faucet like one of these below:
Small Kitchen Faucet Ideas
---
---
Tiny Kitchen Lighting Ideas
The recessed can lights also make a big difference and really update that outdated tiny kitchen.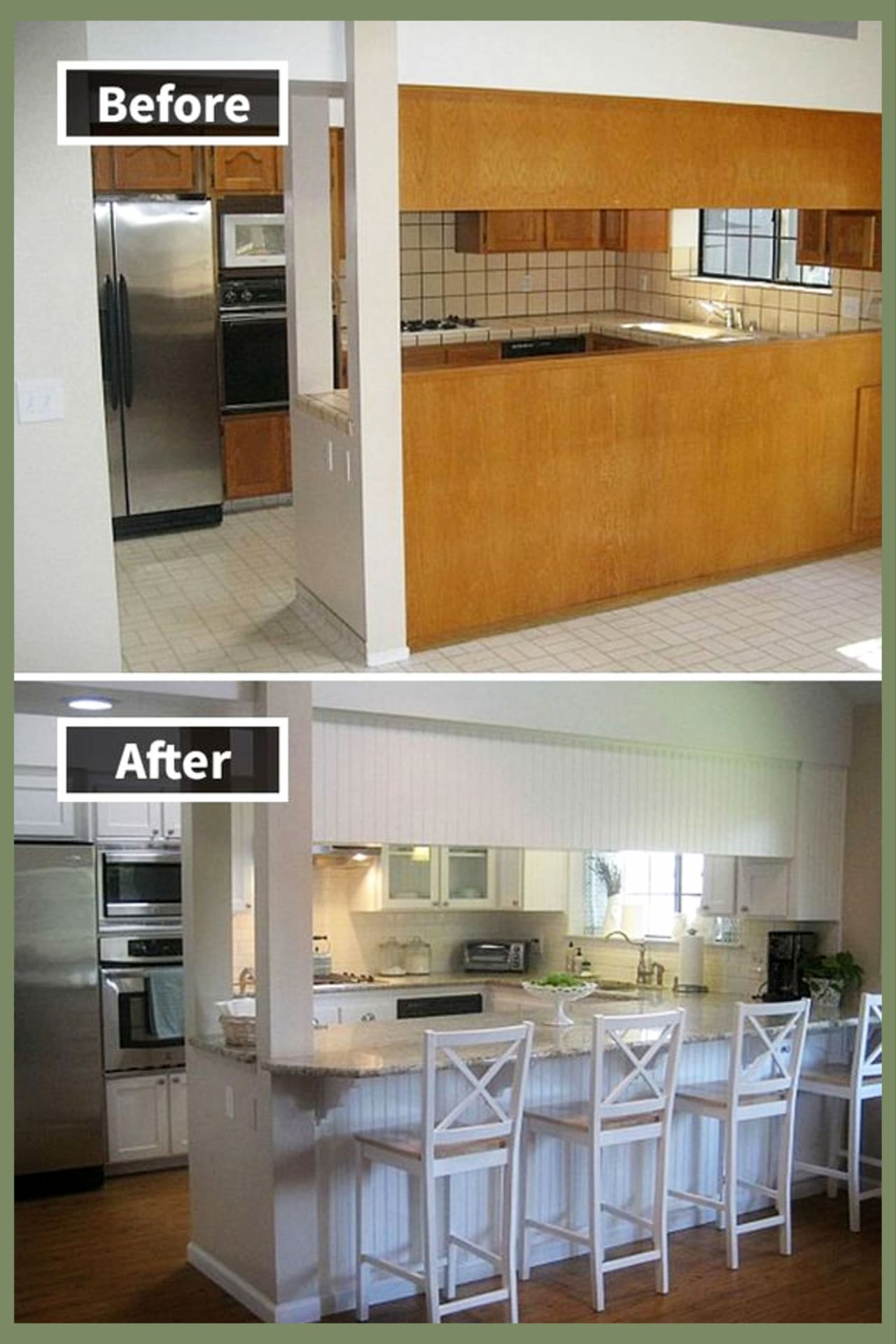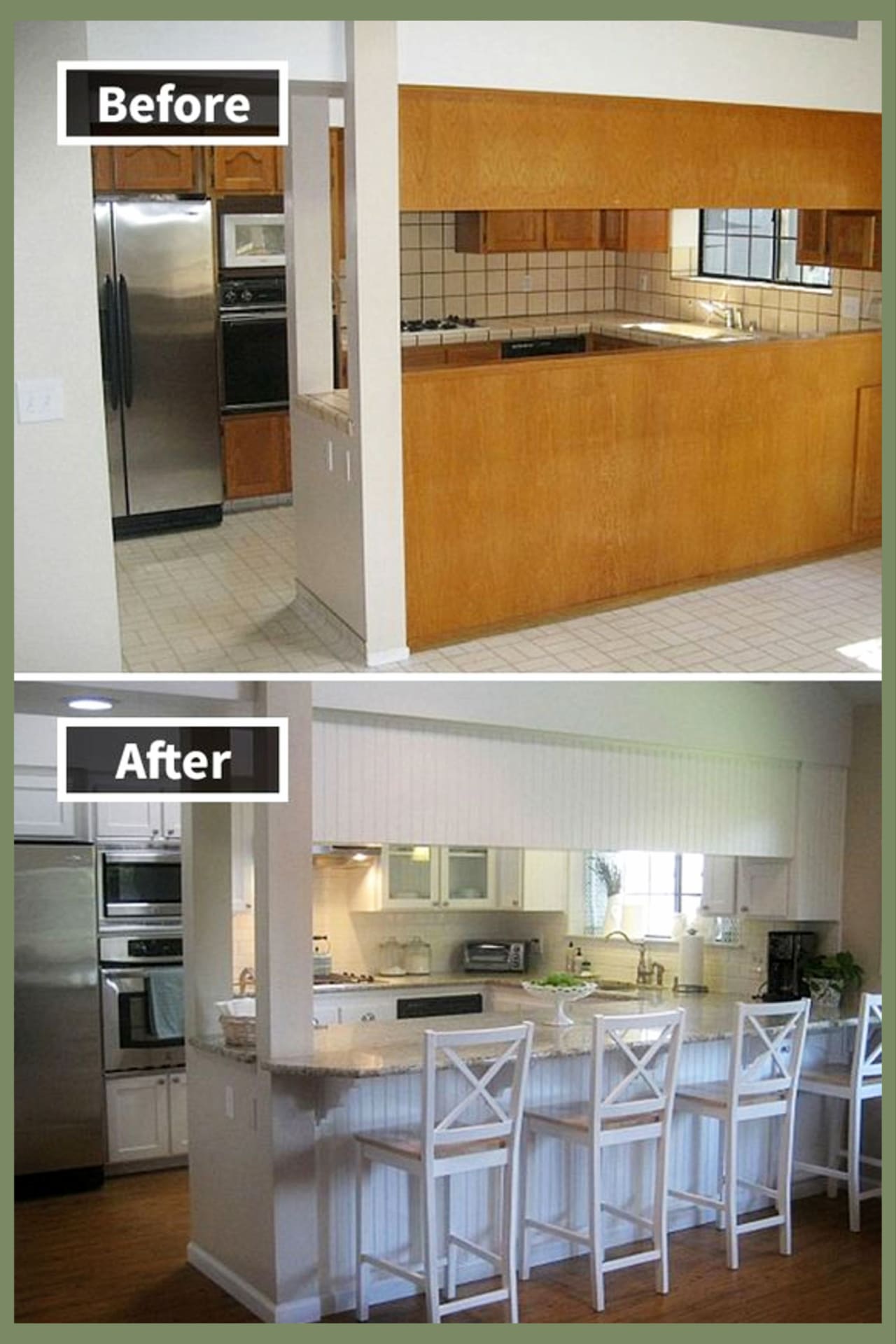 Small Kitchen Rugs Ideas
Other than new paint on the cabinets and walls, I really think the stunning rug brings it all together in this small kitchen makeover.
Tiny Kitchen Cabinets Idea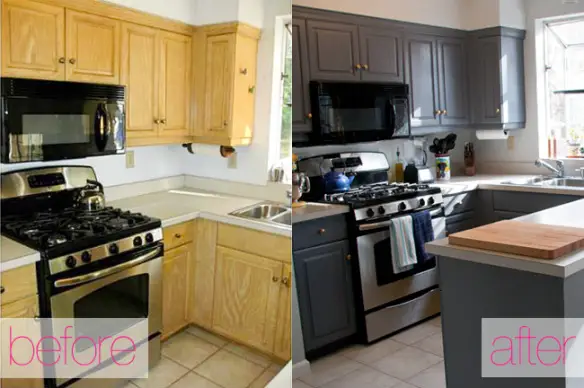 Here's another example of a beautiful change in a small kitchen just with some coats of paint. That is the only real change in this tiny kitchen.
And I L-O-V-E that big wood cutting board on the counter!
Small Farmhouse Kitchen Remodel Idea
I think the make-over of this small kitchen is DRAMATIC!
It went from a ho-hum boring tiny kitchen into a stunning room, don't you agree!
That new farmhouse sink is GORGEOUS – what a difference it makes.
Small Farmhouse Kitchen Sink Ideas
VERY Small Kitchen Makeover – Before and After
Very tiny kitchen DIY remodel ideas – love how this small kitchen turned out in the before and after pictures!
That is a REALLY small kitchen, but the changes they made have turned it into a BEAUTIFUL room in their home.
That narrow table with the two bar stools is an excellent way to get a table breakfast room eating area into a tiny kitchen.
Tiny Kitchen Breakfast Table Ideas
Last updated on July 31, 2021 8:18 pm
Tiny Apartment Kitchen Remodel Before and After

---
---
This tiny apartment kitchen had a beautiful makeover and remodel. While the kitchen layout is super small and one would think there isn't any hope of having a useful and stunning kitchen, this before and after picture sure proves otherwise.
I, personally, wouldn't think this remodel was done on a tight budget, but they sure spent their money right.
What REALLY opens up this small kitchen is that white fake brick back splash – don't you just love it?!!?
That IS an inexpensive change you make in a small kitchen that is good for just about anybody doing their kitchen remodel on a budget.
Best Space-Saving Small Kitchen Ideas
In a tiny kitchen, it's all about making the most out of the limited space you have.
With limited counter area, there just isn't room to keep all your important utensils and appliances sitting out. Heck, many of us barely have room for a trash can!
These are our favorite space-saving items for small kitchens.
Last updated on July 31, 2021 8:18 pm
Small Farmhouse Kitchen Remodel Ideas
Love the farmhouse look?
✅ Check out these small farmhouse kitchen remodel ideas