Simple and GORGEOUS Low Budget Small Kitchen Ideas – Ready to makeover your small kitchen BUT you're on a budget?
The low budget small kitchen remodeling ideas below are stunning – the before and after pictures of these low cost tiny kitchen makeover remodels and designs are dramatic changes – all done on a low budget (some ideas are downright CHEAP).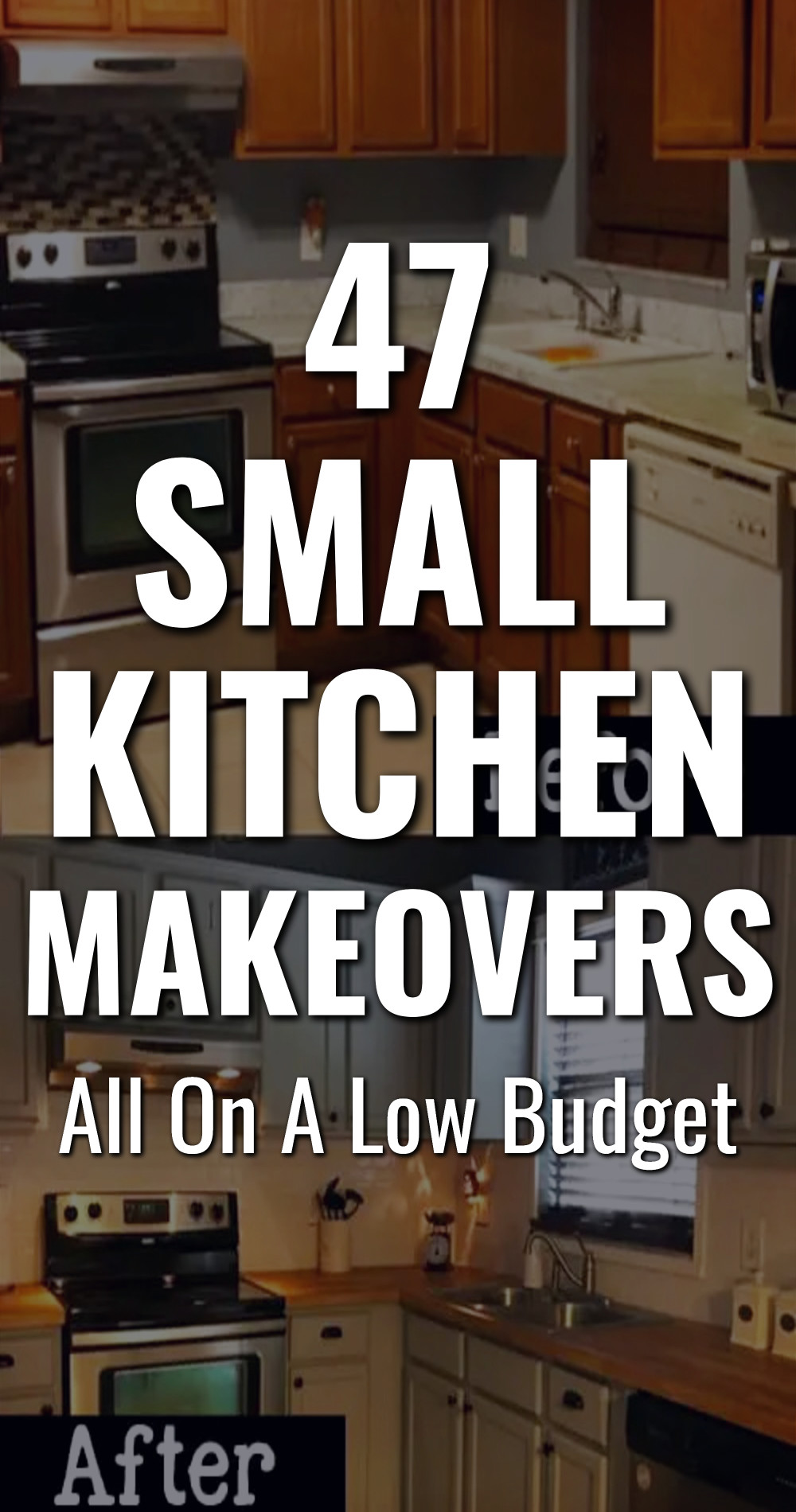 It might feel impossible to update or remodel an old kitchen on a budget, but once you see these small simple kitchen design makeover reveals, you will be ready to plan your small kitchen remodel TODAY.
These pictures and ideas are the perfect low cost simple kitchen design for middle class family homes when you are TRYING to makeover your kitchen on a budget – which is SUPER hard these days.
DIY home improvement projects are fun – but dang, everything is so expensive these days – ugh!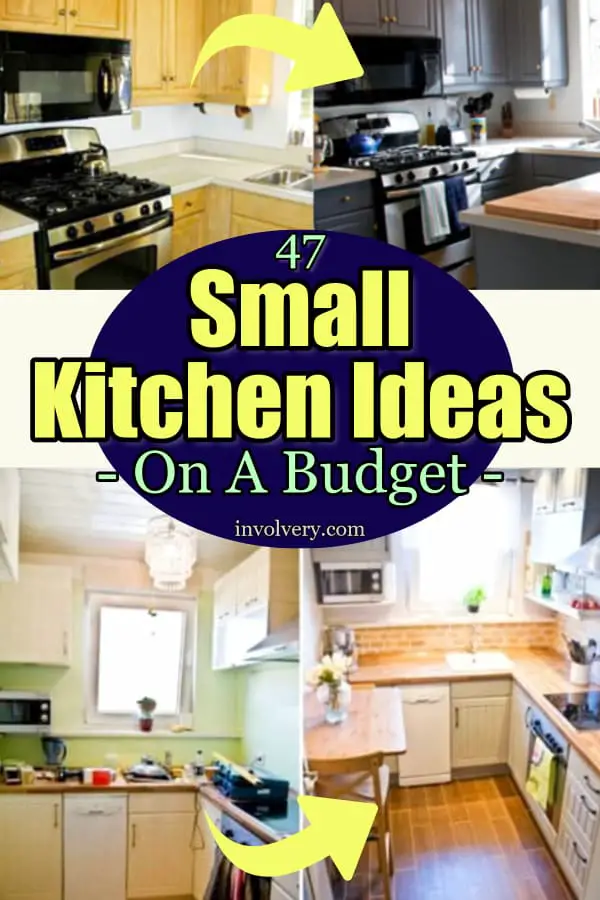 Small Kitchen Ideas
Need Tiny Kitchen Ideas YOU Can Do Yourself?
If you have a small kitchen AND you're on a budget, a small kitchen remodel can seem almost impossible with limited space and limited funds.
But you can change the entire look of your kitchen on a super low budget – you just gotta get creative AND be frugal about your choices.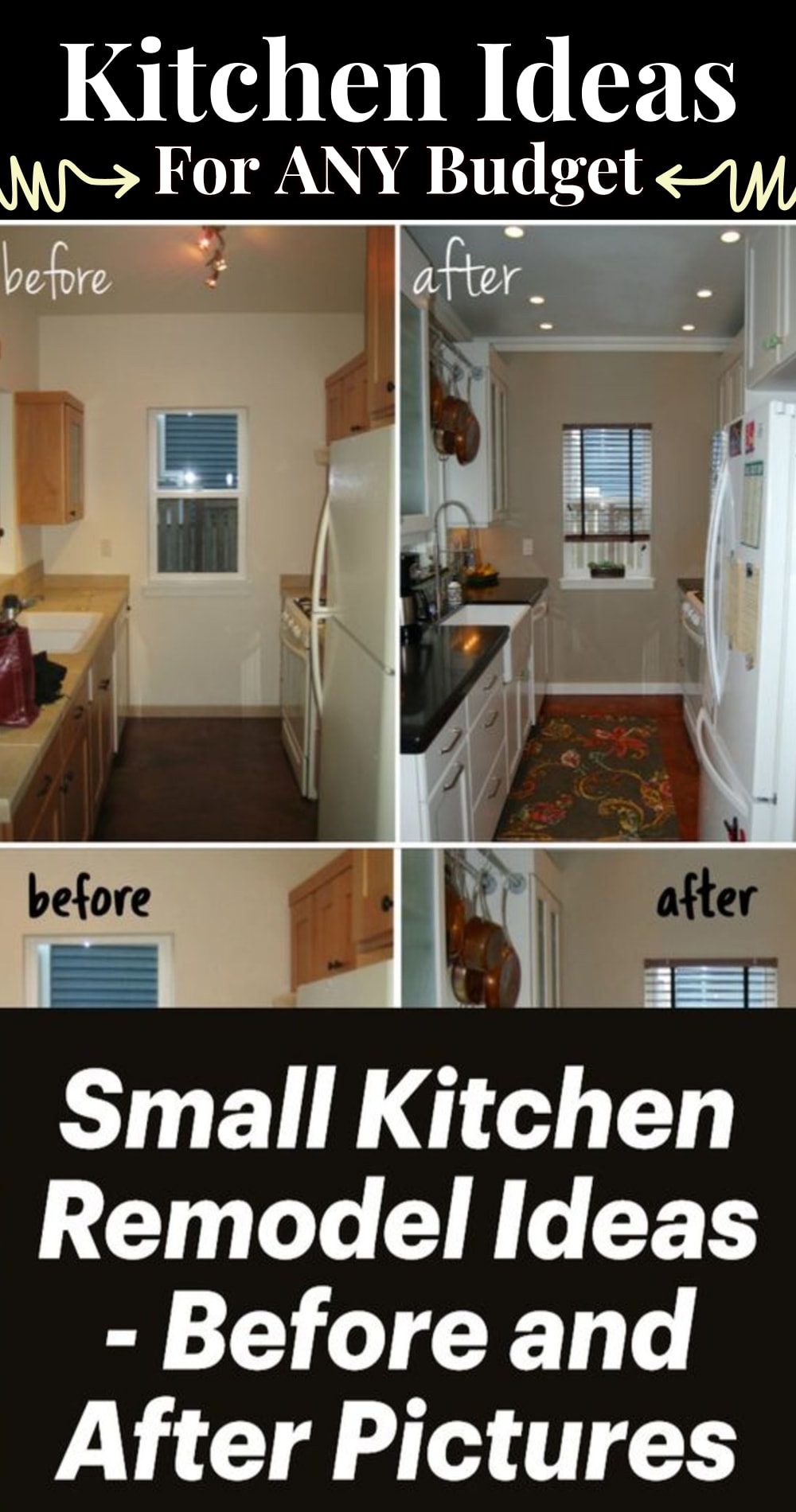 As you'll see in the small kitchen remodel before and after pictures below – no matter what the layout or design of your small kitchen is, there are many inexpensive and affordable DIY ideas to give your kitchen a makeover and a fresh new look (even if it's a tiny apartment kitchen or a mobile home).
For example, take a look at this before and after single wide mobile home kitchen remodel in the picture below – what a transformation!
Can YOU see the simple changes in the picture below?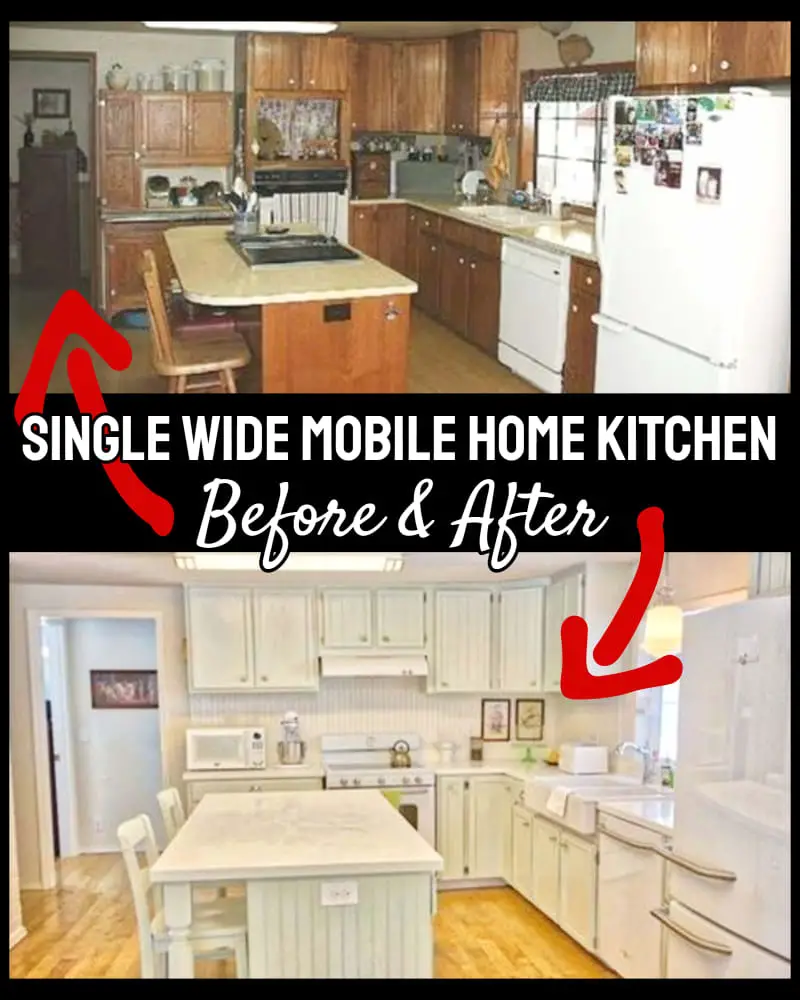 That tiny, dreary, outdated single wide kitchen got a whole new look, didn't it?
There's also many ways to make your small kitchen more functional, like these 2 amazing inventions below:
 My favorite small kitchen invention – LOVE mine!✅ I Found It Here This space-saving one works really well too.✅ I Found It Here
Let's jump in and take a look at remodeled small kitchen before and after pictures below to get some beautiful and affordable ideas for your tiny kitchen remodel.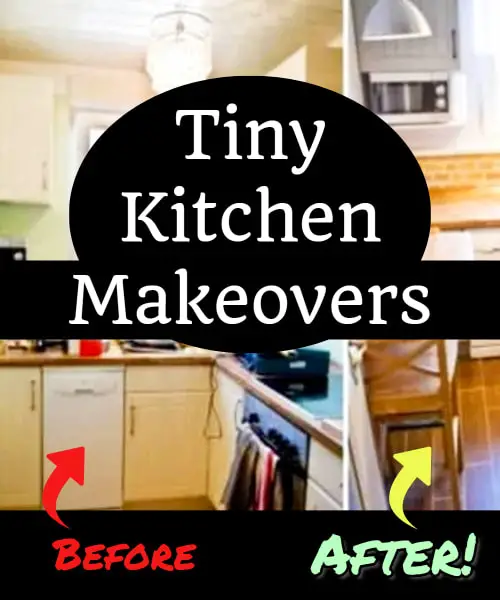 Budget-Friendly Small Kitchen Ideas
There are many ways to COMPLETELY remodel a kitchen for under $4,000 – but it can be cheaper than that…
MUCH cheaper.
The least expensive way to remodel a kitchen comes down to these 2 things:
1. Spend extra time shopping around for the best prices on kitchen remodel items such as cabinets, paint, flooring, etc
and
2. Do as much of the work yourself as you possibly can.
✅ JUST the labor costs for a contractor to remodel your kitchen will cost $3,000 to $5,000 (about 18% of the total cost [1]) Any work you do yourself cuts down on outside labor costs which, in turn, saves YOU a TON of money.
If you're on a very limited budget, yet really want a new look for your small, out-dated kitchen, take a look at all these cheap DIY ideas you can try to update the look of your kitchen into a space you love.
Before & After Pictures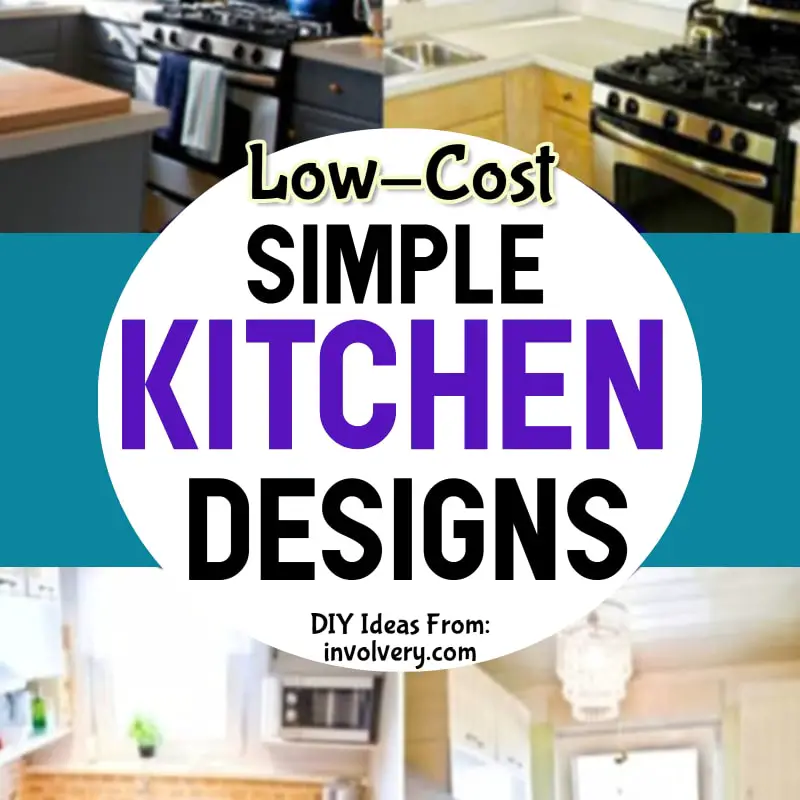 This small kitchen makeover is proof-positive that you do NOT have to spend thousands of dollars to turn a small out-dated kitchen into a beautiful space – Amazing what a drastic change new paint can make in a small kitchen.
Just take a look at the before and after pictures of this small kitchen makeover…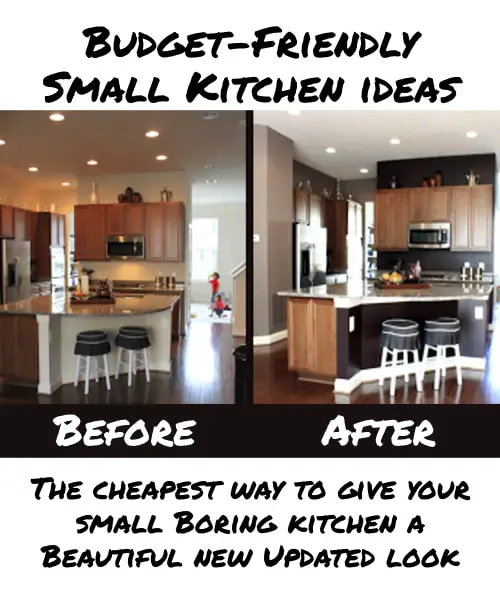 Even though the 'after' picture looks dramatically different, if you really look, you'll notice that the only change is new paint on the walls.
Personally, I think they could also choose one of these popular kitchen cabinet paint colors and create an even more dramatic change without spending much more at all.
That size kitchen is also perfect for some of these space saving organizers:
 These hang over your cabinet doors and are SO handy – perfect if you don't have much space!✅ I Found It Here These are perfect for those awkward narrow kitchen drawers – Use 2 side by side in wider drawers.✅ I Found It Here
Kitchen Makeover Ideas on a Budget
When it comes to budget-friendly small kitchen renovation ideas, these before and after pictures are jaw-dropping.
This tiny old kitchen below now has a beautiful fresh new look – and done very inexpensively.
Lots of small budget-friendly changes and updates were made –
can YOU see the changes in the picture below?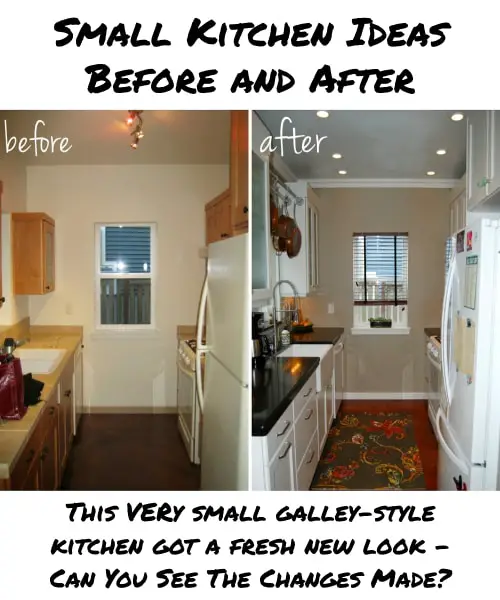 They painted the kitchen cabinets white to open up the space, added new counter tops, installed new kitchen lighting and a beautiful new kitchen faucet like one of these below:
Small Kitchen Faucet Ideas
Tiny Kitchen Lighting Ideas
Updating the light fixtures in a small kitchen can make a BIG difference WITHOUT spending a lot of money.
The recessed can lights in the kitchen makeover above made a big difference and really update that outdated tiny kitchen.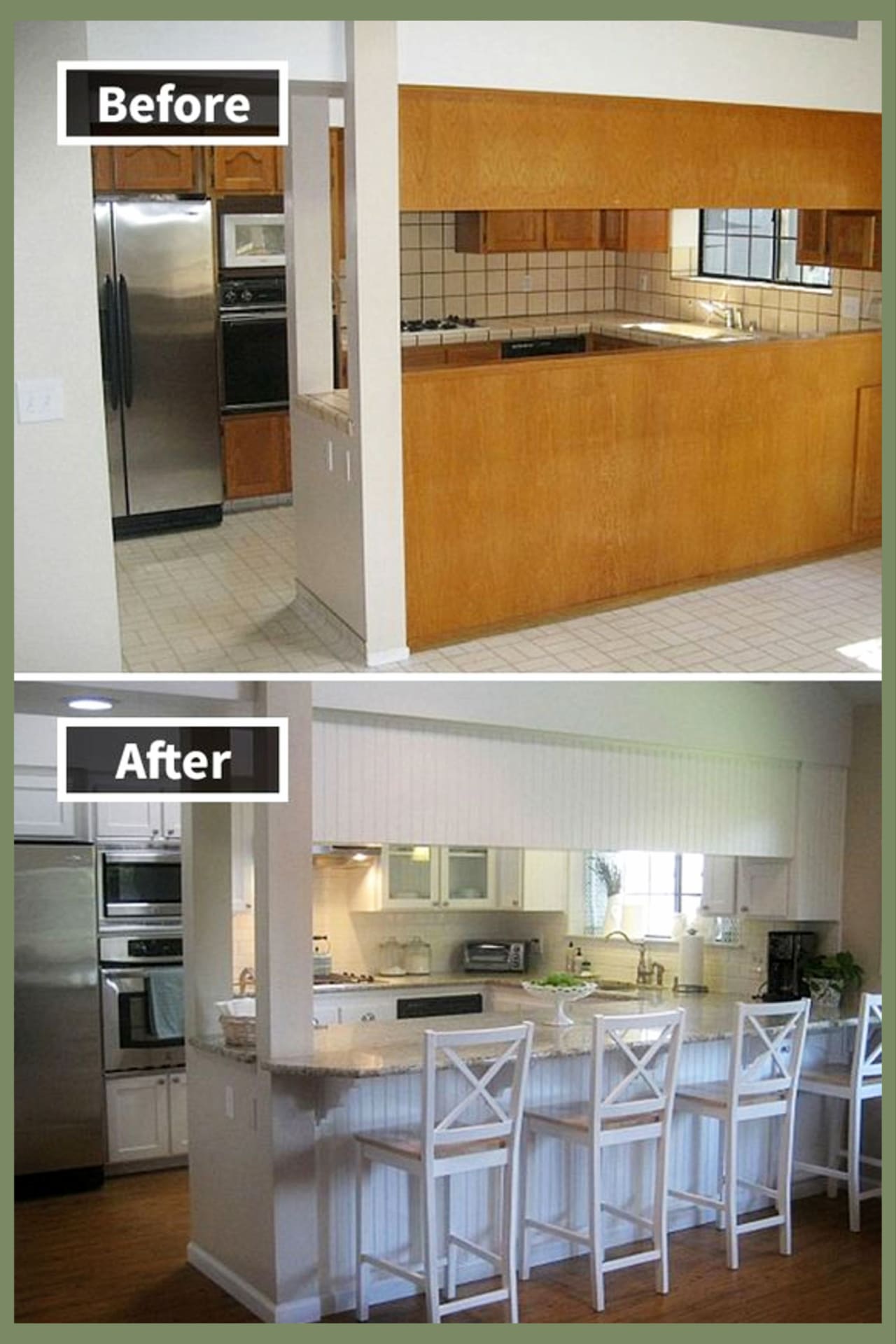 Small Kitchen Rugs Ideas
Other than new paint on the cabinets and walls, I really think the stunning rug brings it all together in this small kitchen makeover.
Small U-Shaped Kitchen Idea
This small kitchen below looks MUCH better after just using ONE cheap makeover idea – isn't the before and after dramatic?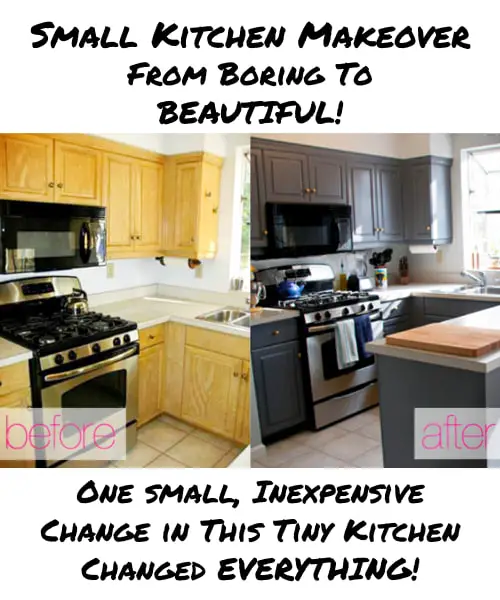 And yep, all they did was paint their kitchen cabinets – quite a change, right?
I love grey rooms anywhere in the house, but I especially LOVE a grey and white kitchen – such a clean and updated look for ANY sized kitchen.
And I L-O-V-E that big wood cutting board on the counter!
Small Farmhouse Kitchen Remodel Idea
I think the make-over of this small kitchen is DRAMATIC!
Just look at the before and after picture below!
It went from a very out-dated farm kitchen to a stunning small farmhouse kitchen – and it was all done quite cheaply.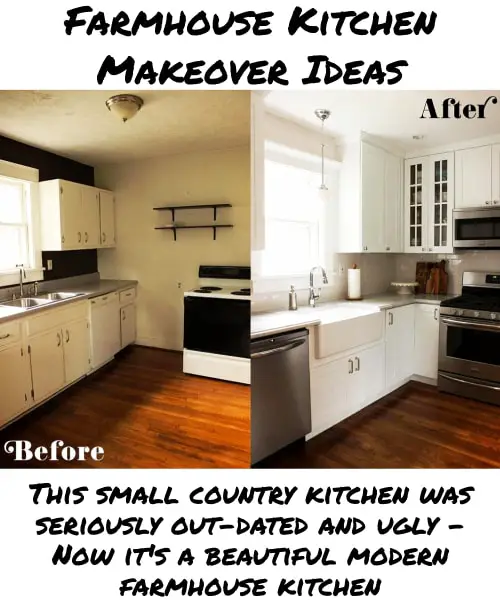 That new farmhouse sink is GORGEOUS – what a difference it makes.
Small Farmhouse Kitchen Sink Ideas
VERY Small Kitchen Makeover – Before and After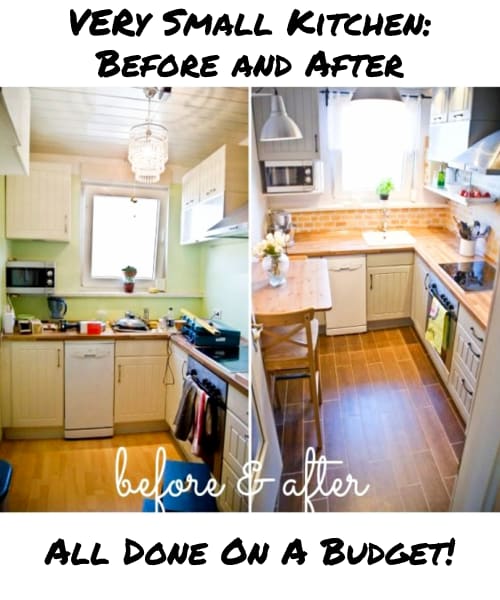 Very tiny kitchen DIY remodel ideas – love how this small kitchen turned out in the before and after pictures!
That is a REALLY small kitchen, but the changes they made have turned it into a BEAUTIFUL room in their home.
That narrow table with the two bar stools is an excellent way to get a table breakfast room eating area into a tiny kitchen.
Tiny Kitchen Breakfast Table Ideas
Tiny Apartment Kitchen Remodel Before and After
This tiny apartment kitchen had a beautiful makeover and remodel.
While the kitchen layout is super small and one would think there isn't any hope of having a useful and stunning kitchen, this before and after picture below sure proves otherwise.
I, personally, wouldn't think this remodel was done on a tight budget, but they sure spent their money right.
What REALLY opens up this small kitchen is that white fake brick back splash – though I prefer white subway tile.
The before/after picture of the small condo / apartment picture really highlights all the inexpensive changes you can make in a small kitchen that make a BIG difference!
$5,000 Kitchen Remodel
Here are some before and after pictures of a $5,000 kitchen remodel:
Here's how that $5,000 kitchen remodel budget broke down:
$2,000 for kitchen appliances
$1,500 for wood and trim
$350 for kitchen countertops
$400 for new kitchen sink
$300 for kitchen tiling
$450 for counter pulls, paint, misc items
If $5,000 is way out of your budget, you can remodel your entire kitchen for under $4,000 by: selling your old appliances, doing as much work yourself as possible, use as many items you already have as possible, use paint instead of tile, buy at discount stores, etc.
Before & After on a Budget
When it comes to small budget kitchen makeover ideas that make a BIG change in the over-all look of a tiny, outdated kitchen, these ideas below are the clear winners.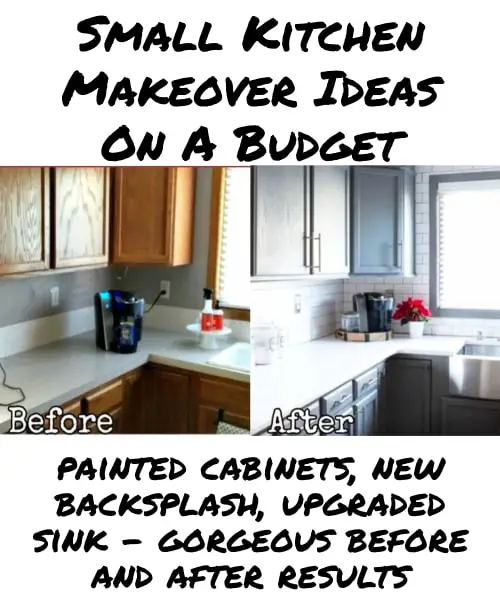 3 main things made ALL the difference in that kitchen makeover: painting the cabinets, new backsplash and a new farmhouse style sink – all done within a small budget.
Space-Saving Small Kitchen Ideas
In a tiny kitchen, it's all about making the most out of the limited space you have.
With limited counter area, there just isn't room to keep all your important utensils and appliances sitting out.
Heck, many of us barely have room for a trash can!
In a small kitchen space, it's all about how to maximize the storage space you DO have, right?
These are our favorite space-saving items for small kitchens.
Rustic Farmhouse Kitchen Remodel Ideas
Love the farmhouse look? Me too!
✅ Check out these small farmhouse kitchen remodel ideas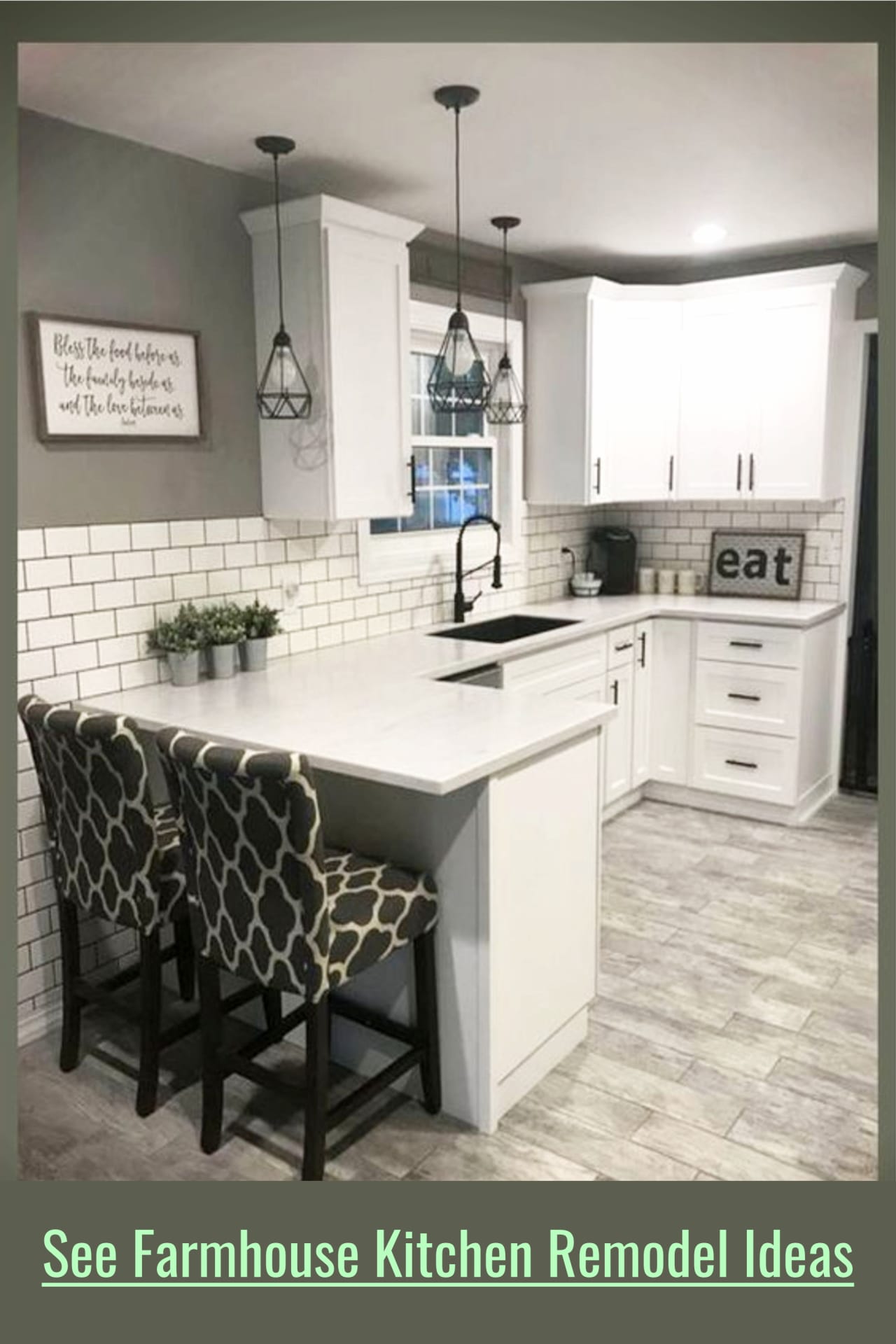 More Clever DIY Ideas
---
– DIY Sliding Barn Doors – Pros and Cons
---
– Garage Man Cave Ideas on a Low Budget
---
---
– Farmhouse Kitchen Decor Ideas
---
---
---
---
– How To Make Your Room Aesthetic WITHOUT Buying Anything
---
---
---
– What To Do With Empty Jack Daniels Bottles
---
---
---
– Rustic Decorating Ideas on a Budget
---