Organizing the nursery closet? Need some ideas, tips, hacks, and DIY inspiration? You're in the right place!
On this page you'll find many of our favorite nursery closet organizer (we LOVE this baby closet organizer set!), organization tips, and design ideas. Ideas for boy baby closets and girl babies… gender-neutral ideas, creative use of space in small nursery closets, and some plain ol' brilliant nursery closet hacks that I sure wish *I* had thought of!
Feel free to "Pin" any nursery closet pictures that inspire you!
Nursery Closet Organizer Ideas
Pink Nursery Small Closet Ideas


This small nursery closet is perfect for keeping all her baby girl's clothes and baby gear organized. Just love the pink storage bins and baskets and the polka dots!
Gender-Neutral Nursery Closet Idea
Our friends have decided to NOT find out the gender of their baby and instead, have a surprise when she delivers. Fun right!?
That also means they are going with a gender-neutral theme for the baby nursery. She really liked this nursery closet design idea.
Get More Space in Small Nursery Closet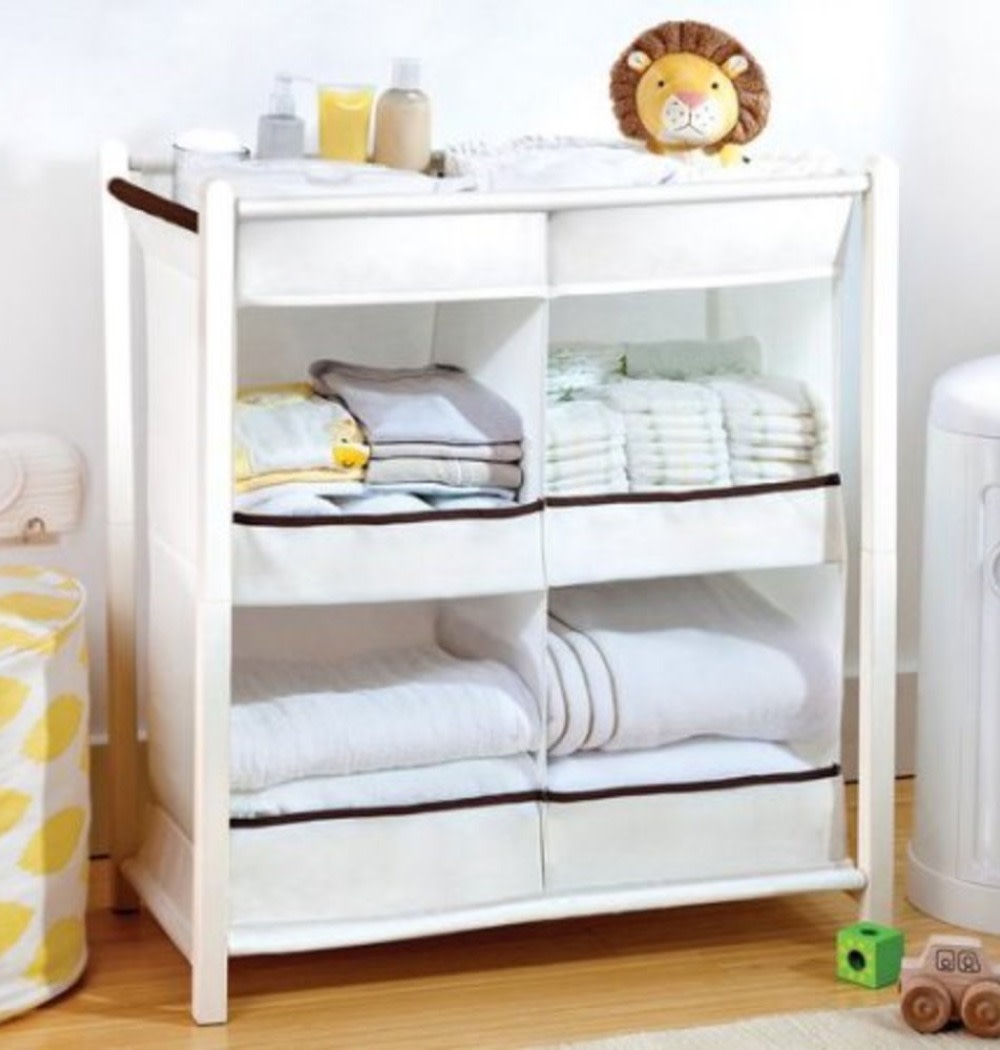 I like this idea – use one of these nursery organizers in the closet if your closet is small, but you want to make the most storage room possible in it.
Small Nursery Closet HACK (so smart!)
Brilliant Nursery Closet Hack – take the doors off a small nursery closet to get more room and be better able to organize baby's things.
Baby Boy Nursery Closet Idea
Baby Boy Nursery Closet Idea – this closet design is better for a longer closet (like the kids with bi-fold doors) – great organization and use of blues and greens.
Easy Nursery Closet Organization Idea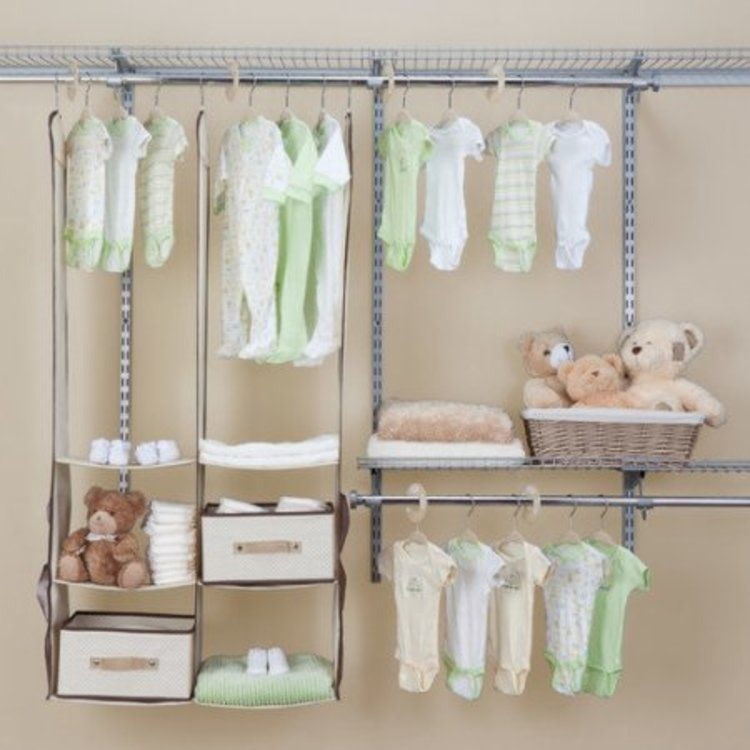 If you can't get (or fit) a big closet shelving system into your nursery closet, this baby closet organizer is a great idea.
Nursery Closet Idea with Drawers
This is a smaller nursery closet, but they did a great job organizing it to make the most of the space. The drawers/dresser inside the closet is brilliant – and all the shelves and basket give them lots of space to get the most organization possible.
Baby Room Closet Hack (easy DIY idea)
This baby room closet idea is one of my favorites. I love the idea of making a nursery closet bigger and more usable by removing the closet door(s), but adding this curtain is just brilliant. Very simple DIY hack that will fit any budget.
Ultimate Nursery Closet Organization and Design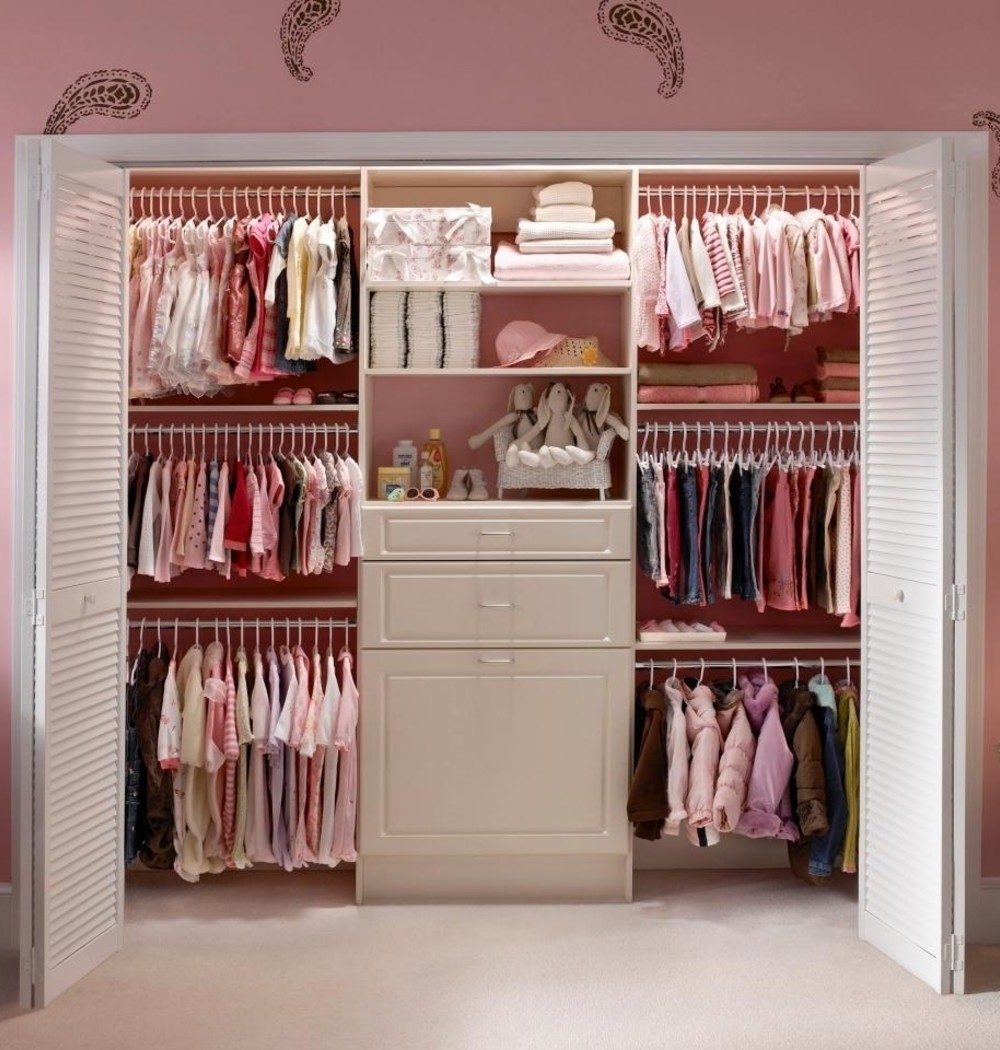 Isn't this an AMAZING nursery closet? I'd LOVE to have a closet like this! All the rows of places to hang baby clothes and the shelves and the drawers… just awesome!
Unique Nursery Closet Organization Idea
Lots of shelves in this baby room closet means lots of space to keep your baby's things organized. The dresser in the middle is great since it gives much needed drawer space. I really like this, but I believe I'd add some baskets to this nursery closet. Little girls have LOTS of little hair bows and things that are easier kept in baskets and bins.
Small Nursery Closet Organizing Idea
Love the use of pink and blue baskets in this nursery closet. This mom made great use of space out this small bedroom closet for baby things. Also, you'll see she removed the door from the closet to give her more space to work with.
How To Organize Nursery Closets
Here are some tips from Kurt to help with your organizing in your nursery closet.
1. Divide clothes by size. You probably have a lot of different sizes of baby clothes. You can buy or make markers that wrap around the closet rod that will help you keep things organized and easy to grab at a moment's notice.
2. Hang as much as possible. Folded stacks of clothes can easily become a pile of laundry. It is hard to see what you need and you end up rummaging through. Hang as much as you can on baby hangers and use bins for things like undershirts, body suits, and socks.
3. Make space for things that should be kept out of a child's reach. The nursery inevitably will contain medicines, diaper rash ointment, and other dangerous items. Make sure that you dedicate areas out of children's reach to these items. Avoid keeping them in or around changing tables and cribs.
4. Use bins for small items. Small things like socks, burp cloths, diapers and receiving blankets can be kept in bins. Pacifiers, toys and teething rings can be kept in bins once they are sanitized and ready to use.
5. Make space for dirty laundry. Babies can go through a lot of clothing in one day. Keep a laundry hamper or basket near the changing area or inside of your nursery closet. It will be out of sight, but easy to collect when it is time to do the laundry.
6. Dedicate a shelf to things that you'll need quickly or in the middle of the night. You don't want to have to wake the baby by turning on lights to find something like a thermometer. Keep these emergency items together so that you can easily find them when you need them.
7. Install lighting. Small lamps or night lights can be helpful if you need to find something in the baby's room. You may even want to keep a flash light on a hook by the door so that you can sneak in if you need to. A closet light will help you find all kinds of things without waking the baby.
8. Use a lock or child-proof door knob cover. Make sure that your baby can't get into items that are kept out of reach by using the closet to store them. Put a door knob cover or self-locking mechanism on the closet door as an extra precaution.
9. Use special baby hangers, children's hangers, or infant hangers to keep special outfits from becoming damaged or stretched out. You can even designate part of the closet for consignment or charity items to keep the closet from getting cluttered.
Kurt Adams is on the staff of Only Kids Hangers, a leading provider of infant hangers. The right baby hangers, like wooden baby hangers and children's coat hangers, keep baby clothes organized and children's hangers are great for retail stores. For more information, please visit http://www.onlykidshangers.com – source
Nursery Closet Products To Help Organize
Throughout this page, I shared some awesome products to use in your nursery closet to make organizing your baby's things much easier.
Here is the full list of things that can help with your baby closet organization.
Last updated on October 26, 2016 6:24 am EDT
Follow My Baby and Newborn Board on Pinterest
Follow My Organization Tips & Hacks Board on Pinterest.
Follow Our Kids & Parenting Tips & Ideas Board on Pinterest.
More Posts You Might Like:
— Unique DIY Sensory Board/Busy Board Ideas
— Unique Halloween Costumes for Toddlers
---

There's Only HOW Many Days Left Until Christmas?
Our Countdown To Christmas Clock Says...

Get More Great Gift Ideas Here
Show Me MY Deals on Amazon Today
Show Me the 2016 Most Wanted Gifts List
Show Me My Amazon Coupons
Help Me Find a Gift Card
---
Free CopyCat Recipes Book
What's Inside Your Free Cookbook?

33 Easy & Delicious Top Secret CopyCat Recipes

Learn how to easily make food like:
Applebee's, Benihana, Boston Market, California Pizza Kitchen, Chevy's, Chili's, Grandma's Big Cookies, Hard Rock Café, I.H.O.P, Kellogg's, KFC, Kraft, Lawry's, Lone Star Steakhouse, Mimi's Café, Olive Garden, Outback, Snapple, Sonic, Swiss Miss, Soup Nazi, Tony Roma's, Wendy's & More
$19.99 Value - Yours For Free Today