---
It's 5pm the day BEFORE your office party and you need to bring a dish to share… Now what? Nothing like waiting until the last minute right?
The GOOD news is – been there, done THAT. Let me show you the Bring a Dish ideas I take to MY office parties.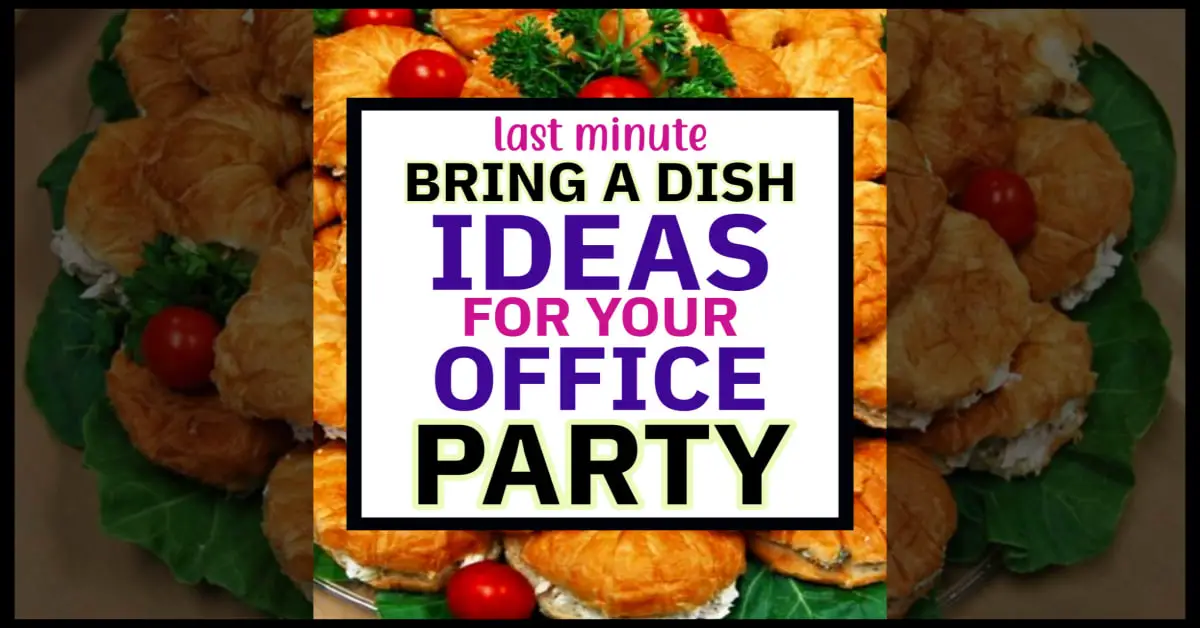 ---
Updated on November 10, 2022
posts may contain affiliate links -Enjoy and feel free to share with your friends!
---
So there I was…it was 5pm on a school night – my office party was the next day – and I had to bring a dish.
Needless to say, I needed something quick since this was all happening last minute…AND I really wanted something cheap to make or BUY.
So – time to brainstorm some type of food dish to take… and do it QUICKLY because the family needed dinner too.. and they are a BUNCH of picky eaters!
My go-to dish for any buffet style party is always my "famous" brownies.
WHY they're famous? Heck if I know – they're BOX MIX brownies haha!
I use this brownie mix and then add an additional egg to make them "cakier".
Using only ONE egg (as directed on the box) makes the brownies really gooey – and they're GOOD – but the extra added egg makes them easier to cut and serve individually (and make MUCH less mess too!)
I also sprinkle sprinkles on top of the brownies before I bake them. The colors and/or shapes of the sprinkles varies depending on the season or holiday theme.
BUT here's the problem – this particular office party organizer did not WANT anyone to bring desserts – so my famous brownies were OUT.
(just a fun side note: SHE ended up bring brownies!)
I have these side dish recipes I make for Thanksgiving and Christmas – but those are more for a dinner main meal. My office party was more of a luncheon type thing.
Plus, if I go bee-bopping into the office with a pyrex dish full of carrots, they'll probably hate me haha!
I seriously considered this cheesy mashed potato casserole – but I'll be honest with you… I did NOT feel like COOKING anything.
So – what else to make and bring?
I thought about ordering a few pizzas and have them delivered to the office – but that would NOT be cheap.
Or just buy some chips and salsa – but that would make me LOOK cheap.
I also have this recipe for party meatballs which is SUPER easy (the recipe is about half way down that page).
Just dump frozen meatballs and a two other ingredients into your crockpot and let them slow cook – but I didn't have that much time and did not want to keep my crockpot on overnight (I'm still haunted by that This Is Us storyline ha!)
That site I mentioned above with the cold appetizers also had this BRILLIANT idea that I knew I could whip together in a snap:
Cold chicken salad croissants!
The chicken salad shortcut she recommended is what drew me to her idea.
She uses CANNED chicken breast (ie, white meat) mixed with mayo and some seasonings to make the chicken salad really fast.
So, I ran to the store and bought canned cooked chicken meat. I thought about just buying tubs of pre-made chicken salad, but it was actually more expensive.
I also bought the croissants from the bakery department and then went to the produce area and bought some tomatoes to slice up, a bag of shredded lettuce, a bag of cheese, some grapes and some celery to chop up.
My chicken salad only had the chicken meat, mayo and few spices – I didn't add anything else to it.
Why? Because SO many of my office co-workers have food allergies. Some are lactose intolerant, some hate tomatoes, some don't like lettuce…and there's even one employee that is allergic to celery.
Everything else I bought from the produce department I served separately so they could pick and choose the chicken salad croissant toppings as they liked.
Let me tell you something – those people GOBBLED them up! I didn't even get one!
Those chicken salad croissants are now one of my favorite NO COOK party food ideas.
Here's my "notes to self" for this bring a dish sandwich platter recipe in case you want to save it too: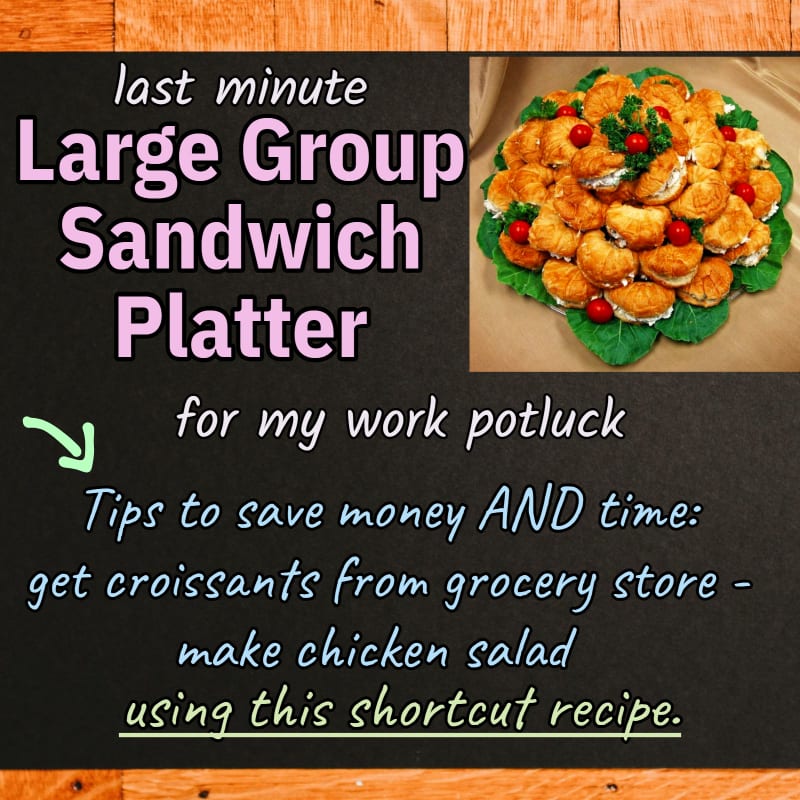 Here are some more office party food ideas I considered:
---
– No Boil Crockpot Macaroni and Cheese
---
---
Hope that helps!
Want to pin this page to save for later?