---
Small Bathroom – NO Storage – Now What? One of the most common problems inside a tiny house or apartment is the limited storage situation in the SMALL bathrooms. If you're a renter with a tiny bathroom, it's even more difficult to find places to put your bathroom stuff!
Here are some easy small bathroom storage ideas that will help you maximize space in your tiny bathroom for your makeup, towels and other bathroom necessities.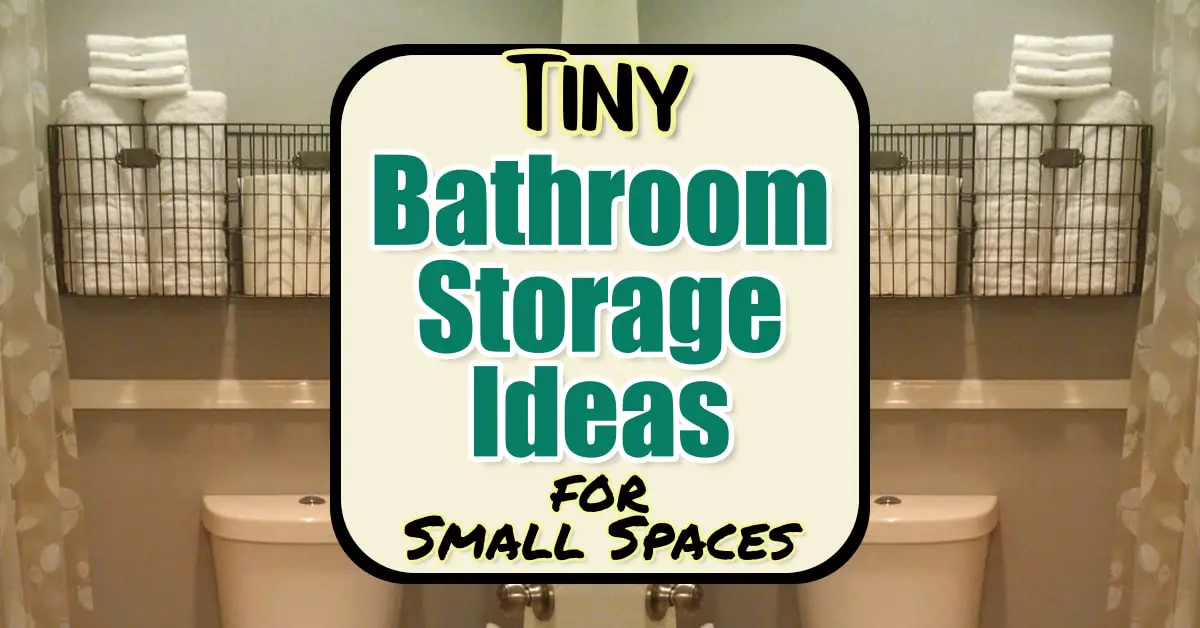 ---
Updated on September 13, 2023
posts may contain affiliate links -Enjoy and feel free to share with your friends!
---
If you own your home, you have one major advantage: you can remodel your bathroom (yeah, I said it lol!)
However, that's NOT an option for renters or for those on a limited budget – or for those that want to create more storage NOW.
Thankfully, there are several things you can do to optimize the space in your small bathroom TODAY – without spending a ton of money or risking your rental security deposit.
How to Create MORE Space In a Tiny Bathroom
Small bathrooms are often just that, small – heck, many tiny bathrooms don't even have counter space!
Oh, the horror!
Many tiny bathrooms can be made more storage-friendly by adding storage cabinets, baskets, over the toilet storage, or hanging shelves, others really don't have room for much more than a shower and toilet – and that's a REAL challenge!
Challenge accepted!
Let's look at some cheap and easy DIY storage solutions for YOUR small bathroom
15 Ways To Maximize Space in a Small Bathroom
When you live in a small, space-restricted house, apartment or dorm, you need to make very good use of every inch of any space you DO have to work with.
Here are 15 creative storage ideas for small bathrooms that any tiny-space dweller can use in order to organize their bathroom clutter and maximize the space they DO have.
Use clear organizers to store toiletries under your bathroom sink
Get an over the toilet storage cabinet (we like these options)
Get creative with over-the-door shoe storage organizers – those tiny cubbies are perfect
Repurpose a small old dresser into storage
Exchange towels racks for hooks (use the adhesive type if you're renting)
Consider hanging shelves on any available wall space
Put some mirrors behind shelves to reflect light into the bathroom
Hang plastic baskets from towels bars
Use hanging hooks to hang towels, robes and other items off the back of the door
Get a wall mounted organizer for makeup or hair tools
Hang clips inside your shower to hold your razor, loofahs, etc
Get a compact hanging shower door organizer (I use this one – and LOVE it!)
Hang cheap tension rods in your cabinet under your sink
Get a space-saving rolling bathroom cart to create extra storage space for towels, etc
Make a shelf OVER the bathroom door for extra towel storage
Ikea Bathroom Storage Hacks
Oh, how I LOVE me some IKEA!
Take a quick minute below and just LOOK at these genius, life-changing bathroom storage hacks you can do to maximize space in your teeny, tiny bathroom:
 Bathroom Wall OrganizersGet More Info Make Up OrganizersGet More Info Over Toilet StorageGet More Info
More Storage Hacks
There's nothing worse that a teeny-tiny bathroom with NO storage space, right?
Homeowners and renters are always looking for clever and EASY bathroom storage and organizer ideas that can help them maximize the small amount of bathroom space they DO have.
Below are some inexpensive DIY bathroom storage hacks I've used over the years.
Hopefully, the ideas and bathroom hacks below will help you create more storage space and get your whole bathroom organized.
 Hair Accessories OrganizersGet More Info Under Cabinet HampersGet More Info Bathroom Storage CartsGet More Info
Bathroom clutter due to not enough storage space to PUT all the things is a real problem –
Clutter spills over onto the floor, the bathroom counters… heck, it even can spill over into the tub when no other storage space is available.
How about we take a look at some storage solutions for any bathroom that lacks storage space?
Ready? Let's go!
Organize Bathroom Clutter
 A Slim Shelving Unit with Baskets for More Space in a Small BathroomGet More InfoBathroom clutter can be eliminated by devising some home storage ideas that will make your space appear less cluttered and more organized.
For this, you may want to consider versatile bathroom organizers such as under sink storage, recessed cabinets, and floating cabinets.
However, if you're a little short of cash, you may want to consider some less traditional bathroom organizers that are easier on the budget.
This simple bathroom shelving idea is a cheap and easy solution to get more space in your bathroom.
The baskets keep everything organized and out of sight which simply makes your bathroom look neater as well.
Shaker boxes, wicker baskets, hat boxes, shoeboxes, and the like can function as excellent bathroom organizers that will make your space look more attractive at the same time.
Bathroom Organizers Small Bathrooms
Even a small amount of empty wall space in a tiny bathroom can provide a HUGE opportunity for storage.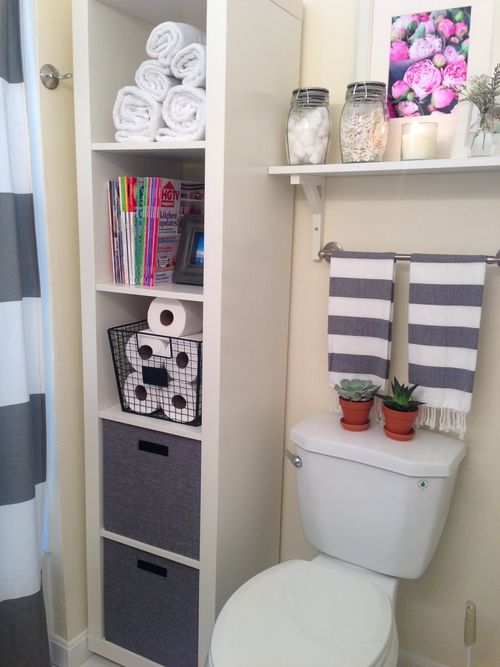 Space-Saver Bathroom Storage Ideas
Here's a brilliant idea – store your hair blow dryer in a drawer that has an outlet in it.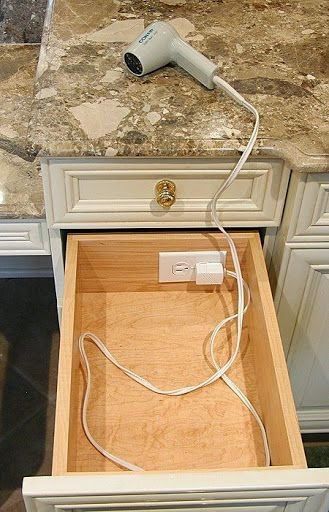 Or, to make that idea above even better – put ALL your electric hair styling products in a drawer with a surge protector plug in strip.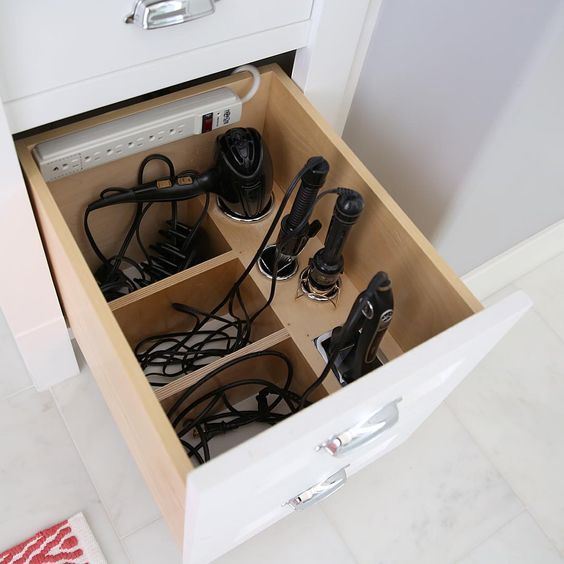 To help you organize your small spaces without breaking the bank, consider these suggestions:
 Hair Accessories OrganizersGet More Info Under Cabinet HampersGet More Info Bathroom Storage CartsGet More Info
Under Counter Bathroom Storage Ideas
Utilize the area below your bathroom sink. Do you have a lot of wasted space below your sink? If so, you can buy some inexpensive under-sink organizers and drawers and use it to organize your cleaning supplies, extra rolls of toilet paper, and a lot more.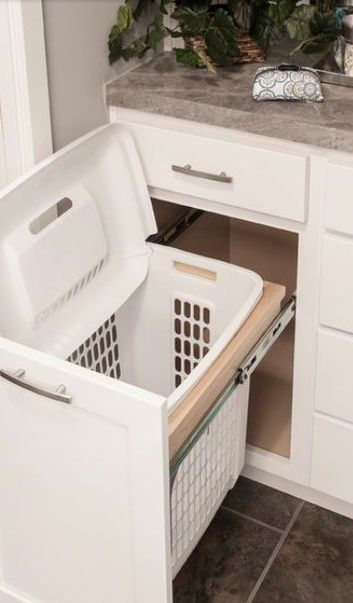 Bathroom Storage Baskets Ideas
Use wicker baskets to tidy up your counter space. Too many small items on the counter will definitely make the space look messy. To avoid this, put wicker baskets and use them to store and organize small items such as your combs, hair brushes and hair dryers, cologne, perfumes, hair sprays, and cosmetics. Just make sure you choose ones that complements the design of your bathroom to create a more unified look.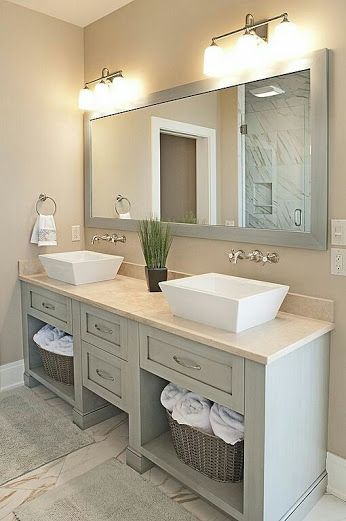 Consider buying some shaker boxes. A country or traditional bath is the perfect setting for some shaker boxes. These will tidy up your bath and add an enchanting charm to it. Now, that's what I call great value for your money.
Built-In Bathroom Storage Idea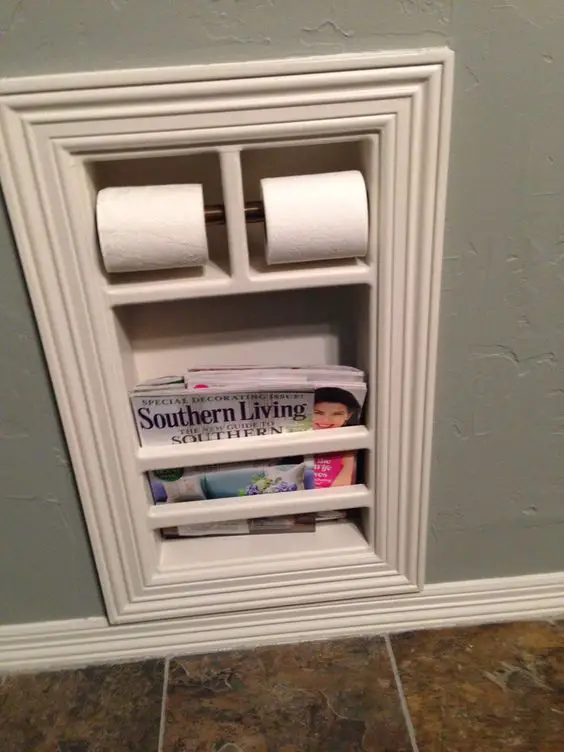 Unique Bathroom Storage Hacks
Here's an original idea… Invest in a traditional pie safe.
Another great idea is to put in a traditional pie safe and use it for storing towels, linen, or other cleaning supplies.
This works great in a small country or traditional bath, too.
Purchase bathroom storage units that you can install around the bathtub.
There are a lot of organizers that you can install around your bathtub to maximize available space.
This page has a lot of great bathroom shelving ideas with pictures of great ideas for using the space around your bathtub.
Consider wired-over storage, or tub trays that attach either over the side or back of your tub and allow you to store toys, soaps, wash clothes, and other such bath items.
Over Toilet Bathroom Storage Ideas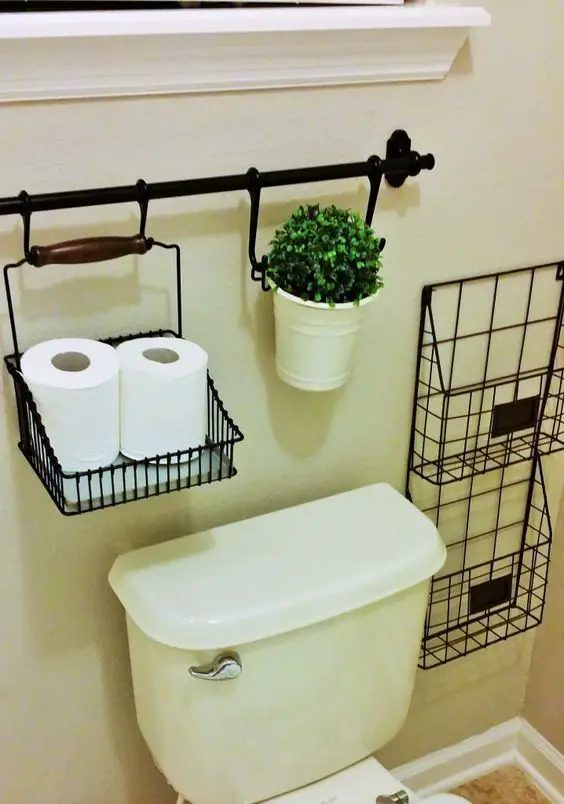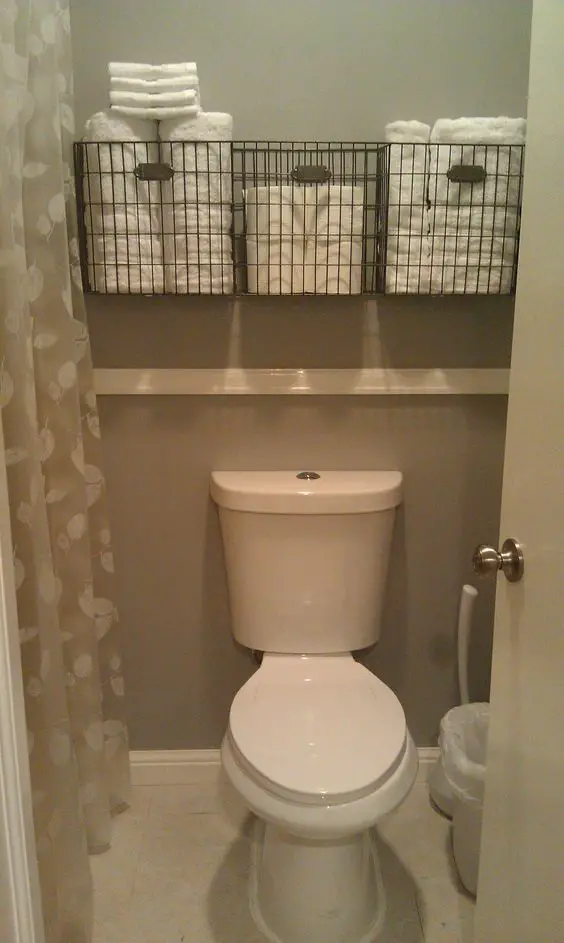 Maximize your space by installing corner shelves. You can choose from free-standing corner shelves or those that you can attach to your corner walls.
 Bathroom Storage BasketsGet More Info Bathroom Wall BasketsGet More Info Bathroom Wicker BasketsGet More Info
Over Door Bathroom Storage Ideas
Or, make great use of a tall/long bathroom cabinet to keep all your bathroom things neat and organized – and out of site.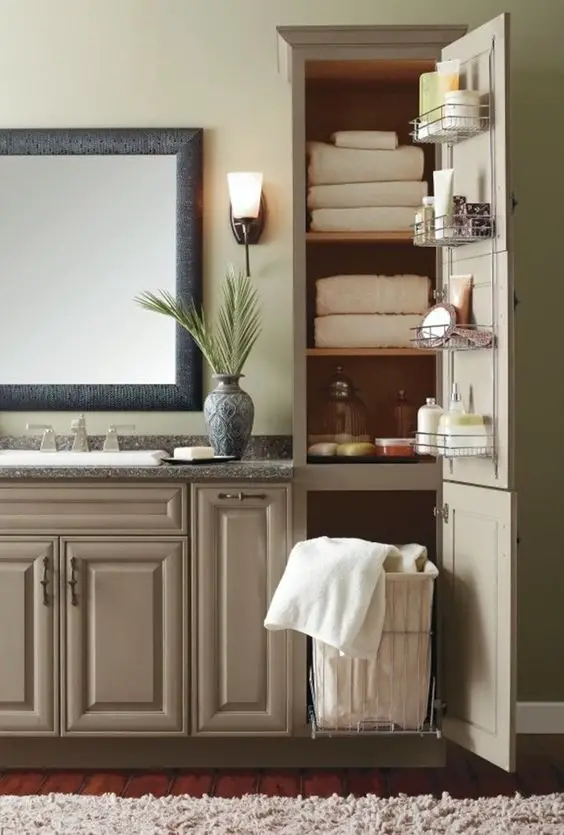 Now you see that there are a lot of bathroom bathroom organization ideas and products available to suit your personal needs, preferences and budget. Just use them appropriately and you won't be saddled with bathroom clutter ever again! Have fun organizing!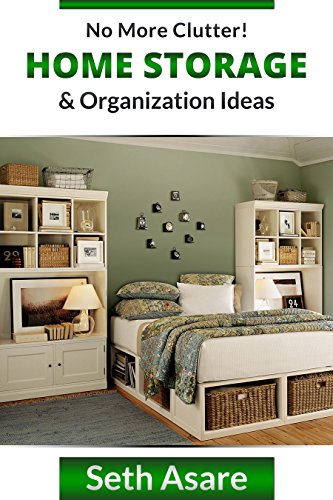 No More Clutter! Home Storage And Organization IdeasGet More Info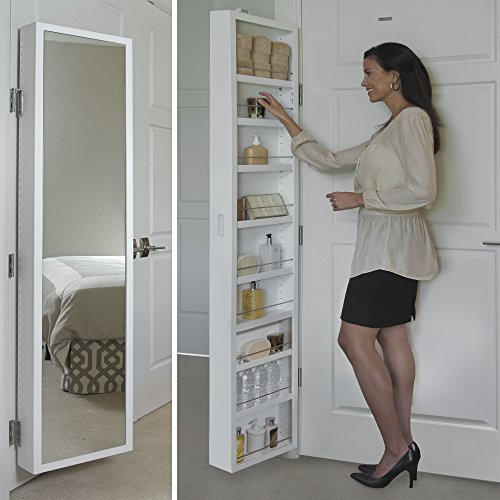 Cabidor Mirrored Bathroom Storage Cabinet for OrganizationGet More Info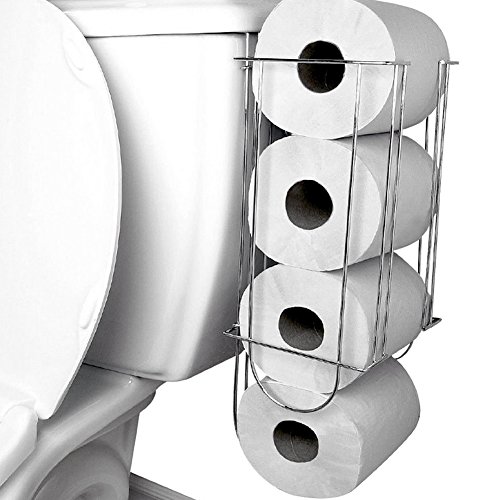 Evelots Side-Of-Tank Toilet Paper Holder Convenient Storage Easy Access-SupportsGet More Info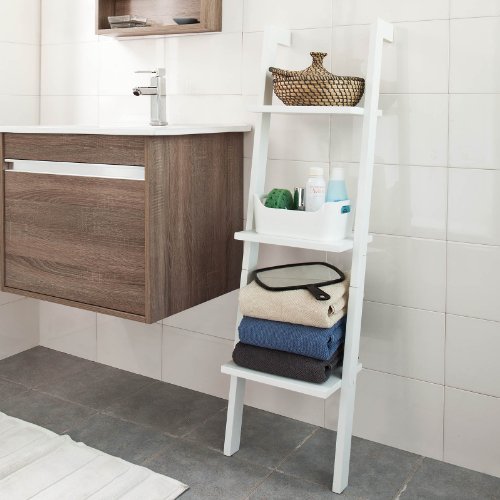 Wood Ladder book Shelf with Three Floors, bookcase,Stand Rack, Wall ShelfGet More Info
&