---
Aesthetic Room Ideas – How To Make Your Room Aesthetic WITHOUT Spending Money – If you've been wondering "HOW to decorate my room WITHOUT spending any money", you're in the right place! The aesthetic room ideas on this page are cozy, cute and downright awesome.
Here's how to make YOUR room look aesthetic WITHOUT buying anything – the pictures and easy DIY ideas below are for decorating your room on a low-budget or without spending a dime at all.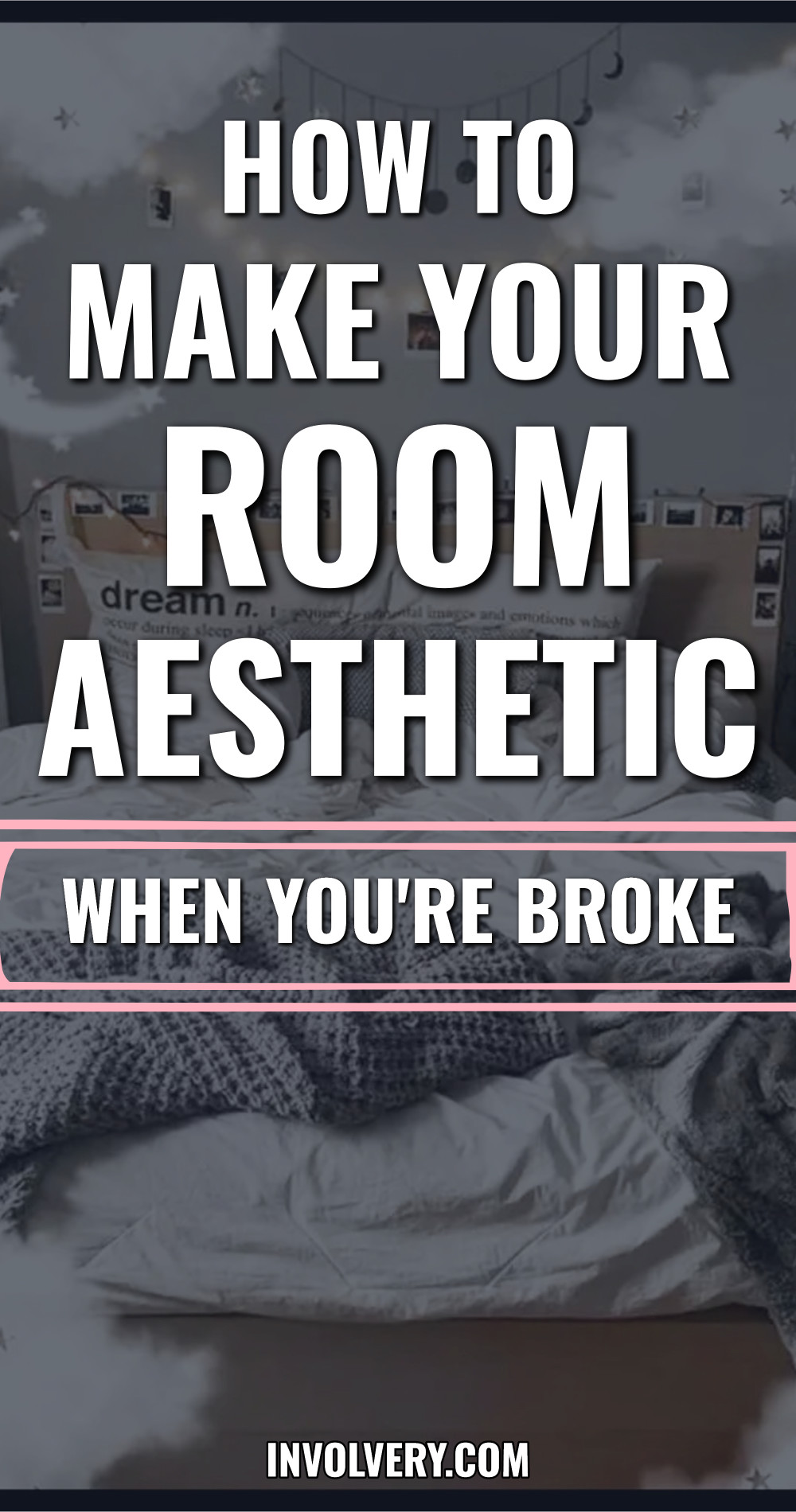 It can be a real challenge to make your room look awesome with NO MONEY to spend on decorating. Thankfully, there are many budget-friendly, and FREE, ways to make your room look great to achieve an awesome and aesthetic room without spending money.
Let's talk about what an "aesthetic room" IS…and look at some cheap and free ways for your to decorate your room in that style.
✅ Aesthetic Room FAQ
☑ 1. What is an "aesthetic" room?

In short, an aesthetic room is a room that is decorated in a style or theme that is beautiful to YOU (ie, aesthetically-pleasing) that also makes you FEEL good.

The official answer to 'What Is An Aesthetic Room?' is (1)

Popular especially among TikTok users, aesthetic rooms are characterized by the presence of greenery (think plants or hanging vines, both real or faux), muted colors (neutrals and pinks are most common), and fun light fixtures (think LED strands or string lights).

And then they offer aesthetic room decor ideas like in this picture they found on Instagram:

Bottom line, an aesthetic room is a room that is decorated in a style that makes YOU happy. Whether it's LED light, grunge, or lots of plants – it's a room with an aesthetic that YOU like.

There are many aesthetic decorating styles such as VSCO girl aesthetic rooms, Boho / Bohemian, Shabby Chic, Cottagecore, minimalist, light academia, TikTok vibe, Grunge, Cyberpunk, Romantic, Retro, Neon, Farmhouse, Industrial, etc. TikTok has made the aesthetic room very popular this year, but that aesthetic style is more of a decor theme that is all about surrounding yourself with the things YOU love – and adding LED lights, plants and other things YOU love.

The Vou offers these aesthetic room ideas pictures which lets you know that a truly Aesthetic room comes down to YOUR style more than what's popular and trending on TikTok.
☑ 2. How do I make my room aesthetic TikTok style?

A TikTok style aesthetic bedroom has light-colored walls covered with a photo wall of your favorite people and LED lights all around your room that creates that cool aesthetic glow to bring it all together.

OR – get all shabby chic BoHo with it for a chill aesthetic room by adding tons of plants, warm colors and pictures of your favorite people like this:

SEE MORE: Aesthetic Wall Decor Ideas
☑ 3. How can I give my room a glow up without buying anything?

Giving your room an aesthetic glow up without spending money is very possible – hang lots of pictures of your favorite people, hang a really cool "boho" style blanket on the wall, use lots of LED lights and or string lights… like in the aesthetic bedroom picture below.

Think decorating items like throw pillows in different colors, styles and textures, a big white fluffy comforter with a unique throw blanket. In short, an aesthetic room glows with everything about YOU.
11 Ways To Make Your Room Aesthetic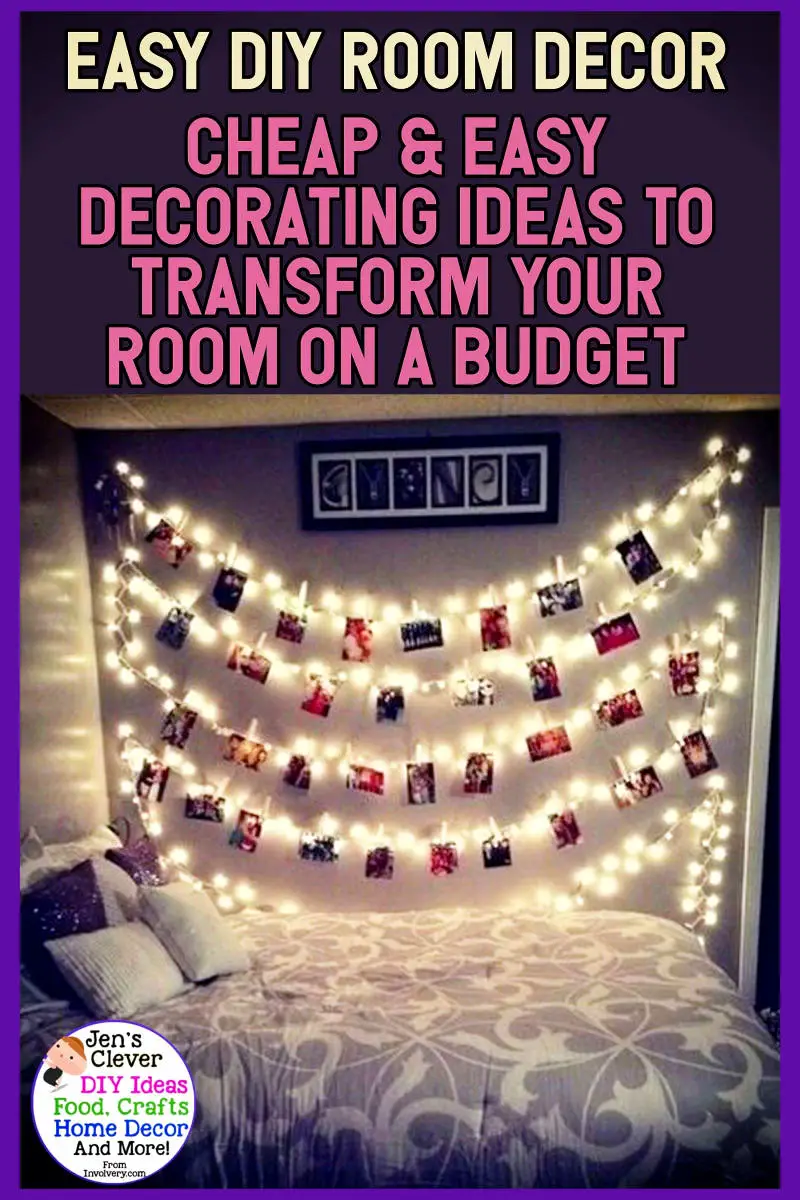 1. Give Your Room BoHo Accessories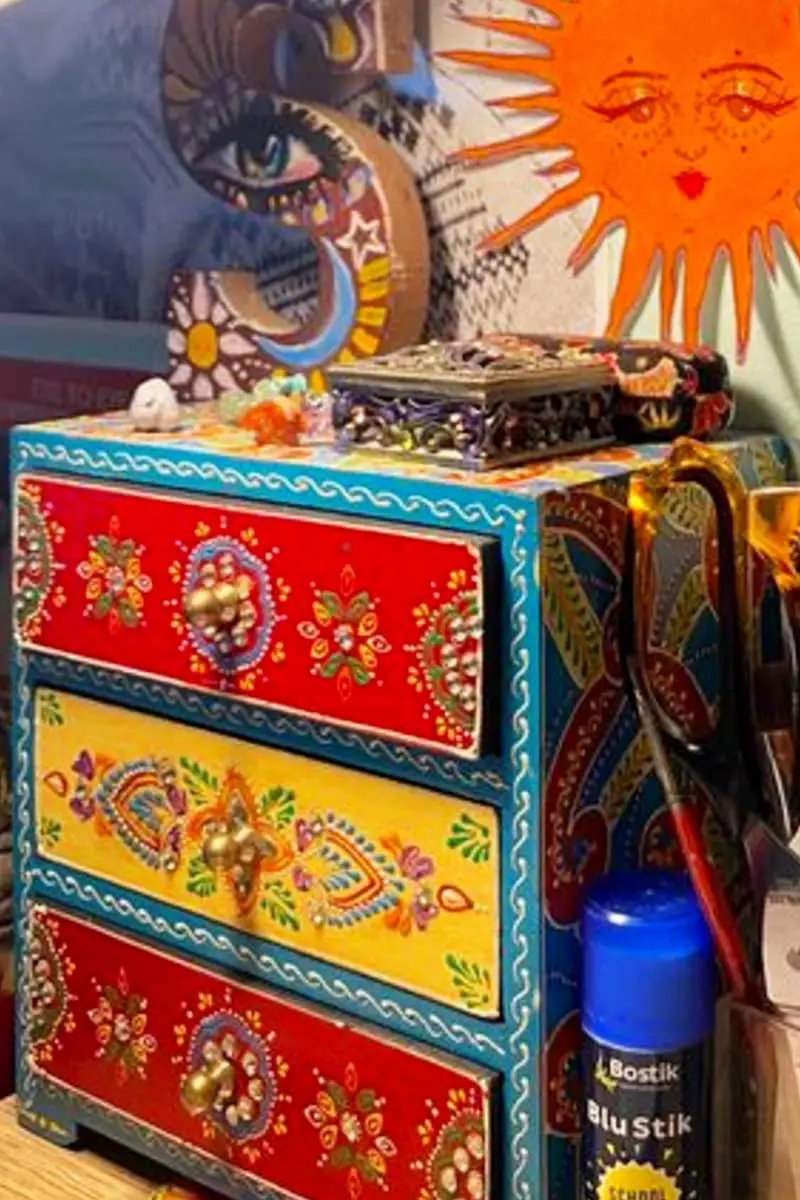 A great way to make your room aesthetic is to repaint an old cabinet or chest in bold and beautiful BoHo colors.
2. Tie Dye Your Bedding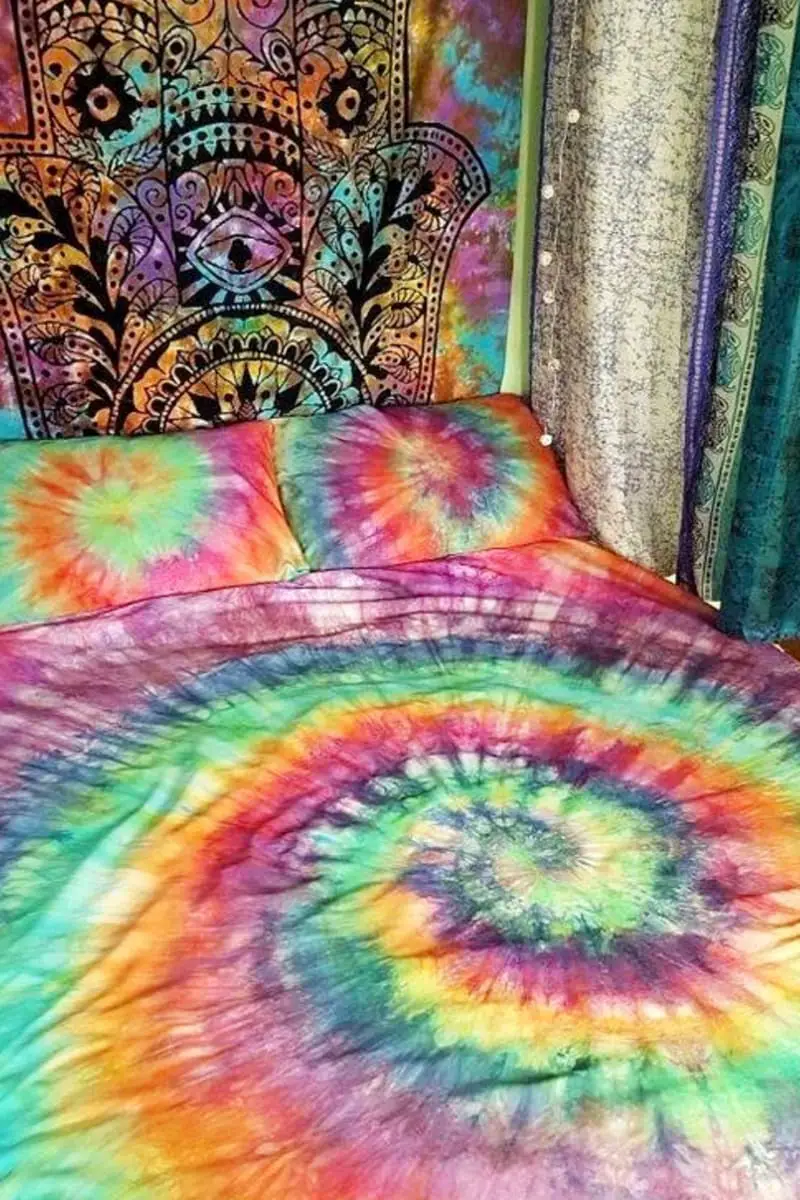 Another way to make your room aesthetic is to tie dye your comforter or bedding – and it's CHEAP to do too!
This room decorating ideas is also one of the most popular dorm room decorating ideas this year too.
3. Get Your Game On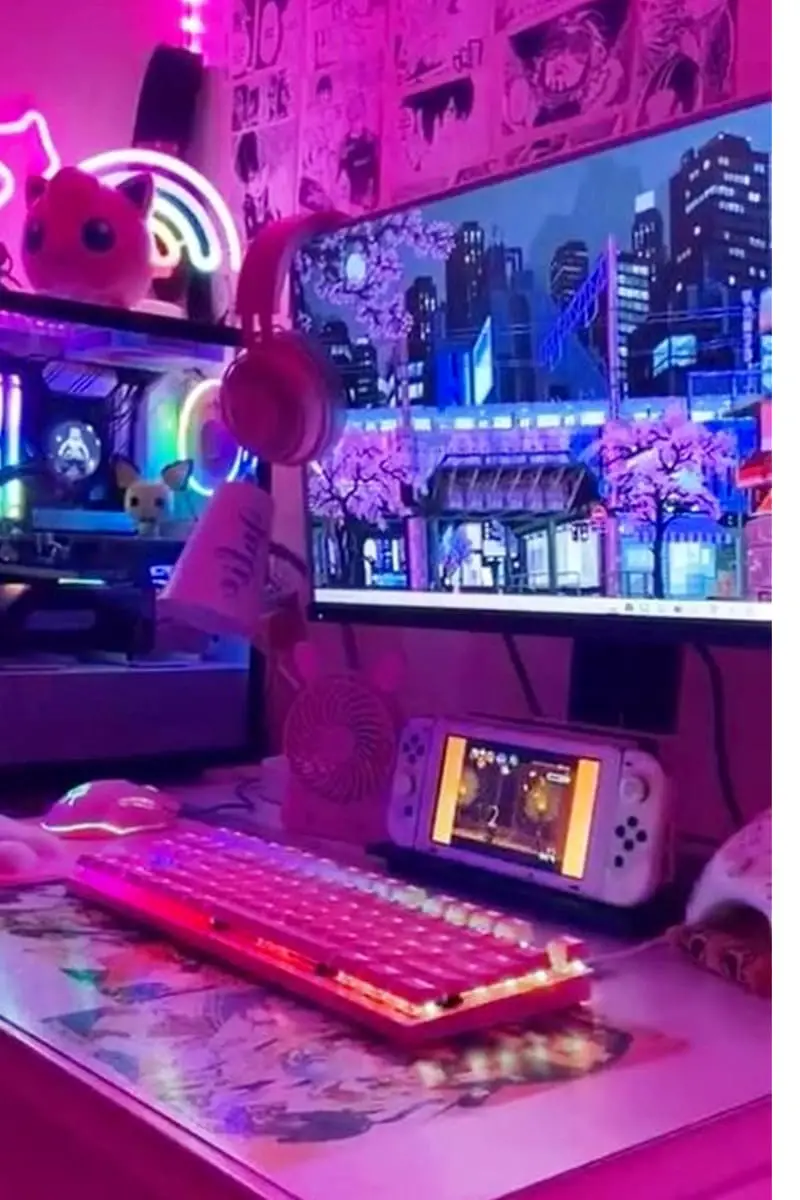 If you're into gaming, turn your desk area in your room into a pink neon gaming station.
This bedroom desk area sure has the cyberpunk aesthetic going on, don't you agree? It's REALLY cool!
4. Go Romantic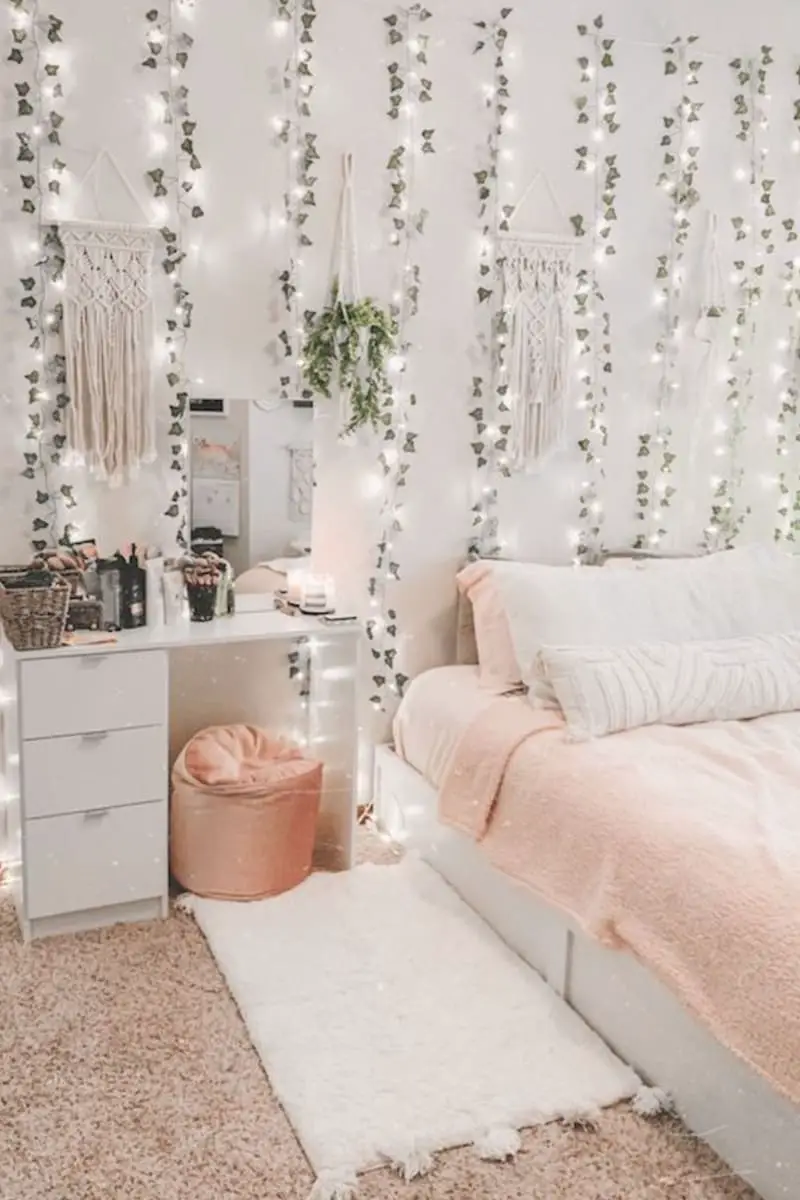 If bright, cute and romantic is YOUR ideas of an aesthetic room, grab some string Christmas lights to hang on your white walls.
Add in some blush pink bedroom decor, and you're all set.
5. Plants, Plants and MORE Plants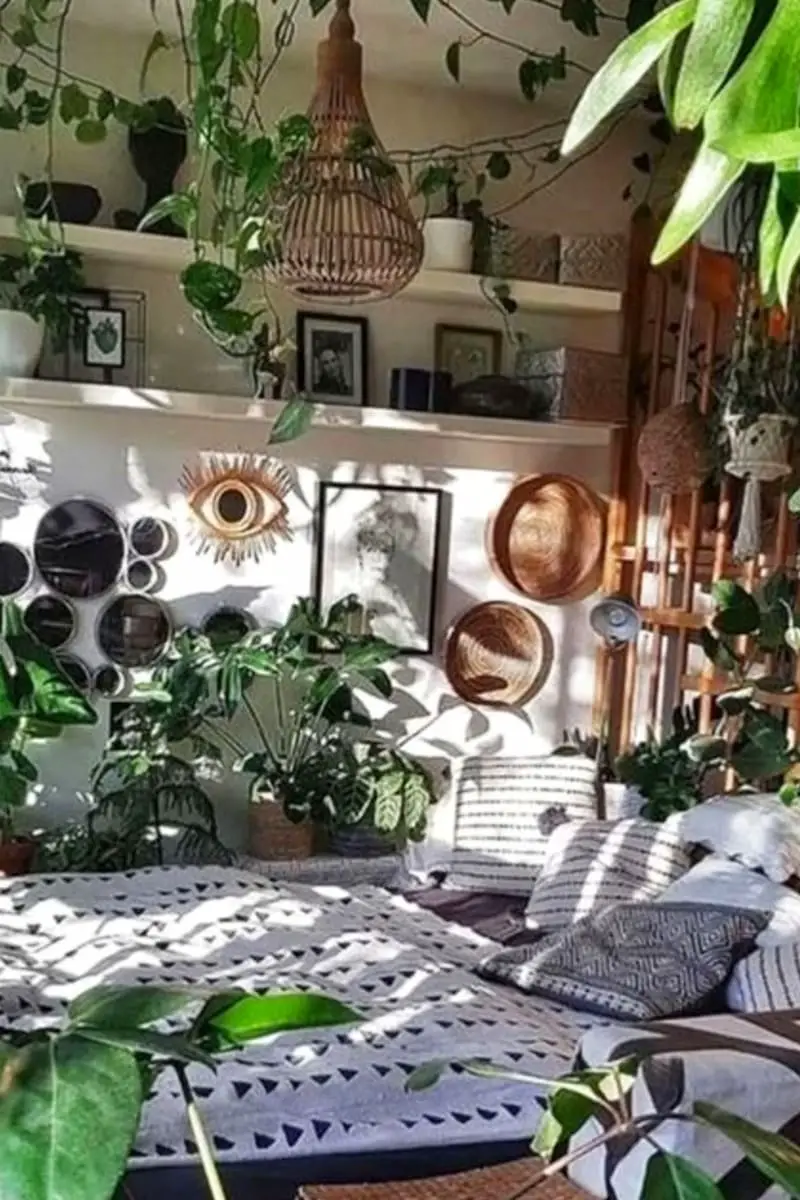 Another way to make your room aesthetic is to use lots and lots of plants to decorate your room.
6. Hang The Vinyl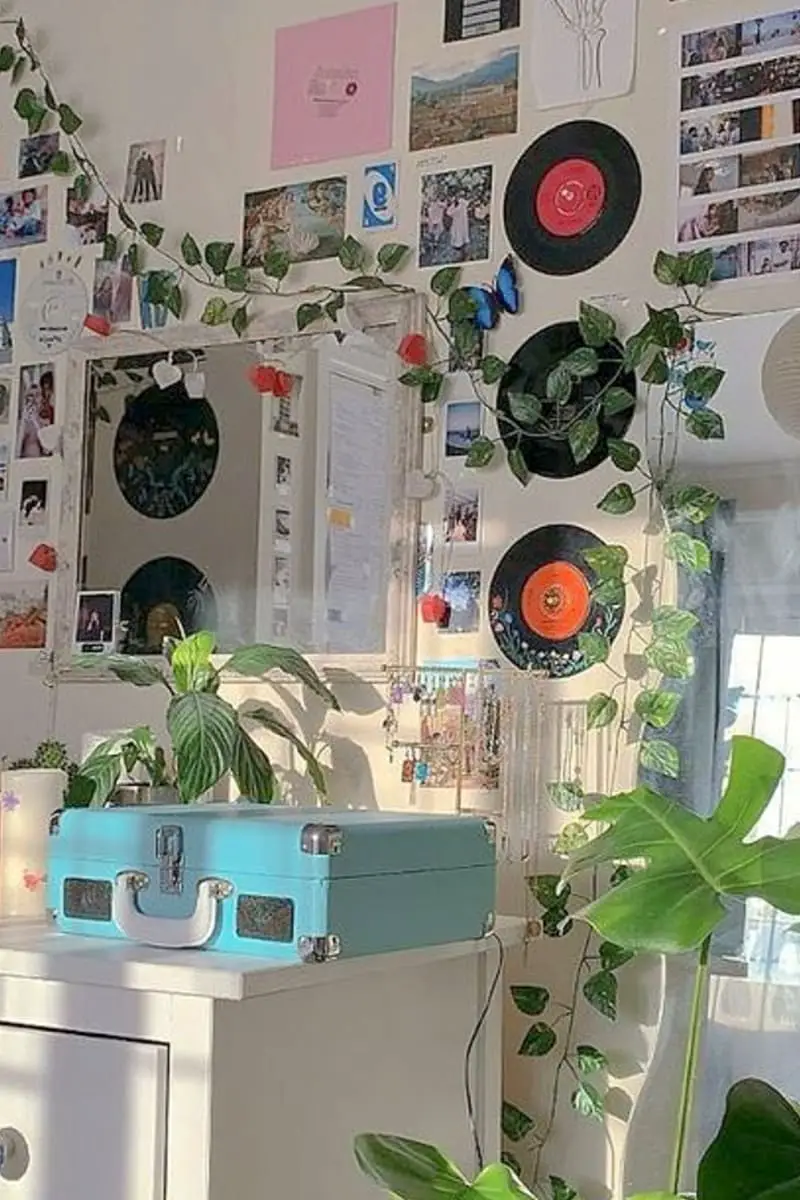 Want to give your room an edgy, retro vibe? Hang all your vinyl records on the wall.
7. Go Grunge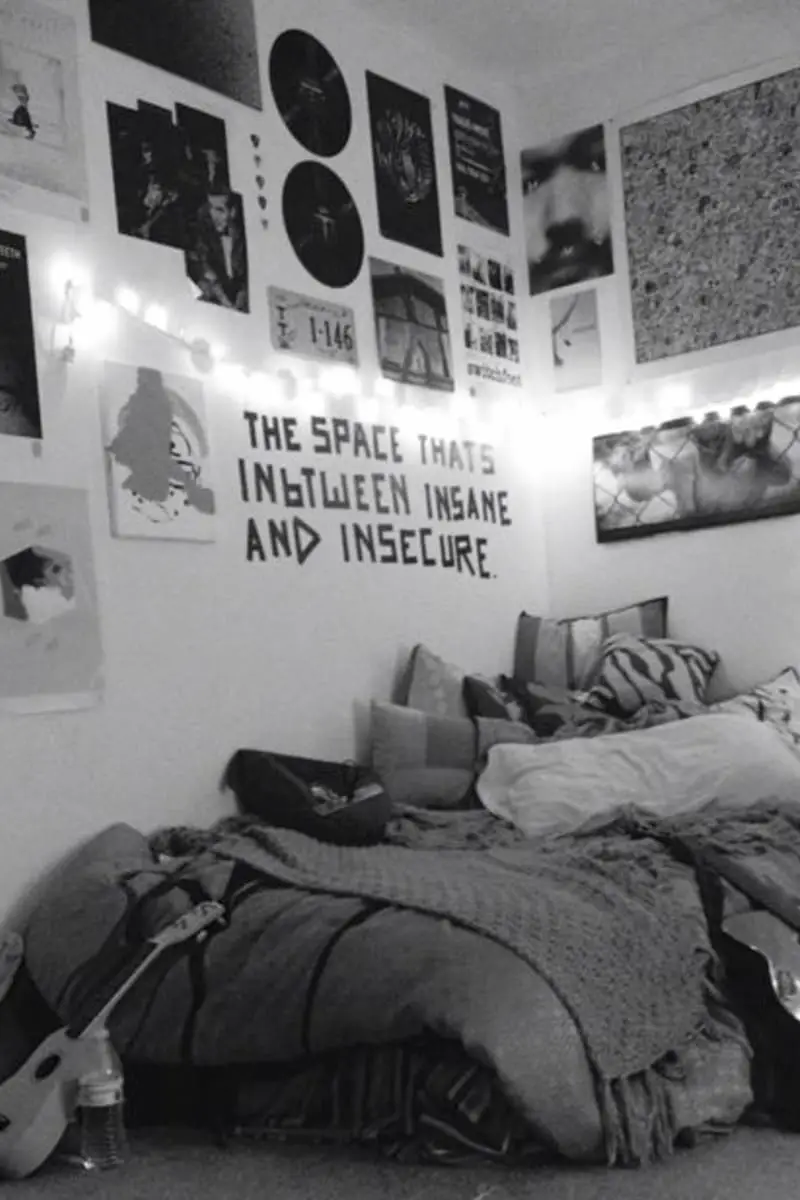 I love this way to make your room aesthetic with grunge decor like your bed on the floor, vinyl albums and music posters on the wall and string lights.
Love it!
8. Get Artsy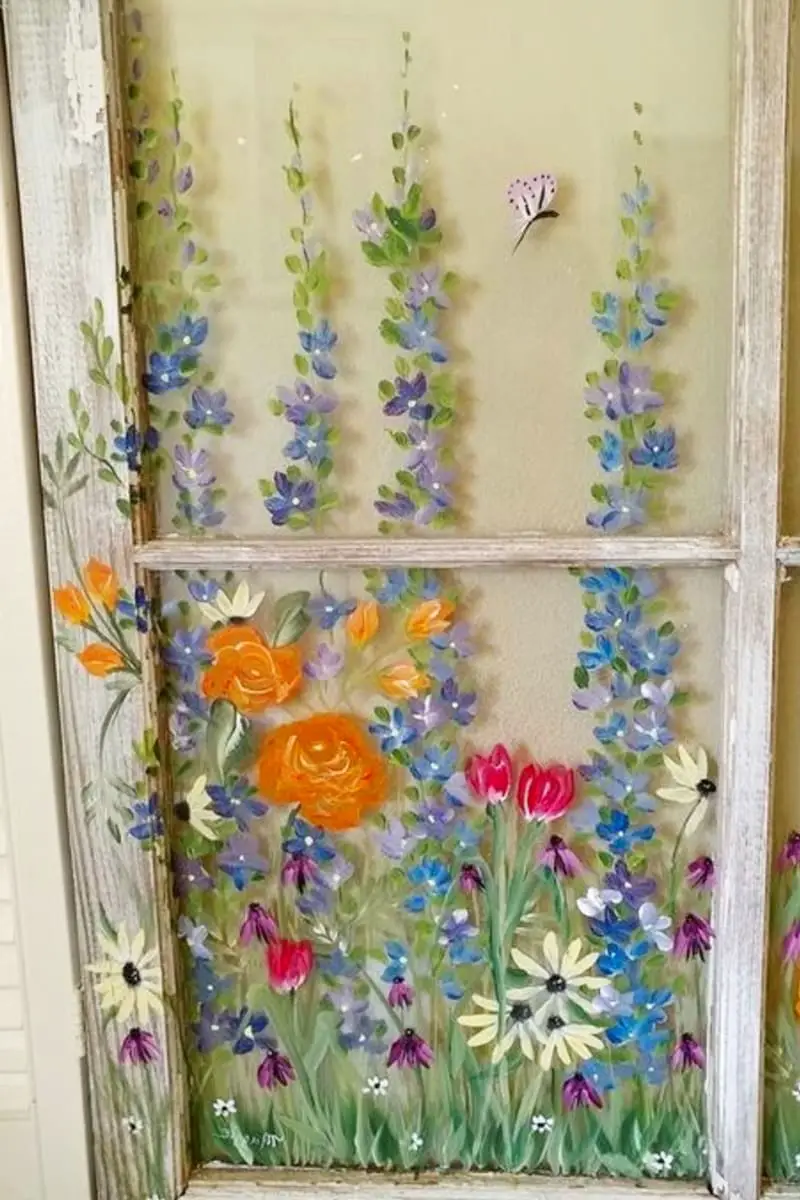 Want to show off your artsy creative side? Repurpose an old barn window or old house window frame by hand painting it and then hang it on the wall in your room to display it and show off YOUR personal aesthetic.
9. Tik Tok It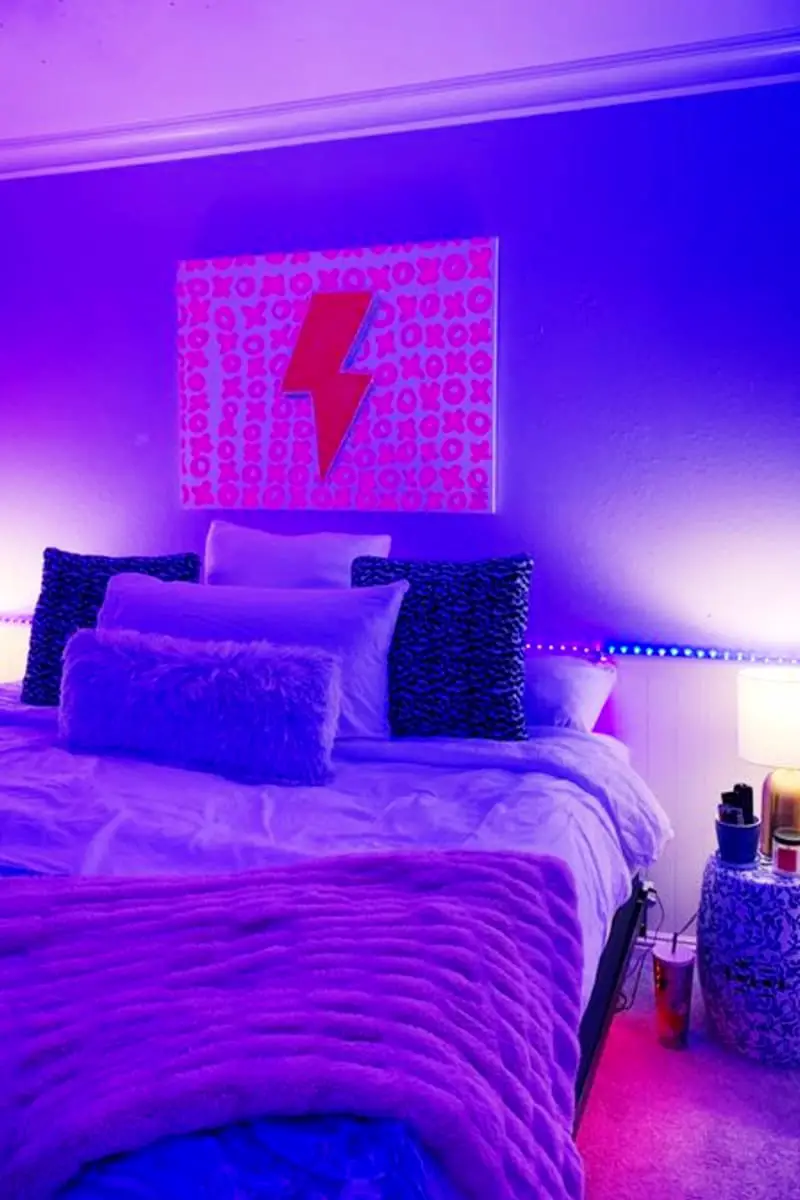 Make your room Tik Tok famous by having a minimalist styled room with black lighting and glow in the dark wall decor.
10. Use Signs, Shelves and Florals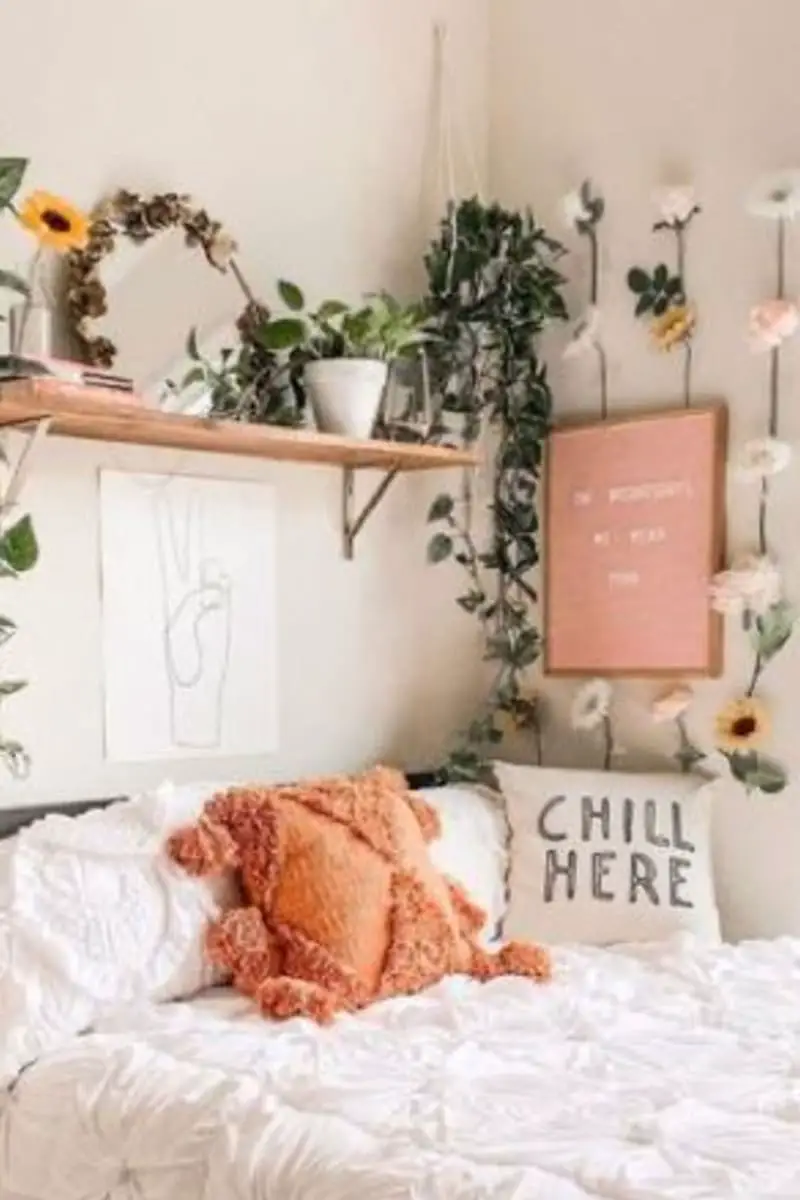 Bring your personal aesthetic touch to your room by decorating with signs, floating shelves and florals – so beautiful!
11. Get Warm and Cozy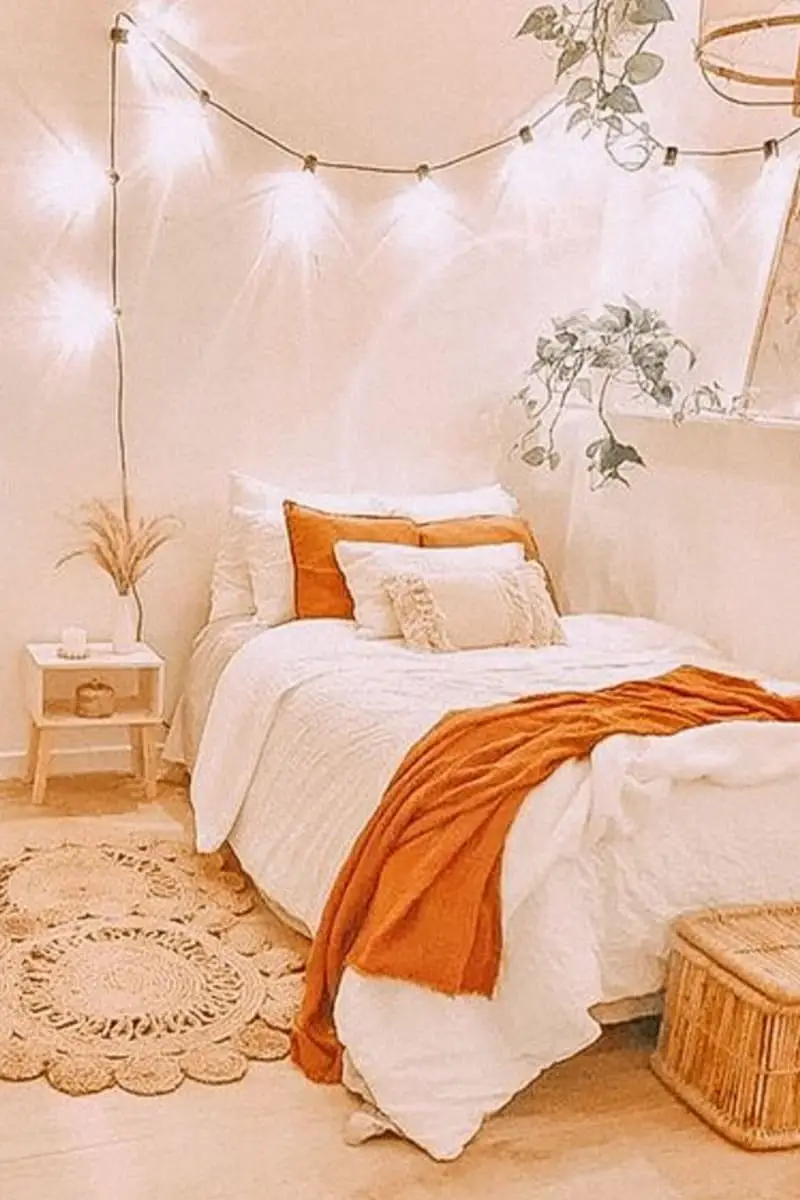 Make your room warm and cozy with a neutral room aesthetic matched with bright throw to add a pop of color and wicker decor accessories.
Free Ideas
How to decorate your room without buying anything – Here are 30 ways to decorate your room for free using cool things, handmade things and free things you already have.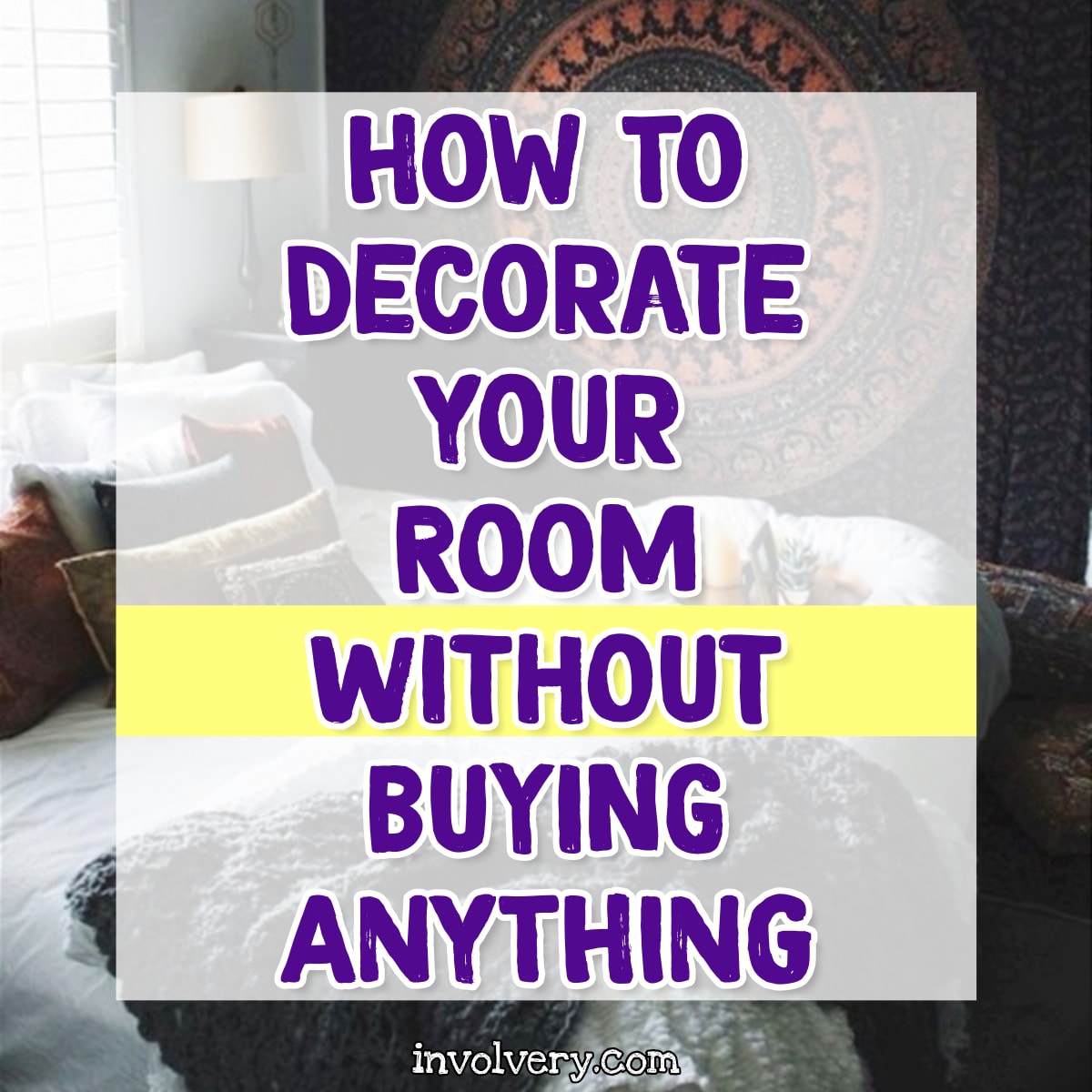 30 Ways To Decorate Your Room WITHOUT Buying Anything:
– Paint old picture frames in bright aesthetic colors
– Use old pillowcases, t-shirts or sheets as a curtains
– Paint an old baking sheet and use as a magnet board
– Put cool shells and stuff in a glass jar with string lights
– Hang an awesome blanket on your wall
– Spell your name on your wall in string lights
– Decorate small boxes and use as organizers
– Use flowers, leaves, pine cones, etc from your yard
– Display photographs on the mirror
– Ask family / friends for items they don't use anymore
– Write fun, inspirational sayings on paper and hang them up
– Get creative with free old milk crates
– Use bright-colored tape
– Arrange pictures in a heart shape on your wall
– Use string Christmas lights
– Use concrete blocks for shelves, a desk or make-up table
– Use a large piece of fabric or sheet as curtain
– Use poster boards for wall hangings and decorate with pictures
– Use a row of flower pots as a display shelf
– Use clothesline to display jewelry, photos and other knickknacks
– Rebuild free broken furniture from family and friends
– Use fake flowers to make an arrangement (or even use a real plant)
– Arrange stuffed animals on your bed
– Repurpose items from your childhood
– Use old furniture from the basement
– Use old bookcases as extra bedroom storage
– Use empty cans and bottles and decorate them
– Use colorful laundry hampers
– Make decorations out of free pallet wood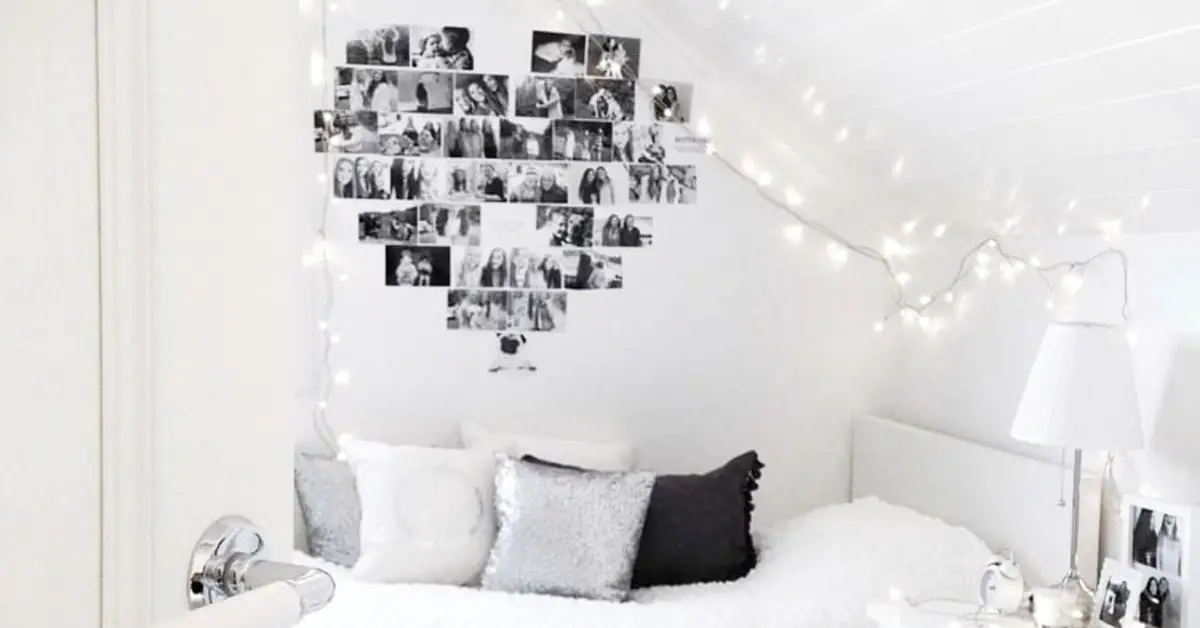 ✅ You might also like…
✅ PICTURES
Below are our favorite pictures and ideas for decorating your room on a TIGHT budget (as in, NO money to spend!) I absolutely love the ways to hang photos and pictures on your wall without frames – cute!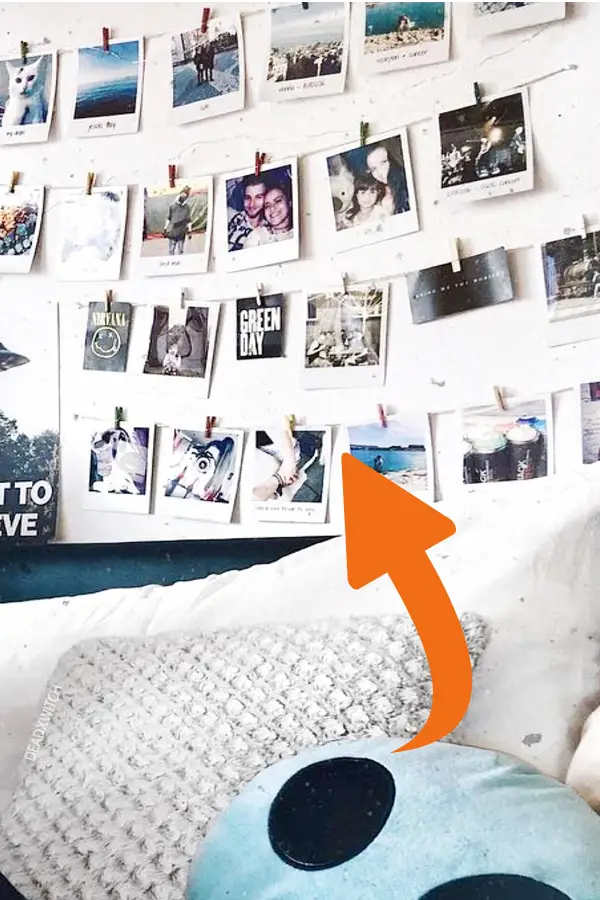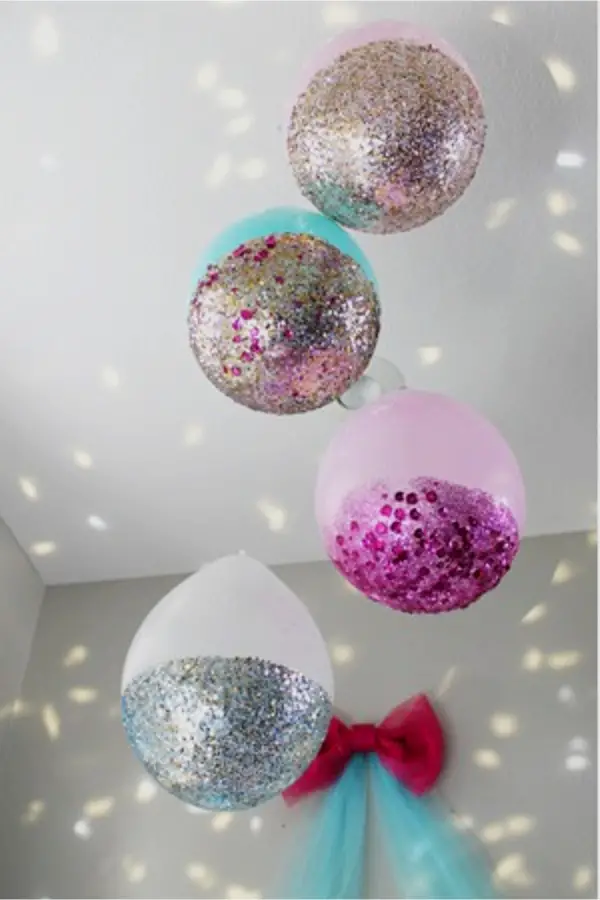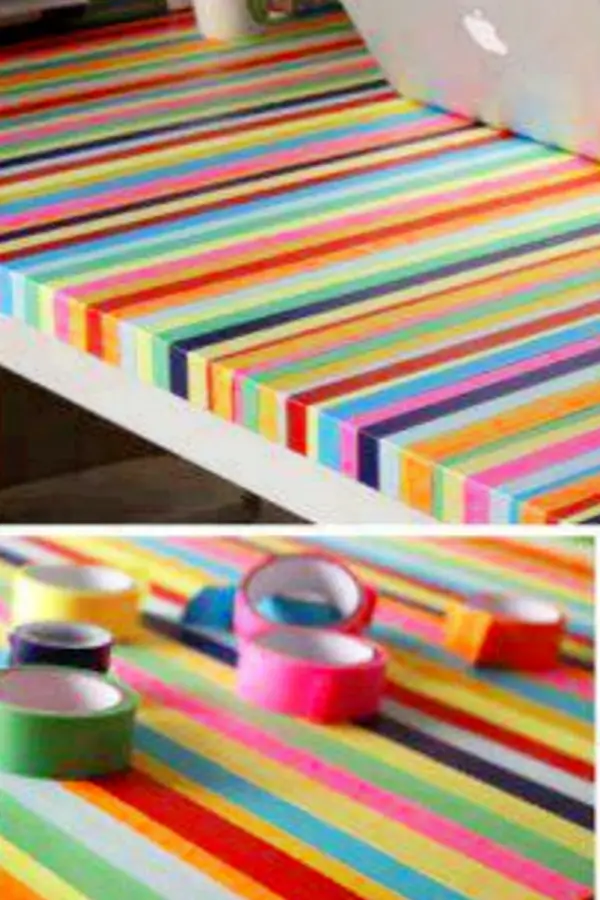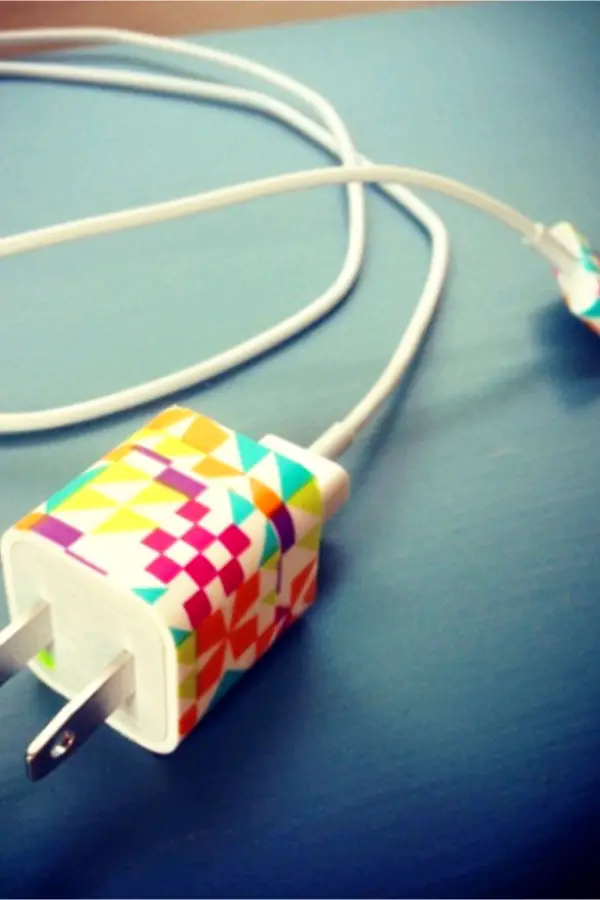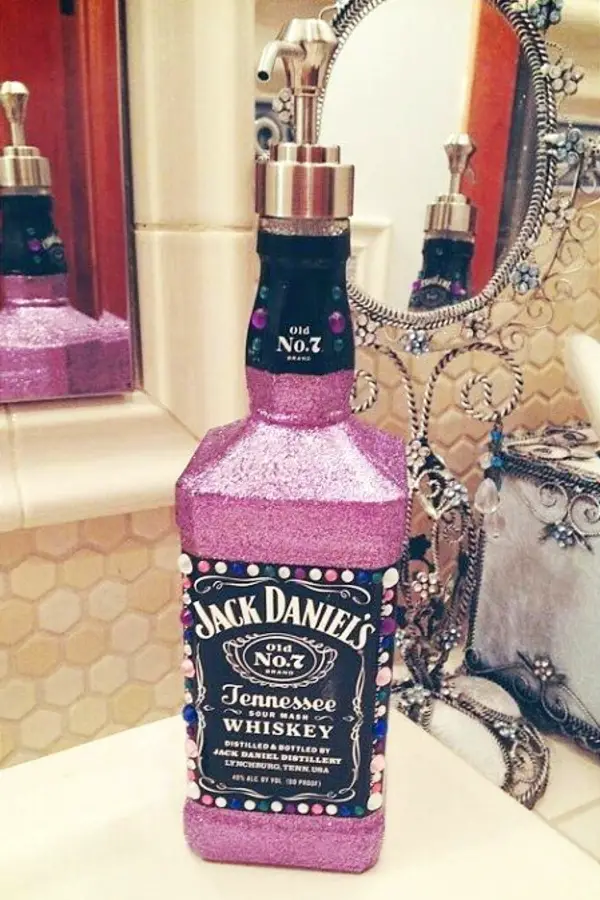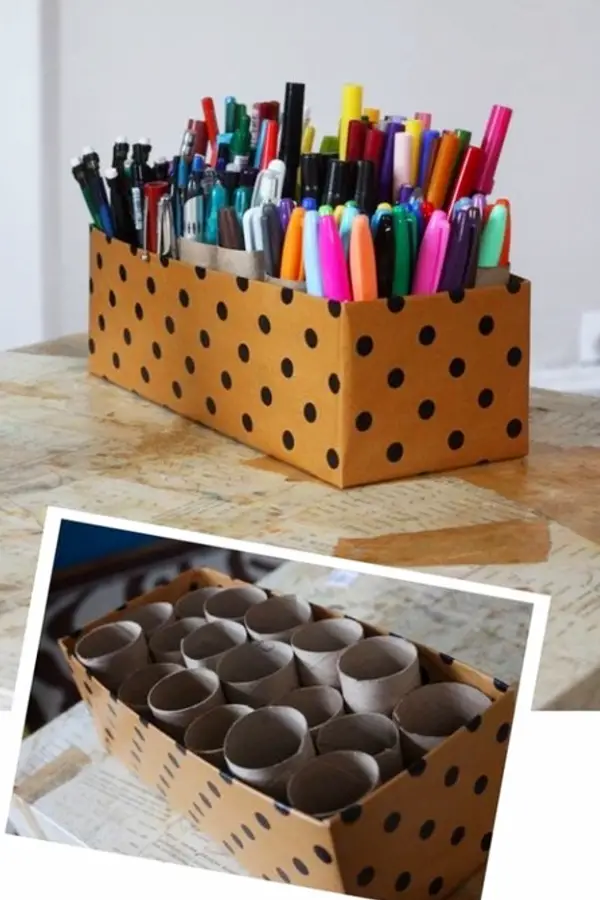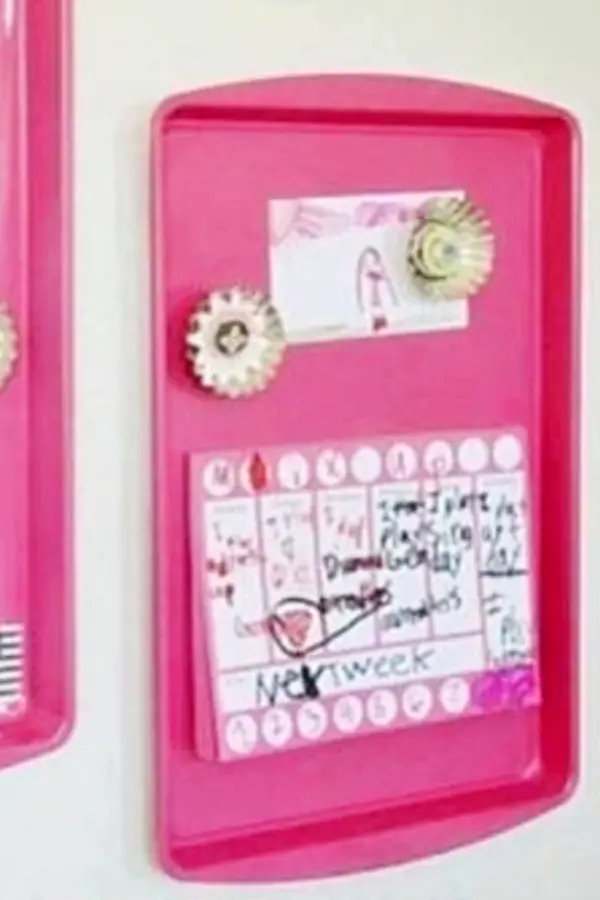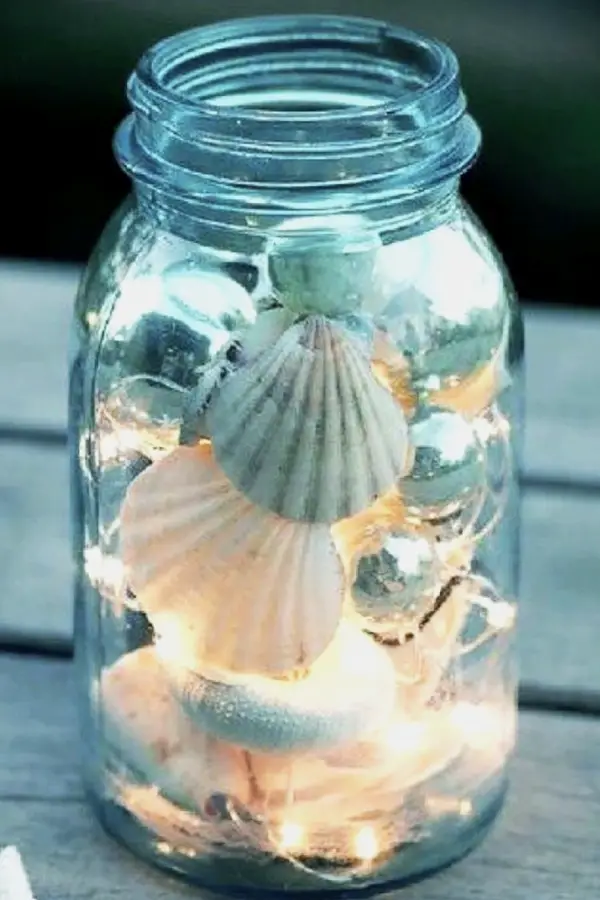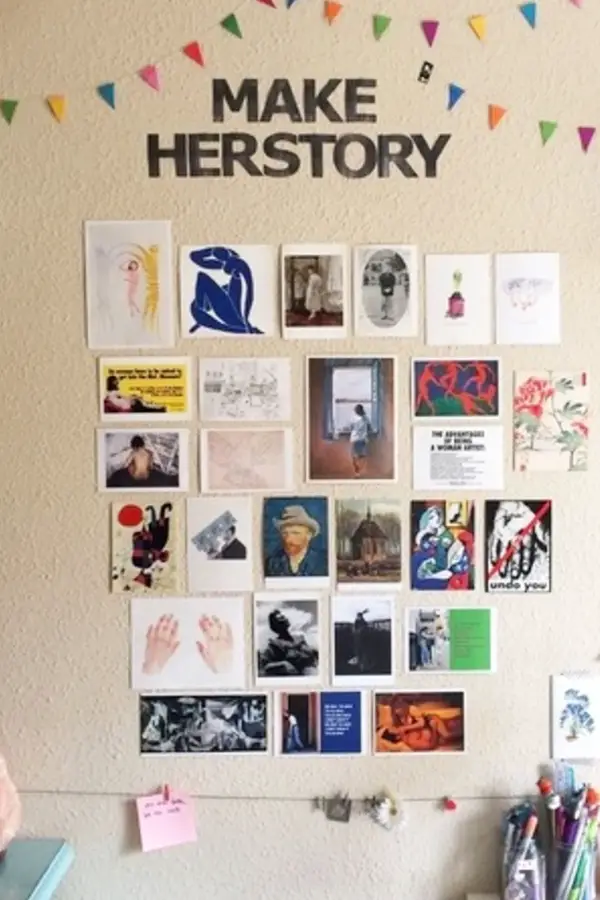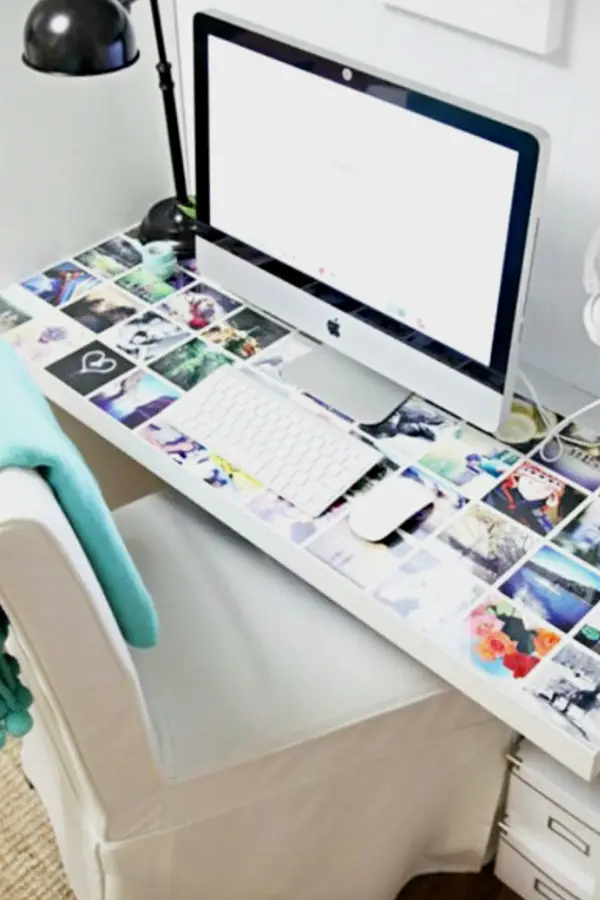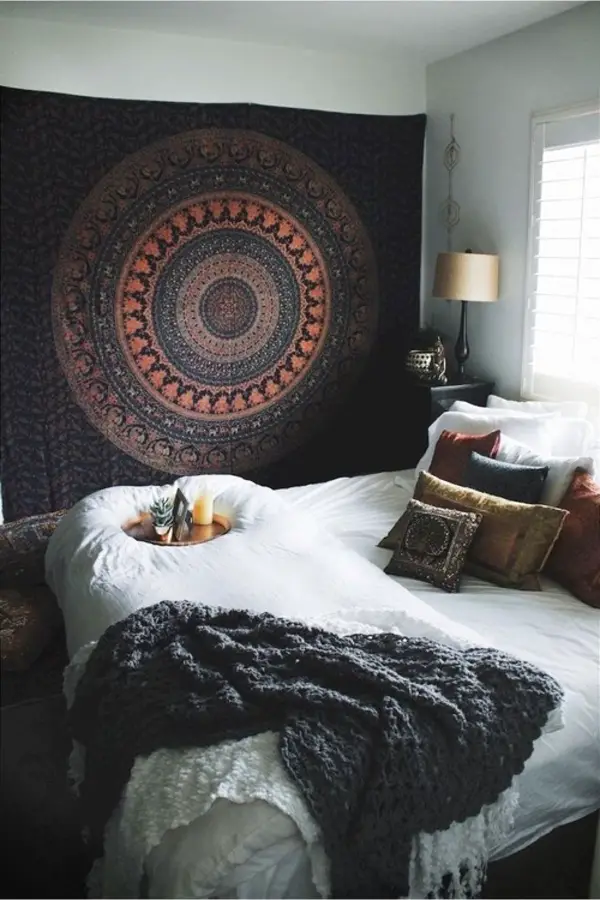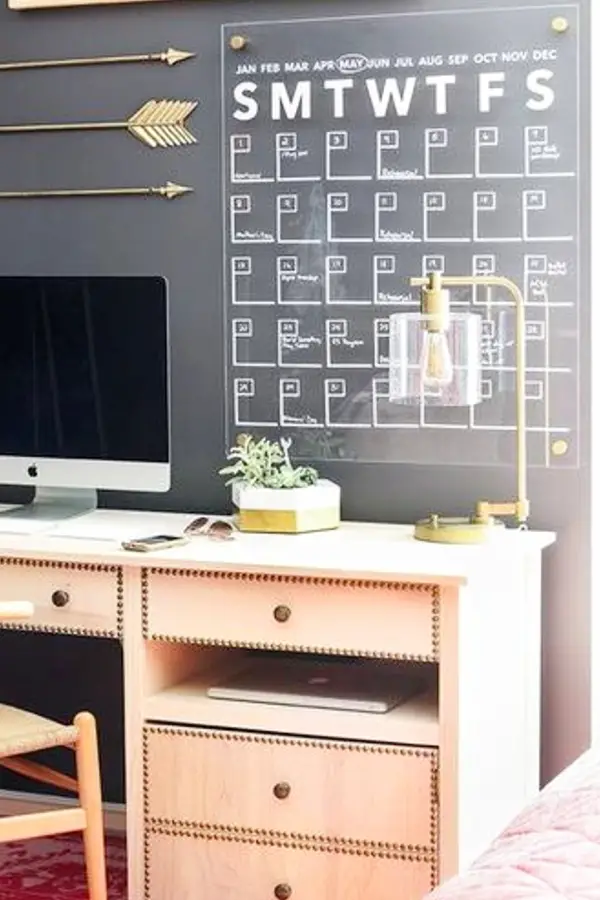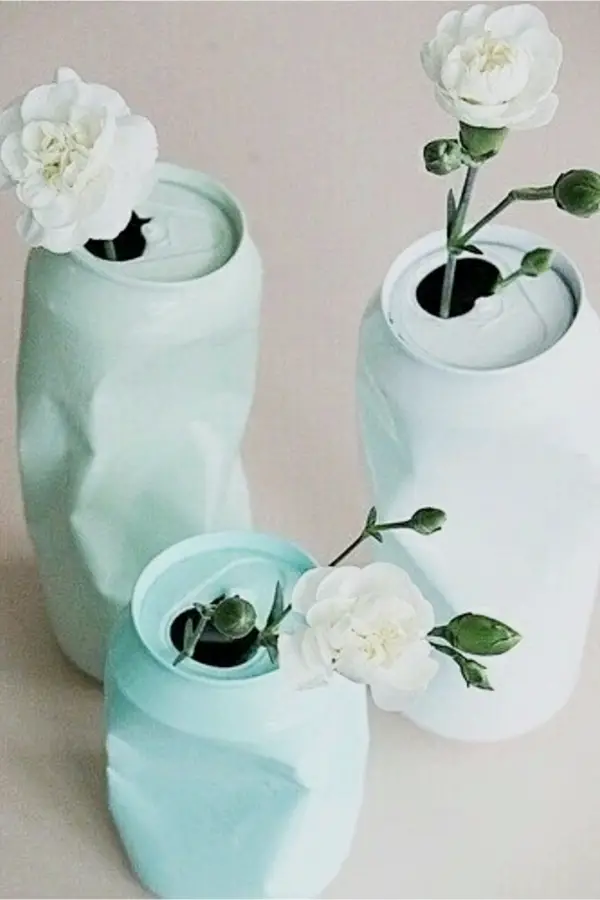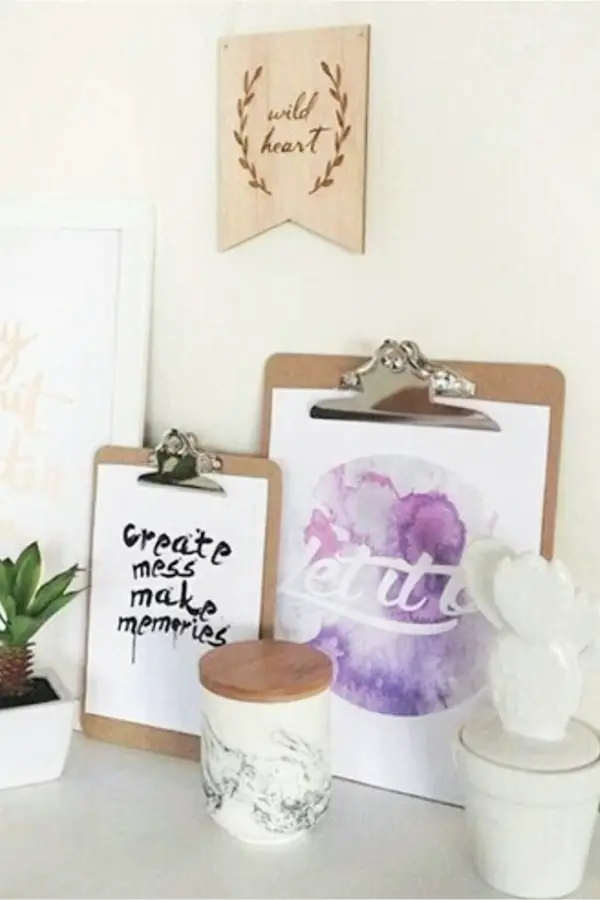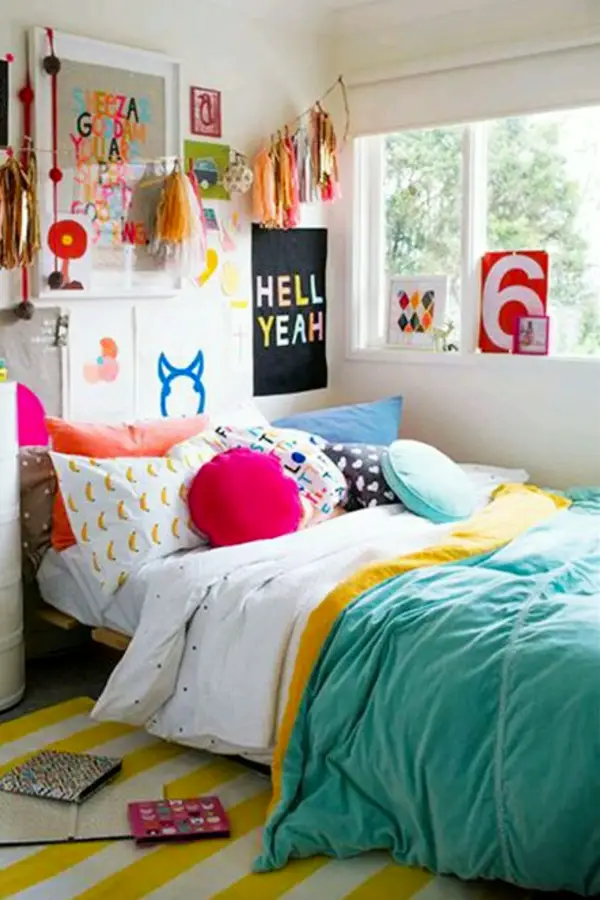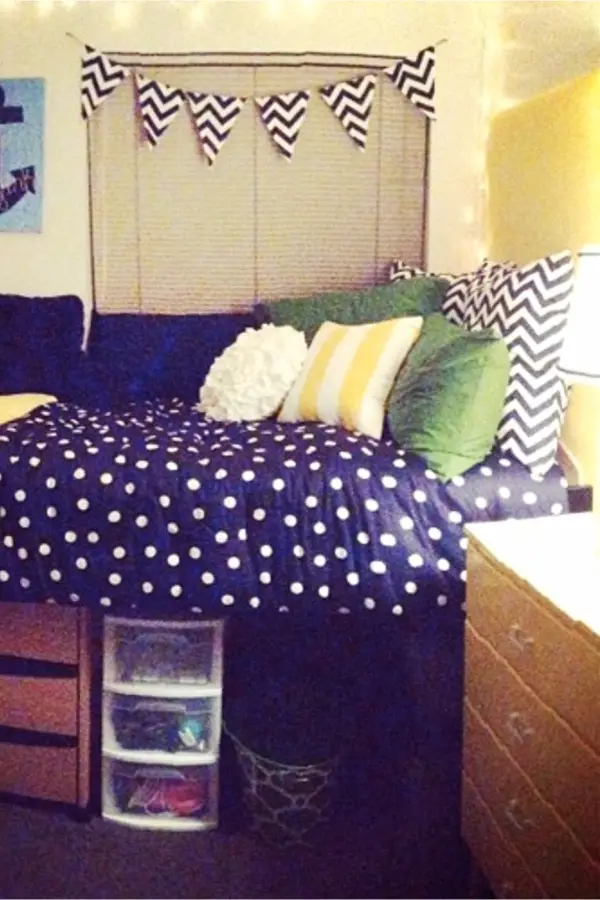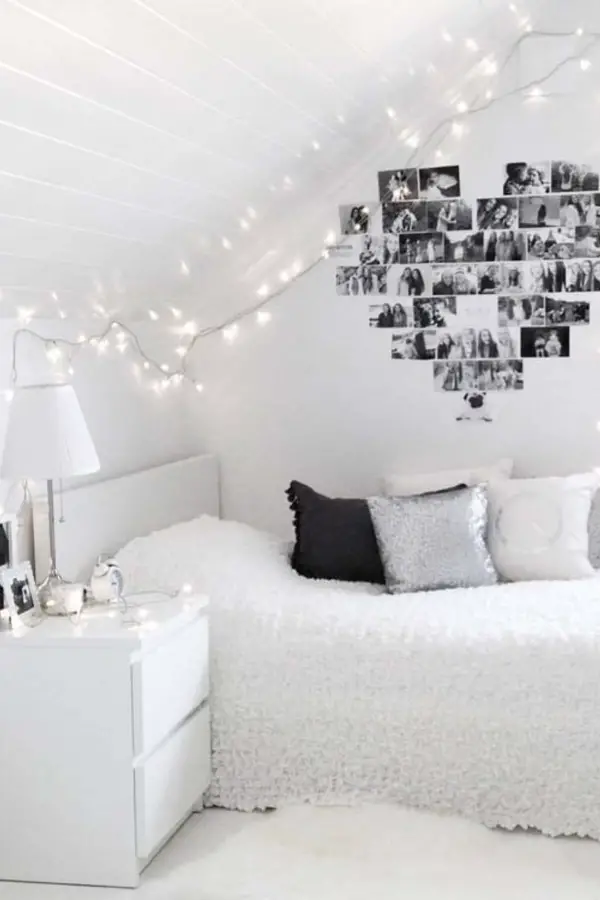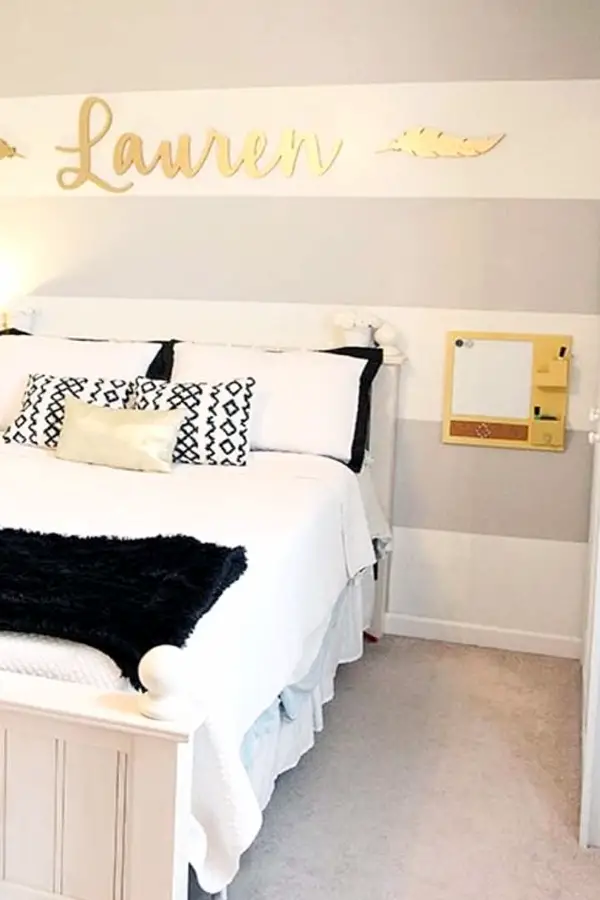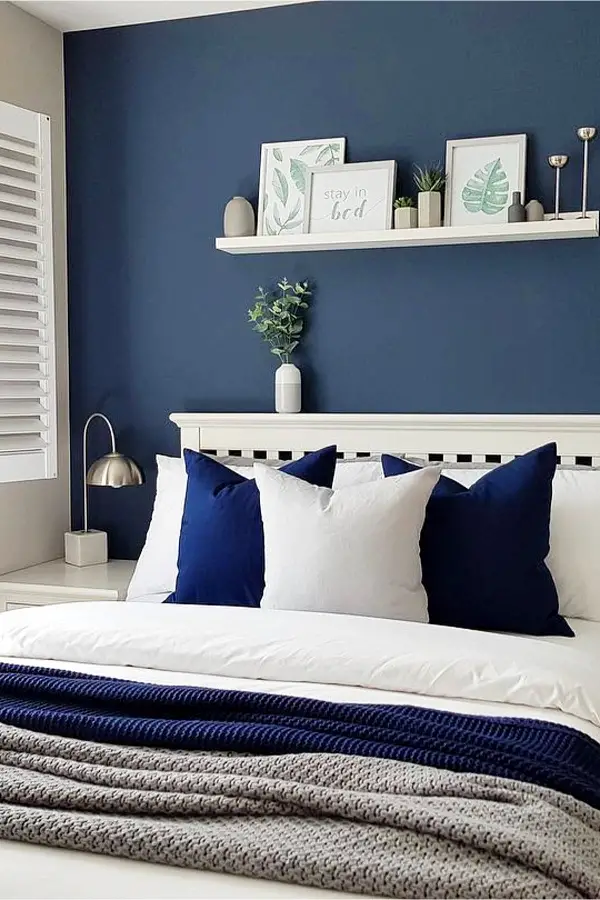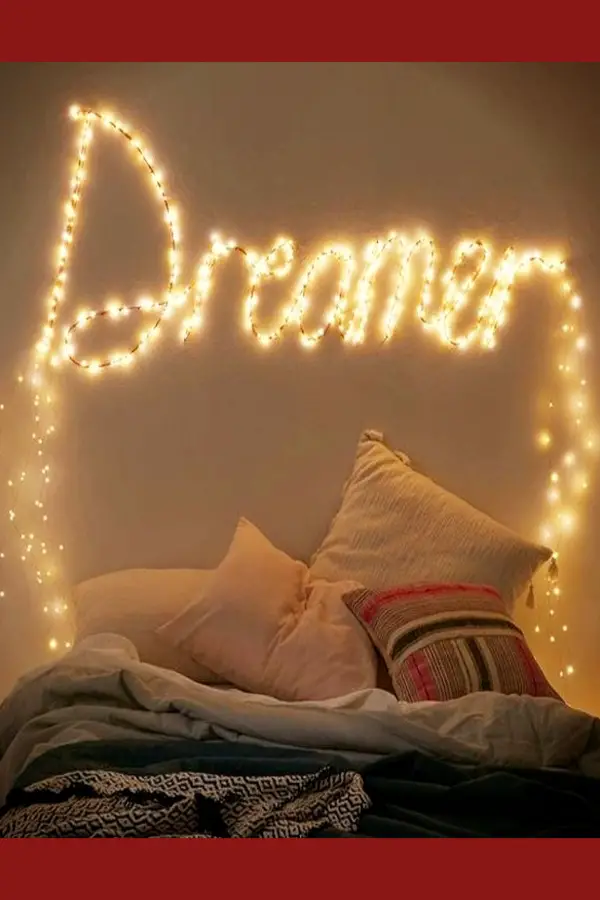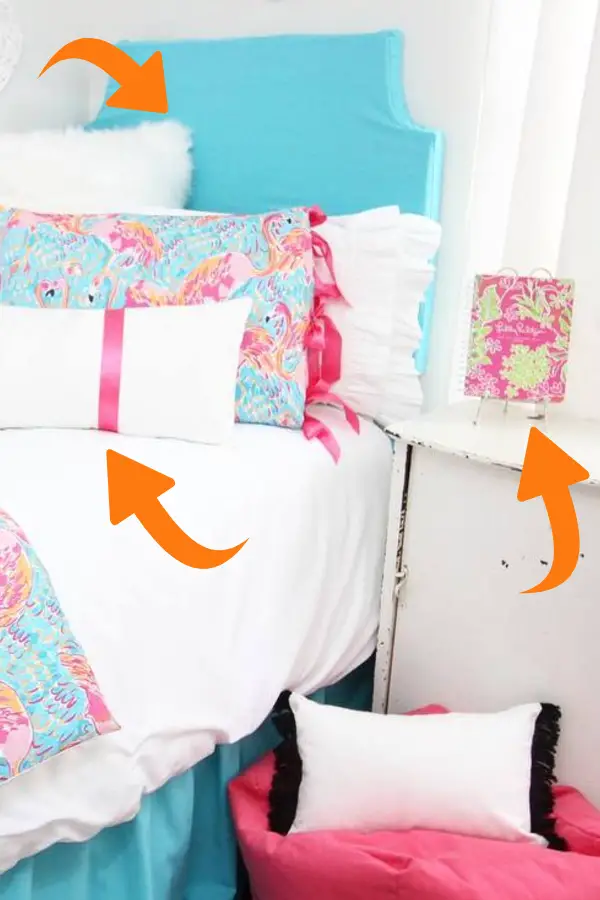 How To Make Your Room Look Cute
There are many ways to make your room look cute WITHOUT spending money including decorating your room with things you already have, decorating with paper, making furniture from cardboard, repurposing decor and items others throw away or don't want and by simply rearranging the furniture in your room.
Take a look at this FREE bedroom makeover all done for FREE – I just LOVE the aesthetic look – so nice! And they didn't have to buy ANYTHING!
Decorate With Things You Already Have
Pictures of friends and family? Check! Christmas lights? Check! It's easy to decorate with things you already have – you just have to get creative!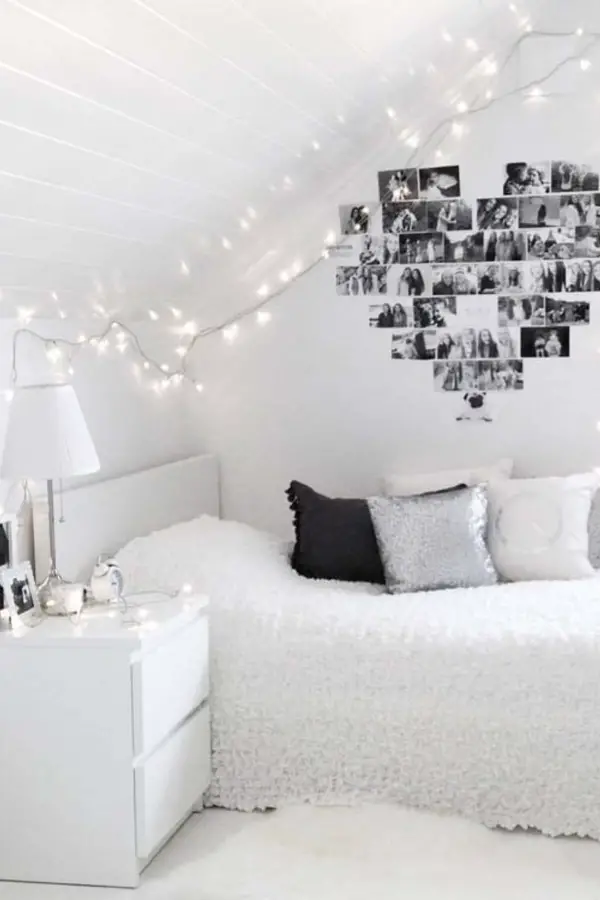 ---
Have a SMALL Bedroom?
---
Decorate with Handmade Things
I was recently asked, "HOW to decorate my room with handmade things?" – I love that question because, to me, nothing makes a room truly YOUR room more than things you make yourself.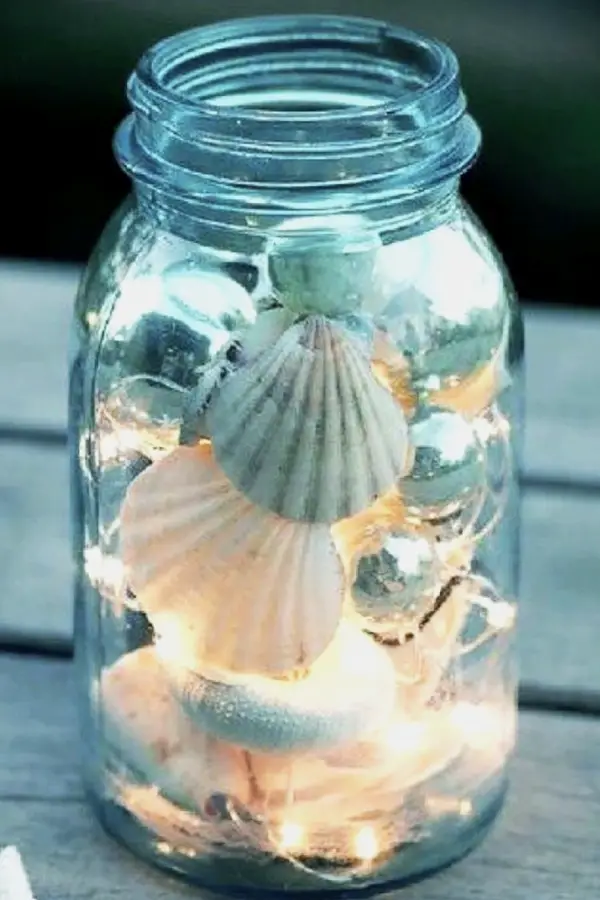 Bedroom Decorating Tips and Tricks
One of the best bedroom decorating tips and tricks I have is this – get BRIGHT with it… and don't be afraid to put things together that don't appear to match. What YOU decorate your room with is how you make your room awesome (just like YOU!)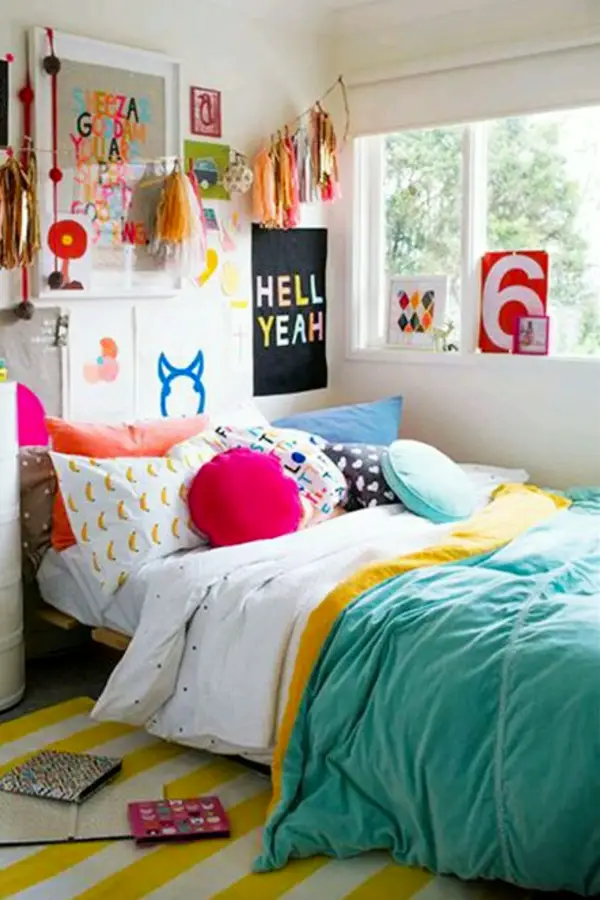 ---
---
Decorate a Teenage Girl's Room
If you've been search for how to decorate YOUR teenage girl's room for low cost (or NO cost), here's an idea we love (and so do the girls). Dip blown up balloons in glitter and hang them from the ceiling – cute, right?!?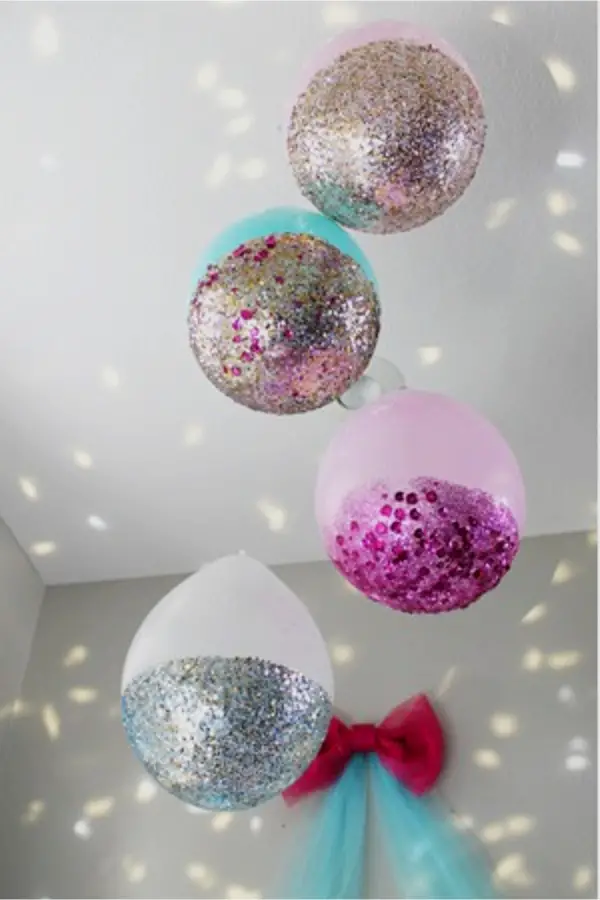 Unique Ways To Decorate for Free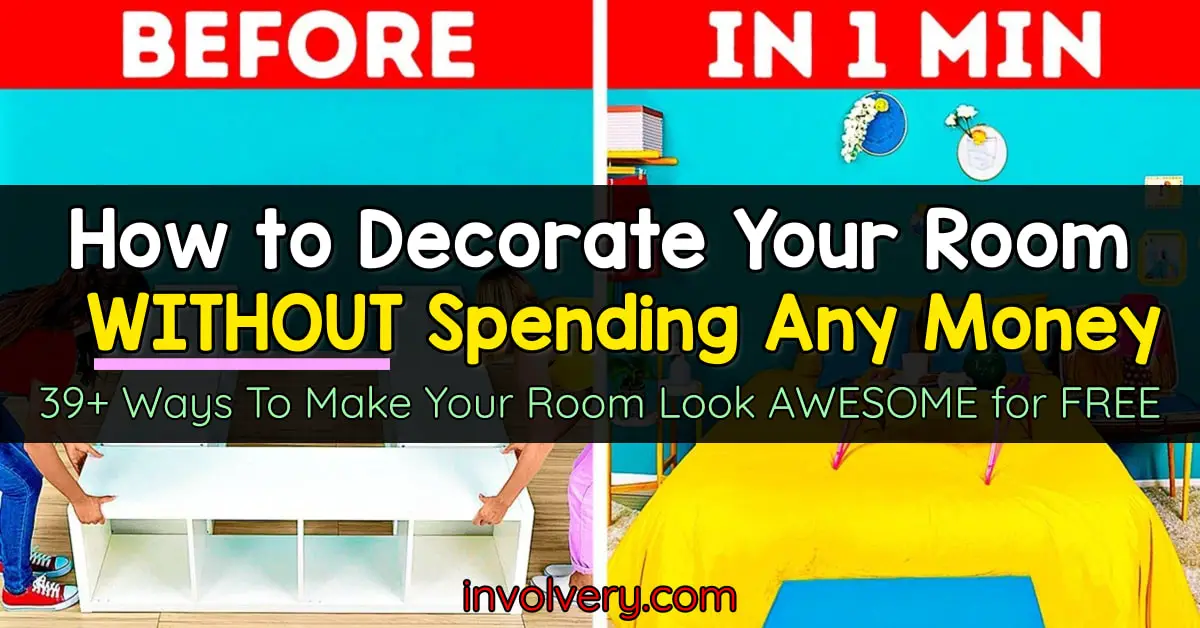 Some of the best decorating ideas are free (as is more things in life!). Here are some clever and unique ways to decorate for free using everyday household items:
Use old toilet paper rolls and make a DIY desk organizer…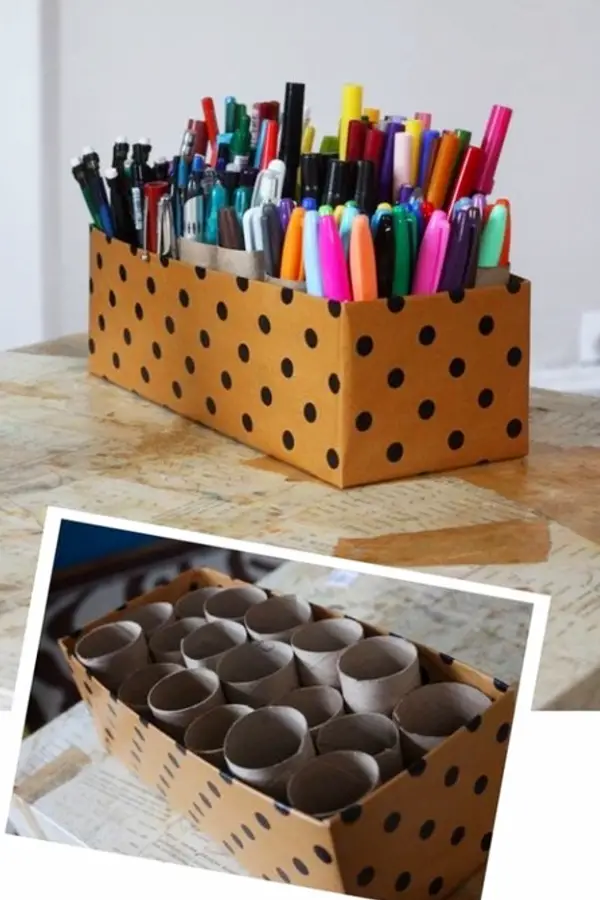 ---
---
Crush clean and empty cans, then put a coat of spray paint on them in pretty colors for a really cute, and totally free, decorating idea.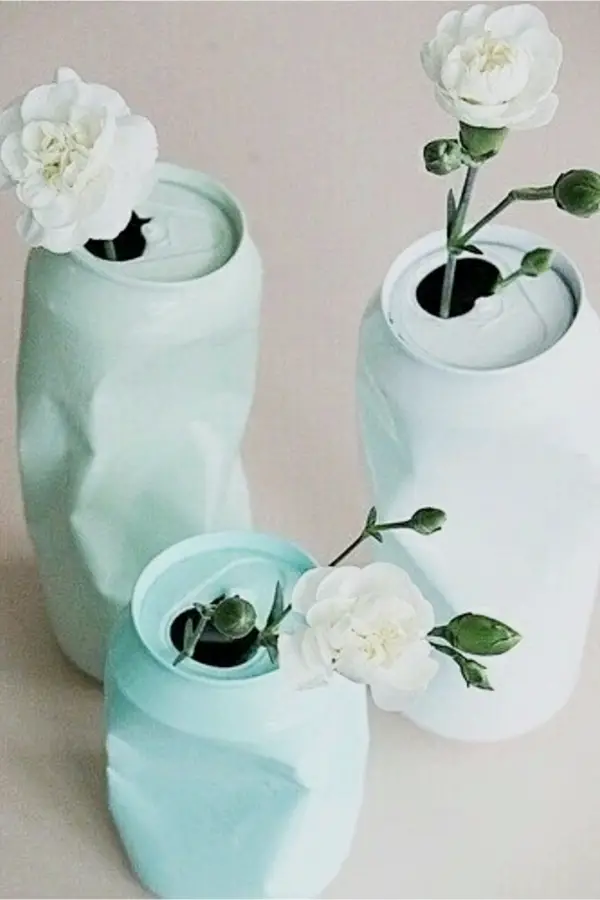 ---
---
Make Your Bedroom AESTHETIC!
Making your room aesthetic can be done on a low budget – or with NO budget to BUY anything at all! Grab an old (and pretty) sheet or shirt or towel or curtains you have lying around and wrap it around the headboard for a fresh new look.
Grab some old ribbon and wrap it around your boring throw pillows to brighten things up.
Have a pretty notebook or journal? Display it!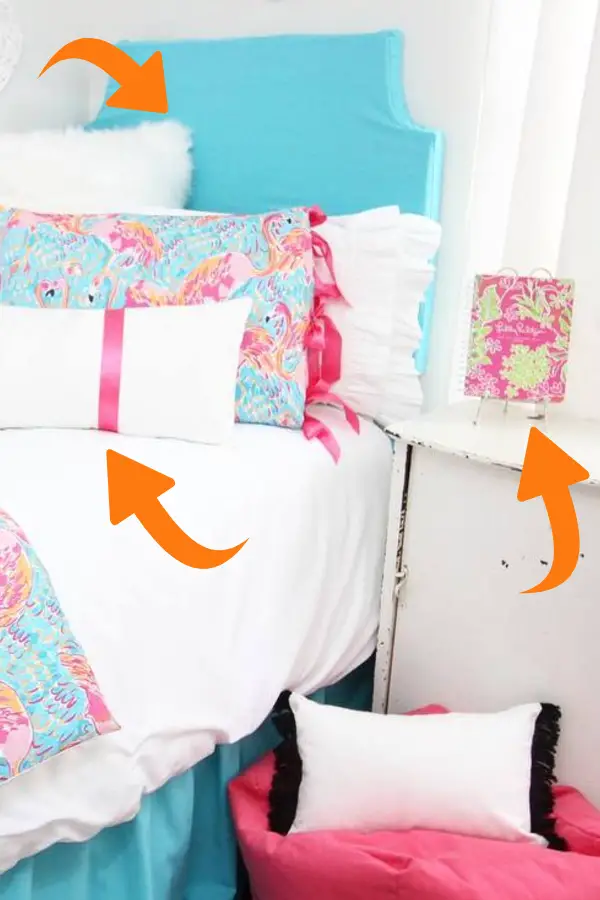 ---
---
Decorate Your Room with Paper
Do you know what MY favorite paper things are? PICTURES! Grab all those family photos and pictures of your friends and use them in creative ways to decorate the walls in your room.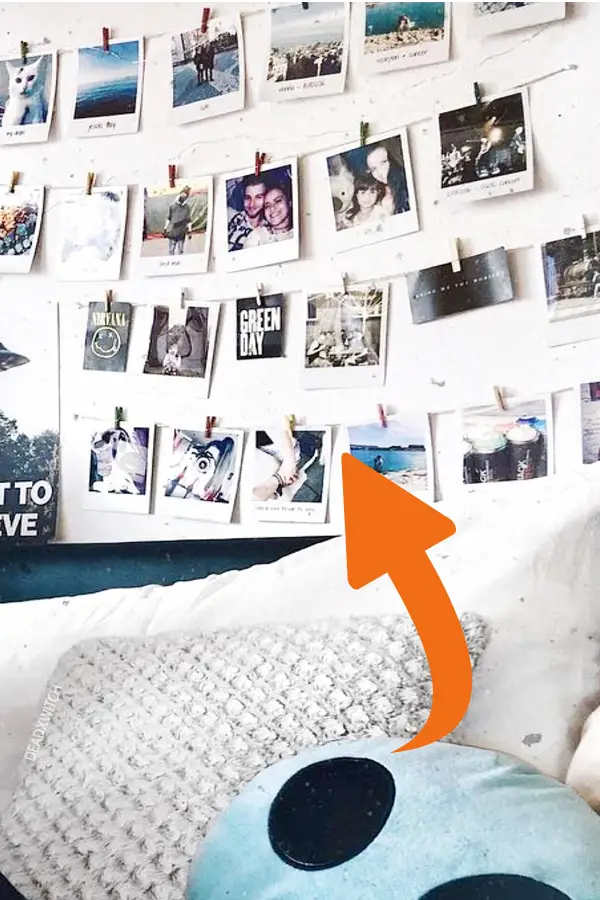 Decorate Your Walls
This is one of my favorite ways to decorate your walls in your room without buying anything new.
Go grab some Christmas lights and use them to decorate your walls – BEAUTIFUL!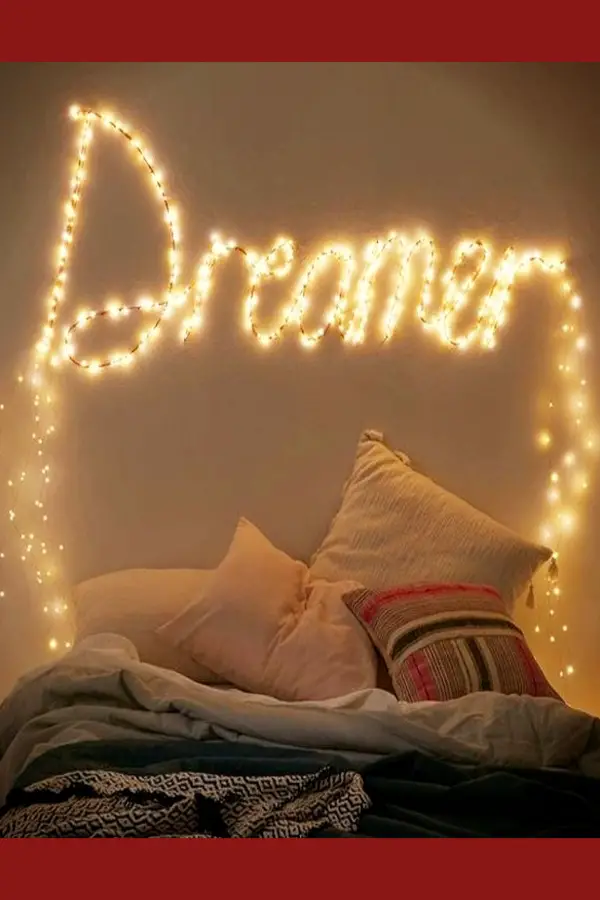 Decorate With Simple Things
Decorating with simple things and decorating THE simple things in your room can make a big impact on the overall look of your room.
Why not decorate your phone charger?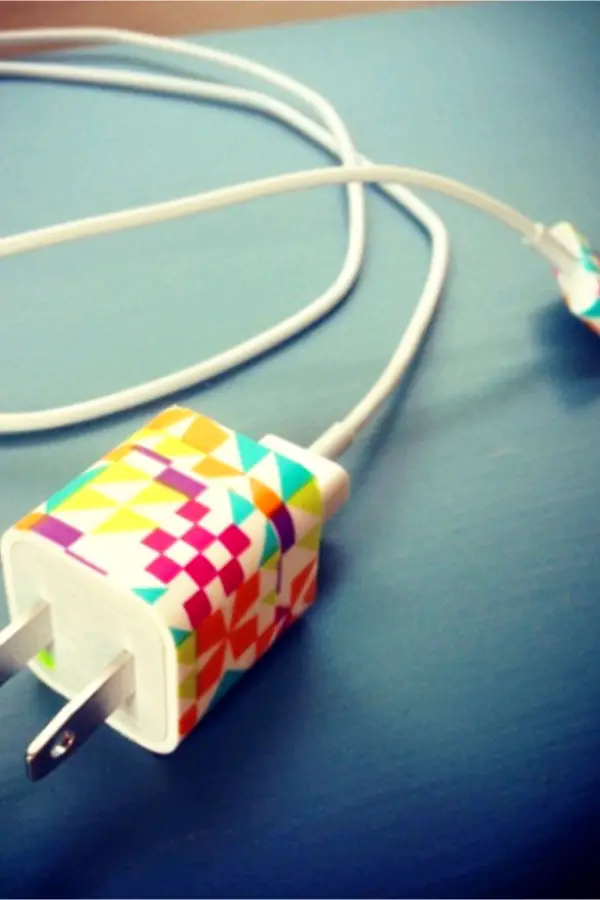 Decorating For Christmas
If you're looking for ways to decorate your room for Christmas without spending any money…
Cute (and FREE) Christmas Room Decor Ideas – How To Decorate Your Room For Christmas WITHOUT Buying Anything
FAQ
☑ How can I make my room look cute without buying anything?

Here are 11 ways to make your room aesthetic without spending any money from the aesthetic room ideas & pictures above:

Paint and hang an old cool mirror
Display pictures and photos in an aesthetically-pleasing way
Print out free inspirational quotes and hang on your wall
Turn cool old sheets into curtains
Make your room cozy by putting your bed against the wall like a couch
Display pretty perfume bottles on your dresser
Ask family / friends for cool vintage items to decorate your room with
Put shells from your beach vacation in a mason jar with fairy lights
Don't stack or pile things on your floor – clean it up
Turn wine glasses upside down and use as candle holders
Declutter – too much stuff makes any room look bad!

Need more help with your stuff?
☑ How can I make my bedroom look bigger?

Making a small room look better is pretty simple with these easy tips…

Avoid dark colors
Let in natural light
Use cute mirrors
Incorporate VSCO aesthetic room ideas and decor
Clutter is NOT cute – clean it up
Arrange your furniture in a way that maximizes your space
Don't use all your walls space
Reduce the use of bulky furniture items
☑ How can I make my room look cozy?

Making your room look cozy is a wonderful idea and will make you feel calm and peaceful in your room. Ideas to make your room feel cozy are:

Avoid harsh color schemes
Use comfy cozy throw blankets
Use calm colored bedding
Use area rugs
Use soft/plush fabrics for throw pillows, etc
Use a soft-colored light bulb in your lamp
Add houseplants to your room
More Room Ideas
More Fun and CHEAP Decorating & DIY Ideas:
For top: