---
ROOMBA Deals and Sales Prices Today •
Roomba Vacuums – are Roomba robot vacuums really a good purchase decision? What's the CHEAPEST way to buy a Roomba? What about Roomba alternatives?
---
Updated on March 8, 2022
posts may contain affiliate links -Enjoy and feel free to share with your friends!
---
All that and more in this in-depth Roomba review and Deal Tracker that WILL help you find the best deal on a Roomba robot vacuum.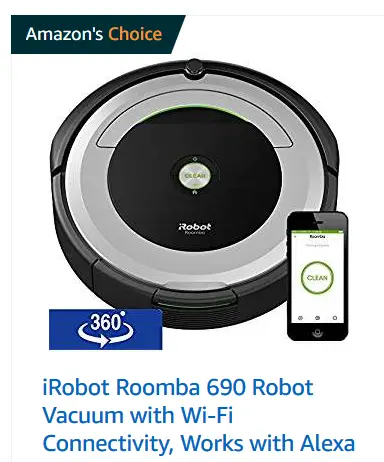 Out of ALL the Roomba Robot Vacuum options,
this is the model I would get
. It's on sale quite often making it the cheapest way when I got my Roomba.
Prime Day Roomba Deals
Amazon tends to have great deals on Roombas on Prime Day – you just have to know where to FIND the deals so you grab them.
Be sure to check out the Roomba deals page here on Amazon.
Roomba Sale Price Tracker
Below is a regularly updating list of the current sales on all iRobot Roomba Robot Vacuum Cleaners.
Last updated on November 15, 2023 8:06 pm
Compare Roomba Prices
If you'd like to easily compare current prices on Rommba robot vacuums from different stores, just use the Quick Check Links below:
---
---
Roomba FAQ
✅ – Are Roombas Loud?
The most common question is "Are Roombas Noisy? Are They Loud?" – of course, Roombas DO make noise, but WHICH Roomba model you buy makes a big difference in the noise level.
The Roomba 650 IS on the loud side – BUT the newer Roomba models (like this Roomba 960) are much quieter.
Overall, they're still quieter than a normal vacuum cleaner.
✅ – Which Roombas Have HEPA Filters?
This Roomba model comes with Dual HEPA filters that pick up even the tiniest dust particles, pet hair and other allergens making it a favorite for allergy suffers.
Best Roomba With HEPA Filter
4 new from $899.99
5 used from $302.14
✅ Show Me This!
Amazon.com
as of November 15, 2023 8:06 pm
Features
iAdapt Navigation uses a full suite of sensors to navigate and adapt to your changing home
3-Stage Cleaning System agitates, brushes and suctions floors
Dirt Detect Series II identifies dirtier areas and focuses cleaning where it's needed most
Conveniently schedule up to 7x per week, or just press CLEAN on the robot
Automatically dock and recharges, adjust to all floor types
This Roomba vacuum cleaning robot removes up to 98% of dirt, dust and pet hair - on its own - at the touch of a button. Using iAdapt Responsive Cleaning Technology, the robot thoroughly vacuums the entire floor, including hard-to-reach spots under furniture. This Roomba is loaded with the latest technology and features. For example, Roomba's dual HEPA-type air filters stop fine dust from circulating in your home, leaving behind fresh air. Plus, with Roomba's on-board scheduling, the robot cleans when it's most convenient for you, even when you're not home. The Roomba is easy to use; just press the "Clean" button and let the robot do the dirty work.
Many other models of Roombas come with a "High Efficiency" filter, but that's not quite the same as a HEPA filter.
But that is a cheap and easy fix if you want a Roomba with a HEPA filter:
Simply get these Roomba HEPA filters here.
✅ – Are Roomba Filters Washable?
Yes, Roomba filters are washable. Shake or blow off any loose dirt and then wash the filter with water. BUT – do NOT put the filter back into your vacuum until it is totally 100% dry!
✅ – Are Roombas Good For Dog Hair?
Are Roombas good for pet hair like dog hair and cat hair? Answer: YES!
This Roomba robot vacuum model is best for pet hair.
✅ – Are Roombas Good on Carpet?
Yes, Roombas are very good on carpet AND make the transition from carpet to other floor types very well.
✅ – Can Roomba Clean Tile Floors?
Yes, a Roomba can vacuum tile floors and make the transition from carpet to tile to hardwood floors very well.
BUT if you want your Roomba to CLEAN your tile, get this Roomba model.
✅ – Does Roomba scratch hardwood Floors?
If you have wood flooring, a big concern is if the Roomba robot vacuum will scratch your hardwood floors. I have NOT had that experience and don't recall reading any other Roomba owners having that problem.
✅ – Can Roomba Clean Multiple Rooms?
Yes, Roomba robot vacuums can clean multiple rooms BUT if you leave the Roomba to make it's own decisions, it might not vacuum any of the rooms completely.
Why? Because Roombas (and all robot vacuums) are not designed to stay in one room until it is totally clean – instead, they are programmed to go in a straight line. If that straight line involves a door to another room, the Roomba will go to that next room.
To solve this issue, you have 2 options:
1 – close the door to the room you want Roomba to vacuum first, or
2 – Get this Roomba model that comes with a "virtual wall" so each room is vacuumed thoroughly.
✅ – Can Roomba Work in the Dark?
Yes, your Roomba can clean and vacuum in the dark.
✅ – Can Roomba Detect Stairs?
Yes, a Roomba robot vacuum can detect stairs. There are sensors on the bottom of the vacuum that point straight down – if the Roomba sensors detect stairs (or a "cliff"), it changes direction.
✅ – Can Roomba Clean Corners?
Yes, Roomba robot vacuums can clean corners. They go along the walls with their little spinning brushes and grab all that stuff along your baseboards and in the corners pretty well.
✅ – Does Roomba Work with Google Home?
Yes, these Roomba models with WiFi can connect to Google Home through Google Assistant.
✅ – Does Roomba Work with Alexa?
Yes, if your Roomba model has WiFi, it can connect to Alexa – these models of Roomba have WiFi (more details)
✅ – Does Roomba 650 Have WiFi?
No, the Roomba 650 does NOT have Wifi – only these Roombas have Wifi.
Are Roombas Worth It?
Biggest question of all – Do Roombas REALLY work? Are they worth it? Are Roombas any good or is it all hype?
To me, yes, Roombas ARE worth the money. A Roomba robot vacuum is a workhorse and does a really good job in my house.
That said, it's not really the "smartest" robot vacuum on the market.
Many of my friends prefer this brand of robot vacuums.
Main reason why they like their robot vacuum better?
Because this brand of robot vacuum can be sent to a specific SPOT in your house to clean it – Roombas, at this moment, cannot do that.
Now, if price is your concern and you want to know if Roombas are worth they money… I say yes, but I was ok paying a couple hundred bucks on a Roomba.
If you want to save money AND get a good robot vacuum cleaner that's like a Roomba only cheaper…
✅ Check out these robot vacuum deals.
You can save a lot of money on that page (look for the orange coupon indicators)
Roomba Alternatives
As I mentioned before, these are some great deals on Roomba alternatives here, but below is today's price tracker on my picks.
Last updated on November 15, 2023 8:06 pm
Shark Robot Vacuum Cleaner Deals
Below is today's deals on Shark robot vacuum cleaners – they're really good and worth the money, too.
$289.98
$379.99
26 new from $278.98
2 used from $253.73
$249.99
$349.99
20 new from $249.99
2 used from $218.74
Last updated on November 15, 2023 8:06 pm
Neato Robot Vacuum Deals
Neato robot vacuums have been a strong contender for many years now – below are today's deals on Neato vacuums.
$199.99
$299.99
2 new from $199.99
$511.84
$599.00
17 new from $499.97
4 used from $396.75
$348.89
$499.00
28 new from $328.99
12 used from $158.99
Last updated on November 15, 2023 8:06 pm