---
Unique Lottery Ticket Baskets and Gifts You Can Make on a Budget – Looking for clever and creative ways to give scratch lottery tickets as gifts? Look no further! These lottery ticket gift ideas in the pictures below have you covered.
From lottery ticket birthday gifts, to retirement gifts, lottery ticket bouquets, baskets and scratch off ticket trees, there are TONS of unique homemade lottery ticket gift ideas below.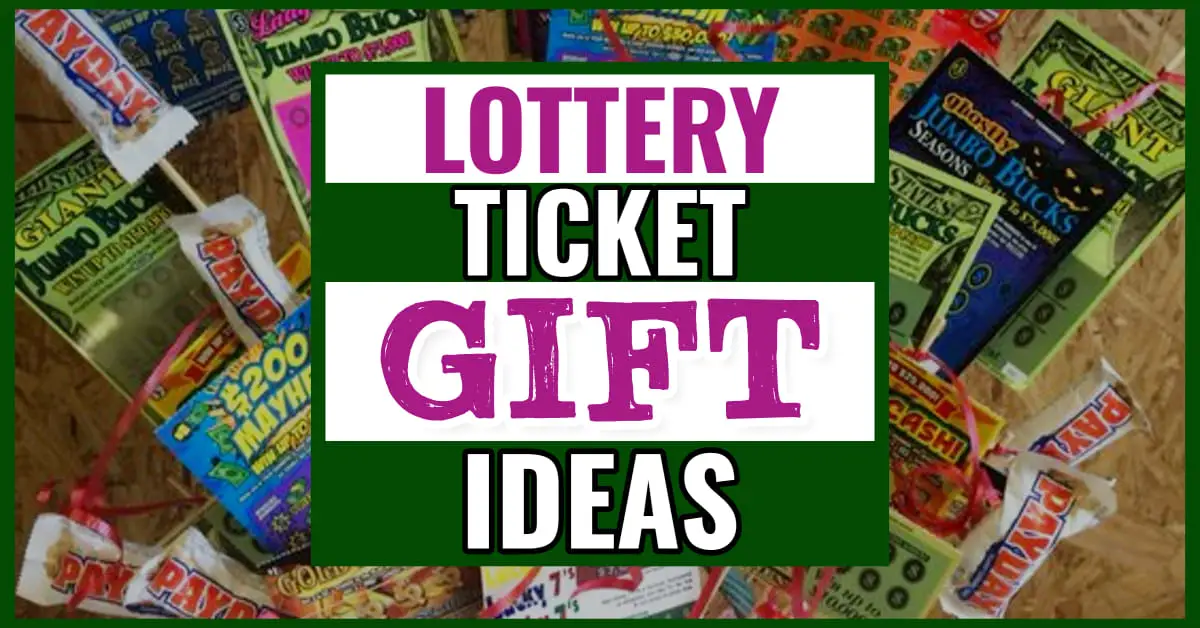 ---
Updated on December 22, 2022
posts may contain affiliate links -Enjoy and feel free to share with your friends!
---
Creative Ways To Gift Them
Here are our first 11 creative ways to gift scratch tickets – PICTURES BELOW:
Put the scratch ticket in a card or small gift box and present it as a traditional gift. This is a the basic way to give the gift of a scratch ticket.
Use the scratch ticket as part of a scavenger hunt. Write clues or riddles on small pieces of paper and hide them around the house or outdoors. Each clue will lead the recipient to the next one, and the final clue will reveal the location of the scratch ticket.
Incorporate the scratch ticket into a larger gift. For example, you could put the scratch ticket in a gift basket with other small gifts, like chocolates or a candle.
Create a scratch ticket bouquet. Cut out small squares of paper and write the numbers of the scratch tickets on them. Arrange the squares in a bouquet and wrap them in cellophane or tissue paper to create a unique and fun gift.
Make a game out of it. For example, you could put the scratch ticket in a small envelope and include a list of questions or tasks that the recipient must complete in order to earn the right to scratch the ticket.
Create a scratch ticket advent calendar. Number small envelopes or boxes and place a scratch ticket in each one. The recipient can open one envelope or box each day leading up to a special occasion, like Christmas or a birthday.
Incorporate the scratch ticket into a party favor or goodie bag. For example, you could include a scratch ticket with other small items like candy or toys as a thank-you gift for guests at a party.
Use the scratch ticket as a prize in a game or contest. For example, you could hold a raffle or a trivia game and offer the scratch ticket as the prize for the winner.
Hide the scratch ticket around the house or outdoors and create a treasure hunt for the recipient to find it. You could write clues or riddles to help them locate the ticket.
Make the scratch ticket part of a care package or gift basket. You could include other items like snacks, toiletries, or small gifts along with the scratch ticket to create a thoughtful and well-rounded gift.
Include the scratch ticket in a holiday or birthday card. You could write a personal message inside the card and attach the scratch ticket to the outside for an extra surprise.
Scratch Off Gifts We've Made
Let's look at some easy DIY scratch off birthday gift ideas, lottery gift ideas, lots of creative ways to gift lottery tickets AND how to make a lottery ticket gift basket for ANY occasion.
Scratch off tickets ALWAYS make for a fun gift idea for adults. In fact, at work, it's one of our favorite raffle prizes when we do our teacher appreciation parties.
There's something so exciting and hopeful about getting a scratch off ticket or ANY lottery ticket as a gift – what if it wins? what would you DO with those winnings?
It's also an inexpensive gift idea that's perfect to make if you're on a budget.
Plus, the mystery over how much it's WORTH is the best part of all!
You can arrange lottery tickets in a gift basket, a box, shaped like a flower bouquet, displayed like a money tree, arranged into a cake design, a pizza shape or display the lottery tickets in a cheap-o Dollar tree frame.
Or, you can use other items your gift recipient ALSO loves.
For example, this homemade birthday gift for my boyfriend – he LOVES his lottery tickets and he LOVES his Monster haha!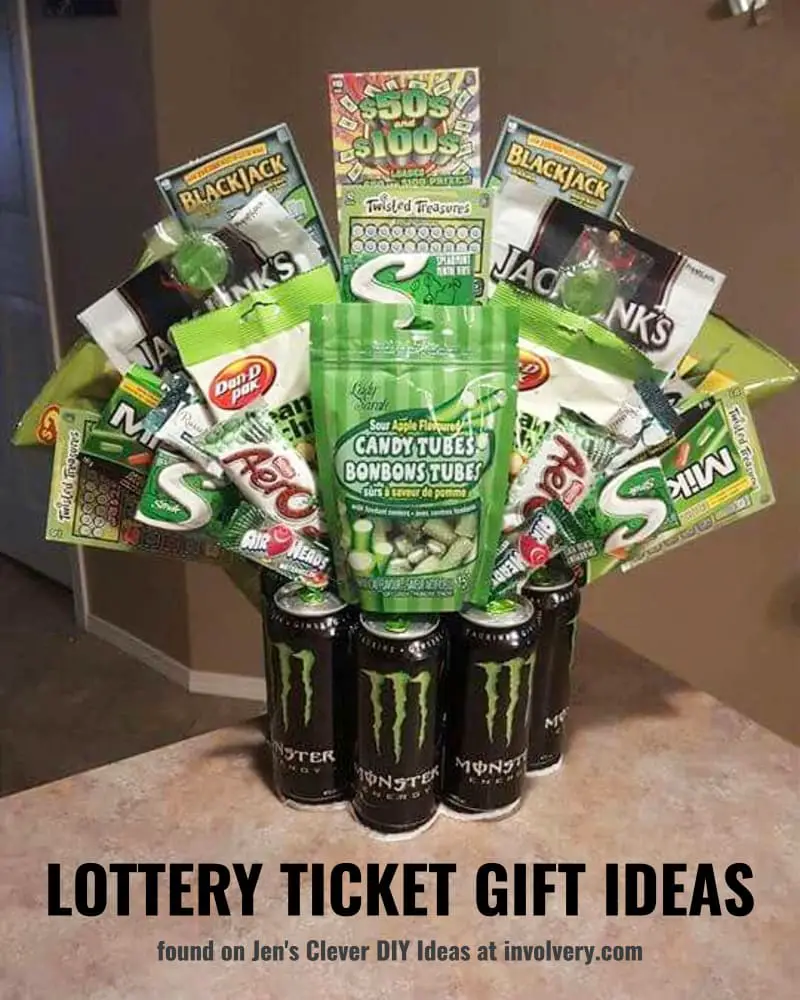 Or this 18th birthday lottery ticket gift basket idea – LOVE the way the money is folded to complement the lottery tickets, don't you?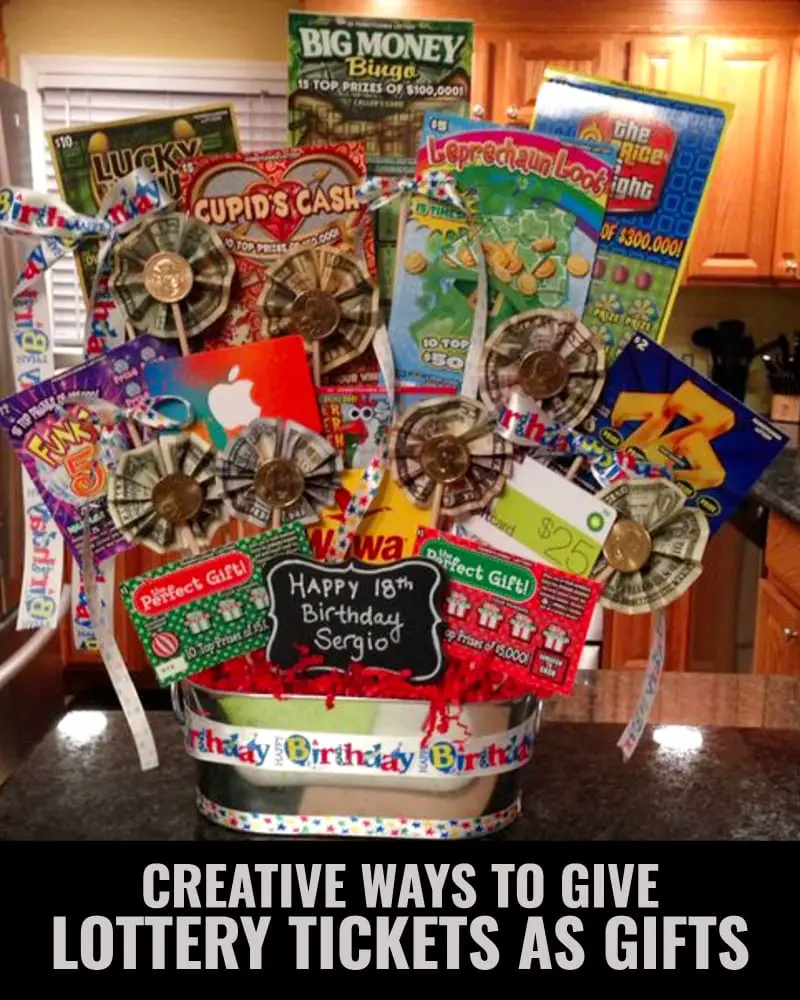 ❤️ DIY Ideas
So let's jump in and look at lot more gift ideas with lottery tickets and scratch offs that YOU can make.
Here's what you'll find below…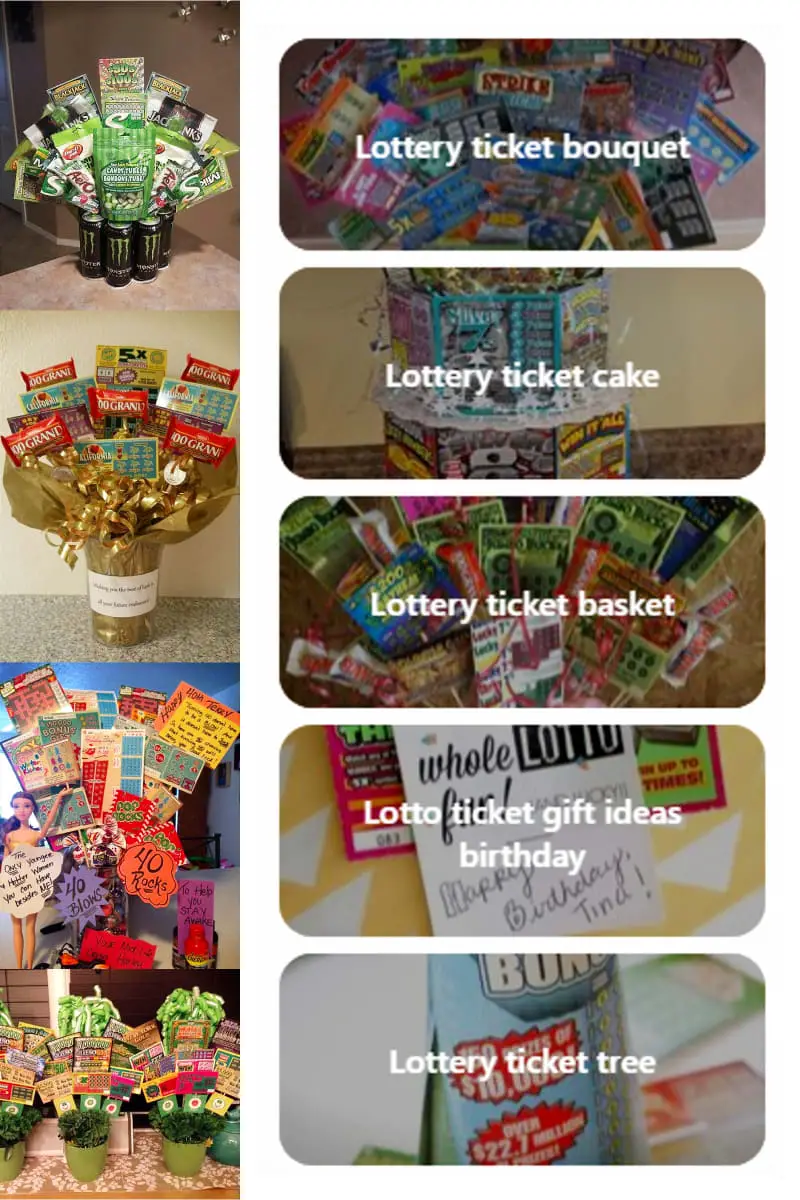 Best Lottery Gift Ideas
Have a lottery LOVER in your life and want to get a lottery-themed gift for them?
Below are the best gifts for lottery ticket fanatics:
 1. Winning Lottery TicketsSee This 2. Lottery Ticket Gift TreeSee This 3. Scratch Off Ticket ShirtSee This 4. Lottery Ticket Money JarSee This 5. Light Up Money TreeSee This 6. Lottery Lover GiftsSee This
✅ Pictures
Below are pictures and examples of easy and unique lottery tickets gifts you can be proud to gift someone – they're all pretty darn awesome!
Lottery Ticket Birthday Gift Idea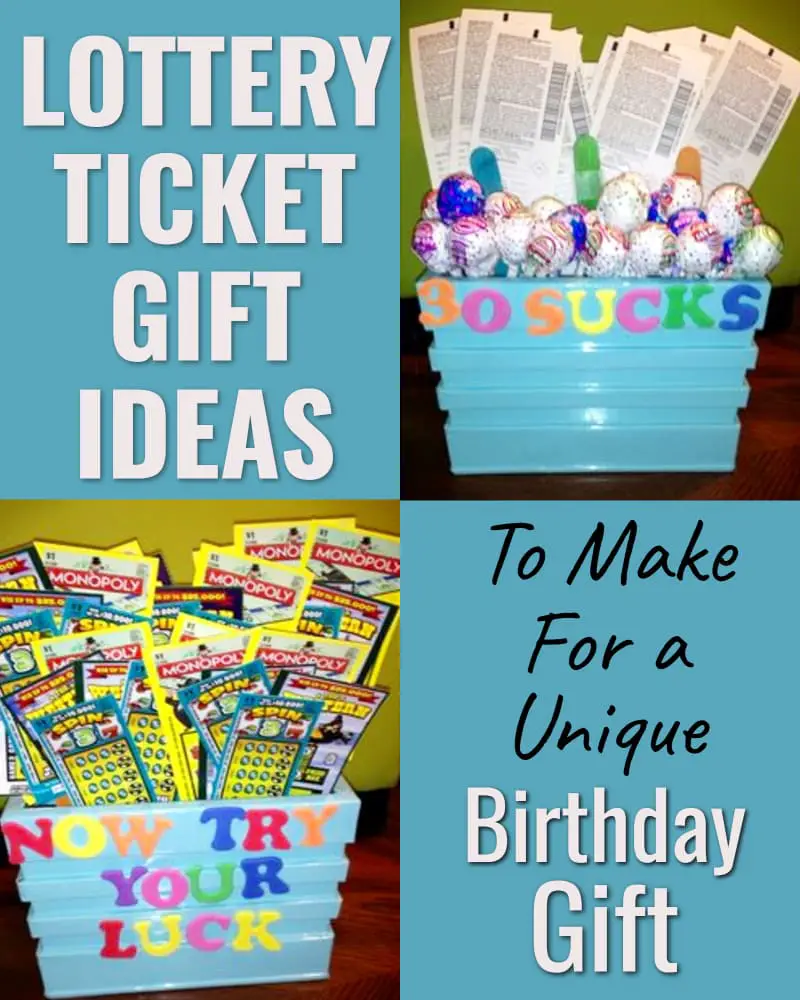 At last years family reunion Christmas thing, we wanted a way to help Mom cover the costs of food and all the money she spent hosting our get-together.
We decided to raffle something off that EVERYONE would totally want.
BUT, coming up with GOOD raffle prizes for adults is not that easy.
My sister-in-law came up with THIS great idea – a lottery ticket WREATH.
Here's what it looked like….
and here's what the sign at the bottom of the wreath says in case you can't read it:
Scratch Off Ticket Wreath: $10 a ticket = Winner gets entire wreath! Over $100 in Scratch Off tickets – You Could Win MILLIONS!
Let me tell ya something – not only did we raise enough money to pay for that lottery ticket wreath, AND pay mom for every penny she spent, we also raised enough to cover THIS year's Christmas get together…
and you can bet that we WILL be doing this idea again!
They went NUTS over trying to win it!
To make that lottery ticket gift wreath, just grab a cheap-o wire wreath frame like one of these.
Or you can use a foam wreath thing like this from your local Dollar Tree and then CAREFULLY attach the scratch off tickets all around it.
Be careful to not put tape anywhere on the scratch off ticket that could damage it and potentially void a winner.
Here's a quick video that shows how to make a lottery ticket gift wreath like we made:
Here's another lottery ticket gift we had the BEST time making… and GIVING.
A group of us have been really tight friends for a long time (before any of our current spouses).
One of our friends had recently gone through a tough divorce…had to move out, get his own place, etc.
Needless to say, it was not only emotionally traumatic, but FINANCIALLY traumatic as well.
When he moved into his new place, we decided to throw a party for him to help welcome and celebrate this new chapter in his life.
It was kind of a Housewarming Happy Divorce type of hybrid color party haha!
We wanted to find a gift idea that could help him with his current financial situation but NOT be offensive (if that makes sense).
So we made this…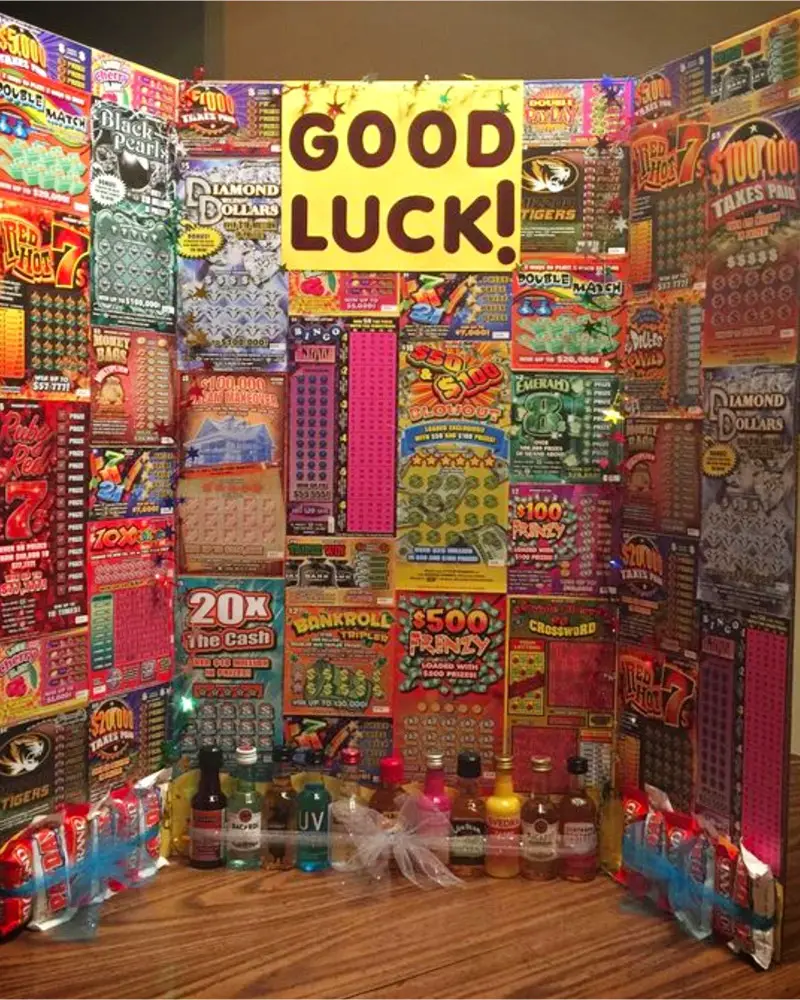 We called it 'The Great Wall of Lottery Tickets' haha!
We set it on a big table surrounded by all the party food and snacks for our group and it looked SUPER awesome.
He LOVED it – and yep, he ended up making a couple hundred bucks off those gift scratch off tickets too!
To make that Great Wall of Lottery Tickets, we just used one of those poster board things kids use for science projects like this.
Then we attached the scratch off tickets as you see in the picture above.
At the bottom, we put airplane size bottles of adult beverages and money-themed mini candy bars ( like Payday and 100 Grand bars, etc).
It's a big and showy lottery ticket gift idea yet it's PERFECT if you're on a budget!
We've also made TONS of 40th birthday gifts with lottery tickets.
Here's a few we've made for the guys and for the gals on their 40th birthday…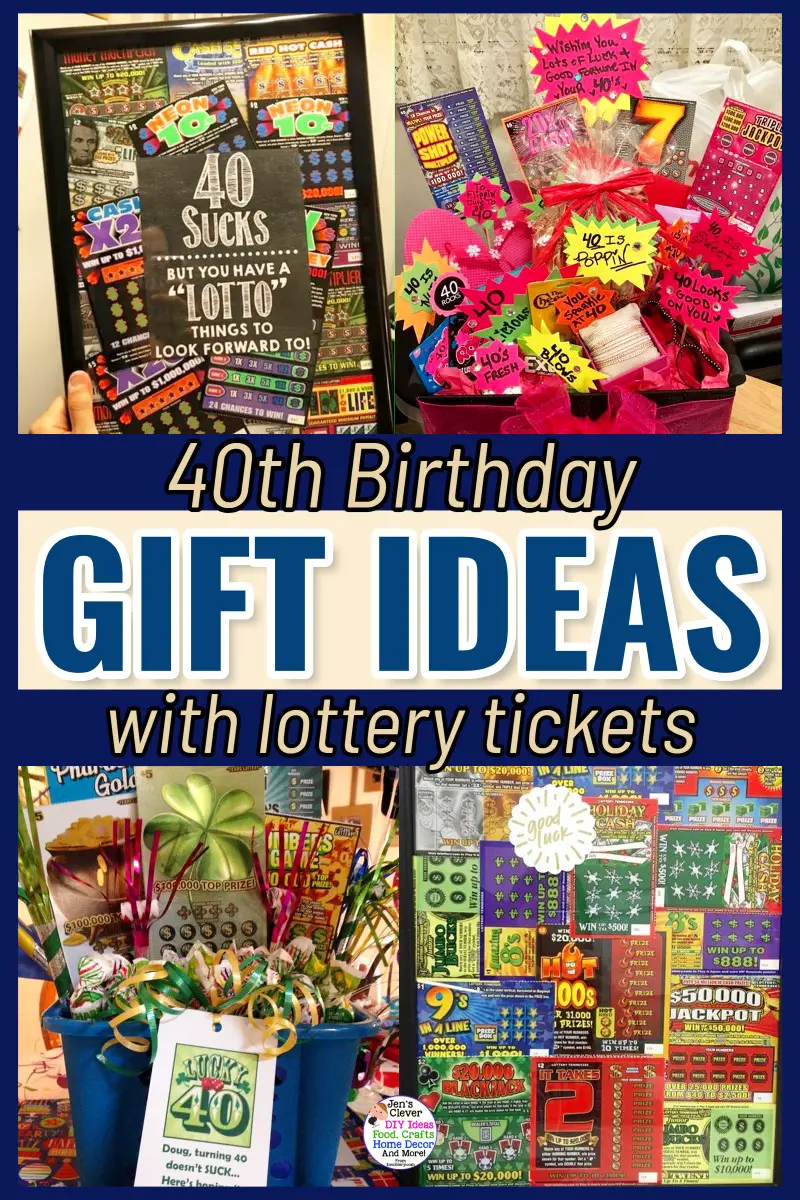 Of course you can modify those lottery ticket gift ideas above for a 30th birthday or a 50th, 60th birthday etc.
Lottery tickets also make great teacher gift ideas, too!
YES, teachers LOVE scratch off tickets too!
I like to combine those appreciation gifts for the kid's teachers with flowers AND lottery scratcher tickets – I think they've turned out really pretty!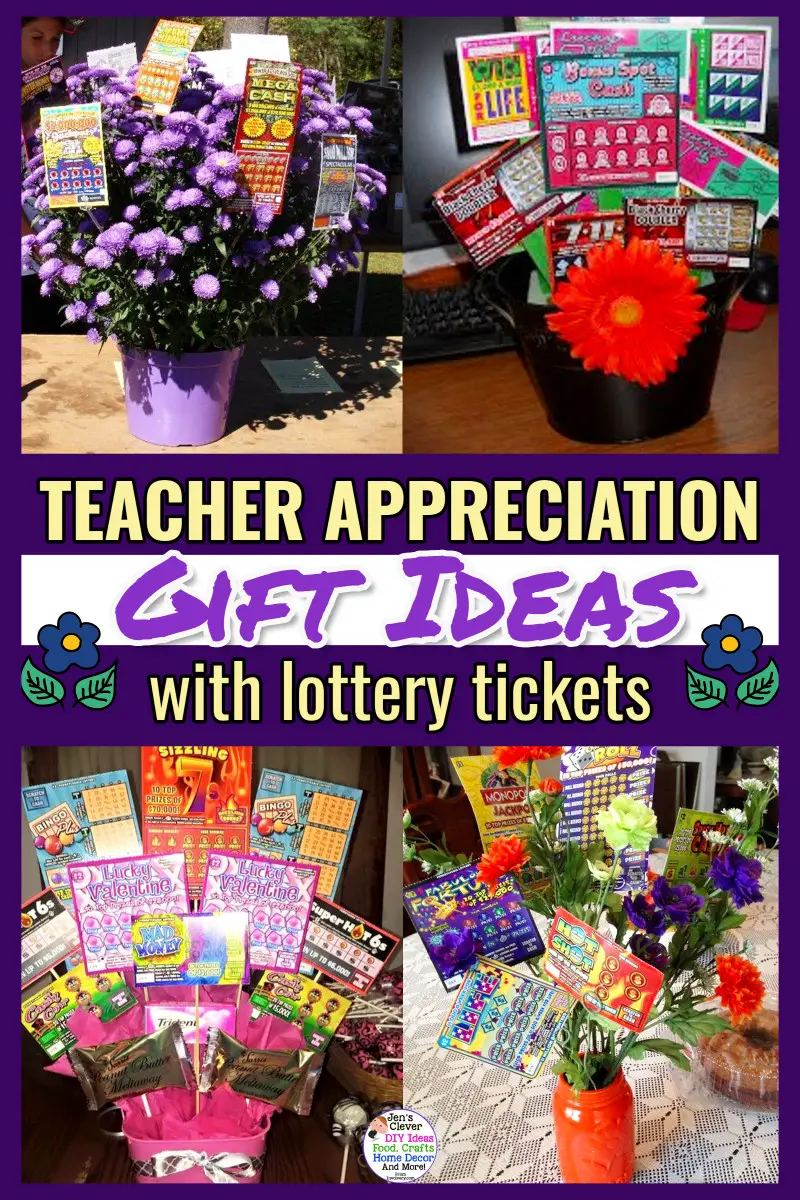 What To Read Next:
Back To Top Of: Creative Ways To Gift Scratch Tickets