---
Lazy Easy Last-Minute Elf on a Shelf Ideas for TONIGHT – Unique, Funny and Simple Poses & Pranks For Christmas 2023 –
Uh-Oh! Did you forget about your Elf on the Shelf? Need some quick & easy ideas… or some really creative or funny ideas? Take a look at these fun and easy Elf on the Shelf last minute ideas for tonight (or in the mornings!). You'll find lots of unique, funny (and some messy) daily Elf on the Shelf pranks, poses and ideas to help you get inspired with creative and SIMPLE ideas for your Christmas elf this year – and fun ideas for welcoming Elf on the shelf BACK for Elf on the Shelf Return Week this year.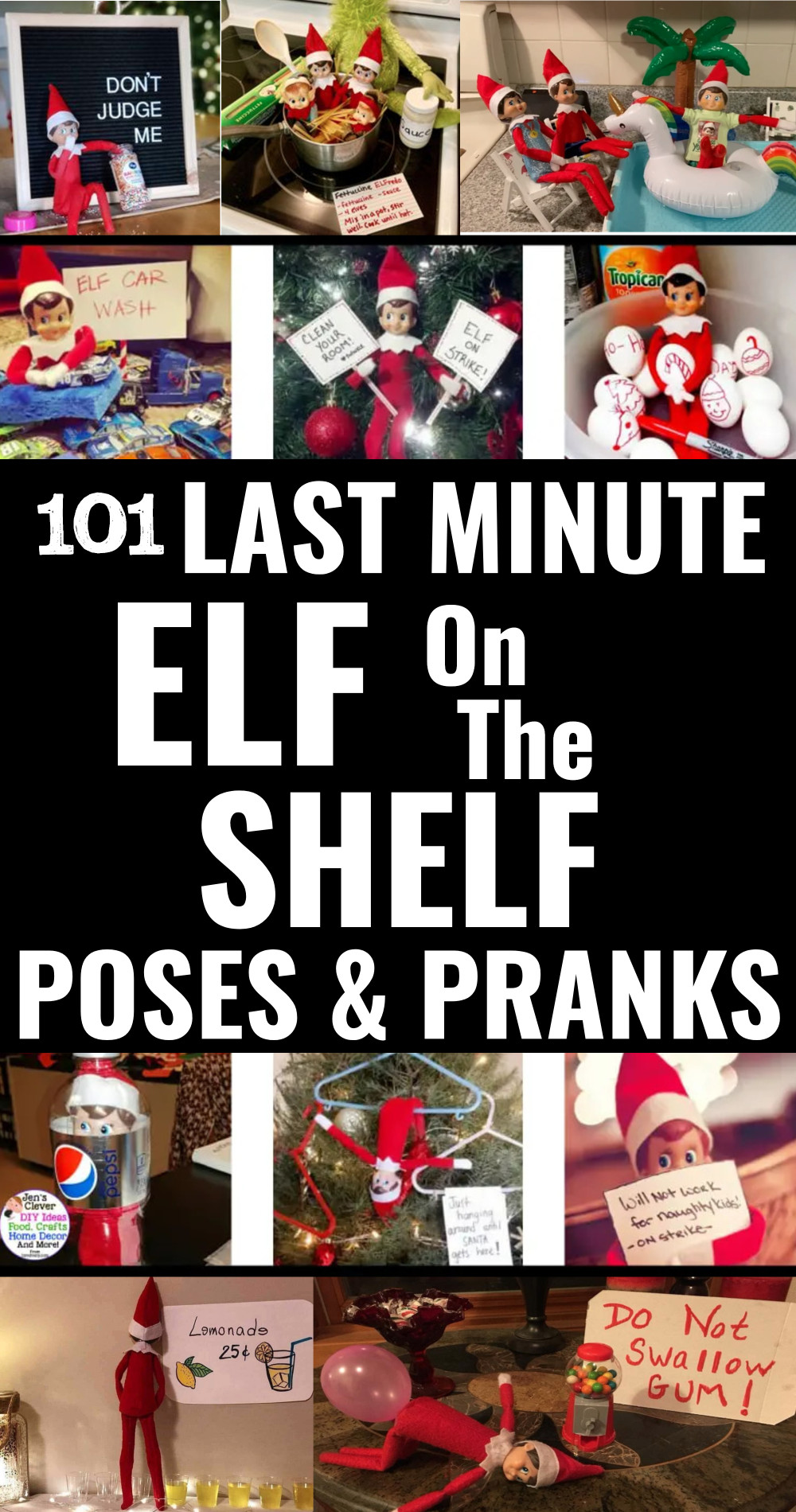 ---
Updated on October 7, 2023
posts may contain affiliate links -Enjoy and feel free to share with your friends!
---
Tips:
If you forgot to move your Elf on the Shelf last night, here are some easy morning ideas:
For a lazy EASY Idea – pose the Elf with a pack of powdered donuts making a mess or,
hide your Elf in the refrigerator as a last minute prank,
place the Elf under your child's pillow AFTER they wake up,
leave a note from your Elf that he/she did not move last night because your child's room was messy,
put the Elf inside a roll of toilet paper and unroll it down the stairs or across the floor,
LOTS more last minute ideas below.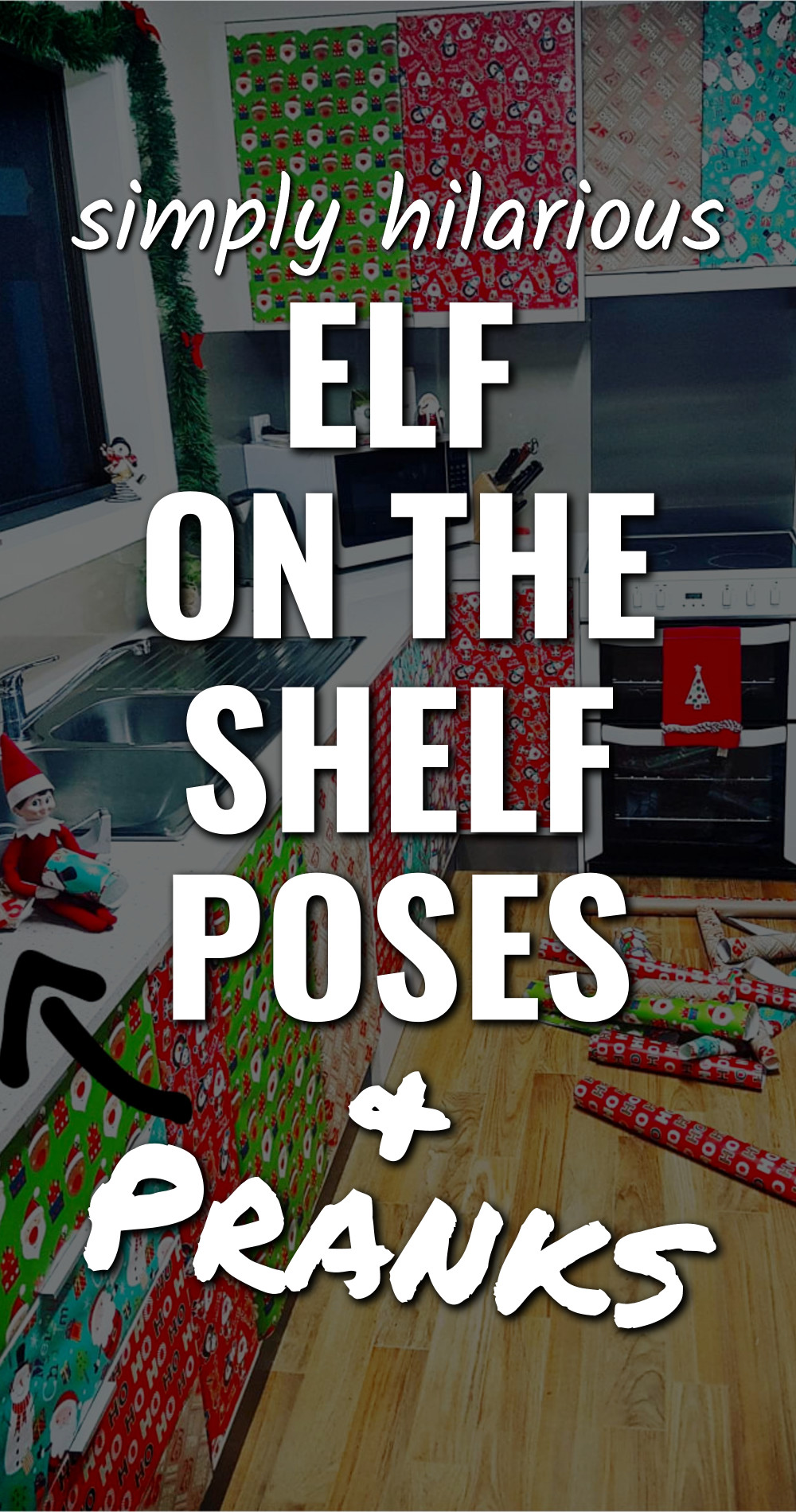 Many parents wonder when they can STOP doing Elf on the Shelf for their child. You can STOP doing the Elf on the Shelf each Christmas when your child is 15. Many kids are over it before then but 15 years old is a good age to stop the Elf on the Shelf tradition.
Personally, I think you can safely stop doing the Elf when your child starts High School.
Naturally, every child is different and will be done at an earlier age and some kids want the Elf to show nightly for as long as they live at home (ugh!)
Last Minute Elf on the Shelf Ideas
Below are some super easy Elf on the Shelf ideas for tonight – perfect last minute ideas too… EVEN if your kid is being naughty.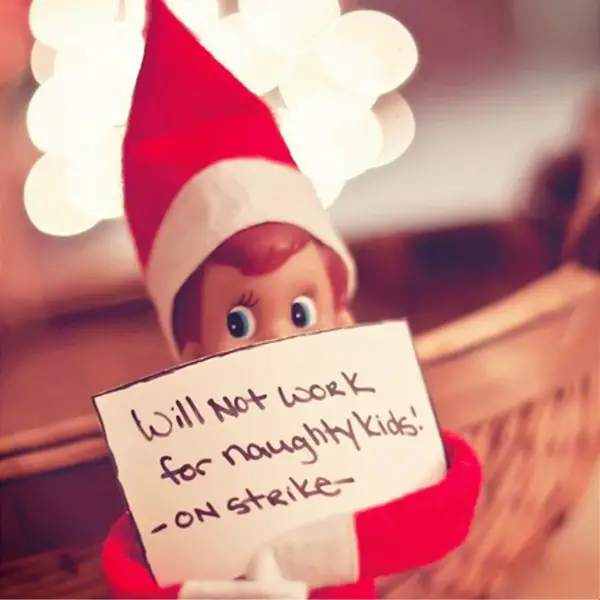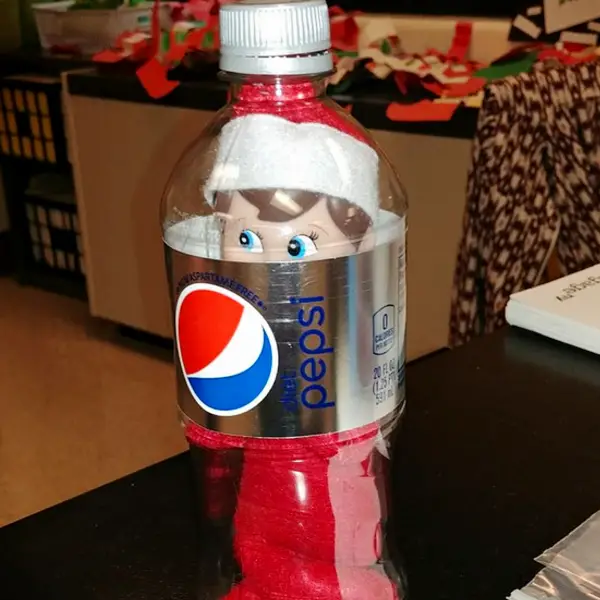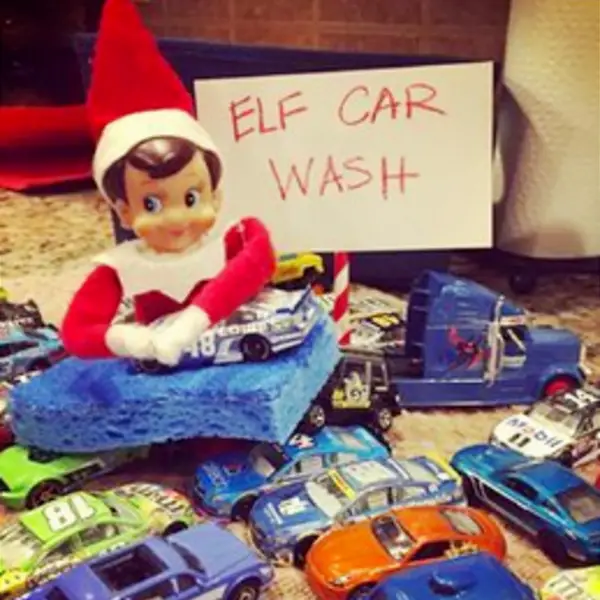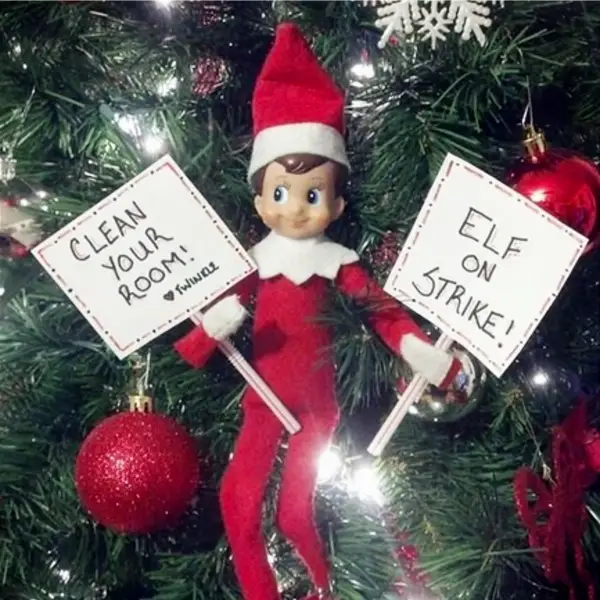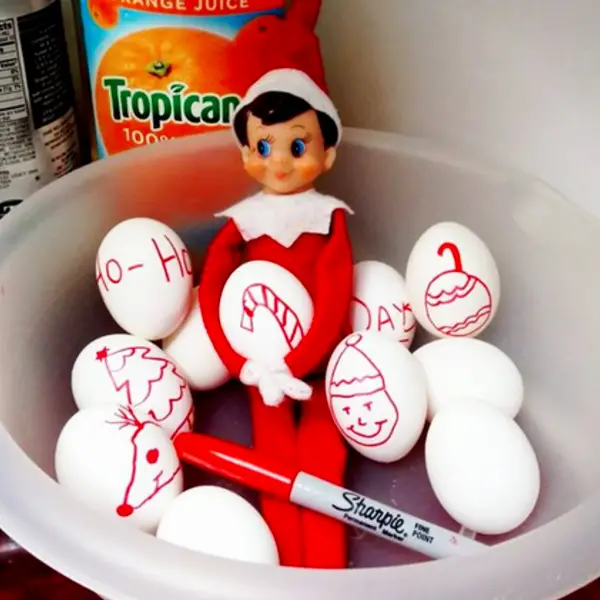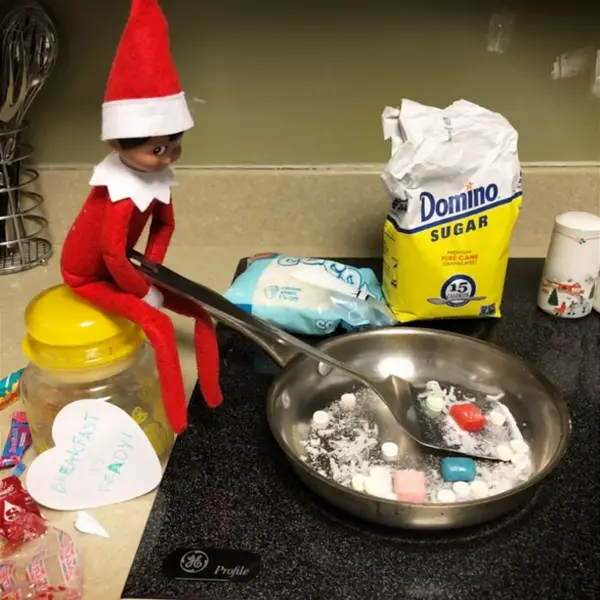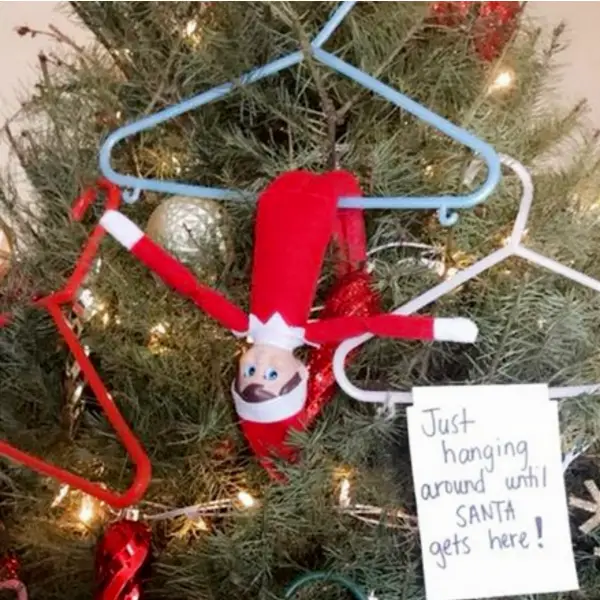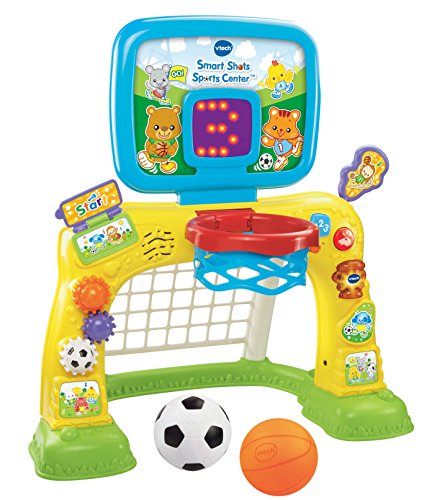 Hottest Toys For ToddlersSee Full List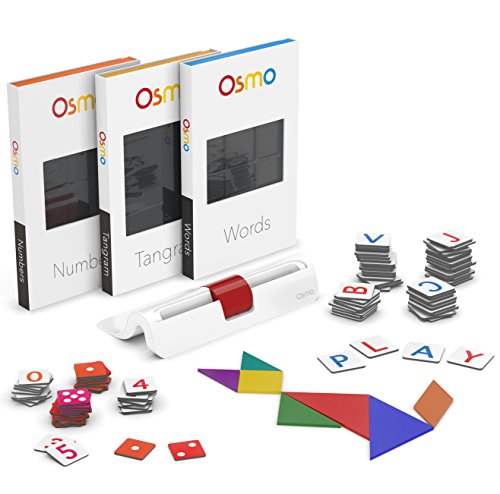 Hot Toys 5 -7 Years OldSee Full List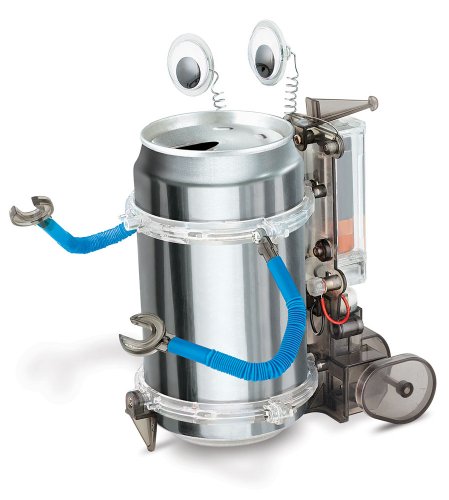 Hottest Toys for TweensSee Full List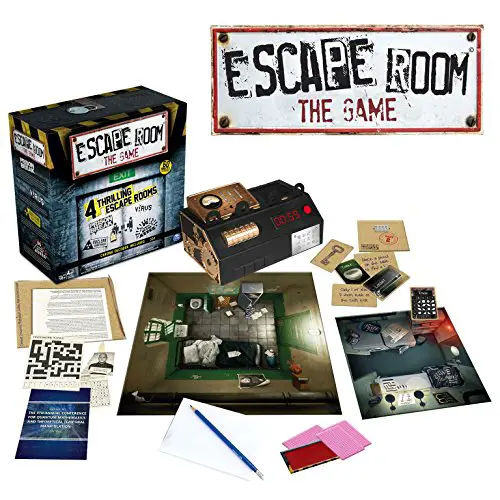 Hottest Gifts for TeensSee Full List
---
Nightly Pranks Cheat Sheet
Take a look at this Elf on the Shelf Ideas "Cheat Sheet" – it's a nightly calendar of pranks, poses and ideas of what to do with your Elf every night this Christmas season.
Two other shortcuts I've learned…. get the upgrade kit so your Elf can DO all the fun poses AND get the Elf on the Shelf notes!
 This Elf on the Shelf Upgrade Kit is a MUST HAVE for fun posesSee This Cute and Fun Notes To Go With Your Elf on the Shelf Each NightSee This
The Elf is BACK
Isn't this a cute Elf arrival idea?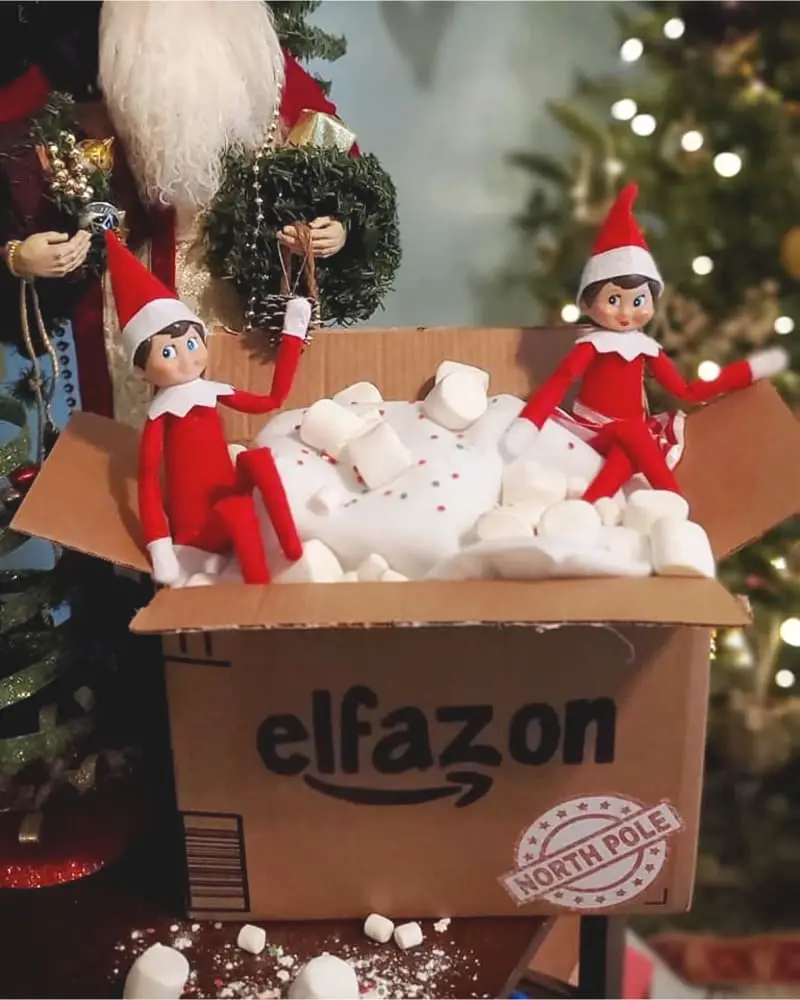 Or how about this idea to welcome your Elf on the Shelf back….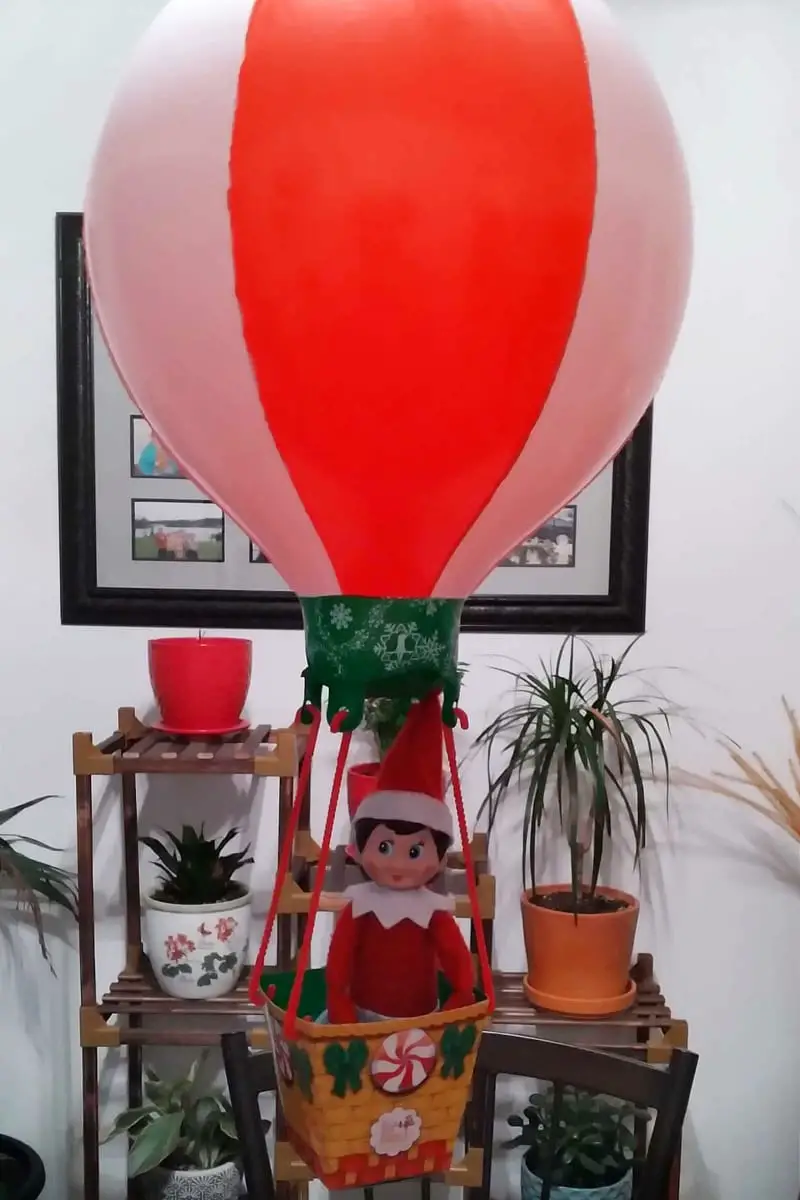 If you're REALLY dedicated to clever and extreme Elf on the Shelf pranks….
Look at THIS Elf mischief!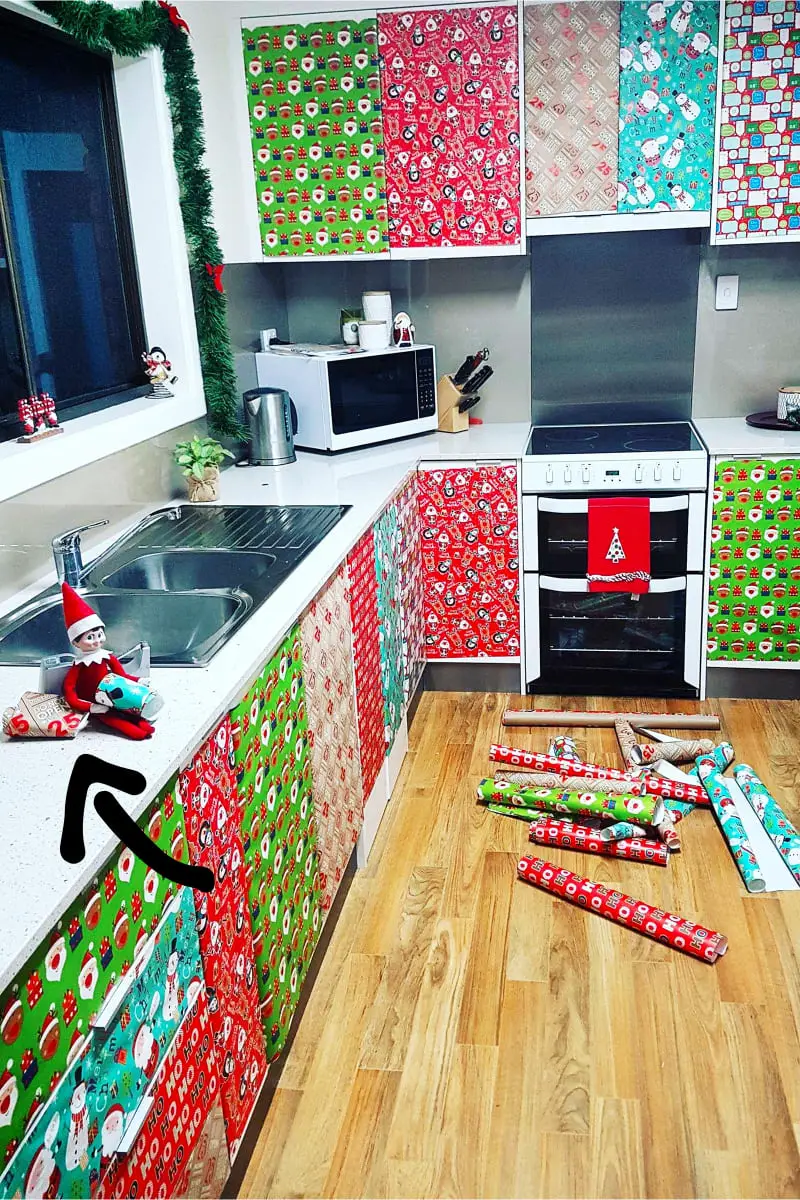 Just the thought of doing that AND cleaning that up makes me need this…haha!!!
This
wine
glass is TOO funny!
More Quick Elf Poses
If you need a really quick, easy and yep, LAZY Elf on the Shelf pose for tonight, this is an easy one…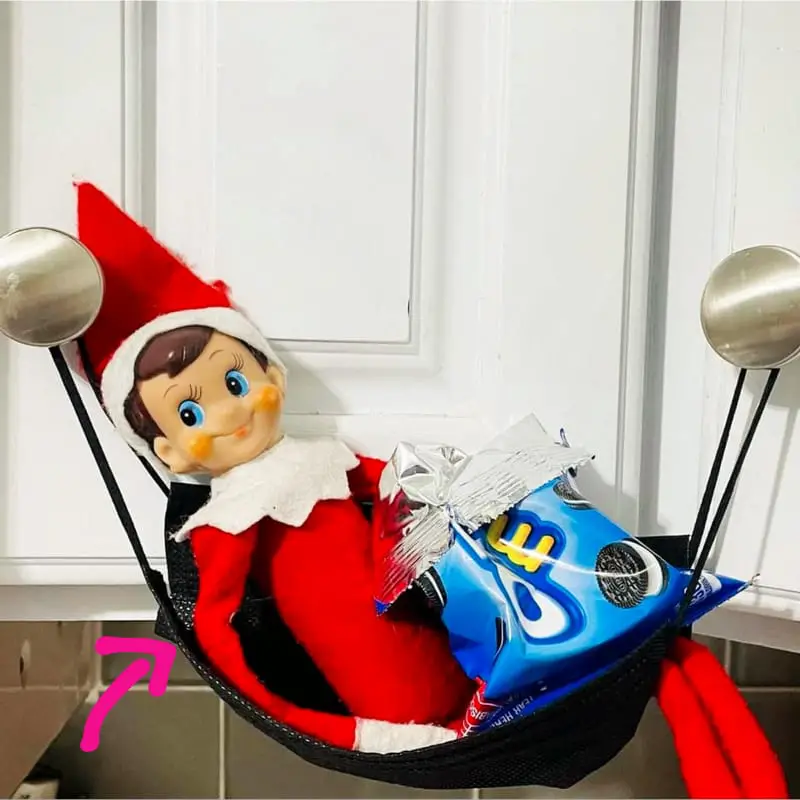 Simple enough, right?
Note: see the pink arrow in the picture above? The Elf "hammock" is just one of those paper face masks we ALL have these days.
Below are 101 Elf on the Shelf ideas for this Christmas. These are pretty clever and easy Elf on the Shelf ideas that your kids will love.
Here's a quick 'slideshow' of even more elf ideas, pranks and mischief…
(note: you can click at any time to stop the slideshow)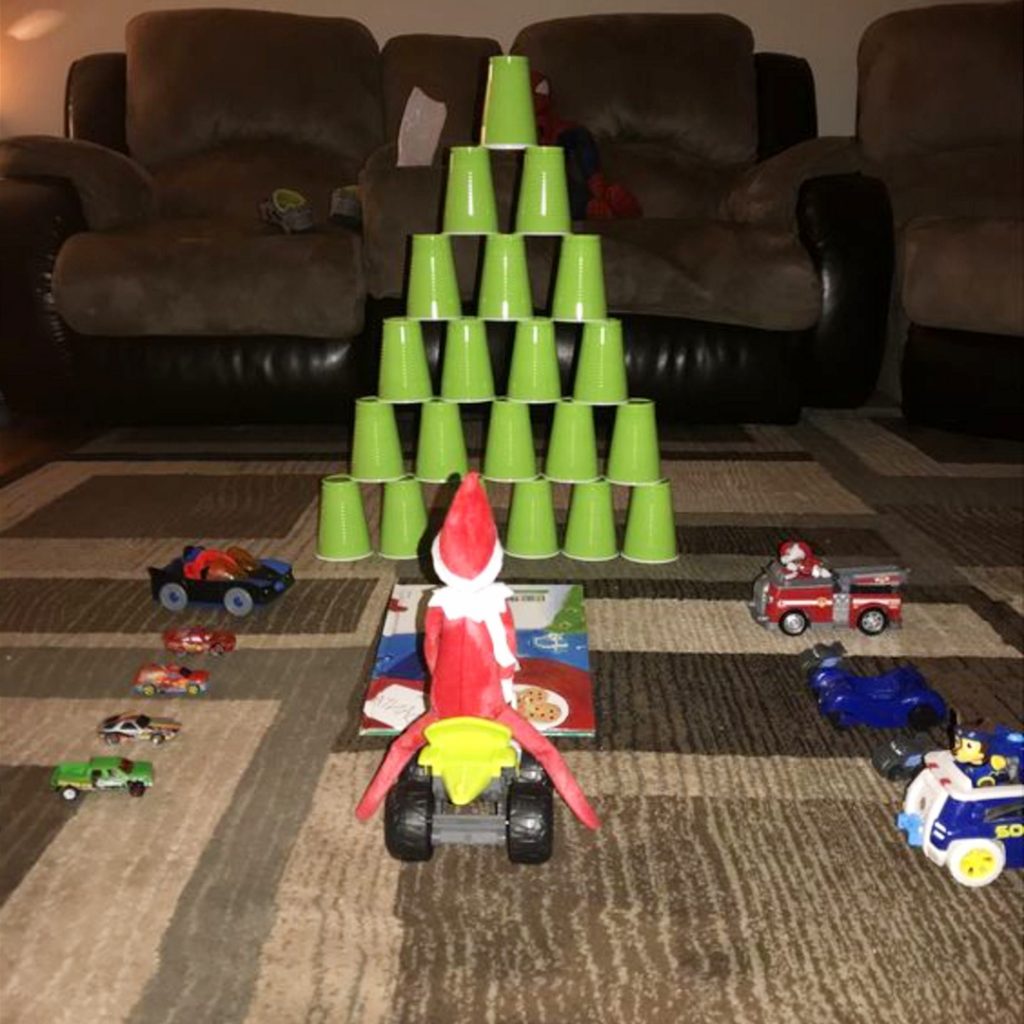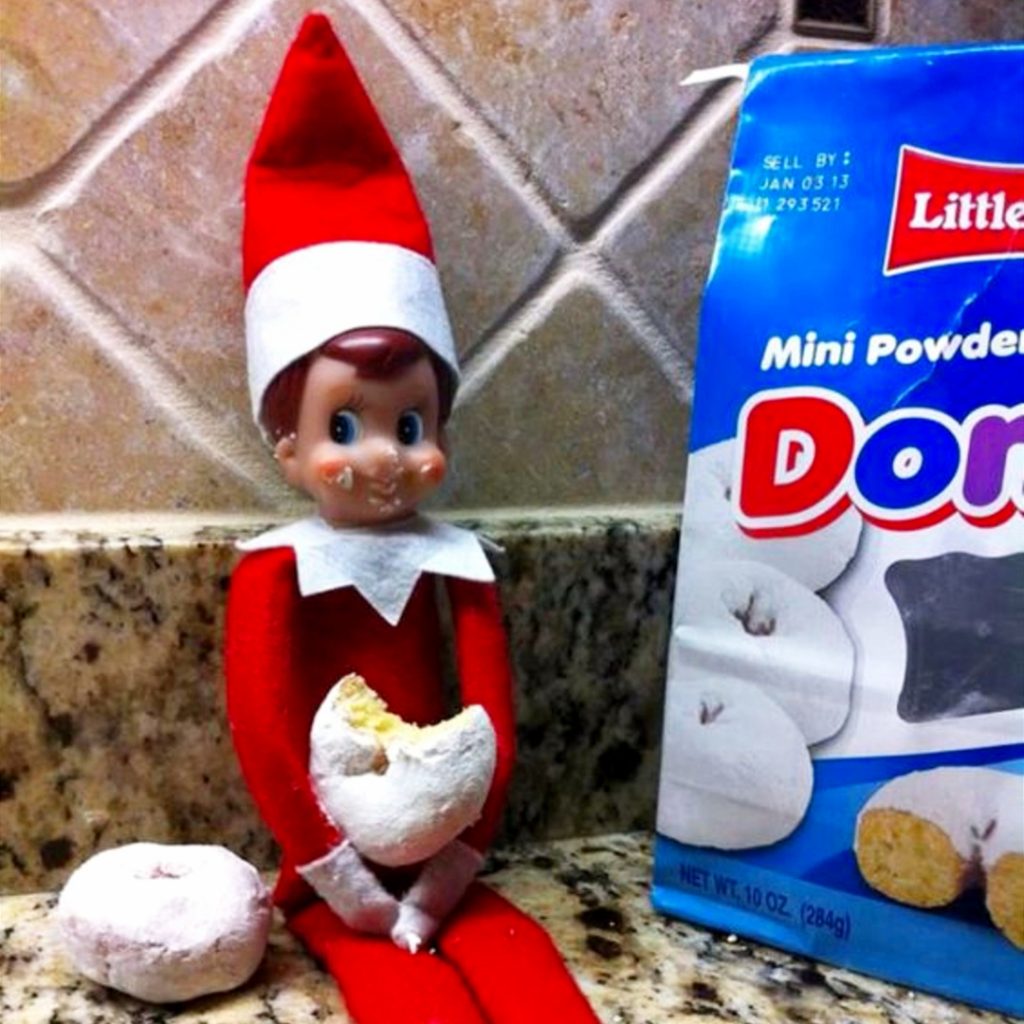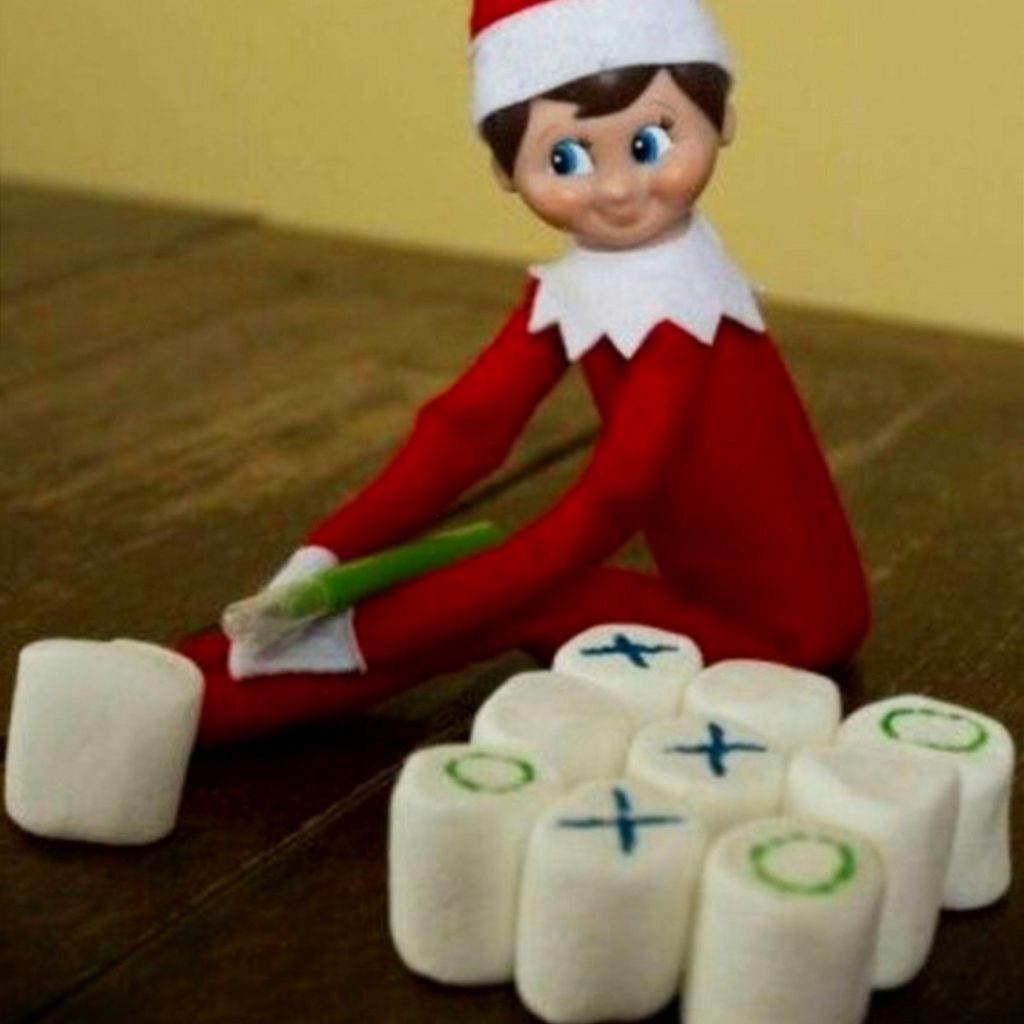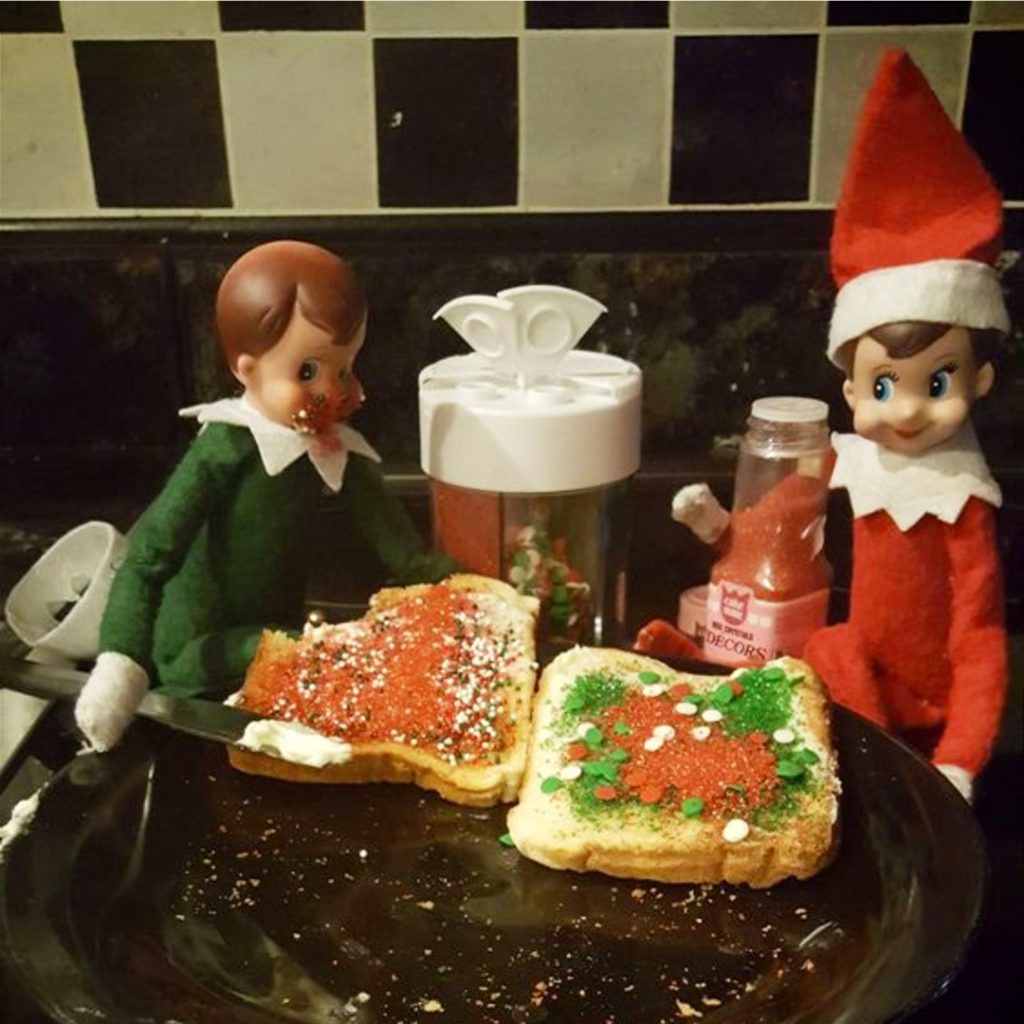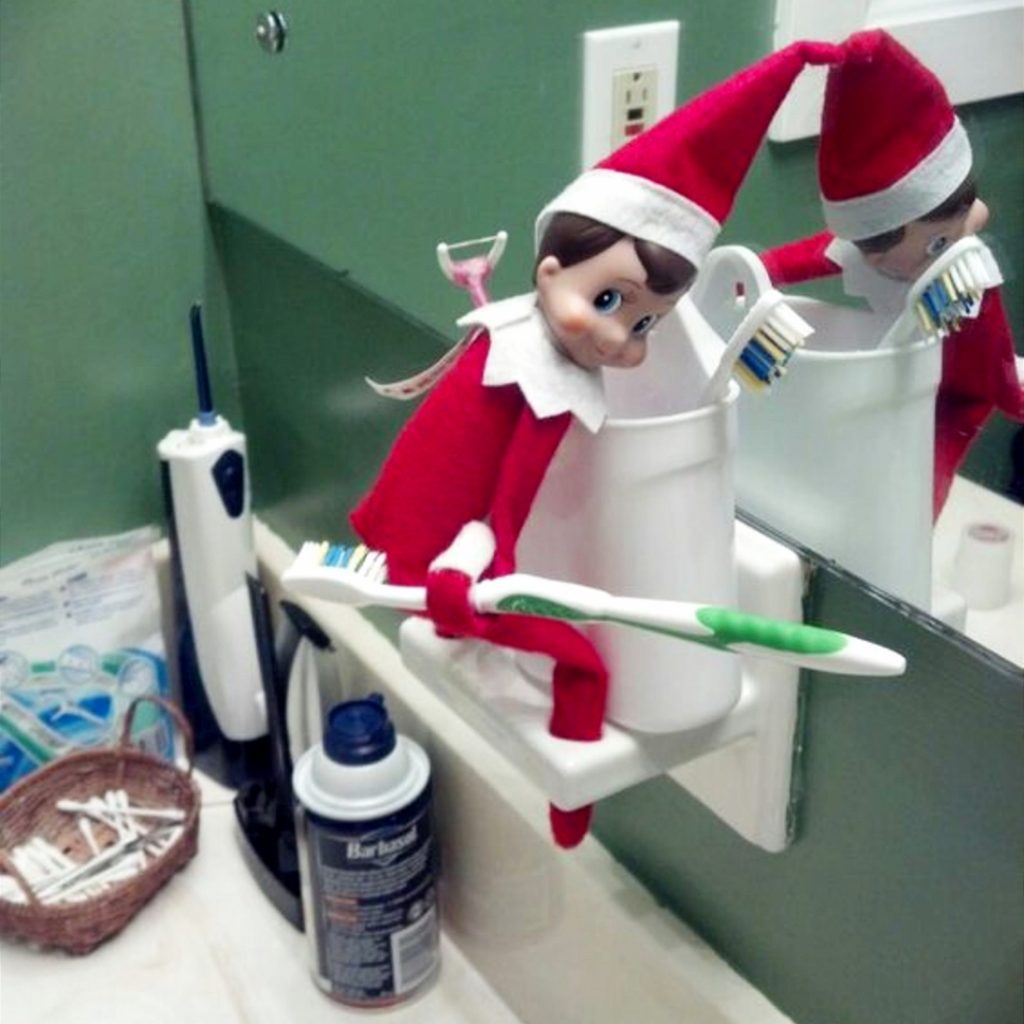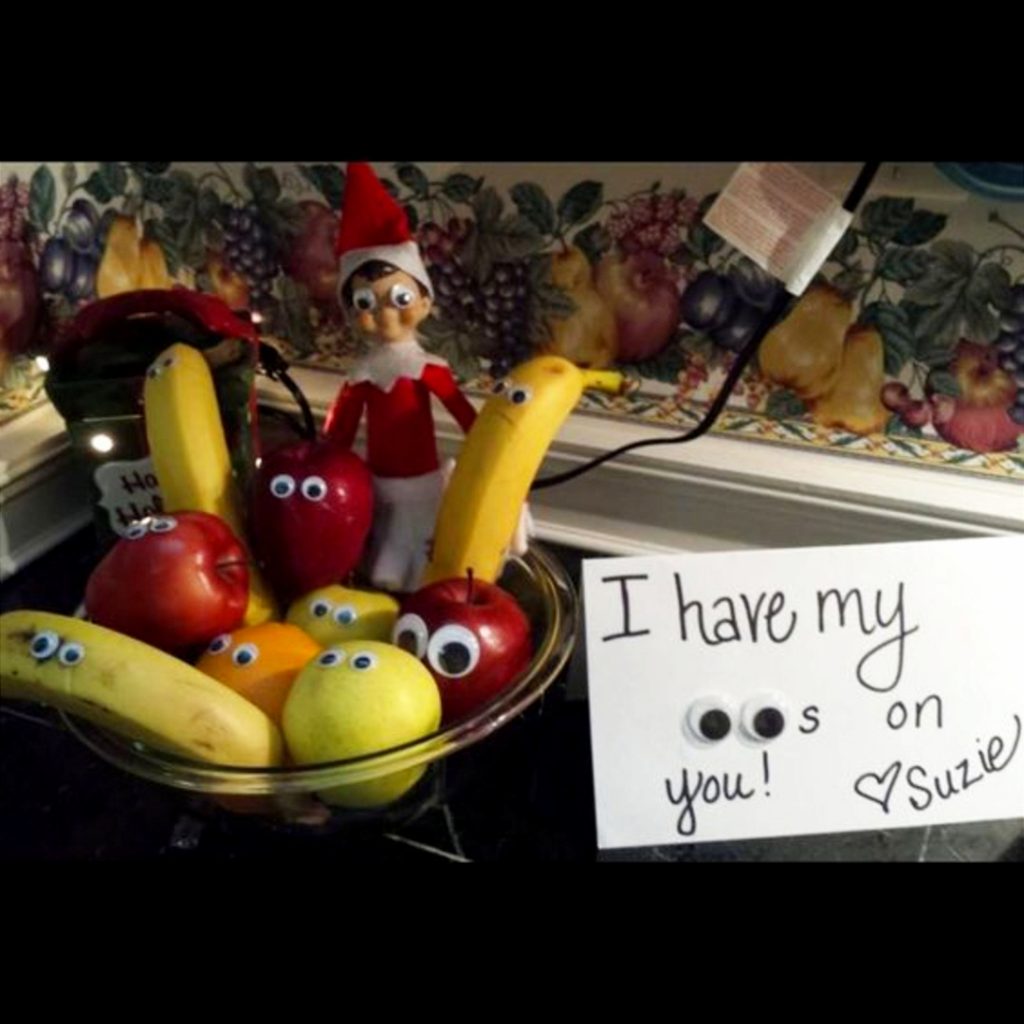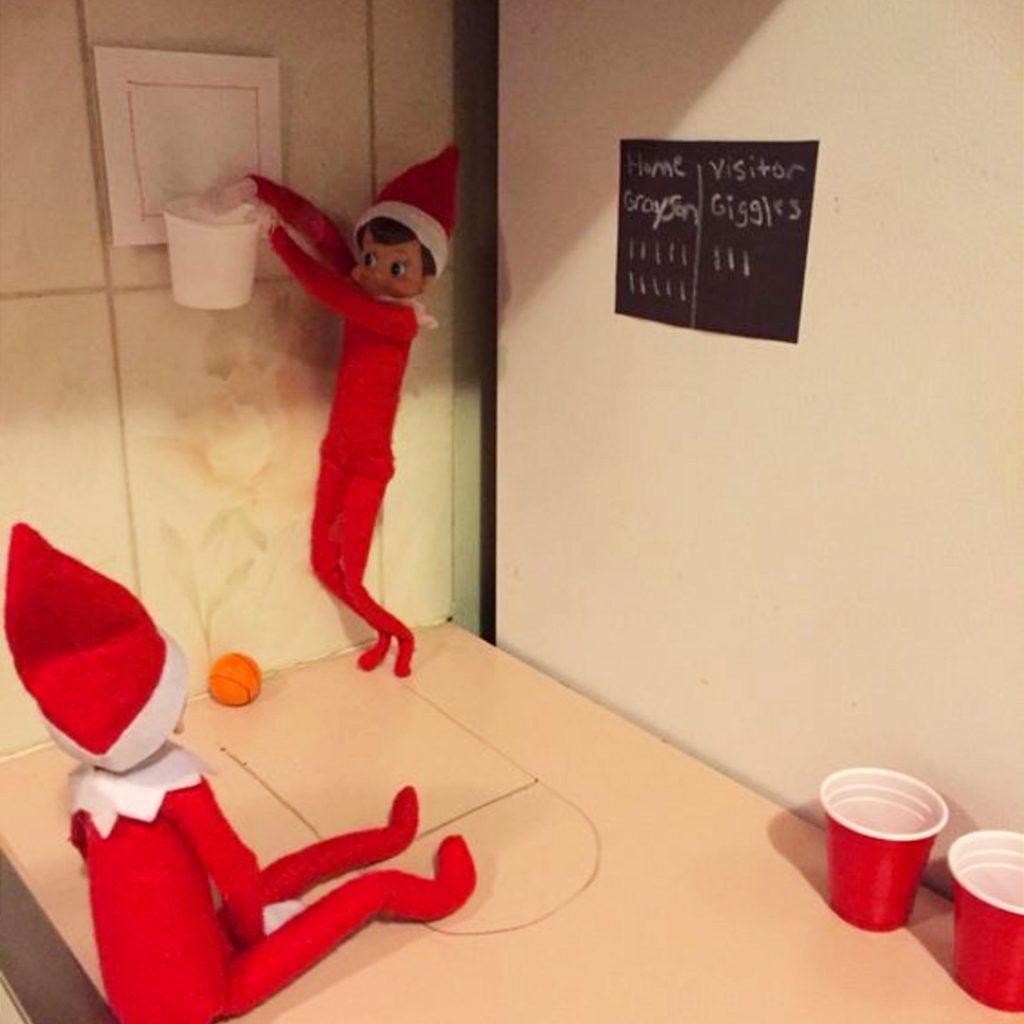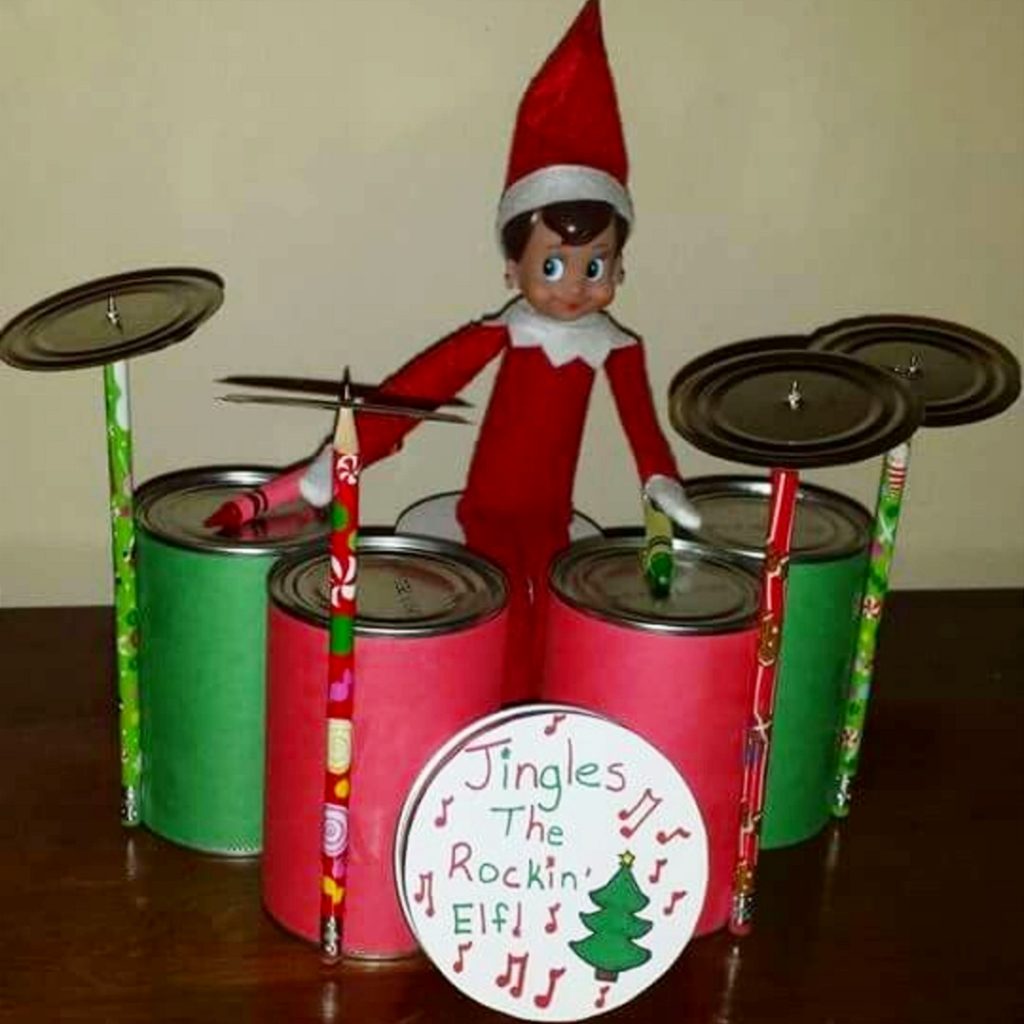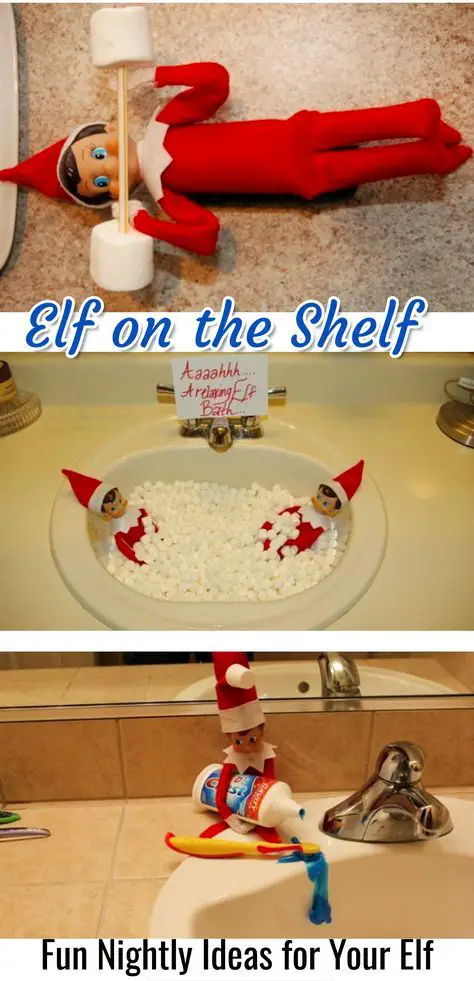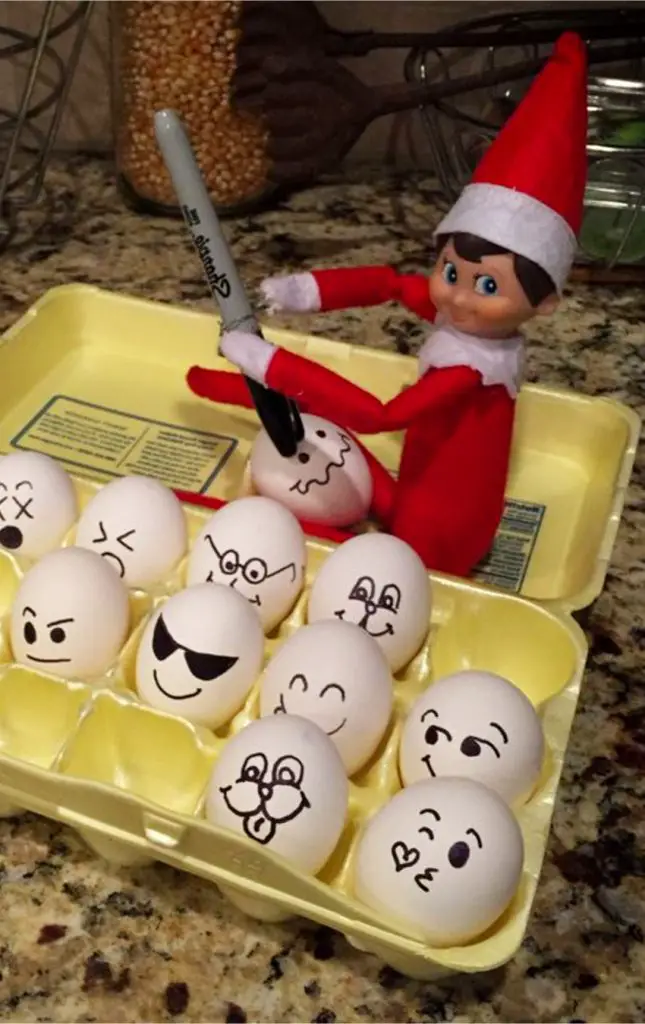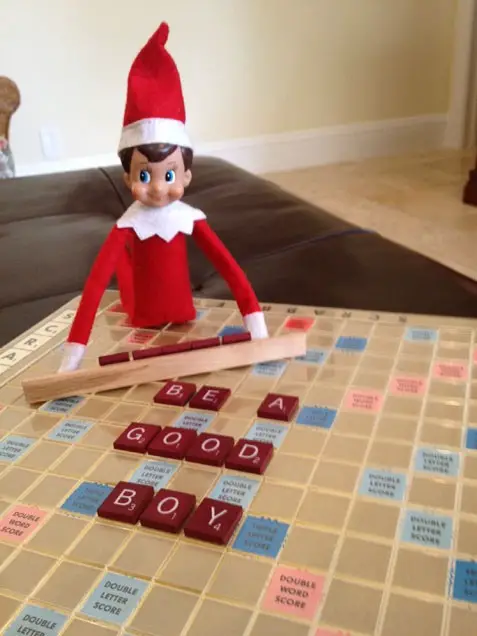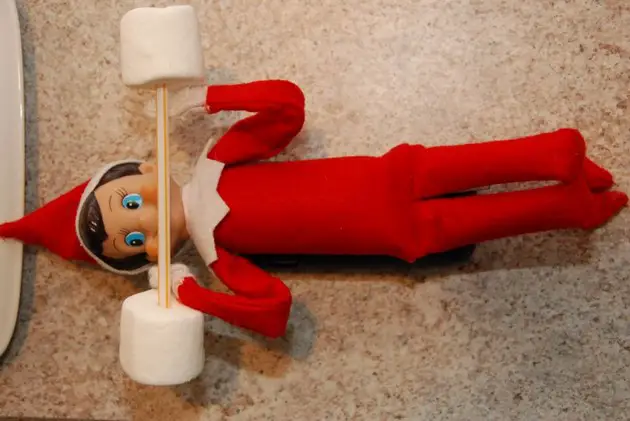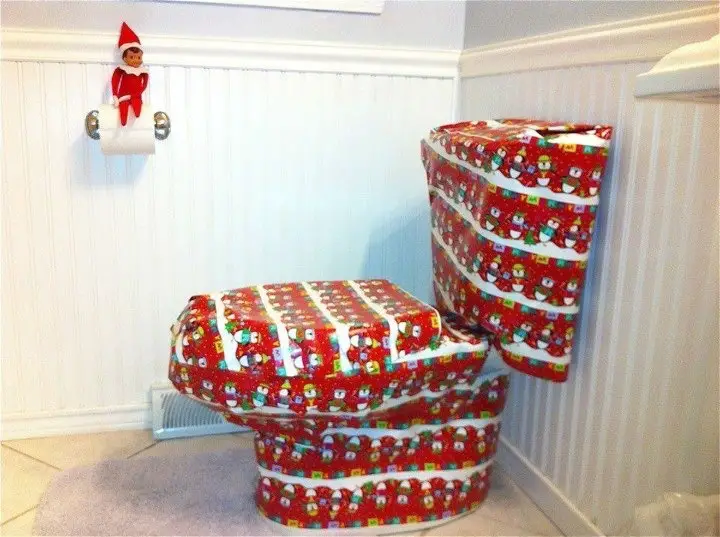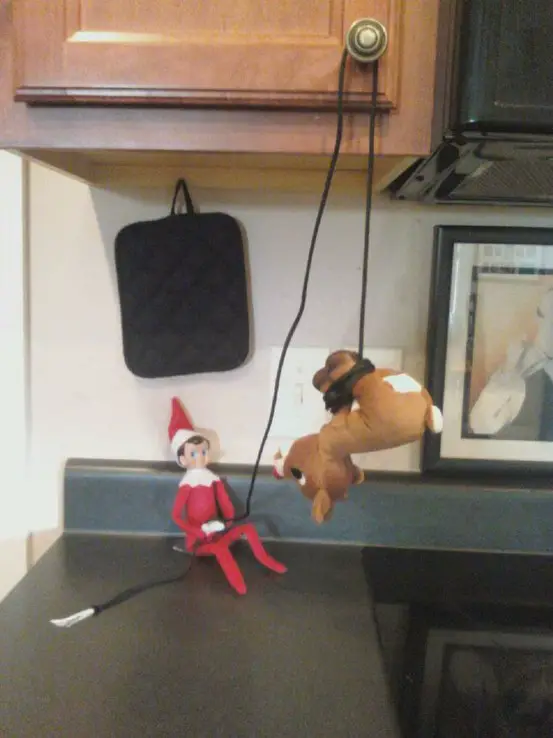 EASIEST Last Minute Ideas
Alrighty, if you truly want the EASIEST last minute Elf on the Shelf Ideas, it comes down to this…
✅ GET A FELT LETTER BOARD LIKE THIS
Just look at the super simple poses, jokes and pranks you can do every, single night if you have a cheap felt board: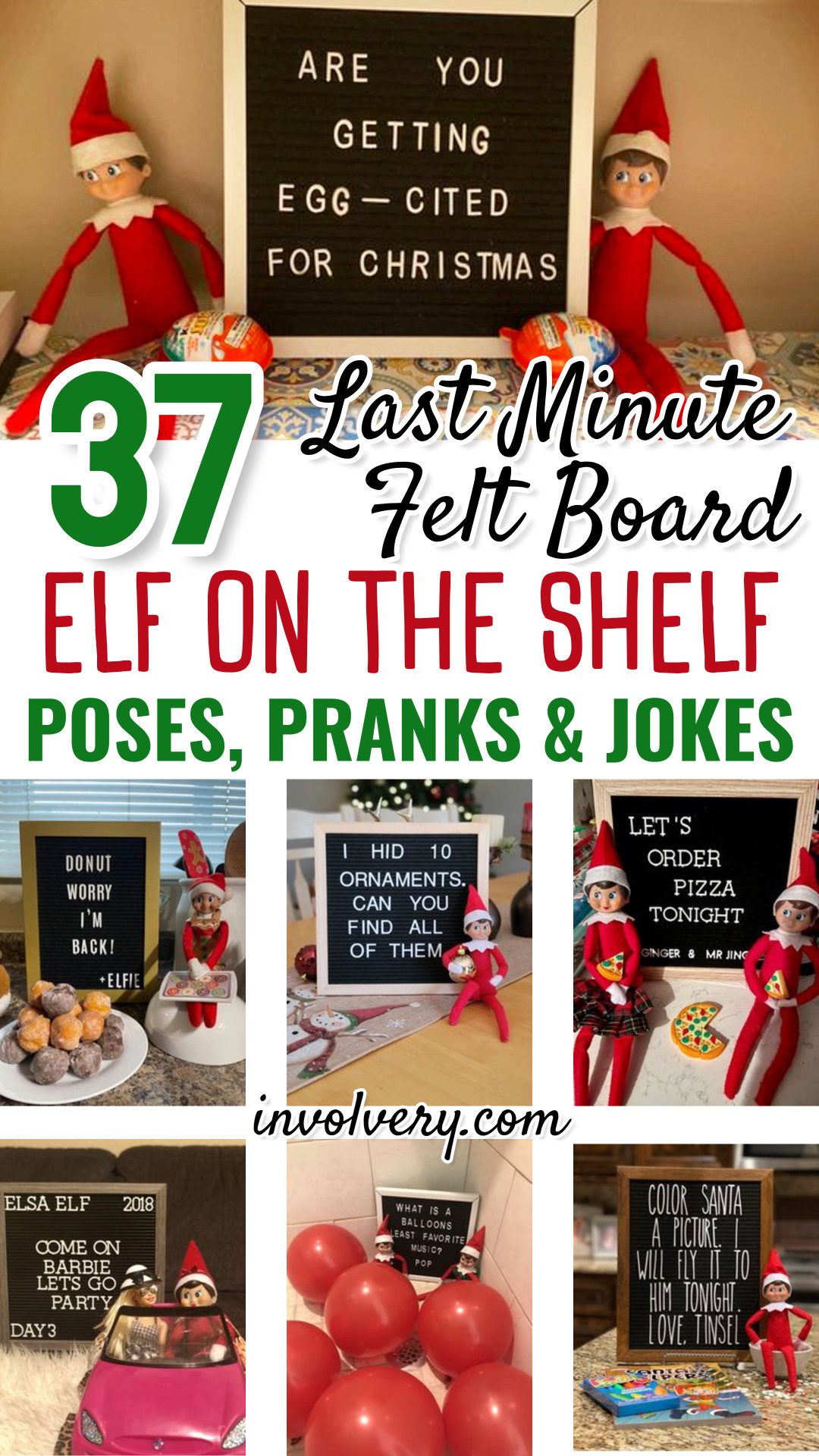 Basic Letter Board – One Font Style Option✅ I Found It Here Letter Board With LOTS Of Fonts and Symbols✅ I Found It Here
I seriously LOVE my letter board – I use it for LOTS of things but truth be told…
Having a letter board with LOTS of font styles and symbols has saved me MANY, MANY nights during Elf on the Shelf season!
Does The Elf Leave Gifts?
If you're new to the whole Elf on the Shelf thing, you're probably wondering if the Elf should bring gifts each night?
This is totally up to YOU.
In our house, our Elf (Snazzy) DOES bring little gifts each night and leaves a big gift on Christmas Eve when he leaves.
Some gifts our Elf has left are:
One of their most wanted toys for Christmas
Candy
New FUN toothbrush
Snack cakes
Mini LEGO sets
Pokemon Cards
Games
Barbie accessories
3d printed gifts (super cool!)
Action figures
Books
An "experience" type of gift where we, as a family, go somewhere fun
Whatever they're collecting that year (this year, these TeeTurtles are ALL the rage!)
Arts and Craft supplies
Stickers
Puzzles
That's just a short list of what Snazzy the Elf has brought for the kids.
✅ Do you NEED an Elf on the Shelf for each child?
We just have one Elf (Snazzy) and he provides enough fun pranks and antics for ALL the kids (and to be honest, that's about all I can handle haha!)
Again, it's up to YOU.
If one Elf on the Shelf doesn't cut it this Christmas, then maybe have your kids write a note asking your Elf to bring Elf friends NEXT Christmas.
✅ What if my child finds our Elf BEFORE he arrives?
There is nothing worse than sucking the magic out of Christmas for a child, don't you agree?
If your child finds your Elf in the off-season, here's a tip I've learned that protects the magic.
When you put your Elf away after he "leaves", be sure to write a note and keep it with the Elf where ever you store it.
For example, leave a note with your Elf that says something like:
"You found me! I popped in early to make sure you've being good!"
Or something along those lines.
Ok, let's look at some more simple Elf on the Shelf set ups and poses that are super cute AND easy enough to do last minute.
2023 Elf Ideas
Have you seen all these fun and easy Elf on the Shelf ideas and pranks? They are downright funny and so original!
If you need a good idea for that elf tonight, steal one of these new ideas other parents are using for Christmas 2023.
Great "oooops, I forgot" last minute Elf on a shelf ideas for those nights when you forget to put that crazy elf in position.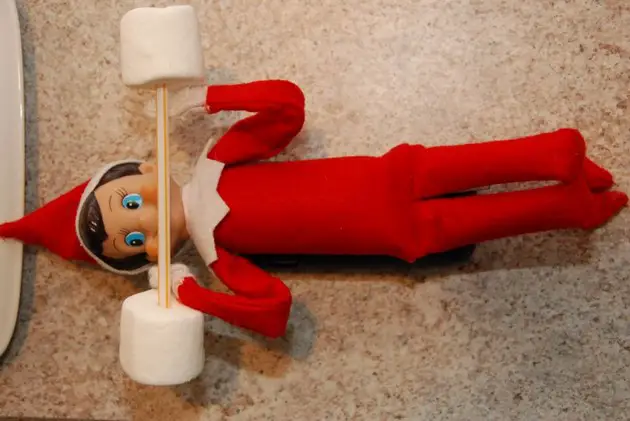 source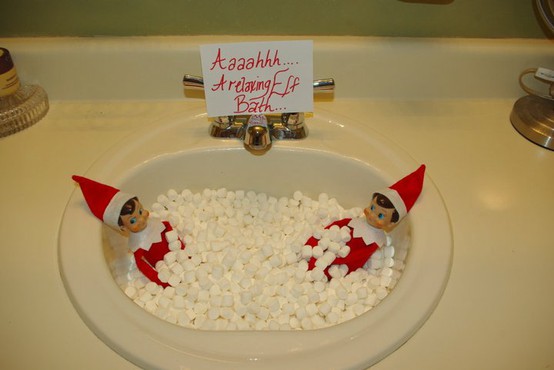 source
&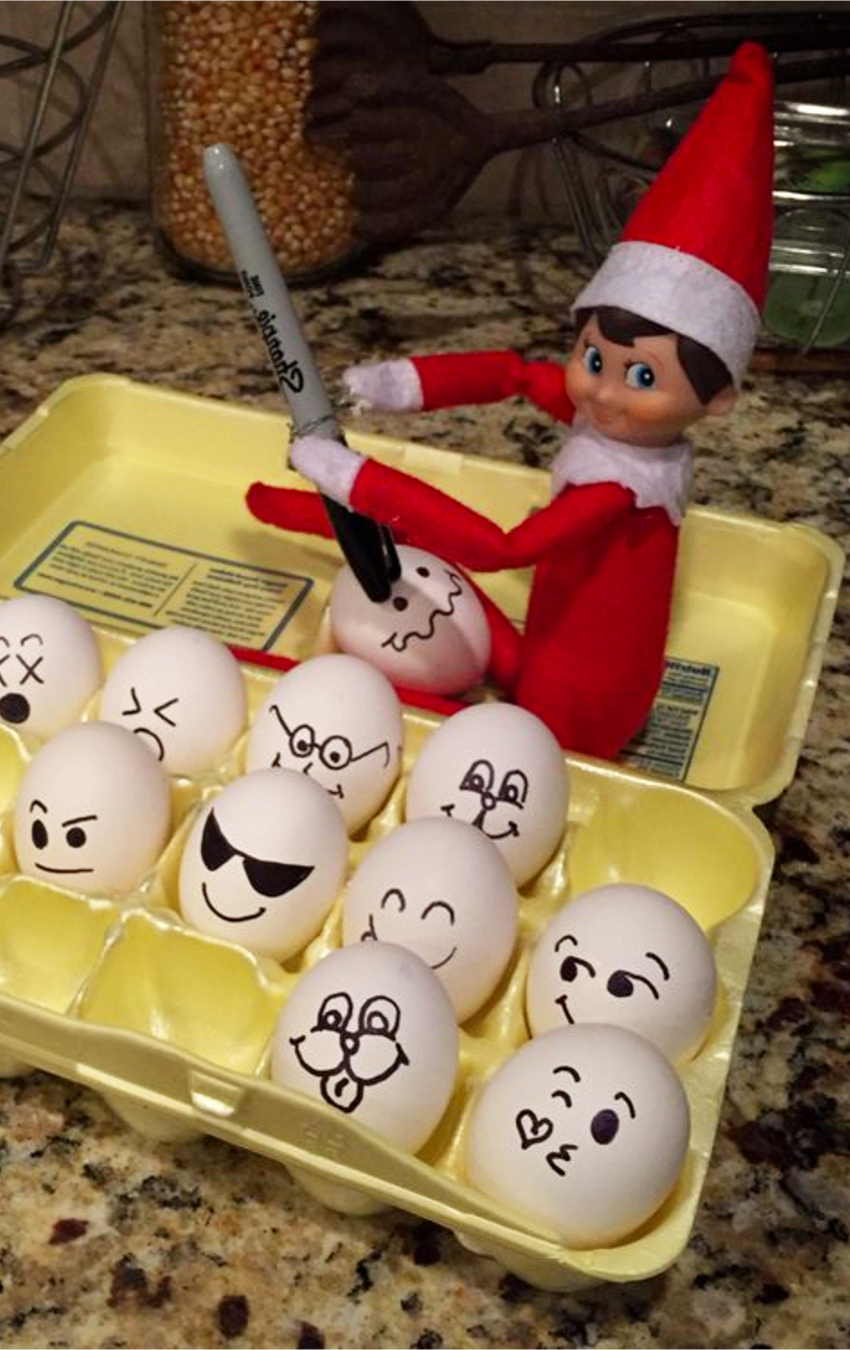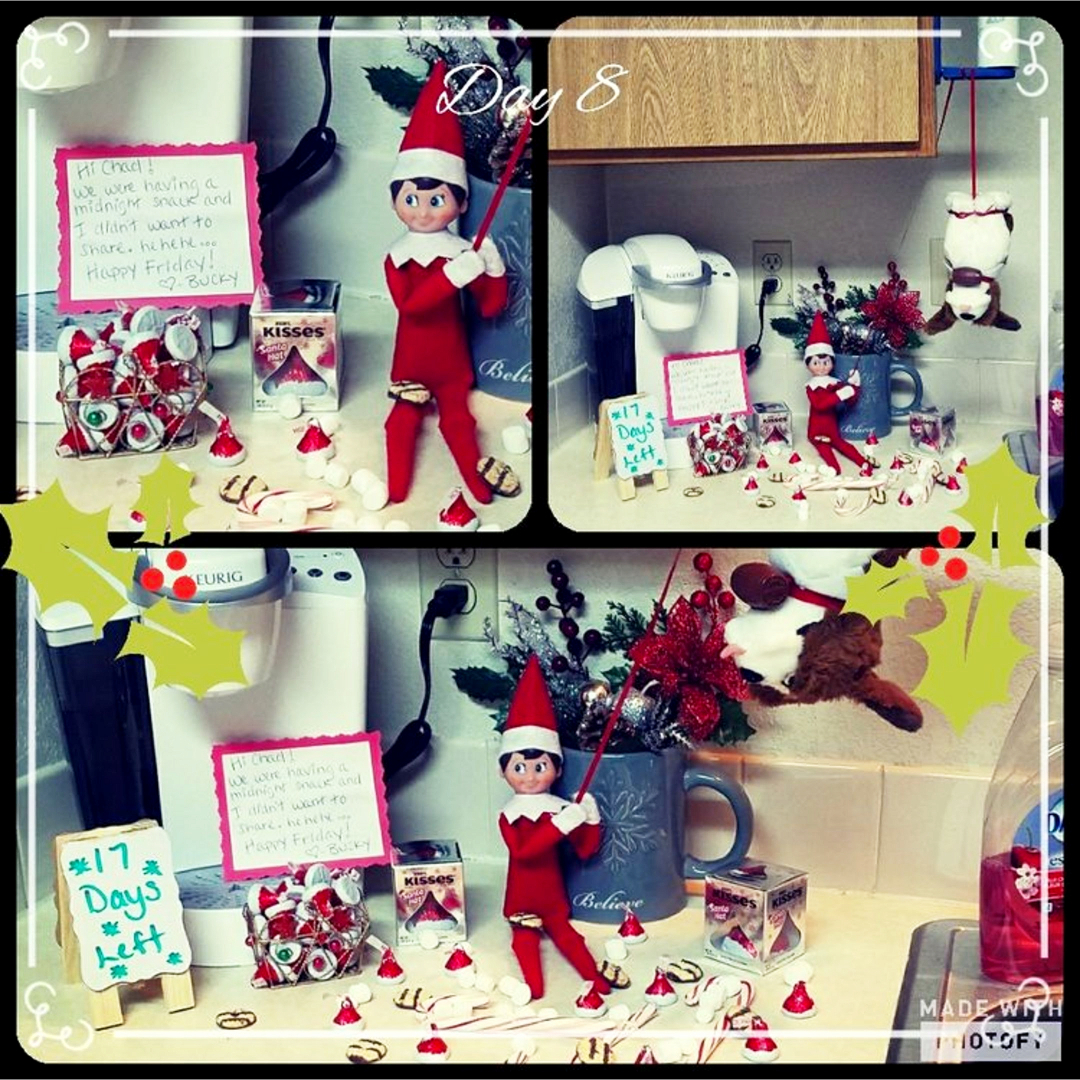 source
source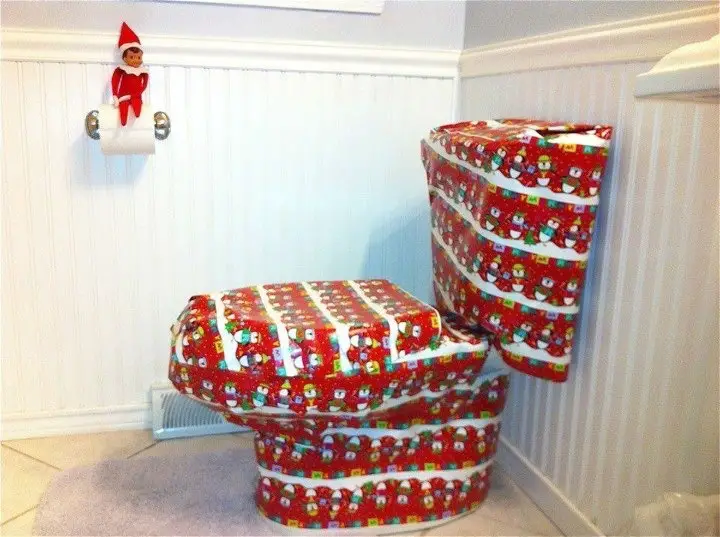 source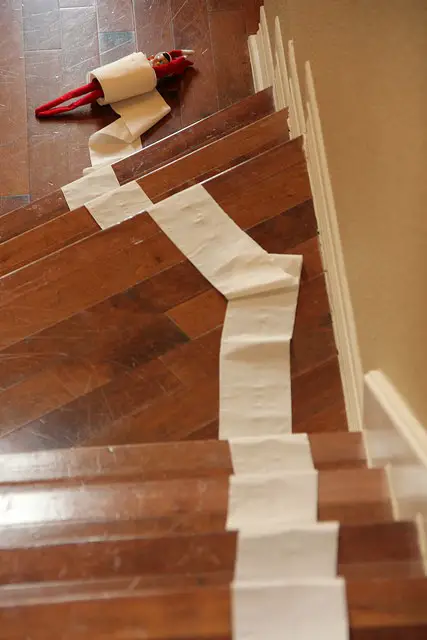 source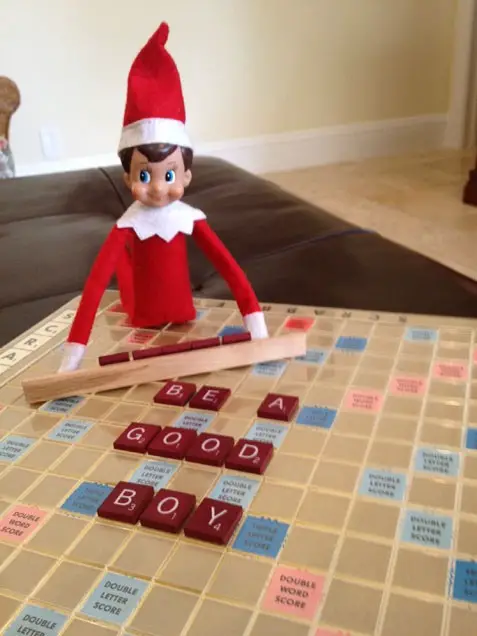 source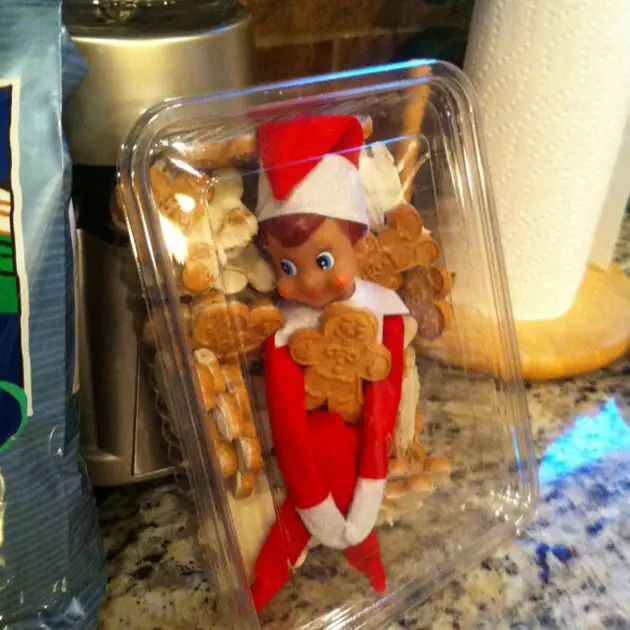 source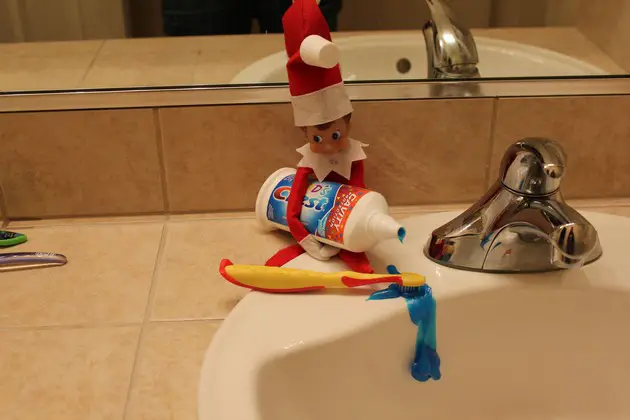 source
---
Looking for a Deal on a Hot Christmas Toy?
Just type what you're looking for in our search tool below:
---
See the Top 10 Christmas Toys for 2022 Here
Elf on the Shelf Pranks, 101 Shelf Elf Ideas, Shelf Elf Ideas Day One, Cute Elf Shelf Ideas, 101 Elf Shelf Ideas Pinterest, Easy Elf Shelf Ideas, Elf Shelf Ideas Pinterest, Christmas Shelf Elf Ideas, Elf on Shelf Pajamas, Elf on Shelf Clothes, Elf on Shelf Ideas.