Award Winning Toddler Toys – Here Are The Winners! We have lots of toys to share that are the top award winning toys in the Best Educational Toys category for 2023. These award winners are perfect for both boys and girls for all toddlers by age: for 1 year olds, 2 year olds, 3 year olds, and preschoolers too (4-5 year olds). Let's take a look at this year's Toy Awards winners…
---
---
Educational Toys by Age
On this page we will share our picks for best Award Winning Educational Toys by Age – while ALL toys look fun to children, it's important to pick age-appropriate learning/educational toys to help with brain development, toddler coordination, critical thinking and social skills.
Playtime and toys are so important for children of all ages – but perhaps even more so for younger children. This is what the American Academy of Pediatrics has to say (1) about playtime for young children:
Play allows children to use their creativity while developing their imagination, dexterity, and physical, cognitive, and emotional strength. Play is important to healthy brain development. It is through play that children at a very early age engage and interact in the world around them
 For 1 Year OldsShow Me This For 2 Year OldsShow Me This For 3 Year OldsShow Me This
Parents Choice Toys For Toddlers
Before we jump into OUR picks for best award winning educational toys, let's take a look at what the folks at Parents Choice pick as the best toys for toddlers.
These 3 toys below are the 3 best toddler toys for 1, 2 and 3 year olds according to Parents Choice:
 Play KitchenShow Me This STEM BloxShow Me This RollAgain TowerShow Me This
Toy Awards 2023
After reviewing the toy awards for 2023, we decided to share OUR picks of our favorite award winning toys – and below you'll see the winners!
Our criteria for choosing the best award winners on this page are that they toys needed to be educational AND fun…
AND affordable!
Let's jump in and take a look at each toy and break them down into best toys by age.
Best Toddler Educational Toys
When it comes to the best Award Winning Toys for 1, 2, 3 and 4 year olds, these are our picks (and the kids LOVE them too!)
Learning Toys For Toddlers
After watching the kids play with all the various toys, I noticed that this Laugh and Learn Puppy from Fisher Price was pretty darn amazing!
Not only did all the kids (ages 1,2,3 AND 4) love playing with it, they also seemed to learn a lot FROM that cute little SOFT development toy – it was pretty amazing!
While I'm not sure if this toy has won awards (yet), it is definitely one of our Top 20 Educational Toys for Toddlers when it comes to toddler developmental toys!
And, best of all, every time I check the price on that laugh and learn puppy, it's always really affordable.
 Fisher-Price Laugh & Learn Puppy BoyShow Me This Fisher-Price Laugh & Learn Puppy GirlShow Me This
1st Place Winner – Best Educational Toys for Toddlers
And the winner for Best Educational Toy for 2023 is…
This Fisher Price Bright beats Dance & Move BeatBo Toddler Toy!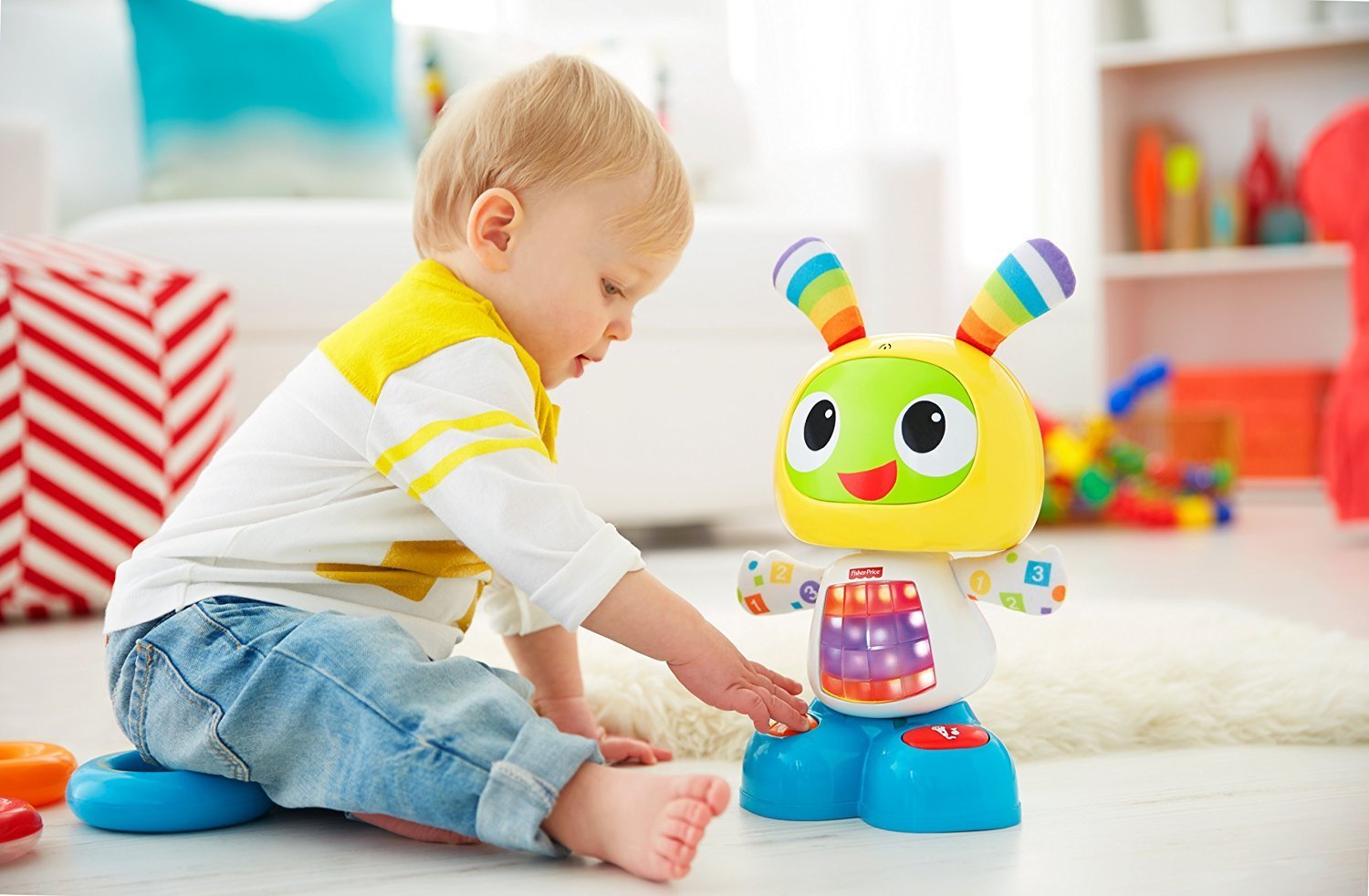 — Winner of Infant/Toddler Toy of the Year
— Large, multi-color LED grid tummy
— Fun "dancing" action gets his hips shaking and head nodding 3 modes grow with baby!
— Dance 'n Move: Fun, energizing music encourages your toddler to move around
— Includes "Freeze Dance"
Just LOOK at how cute it is!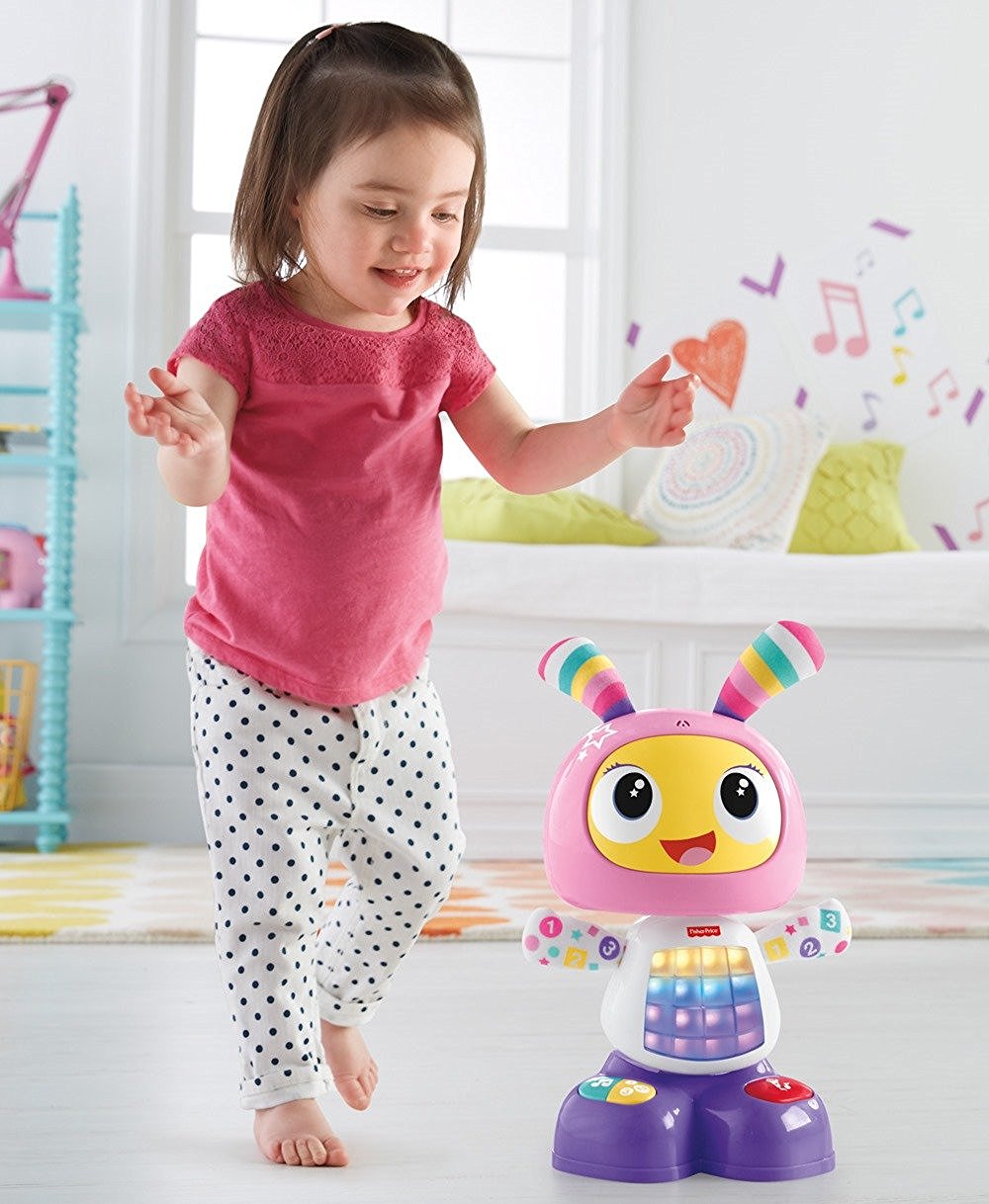 A press of BeatBo's tummy or any of the buttons on his feet activates fun songs, learning content and dance moves.
This futuristic friend even allows mommy or baby to record a phrase, and he'll remix it into his favorite song!
His 3 modes – Dance 'n Move, Learning & Games, and Customized Sing-Along – "grow" with our child to make him a fun, entertaining companion for years to come!
And all the while, he's introducing your toddler to letters, colors, counting, music, cause & effect and much more!
===>> Get More Details on this Award-Winning Toddler Toy Here
Award Winning Toys-1 Year Olds
These are the Top 4 award winning toys 1 year olds LOVE – each of these toys have won multiple awards and the 1 year olds have SO much fun playing with them!
 BEST LEARNING Whack and Learn Mole – Award Winning Interactive Light-Up Toy for Infants Babies Toddlers for 6 Month and upShow Me This TOP BRIGHT Activity Cube Toys – Award Winning Educational Baby Toys with Bead Maze for Toddlers 1 year oldsShow Me This Award Winning Learning Cube Toy for 1 Year Old – Educational Activity Center Block Toy for Infants Babies Toddlers for 6 Month and upShow Me This BEST LEARNING My Spin & Learn Steering Wheel – Award Winning Educational Toys for 1 Year Olds – Learn Colors, Shapes, Feelings & Music GameShow Me This
Award Winning Toys-2 Year Olds
When it comes to the best award winning toys that 2 year-olds really love, here is a short list of educational toys that kids age 2 and up really love!
as a sidenote…
Our 2 year olds all FLOCKED to this play kitchen toy – it was like a magnet for those 2 year olds – and some of the older kids too! And they LOVED it – played with it for hours!
 Interactive Educational Light-Up Toddler Toys for 2 Years OldShow Me This Touch and Learn Activity Desk for Toddlers Age 2Show Me This Play Kitchen with Realistic Lights & Sounds Age 2+Show Me This Double-Sided Art Easel with Magnetic Letters & NumbersShow Me This
Those are all exceptional educational toys for 2 year olds specifically – and they LOVE to play with them!
Award Winning Toys-3 Year Olds
Here is the short list of WINNERS in the Award Winning Toys 3 year olds LOVE category – each toy has won multiple awards:
 BEST LEARNING Book Reader Animal Kingdom – Educational Talking Sound Toy to Learn About Animals with Quiz Games for 3 Year OldsShow Me This BEST LEARNING Mushroom Garden – Interactive Educational Light-Up Toddler Toys for 3 Year Olds – Learn Colors, Numbers, Games & MusicShow Me This CozyBomB Magnetic Wooden Fishing Game Toy for Toddlers – Alphabet Fish Award Winning Counting Toys for 3 Year OldsShow Me This BEST LEARNING Connectrix Junior – Memory Matching Game for Kids – Original Interactive Educational Match Cards Toddler Games for 3 Year OldsShow Me This
Award Winning Toys-4 Year Olds
Below are our picks for the best Award Winning toys for 4 year olds (ie, pre-schoolers).
There are some really cute and affordable toys to choose from, but I have to say…
OUR 4 year olds LOVED these building toys!
They had THE best time with them and it was amazing to watch their creativity bloom!
 BEST LEARNING My First Piano Book – Educational Musical Toy for Toddlers Kids Age 4 Years and up – Ideal Gift for Boys and GirlsShow Me This The Learning Journey: Match It! – Spelling – 20 Self-Correcting Spelling Puzzle for Three and Four Letter Words with Matching ImagesShow Me This Aitbay Cool Math Game, Frog Balance Counting Toys for Boys & Girls Educational Number Toy Fun Children's Gift STEM Learning Age 4Show Me This Magna Tiles House Set, The Original, Award-Winning Magnetic Building, Creativity & Educational, Stem Approved, Solid & Clear ColorsShow Me This
2nd Place Best Educational Toy
This interactive, touch-sensitive light bar features innovative Smart Touch Technology that responds to your toddler's touch with music, lights, colors, sung songs & much more.
Get All Details for Smart Touch Play Space Here
3 ways to play as baby grows: Piano Play, Dance Party and Learning & Games. It's the ultimate toy for introducing baby to colors, numbers, ABCs, music, cause & effect and much more – while helping to strengthen motor skills and stimulate baby's senses of sight, hearing and touch! Busy activities, like ramps for fun ball play, a spinner and a colorful, bat-at roller ball, encourage baby to move and explore all around! This great play space will take baby from sitting to crawling to standing and cruising – providing learning and entertainment for every age, from infant to toddler.

3rd Place Best Educational Toy
Bring a soft, tummy-time friend to Play, Stow, and Go! Whether it's an afternoon at the grandparents' house or it's time to cook dinner, now it's easier to bring playtime almost anywhere.
Get All Details for This Elephant Toy Here
This busy elephant plush packs big fun with lots of colors, textures, sounds, and 7 activities for your child to explore. Little ones can discover themselves in the mirror, squeeze the squeaker, shake the rattle, and much more!
And don't worry if this pink elephant friend gets dirty, just toss it into a pillowcase and into the washing machine to clean. When it's time to pack up for your next adventure with baby, you can quickly fold it up for easy storage and portability. It's fun for your toddler, and easy for you!

==>> See ALL Award Winning Educational Toys for Toddlers Here
4th Place Best Educational Toy
Dive into adventure! This 3 in 1 Adventure Course stimulates and entertains your baby throughout 3 key developmental milestones. When sitting, your baby gets tactile with features like the submarine Peek-A-Boo door, the marine stretch wall, ball drop periscope and multiple clicker knobs. When crawling, watch your baby explore the course, discovering new ways to play. And when standing, through sounds and phrases from their new octopus friend, your toddler will be encouraged to play ball!
Get All Details for 3 in 1 Adventure Course Here
Product Features
• Three interchangeable play stations for multiple course combinations and easy storage
• Submarine play station: Peek A Boo door with rotating wheel, ball drop, stretch wall, clicker knobs and spinners
• Underwater play station: Crawl-through canopy and repositionable rattle link toy
• Octopus play station: Pull-me-up handles, ball drop, clickers, spinners, rewarding sounds and phrases when baby stands!
• 20+ encouraging reward sounds babies will love
• Batteries: 3AA required (not included)
• Ages 6-36 months
5th Place Best Educational Toy
Little ones love watching Elmo play with his friends on Sesame Street. Now it's their turn to play along with Elmo: Meet Play All Day Elmo! This cuddly and interactive Elmo toy includes 8 games and activities and 150+ responses to help keep kids engaged.
Get All Details for Play All Day Elmo Here
Play All Day Elmo has 2 modes of play (Toddler and Preschool) to encourage both younger and older children to have fun. Young children can enjoy basic cause-and-effect play in Toddler mode, like tickling Elmo or squeezing his nose to see how Elmo might respond. Preschool mode takes play to the next level by encouraging preschoolers to play games and activities, like "Red Light Green Light," "Pat-a-Cake," "Freeze Dance," and more! When playtime is over, preschoolers can cuddle with him while listening to a lullaby. After everyone is rested, your child can start the fun again!

6th Place Best Educational Toy
Experience your favorite stories on the big screen. Simply place your Press'n Play character on the screen of your smart device to unlock y our favorite story. Then though a wireless connection with the projector, watch as the story magically comes to life on the wall.
Get All Details for Storytime Theater™ by Tech 4 Kids Here
This Tech 4 Kids Story Time Theater features:
Read -Along Mode: Parents or child read the digital story on the app and control projector by turning the pages on the app, which will turn the pages on the wall
Storytime Mode: The parent/child controls the projector by turning the pages of the digital book within the app and the story is read to them by the narrator
Bedtime Mode: Projector automatically plays book while Narrator reads story through and then transitions to a starry sky night light with gentle music and an auto shut off when finished
More Educational Toys for Toddlers & Preschoolers
Parents are well aware that educational toys can help with their children's brain development and problem-solving skills. It can be frustrating, though, to discover that many educational toys are very expensive. If you are looking for an alternative to pricey educational toys, here are some great ideas for cheap toys that are developmentally-appropriate for toddlers and preschoolers. It's good to know that you can buy toys that can promote learning without breaking the bank.
For toddlers who are 12 to 18 months old, toys that help them practice spatial skills, dumping and sorting are the most appropriate. At this age, babies love to toss things into a container and dump them out again. They can do this for hours without getting bored. Stacking toys help toddlers to sort and organize objects. You can find many cheap toys for stacking, such as stackable plastic cups and rings. These toys help little toddlers develop their hand-to-eye coordination. Toddlers can also enforce their spatial skills of "in" and "out". Young preschoolers will also love playing with blocks and shapes that they can sort into containers. Other cheap educational toys for this age group are pounding toys and books.
Cheap stacking toys include the Melissa and Doug Geometric Stacker and the Fisher Price Brilliant Basics Rock-a-Stack.
For toddlers who are 2 to 3 years old, consider buying toys that enhance their large muscles and develop fine motor skills. Balls of different sizes are cheap toys that will provide loads of fun for young children while building large muscles and enhancing hand-eye coordination. Simple puzzles, building blocks, coloring and painting activities, etc. can also provide opportunities to develop their mental and problem-solving skills.
At this age, toddlers love to play make believe games. Old Halloween costumes and discarded hats and clothing can foster role-playing and pretend play. These toys are not only cheap but they may even cost you next to nothing. Your toddler, however, will get loads of fun out of the costumes and accessories.
When you buy inexpensive playthings, always take note of the recommended age range of the toy. Even if your child is advanced for his age, it does not mean that he can handle a toy meant for older children. Aside from skill levels, safety concerns must be taken into account, such as choking hazards.
 For 1 Year OldsShow Me This For 2 Year OldsShow Me This For 3 Year OldsShow Me This
Favorite Toys for Toddlers, Educational Toys for Toddler, Toys for Toddlers Age 1, Toddler Toys 2019, Children Educational Toys, Children's Educational Toys by Age, Educational Toys for 3 Year Olds, Educational Toys for 2 Year Olds, Toy of the Year Awards 2019, Parents Choice Awards Toys, Top Toys for 2019 Holiday Season, 2019 Toy Awards.