---
Simple Slow Cooker and CrockPot Side Dish Ideas For a Potluck Party Crowd – Here's my on-going collection of easy crockpot mac and cheese side dish recipes that I cook at home, for family gatherings, holiday meals, our annual block party, and for potlucks – I love easy things like this to take to a potluck at work or church!
Mac 'n cheese is one of my favorite simple Thanksgiving potluck side dishes, too!

---
Updated on January 26, 2023
posts may contain affiliate links -Enjoy and feel free to share with your friends!
---
CrockPot Potluck Side Dish
The absolute BEST potluck side dish is… mac n cheese. If you bring it to a work potluck or to a church supper, you WILL be the favorite person in the room!
Below are 8 easy recipes to make macaroni and cheese in your crockpot slow cooker to take to YOUR potluck crowd.
Mac and cheese is an absolute family favorite here and now that I have these super simple crock pot mac n cheese recipes, it's one of MY favorites too. So easy to make and SO yummy!
My family loves any meal that includes a macaroni and cheese side dish!
In fact, my kids have requested that I made Mac and Cheese Bacon Cheeseburgers before (yes, the mac and cheese is the "bun"!!!):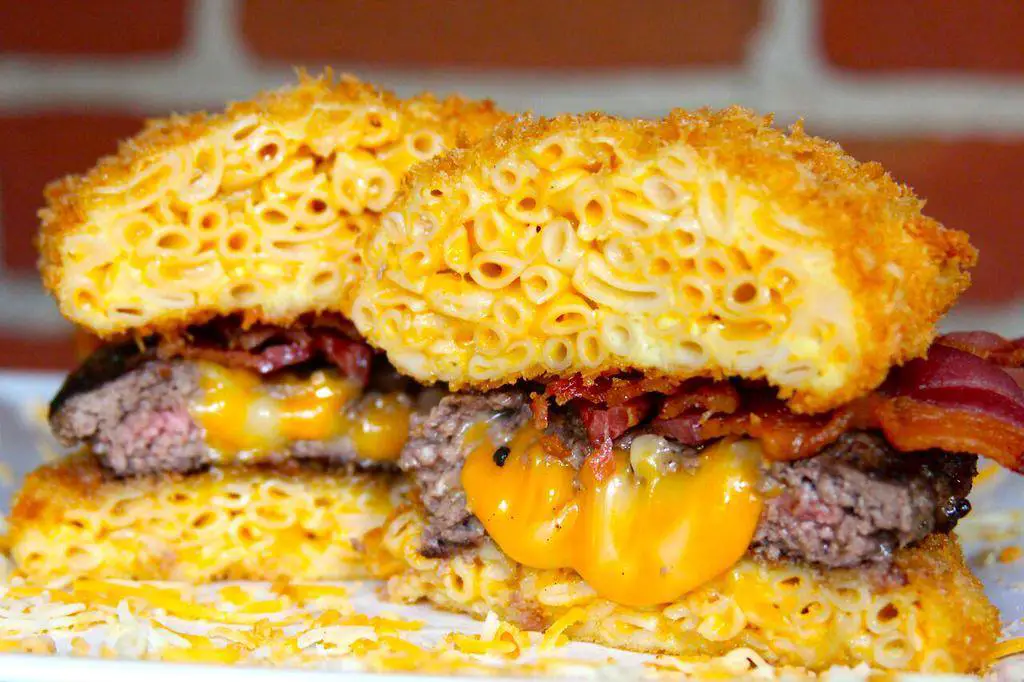 So, yep, we LOVE macaroni and cheese!!!! To me, mac and cheese is the ULTIMATE comfort food and a number one crowd-pleaser recipe!
note:
I use the slow cooker setting on my Ninja cooker for these crockpot macaroni and cheese recipes – perfect every time!
If you've never cooked with a Ninja, you really should check it out! It's the BEST appliance in my kitchen.
LOVE this cooker!!! Instant Pot IP-Smart Bluetooth-Enabled Multifunctional CookerRead Reviews
Let me share a quick little tip with you…
If you're cooking mac and cheese in your slow cooker / crockpot…
They make clean up a BREEZE!
No Boil Crockpot Mac and Cheese Recipes
This is our family favorite slow cooker mac and cheese recipe. I LOVE that I don't have to boil the pasta first!
If you're looking for a more traditional (like Grandma used to make) style of macaroni and cheese, this is it.
Not only is it so easy to make (just dump everything in your crockpot and let it cook), it's also THE easiest make-ahead potluck side dish for a crowd.
If I need something to bring to a potluck at work or church – this is the side dish I bring.
In fact, I'm bring it this year to our Easter potluck at church, too.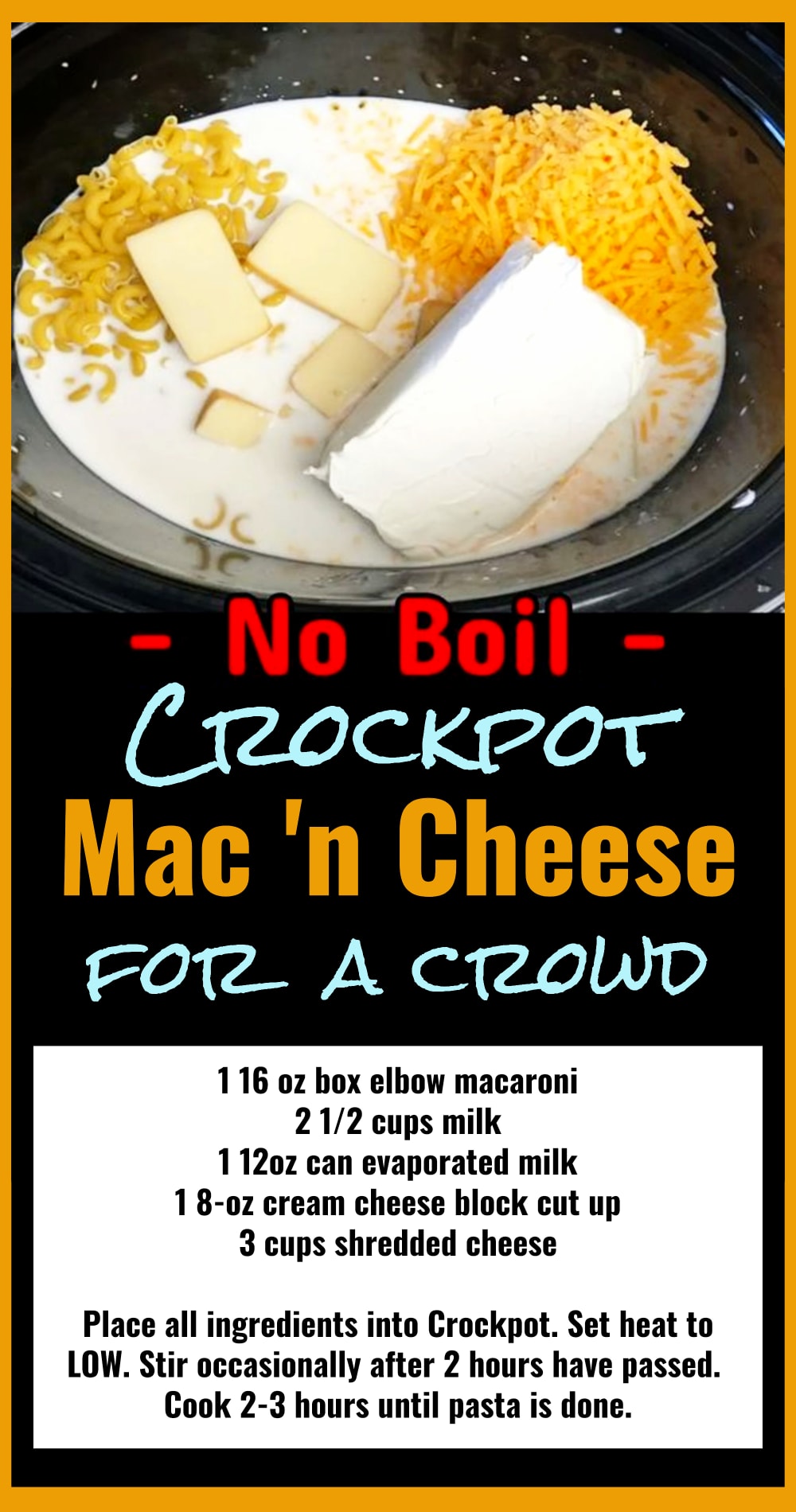 Notes about this crockpot Mac & Cheese Recipe:
Unless you REALLY like the taste of cream cheese in your mac and cheese, don't use the whole 8 oz block. Instead use half the block (4 oz) and a few slabs of butter – you can always add in some more cream cheese as it cooks if you really want.
My family likes our mac and cheese REALLY cheesy so I add 4 cups of shredded cheese instead of only 3 cups. Sometimes I'll add a couple chunks of Velveeta to the 3 cups of cheese instead of adding an additional cup of shredded/grated cheese.
you might also like…
Gourmet Mac & Cheese Recipe
Here's a gourmet mac & cheese recipe that puts a unique twist on a one pot, no boil crockpot mac and cheese…
Ok, it isn't really gourmet macaroni and cheese but it sure tastes like gourmet macaroni & cheese even though it is super easy and quick to make!
If you have picky eaters in your house (as I do!), you need to try this unique and super simple crockpot mac and cheese recipe: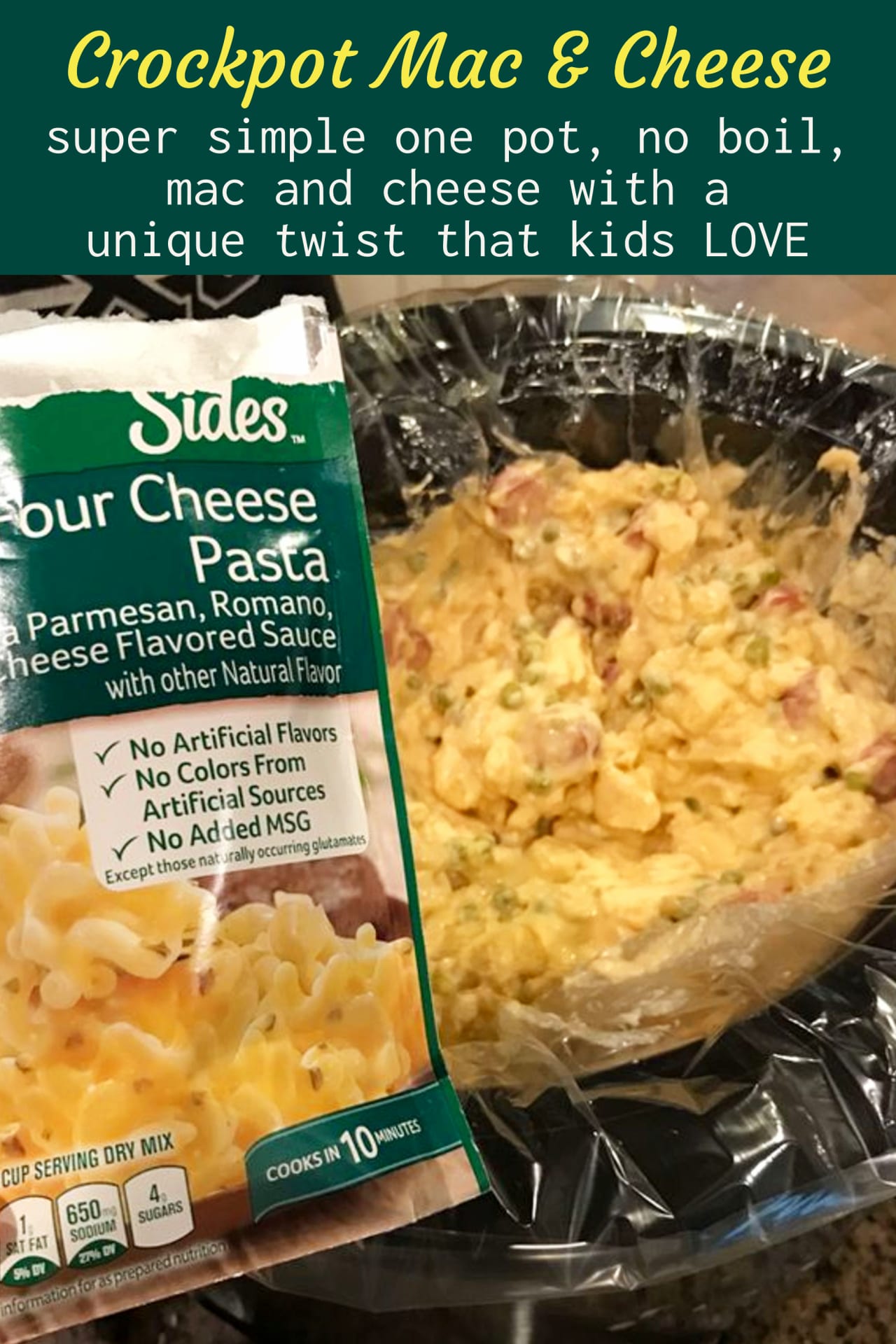 Here's the recipe:
Knorr Four Cheese Pasta (4.1 ounce pack)
12 Ounces Elbow Pasta (uncooked)
2 Cups Shredded / Grated Cheese
4 Ounces Cream Cheese (half block)
2 1/2 Cups Milk
1/2 stick butter cut into slabs
Dump everything in your crockpot and then cook on low for at least 3 hours (if you're in a rush, cook on high for at least 1 1/2 hours or until pasta is tender).
Optional:
Here's the twist on this mac and cheese recipe that my picky eater kids love…
You can add hot dog pieces or peas or anything else you like in your mac and cheese (my kids LOVE when I put hot dogs chunks in it)
Slow Cooker/Crockpot Creamy Macaroni and Cheese Recipe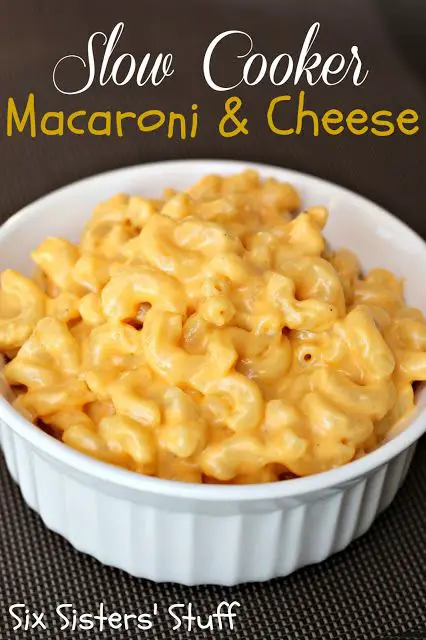 Ingredients
1 (10.75 oz) can Cheddar cheese soup, condensed
1/2 tsp Mustard, dry
2 cups Elbow macaroni
1/2 tsp Black pepper
1/2 tsp Salt
4 tbsp Butter
2 1/2 cups Cheddar cheese, grated sharp
1 cup Milk
1/2 cup Sour cream
Mix all ingredients together in your crockpot and cook for 2 hours.
Best Slow Cooker Mac and Cheese Recipe
In this easy mac and cheese recipe video, I'm going to show you how to make macaroni and cheese in the Crock-Pot / slow cooker.
I use regular elbow macaroni pasta for my mac & cheese. I use Campbell's Cheddar Cheese condensed soup, as well as basic cheeses such as sharp cheddar, and colby cheese for this mac and cheese recipe.
I pretty much put everything in the Crock-Pot, and let it cook on low for 3 hours.
The outcome is amazing! It's the perfect recipe for homemade macaroni and cheese. Give it a try, and impress your loved ones with your chef skills!
Easy Crockpot Macaroni and Cheese with BACON Recipe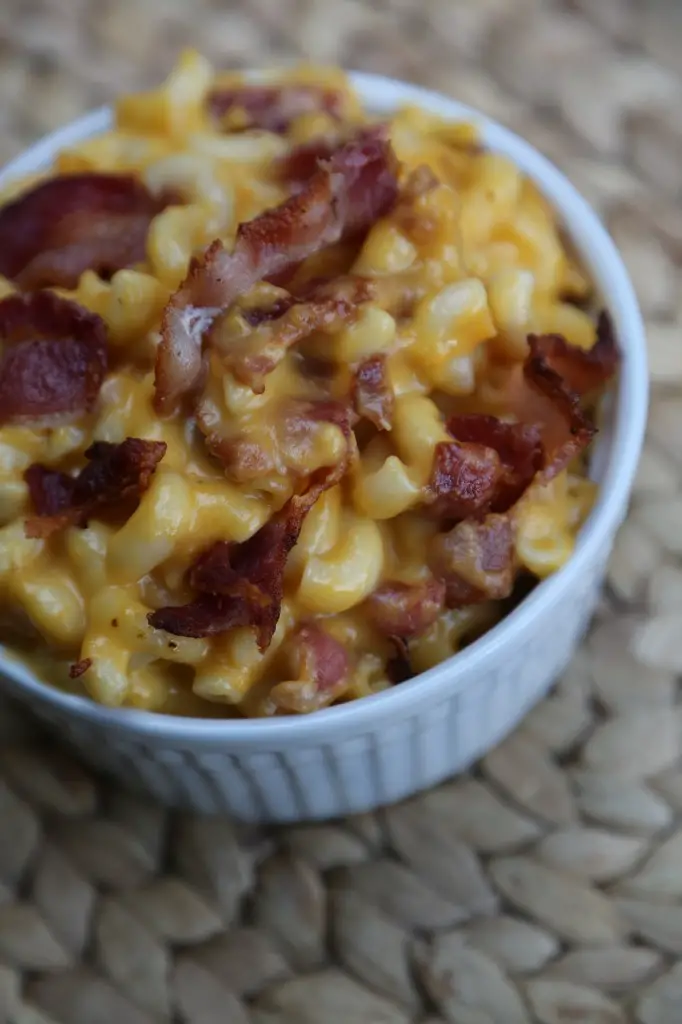 Ingredients
4 strips cooked bacon
1 can Cheddar cheese soup
3 cups Elbow macaroni
Salt and pepper to taste
2 1/2 cups Cheddar cheese
1 cup Milk
3 tbsp Butter
Easy Crockpot Mac and Cheese Recipe
Slow Cooker Macaroni and Cheese is an awesomely simple recipe. Just chuck everything into the crock pot and let it work it's magic. It's rich, creamy, cheesy and ridiculously simple to make – give it a go!
How To Make Crockpot Mac n' Cheese
Recipe INGREDIENTS:
16 ounces macaroni pasta
16 ounces Monterrey Jack cheese, cubed
16 ounces Colby cheese, cubed
16 ounces Velveeta (cubed)
1 stick of butter, cut into slices
16 ounces milk
salt & pepper, to taste
~I used a 32 ounce block of Monterrey Jack & Colby cheese
Cook on low for 4 hours (open at 2 hours and stir really well)
Simple Crock Pot Mac and Cheese Recipe
Crockpot Mac and Cheese with Velveeta
The Kraft site has a super easy Crock Pot Mac and Cheese recipe that uses their Velveeta cheese… and boy oh boy, it is GOOD!
Ingredients:
3 1/2 Cups Milk
2 1/2 Cups Elbow Macaroni Uncooked
1 lb (16 ounces) Velveeta cut into 1/2 inch cubes
1/2 cup water
1/4 cup butter cut into small pieces
Directions:
– Spray slow cooker with cooking spray
– Dump in an all ingredients and mix
– Cook on Low for 2 1/2 – 3 hours (or high 1 1/2 to 2 hours)
– Turn off heat and let stand covered for about 15 minutes
Done!
Crock Pot Mac n' Cheese with Cream Cheese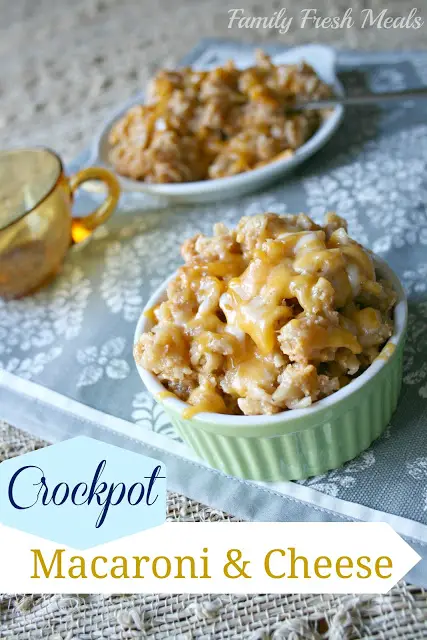 This is a really easy Crock Pot Mac n' Cheese with Cream Cheese Recipe:
Ingredients:
– 1 box (13.25oz) of rotini, shell or macaroni pasta
– 4 TB butter
– 4 cups shredded cheese (I used a Colby-Jack blend, but Cheddar would work great too)
– 4 oz cream cheese, at room temperature, cubed
– 1.5 cup of milk
– 12oz evaporated milk
– 1/4 cup sour cream
– 1/2 tsp salt
– 1/2 tsp pepper
– 1/2 tsp paprika
Instructions:
1. In crockpot mix together butter, cream cheese, milk, evaporated milk, sour cream, salt, pepper and paprika. Try to stir out as many lumps as possible.
2. Stir in UNCOOKED noodles.
3. Top with shredded cheese. (DO NOT mix at this point. The cheese will melt and make it's way through the noodles. Cover and cook on LOW for 3-4 hours.
$17.99
$24.99
in stock
2 new from $17.99
3 used from $16.53
$5.96
$8.49
in stock
8 new from $5.96
1 used from $5.47
$12.51
$12.52
in stock
1 new from $12.51
Last updated on November 26, 2023 2:51 pm