---
Fun and Easy DIY Grinch Decorations, Christmas Trees, Wreaths and Ornaments (outdoor Grinch decorations too!)
Take a look at these super cute (and EASY) handmade Grinch Christmas ornaments, decorations and Grinch tree ideas – lots of cute Grinch crafts for kids to make, too. My kids love ANYTHING "Grinch" at Christmas – so all our Christmas craft projects are Grinch crafts, Grinch decorations – and yes, Grinch Christmas ornaments on our Grinch Christmas tree, too!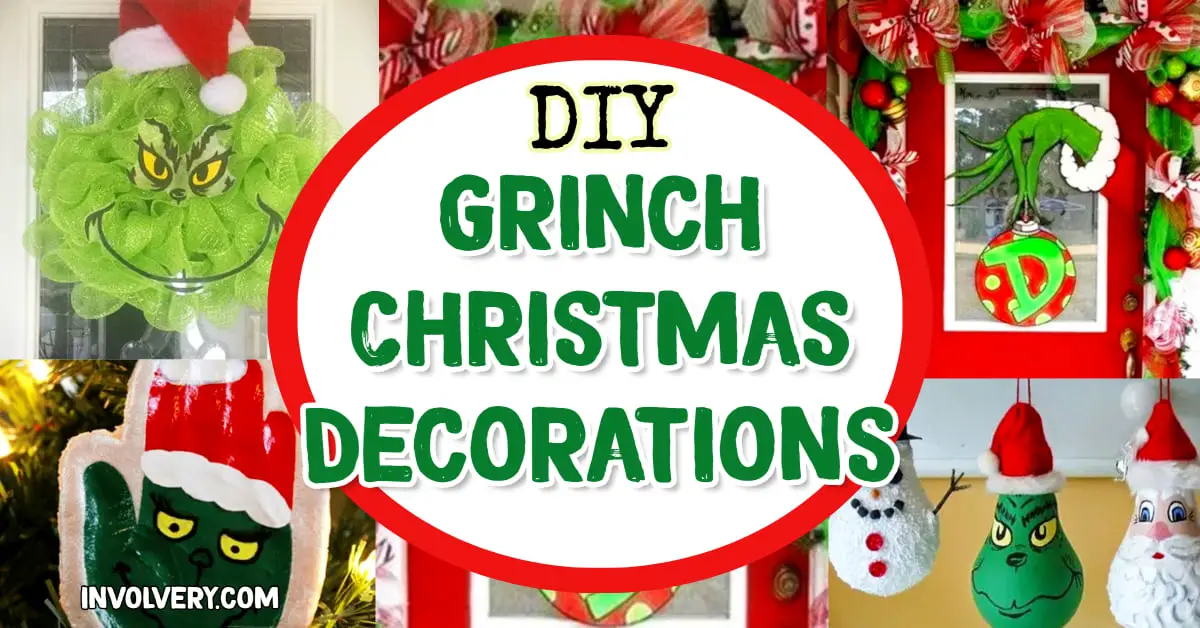 ---
Updated on November 29, 2022
posts may contain affiliate links -Enjoy and feel free to share with your friends!
---
From DIY Grinch Christmas ornaments to make…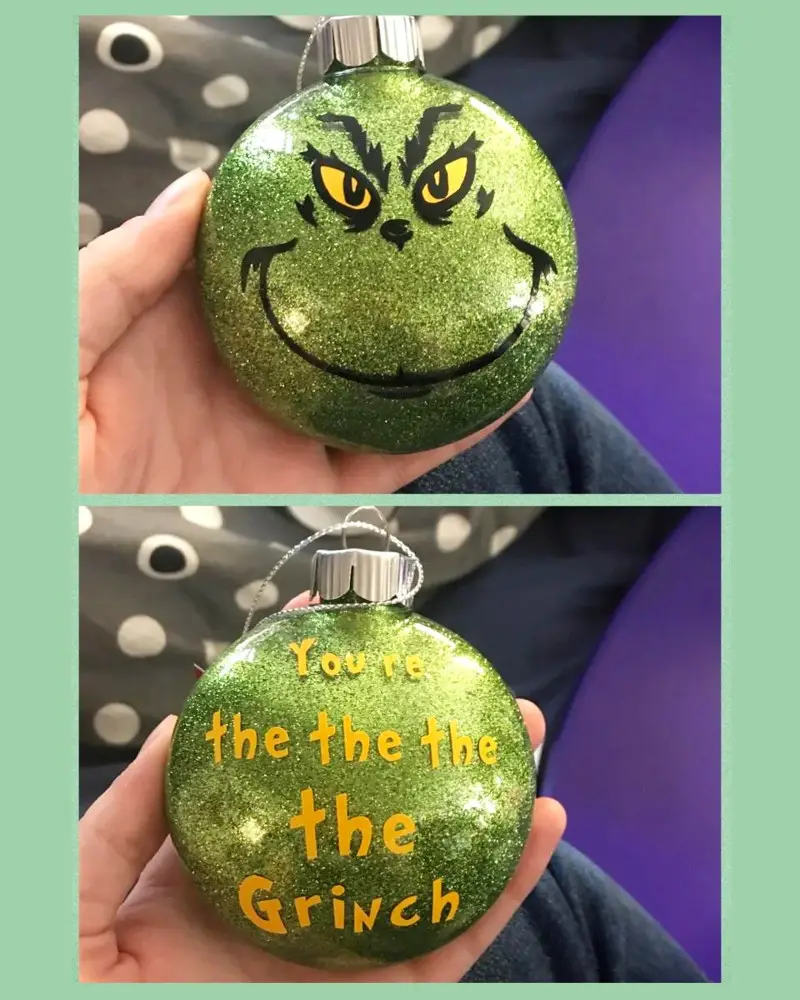 To gorgeous Grinch-themed Christmas wreath ideas…
There are TONS of handmade Grinch Christmas craft projects and decorating ideas on this page below.
Let's start with Christmas TREES…
Grinch Christmas Trees!
Before we look at all the DIY Grinch decorations you can make, take a look at these adorable Grinch Christmas tree decorating ideas!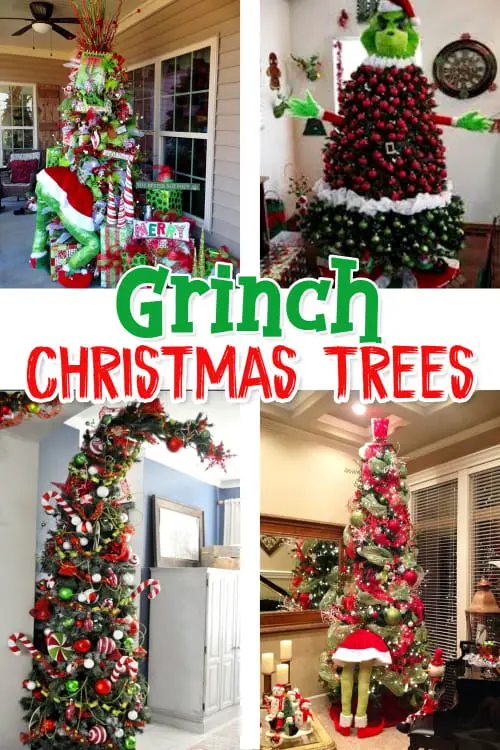 People are SO creative, right?
Grinch Christmas Tree Decorating
If you're planning on a Grinch Christmas tree this year, here are some tips to help make decorating your Grinch tree easier:
✅ How To Decorate a Grinch-Style Christmas Tree
Use lots of clear Christmas tree lights to make your Grinch tree glow
Stick with the red, white and green "Grinch" color scheme
Use large "chunky" decorations in the same color scheme but varying patterns and shapes
Use Deco Mesh ribbon – NOT normal ribbon
Fill in with smaller ornaments that have a "Whoville" feel
Make some DIY Grinch ornaments to tie it together
Make (or buy) a Grinch Christmas tree topper
Consider using a WHITE artificial Christmas tree like this (makes the colors pop better)
I love decorating for Christmas – and REALLY love MAKING Christmas decorations. Each year I try and pick a theme and make a few new decor items for my house.
This year: it's GRINCH / Whoville themed Christmas decoations for me.
Let me show you all the super cute – and easy – Grinch Christmas decorations and decorating ideas you can make this year.
DIY Grinch Christmas Decorations
Let me show you a slideshow of some super cute handmade Grinch Christmas ornaments, craft ideas for the kids and Grinch holiday decorating ideas.
I am in LOVE this easy deco mesh Grinch wreath – super cute and really easy to make too!
Let's look at more pictures of handmade Grinch Christmas decorating craft projects..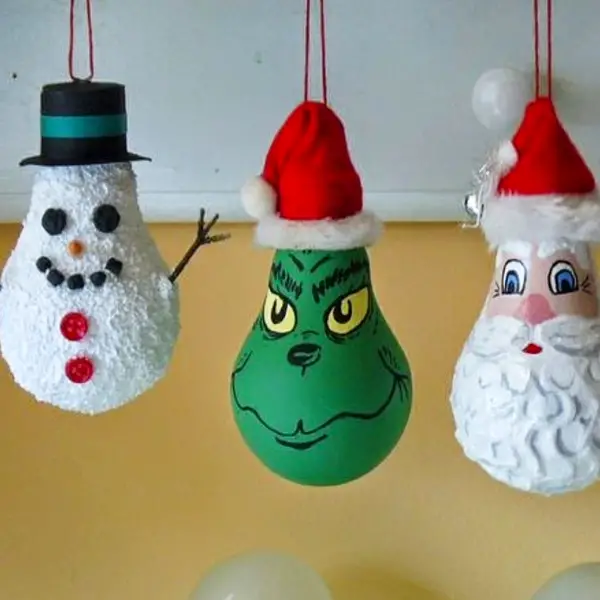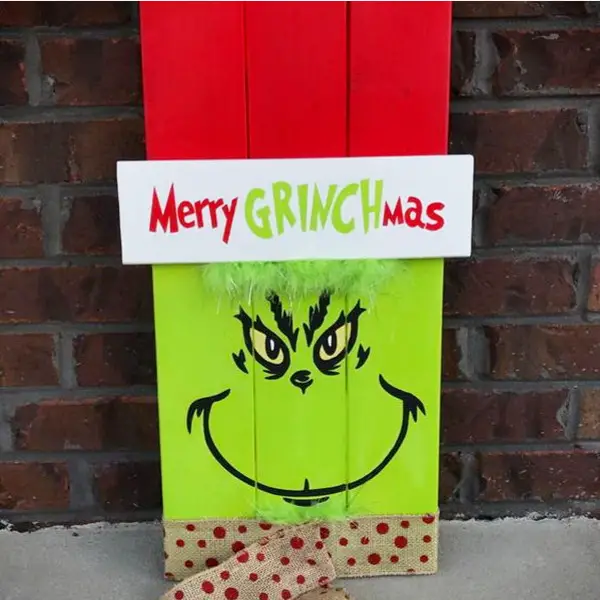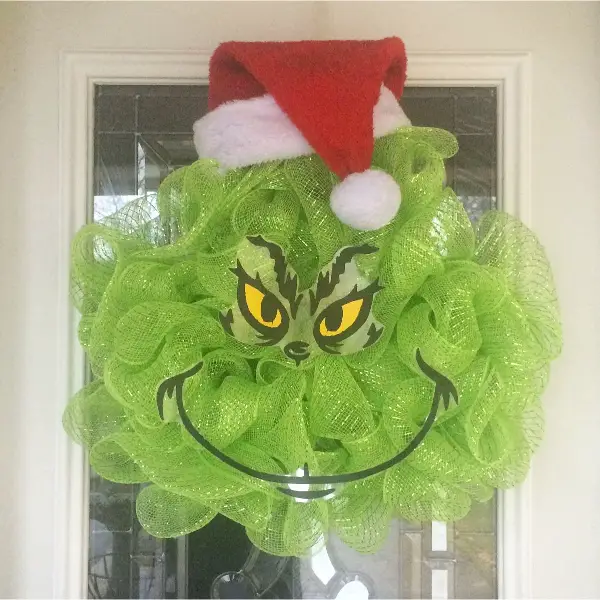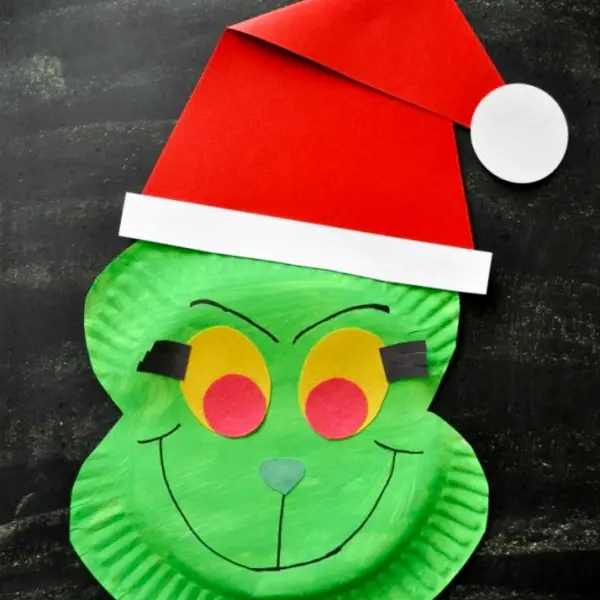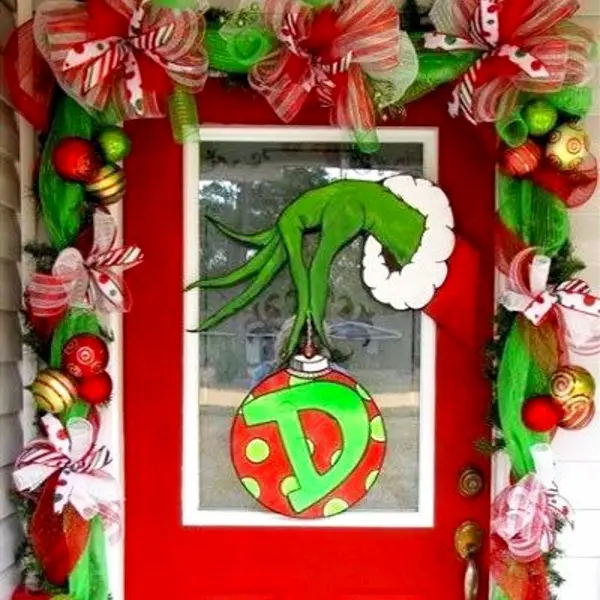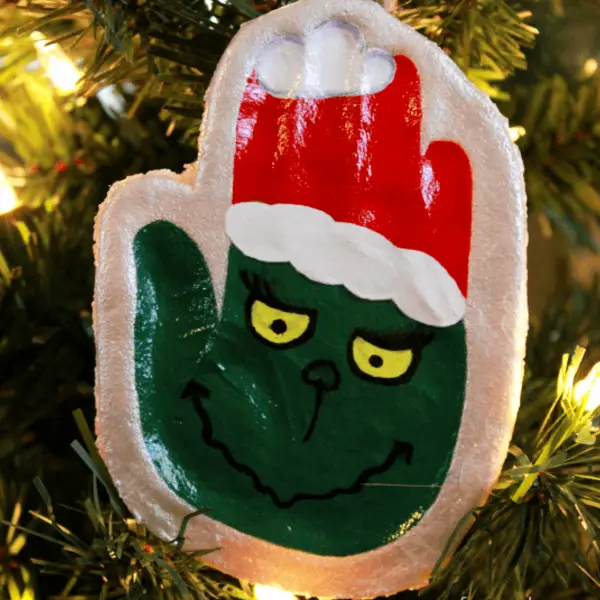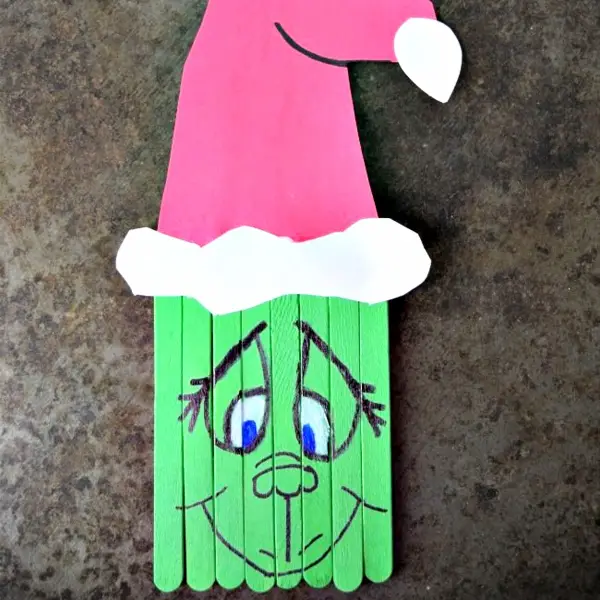 Grinch Christmas Gnome Tutorial
I love Christmas gnomes – in fact, I have a tutorial on how to make Gnome Christmas Trees here.
But THIS gnome tutorial is how to make a GRINCH gnome decoration – and they are SO cute.
Best of all – there is NO SEWING involved:
Grinch Porch Signs Tutorial
Another favorite DIY in this house is easy pallet projects.
This next tutorial shows you how to make a Grinch porch sign out of pallet wood for your front porch or anywhere outdoors (or inside, too)
DIY Grinch Wreath Tutorial
You probably saw that super cute handmade Grinch Christmas wreath above… here's how to make it:
Grinch Coffee Bar Ideas
I decorate my coffee bar for ALL the holidays and ALL the seasons… this year, I'm going to decorate my coffee nook area in a Grinch Christmas theme like this:
Outdoor Grinch Christmas Decor
Here are some cute OUTDOOR Grinch Christmas decorations, ornaments and lots of stuff for a Grinch-themed Christmas and Grinch Christmas Tree this year:
 Gemmy 19836 Airblown Grinch and Max in Sleigh Christmas InflatableShow Me This LemonationFF The Grinch Stole Christmas 4 Piece Shower Curtain Set with Non-Slip Rug, Toilet Lid Cover, Bath Mat and 12 Hooks, Floral Lotus Waterproof Shower Curtain Set for BathroomShow Me This Grinch Stealing the Christmas Lights Whoville Sign Max The Reindeer Cindy Lou Who Handmade Wooden Yard Art Decor 4 Piece BundleShow Me This How the Grinch Stole Christmas! Book and Grinch (Classic Seuss)Show Me This DSWEESUN Grinch Christmas Pillow Covers 16×16 Set of 4, Merry Grinchmas Throw Pillow Covers for Sofa Couch, Winter Holiday Xmas Rustic Christmas DecorationsShow Me This Gemmy Christmas Inflatable 12′ Grinch on Sleigh w/Dog Max Dr Suess AirblownShow Me This Gemmy 6′ Airblown Grinch and Max w/Presents Scene Christmas InflatableShow Me This GuliriFei How The Grinch Stole Christmas Burlap Wreath, Christmas Garland Decorations Jolly Santa Wreath for Home DecorShow Me This Dr. Seuss The Grinch Inflatable Naughty List Christmas Holiday Lawn Decor 5.5ft Tall by Gemmy Industries Airblown Lights UpShow Me This HAO Grinch Stealing Christmas Yard Sign, Novelty Left Facing Green Mosnter Funny Lawn Decoration for Christmas Garden, Indoor&Outdoor,Christmas Tree DecorationShow Me This 8Pcs Grinch Steal Window Sticker Christmas Window Decal, Christmas Ornaments Elk Christmas Tree Elf Cute Character Window Sticker,Reusable Decoration Home School Office Supplies Christmas Window DecalShow Me This Tervis Dr. Seuss – Grinch Christmas Quote Tumbler with Wrap and Red Lid 16oz, ClearShow Me This HAO Grinch Stealing Christmas Yard Art Garden Christmas Holiday Decoration, for Outdoor&Indoor,Wall, Frontdoor, Fireplace,Christmas Tree DecorationShow Me This Drink Up Grinches Banner Red and Green Glitter- Christmas Party Supplies, Grinch Christmas Decorations, The Grinch Christmas Decorations, Grinch Backdrop, Grinch Decorations for Home Office MantelShow Me This
Merry Grinch-Mas All Through the House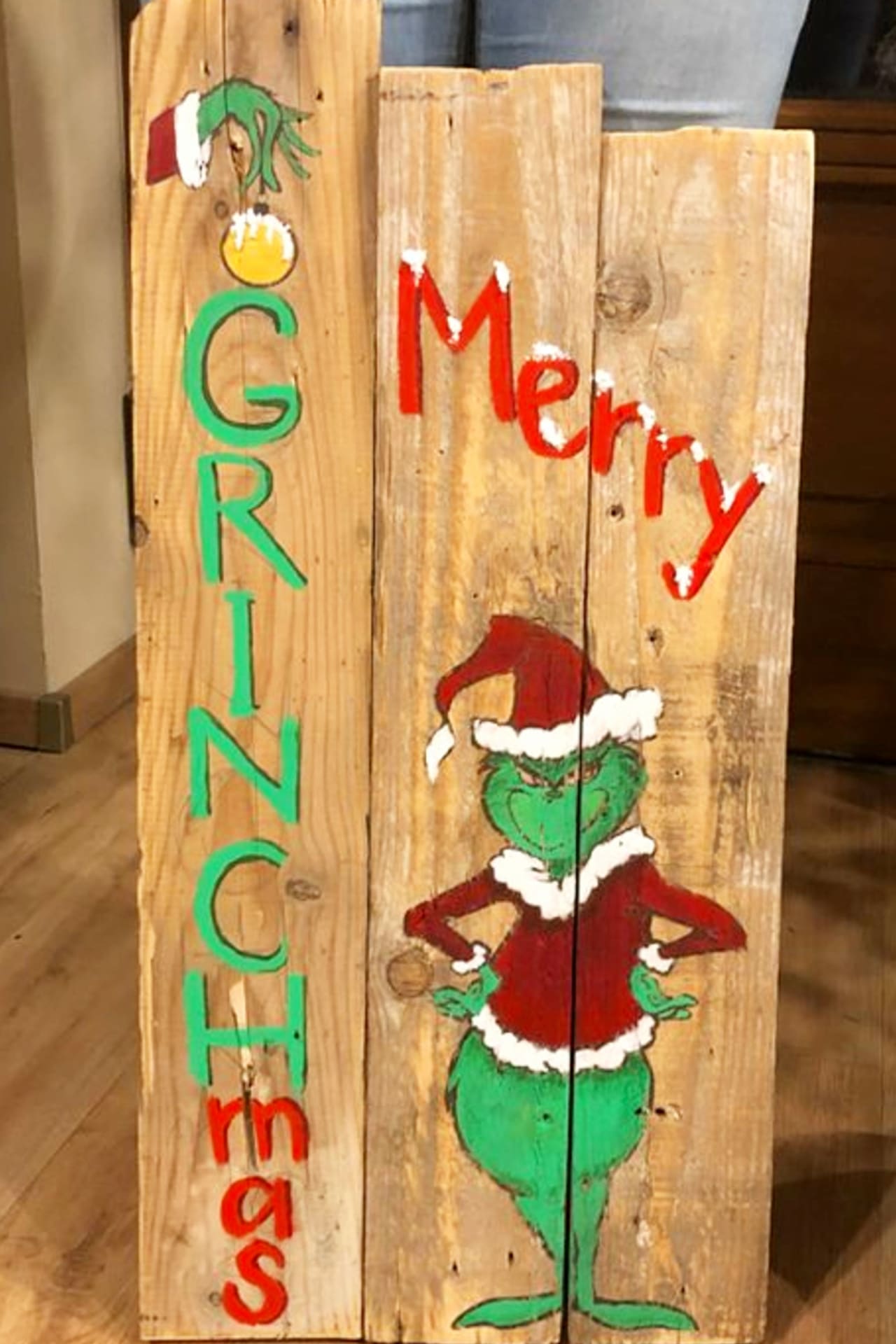 Last updated on September 27, 2023 2:41 pm
DIY Grinch Ornaments Tutorial
Cute Grinch Toys
Last updated on September 27, 2023 2:41 pm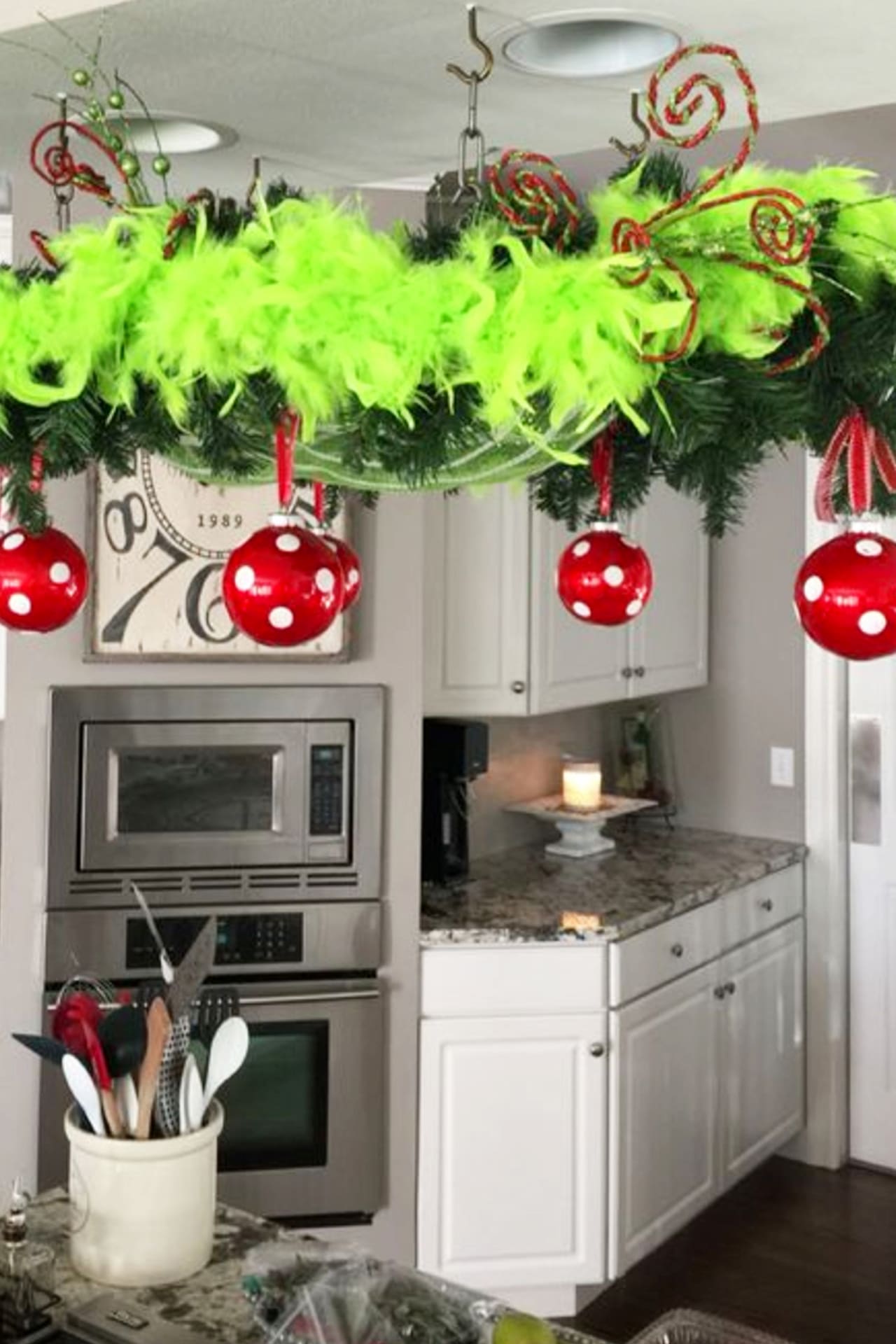 Grinch Advent Calendars
Last updated on September 27, 2023 2:41 pm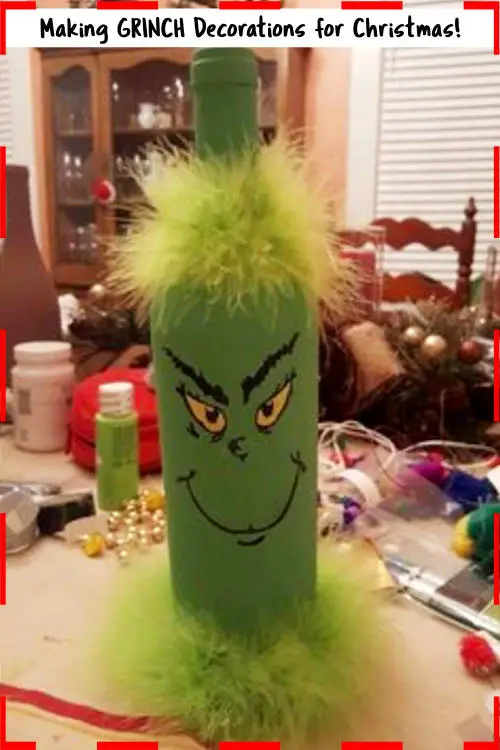 Fun Grinch Christmas Apparel
Last updated on September 27, 2023 2:41 pm
More Homemade Christmas Crafts