---
Earlier today, Amazon announced new gadgets and gizmos for the 2021 Christmas holiday season. Amazon lists all these unique gizmos and showcases all their ultra cool and high tech gadgets on this web page here. We'd like to share some of the best new gadgets for Christmas that we think are ULTRA cool, clever and unique – and would make great Christmas gift ideas this year.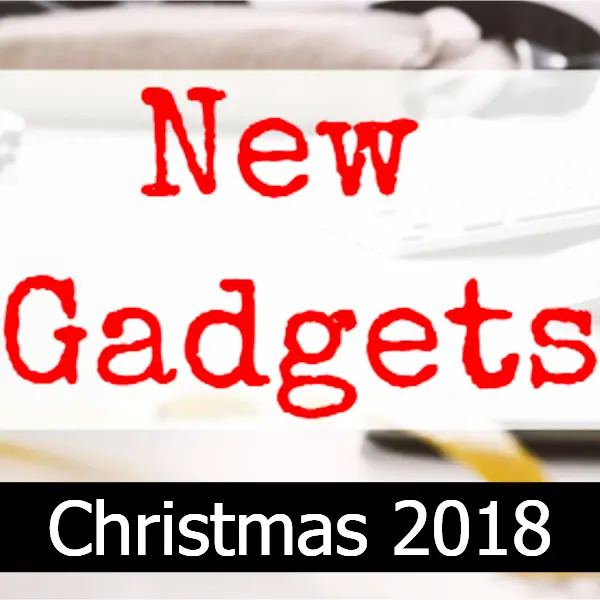 ---
Updated on December 8, 2021
posts may contain affiliate links -Enjoy and feel free to share with your friends!
---
There are some REALLY cool tech "toys" for Christmas 2021. How about an electric toothbrush that has an app for your phone? An awesome wake-up light that simulates sunlight? A mini-Segway personal transporter? How about a 3D printer or a 360 degree video camera?
All that, and much more, in all these cool new gadgets below.
And, as an added bonus…
MANY of these new gadgets and hi-tech toys are ON SALE!
Starry Station - Touchscreen WiFi Router - Simple Setup and Easy Parental Controls. Fast Gigabit Speed
 out of stock

1 used from $155.57
Free shipping
as of May 2, 2023 6:16 am
Features
The touchscreen router that makes fast WiFi easy to use and set up
Fast home WiFi: Better gaming, streaming and surfing
Easy WiFi Parental Controls: Block usage on certain devices with just one tap
Never Wait On Hold: Request a call directly from the touchscreen or message via the app
Automatic Updates: Overnight updates deliver new and improved product features
With Starry Station, performance and simplicity go hand-in-hand. It gives you blazing-fast WiFi, tells you when there's an issue and how to fix it, and comes with a host of other useful features to improve your home WiFi experience—all on an easy-to-use touchscreen. A better way to WiFi is finally here.


=> More Info & Reviews Here
LulzBot TAZ 6 3D Printer
4 new from $2,919.66
Free shipping
as of May 2, 2023 6:16 am
Features
Self-leveling, self-cleaning, tetherless printing, and an integrated power supply make powerful 3D printing easy
A large build volume of 280 mm x 280 mm x 250 mm (11.02 in x 11.02 in x 9.8 in) enables large prints, or many small prints at once
Maximum temperatures of 300°C (572°F) for the hot end and 120°C (248°F) open a world of material possibilities
Modular tool head carriage design allows plug-and-play with different print heads for growing selection of 3D printing filament materials
This is a fantastic 3D printer. I checked this thing out pretty carefully at their booth at the 3D Printing World Expo in Burbank a week ago as of this writing and that convinced me to buy one on the spot.


=> More Info & Reviews Here
360fly 360° 4K Video Camera
8 new from $124.99
4 used from $89.99
as of May 2, 2023 6:16 am
Features
360° ECOSYSTEM: 360-degree 4K video with lifelike detail. Part of the world's smartest, most user-friendly 360° video ecosystem
PERFORMANCE: Powerful 16 megapixel image sensor, 2880 x 2880 pixel resolution, 64 GB internal storage and app-based controls. Edit and share video in just minutes
MOBILE / DESKTOP APPS: Free 360fly iPhone and Android mobile and desktop director apps for easy camera operation and editing and sharing videos.
SOCIAL MEDIA CONNECTIVITY: Share 360° videos, First-Person POV videos, and stills directly to social media from your smartphone
VIRTUAL REALITY READY: Footage transforms to VR experiences with just the push of a button
The 360fly 4K combines a powerful 16-megapixel image sensor with innovative smart camera features—First-Person POV, Triggered Recording Modes, Time-Lapse Mode and more—that redefine what an action camera is and does.

Dustproof, shockproof and water resistant to 1M (3 feet), the rugged 360fly 4K comes complete with 64 GB of internal memory and built-in telemetry sensors, including an e-compass, gyroscope and non-assisted GPS for performance tracking, adding ride or race data to videos, and connecting with other smart devices.


=> More Info & Reviews Here
FLIR ONE Thermal Imager for iOS
$249.99
$

199.00
 out of stock
3 new from $199.00
1 used from $170.00
Free shipping
as of May 2, 2023 6:16 am
Features
Lightweight accessory that transforms your iOS device into a powerful thermal infrared camera
FLIR ONE displays live thermal infrared imagery using the FLIR ONE iPhone app so you can see the world from a thermal perspective
FLIR ONE allows you to measure temperature variances
Capture and share thermal images and videos. Exclusive MSX Technology blends thermal and visible spectrum for more detail and enhanced resolution
Scene temperature range: -4°F to 248°F (-20° to 120°C) , Operating temperature: 32°F to 95°F (0°C to 35°C).
With the power of thermal vision, you'll explore the world around you in ways you never thought possible – with no additional cords, cases, devices, screens, or superpowers necessary. Simply attach FLIR ONE to your smartphone or tablet, and take your sidekick with you wherever you go.


=> More Info & Reviews Here
Logitech Harmony Elite Remote Control, Hub and App, works with Alexa
23 new from $268.98
6 used from $190.51
Free shipping
as of May 2, 2023 6:16 am
Features
The most powerful and intuitive Harmony remote works with Alexa for voice control. All-in-one control of up to 15 home entertainment and connected home devices
Full color touchscreen: Simply swipe and tap to control channels, movies, volume, 50 favorite channels and smart home devices like Philips Hue lights
One-touch Activities: Touch an Activity like "Watch a Movie" to automatically power on and switch devices to the right settings
Harmony app: Turns iOS or Android smartphones or tablets into personal universal remote controls for the whole house
Closed cabinet control: Included Harmony Hub lets you control devices in closed cabinets, or even when away from home
Harmony Elite is the powerful, intuitive way to control your entertainment. But life doesn't only happen in the living room. Or only at home for that matter. Harmony Elite goes beyond TV and movies. Far beyond. Use it to control the music from the kitchen, adjust the lights from across town, and the blinds according to the time of day. Compatible with Amazon's Alexa for easy voice integration and activation.


=> More Info & Reviews Here
Segway miniPRO | Smart Self Balancing Personal Transporter with Mobile App Control (Black)
$699.00
 out of stock

Free shipping
as of May 2, 2023 6:16 am
Features
Connect to the free mobile app via Bluetooth for full features: remote control operation, anti-theft alarm, speed control, customizable lights, vehicle diagnostics, and firmware updates
UL 2272 Certified unit meets high standards of fire and electrical safety set by world-renowned global safety science company Underwriters Laboratories
220 lbs payload, light-weight, and durable aircraft-grade magnesium alloy frame and 10.5-Inch pneumatic air-filled tires with military-grade shock absorption capability
Dual motor engine delivers 1600 watts of power to safely reach top speeds of 10 MPH and distances of 14 miles on a full charge in a variety of indoor and outdoor terrains.
Padded knee bar maximizes comfort and enables precision steering for more ergonomic control than hoverboards and electric scooters that rely on foot-pivot steering
The Segway miniPRO is the first personal transporter, before any hoverboard, to become UL 2272 Certified for the highest standards of electrical and fire safety requirements established by Underwriter Laboratories. Not only does it come with the highest fire and electric safety certification, but it also integrates with the Ninebot & Segway phone app to give you access to a wide array of premium features and functions. From the app, you can remote control the miniPRO without riding it, view dashboard performance, customize lighting on the unit, and enable a tamper-proof security alarm.


=> More Info & Reviews Here
Muse: The Brain Sensing Headband, Black
7 new from $113.99
4 used from $99.95
Free shipping
as of May 2, 2023 6:16 am
Features
Muse is your personal meditation assistant
Sometimes your mind is calm and sometimes it's active. Muse will guide you to a calm mind
Put on the Muse headband, put on your earbuds, start the app, and close your eyes. Immerse yourself within the sounds of a beach or rainforest.
While you meditate, Muse measures whether your mind is calm or active, and translates that data into weathers sounds.
When you're calm, you'll hear peaceful weather sounds. When your mind wanders, the weather will intensify, guiding you back to a calm state.
Muse is the first tool in the world that gives you accurate, real-time feedback on what's happening in your brain when you meditate. Improve your meditation practice in as little as 3 minutes a day – any time, anywhere.

Personalized tracking, motivational challenges and rewards encourage you to build a more regular and effective practice.

Experience all the benefits of meditation – such as relaxation, improved mood and reduced stress – with none of the uncertainty.


=> More Info & Reviews Here
Philips Wake-Up Light with Sunrise Simulation and Radio, Black, HF3506
as of May 2, 2023 6:16 am
Features
Sunrise simulation wakes you up gradually
Wake up to 2 natural sounds or FM radio
Includes a tap-to-snooze function
Bedside light with 10 light settings
Inspired by the naturally brightening light of the sunrise, the Philips Wake-up Light uses a unique combination of light and sound so you can wake up in a more natural way and feeling more refreshed. It gradually increases in brightness over a 30-minute period before your wakeup time, growing more intense until your room is filled with bright yellow light. This process of changing and increasing light stimulates your body to wake up naturally and comfortably.



=> More Info & Reviews Here
Mevo - Live Event Camera for iOS devices with iOS 9 or higher, (Black)
$299.99
 out of stock

1 used from $229.99
as of May 2, 2023 6:16 am
Features
Your IPhone is now your personal video editing suite - zoom, pan and cut with ease, all from a single camera and iOS App
Stream live to your customers, fans, and friends from virtually anywhere via Wi-Fi or LTE. Mevo supports Livestream and is the first camera to stream to Facebook Live
No rig required. Simple, small and discreet, the Mevo camera and app are all you need to record or stream your live events beautifully
150 degree all glass lens with Sony 4K sensor enabling 720p HD video output for streaming and recording
Built in stereo microphones with dedicated DSP, plus the ability to plugin external audio through the iOS device connected to the camera
Your iPhone is now your personal video editing suite — zoom, pan and cut with ease, all from a single camera and iOS app.


Stream live to your customers, fans, and friends from virtually anywhere via Wi-Fi or LTE. Mevo supports Livestream and is the first camera to stream to Facebook Live.



=> More Info & Reviews Here
Amcrest 960H Video Security System Four 800+TVL Weatherproof Cameras, 65ft Night Vision, 984ft Transmit Range, 500GB HDD
2 new from $279.99
1 used from $269.99
Free shipping
as of May 2, 2023 6:16 am
Features
4 High Resolution 800+ TVL IP66 Heavy-Duty Metal Weatherproof Cameras for Excellent Video Quality and Clarity.
24 IR LEDs that automatically activate when they detect low lighting conditions.They can see up to 20 meters (about 65 feet) away, make sure to take advantage of Motion Detection and Scheduled recordings in conjunction with Night Vision to have complete control over the protection of all that you care about.
View and Record in Widescreen with Remote Viewing on iPhone, iPad, and Android devices (with included Amcrest Link app).
Pre-Installed 500GB Hard Drive (expandable up to 3 TB) for 6 Days of Continuous Recording at Highest Resolution., Longer Recording Times Up to 30+ Days Available with Use of Motion Detection and/or Lower Resolution Settings.
USB backup feature for peace of mind, IP66 heavy-duty metal indoor/outdoor heavy duty metal weatherproof cameras, and powerful IR-LED night vision.
The Amcrest 960H Professional Video Security System: Simple, Reliable, Secure. Record professional quality widescreen video through four high resolution cameras, which you can manage along with recordings almost effortlessly: the DVR's robust yet simple software interface makes this system a paragon of friendly engineering. A new cornerstone in the consumer market for private security technologies, the Amcrest 960H is further enhanced by DIY installation, full weather proofing, advanced motion detection, night vision, remote web browser plus smartphone viewing, and exceptional long distance transmit range.



=> More Info & Reviews Here
Philips Sonicare Flexcare Platinum Connected Rechargeable Toothbrush
6 new from $177.89
Free shipping
as of May 2, 2023 6:16 am
Features
Smart brushing, superior results: 10x more plaque removal and healthier gums in 2 weeks vs. a manual toothbrush
Featuring innovative Smart Sensor technology: Location sensor shows where you're brushing too little for better coverage. Pressure sensor lets you know if you are brushing too hard.
The Touchup feature provides customized guidance based on your personal brushing data so you can immediately address any missed areas and achieve a more complete clean.
Set goals, track progress and receive personalized coaching, tips and alerts. Download the free Sonicare app from the Apple App Store or Google Play
95% of users agree Flex Care Platinum Connected is the most effective product they have used for building healthier brushing habits
There's an APP for this electric toothbrush that lets you see how you're doing and spots you are missing when brushing.


=> More Info & Reviews Here
More Cool Gadgets for Christmas