Unique Housewarming Gift Ideas and DIY Housewarming Gifts They'll Love and Really Appreciate – When you're looking for practical and popular housewarming gift ideas, you might feel you're looking for a housewarming gift for someone who has everything they already need for their first home – and you'll feel stuck.
Good news! I've found a lot of creative housewarming gift ideas and first time home buyer gift basket ideas you can easily make for a cheap and thoughtful DIY first home gift.

posts may contain affiliate links - Enjoy and feel free to share with your friends!
---
Most Popular Today...
---
Buying a new home or condo for the first time is a huge milestone in any person's life.
If your friends or family members have just moved into their first place, then presenting them with a little housewarming gift can be a great way to show your congratulations on this great occasion.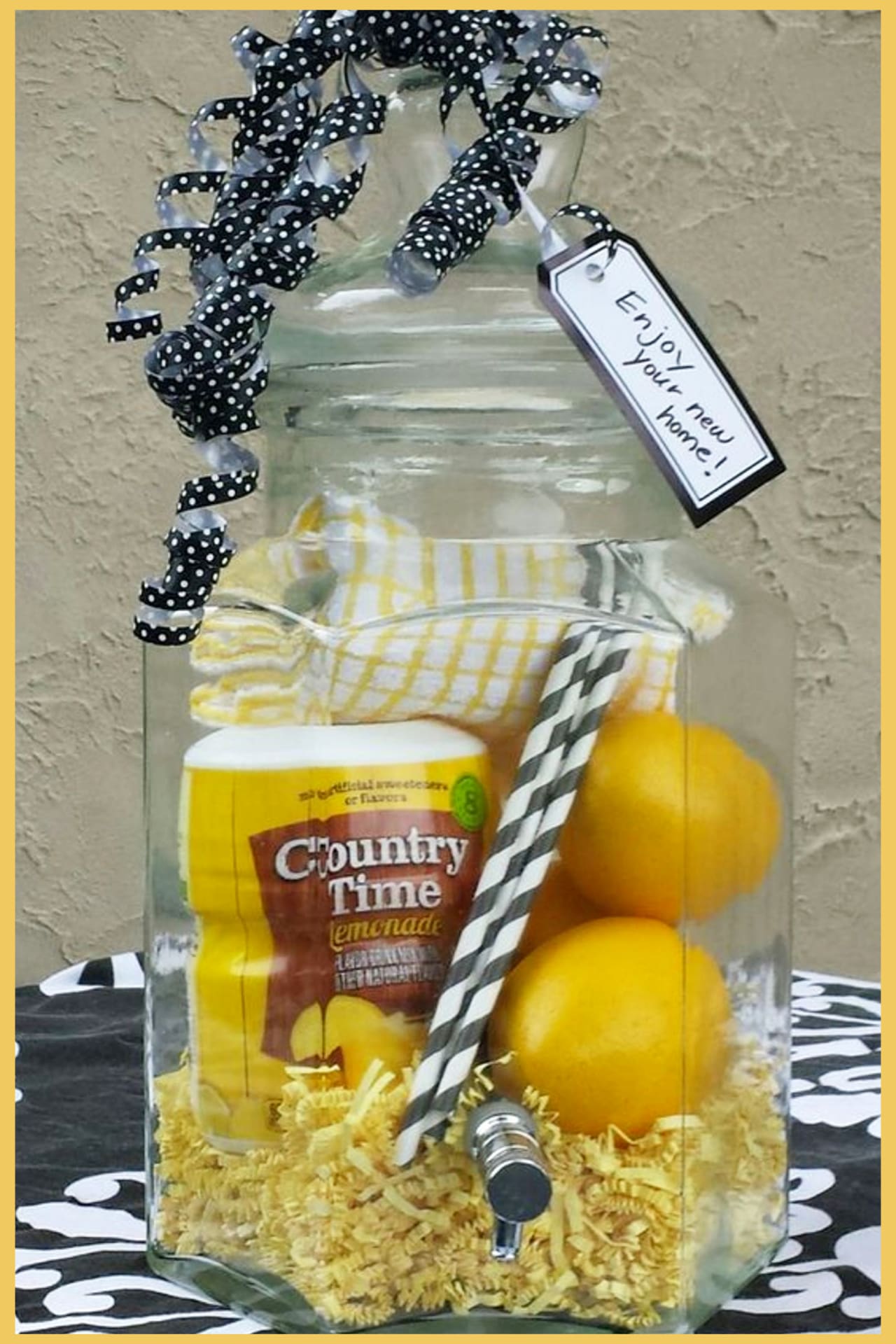 But what if they already have "everything" they need?
What if YOU are on a budget and can't afford an expensive housewarming gift?
Remember: Housewarming gifts do not have to be expensive or extravagant to be deeply appreciated.
Even a little welcome home gift to acknowledge their very first home will always be greatly appreciated – no matter how much it cost.
And many times, the most appreciated gifts are PRACTICAL housewarming gifts that are CHEAP to make.
Like this: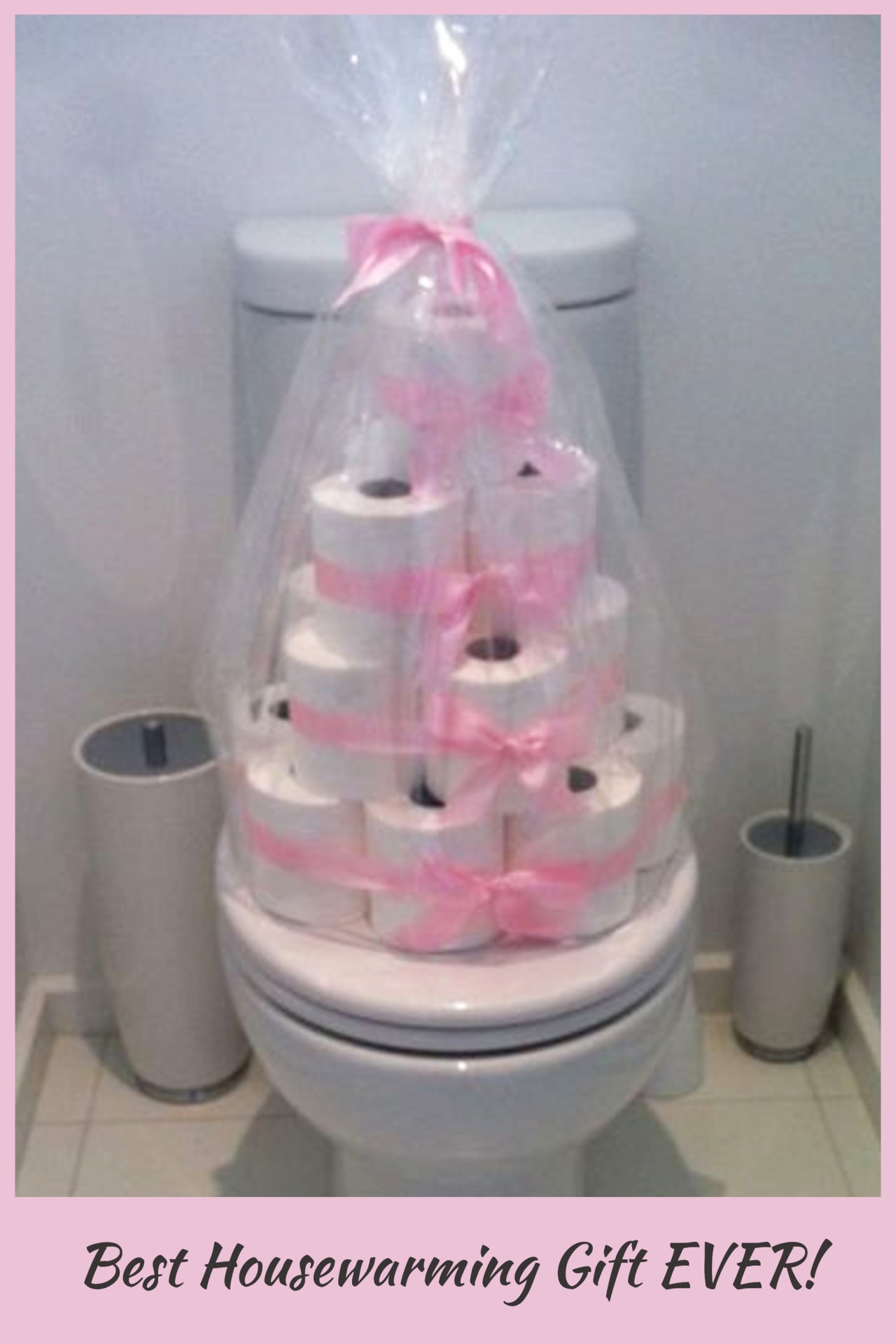 Yes, that is toilet paper – and it was the BEST housewarming gift EVER! So practical and useful and NEEDED… and really inexpensive to make.
So keep your housewarming gift within your budget. Get creative with it to keep your costs down if you need to – and DIY as much as you can.
Inexpensive DIY Housewarming Gifts
Indoor or Outdoor Houseplant
A houseplant can be a sweet little gift for the new homeowners, and will help to make their house feel like a home.
While giving a houseplant is one of the most popular and traditional housewarming gifts, pretty much EVERY new home owner really loves getting them.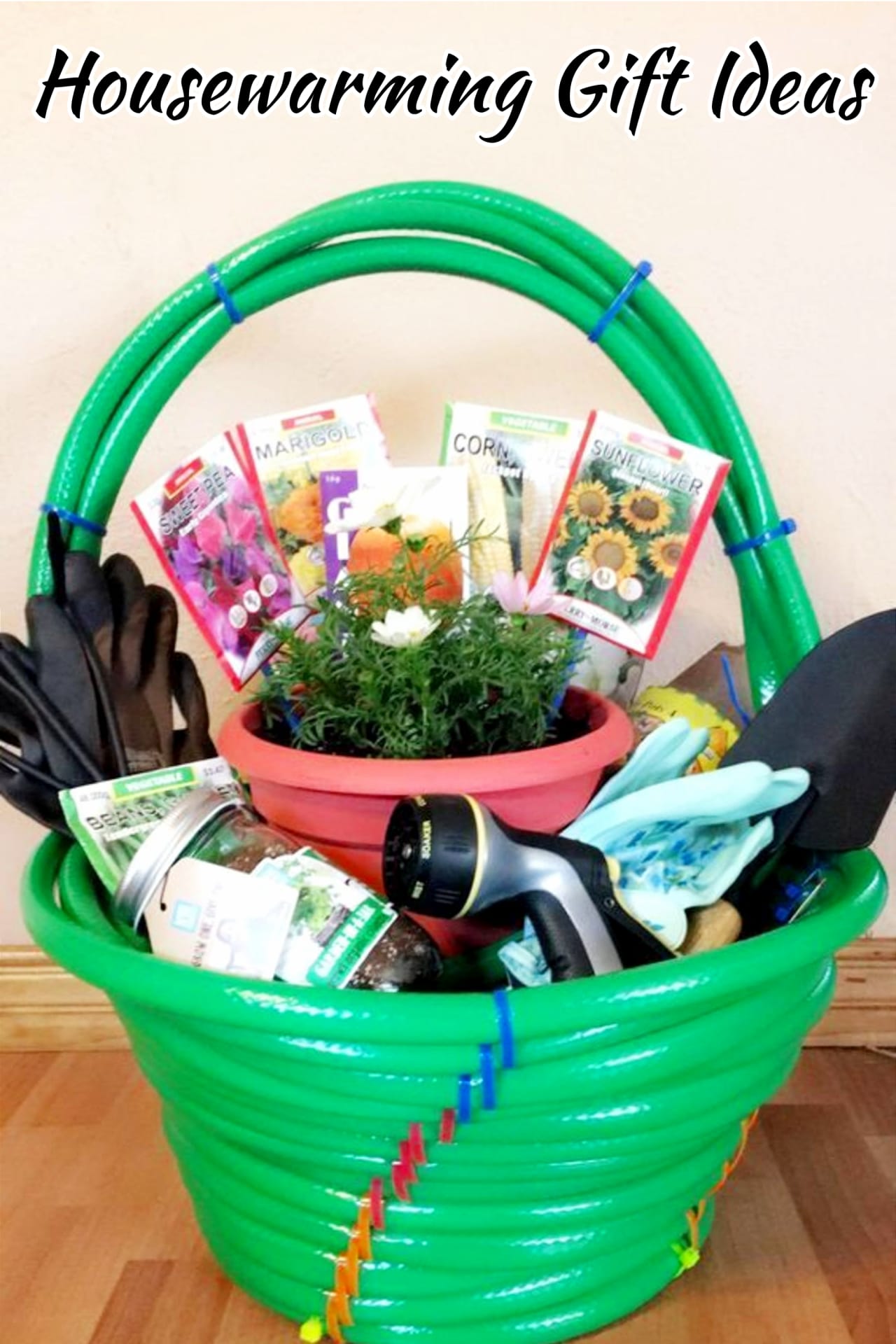 This is also a great 'last minute' housewarming gift idea because you can quickly and easily find an inexpensive houseplant at any hardware store or even at your local grocery store.
To dress up the plant, you may consider getting a decorative pot or pretty ribbon to go along with it and add a thoughtful welcome to your new home card with it.
Cleaning Kit Gift Bucket
If you know that your friends just bought a fixer-upper, then a fun and inexpensive gift idea can be a cleaning kit that you can put together yourself!
Any discount or dollar store has inexpensive cleaning supplies that you can purchase and put together in a big bucket!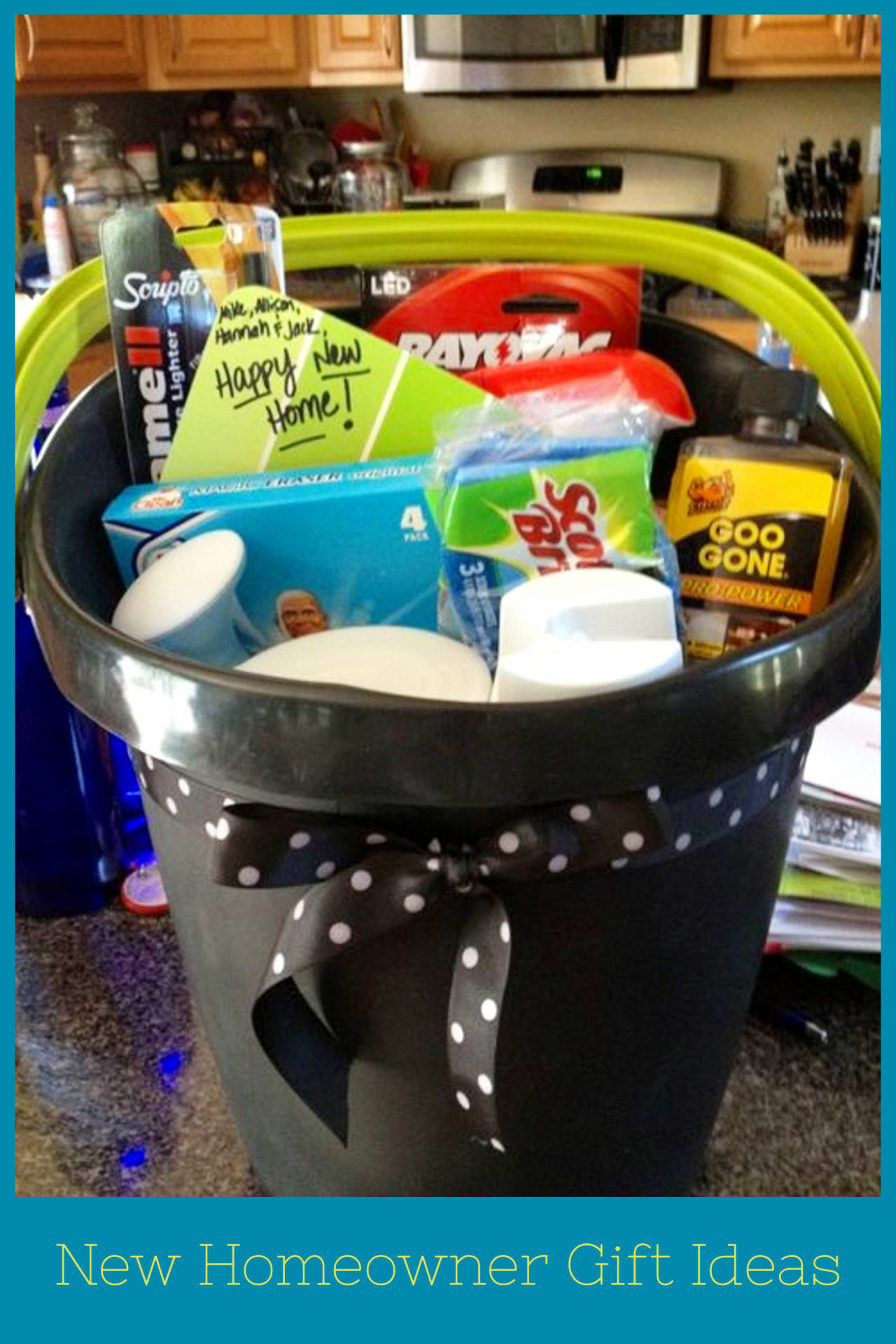 Consider a few pairs of rubber gloves, paper towels, cleaning rags, a duster, and some cleaning solutions.
I received a cleaning bucket like this from a new neighbor when I moved into my first home and WOW, I really appreciated the thought and creativity put into that extremely useful gift.
In fact, I used that cleaning bucket for years.
Homemade Casserole
Any type of food is a great housewarming gift for new homeowners! This is especially true if they have yet to unpack (or find) their pots and pans and plates!
Moving into a new place can be a stressful event, so if you are in the neighborhood, then consider making them something to EAT (because they are hungry AND tired).
You can make one of these easy dinner casseroles – but be sure to bring some paper plates and plastic forks in case they haven't found theirs yet.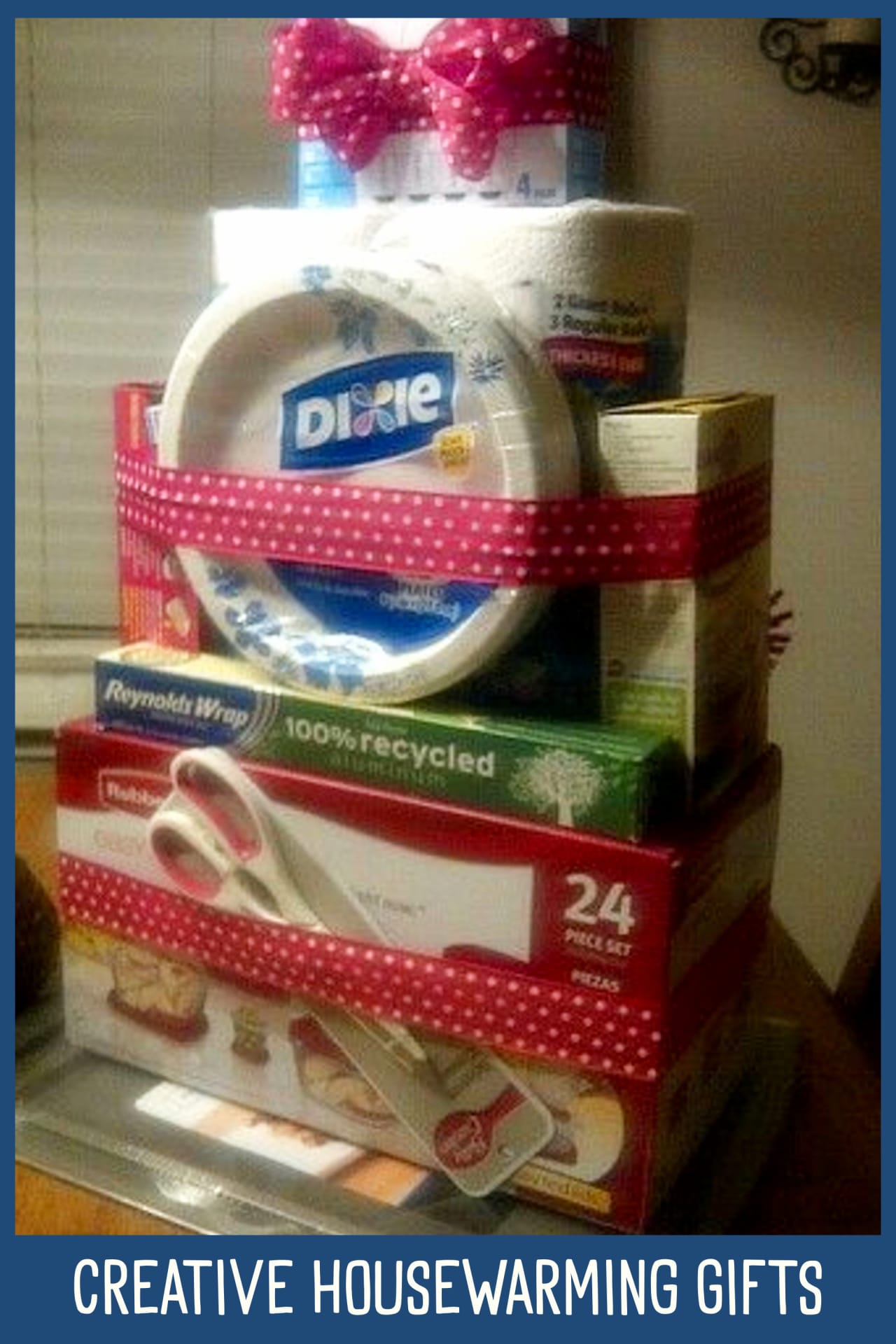 Or, make one of these breakfast casseroles – they are SO good and will be remembered fondly for a long, long time.
Food is always a winning housewarming gift – always
Trust me, they will absolutely love you for it!
Send Them Pizza
If your new home-owning friends don't live in the same area anymore, but you know that they are starving and overworked from the big move, consider ordering some of their favorite pizzas and sending it to them as a housewarming gift.
---
---
Nowadays there are so many ways that you can pay and order a pizza online, so you really don't even have to live in the same state to be able to give them a housewarming meal!
While sending over some pizzas is hardly a traditional housewarming gift, they will certainly enjoy it.
And again – food is VERY appreciated!
Personalized Address Labels
Personalized address labels can be a creative and inexpensive housewarming gift for first time homeowners.
While people don't use 'snail mail' as much as we once did, these types of address labels are really fun for first homeowners to see their name and new home address in print.
Creative Housewarming Gifts
---
---
Wine-of-the-Month Club Membership
Wine is also considered a traditional housewarming gift because it comes with the hope that the owners always have joy and never have thirst in their new home.
Plus, it's WINE – how can you go wrong with wine ha ha!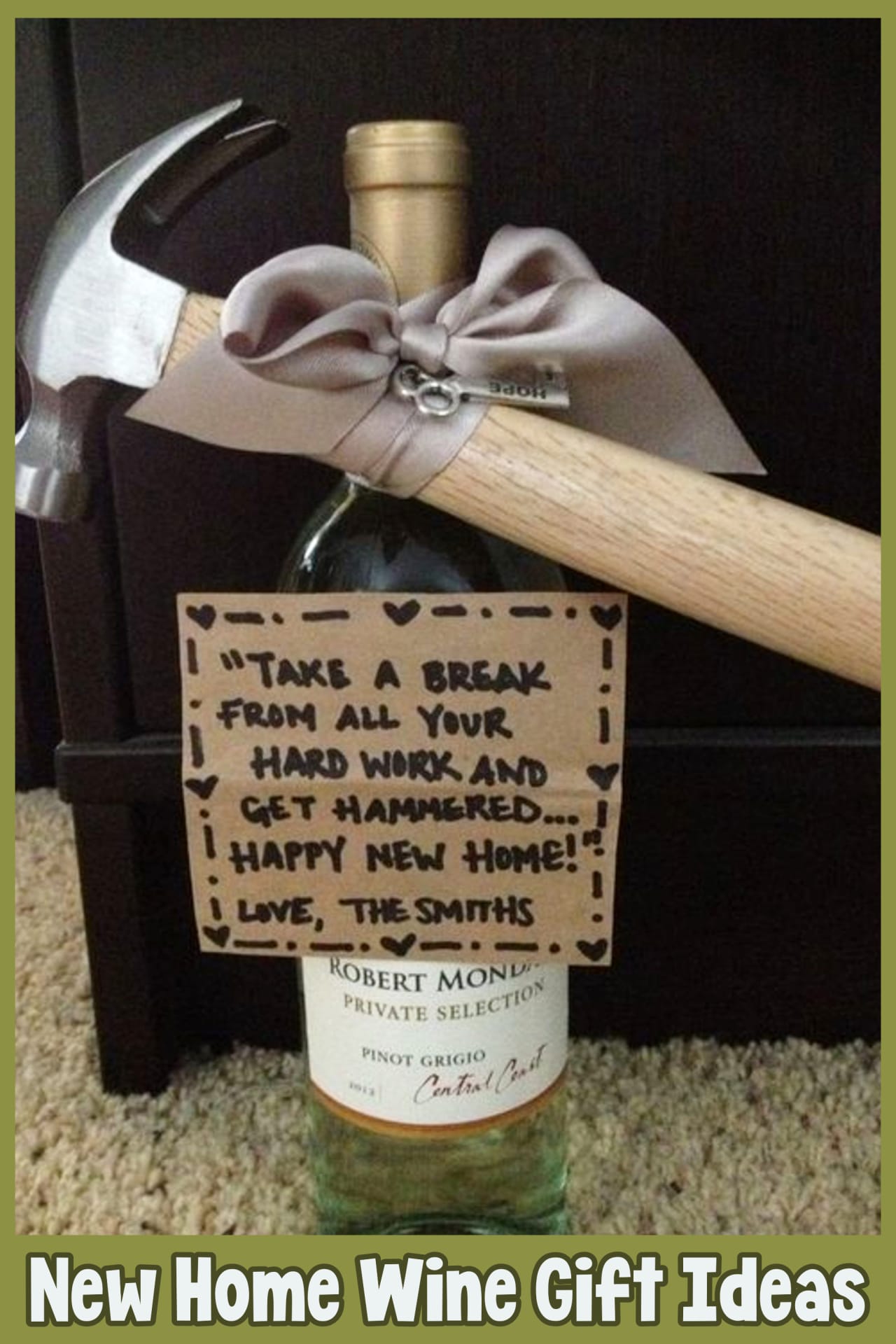 So a wine-of-the-month club is perfect for a creatively thought-out traditional and creative housewarming gift.
You can start by offering them a nice bottle of wine with a note that they are new members of the wine club and they can now expect a new selection of wines to be sent to their new home every month.
If that's too much for your budget, try one of these inexpensive gifts for wine lovers.
Gift Card to a Home Improvement Store
A gift card to a hardware store, like Home Depot, can be a great gift for the new homeowners – especially if they already have plans to remodel their home in some way or repaint a room.
Aside from home improvement projects, there are a great many other things that they can get at a home improvement store that has nothing to do with fixing up their new home.
---
---
They may choose to get a new outdoor grill or even some new indoor outdoor plants to liven up the place.
(note: if they already have a grill, look at these grill tools gift sets we love – make a great gift!)
They can even get some outdoor patio furniture, which would be great especially if they are thrilled about their new backyard or deck.
With our first home, I was in Home Depot pretty much every day for the first month – I always needed something from there.
I would've LOVED a Home Depot gift card as a housewarming gift!
---
---
Restaurant / City Guide
If the new homeowners have recently moved into a new city consider getting them a little touristy guide about their new area.
They will have access to reviews for all the great sites in their new town and all the great restaurants that they should try.
Moving to a new city far from home is intimidating and exciting.
This is a great gift that will encourage them to get outside of their new home and explore the things their new city has to offer.
This creative housewarming gift can also come in handy when they have out-of-town guests in their new home – they'll already know places to take them and good places to eat.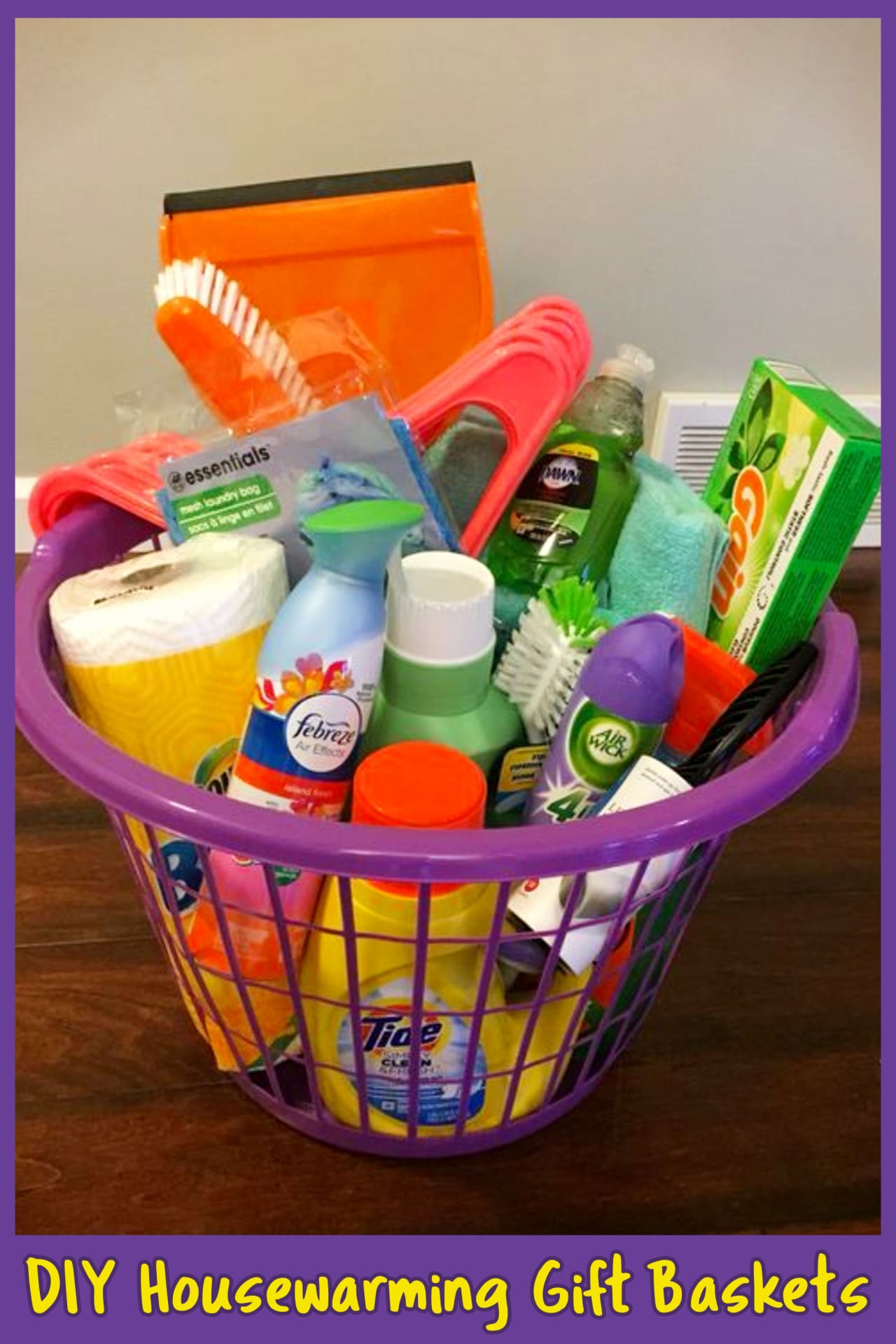 Gift Certificates to Local Restaurants
Again – food… ha!
If you are familiar with the area of their new home, and you KNOW some great places to eat, get them a gift certificate to those restaurants and put them in a little gift basket with some other little goodies for their new home.
When I was in Real Estate I would make little baskets with a restaurant gift certificate or two, some packs of crackers, some bottles of fruit water, a cute kitchen towel and a coupon card from the local school that offered deals at lots of local stores, services and food places.
ALL of my first time homeowner clients said how much they appreciated getting such a thoughtful and practical housewarming gift from their Realtor!
I was also a leasing agent in the apartment business for awhile and whenever I'd rent a new unit, I'd make them a move in basket like these: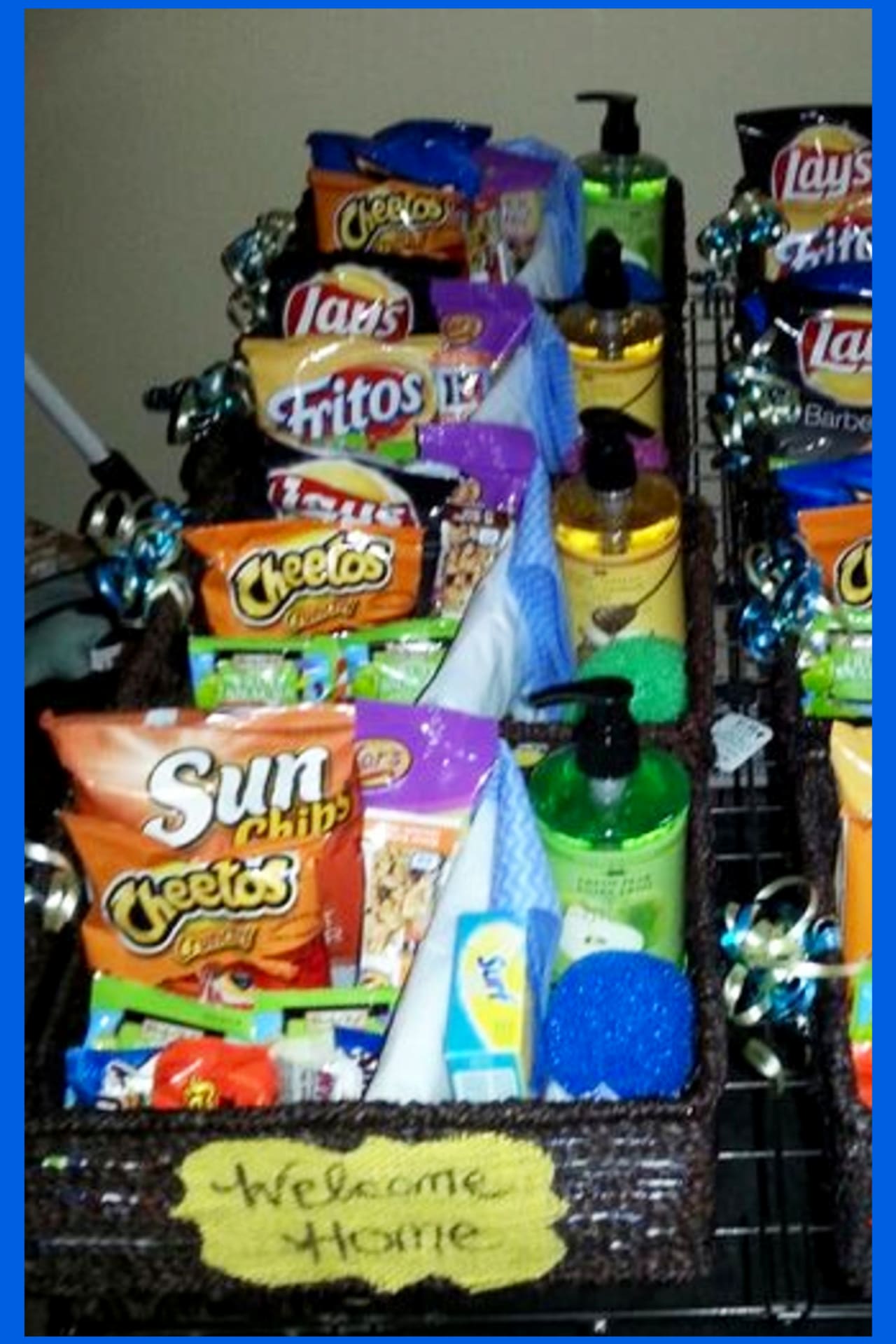 I sure hope the ideas and DIY housewarming gift ideas pictures gave you some great ideas!
As you can see, you can easily buy, or make, a very thoughtful housewarming gift even if you're on a budget.