---
Whether he's right down the hall or far away, these are the cutest and sweetest DIY Open When letters for your boyfriend, fiance, or husband I have ever seen.
Let's look at some unique topics and ideas for what to put IN your Open When letters, examples of Oepn Me When envelopes and much more.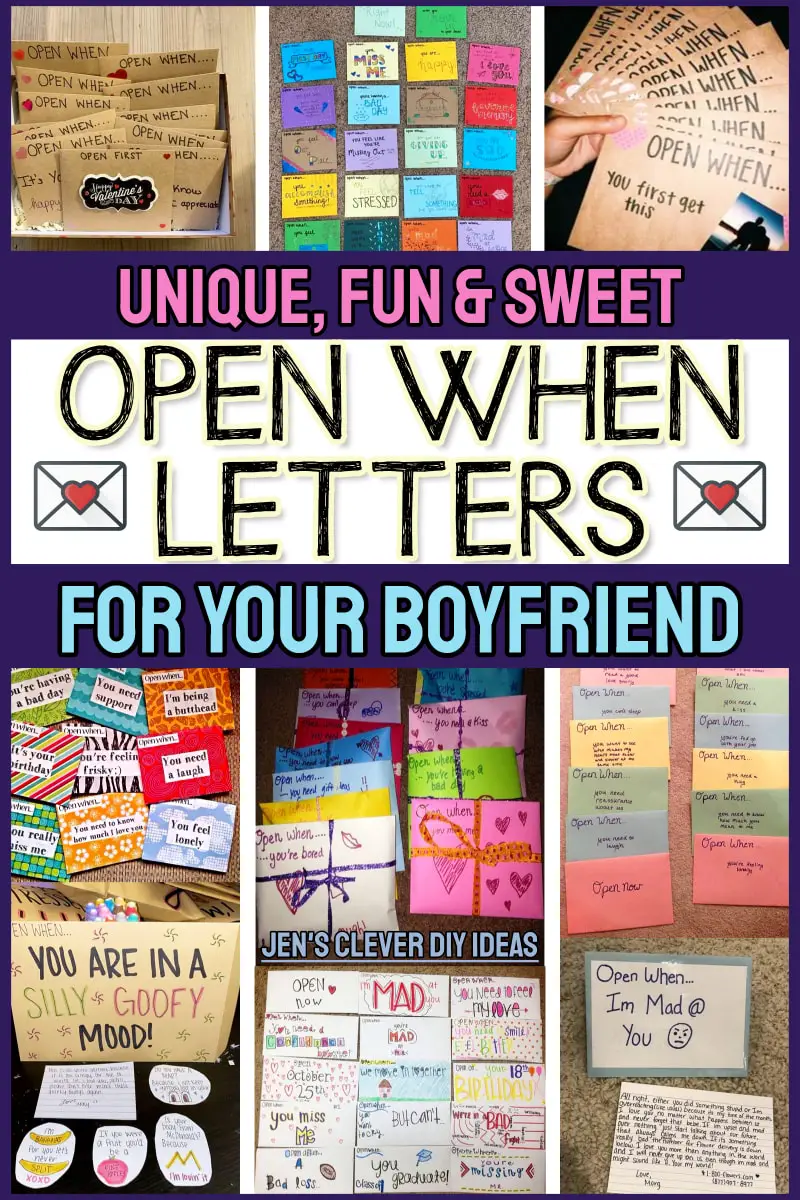 ---
Updated on December 2, 2022
posts may contain affiliate links -Enjoy and feel free to share with your friends!
---
So, you need some examples and ideas for 'Open When' letters for your boyfriend – there are tons right here on this page.
Here's a BIG list of ideas of what to write on the Open When envelopes: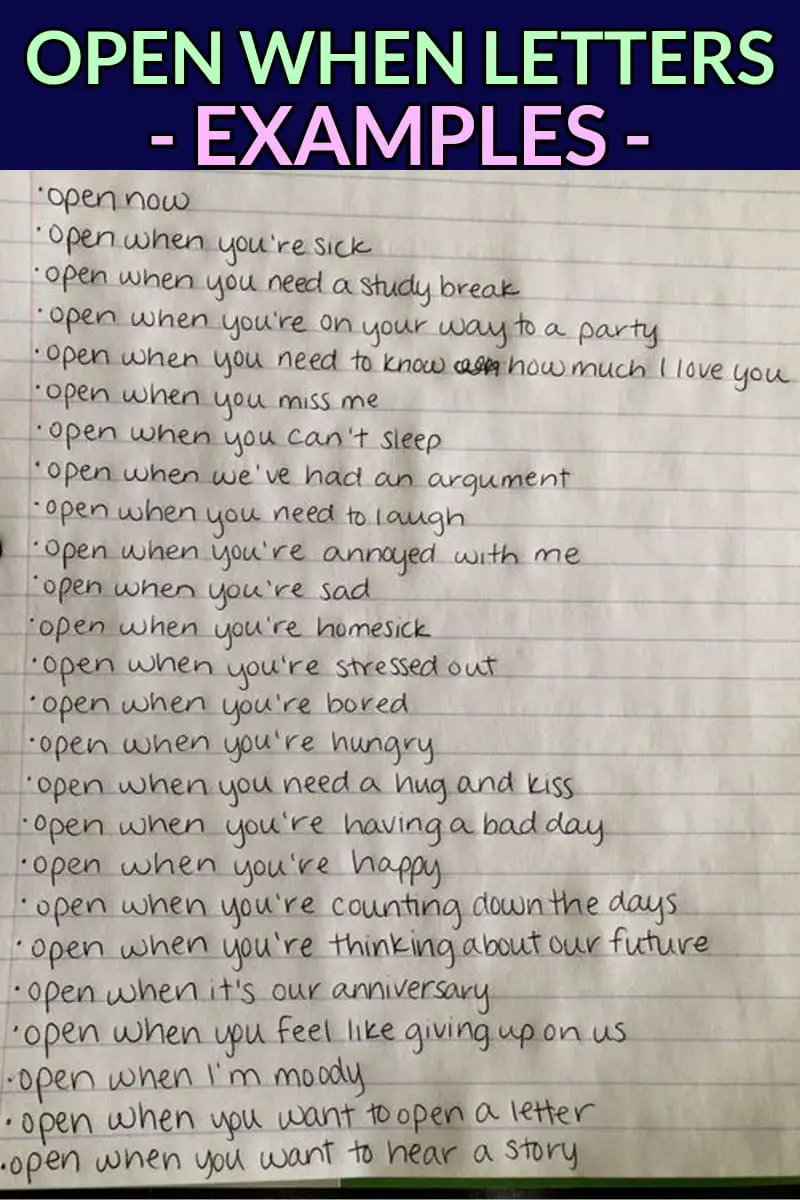 25 Examples of What To Write On 'Open When' Letters For Your Boyfriend:
Open Now
Open When You're Sick
Open When You Need a Break
Open When You're On Your Way To A Party
Open When You Need To Know How Much I Love You
Open When You Miss Me
Open When You Can't Sleep
Open When We've Had An Argument
Open When You Need To Laugh
Open When You're Annoyed With Me
Open When You're Sad
Open When You're Homesick
Open When You're Stressed Out
Open When You're Bored
Open When You're Hungry
Open When You Need a Hug and a Kiss
Open When You're Having a Bad Day
Open When You're Happy
Open When You're Counting Down The Days
Open When You're Thinking About Our Future
Open When It's Our Anniversary
Open When You Feel Like Giving Up On Us
Open When I'm Moody
Open When You Want To Open A Letter
Open When You Want To Hear A Story
And don't forget to include The Rules when giving your Open When letters to your boyfriend.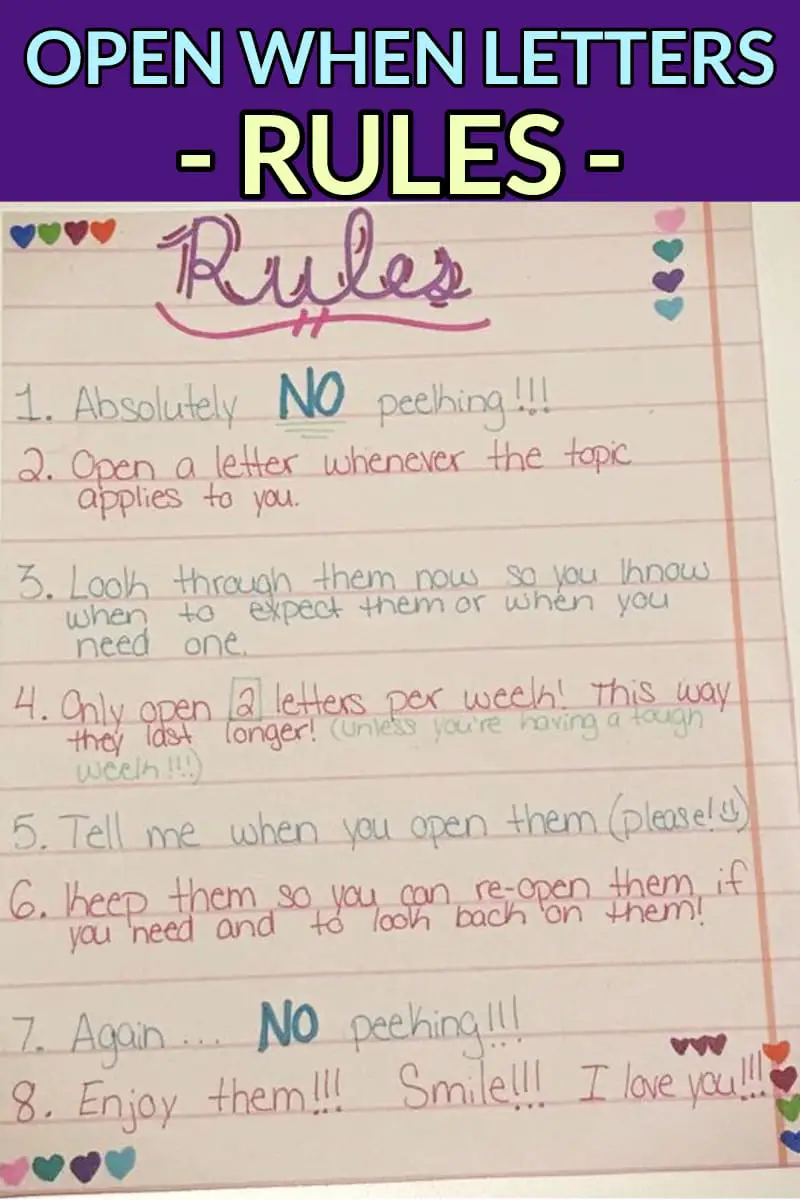 8 Open When Letter Rules For Your Boyfriend
Absolutely NO Peeking
Open a Letter Whenever The Topic Applies To You
Look Through Them Not So You Know When To Expect Them Or When You Need One
Only Open TWO Letters Per Week! This Way They Last Longer (unless you're having a tough week!)
Tell Me When You Open Them Please!
Keep Them So You Can Re-Open Them If You Need And To Look Back On Them
Again… NO PEEKING
Enjoy Them!! Smile!! I Love You!!
This girl on Reddit made this HUGE 'Open When' package for her long-distance boyfriend that is REALLY impressive.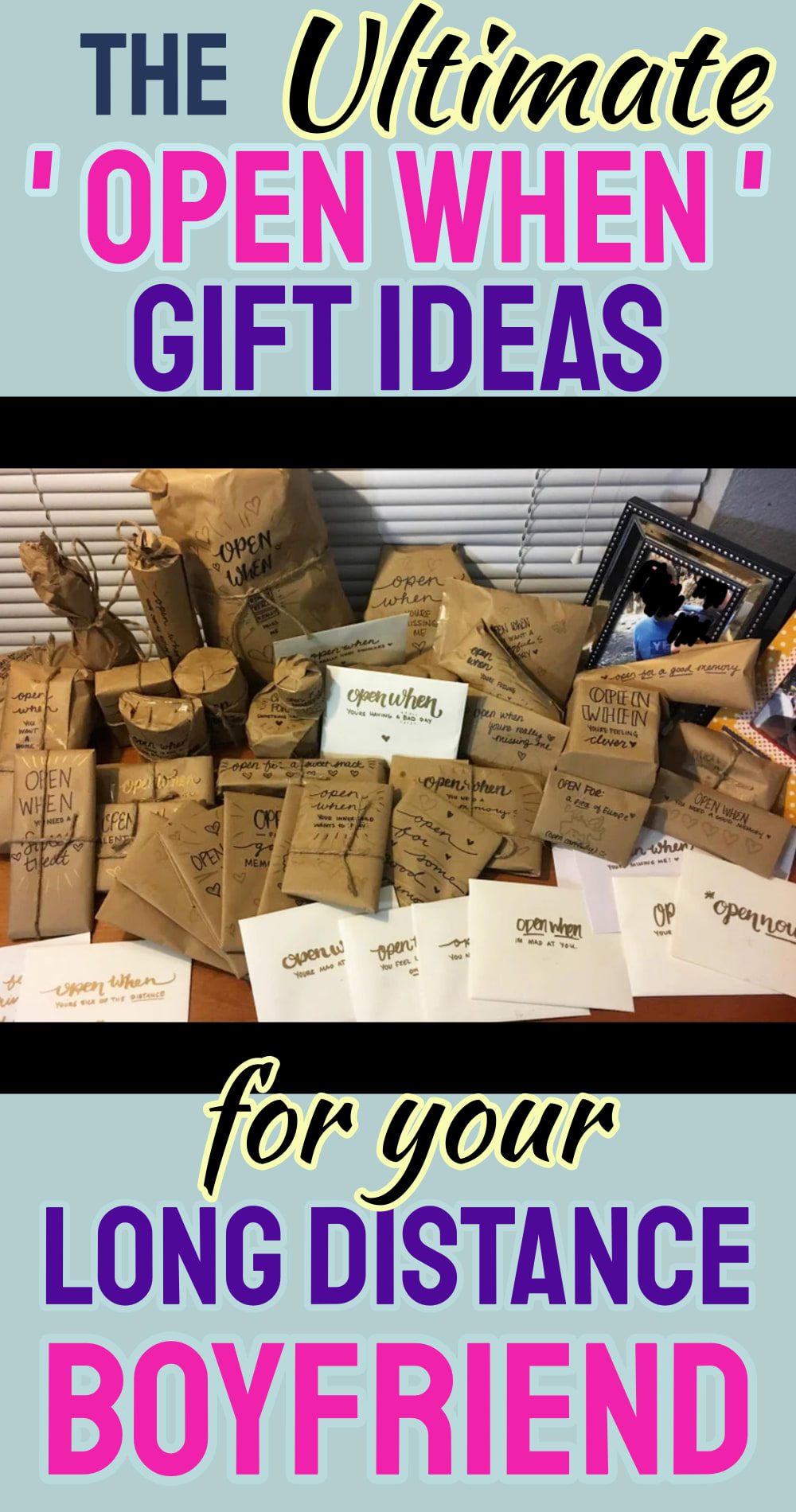 What was IN the Open When gifts and letters?
She said:
It was mostly love notes and photos of me/us/him I got printed at Walgreens, but here were some of my favs:
Open for a good memory: Photos from a beach trip with shells
Open for lots of good memories: A map of the US with all the places we've been together
Open when you're missing me: Photos of me
Open when you're missing us: Photos of us
Open to awake your inner child: Mini origami kit
Open when you're feeling clever: Wooden brain teaser puzzle
Open when you're having a bad day: Photos of me, anti-stress lotion, and tissues with inspirational quotes
Open when you're sick of the distance: Southwest gift card
Open for a sweet treat: Fancy chocolate bar
Open for a home cooked meal: Soup kit from world market
Open when you really really really miss me: Stuffed puppy plush I sprayed with my perfume and attached some photos of me
Open on Valentine's day: A book of all the things I love about him
Open on our anniversary: Mini bottle of champagne
Open for a good memory: Sound maker from our New Years together
Open when you're cooking Mexican food: A set of nice salsas
Super cute and THOUGHTFUL, right? I bet that took a LOT of time, but was really appreciated!
Oh, and she wax sealed all of the love letters with her initials – nice touch!
Someone asked what was INSIDE the 'Open When I'm Mad At YOU' and 'Open When You're Mad At ME' letters (and I was super curious too!)
She said:
"Love letters that mostly remind him that we are both human and fighting is normal. Remind him that we love each other and can get through anything.
For when "I'm mad at you" I write that he should tell me he loves me and he is sorry. And I apologize in "you're mad at me", and write that I'm probably being a hardhead about whatever the fight is and I'm sorry. And I included some good photos of us in each"
So sweet and such a great idea to add to a stack of Open When letters!
Here's another really sweet Open When letter idea that was sent when her boyfriend went to boot camp: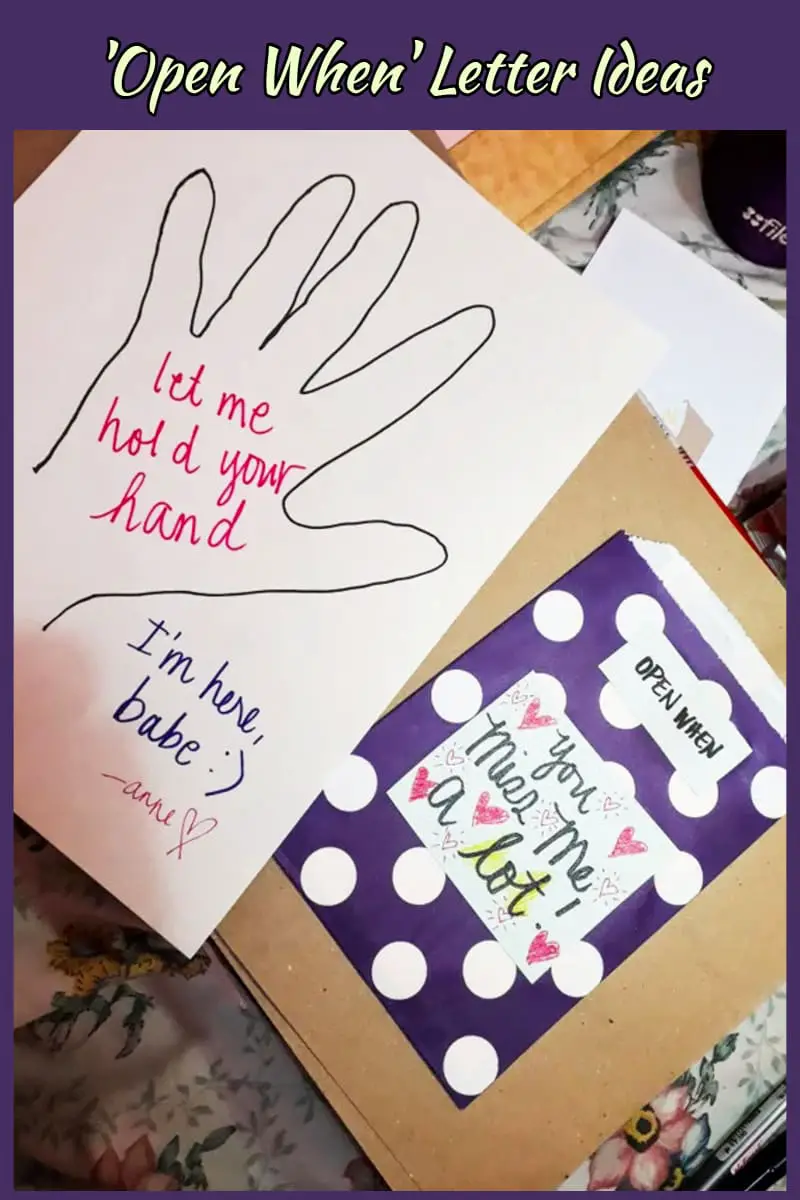 So simple, but so stinkin' sweet!
Or how about this idea in an Open When letter?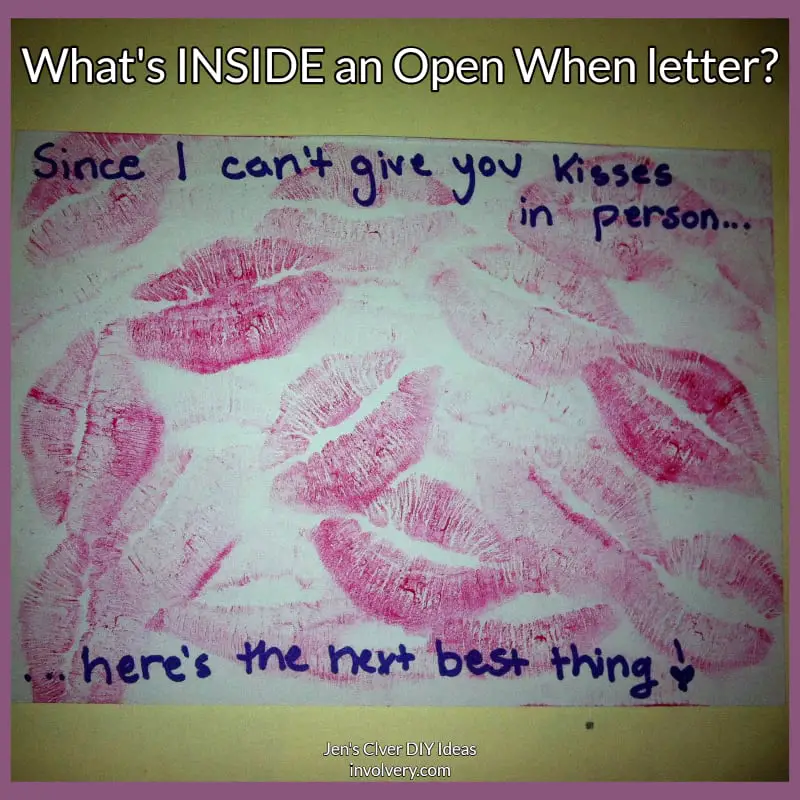 ANYONE can do that example – even if you're "craft-challenged" haha!
Here's another SUPER simple idea for INSIDE an Open When letter…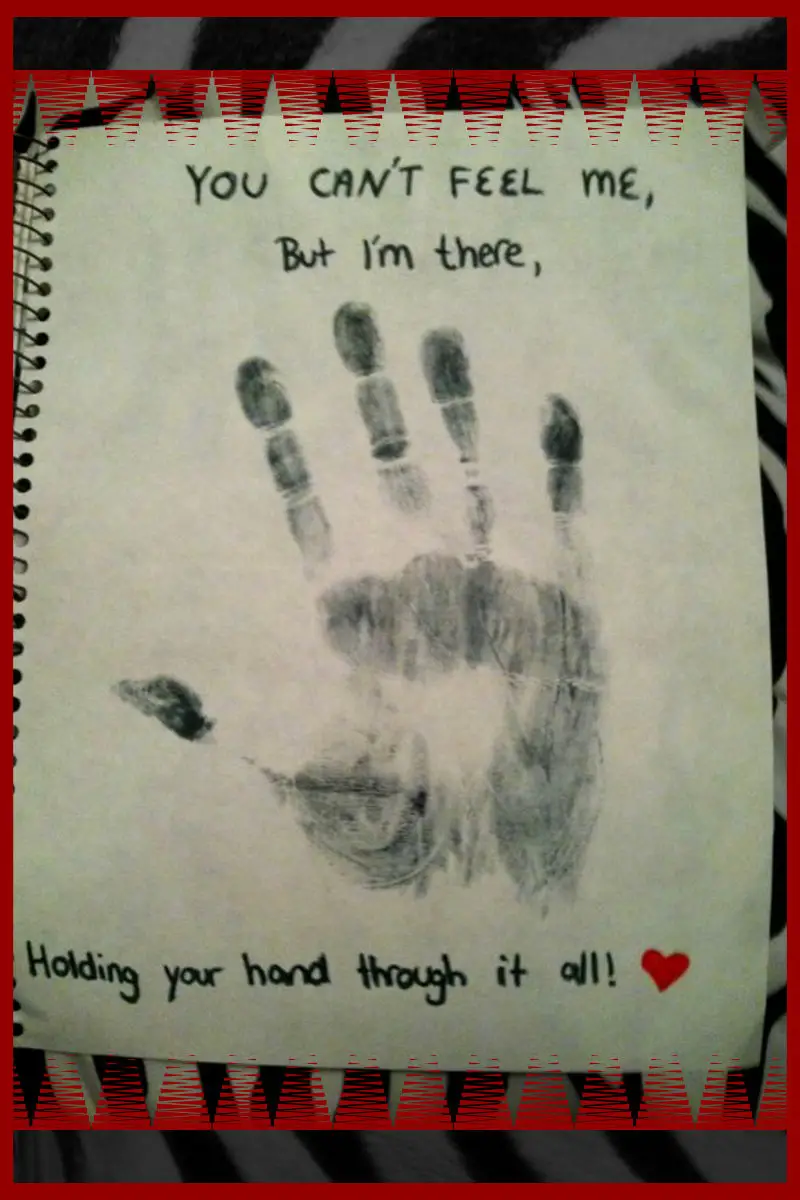 What To Put In Them
Here are some really cute ideas showing what to put IN your Open When letters for your boyfriend: