---
These new inflatable air hammock chairs/loungers are wonderful. They're easy to carry with you ANYWHERE and best of all – NO PUMP REQUIRED to blow up these comfy air chairs. Heck, they're like an air COUCH – lots of room for friends, too.
Send me camping or to the beach with MY inflatable lounger and my YETI cooler full of drinks and ice – and I am one happy camper! (pun intended!)
---
Updated on February 2, 2019
posts may contain affiliate links -Enjoy and feel free to share with your friends!
---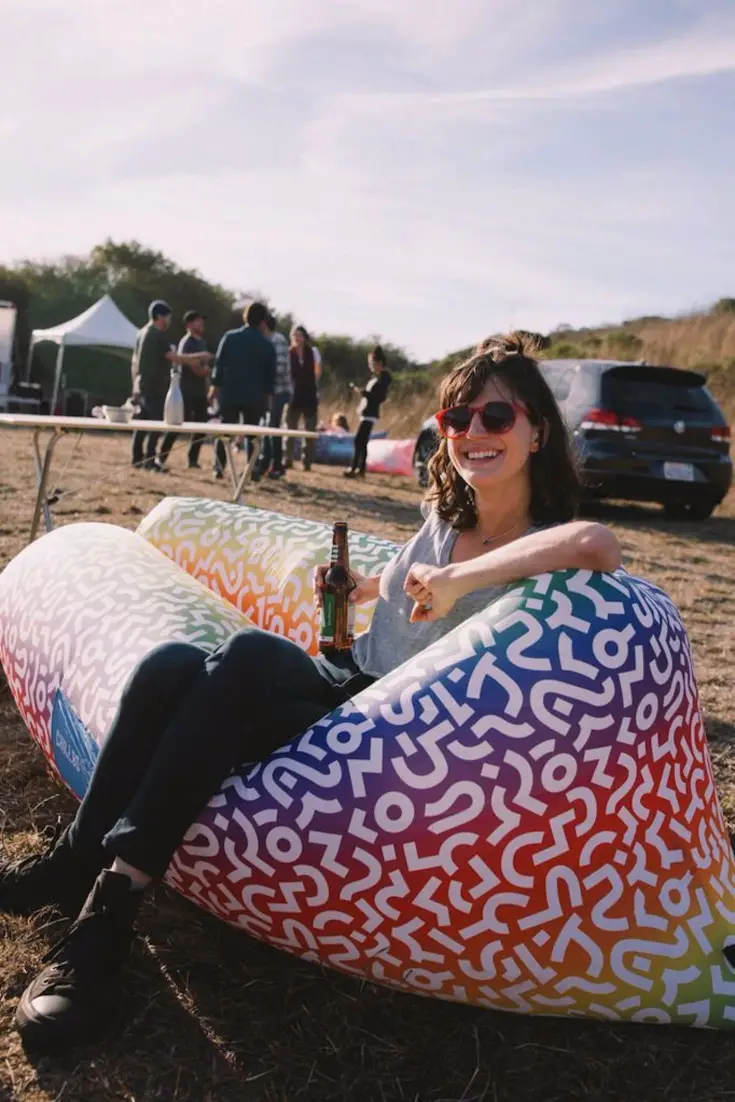 We've read all the other "Top 10 Best Inflatable Loungers" and "Best Inflatable Hammocks" reviews – and well, we disagree with many of the other review pages out there.
So – we made our own list of OUR picks for the best AFFORDABLE air hammocks and inflatable lounge chairs. We each love our inflatable air sofa hammocks and loungers and we use them all the time at the beach, campground, lake, concerts, ball park – anywhere outdoors!!
---
How we picked our winners: we made our choices on not only the best-rated and the best quality/durability (my air lounger has a LIFETIME warranty!), but we also wanted the very best DEALS on inflatable lounge hammocks.
I don't know about you, but we sure didn't want to pay an arm and a leg for a air lounger. In fact, we all wanted to save money so we could buy TWO or more (yes, I'm talking about you, Janet!).
---
If you want an inflatable lounger specifically for the beach, this inflatable lounger is PERFECT! While it didn't make our Overall Best list, it was a very strong contender – and the price is GREAT!
---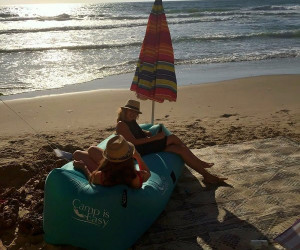 & 
✅ Best Inflatable Lounger Winners
Based on price, consumer reviews, reports and feedback, price, and over-all inflatable lounger quality – here are our picks for the best inflatable loungers (air hammocks).
& 
How To Use & Inflate an Inflatable Lounger
It's really easy to inflate and get air in an inflatable hammock lounge chair? Oh yes! It absolutely is! It takes like 5 seconds to inflate and be ready to use! Just watch this really quick inflatable lounger set up video:
& 
THE Best Inflatable Lounger 2017 Winner
There's about 20 or so of us in total that bought one of these inflatable lounge hammock winners.
At this point, TWELVE of us now have, and LOVE, this specific inflatable air lounger.
✅ Which Inflatable Lounger is Best?
Here's your answer – this inflatable lounger below is totally THE best all-around inflatable air hammock chair-couch. You'll read my personal full review under the picture of my air lounger.
& 
WINNER: #1 Best Inflatable Lounge Hammock
1 new from $59.90
Free shipping
✅ Show Me This!
Amazon.com
as of November 30, 2023 1:08 pm
Features
FUNCTIONAL AND GOOD LOOKING Inflatable sofa available in your choice of 7 BADA$$ color combos. Elastic anchor loops let you stake down your inflatable lounge in windy conditions. Larger side pockets hold books, glasses, snacks and your ice cold beer.
EASY TO INFLATE DESIGN. No pump required. Just 2 scoops of air and this inflatable sofa will feel like a lounge cloud. Leisure up with the perfect lay bag for chilling. Use it as a pool float or aqua lounge when swimming and replace that cumbersome inflatable pool chair hammock picnic blanket air sofa or air bed. Chillbo Baggins does it all. Woohoo!
FAST SHIPPING AND SATISFACTION PROMISED We are a US-based company with a commitment to happy customers. We ship in 2 days, not 4-6 weeks like some European and Chinese competitors. If you are dissatisfied in any way, return it for replacement or 100% refund no questions asked.
FLOATS ON WATER and is better than a foam pool float, pool lounger or inflatable raft so you can leisure up in aquatic fun. Work on your tan as you gently bob on the water on your new pool lounge float. Then take Chillbo Baggins back to dry land for the perfect toy for camping or music festivals.
RIPSTOP NYLON fabric is lightweight, portable for travel and durable. Chillbo Baggins air bag folds to 13" x 7" x 3.5" and fits in its own carrying bag with shoulder strap. Compression sack blow up chair supports up to 400 lbs when inflated, yet weighs just 3 lbs. GET YOURS TODAY. CLICK ADD TO CART.
see all colors and prices here

My Inflatable Hammock Lounger Review
This inflatable hammock (lounger) comes in many fun colors and patterns (I bought the multicolor inflatable hammock in the picture to your right - it's awesome!) Everyone wants to know where I got it and wants to sit in it - btw, I got it here for CHEAP. Takes NO time to blow up (no pump needed) and it's really comfy - feels like sitting on a cloud of air. It's got loops so you can anchor it down when it's windy, pockets to hold your phone and stuff - AND... it FLOATS! Hello happy days on the lake and in the pool! Shipping for me was fast and FREE. Definitely worth the money - one of my favorite things ever! And wow, for all the time I spend at the ballpark, my inflatable couch lounger is a life-saver! If you can find these on sale - definitely buy at LEAST one (hint: these air hammock loungers are SUPER popular now and make GREAT GIFTS!)
Check current price here
See more pictures and inflatable hammock lounger color options here
Read more consumer reports and reviews here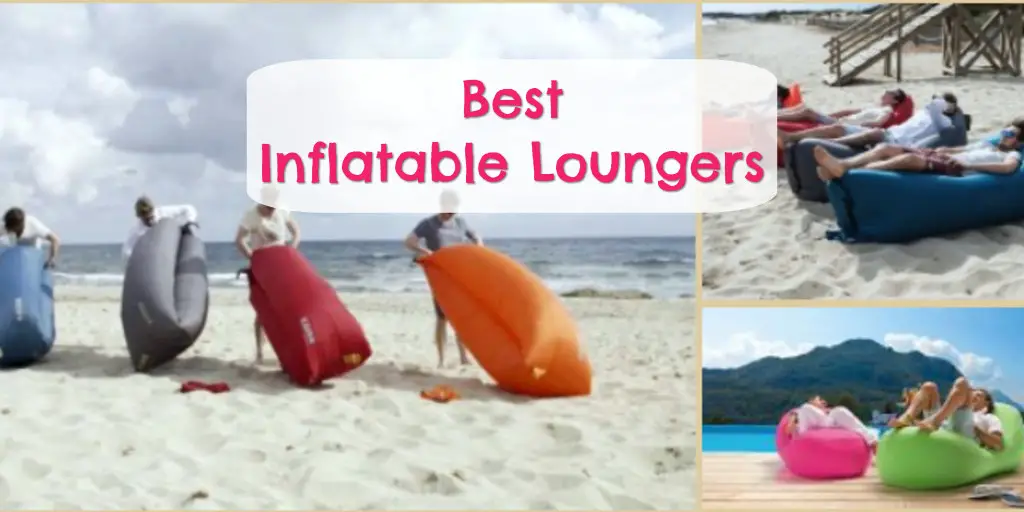 Best Inflatable Hammock for the Money?
If you want the best inflatable lounger for your money, get this one right here. It's one heck of a deal and it's a GREAT inflatable air lounger!
✅ Inflatable Loungers & Hammocks DEALS
These inflatable lounge chair hammock sofas below are our 6 other winners – many are on sale right now (and most have FREE SHIPPING too!)
Last updated on November 30, 2023 1:08 pm
https://kit.com/Involvery/best-inflatable-loungers-inflatable-hammocks
& 
&