---
Home Office Ideas For Decorating YOUR Home Office on a Budget – Lots of PICTURES and DIY home office inspiration for women down below.
Want to create a work from office in pretty and feminine decor… but you're on a budget? Perhaps your home office is the smallest space in the house and you need home office layout, design and DIY decorating inspiration for that small room – or CORNER of a room? If so, you are in the right place! Below are GORGEOUS and budget-friendly home office ideas just for her that I love!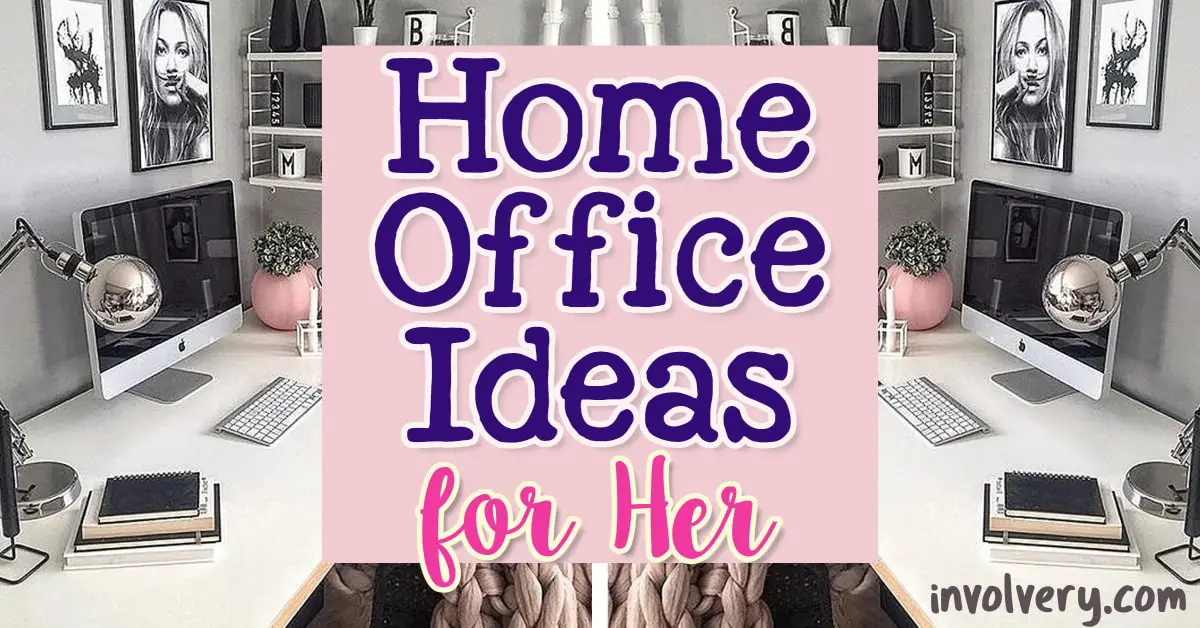 ---
Updated on October 10, 2022
posts may contain affiliate links -Enjoy and feel free to share with your friends!
---
Home Office Ideas For Her
I'm always looking at, and looking for, unique and beautiful ways to decorate my home office.
It's a small space, but I know it has SO much potential to be beautiful, comfortable AND functional – which is exactly what a home office SHOULD be, right?
I LOVE an aesthetic room – and this college apartment bedroom desk and work area set up is so pretty!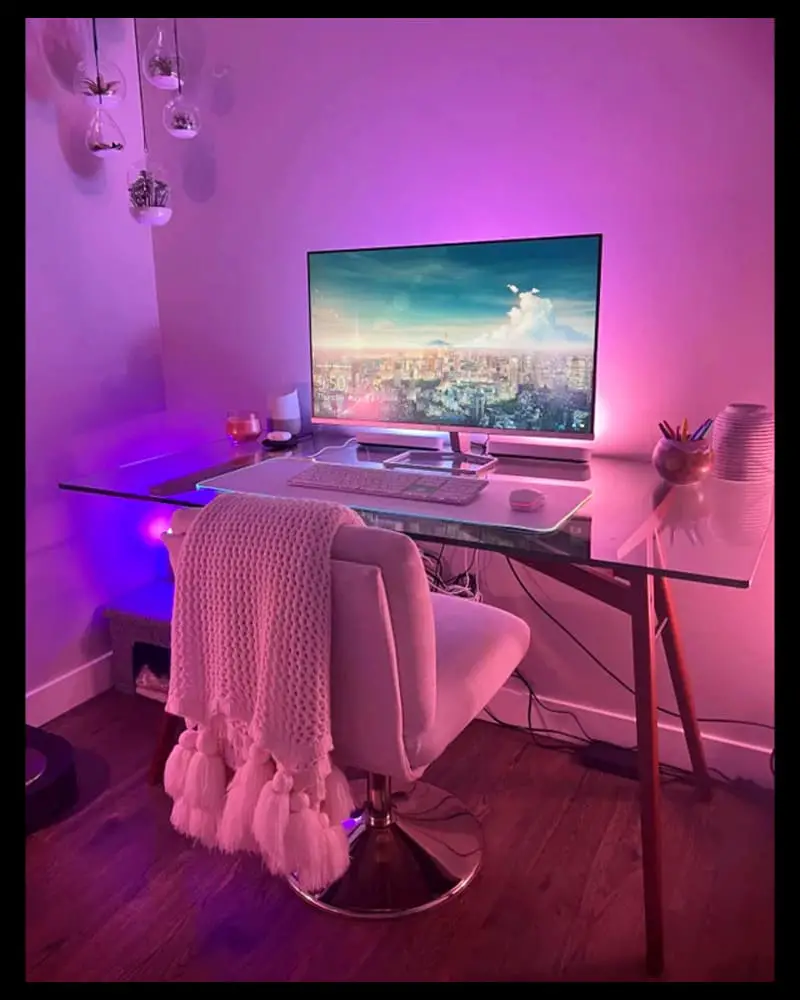 The pink LED lighting is just backlights behind the computer monitor which is very affordable to do.
I personally love more of a "glam chic" type of home office, but I found some small modern home office ideas for women that are simply gorgeous, too!
The only thing better would be having my own She She in the backyard – but that's a dream for another day lol!
Small Home Office Before & After
Before and after decorating makeover pictures are my favorite.
I also LOVE looking at before and after pictures to see how other women design their home office space to make it fit in the space they have available in their house.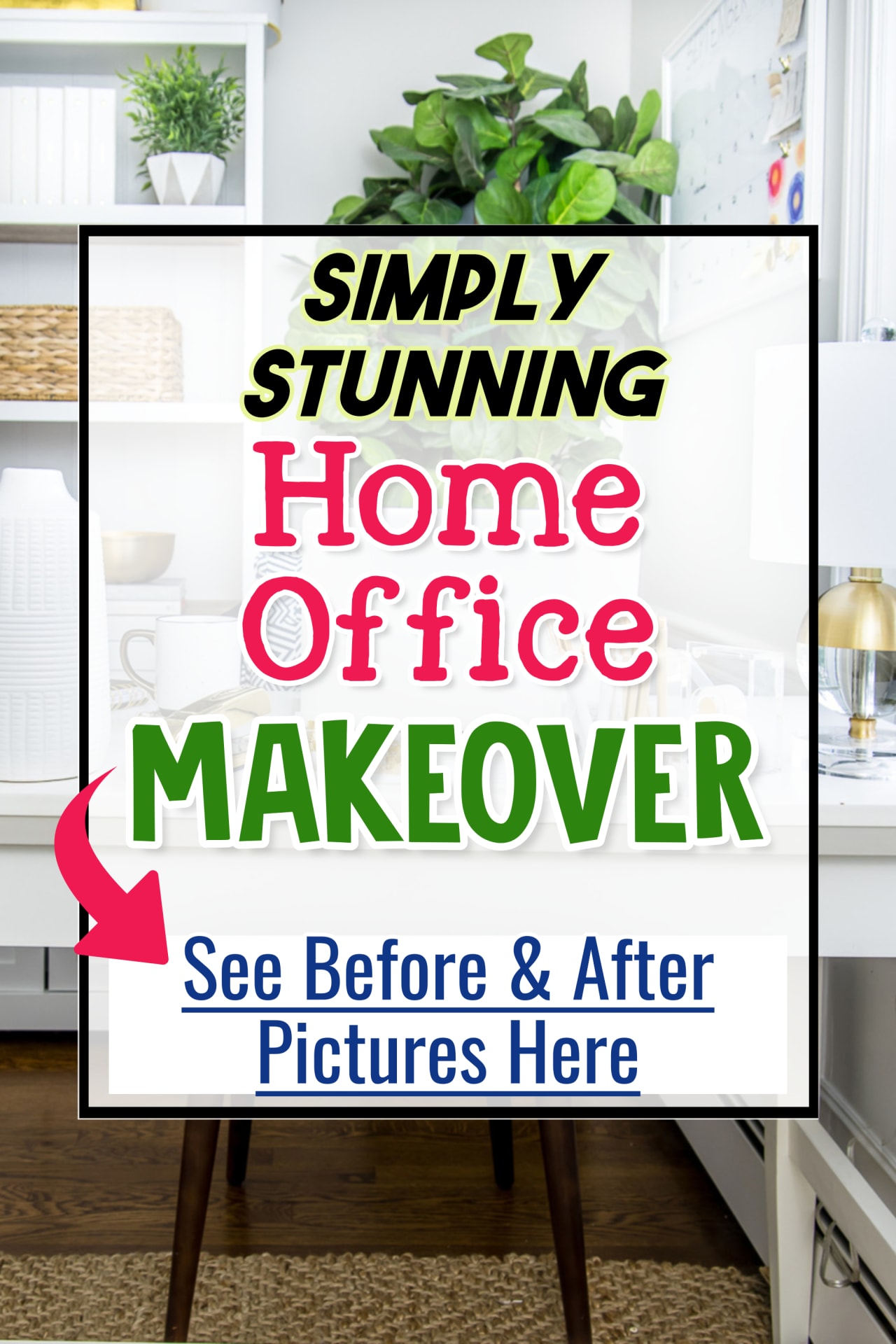 If you like looking at other home office remodels…
Look at THESE before and after pictures of this home office makeover –
It turned out GORGEOUS!
(I LOVE what she did with her office closet too!)
Home Office Shelving Ideas
Is it weird that I have a thing for home office decor?
If so, I'll let you in on a secret…
I have a thing for office SUPPLIES, too.
I LOVE pens and paper and notebooks and all that fun stuff!
Doesn't everybody?
BUT having ALL those office supplies means I need space to PUT them.
My home office is small – and I'm decorating it on a budget, so this home shelving idea below would be perfect to create more storage space in my small office workspace.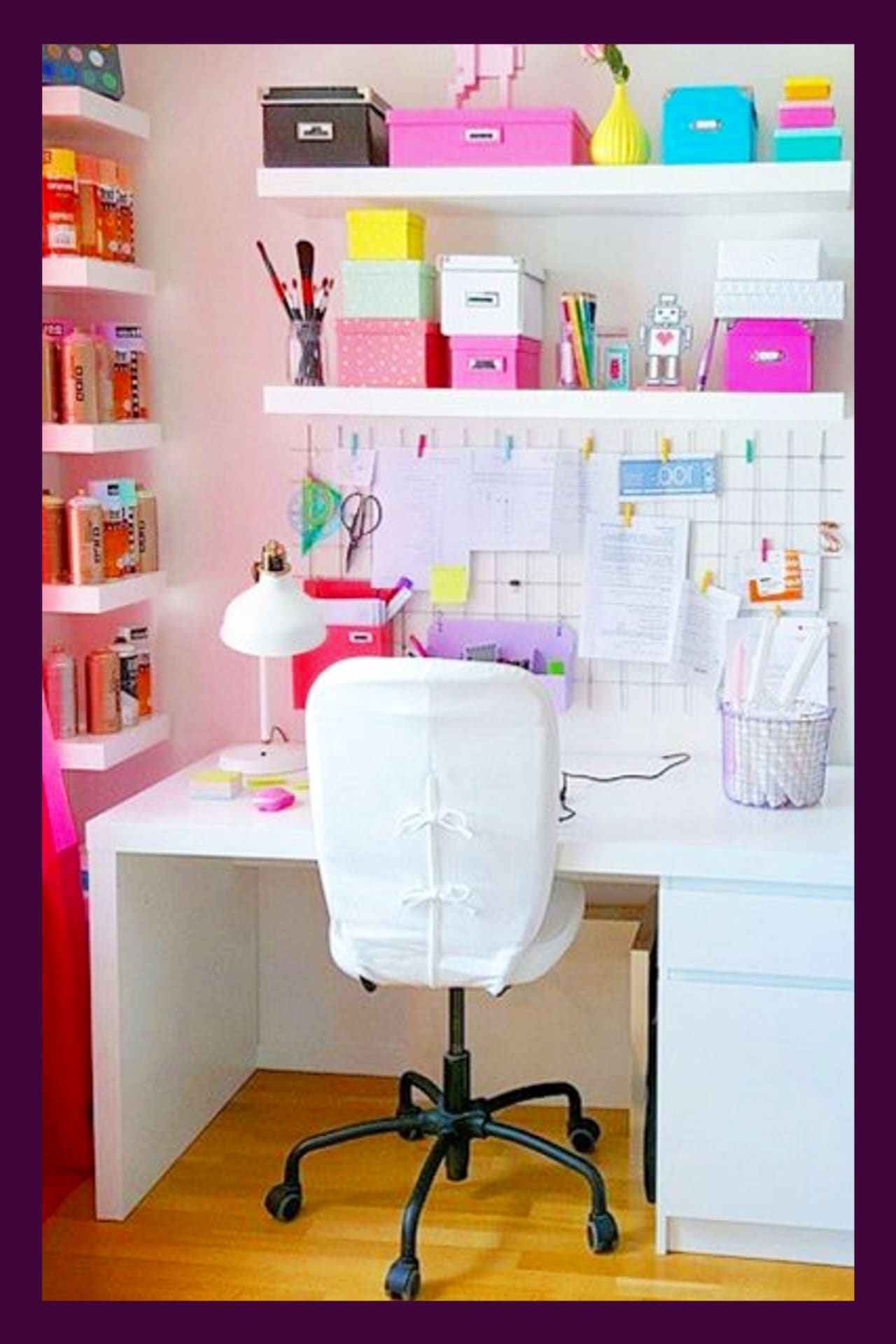 Rose Gold Home Office Ideas
I am having a BIG TIME love affair with any Rose Gold office supplies or Rose Gold office decor – anything Rose Gold (hey, don't judge – it all matches my phone…lol!)
Like my Rose Gold planner I found here – isn't it gorgeous?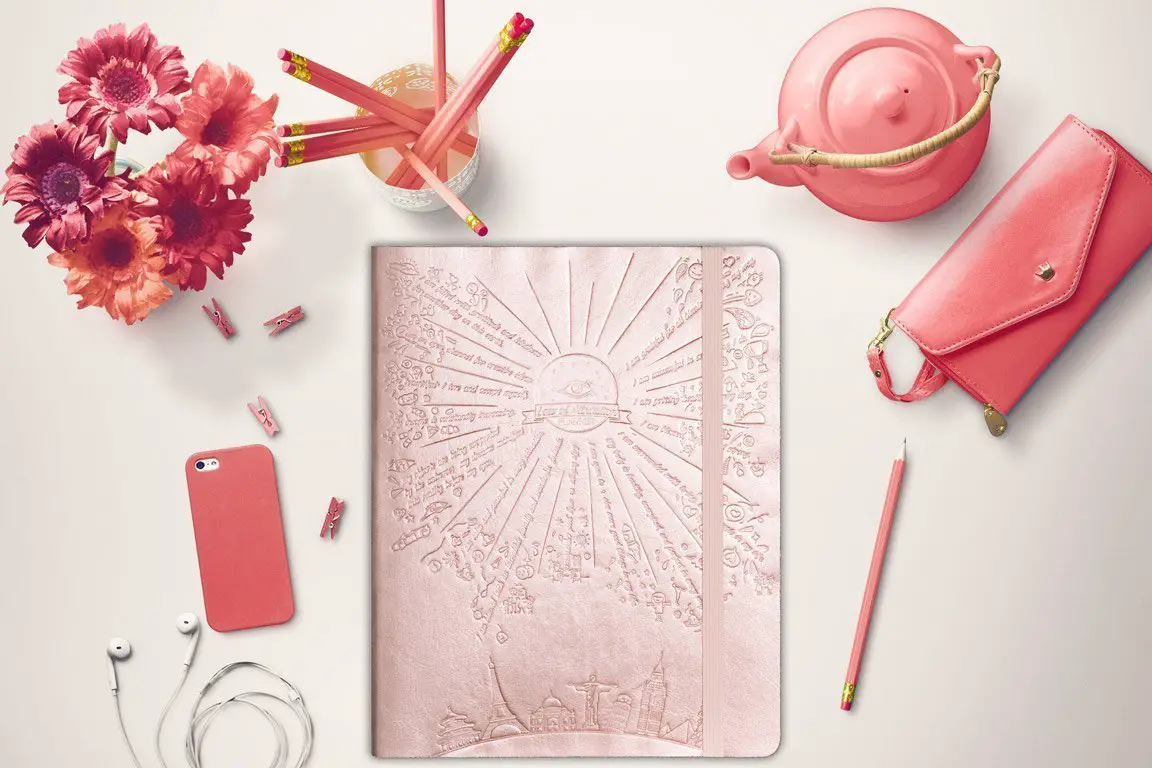 Best part – IT'S UNDATED – meaning: you can start using it whenever you want!
I think rose-gold accents, or a similar dusty rose color, would look amazing set up like a Girl Boss office like THIS:
Just LOOK at all these gorgeous Rose Gold items for your home office!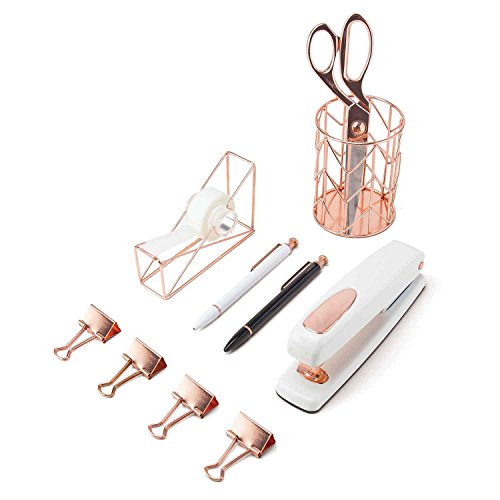 Rose Gold Office Organization SetSee This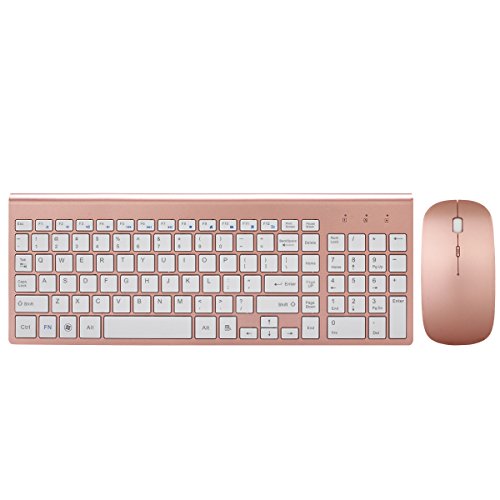 Rose Gold Wireless Keyboard & MouseSee This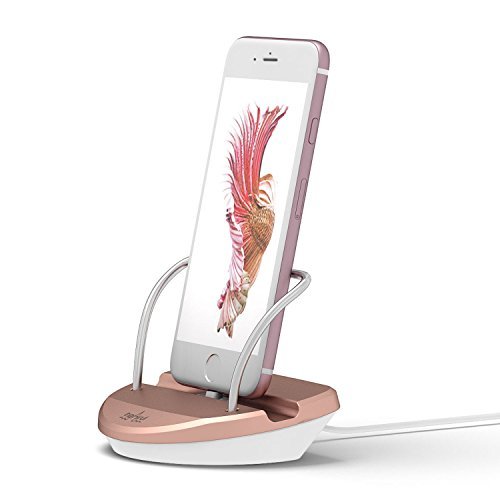 Rose Gold iPhone Charging DockSee This
Rose Gold Phone & Tablet HolderSee This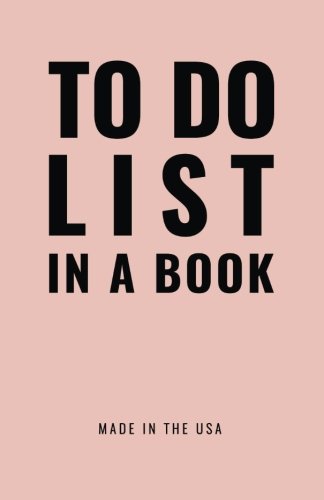 Rose Gold TO DO LIST IN A BOOK – Non DatedSee This
Rose Gold Desktop Filing and Organization KitSee This
Women's Home Office Ideas
So in my pursuit of the perfect and GORGEOUS home office ideas, I was scrolling around online and found these AH-mazing home office set-ups and workspaces below.
Like this stunning woman's home office – white office furniture, gray walls and pink decor touches throughout – just love it!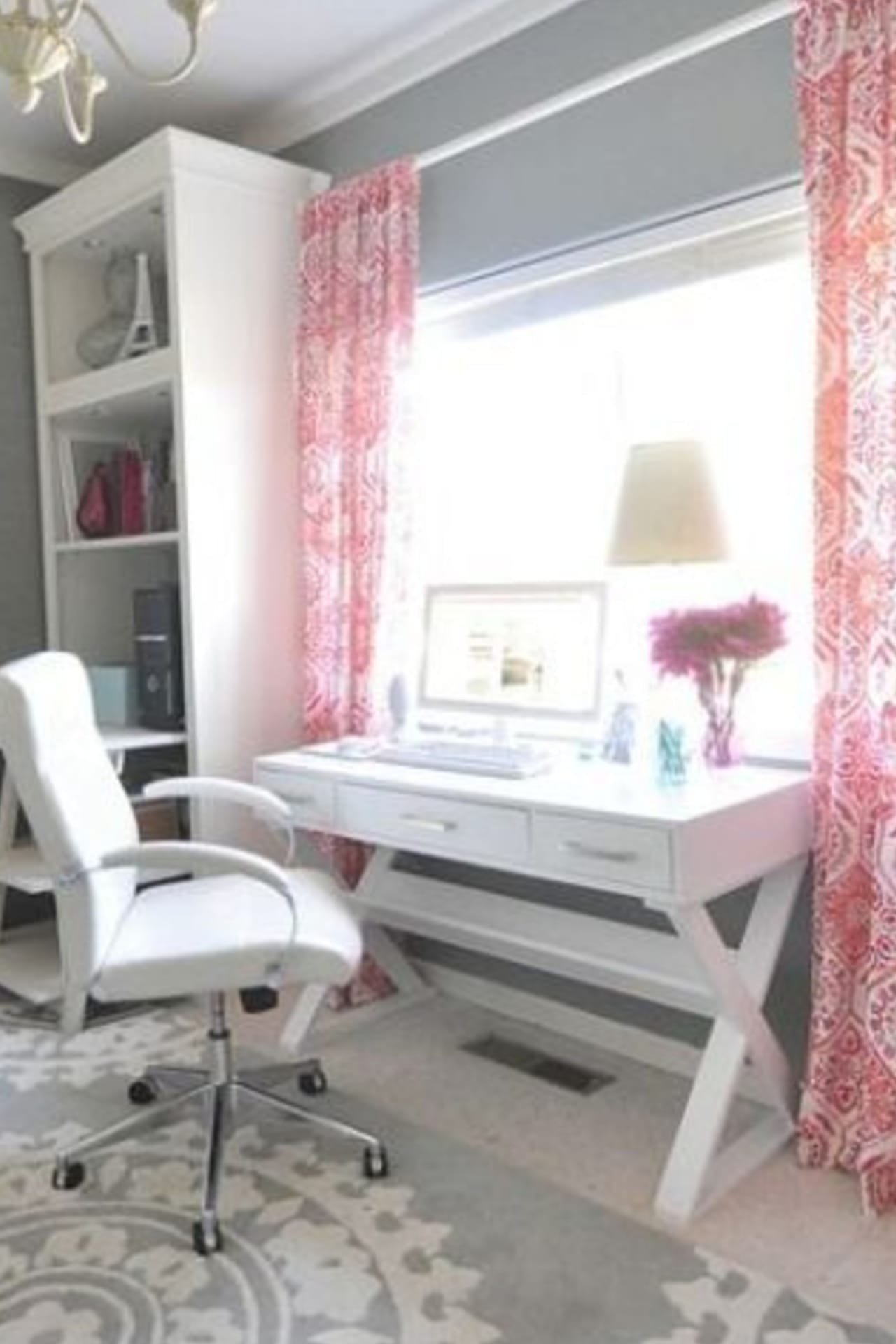 People are so clever and creative, aren't they?
Wait until you SEE the rest of the gorgeous and feminine home offices they have set up in their home below…
Feminine Home Office Ideas
These home office decorating ideas below are such CUTE (and functional) home office ideas for women.
These home office set-ups below make me feel a little sad about my own home office!
But these work from home office work spaces sure give me inspiration to update my own home office with a more feminine touch.
Modern Home Office For Two
Below is a gorgeous home office idea – love this workspace with the white desk, 2 white office chairs, floating shelves, the navy blue curtains for a pop of color, and all the cute desk items and office supplies!
Modern Feminine Office Idea
Who wouldn't want to work from home in THIS home office below? Such a feminine office work space for your home!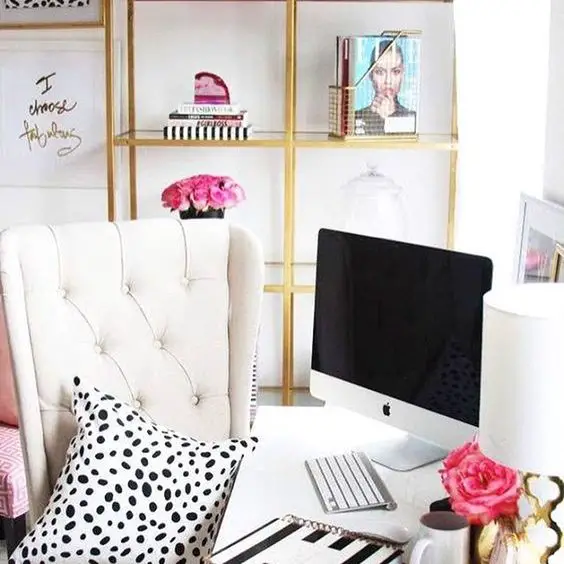 Black and White Minimal Decorating Idea
Take a look at the clean, white, and bright home office idea below – LOVE the white desk and the clean, organized look of this home office space!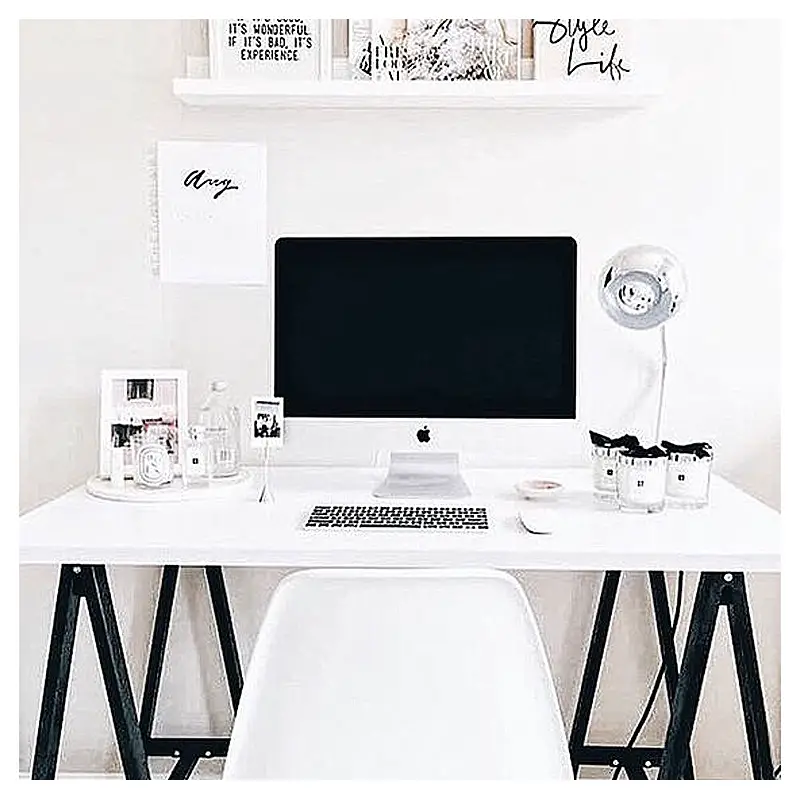 Grey Home Office For Her
This home office workspace makes me happy.
It's not a bright white like the others, but the gray walls in this office paired with the white desk and the pink office decor just bring it all together perfectly.
What a great work from home office idea!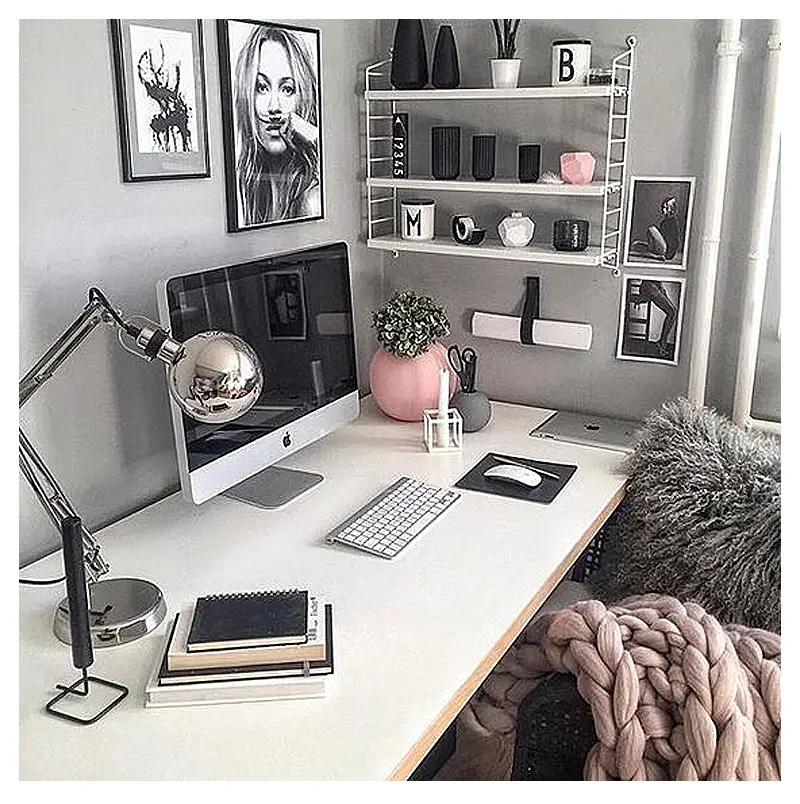 Home Office Ideas for Her Pictures
Here are some more home office ideas and home workspace decorating ideas I really like:
Great home office decor / decorating idea for a work at home mom – love the 'Mom Boss' desk sign, don't you?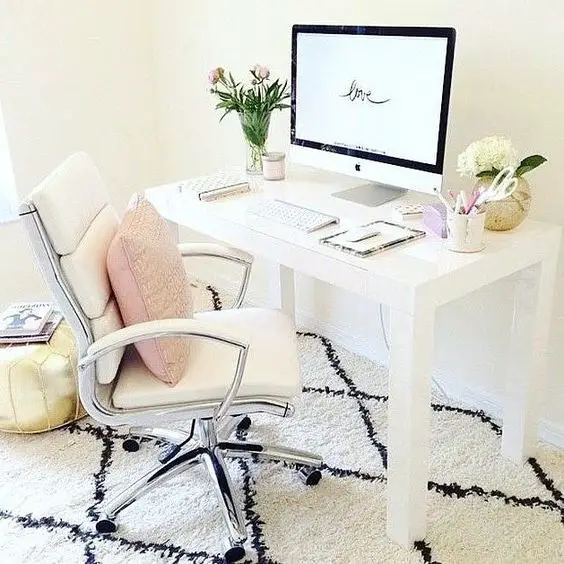 This home work space shows how even a SMALL area can be the perfect home office area. The white desk and white office chair keep it all looking bright and neat – and organized. The pink throw pillow adds a nice soft touch of feminine color – and that black and white rug is a perfect finishing touch.
And I have to throw this last home office idea in… isn't it cool?!?!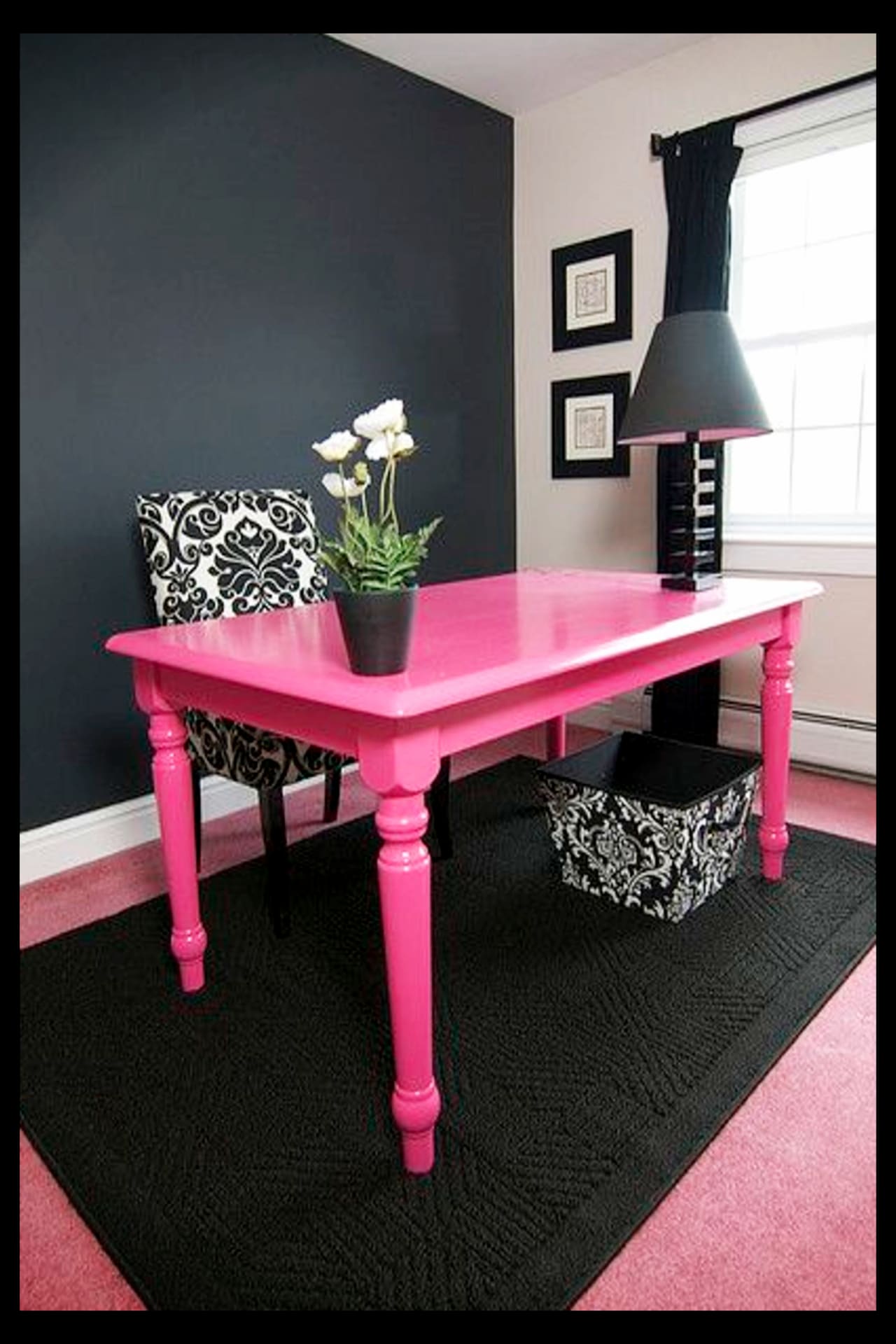 I LOVE the hot pink desk!
Here's my FAVORITE home office idea (since I love ANYTHING Pink!)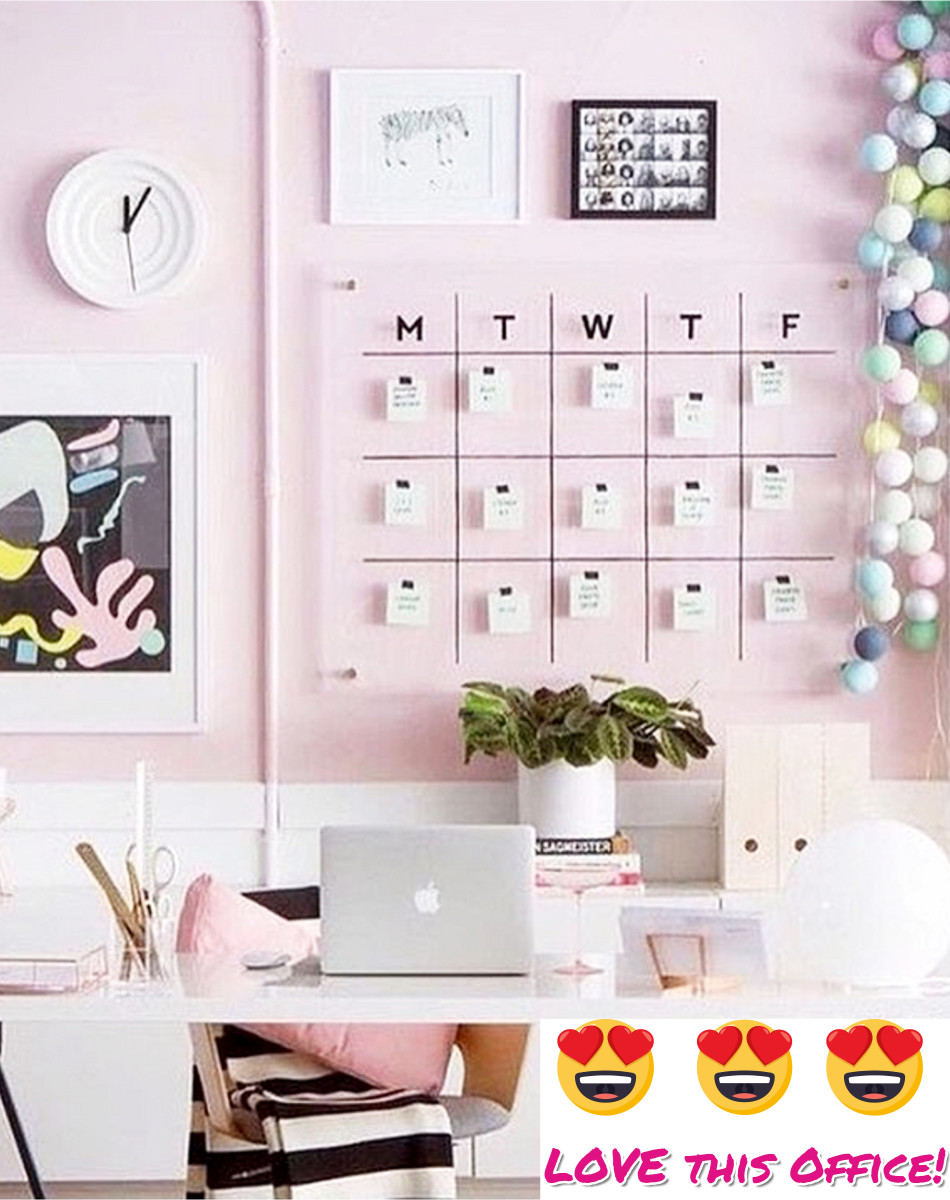 Here's more ideas you'll love: