---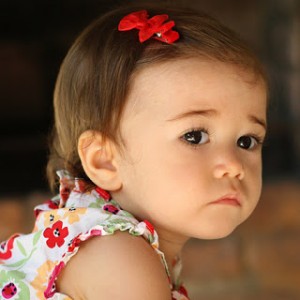 Let's learn how to make hair bows out of ribbon for baby girls, toddler girls and more! My granddaughter ALWAYS has at least one bow in her hair.  If it falls out, she will push the bow towards you insisting that you put it back in.  It's really cute!
When she was a newborn, my daughter-in-law would buy baby hair bows to match all her outfits, but it wasn't long before she realized just how expensive hair bows really are.
---
Updated on November 18, 2021
posts may contain affiliate links -Enjoy and feel free to share with your friends!
---
So, she set out to learn how to MAKE baby hair bows so she could save money AND get the bows exactly as she wanted them.
This is the quick online course she took to learn how to make hair bows.
She LOVED that course and wow, she sure cranks out hair bows left and right now!
Last updated on May 20, 2023 6:26 pm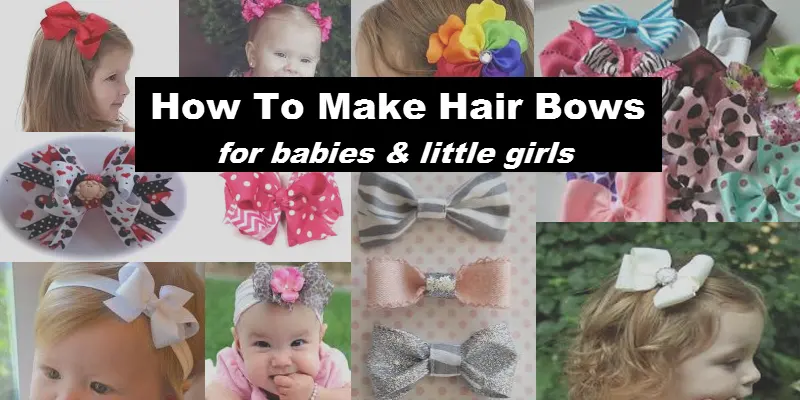 ---
How To Make Baby Hair Bows
Step 1
Get some 3/8 inch ribbon and a small two-prong hair clip.
Step 2
Cut 3 pieces of ribbon into 4 inch long pieces.
Step 3
Tie a single knot in the middle of one piece of your ribbon.
Step 4
Fold the other 2 pieces of ribbon into a circle and hot glue it closed.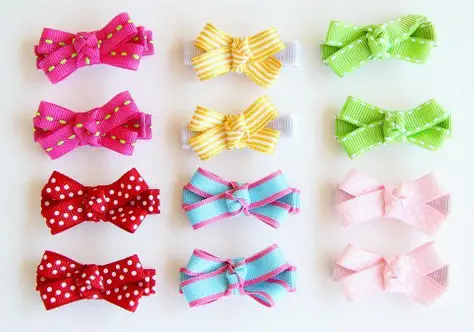 Step 5
Stack the 2 "circled" ribbons together in a narrow "x" shape and hot glue it all together in the center.
Step 6
Place the piece of ribbon you tied a knot into and hot glue it across the top of the "x" shaped ribbon pieces.
Step 7
Hot glue the 3-ribbon design onto your 2-prong hair clip.
You're done!
Optional:
You can hot glue some of your ribbon to the hair clip first to make it look even better.
If your baby has REALLY fine hair and these types of bows won't stay in her hair… try gluing a little piece of "no slip" shelf liner inside the clip (here's how). That REALLY helps baby hair bows stay IN their hair.
Naturally, if you don't want to MAKE these hair bows, you can always just BUY them =)
Easy Hair Bows for Babies
Those are some really cute baby hair bows! She could easily sell them, don't you think?
That's another great idea for those that take this bow making course:
There are also a lot of people making extra money each month by doing this at home (and it's fun!)
She also took this little course about making baby tutus.  Oh wow, are they ever cute – especially with the matching hair bows!
How To Make Boutique Hair Bows for Babies
If you're up for making bows for girls that are a bit more fancy, there is also this really amazing training on making boutique-style hair bows.
Boutique hair bows can be tricky so it's really worth the time to learn from good training instead of bee-bopping all over the internet trying to figure it out.
These are the styles of baby boutique hair bows my daughter-in-law can now make since she took that course.
As you can see from these pictures, she learned to make all kinds of baby hair bows – all by just following the easy instructions the course gave her.
She can really whip them out these days – and that little grand child of mine has more hair bows than her Daddy has fishing lures (that's a LOT).
Learn How To Make Hair Bows Step by Step
$17.30
$21.99
26 new from $2.98
14 used from $12.12
Last updated on May 20, 2023 6:26 pm
Miss Anything?

Pin For Later?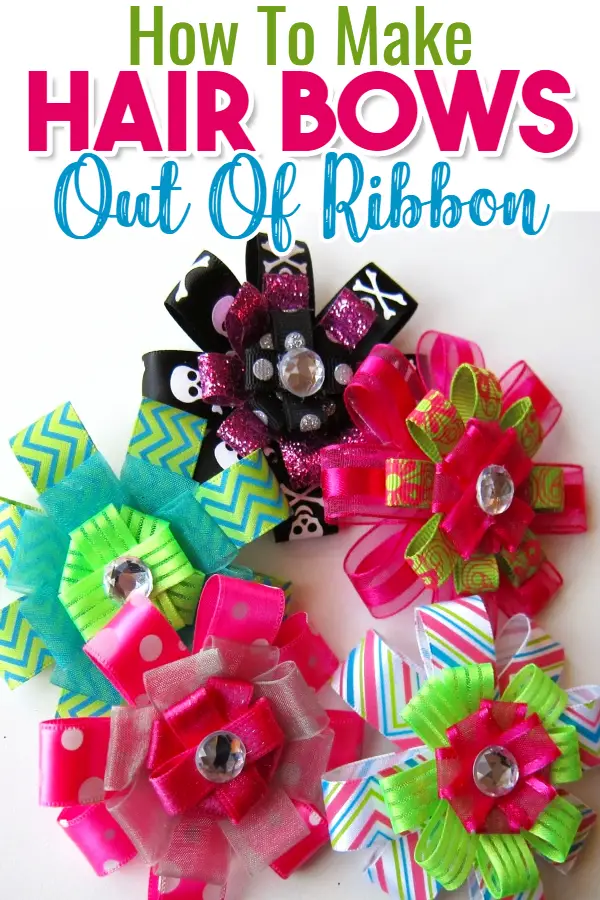 ---
---