---
Graduation Food Ideas for a Crowd At Your Open House Grad Party –
Whether it's a High School graduation party or an open house for your college grad, these easy and cheap party food ideas are perfect for ANY sized crowd – even if you're cooking on a budget (and who isn't these days – party food can be SO expensive!)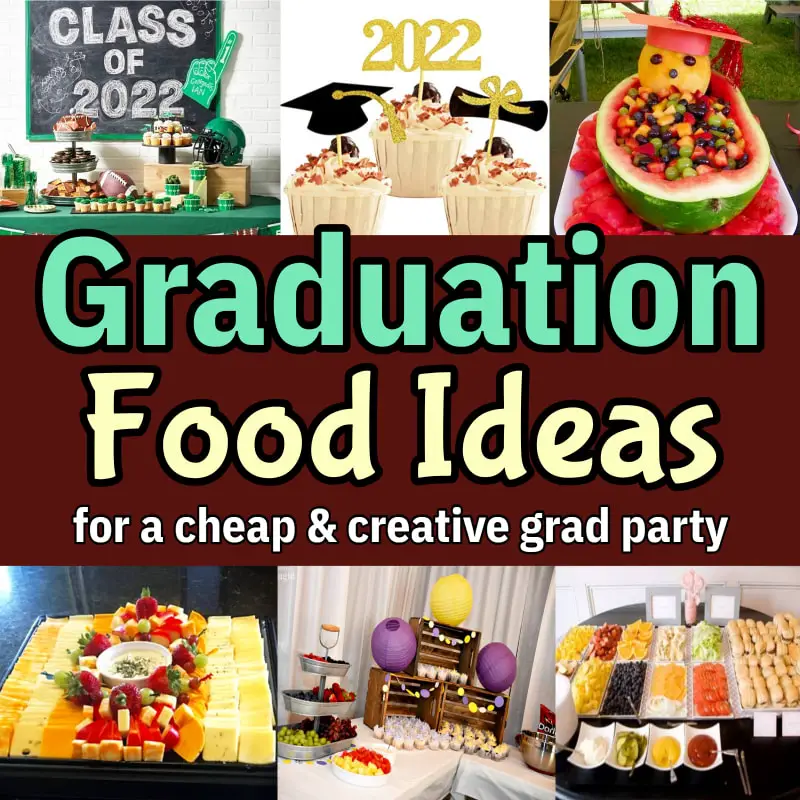 ---
Updated on May 20, 2022
posts may contain affiliate links -Enjoy and feel free to share with your friends!
---
Best Graduation Food Ideas
The best kind of food to serve at an open house graduation party is… FINGER FOODS.
If you want easy and simple food to serve at graduation party events, serve bite-sized appetizers mixed with single serving 'grab n go' food options.
Add in some dessert and sweet treats as well as punch and other beverages, and you can have a really nice, yet INEXPENSIVE, graduation party for your graduate.
✅ On a Budget?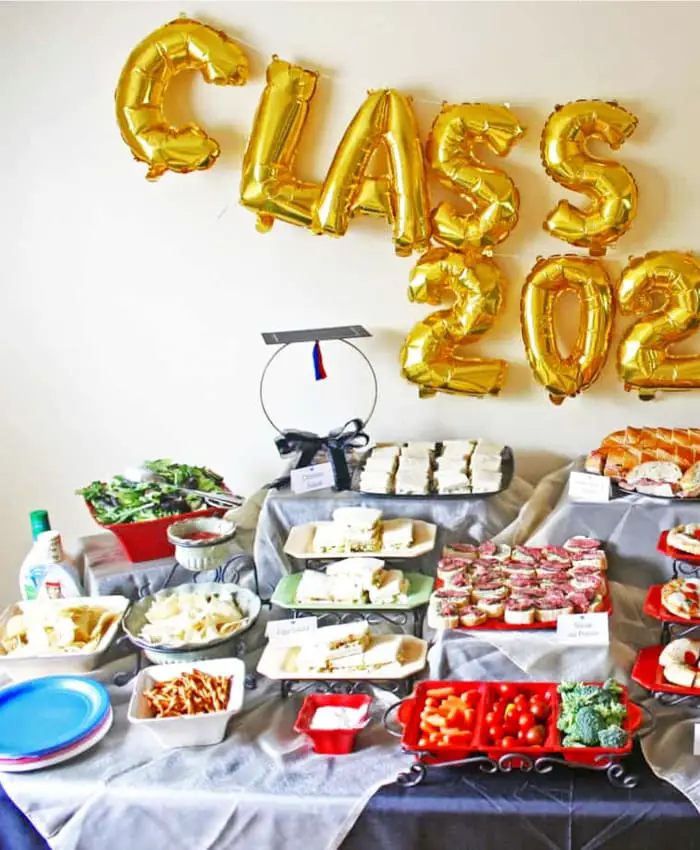 I don't know where YOU live, but in my area, food has become CRAZY expensive. When looking at party food prices, I felt like I'd have to take out a second mortgage just to feed our party crowd lol!
If you're like me, not only do you want to make preparing the food EASY on yourself – you probably want to keep the cost down to a bare minimum without looking cheap.
Making food for a crowd can be overwhelming AND expensive – but it doesn't HAVE to be that way.
To keep your graduation party food costs down, skip the catering and make as much of the food as you can.
Buy in bulk – discount warehouse stores like Sams and CostCo are perfect for reducing party food costs.
Also, consider asking close family members or friends to bring something with them.
Both my mom, and my mother-in-law, were MORE than happy to bring a party platter or two and it really helped!
A neighborhood block party or cookout is also a great idea for a cheap graduation party for multiple graduates in your neighborhood.
This is done 'potluck' style where each graduate's family brings party food and snack platters and drinks and ice and ALL that for ALL the kids that are graduating.
Below are many quick and cheap graduation party food ideas that will help you stick to a realistic budget AND will still impress your party guests.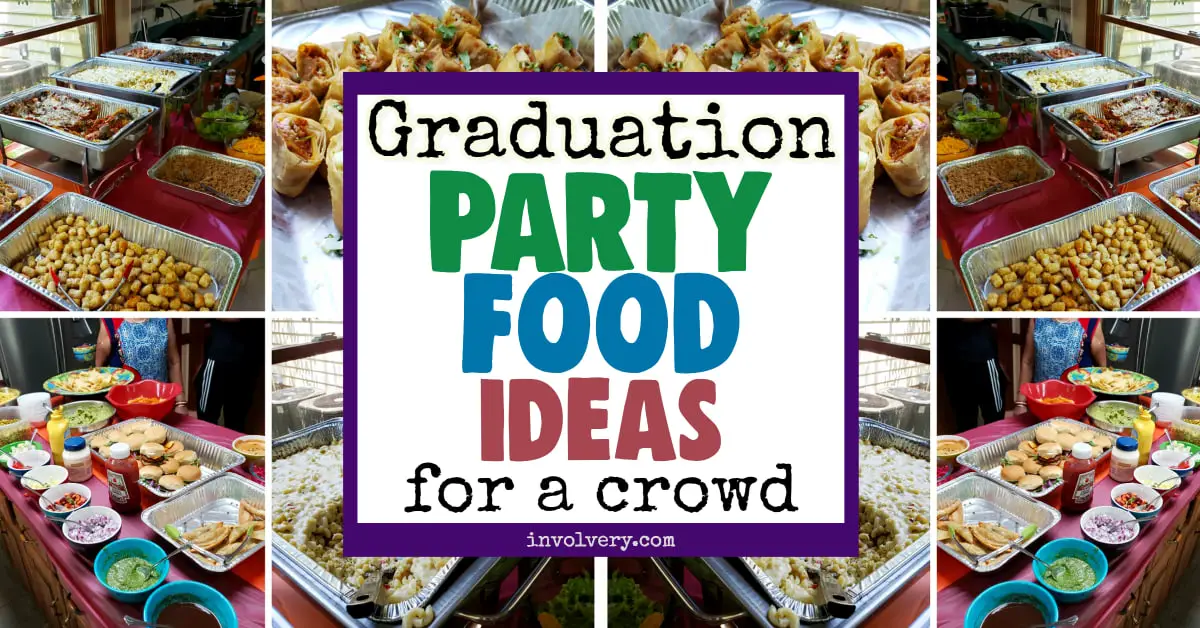 Grad Party Food Ideas
From graduation party finger food to open house appetizers, this is a helpful list of food ideas for your grad party this year.
 Graduation Food Ideas For Open House✅ See This Graduation Party Appetizer Ideas✅ See This Cold Appetizers For a Grad Party✅ See This Graduation Cookout Party Food Ideas✅ See This Graduation Party Punch For A Crowd✅ See This Graduation Block Party Food Ideas✅ See This Graduation Party Cheese Dip Recipes✅ See This Grad Party Boozy Popsicles✅ See This Graduation Party Dip Recipes✅ See This Graduation Potluck Food Ideas✅ See This
 2022 Grad Cupcake Toppers✅ See This Open House Party Supplies✅ See This Graduation Party Decorations✅ See This Grad Party Table Covers✅ See This Graduation Party Centerpieces✅ See This MEGA Graduation Party Pack✅ See This