---
No arguments here – Dyson vacuum cleaners are phenomenal! Sure, I like my Shark vacuum, but when it comes to money spent vs worth the money spent, Dyson vacuums are the best bet.
But the problem is: trying to find a cheap Dyson vacuum – or at least finding a good deal on Dyson vacuum cleaners. Good news – I gotcha covered!
---
Updated on October 14, 2019
posts may contain affiliate links -Enjoy and feel free to share with your friends!
---
If you're shopping for a Dyson cordless vacuum cleaner, you already know – they are
NOT
cheap. But, after some in-depth research, let's talk about where to find the cheapest Dyson cordless vacuum cleaners online.
✅ We've had a lot of luck finding cheap prices on Dyson cordless vacs here
I'm gonna be straight up with you – it's HARD to find GOOD deals on Dyson vacuum cleaners so it's important to know WHERE to look to watch prices for sales and deals.
Dyson cordless vacuums are on sale on this page quite often.
Keep that page bookmarked so you can check it often and grab a great deal when you see it.
Best Deals on Dyson Cordless Vacs
If you want the best deal possible on a Dyson cordless vacuum cleaner and you're open to all options, you might want to consider one of these below.
While it might not be your IDEAL choice, you can save a TON by going this route:
Current Deals on Dyson Cordless Vacuums
Below are the current deals and cheapest sale prices on Dyson cordless vacuums – if it's marked in red, it's on sale.
Last updated on August 11, 2023 7:26 am
Now, to be totally honest, a Dyson stick vacuum is NO WHERE are good as a Shark vacuum, but you might feel differently.
If you're not sure, you need to compare ALL cordless vacuum cleaners.
Buying Guide
There are a few attributes that all Dyson cordless products are well-known for and most of these fall into the categories of power, technology, and capability; we'll start with power first.
Power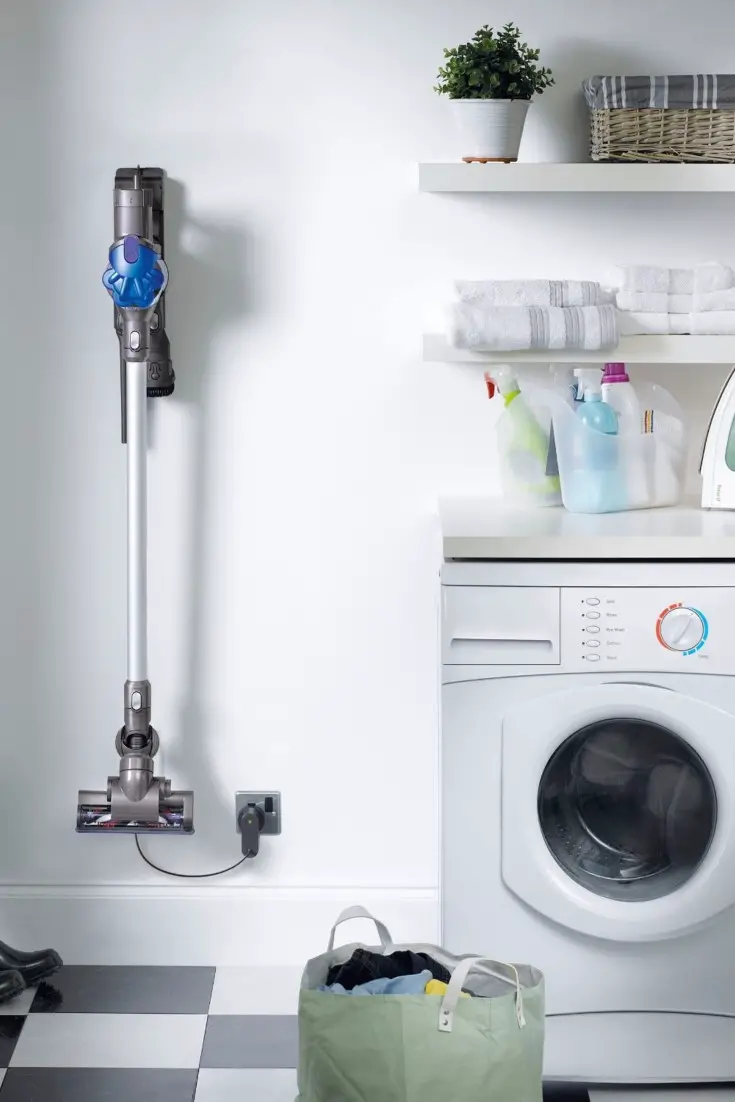 Each Dyson cordless vacuum cleaner is powered by a 22.2v rechargeable battery.
And that is very strong battery for a cordless vacuum cleaner!
A Dyson vacuum battery is also a "fade-free" battery; meaning that you will get consistent power from the vacuum up until the battery is completely drained instead of having the power fade over time.
Battery Life
The battery life will vary between each Dyson cordless vacuum cleaner model as you will learn in a moment, but I want to point out that the battery is affected by the "Dual Power Mode" feature built into each of the vacuums. One setting allows for more battery life at the expense of suction power, while the other setting allows for a more powerful suction at the expense of battery life.
Technology
The technology behind the superior suction of these cordless vacuums is arguably one of the best-selling points as well. Each has what's called a Dyson digital motor. This motor spins up to 104,000 times a minute and powers the suction that has made Dyson vacuums such great products.
This suction is in part due to what Dyson calls Root Cyclone™ technology. This technology uses powerful centrifugal forces to pull dust and dirt from the air. One of the great advantages of this is the fact that a Dyson vacuum does not require any vacuum bag. Vacuum bags are one of the main contributors to a vacuum losing suction over time.
Compare Dyson Cordless Vacuums
Before buying any model Dyson cordless vacuum, you need to compare each model to find which vacuum cleaner is truly right for you. After our comparison of Dyson's cordless options, this is what we've found out.
Which Dyson Cordless Vacuum is Best?
✅ The Dyson DC34: This is a vacuum great for small jobs. It's a handheld and one of the lightest you will find on the market with this kind of suction power. It weighs 2.9 lbs and includes a combination and crevice tool for hard to reach places. You will get about 15 minutes of battery life with this vacuum but it will be reduced to about 6 minutes in its max mode, but you'll get way more power out of it. This is the kind of vacuum you want around the house for small spills or to vacuum your car or boat.
✅ The Dyson DC35 Multi Floor: The name pretty much says it – this one is optimized for making quick work of dirt and debris on different floor types. If you need to go from carpet to hardwood, vinyl or tiled floors, this may be the vacuum for you. It's similar to the DC34 in that it's light and compact, but it also includes a wand to extend its reach and a motorized tool with anti-static carbon fiber brushes that improve the vacuums ability to pick up fine dust particles. You can get about 13-15 minutes of cleaning time with this vacuum, depending on if you are using the motorized floor tool or not. In max mode you will get about 6 minutes.
✅ The Dyson DC44 Animal: If you have a dog or cat then this one might deserve more of your attention. Like the DC35, this vacuum includes a wand to increase its reach as well as the motorized head with anti-static carbon fibers. But what makes the DC44 stand out is that it also includes a mini motorized tool that's excellent for getting pet hair off your furniture. This vacuum also includes extended battery life. You will get about 20 minutes of cleaning time or 8 minutes of cleaning time if it's in max mode.
As you can see, while each of these vacuums share many of the strengths that have made Dyson cordless vacuum cleaners very popular, you will want to considers your needs well before choosing the one that's right for you.
Dyson vs Other Cordless Vacuums
Personally, I'm not a big fan of Dyson vacuum cleaners. YES, they are awesome, but they are SO expensive and, in my opinion, way over-priced. Here are my winners when comparing Dysons to other cordless vacuums.
Dyson Cordless vs Shark
Let's do the math: For the price of ONE Dyson cord-free vacuum, I could buy 3… 4 or MORE of MY favorite cordless vacuum cleaner.
Best Budget-Friendly Dyson Cordless Alternative
17 new from $89.99
5 used from $76.49
Free shipping
✅ Show Me This!
Amazon.com
as of August 11, 2023 7:26 am
Features
Rechargeable cordless convenience. Provides premium pet hair pickup throughout the home.
Powerful and lightweight. Portable and versatile at only 7.5 pounds.
2-Speed Brushroll. Optimized for carpet and bare floors.10.8V Battery Included
XL-capacity, easy-to-empty dust cup. Extended cleaning without interruption.
Model numbers SV1106 and SV1106 N40 vary in packaging only.
✅ This is a WONDERFUL cordless vacuum cleaner and SO much cheaper – and it works great!
I vacuum like crazy AND we have pets (and kids) meaning: I put my vacuum cleaner through a beating and I truly don't believe ANY vacuum cleaner will last for years and years in my house under my conditions.
But so far, this cordless vacuum cleaner has held up VERY well for me.
And I'm not the only one that loves it either.
Best Cordless Vacuum Cleaner for the Money
When it comes to the best cordless vacuum cleaner for the money…
I vote for THIS cordless vacuum.
Dyson vs Black & Decker Cordless Vacuums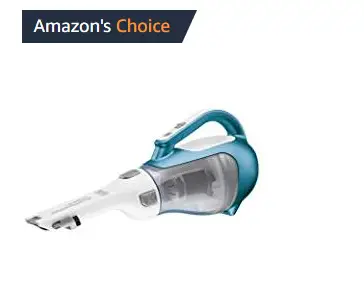 If all you really want is a lightweight cordless vacuum for your stairs, your car or other quick vacuuming jobs, can I recommend getting this Black and Decker cordless hand vac.
This is a GREAT alternative to a Dyson cordless vacuum
It works really well, is easy to grab and use, and it's much less expensive than a Dyson cordless vacuum cleaner.
Plus – it holds a charge for 18 MONTHS! How awesome is that?!?!
The nozzle rotates and it has an easy to clean removable filter.
Highly recommended – read the reviews here.
Consumer Reports Says
When it comes to Dyson cordless vacuum cleaners, Consumer Reports says this specific Dyson cordless stick vacuum is "the best stick vacuum we've ever tested" –
That is a HUGE compliment.. the Consumer Reports testers are TOUGH.
BUT, that cordless model from Dyson is VERY expensive (check current prices here).
Here are some cheaper cordless vacuum cleaners that Consumer Reports recommends:
Worth The Money?
Dyson cordless vacuums are expensive, but are they worth the money?
There's no doubt that there are a LOT of true fans when it comes to Dyson vacuums – as there should be. There is a lot of hype and good marketing with Dyson cordless vacs as well…but does that make them WORTH it? Their true fans certainly think so.
However, I am not one of those fans.
I simply cannot see spending THAT much money on a vacuum cleaner.
This is MY favorite cordless vacuum cleaner.
It works really well and is WAYYYYY less expensive than any Dyson cordless vacuum.
Last updated on August 11, 2023 7:26 am