---
Fruit Infused Water Recipes – Health and Weight Loss Benefits of Drinking Fruit Water – Let's talk about fruit water! How to make infused water, health benefits of drinking fruit-infused water, common questions about homemade fruit water, and some easy fruit infused water recipes for weight loss, more energy and over-all better general health.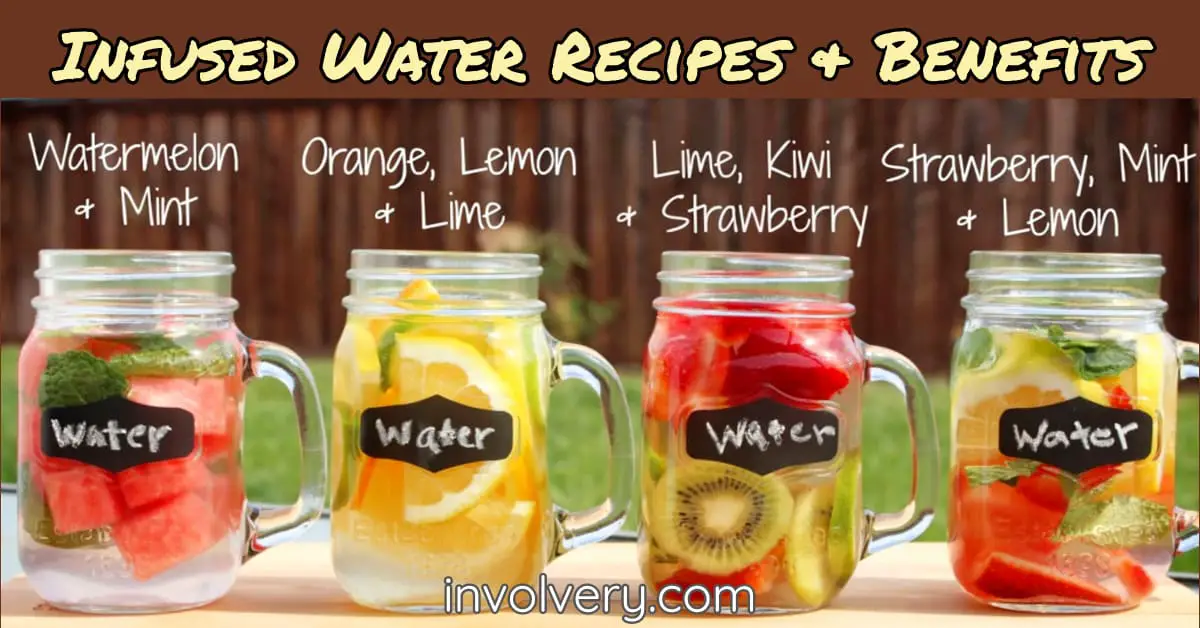 ---
Updated on April 18, 2023
posts may contain affiliate links -Enjoy and feel free to share with your friends!
---
---
How To Drink More Water
"Drink more water!", they always tell me – "it's SO good for you!"… but water is BORING!
I'll admit it – I use to HATE drinking water!
Especially when I wasn't even thirsty.
Not anymore though.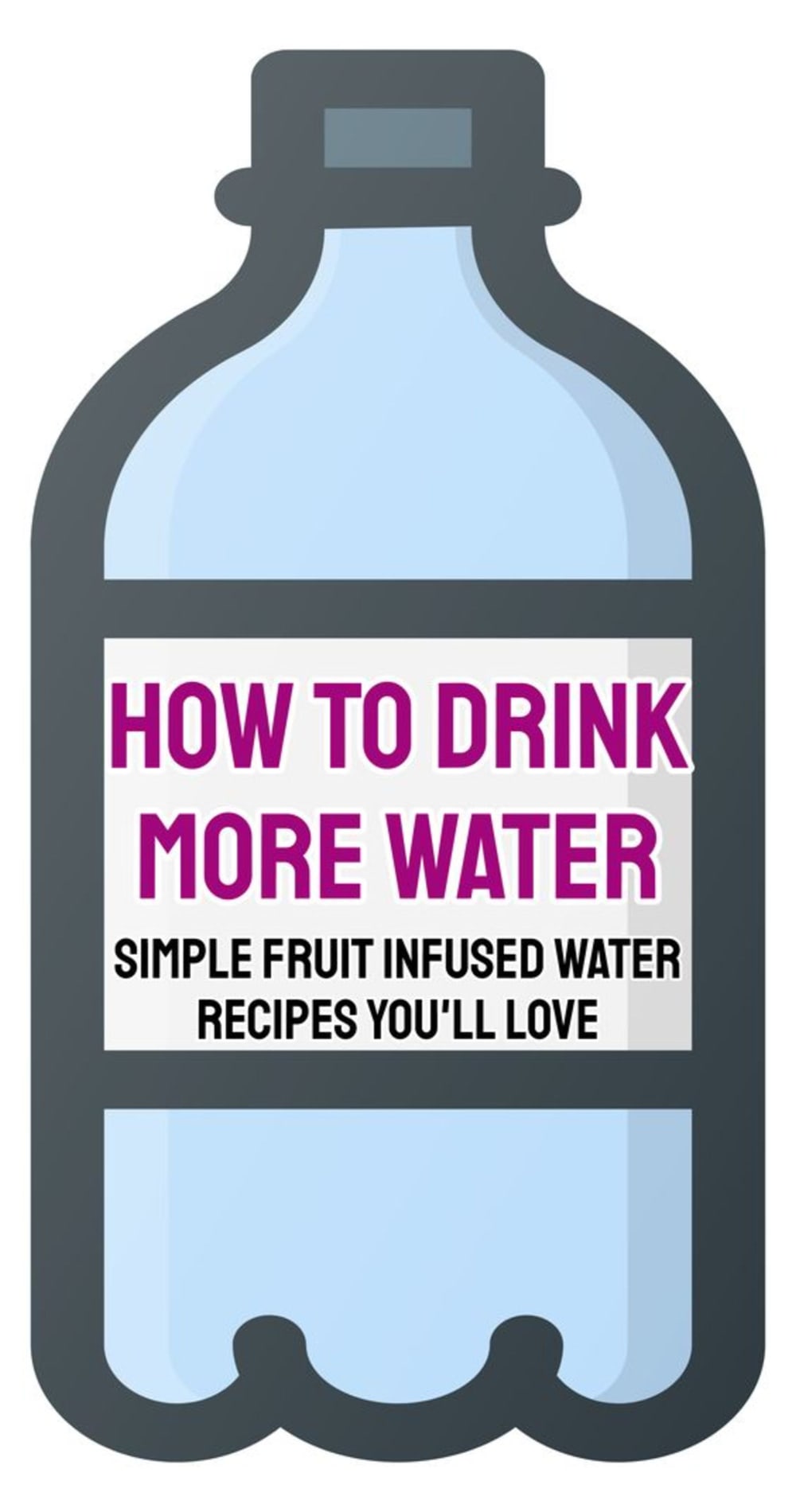 Now that I have discovered fruit-infused water that I can make at home and learned all the amazing benefits of drinking fruit water – well, I'm a BIG water drinker now!
If you struggle to drink water, these recipes for fruit infused water might make a HUGE difference to increase your water intake.
Is water infused with fruit and vegetables good for you?
You bet! There are so many health benefits to drinking infused water!
Fruit Water Benefits Chart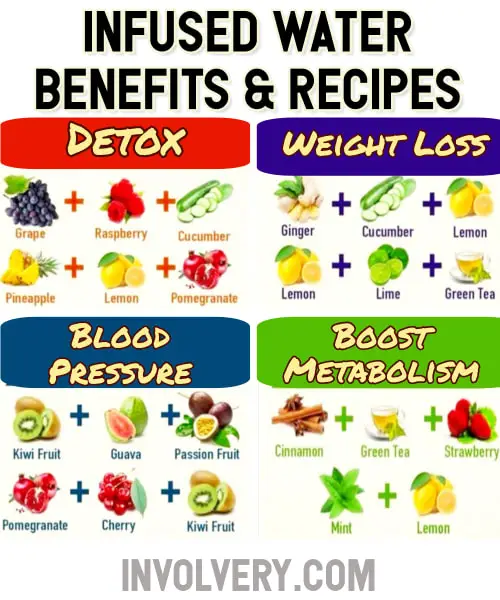 From weight loss and weight control to improving your metabolism, as you can see in the benefits chart above, there are ton of healthy reasons to drink fruit water.
When you soak a piece of fruit in water (infuse the water), the nutrients seep out and into the liquid. This means you get more vitamins and minerals than if you were to just drink the plain water. Not only does it add variety to your drinks, making you more likely to drink enough water on a daily basis, it is actually good for you.
The fact that infused waters are unsweetened means that even those who are unable to have sugar can enjoy them (as always, check with your doctor to find what's right for YOU).
A healthy intake of water will flush toxins from the body and keep you hydrated, helping you feel fresh and alert.
Above all that, infused water tastes wonderful!
How To Make Fruit Water
Let's talk about HOW to make fruit water at home. Yes, it's easy to make!
Just look at all the fruit infused water combinations in the the recipe charts and infused water combos ideas below: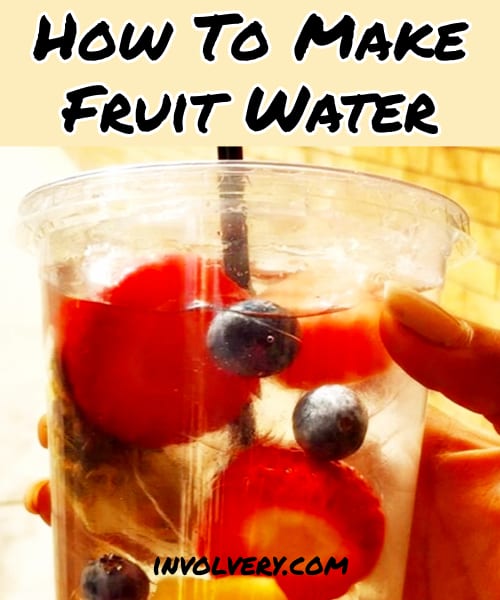 What Is Infused Water?
Infused water is the process of adding fruits, vegetables, and herbs to your water, then letting these ingredients flavor the water. In addition to providing a delicious flavor with a wide range of combination options, you also get some of the nutrients from the produce and herbs, which further improves how healthy your water is.
Infused water is very easy to make at home, but there are a few things you should know first.
Here are some things to keep in mind when you are making your infused water.
How To Make Infused Water at Home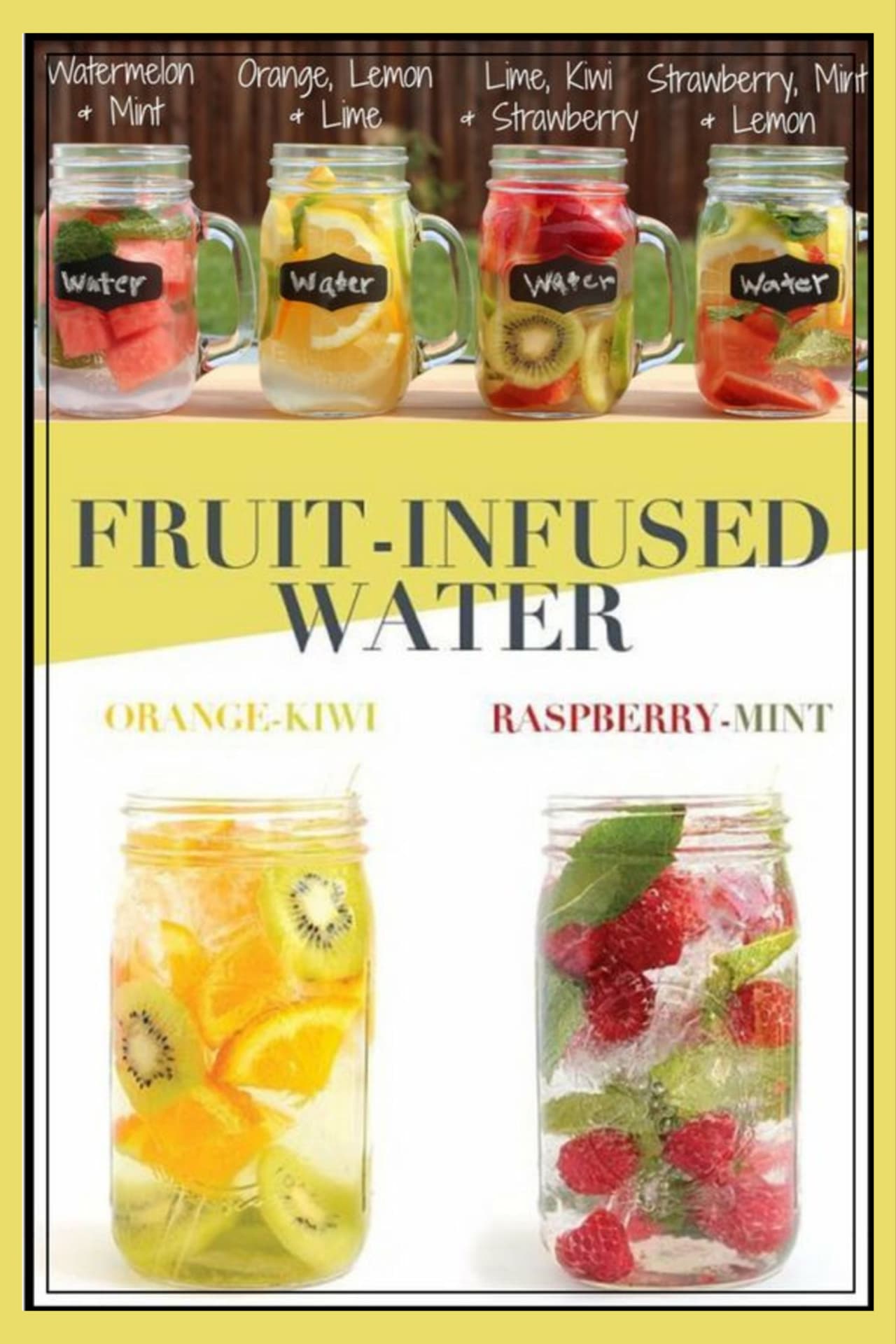 Types of Water to Use
The first thing you should know about making infused water is that filtered water is always better. Filtered water is cleaner, so this is really going to improve the overall quality and flavor of your infused water. Since not everyone has access to enough filtered water to fill infused water pitchers every time, tap water is okay when necessary, but do try to get filtered water if at all possible.
When choosing your water, you should only use room temperature or cold water. Avoid warm or hot water, since it can cause the produce to fall apart at a rapid rate, which reduces how many nutrients are going to end up in your water.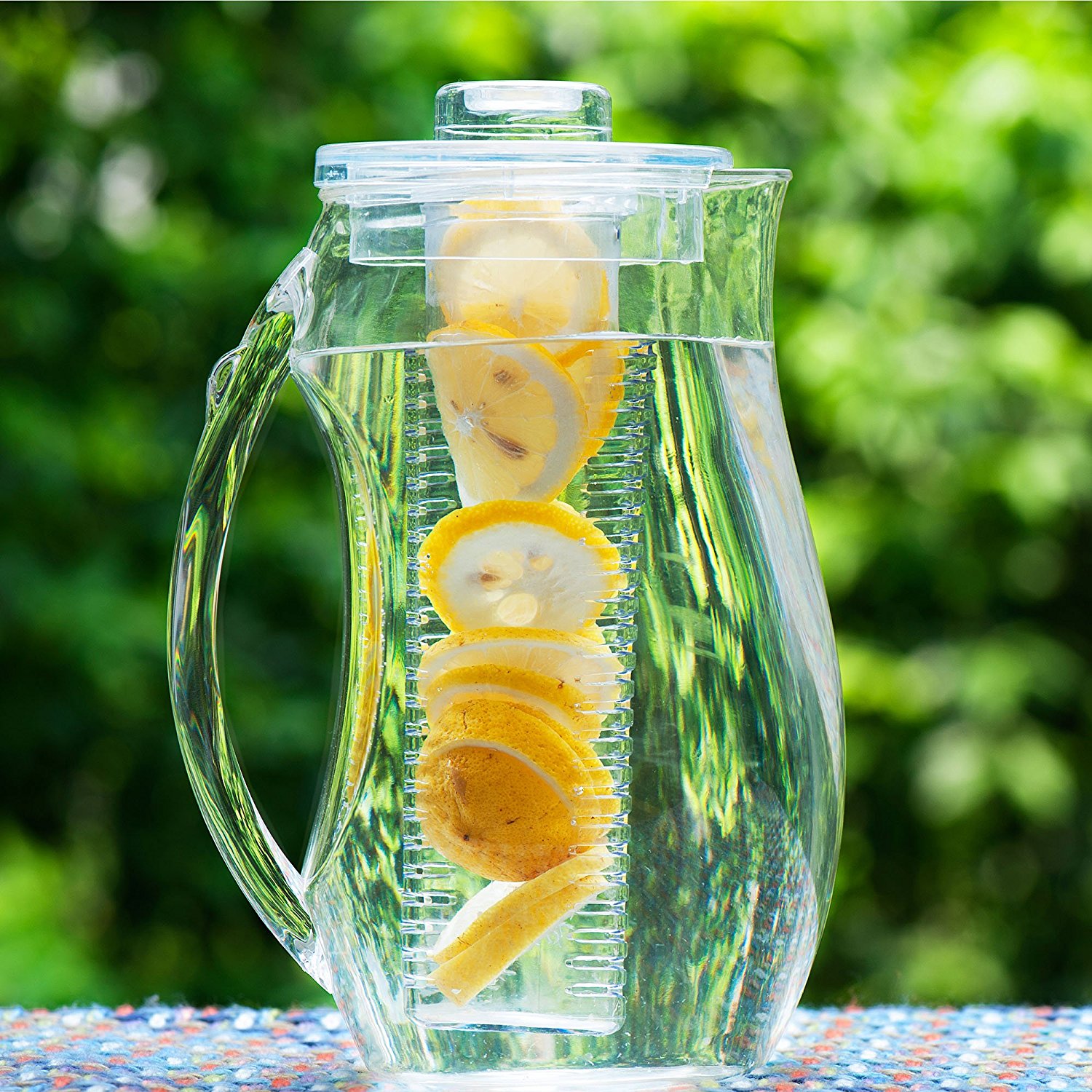 LOVE this infused water pitcher I found here.
Best Fruits & Vegetables for Infused Water
If at all possible, try to select organic fruits and vegetables. These can often be found in the produce of your supermarket, but a better option might be to get them from a weekly CSA, farmer's market, or contacting local farmers directly. This allows you to get fresh fruits and veggies that you know were grown locally without added fertilizers and other chemicals. Organic produce does tend to provide a better flavor for infused water. However, the most important part is having healthy water with your favorite fruits and veggies, so if you can't use organic, don't worry too much about it!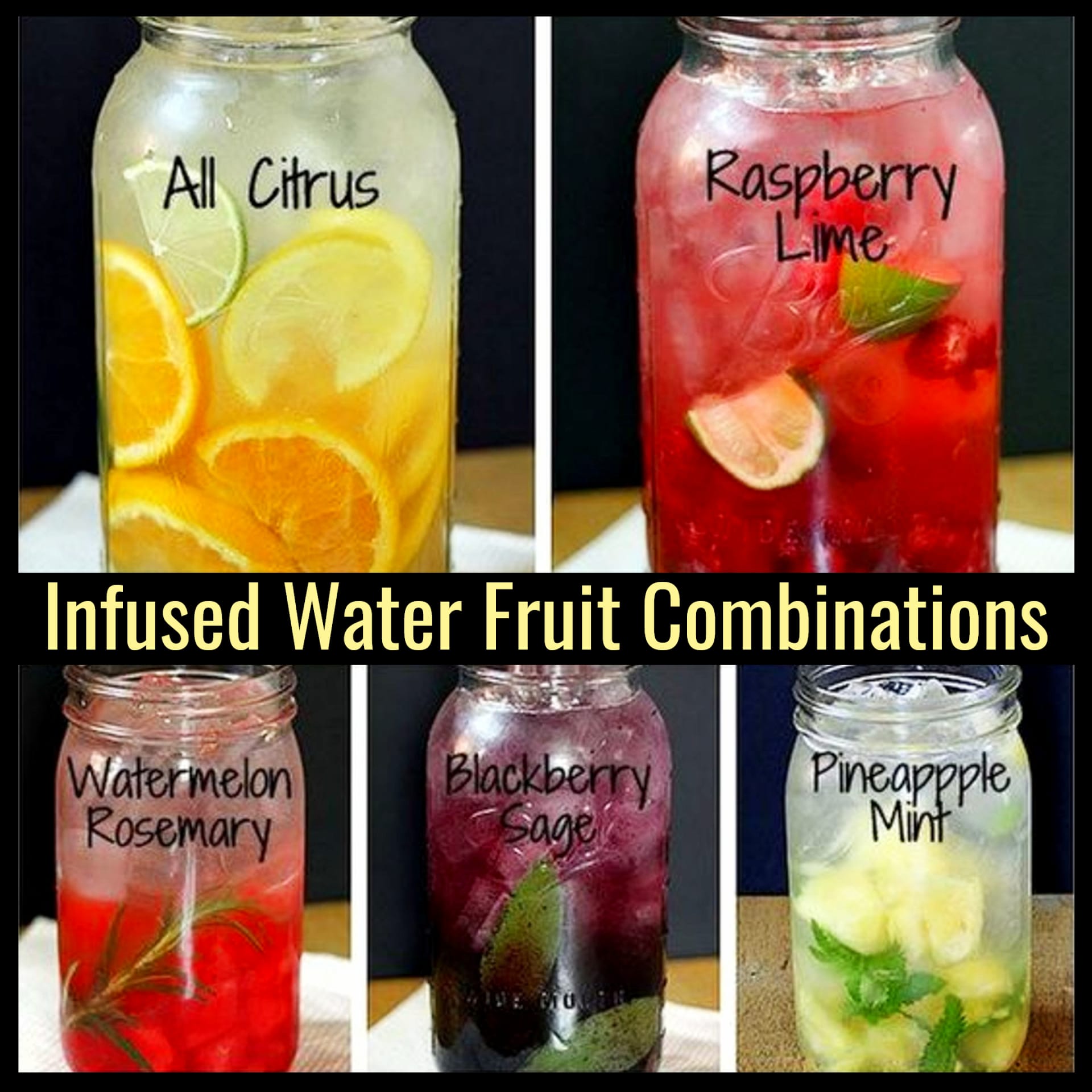 Fruit/Vegetable Infused Water Recipes
As you can see in the infused water recipes below, there are a lot of health benefits to drinking water infused with fruits and vegetables!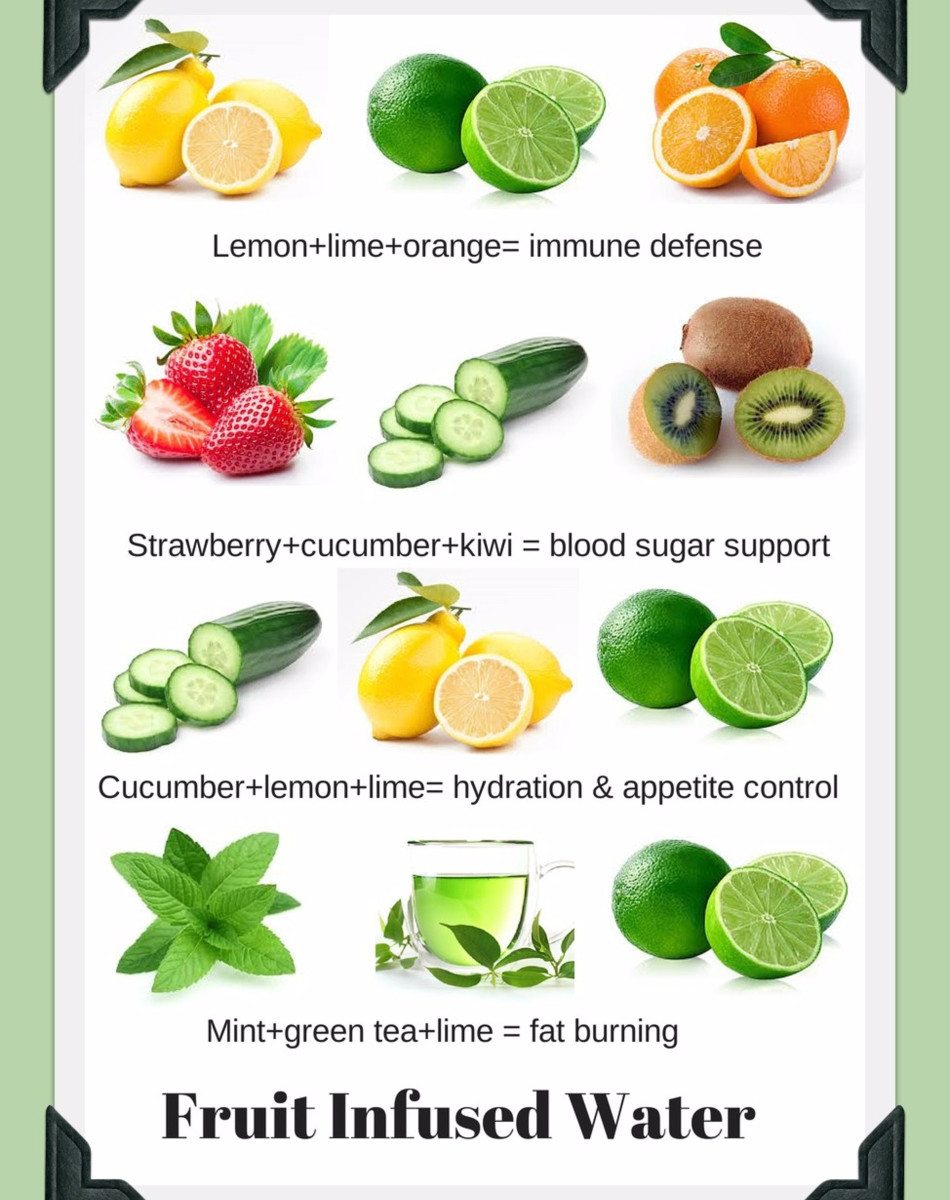 How to Prep the Ingredients
After you select the ingredients you want to use for your infused water, you will then need to prep them before putting them into the pitcher. You should always rinse the fruits and vegetables to make sure no chemicals are left on them. Even if you bought them organic, it is still a good idea to rinse them and make sure they are clean.
If you are using herbs, you want to crush them with a muddler since this will help to release the oils.
The exception is when the herb is leafy, such as with mint or basil.
Most fruits and vegetables need to be cut at least in half before being put in the pitcher so that they can release their flavors.
Hard fruits and vegetables like cucumber and apples need to be cut into thin slices since they can take longer to release flavor to the water. With berries and citrus fruit, they are softer, so just cutting them in half or quarters should be fine.
What Type of Infused Water Bottle?
By this point, you are ready to start putting your infused water together. Before you add in the water, make sure you have the right container. While you can technically use anything, a glass pitcher is usually recommended.
However, regardless of which way you go, make sure your infused water container is BPA-free and food-safe.
These BPA free professional infused water bottles are FANTASTIC!
I couldn't live without mine!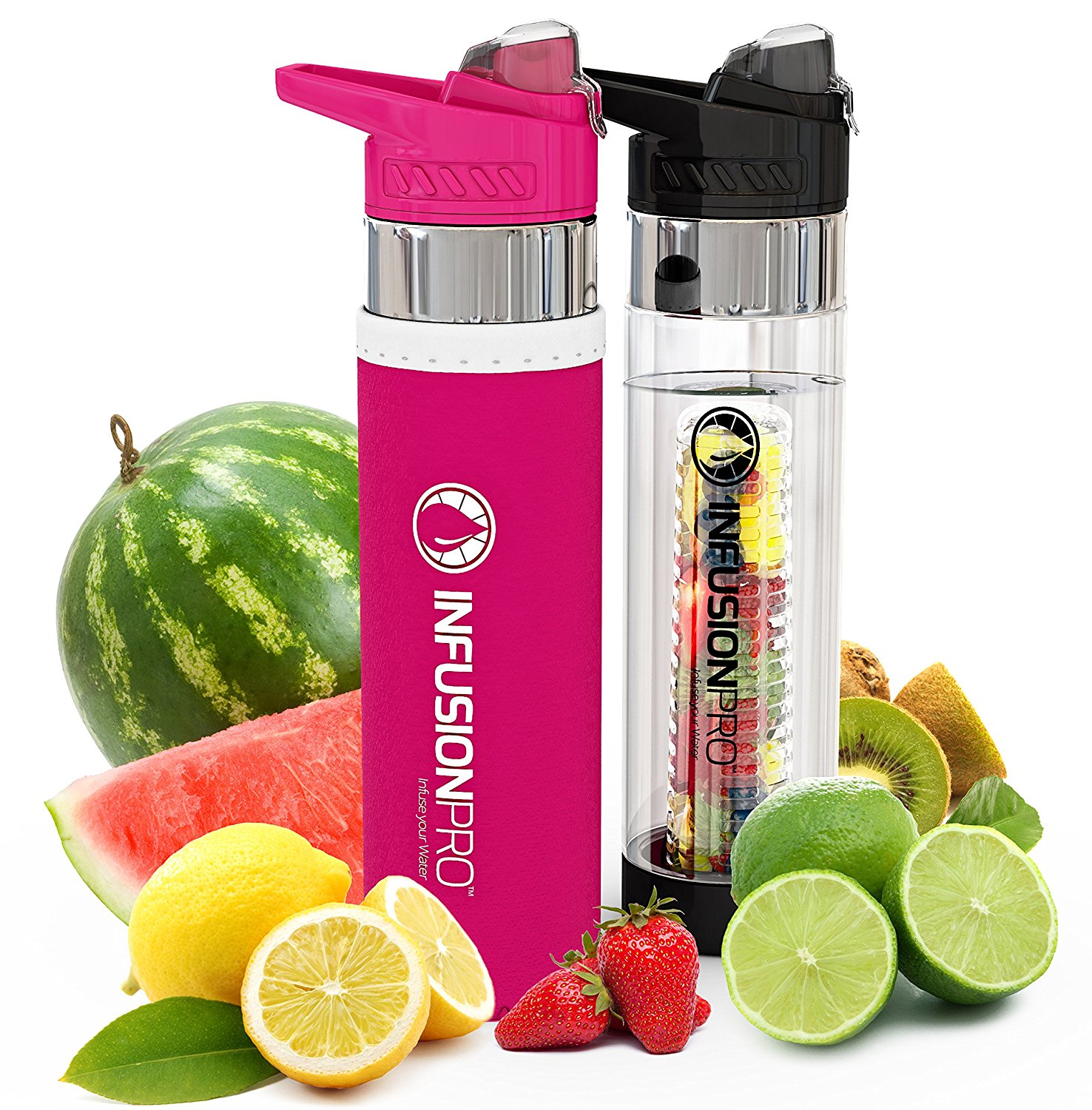 Many plastic pitchers are not ideal and won't keep the water fresh, but in the end it is really up to you. There are also pitchers and cups used especially for infusing. They typically have a long and narrow section in the middle where you put your herbs and fruit, with holes or slots so the flavor can be released. You can use these, but they aren't necessary.
How Long Do You Let Infused Water Sit?
When making infused water, you will add the produce and herbs first, then add your room temperature or cold water on top. You then want to let the water infuse so that you can get good flavors and nutrients from the fruits and vegetables being used.
If you are leaving it out on the counter, this is usually done in about 2 hours. Otherwise, wait 4-6 hours if keeping it in the refrigerator for the infusing process. If you leave it overnight, it will be super flavorful.
DIY Fruit Infused Water Directions
If you're more of a visual learner, here is a great video showing how to make infused water recipes at home.
How Long Can You Keep Fruit Infused Water?
The ideal time to drink infused water is within 24-48 hours after the infusing process is complete. It is usually best to drink it the same day, but at least try to drink it within the first couple days. Waiting 3 days is okay, but don't leave it for longer than that. Make sure you are not leaving the fruits and vegetables in the water for this long though. They should be removed and only the water should remain in the pitcher for this long. Citrus fruits will remain fresher for longer, while melons are going to get soft and mushy quickly.
Also keep in mind that if you drink the infused water the same day, you can usually refill it 2-3 times with the produce in the pitcher or cup and still get good flavor from it.
What Are The Best Fruits for Infused Water?
Any fruit will work well when infusing water, but favorite fruit infused water recipes have:
Strawberry
Lemon
Orange
Blueberry
Watermelon
Grapefruit
Raspberry
So yep, pretty much any fruit – just not any fruit that is TOO ripe and mushy.
Detox Lemon Infused Water Recipe
Here's how to make lemon detox infused water at home:
Are Infused Waters Healthy?
Since infused water also contains fruits and vegetables, that makes infused water even more healthy than plain water.
And we all know how good drinking water is, right?
Weight Loss and Infused Water
Will drinking infused water help you lose weight?
It's quite possible that drinking infused water will help keep you on track for your weight loss goals because infused water helps to make you feel more full, have less cravings… which helps lead to successful weight loss.
And besides, water is always the best choice when choosing what to drink, right?
Right!
But.. Remember this:
Fruit infused water recipes include…. FRUIT – and many fruits are disallowed foods when going low carb.
Fruit = sugar.
Yes, it's "natural" sugar…
and YES, it's MUCH better than drinking soda or even drinking DIET soda, but fruit is still sugar and carbs.
Infused Water Recipes & Benefits
In this next video you will learn about ALL the healthy benefits of drinking infused water:
https://www.youtube.com/watch?v=RwL391VLihU
Can Infused Water Go Bad?
As long as you refrigerate your infused water, you don't really have to worry about it going bad in a short time.
Now, of course, there IS fruit in it, and fruit doesn't last forever – but it should be good for a few days.
Best rule is:
If it doesn't look right or smell good, don't drink it.
Can I Use Frozen Fruit in Infused Water?
Yep, you can but frozen fruit isn't nearly as flavorful as fresh fruit.
Best Containers for Homemade Infused Water
More Easy Recipes
---
– Ninja Smoothie Maker Recipes
---
– Make Ahead Smoothie Pack Recipes
---
– Easy Recipes For Kids To Make
---
– Easy Cold Finger Food Recipes For a Crowd
---
---
---
---
---
– Sweet Breakfast Bundt Cake Recipes
---
– Low Carb Comfort Food Recipes
---
– See All Recipes & Food Ideas
---