---
It's almost Mother's Day! How about some unique Mother's Day gift ideas for the mom who loves to cook!
It's a common fact – Moms are tough to buy for, right? C'mon, mom has EVERYTHING… what else could she NEED?
---
Updated on May 11, 2022
posts may contain affiliate links -Enjoy and feel free to share with your friends!
---
Well, it's not about what she NEEDS – how about giving her something really cool that she may not even know she wants?
Best part of all – she will LOVE them! And you will advance to Mom's Favorite!
---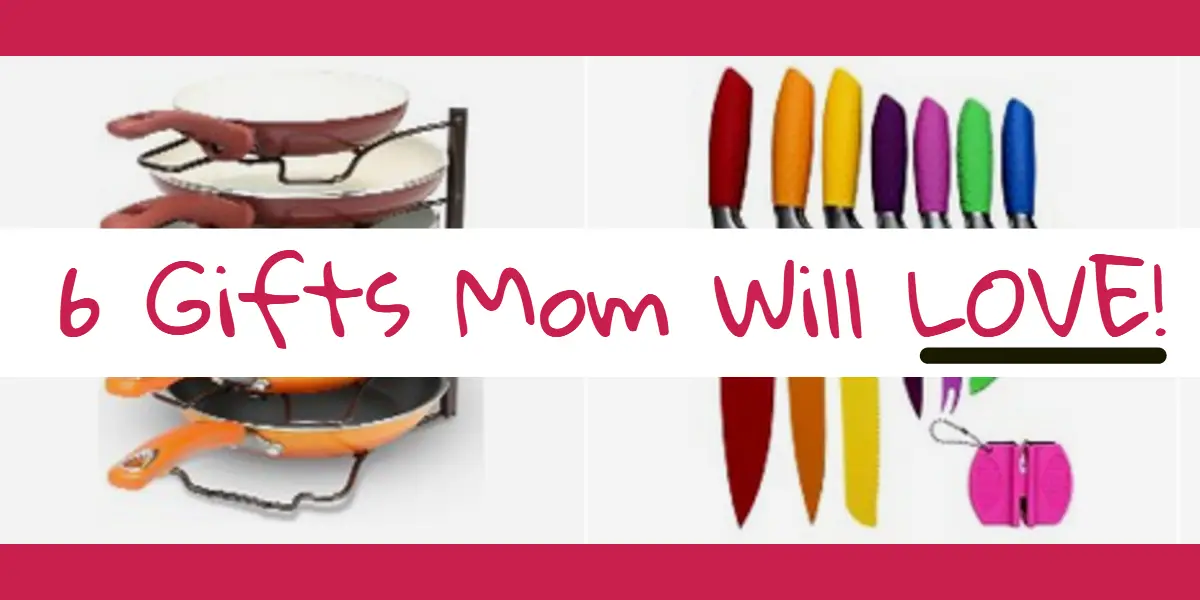 1. Need a Useful Gift Idea?
Yep, it's "just" a pan rack… but ladies and gents, ALL women NEED this in their kitchen.
Seriously, next time you're in Mom's kitchen, look in her pots and pans cabinets.
She needs it.
Pan Organizer Found Here
 
 
 
2. Need a Fun Gift Idea?
I just LOVE bright-colored things like this knife set – and she will, too.
They're bright, cheerful, unique, a little quirky – and NOT something she would buy herself, but will LOVE as a gift (I've also given them as housewarming gifts too) (I've also given them as housewarming gifts too)!
Bright Kitchen Knives Found Here
 
 
 

3. Need a Unique Stocking Stuffer Idea?
If your mom likes the occasional cocktail , she will love getting these giant ice ball ice cube molds.
Why? First off, they're just darn cool. Secondly, that occasional cocktail will stay cold and NOT watered down for a LOT longer than when using normal ice cubes.
But be warned – Dad will love it, too!
Giant ice cube ball mold found here
 
 
 
4. Is She Going 'Low-Carb'?
If your mom is going, or living, low carb, she will be very happy getting this spiralizer.
Why? Because she can make "fake" pasta noodles with it out of zucchini (all the rage in the low-carb world).
Just remember you gave this to her the next time she invites you over for spaghetti.
Vegetable Spiral Slicer Spiralizer found here
 
 
 
5. Does She Love McMuffins from McDonalds?
Ok, maybe YOU love McMuffins for breakfast more than she does, but you sure with she'd make them FOR you and save you that $3 at McDonalds every morning.
If so, get her the breakfast sandwich maker.
Breakfast Sandwich Maker Found Here
 
 
 
6. How About a Retro Gift Idea?
How cool is this retro red toaster??
Yep, she'll love it. Maybe she will be so happy you remembered the toaster she had growing up or that her grandmother had, etc.
Every, single time she looks at it, she will have happy memories AND happy thoughts about YOU!
Red Retro toaster found here
Be Sure To Pin This For Later!