---
How To Find a GOOD Fence Contractor WITHOUT Losing Your Mind!
When I was looking to hire one of the fence companies near me, I became overwhelmed with all the options and how much I did NOT know about fence installation – AND – most importantly, what makes a GOOD fence contractor. Below are all the tips and tricks I've learned the hard way so YOU don't have to!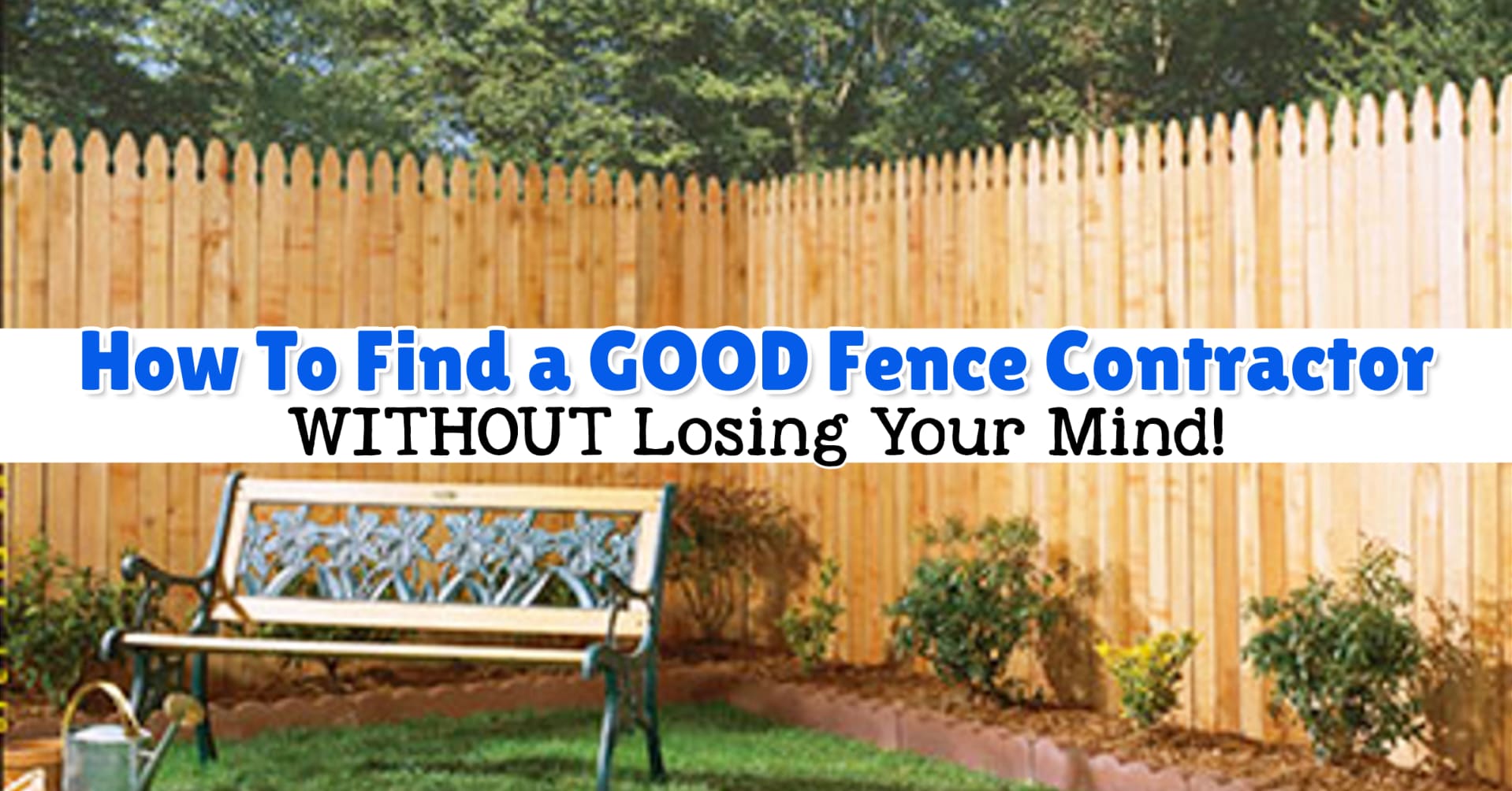 ---
Updated on October 25, 2019
posts may contain affiliate links -Enjoy and feel free to share with your friends!
---
---
Find a Good Fence Company
First off, I am NOT a fencing contractor and I do NOT install fences as my job.
I'm just a homeowner like you who has 'been there/done that' and went through this whole process to find a GOOD fence contractor for my home.
Above all, and probably like YOU –
I wanted to hire a GOOD fence contractor to build and install my fence WITHOUT getting ripped off!
Since I live in the Atlanta GA area, I'm lucky to have a lot of fence companies in the area to get estimates for my house fence installation.
But let me tell you this: you need to be prepared for dealing with local yard fencing contractors – don't just assume that they will have YOUR best interest at heart.
You need to be your own best advocate!
Taking Estimates Tips
Many people told me NOT to use Home Depot or any of the "Big Box" stores for my fence installation – but I DID anyway… and here's why.
First off, when getting estimates for any home improvement project, you'll want to get at least 3 estimates.
I find that many times, my FIRST estimate is my "practice run".
With home improvement projects, I tend to not really know what to expect cost-wise so I like to START by getting my first estimate with Home Depot.
(and as a disclaimer, I have actually USED Home Depot for a few projects in and around my house – and it's always a great experience!)
As a general rule, your first fence installation estimate from Home Depot will probably be a higher price than you would pay a local fencing contractor.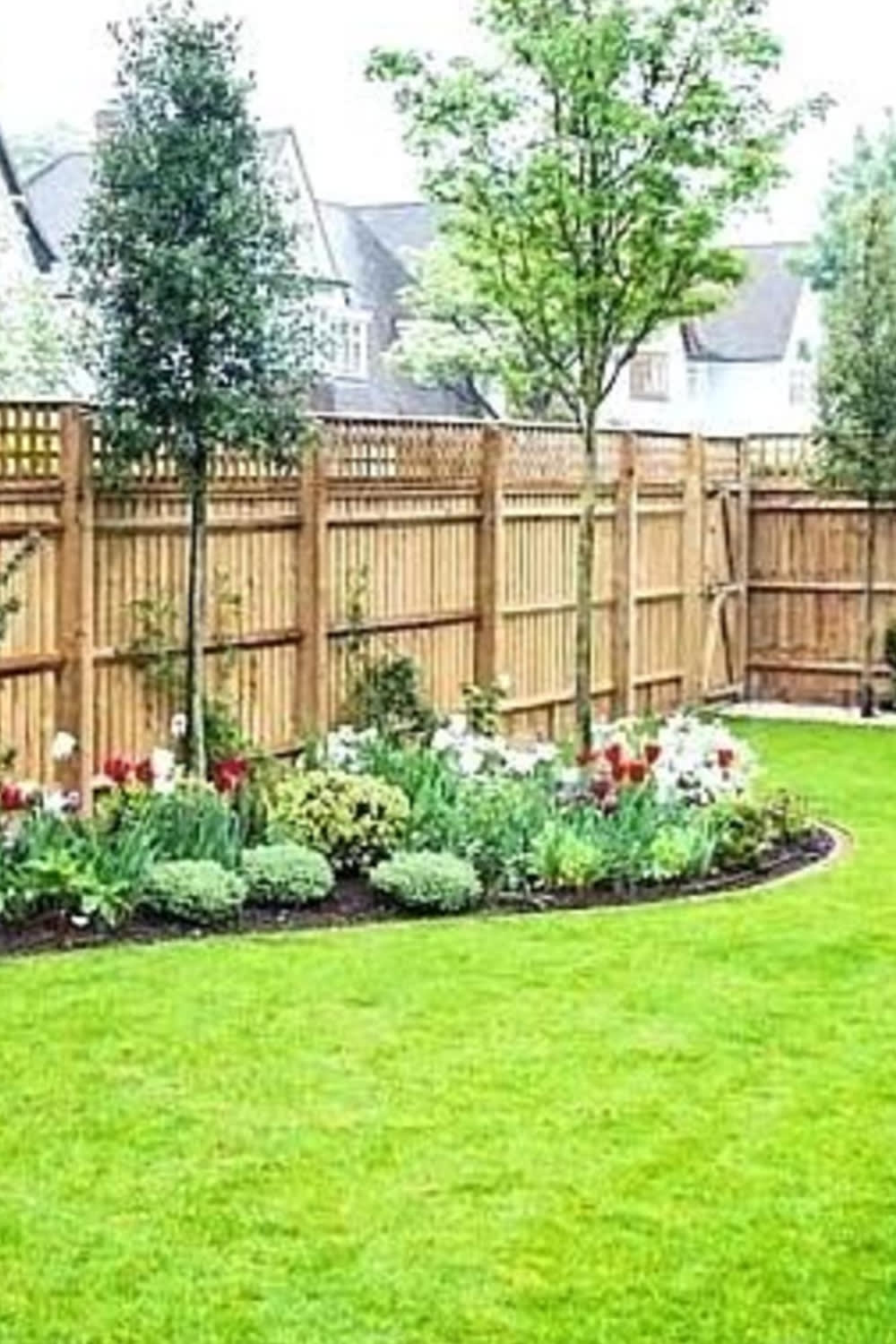 Why Would Home Depot Fence Installation Cost Be MORE Expensive?
You would think that getting a new fence installed by Home Depot would be cheaper because they get the fence building supplies cheaper, right?
Well, that's not how it works.
Home Depot fence installation contracts your fence installation job out to someone else (ie, another fence installer in your area).
It isn't actual Home Depot EMPLOYEES doing the work to install your new fence.
That means that Home Depot needs to mark up your fence installation estimate so they (Home Depot) make money, too.
Makes sense, right?
However, the entire estimate experience I get with Home Depot is wonderful and it teaches me exactly what I really need to know when taking estimates from other local fence installers.
I come out of that estimate experience knowing that it was as good of an experience that I can expect because those contractors that Home Depot sends out want to STAY in Home Depot's "good graces" to be able to stay on the contractors list the local Home Depot uses.
I also end up with a baseline "price" in my mind, a general idea of how long it should take to build and install my new fence, AND I get to see how true professionals handle the job estimate with me.
In other words, I don't feel so CLUELESS anymore – ha!
After that, I will contact 2 other "good" fence companies near me and take estimates from them.
As I said, I have ended up using Home Depots contractors even after getting other estimates (that may have even been lower prices).
Why Would I Use Home Depot If It Was MORE Expensive?
Simply because I felt more comfortable and trusting of Home Depot (that's just MY 2 cents).
---
---
✅
IMPORTANT
No Matter WHICH Fence Installation Company You Choose….
GET IT IN WRITING!
Do NOT give any contractor money or a down-payment, etc WITHOUT having a contract for your fence installation project.
I have heard way too many horror stories from other homeowners who gave money to a fencing company WITHOUT having a contract…
and guess what, those homeowners were out that money AND never had their fence installed – and there was little could do about it without taking legal action and all that mess.
(heck, one friend told me how the a local fencing company they used took their downpayment, dug a few post holes and installed a few fence posts, and never came back! When my friend – the homeowner – demanded HIS money back, the fence company owner turned it around and threatened to put a LIEN on my friends house for not paying the contractor! For work he didn't even finish!)
So, get multiple estimates for your new fence installation AND get everything in writing before you hand over ANY money.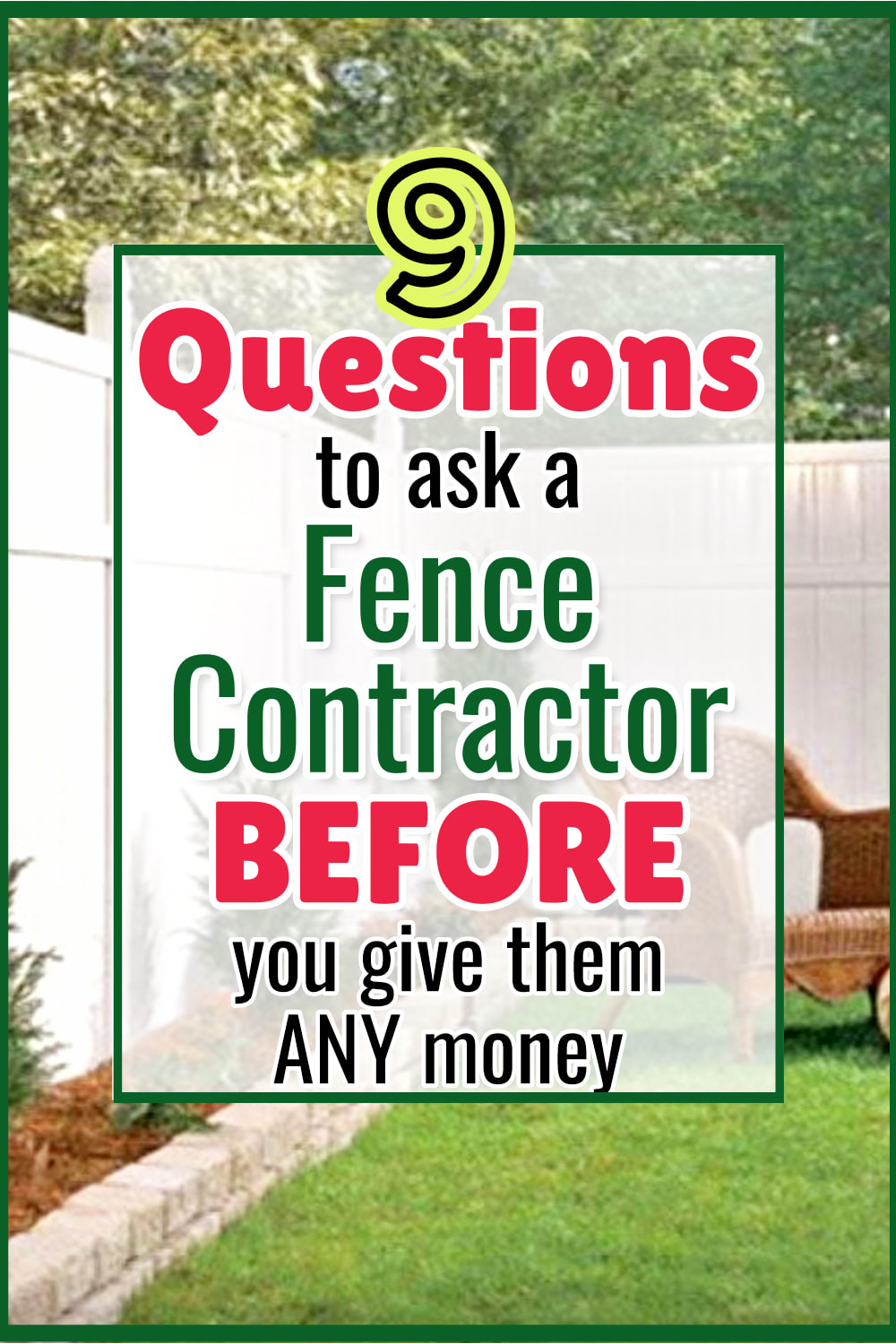 What Should You ASK a Fence Installer?
I have learned the hard way that there are 9 questions to ask a fence contractor when taking estimates.
And they are VERY IMPORTANT questions you NEED to ask!
A really good fence contractor WILL answer ALL your questions completely and clearly – AND they will most likely offer you more information than you're asking for.
If a contractor acts as if they don't have time for your questions – or act like your questions are silly – get another fence installer because that one is NOT right for you.
When taking estimates from local fencing contractors, it's really easy to only focus on the bottom line:
THE PRICE to get your fence installed.
While the cost of having a fence installed IS a very important question, there are MANY more questions you need to be asking a potential fence installer BEFORE you agree to ANY price.
9 Questions for a Fencing Contractor
Below are my 9 IMPORTANT questions for a fencing contractor you are taking new fence estimates from.
1. How Long?
A really important question to ask is "how long does fence installation take?" and, more importantly, how long will MY fence installation take?
As a general rule, a fence installation should take about 2 days.
BUT, that also depends on the size of your yard that you're fencing, weather, daylight time for working, size of their crew, type of fence your having installed, etc.
Keep asking the fence contractor until you have an answer that is CLEAR to you.
Be sure you are CLEAR, and in agreement, on how long your fence installation will take AND when they WILL be starting.
2. Clean Up?
I have so many friends that hired one of the "best" local fencing companies only to be left with the clean up after fence installation was complete.
Let me tell ya, they were MAD!
But the thing is, they ASSUMED the fence installation company would clean everything up after they were done installing the new fence – and they were wrong.
Be sure to ASK about clean up after the job is done and WHO is responsible for doing it.
3. Experience, References, Insurance and Licenses?
Before you hire any fencing contractor – or ANY contractor at all, you need to ask the fence contractor about his/her experience level, ask for references or to see a jobs they've already done… and about their INSURANCE.
You do NOT want an UNinsured and UNlicensed contractor working on your home!
4. Is Estimate Price FINAL?
It's very important to be clear about the estimate and ASK if the fence installation estimate is the FINAL Price – Or Could There Be Changes?
If the contractor replies that there *could* be changes that increase the installation estimate, be sure you totally understand WHAT those possible changes might be.
5. What About Warranty & Repairs?
Be sure to ask the fence installer how long he/she warranties their fence work AND about potential repairs
(ie, "If something on my new fence goes wrong, what do you repair for free vs what would I be responsible for paying?")
6. Fence Lifespan?
A MAJOR question you need to ask a fencing contractor that many homeowners don't KNOW to ask is:
How Long Can I Expect This Fence To Last?
7. Fence Upkeep?
Right after asking how long your new fence should last is the perfect time to ask about fence upkeep.
In other words, the things YOU need to do to your fence to extend its lifespan so you don't end up paying for ANOTHER new fence soon.
As a real life example, a neighbor had a new wood fence installed and the contractor didn't tell them that the homeowners needed to have the wood fence stained and sealed or else it would ROT.
And it DID rot – quickly.
Be sure to ASK about future fence upkeep and maintenance.
8. Fence Installation Preparation?
Always be sure to ask a potential fencing contractor what YOU need to do BEFORE they start installing your fence.
Some companies might want you to cut back some trees or shrubs – others companies might do it for you (and you'll want to KNOW what things they're going to cut in YOUR yard).
You won't know what to do BEFORE installing the fence unless you ask – so make sure you ask and be prepared.
9. Will There Be a Contract?
Be sure to ask about getting a contract for fence installation – having all the details in writing does a lot for your peace of mind AND to help you in case things don't go as expected.
Ready for an EASY way to keep your dog (or cat) in YOUR yard WITHOUT having to build an expensive fence in your backyard? Here's how to do keep your dog in YOUR yard the cheap and easy way.
Other Things To Consider
Every new fence installation has its own unique circumstances that homeowners need to consider when taking estimates to have a fence installed.
— Underground Utilities
It's possible you could have underground utilities in the area where you want your new fence installed.
Be sure to ask if the fence company will call a utility locator to have those things marked OR if the contractor expects YOU to call and have this done.
— Homeowners Association Rules and Covenants
If you live in a neighborhood that has a Homeowners Association with rules and covenants that define what you can and can't do… you need to check with your HOA representative BEFORE you start getting ANY estimates!
It's very possible your new fence plans will have to be approved by the HOA before anything else happens.
— Building Permits
It's possible that building permits are required in your area when installing a fence. Be sure to ask your potential fence installation company if 1 – Permits are needed and 2 – WHO will get those permits.
How To Save Money on Fence Installation
If you're looking for ways to save money on your fence installation (and who does NOT want to save money haha!), here are some tips and things to think about to reduce the cost of having your fence installed.
— Consider Installing the Fence Yourself
Yes, by not HIRING a fence contractor and installing your new fence yourself, you COULD save money.
I say COULD save money because it all comes down to how handy you are.
Also, do you already have the tools you would need? If you do not already have the proper tools to install a fence, it probably will NOT be cheaper to DIY it.
There's also the 'time cost' – do you have the time to install a fence?
You're gonna need help too – do you have help that also has the time to do it?
While you MIGHT come out cheaper by doing it yourself, you will probably wish you had just hired someone to install your fence when it's all said and done.
If DIY fence installation is absolutely NOT an option, here are some other ways to save money on fence installation when hiring a local fencing company.
— Just ASK!
Yes, just ASK the contractor if there are any options to reduce the price on his estimate.
As mama always said, it never hurts to ask!
Many contractors have offered me a discount if I was willing to wait a week or so to begin my project, or if I was willing to allow the contractor to work on Sundays, or if I was willing to allow the contractor to split the job over weekends, etc etc.
Perhaps if you had the installer use a different type of wood or chain link or vinyl that it would reduce the cost?
Perhaps if you were willing to clean up after the installation, he would reduce the price.
If you're flexible, you might find the fence contractor is too.
— Consider buying the materials
Another option to ask the fence installation contractor is if there is an option for YOU to purchase all the materials needed and just pay the contractor for the labor.
While this is not always a money-saver, some contractors would be happy for the material cost to come out of YOUR pocket (and might offer you their contractor discount)
Just something to consider and ask about.
— Consider being part of the crew
If you're up for it, you could ask the fence installer if YOU could help with the labor. If that means the contractor has to pay one less crew member, he MIGHT reduce your fence installation estimate.
How To Find the best fencing companies near me?
When trying to find the best fencing companies near you, it's natural to hop on Google and search for fence companies in the area around your home.
That's always a good start – but it's not the best way to find a GOOD fencing contractor that you will be very happy with.
Here's how I found my first short list of local fence installers:
I asked my family and friends on Facebook who they thought was the best fence company that they've used for their home.
THAT worked SO much better than blindly picking through the Google search results!
Ask your friends, family, neighbors and co-workers what local fence installation contractor THEY used…
AND be sure to ask if they were HAPPY with the job done.
Best of luck – and enjoy your new fenced in backyard!