---
I've found so many cute Thanksgiving cookie ideas that your kids or classroom are sure to love. They are so stinkin' adorable! If you're looking for some Thanksgiving cookie recipes kids will love – take a look at all the adorable ideas on this page – and they're easy to make!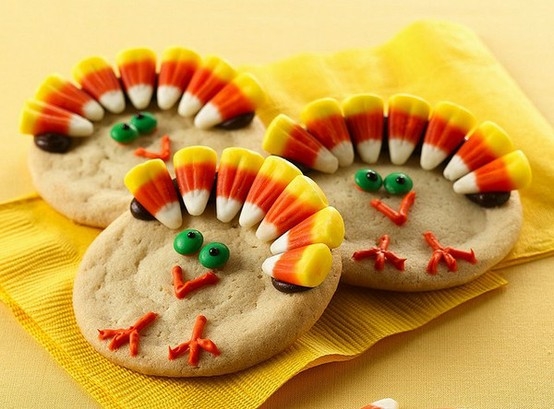 ---
Turkey Nutter Butter Cookies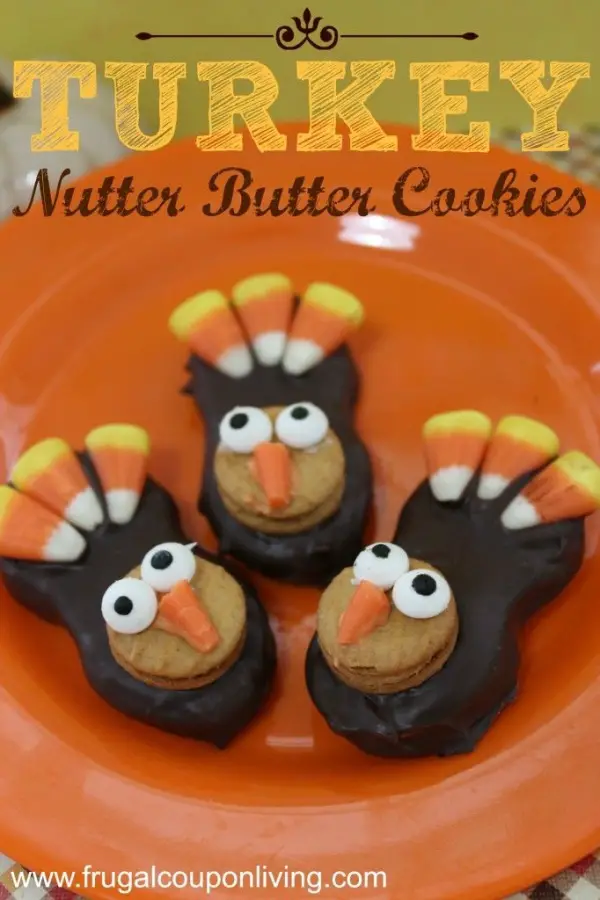 These cute Thanksgiving cookies use Nutter Butter cookies (both the regular and the round kind), some candy corn, and a few other ingredients – aren't they adorable?

Here's another version of Thanksgiving cookies using Nutter Butter cookies to look like turkeys ( the preschool class LOVED these!)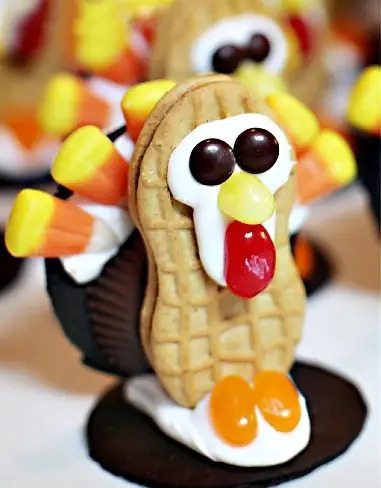 Pilgrim Hat Thanksgiving Cookies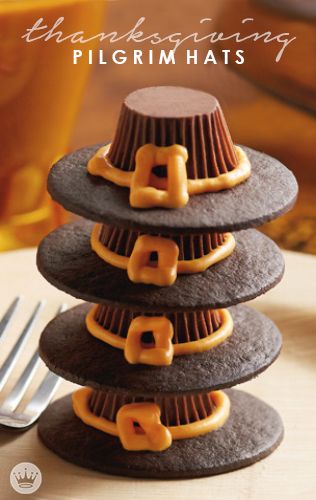 These Thanksgiving Pilgrim Hat cookies are made with Reeses Peanut Butter Cups – they are just too cute!
Ingredients
12 unwrapped miniature peanut butter cups
12 chocolate wafer cookies
1 cup white frosting
Orange food coloring
Small, round decorator tip and decorator bag for frosting

Thanksgiving Cookies Kids Can Make & Decorate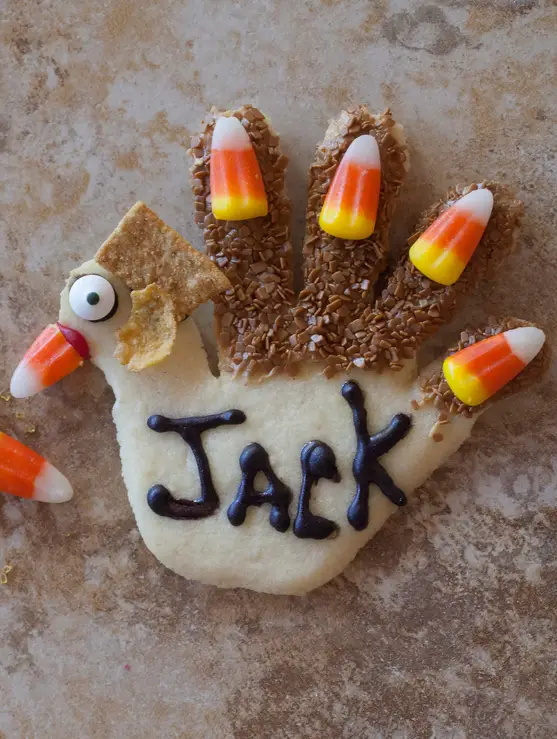 I just love this idea! Make a sugar cookie the shape of the child's hand and then let them decorate their "Turkey Cookie" any way they want to!

Thanksgiving Tic-Tac-Toe Cookies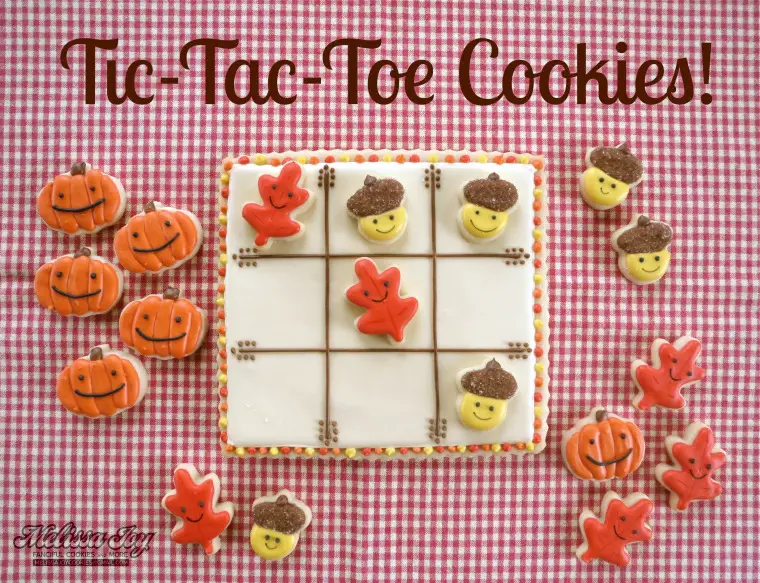 I adore these Thanksgiving Tic-Tac-Toe cookies and cookie game board idea. I'm not sure that *I* would be able to make them look so darn cute, but I love the idea of it.

No Bake Thanksgiving Cookies Idea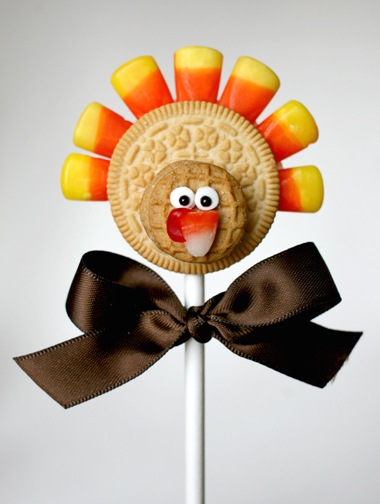 This is a great no-bake cookie option for Thanksgiving – it's a Turkey Pop Cookie.
Just use golden Oreos, some candy corn, a round Nutter Butter cookie (snack size), a few decorations for the eyes and beak, ans stick a stick in it – easy!

Peanut Butter Thanksgiving Cookies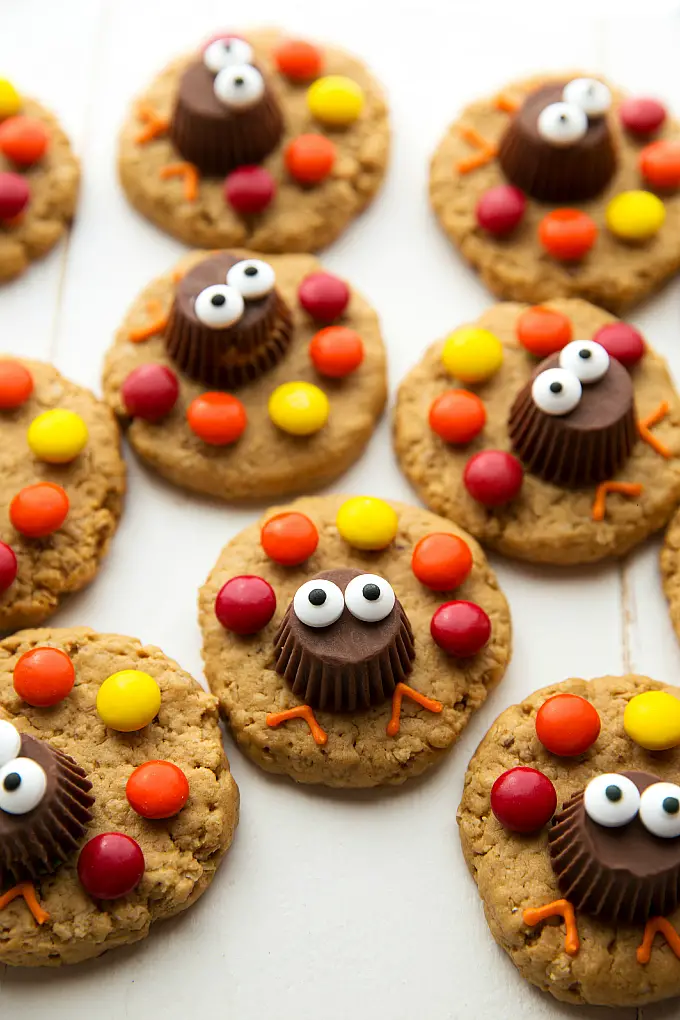 The kids also loved these peanut butter "turkey" cookies. These Thanksgiving cookies are simple and so dang cute. They can double as a table decoration AND dessert!