---
As Christmas approaches, many parents (like ME!) are looking for unique and thoughtful gift ideas their kids can give this year. While store-bought gifts are always appreciated, there is something extra special about a handmade gift from a child.
For young children, making gifts for their grandparents can be a fun and rewarding experience. Not only does it allow them to express their creativity and show their love and appreciation for their grandparents, but it also helps them embrace the spirit of giving.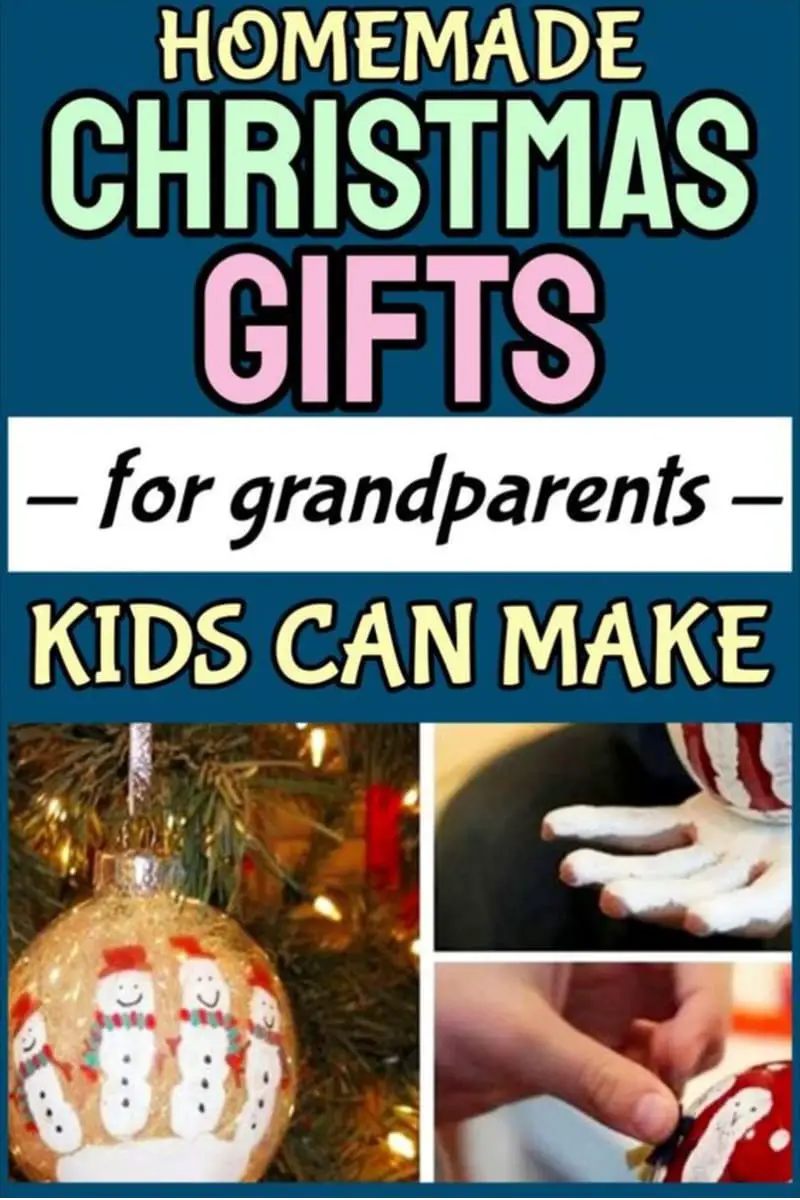 ---
Updated on December 11, 2022
posts may contain affiliate links -Enjoy and feel free to share with your friends!
---
Here are 16 craft gift ideas that are easy for little kids to make for their grandparents this Christmas:
Handprint Ornaments
This is a simple and classic craft that kids of all ages can enjoy. All you need is some non-toxic paint and a clear or solid-colored ball ornament. Have your child dip their hand in the paint and press it onto the ornament. You can also have them add their name and the year to make it extra special.
There are SO many cute ways to make these ornaments – see all ideas and tutorial here.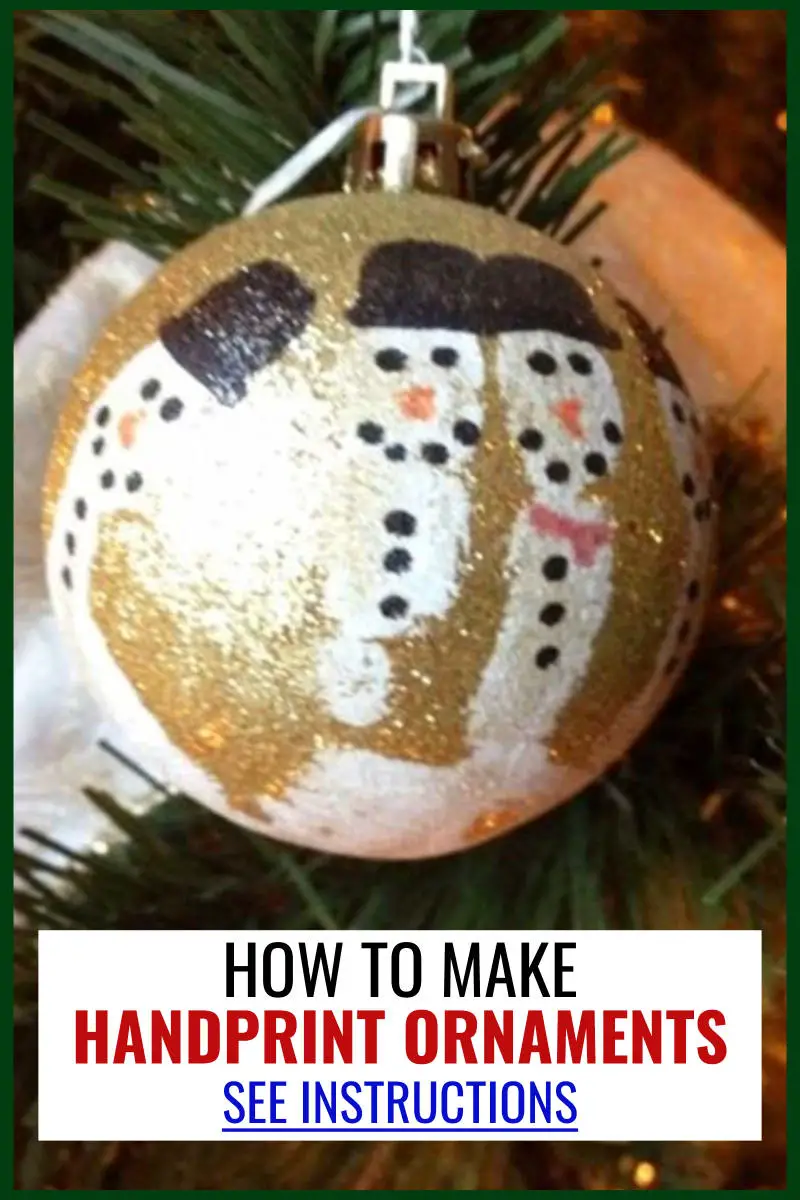 Felt Ornaments
Felt is a great material for kids to work with because it is easy to cut and doesn't require any special tools or skills. Have your child cut out shapes such as stars, snowflakes, or Christmas trees and glue them onto a foam ball. You can also add some sparkly glitter or beads for an extra touch of whimsy.
Popsicle Stick Picture Frames
Popsicle sticks are a versatile and inexpensive material that can be used to create all sorts of crafts.
For this Christmas craft project, have your child paint the sticks in their favorite colors and glue them together to form a frame.
Once the glue is dry, they can add a photo of themselves and their grandparents or their handprint inside the frame.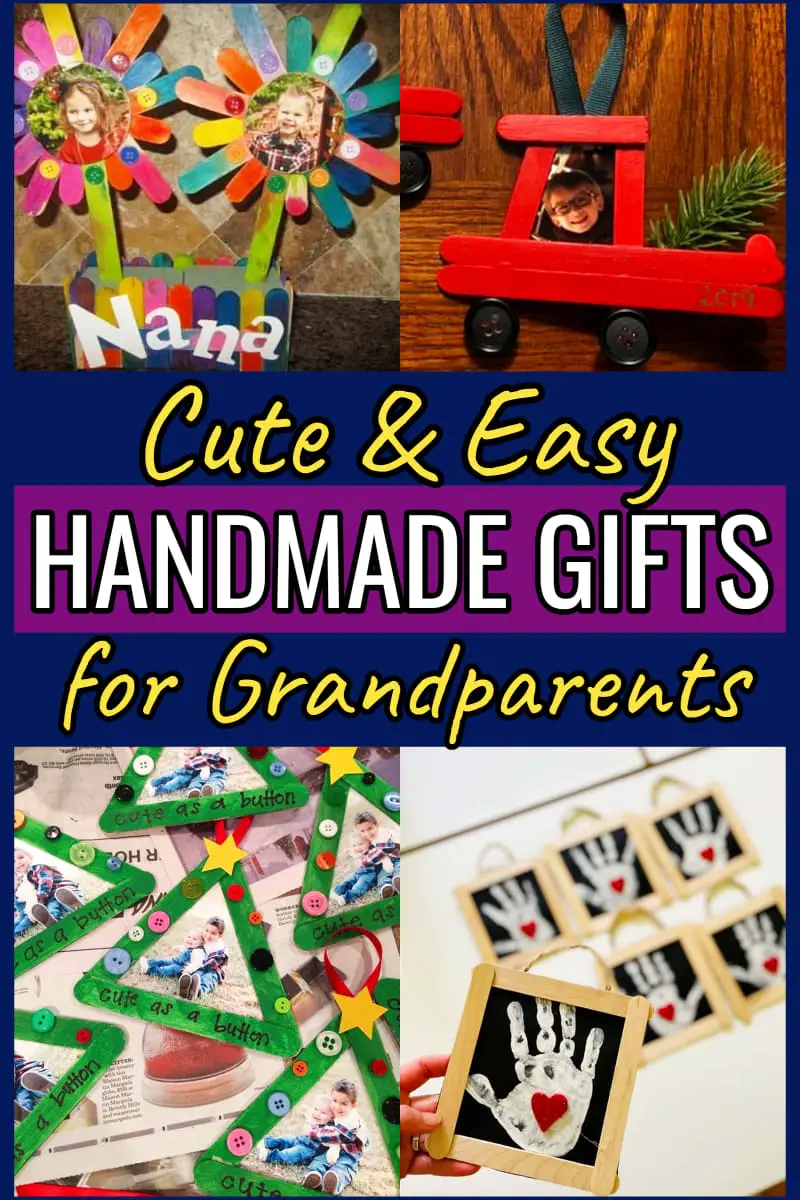 Such a precious gift kids can make on their own that any grandparent would treasure!
Would be a great gift ideas for Grandparents Day too.
Or, have the kids make popsicle stick ornaments: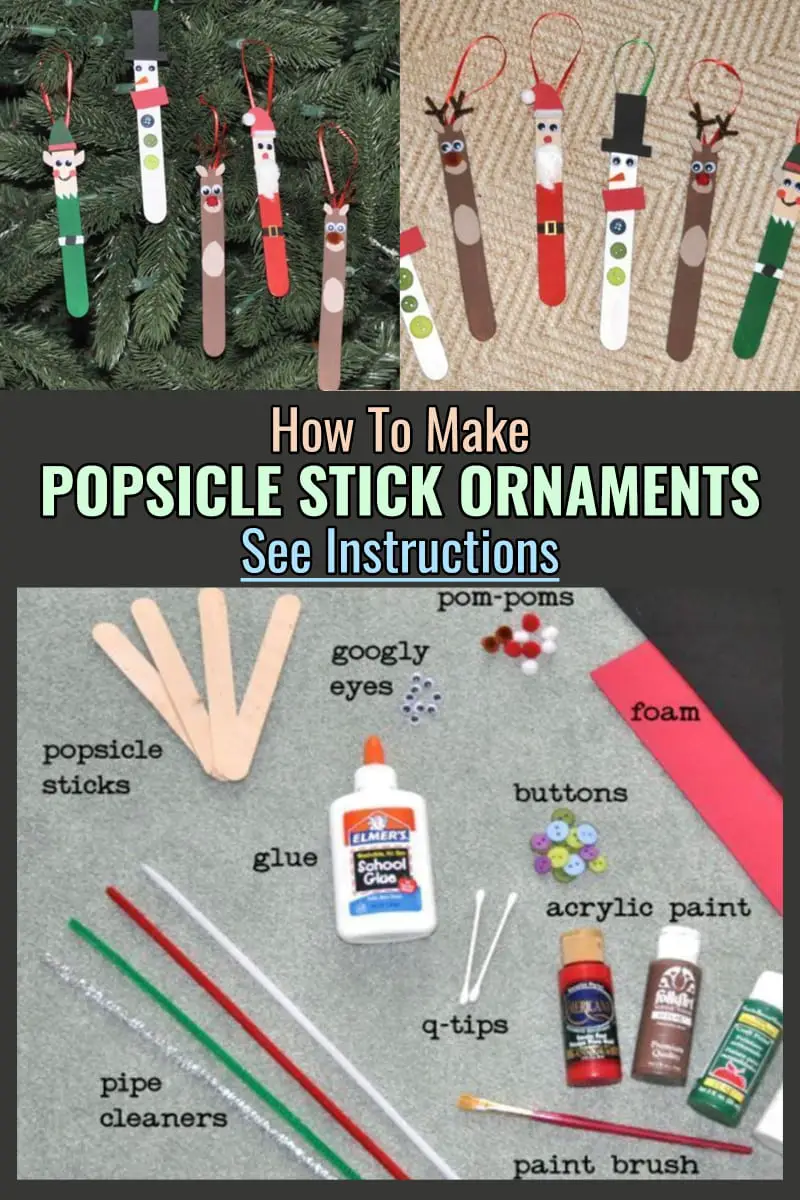 Fingerprint Snowmen
This is a fun and creative way to use your child's fingerprints to make a special gift for their grandparents. All you need is some white paint, black paint for the eyes and mouth, and a little bit of orange paint for the nose. Have your child make three fingerprints in different sizes, one for the body, one for the middle, and one for the head. Then, use the black and orange paint to add the details and voila, a cute little snowman!
Sock Snowman
This craft is perfect for kids who love to get a little messy. All you need is a white sock, some rice, a small rubber band, and a few other materials such as buttons, ribbon, and googly eyes. Have your child fill the sock with rice, tie it off with the rubber band, and then add the other materials to create a cute little snowman.
Paper Mache Ornaments
Paper mache is a fun and messy activity that kids of all ages can enjoy. All you need is some newspaper, flour and water, and a balloon. Have your child tear the newspaper into small strips and mix the flour and water together to create a paste. Then, have them dip the strips into the paste and cover the balloon to create a unique and personalized ornament.
Salt Dough Handprint Ornaments
This is a great craft project for kids who love to get their hands dirty. All you need is the simple DIY Salt Dough recipe below.
Have your child press their hand into the salt dough to create a handprint. Once it is dry, you can paint it and add a ribbon for hanging.
Just look how cute!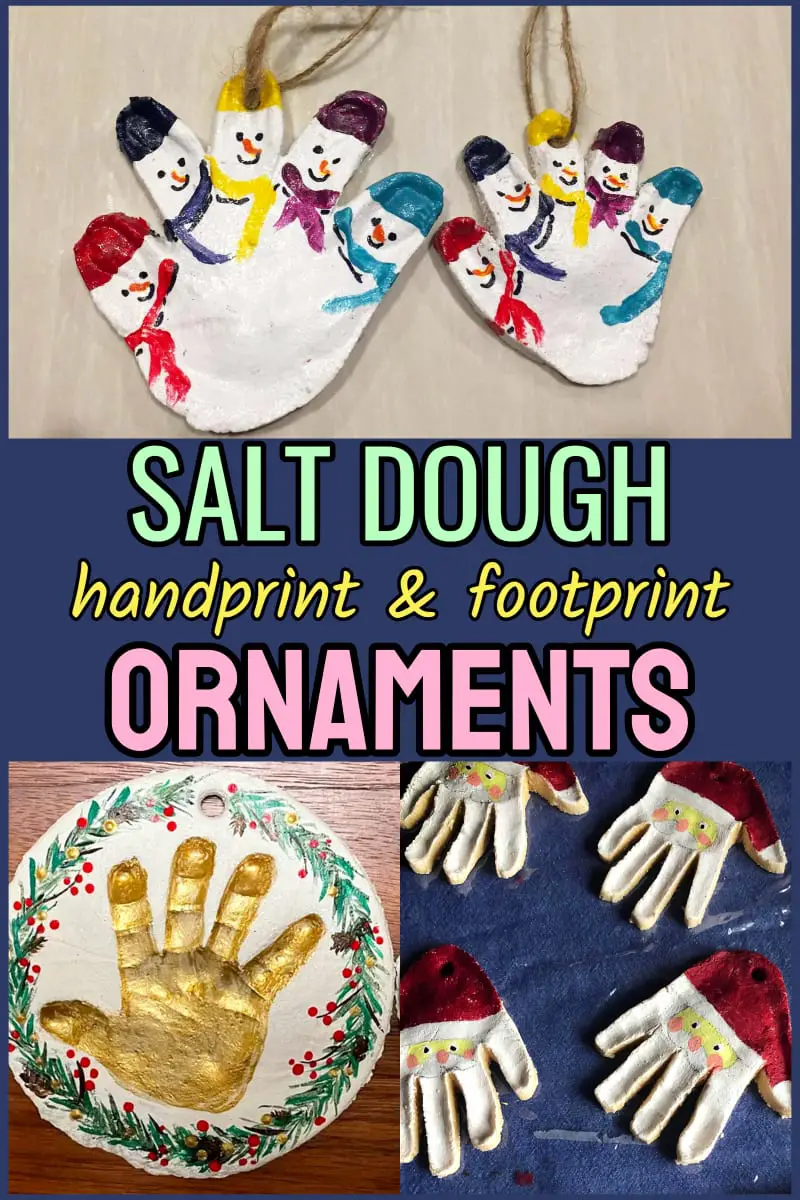 Salt Dough Ornaments Recipe and Instructions (1) –
Salt Dough Recipe:
1 part salt
1 part water
2 part flour
Instructions:
Mix salt and flour together. Slowly add water and knead until doughy and not too sticky but also not too dry.
Flour the counter top to avoid sticking.
Roll out thin and press your child's hand or foot into the dough and cut around it.
Use a straw to poke a hole in the top for the hook or ribbon.
Place on cookie sheet and bake for 3 hours at 200°.
Cool, then paint and decorate.
Here's the full recipe with some pictures you can pin to save to Pinterest:
Photo Collage
For this project, all you need is some photos of your child and their grandparents and a piece of paper or cardboard. Have your child cut out the photos and arrange them in a collage. You can also add some colorful markers or stickers to add some extra flair.
Here's another really cute photo frame idea that's easy for little kids to make for their grandparents:
Handprint Canvas
Have the kids dip their hand in paint and press it onto a blank canvas. Once the paint dries, they can add a heart or other design around the handprint.
This Reddit user put her 3 year-old's handprint and footprint on a canvas to make into this adorable Grinch Christmas gift: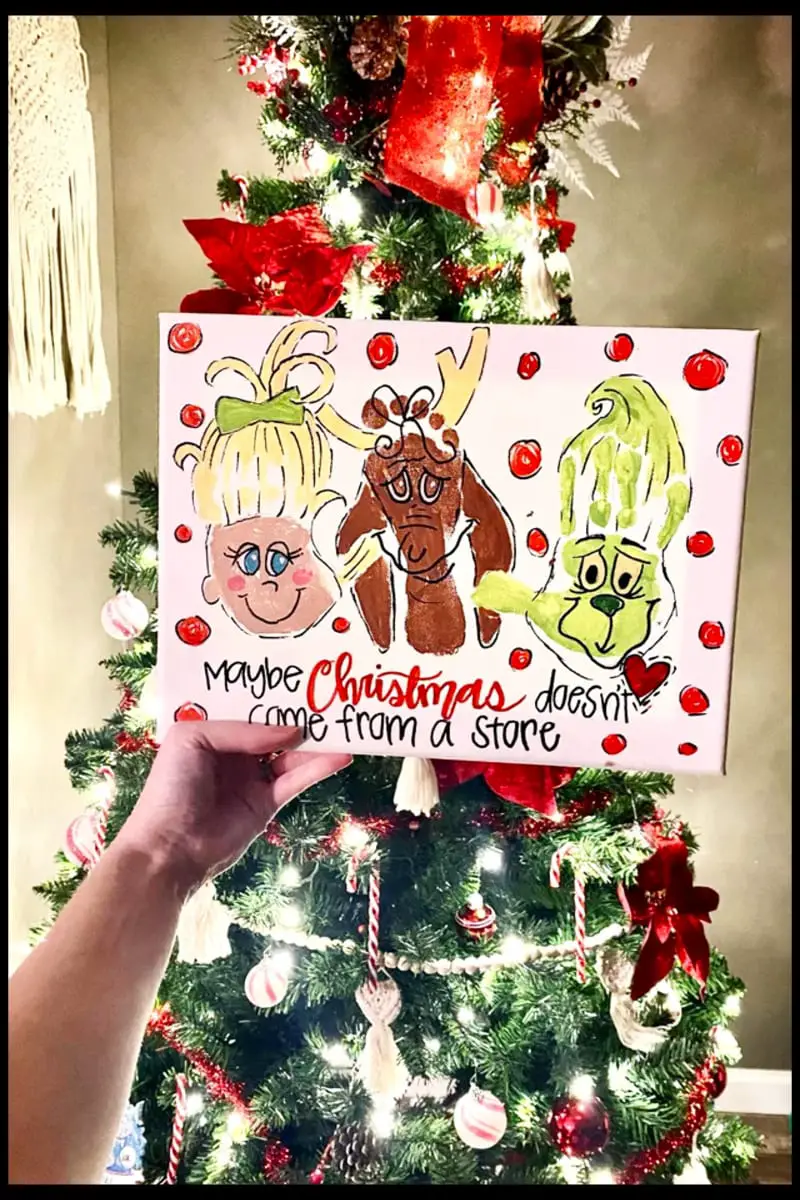 Painted Flower Pot
Have the kids paint a small clay pot with their favorite colors and add a small plant or flowers.
Paper Plate Wreath
Cut a paper plate into a circle and have the kids decorate it with stickers, markers, or other embellishments. Add a ribbon to hang it on the wall.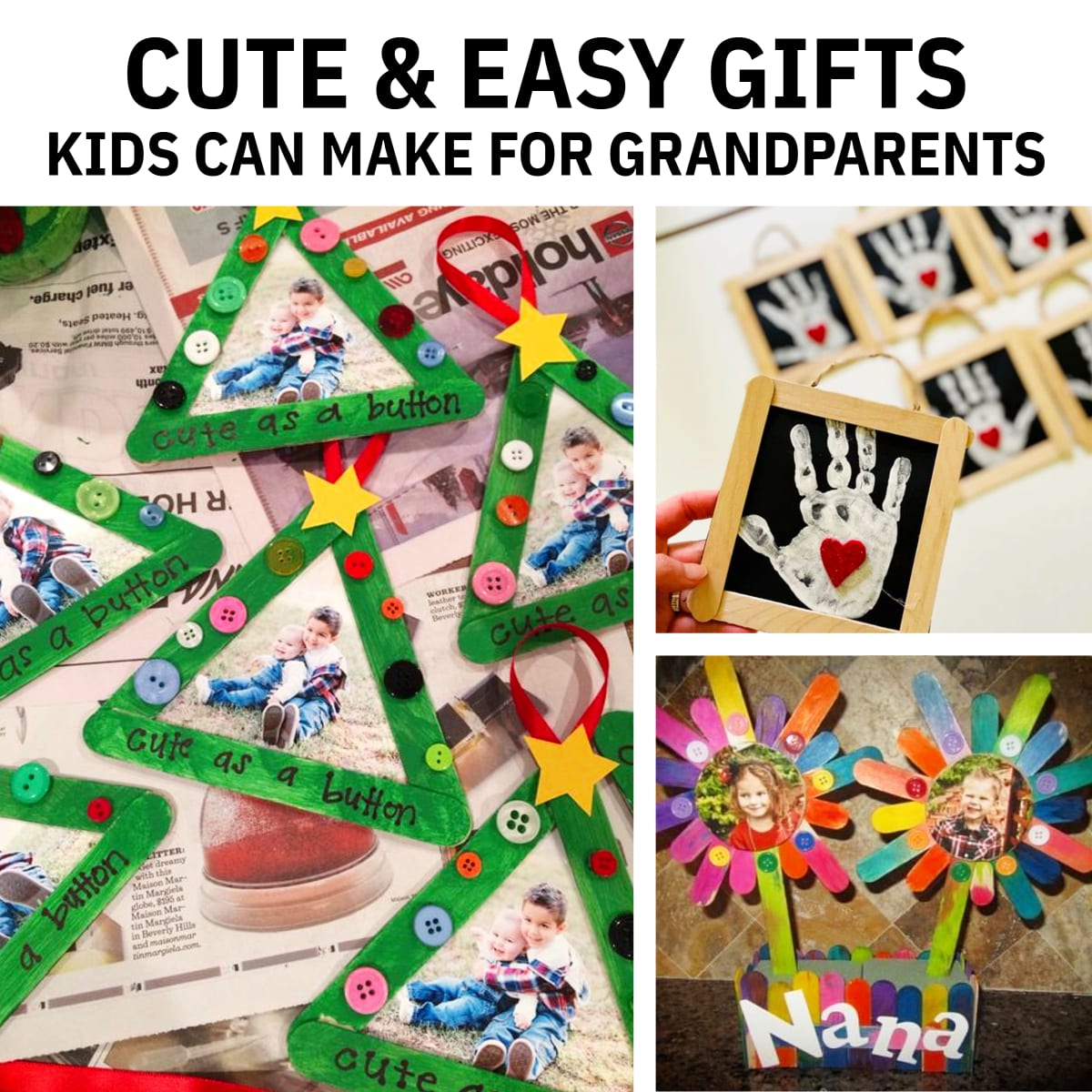 Footprint Art
Similar to the handprint canvas, have the kids step in paint and press their foot onto a blank piece of paper. Once the paint dries, they can add a design or message around the footprint.
Handmade Bracelet
Use colorful beads and elastic string to create a bracelet for grandma or grandpa.
Personalized Mug
Have the kids decorate a plain mug with paint or markers. Add their names or a special message for the grandparents.
Painted Rocks
Collect small rocks from the backyard and have the kids paint them with their favorite colors. Add a message or design on the rock with a permanent marker.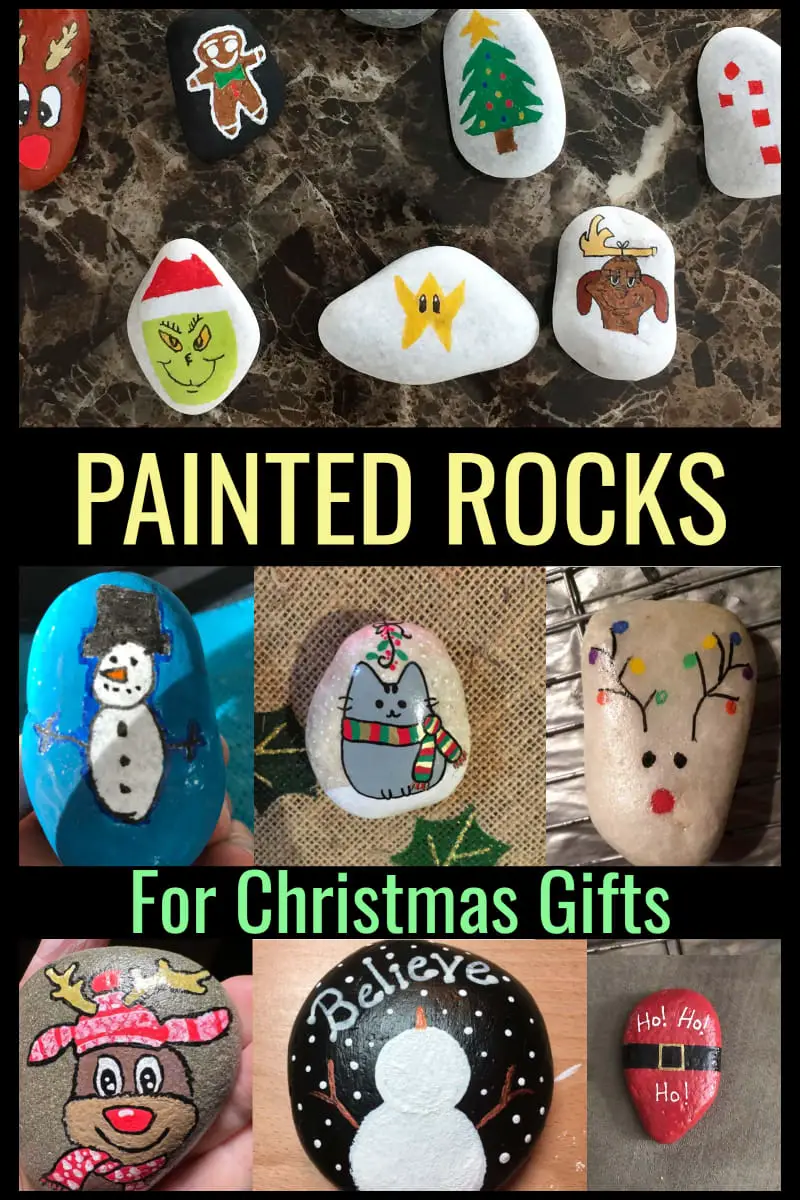 Homemade Cookies
Bake cookies with the kids and package them in a decorative container for grandma and grandpa to enjoy.
Don't WANT to bake?
Try these NO BAKE Christmas cookie recipe ideas – they are DELICIOUS and they're freeze-able too!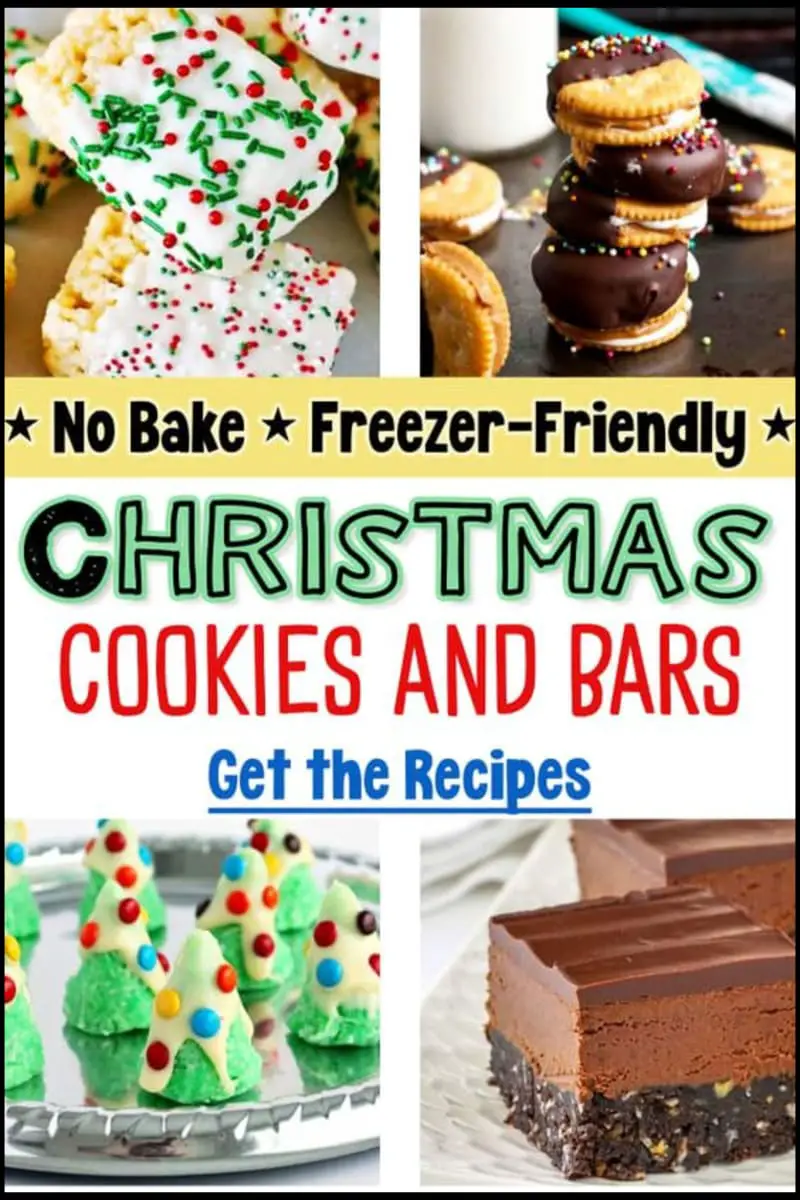 What To Read Next:
Miss Anything?
Click below to go BACK to a specific handmade gift idea: