Repurposed Furniture Makeovers With Old Dressers That Are Antiques, Junk or Cheap Thrift Store Finds – How about some clever old dresser makeover ideas?
Do you have an old dresser without drawers and wondering what to DO with it? Take a look at these clever and CHEAP things to do with an old chest of drawers that is missing drawers or has no drawers at all – these upcycled old dresser ideas are SO creative!

Alrighty, before we get started, I just want to let you know that all opinions are my own and that as an Amazon Associate I earn from qualifying purchases. Many links found on this page may take you to another website (and they should open in a new window so you don't lose your place).  Enjoy and feel free to share with your friends!
---
When it comes to DIY repurposed furniture, I am always drawn to upcycled chest of drawers ideas for all the random antique furniture, thrift store finds or old dressers I come across or can get from family and friends who are about to throw them away (gasp!)
The before and after is always so dramatic yet an easy enough DIY project to try for your home.
Like this repurposed old book shelf project shared on Facebook – they turned old yucky bookshelves into an adorable toddler or baby closet!
Transformation! Turn a plain old bookcase into a little child's closet.
Repurposed Furniture Ideas For Old Dressers
I love frugal furniture makeover ideas and nothing makes me happier than finding a cheap old piece of furniture to repurpose or an antique piece of furniture that I can't bear to part with!
Many think that an old dresser without drawers can't really be turned into anything useful, but that is so wrong!
Just look at these wonderful and easy DIY projects for old dressers without drawers (or with missing drawers)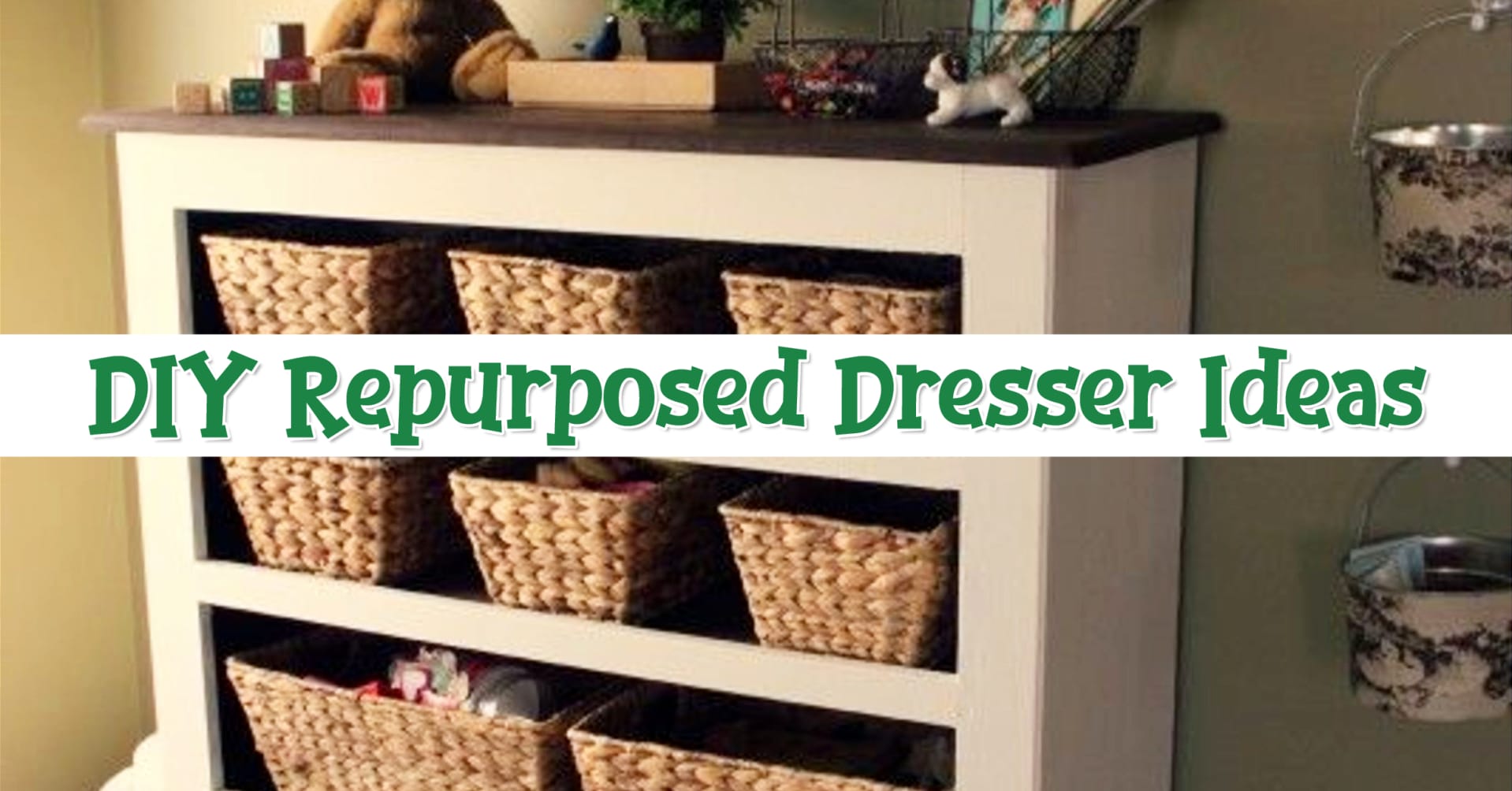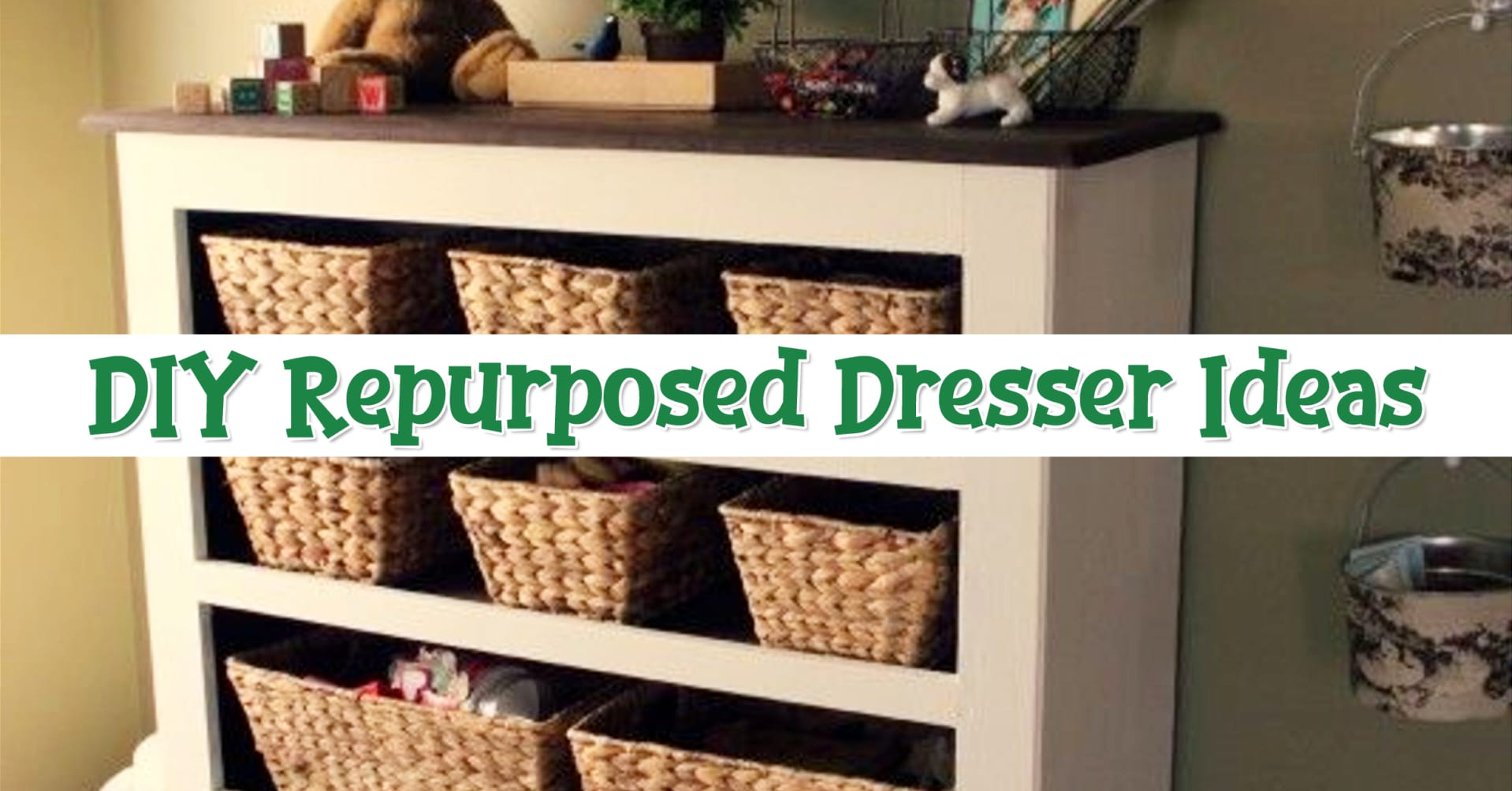 Upcycled Dollhouse
Did you know you can repurpose a chest of drawers into a dollhouse? It's one of my favorite DIY dollhouse ideas since it has more meaning than a plastic dollhouse found in stores these days.
This doll house idea is my favorite! What a wonderful use of an old dresser!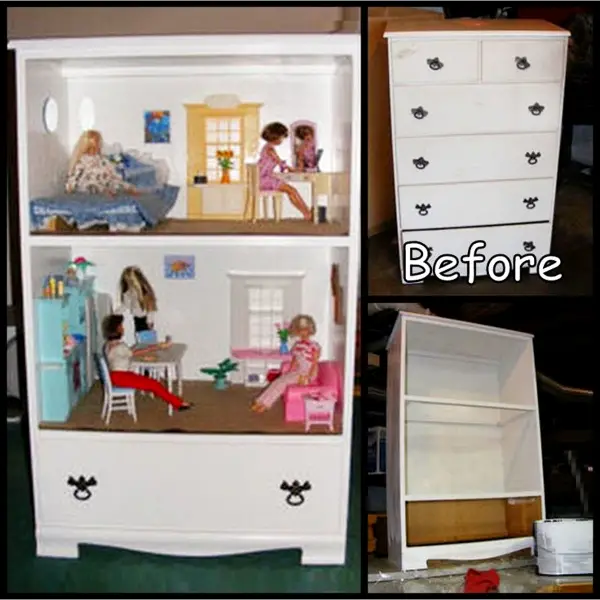 ---
---
Old Dresser Into Bookcase
This is a simple idea for dressers without drawers – turn an old dresser into a bookshelf.
HOW to repurpose a dresser into a bookshelf? Simply find a cheap old dresser at a thrift store or yard sale and then turn into a book shelf like this: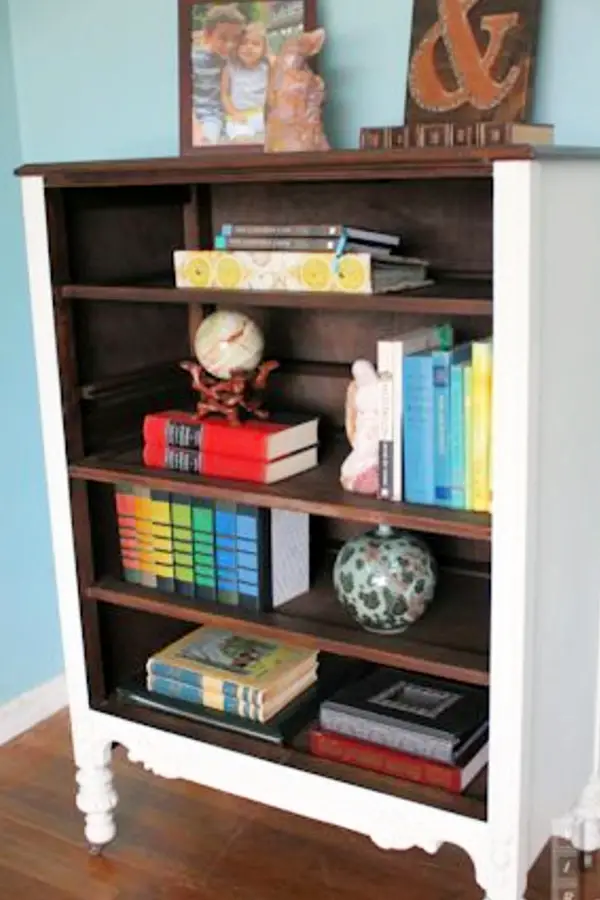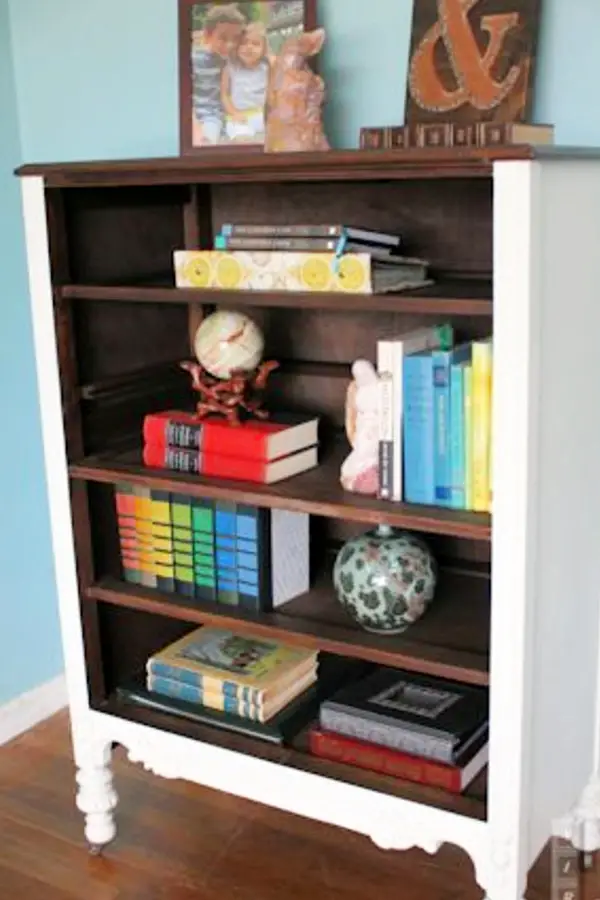 Maybe you've seen kitchen islands made out of dressers before, but this was new to me. Take a look at these dressers turned into a kitchen island with cabinet space and more.
Using Dressers For Kitchen Cabinets or Island
This is something my in-laws have done – they found an old dresser that was missing drawers and turned it into a kitchen island.
Notice the pet bowls at the bottom =)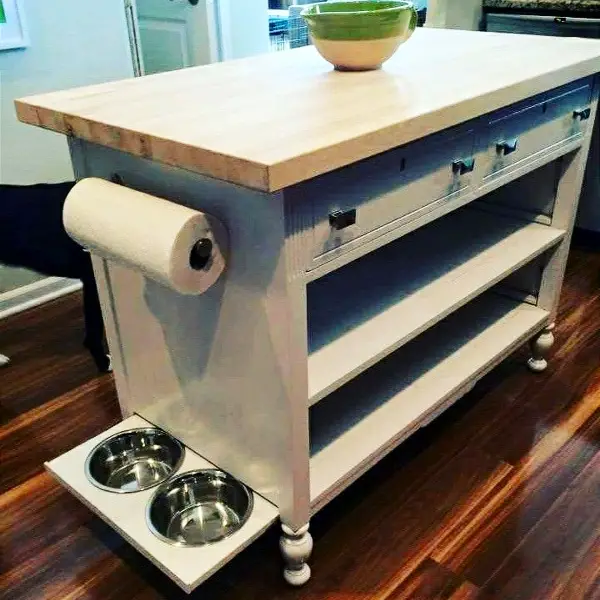 ---
---
Coffee Bar Ideas
I've seen many pieces of old furniture turned into GORGEOUS coffee bar ideas like this: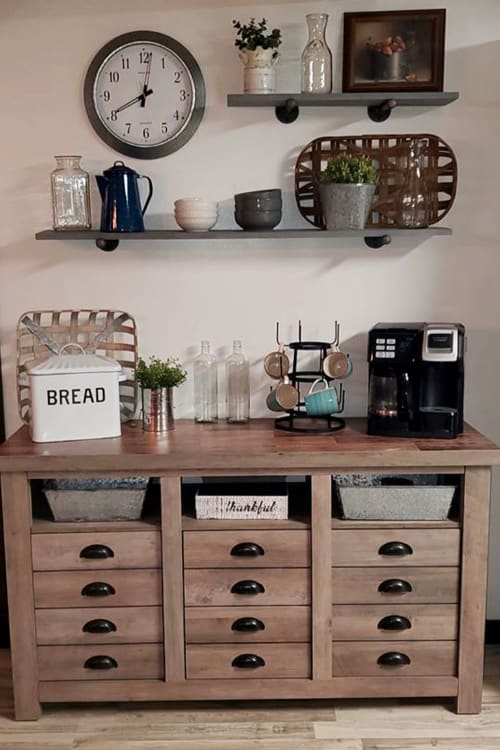 What a great furniture makeover idea for ANY piece of antique furniture you have!
I am obsessed with coffee bar ideas (there, I admitted it! ha!) I am SO into having a countertop coffee station or corner coffee bar in my kitchen since I got my new awesome coffee maker – so I've been on the hunt for the PERFECT ideas for a farmhouse coffee bar at home – and I've found them!
Make a Craft Storage Cabinet
To me, this next idea for old dressers without drawers is one of my favorite home organization hacks – take an old dresser without drawers and put baskets in the drawers areas.
What a brilliant and CHEAP way to organize your craft room!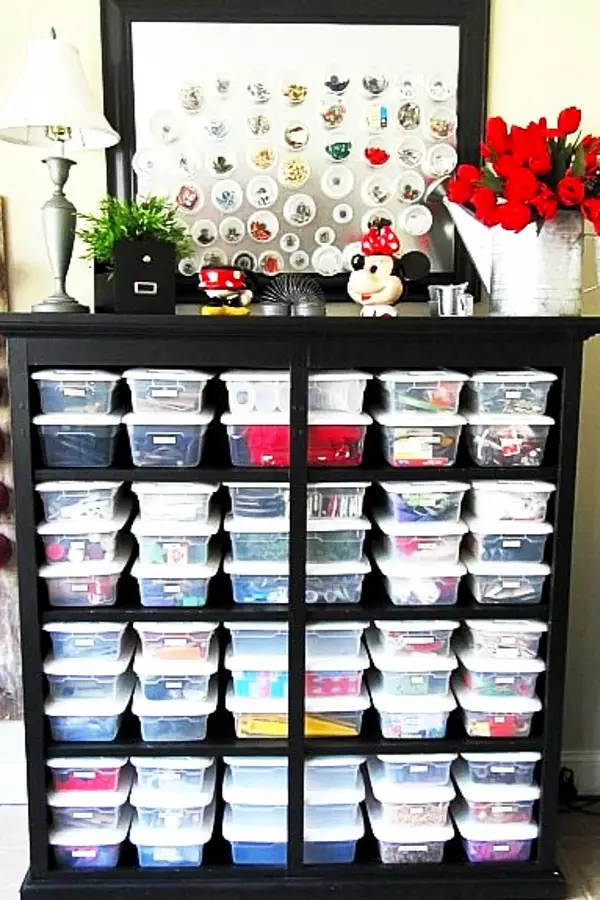 Home Office Cabinet
You can take that same concept of putting cheap baskets in an old dresser without drawers as a really inexpensive way to organize your home office, just like this: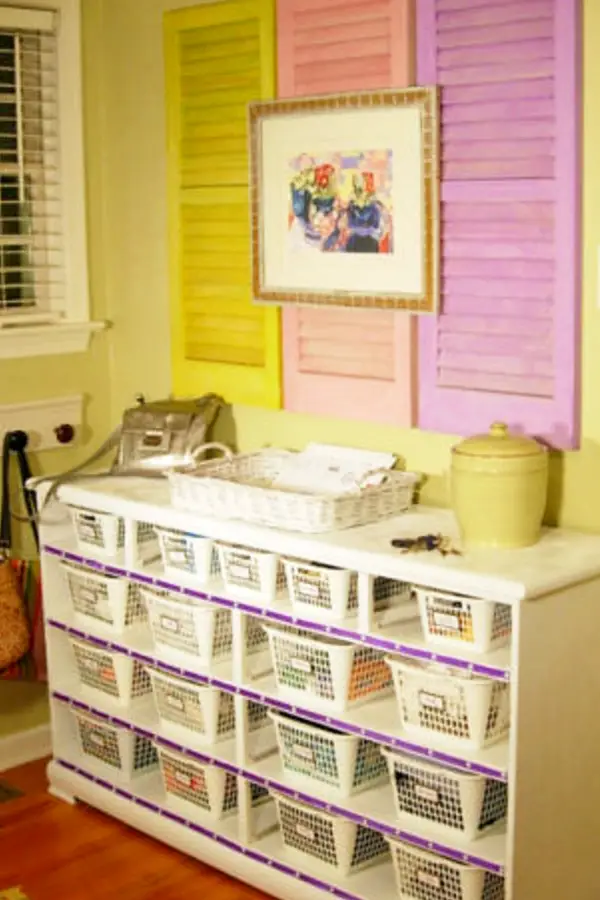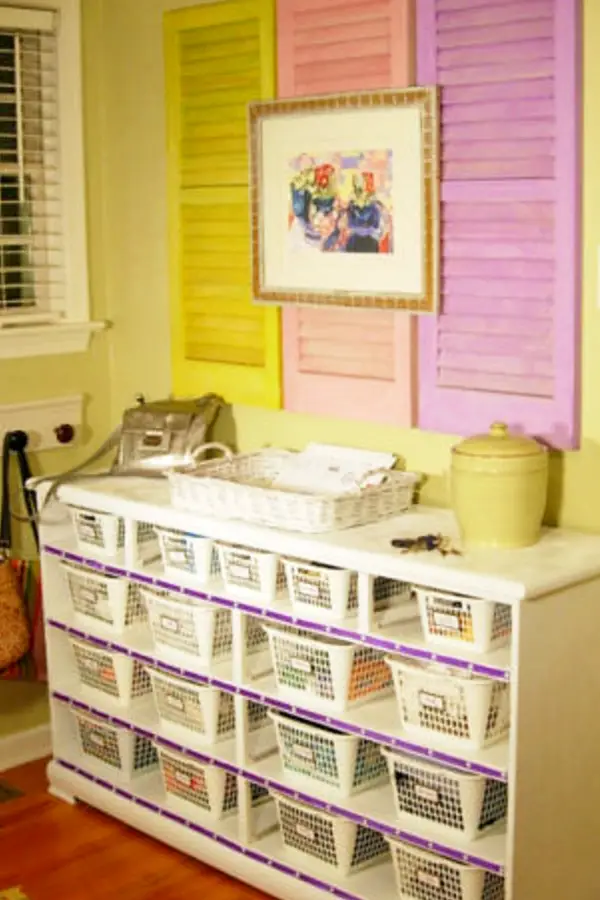 Repurposed Dresser TV Stand
How about repurposing a dresser into an entertainment center or flat screen TV dresser stand. You can even convert an old buffest into a TV stand.
Short on cash, but want a pretty TV table / entertainment console to put your TV on, hold your cable and satellite box and all the other stuff?
Check this idea below!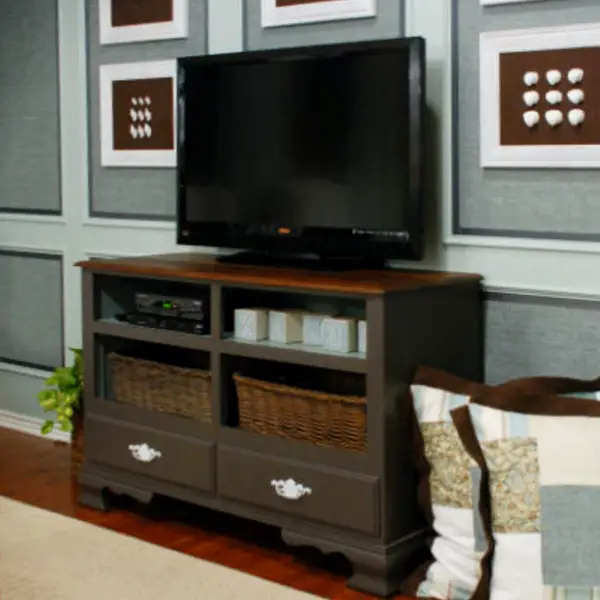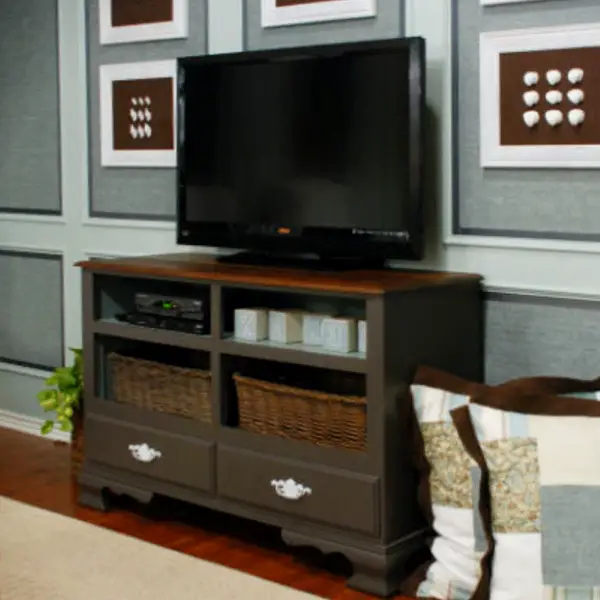 Or this DIY dresser makeover idea – a free dresser someone was going to throw away turned into a TV stand!
---
---
DIY Hidden Litter Box
An on-going problem for cat owners is – WHERE to PUT the litter box (especially if you live in a small house or apartment). Using an old dresser without drawers is a great way how to build a litter box enclosure – yep, make a dresser cat litter box!
Again, an old dresser without drawers to the rescue – turn it into a cheap and pretty little box cabinet like this: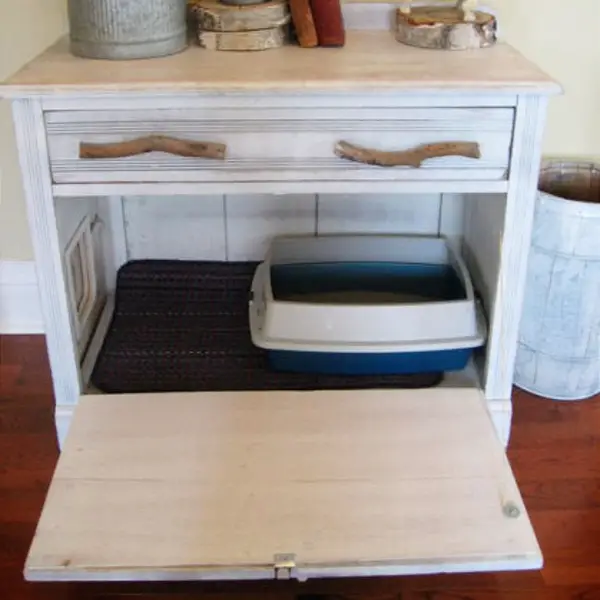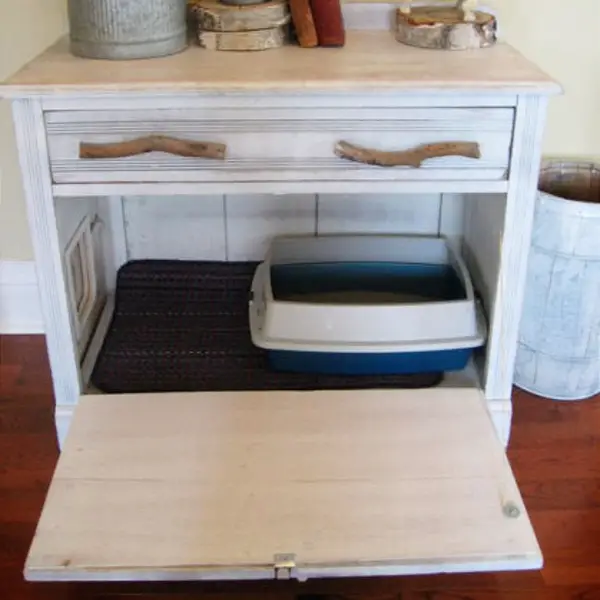 Repurpose a Tall Dresser Into Storage Cabinet
Now, I LOVE this last idea for upcycling and repurposing a chest of drawers without drawers into something useful – take an old dresser and turn it into a storage "locker" for your kids to hold their backpacks, school stuff, shoes, etc.
Isn't it gorgeous?!?!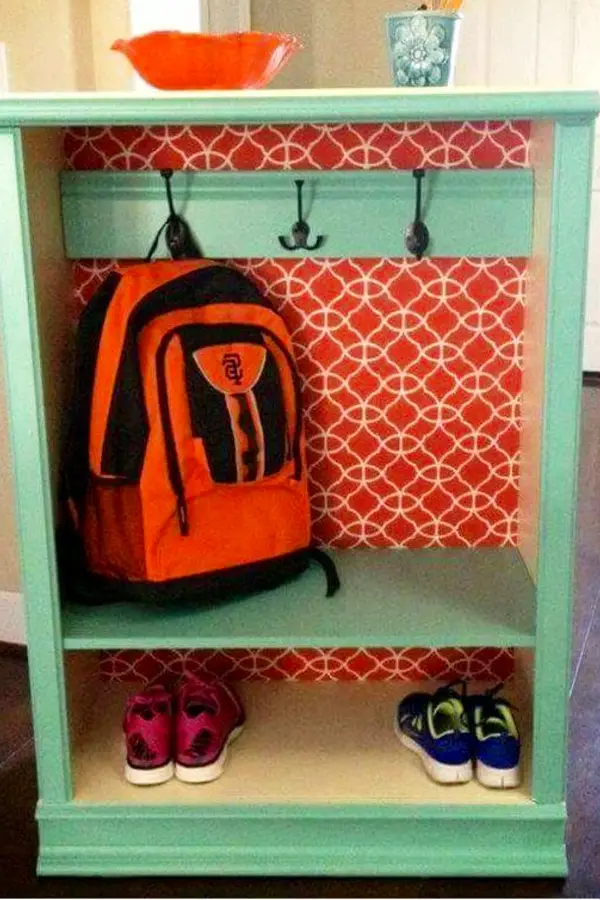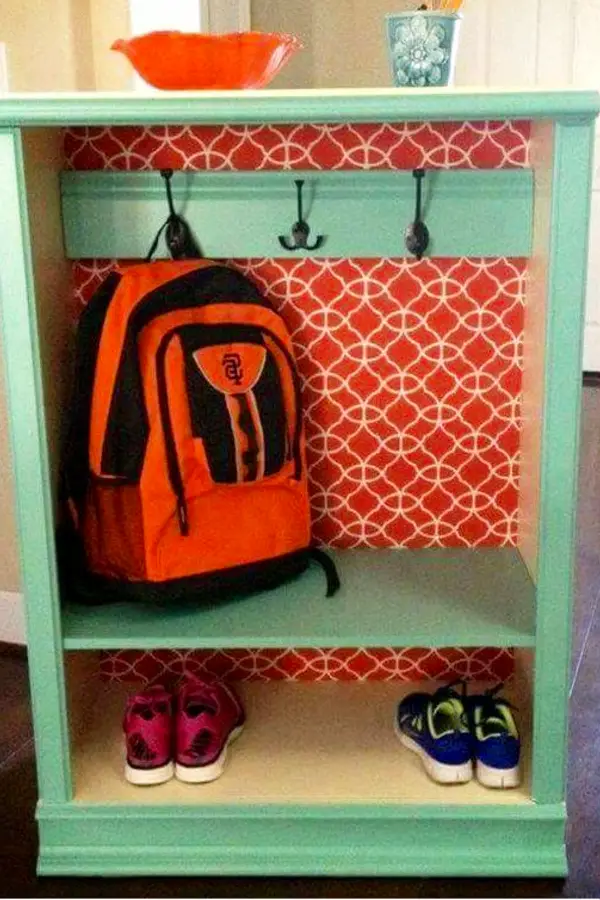 ---
---
Or this idea to take an old Thrift Store dresser that's missing most of it's drawers and turning it into a really useful storage cabinet in their baby's room, like this: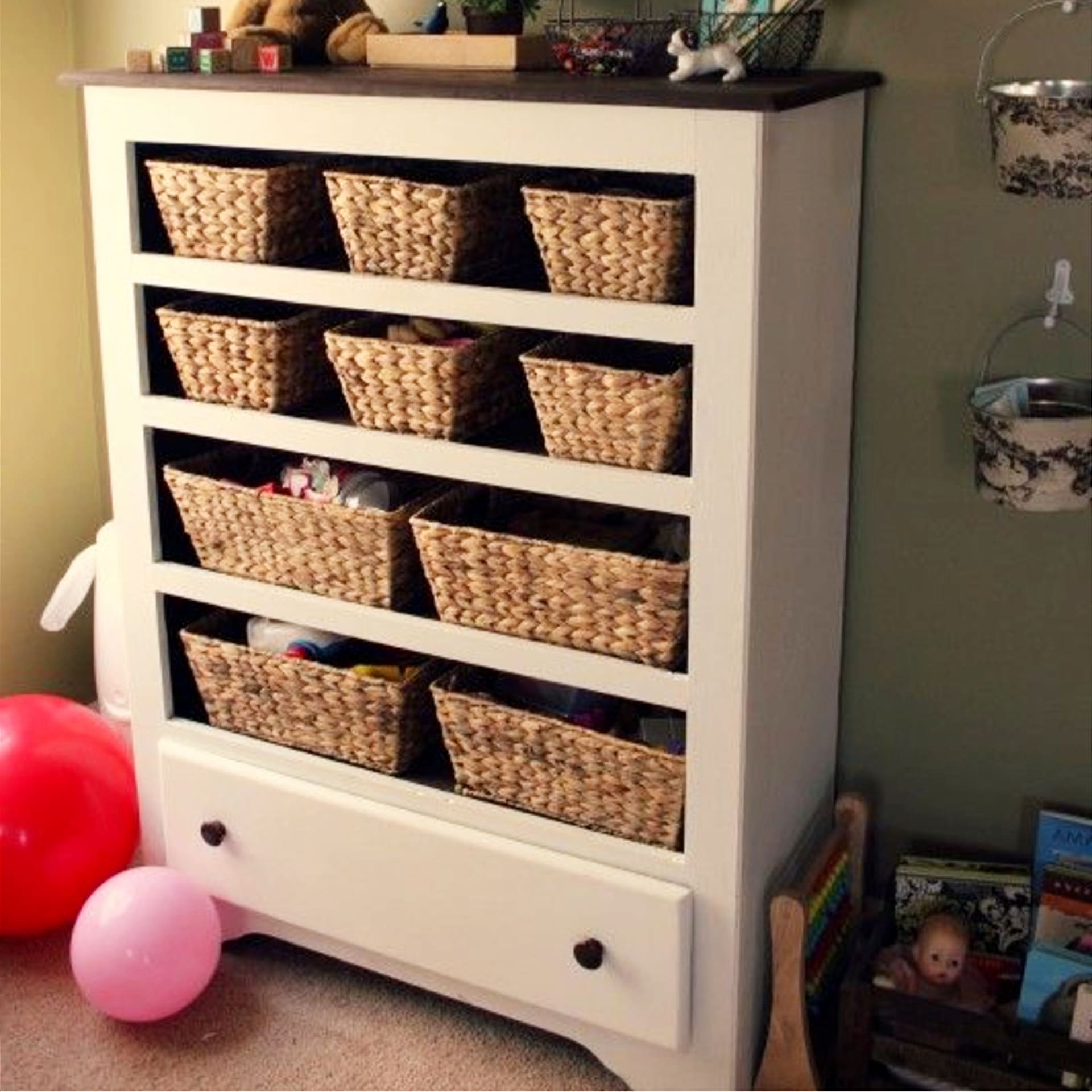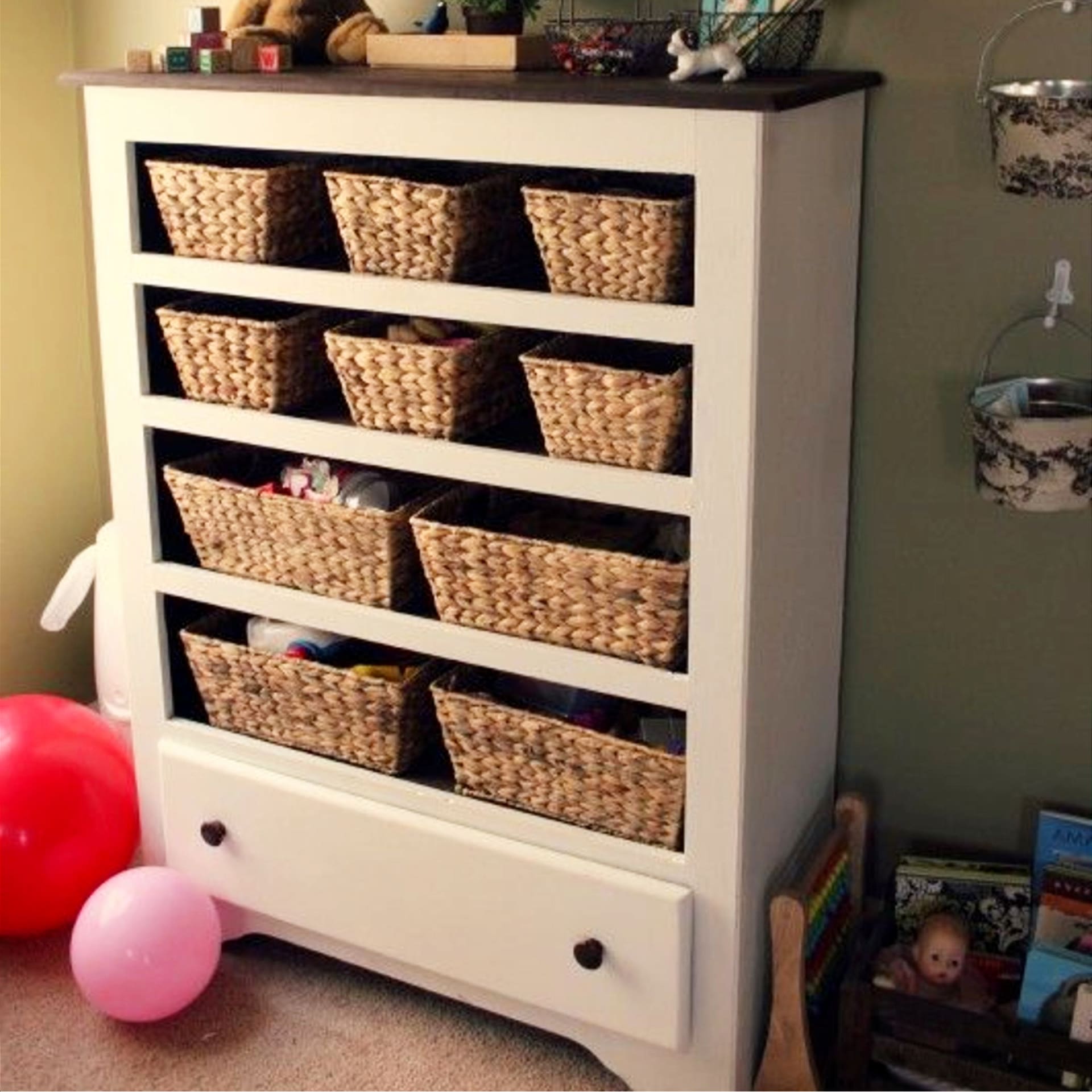 I've even seen people repurpose an old, useless entertainment center type of dresser cabinet and turn it into a GORGEOUS wardrobe storage furniture piece for their toddler girl's bedroom.
Just look how cute!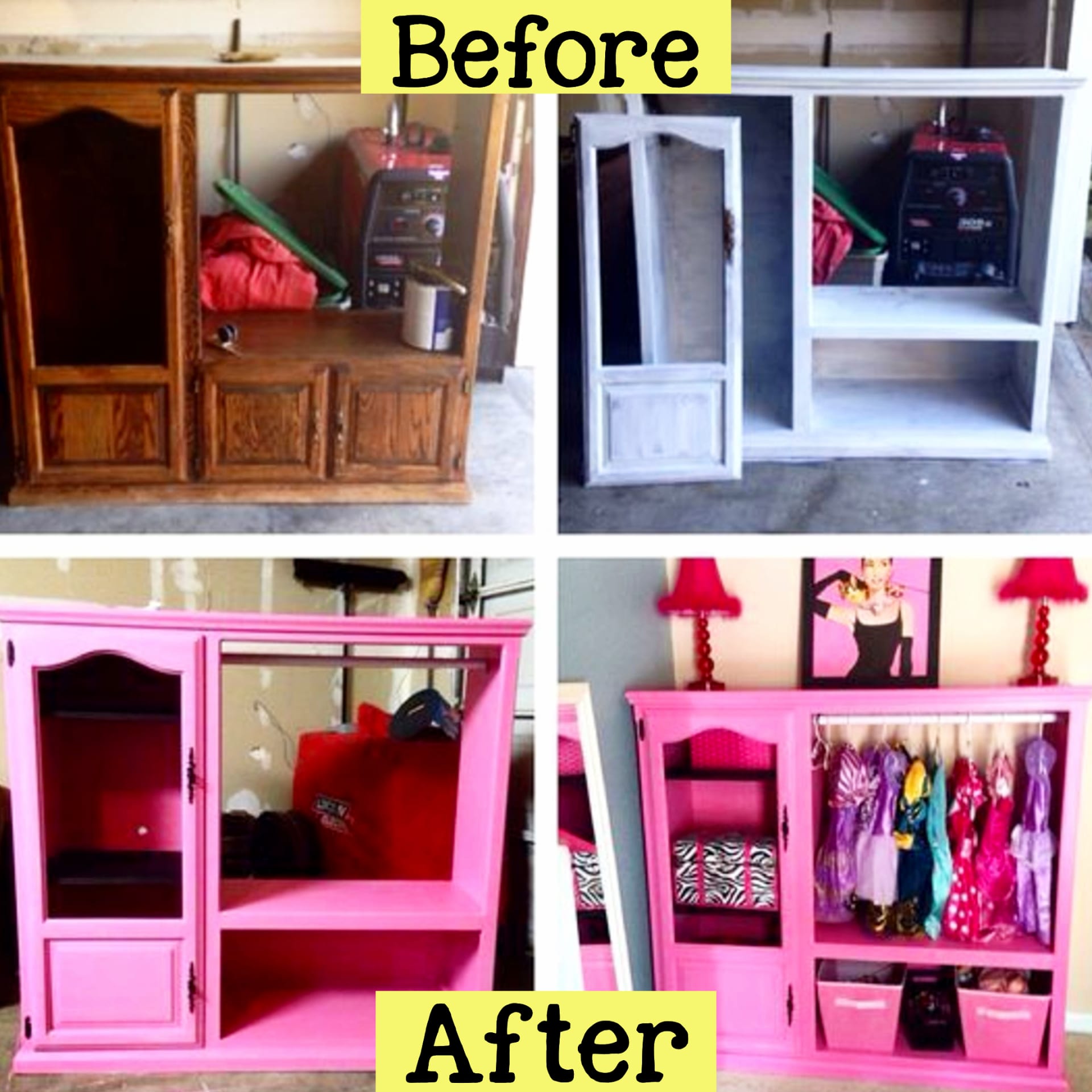 Lots of great ideas for an old dresser!
Have fun with it!
& 
Let's Upcycle! Ever looked at your old junk and thought, "That's just JUNK! I'm throwing it away!" You might want to hold on to that old "junk" after you see all these ways you can repurpose common household items into something beautiful and useful. If you like clever DIY inspiration, this page is for YOU!
Thinking about converting a china cabinet or dining room hutch into something new and beautiful for your home? Take a look at all the clever hutch redo ideas from our Pinterest followers – I never knew there were so many OTHER uses for a dining room hutch!
30+ Ways To Set Up a Small Coffee Area in Your Kitchen * Even in a small kitchen, you can still set up the cutest coffee area/coffee bar on your kitchen counter. The kitchen coffee bar pictures on this page are so cute AND so easy to recreate in YOUR …
DIY Coffee Station Ideas with Farmhouse Style * Let's get your kitchen organized beautifully with one of these farmhouse style coffee bar ideas. A coffee bar, or coffee 'station', is such a pretty way to organize your kitchen counter with a function and useful space. Home coffee bar ideas.. …