Cake In a Jar Recipes and Instructions –
Looking for come creative cupcakes and cake in a jar ideas? Take a look below at these super easy mason jar cupcakes recipes and DIY how to instructions I've collected on this page. All these cupcakes are made in a mason jar – how cute is that?
---
We've collected a LOT of clever cake in a jar ideas on our Pinterest board here, but on this page you'll find our favorite cupcake in a mason jar pictures, ideas, directions, and cake in a jar recipes.
Yes, it's cake in a jar! Turns out, these "cupcakes in a jar" (Mason Jar cupcakes) are super easy to make!
How beautiful they would be if these cupcakes were made for a baby shower, a birthday, a holiday party, bridal shower – or to give as gifts (they freeze well so that makes them EXTRA awesome for gift-giving!)
These cupcakes sure would make for a beautiful dessert table at a wedding, don't you think?
Feel free to "Pin" any Mason Jar Cupcake Recipe that inspires you.
---
I've had the MOST fun collecting all these cupcakes in a jar recipes and ideas – who knew you could make such beautiful desserts in a mason jar??
What's extra fun about these mason jar cupcakes is that they are "shippable" and make for great gifts in the mail and/or military care packages.
What a great way to get a taste of home!
---
How To Make Mason Jar Cupcakes
Here's a really helpful video that shows how to makes these mason jar cupcakes.
Now – let's take a look at some great mason jar cupcake recipe ideas (yes, you bake the cake/cupcake IN the jar!) and see a great idea to give a cupcake in a jar gift!
Cupcakes in a Jar Gift Idea
First off, you don't have to BAKE the cupcake IN the jar, you can simply use a mini-mason jar to use as the "gift box" to give your cupcake gift in (here's how).
Putting the cupcake in an upside-down jar not only looks beautiful, but it also keeps the cupcake fresh, perfect, and easy to transport.
Important Tip: Make sure you get the right-size mason jars for this or else it won't work.
Amazon has the perfect-size mason jars here.
Oreo Brownies Cupcakes in a Jar
Don't these brownie cupcakes in a jar look DELICIOUS?!?! Yes, real OREO cookies are used in this recipe. I must have them NOW!
Mason Jar Cupcakes for Baby Shower
We think these cupcakes in a jar would be great for a baby shower – love the bright pink icing. Another idea: plan these cupcakes in mason jars with both blue icing and pink icing for a gender reveal shower.
Learn How To Make a Cupcake in a Jar
Here's how to make those cute cupcakes in a jar – Mason Jar Cupcakes tutorial.
Mason Jar Cupcakes Wedding Ideas
Having a dessert bar at your wedding reception (or bridal shower) is a very trendy idea (and a GREAT idea).
We think adding cupcakes in a jar to your wedding desserts make for a beautiful and unique way to present dessert – especially for a rustic-themed wedding.
These banana split cupcakes in a jar are a great choice! The layering of the graham crackers, bananas, etc are very striking visually.
Dr Pepper Cup Cake in a Jar Recipe
These Dr Pepper-flavored mason jar cupcakes are more like little cakes baked in a jar than like a true cupcake – but they are equally delicious! Great portable gift idea and really fun for tailgating!
Cake in a Jar – Favorite Recipes
We collect a lot of mason jar cupcake recipes on our Mason Jar Madness Pinterest board, but here are two of our favorites!
Layered Mason Jar Cupcakes with Sprinkles
This mason jar cupcake idea is a BIG hit with the kids – would be great for a birthday party.
Blackberry Vanilla Cupcakes in a Jar
At first glance, the "blackberry vanilla" flavor idea wasn't that appealing to us, but wow – you just gotta taste them – YUM! The recipe is easy…and they freeze well, too!
Funfetti Mason Jar Cupcakes
What says, "THANK YOU" better than a mason jar filled with Funfetti cupcakes with loads of frosting and sprinkles? Nothing does 🙂
Mini, Medium & Large Mason Jar Cupcakes Ideas
Back in November, one of our couples gave away cupcakes in mason jars as their favors – and guests loved them! One company that does this is Yummy Cupcakes in California.
Almond Joy Mason Jar Cupcakes
I've transformed an Almond Joy candy bar into a shippable cake and I am super excited to be sharing my almond joy mason jar cake recipe over at Happy Fit Navy Wife.
Pumpkin Pie Mason Jar Cake
This is pumpkin pie cake in a jar… yum! And it's a unique homemade gift you can ship!
Miss Anything?
Pin For Later?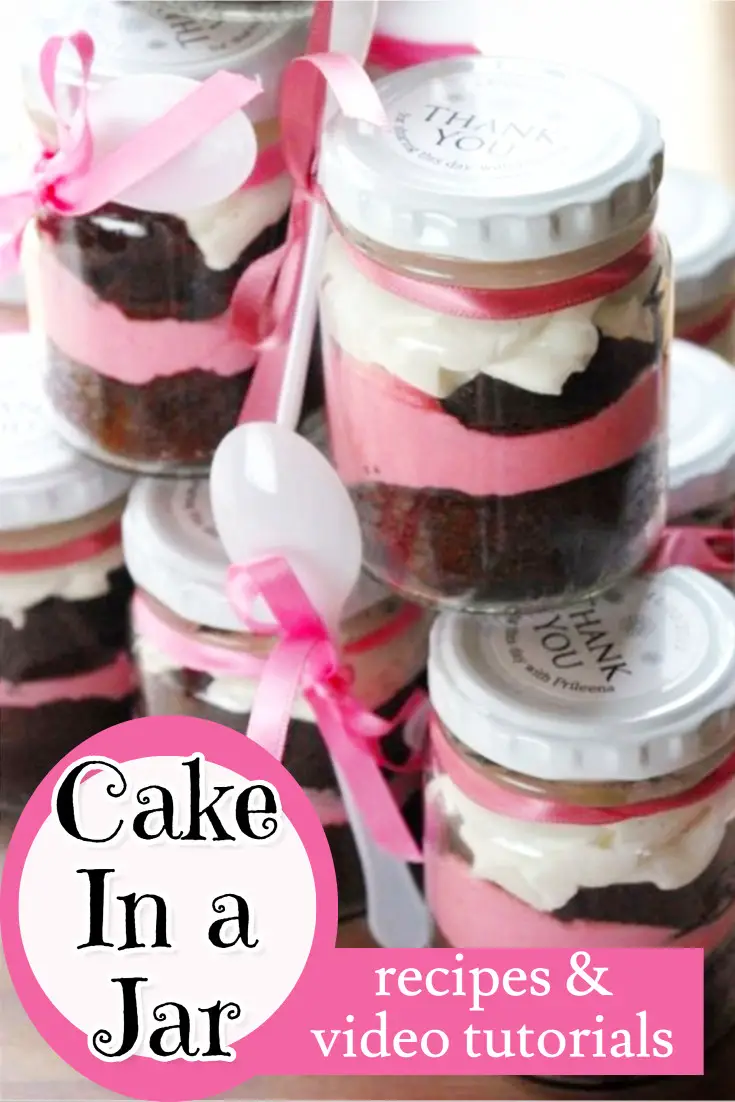 ---
Last updated on February 17, 2019 9:57 pm
cake in jar, cake in jar recipe, cake in jars images, cake in jar cake recipes, cake in a jar recipe, cake in a jar ideas, cake in a jar gifts, cupcake in a jar, cupcake in a jar recipes, cupcake in a jar gift, cupcake in a jar ideas, cupcake in a jar diy, mason jar cakes, mason jar cupcakes, mason jar cupcake cake, mason jar cupcake recipes, how to make cake in a jar, how to make cake in a jar recipes, how to make cake in a jar with icing.