Easy DIYs To Do When You're Bored At Home
Do simple crafts calm you down? I can tell you this – doing simple craft projects certainly calms MY mind. Things like coloring are great stress-relievers for me as well as a simple pass time when I'm bored. Below are a bunch of easy DIYs and crafts YOU can do when you're bored at home or really stressed out. Fun for us adults AND for the kids too!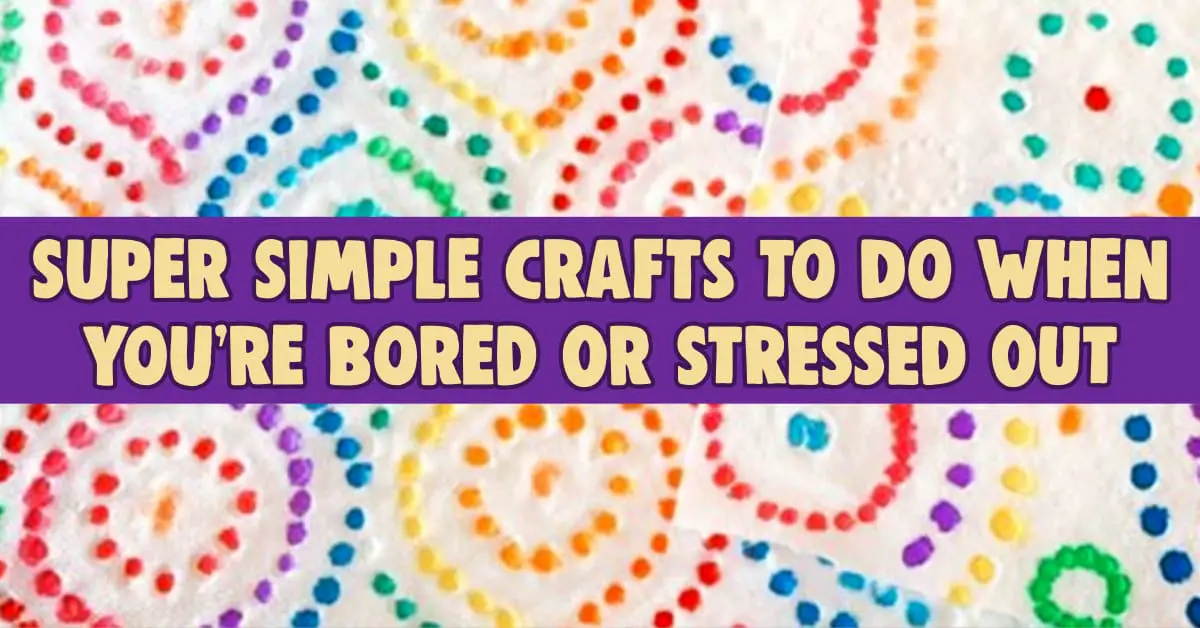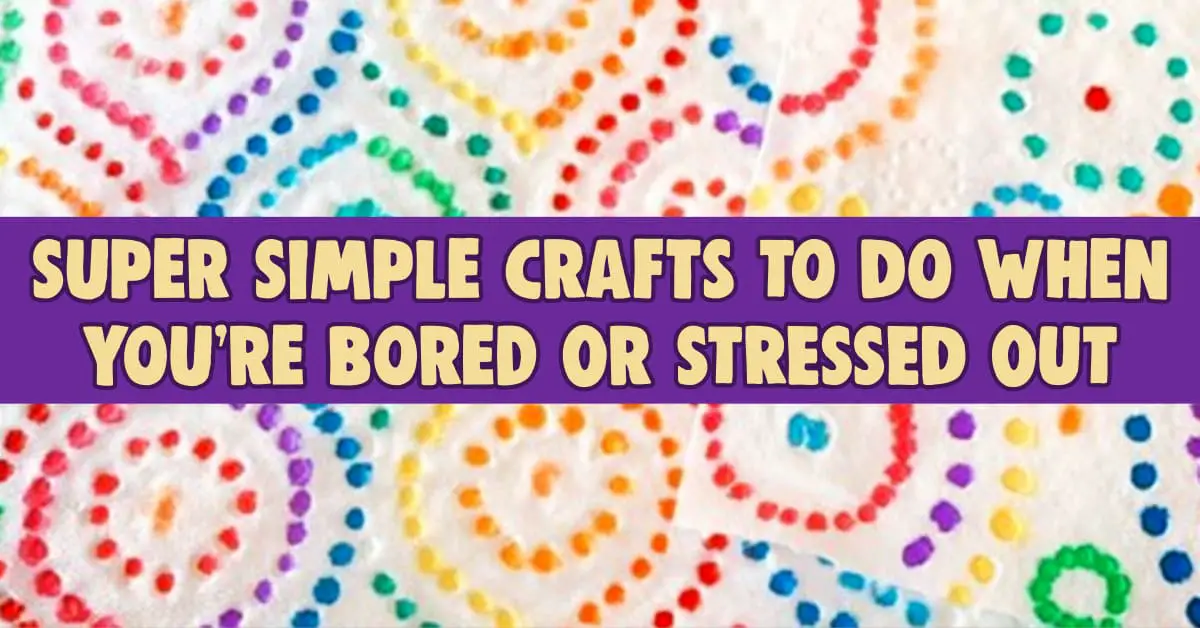 Pretend Nail Salon Craft
This idea is SO fun for the kids AND for the grown ups that are "helping".
It's a nail salon craft project.
Just outline some hands on a stretch of cardboard, draw nails on them, and let the kids paint the fingernails – fun!
Fun indoor crafts for kids when they're bored at home – take paper bags, construction paper or cardboard to outline their handprints and paint the nails!
Paint Some Rocks
When I'm feeling stressed out or down in the dumps, I like to not only do some sort of craft project, but also create it for OTHER people to lift their spirits.
These types of painted rocks below fit both of those things – a fun and easy art project for the kids and I to do AND we scatter them around our neighborhood or local park for other people to find… and hopefully, it will lift their spirits when they find them.
More painting rocks 😊
Construction Paper Flowers
I really should put this on our Mother's Day Crafts For Kids page – such a cute and easy DIY gift to make for the moms, grandmoms and aunts!
However, my kids and I love making these flowers made from construction paper all the time (and it's really good for helping with their fine motor skills too!)
This construction paper craft is fun for kids of all ages! Grab Supplies & See More Videos Here: http://twitchetts.com/constructionpapercraftsforkids/
Paper Towel Coloring
This next simple craft idea is SUPER basic and easy – BUT, at this moment in history, might not be the BEST use of your paper towels lol!
Just grab some markers and color the dots on a sheet of paper towels.
Just look how pretty it turns out!
For me, this would be oddly satisfying (she says as she goes to grab her markers and a sheet of paper towels).
Fun and easy craft projects to when you're bored or stressed out. Fun crafts for kids too
Learn How To Draw Animals
The kids and I have the BEST time learning how to draw animals with this video below – we think we are SO artistic lol!
(null)
Repurposed Art Projects
These are super fun craft projects to make with the kids – art projects made with repurposed household items or… yep, trash.
Reuse items you have around the house to create 10 #recycledcrafts! 🏠♻️ Click the link to get started! 👉 https://bit.ly/recyledcraftideas
12 Bored At Home Art Projects
This video below has 12 fun and SIMPLE art projects you can make when you're bored at home.
LOVE the colors they use!
DIY What To Do When You're Bored! What To Do When You're Bored At Home! Hey Everyone! Today I'll be showing you What To Do When You're Bored! This video was …
More Craft Ideas For Kids and For YOU
Here are some fun, unique, and easy DIY gifts for mom that kids can make. Great for DIY Christmas gifts that the kids can give mom, Mother's Day, Mom's birthday, or ANY day that mom deserves a little gift (which we all know is EVERY day – ha!)
Part of organizing my LIFE this time of year, is preparing for Father's Day. Not only what MY kids will make as a gift for Daddy this year, but ALSO what I will have the kids in our Sunday School classes make to take home to THEIR dads. If you're …
Fun & Romantic DIY Birthday, Anniversary and Valentine's Day Gifts For Him * Gift ideas for men! Here comes Valentine's Day (or your Anniversary – or his birthday) and you need a unique DIY gift idea for your man.