---
If you're looking for UNIQUE bulletin board ideas – you're gonna love all these creative classroom bulletin boards, decorating themes and handmade classroom bulletin board decorations! Bulletin board ideas for Back to School, Halloween, Christmas, Thanksgiving, Valentine's Day, St Patrick's Day, Easter, Spring, Fall, Winter, Cat in the Hat Day… name a holiday or a season and there's a clever bulletin board idea for your classroom below.
Let me show you 50+ Clever, Creative and UNIQUE Bulletin Board Designs and Decorating Ideas for All Reasons, Seasons, Classroom Ages and Holidays – all new for the 2023-2024 School Year.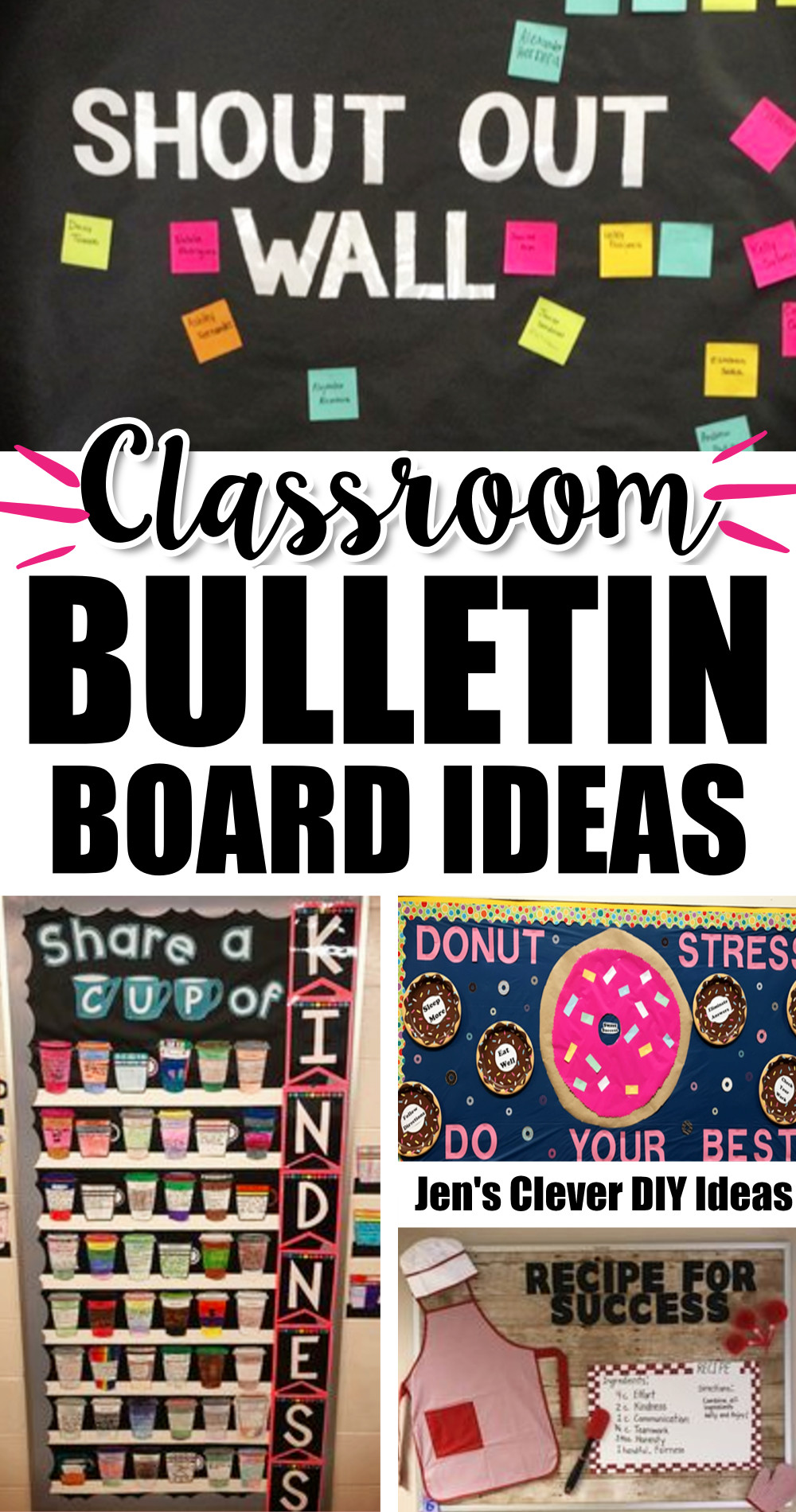 ---
Updated on September 15, 2023
posts may contain affiliate links -Enjoy and feel free to share with your friends!
---
Teaching is plenty hard enough without the extra stress of coming up with unique ways to decorate your classroom bulletin boards and walls and doors and soft boards, etc etc ETC. Hopefully, this large selection of ideas below will help cut OUT some of that additional stress.
Decorating your classroom is not cheap, but maybe these bulletin board decorating ideas can help you reduce your out-of-pocket costs and STILL have engaging board decorations for your students. It's amazing what creative teachers can do with a low decorating budget – just look at these cute and FUN classroom decorating ideas!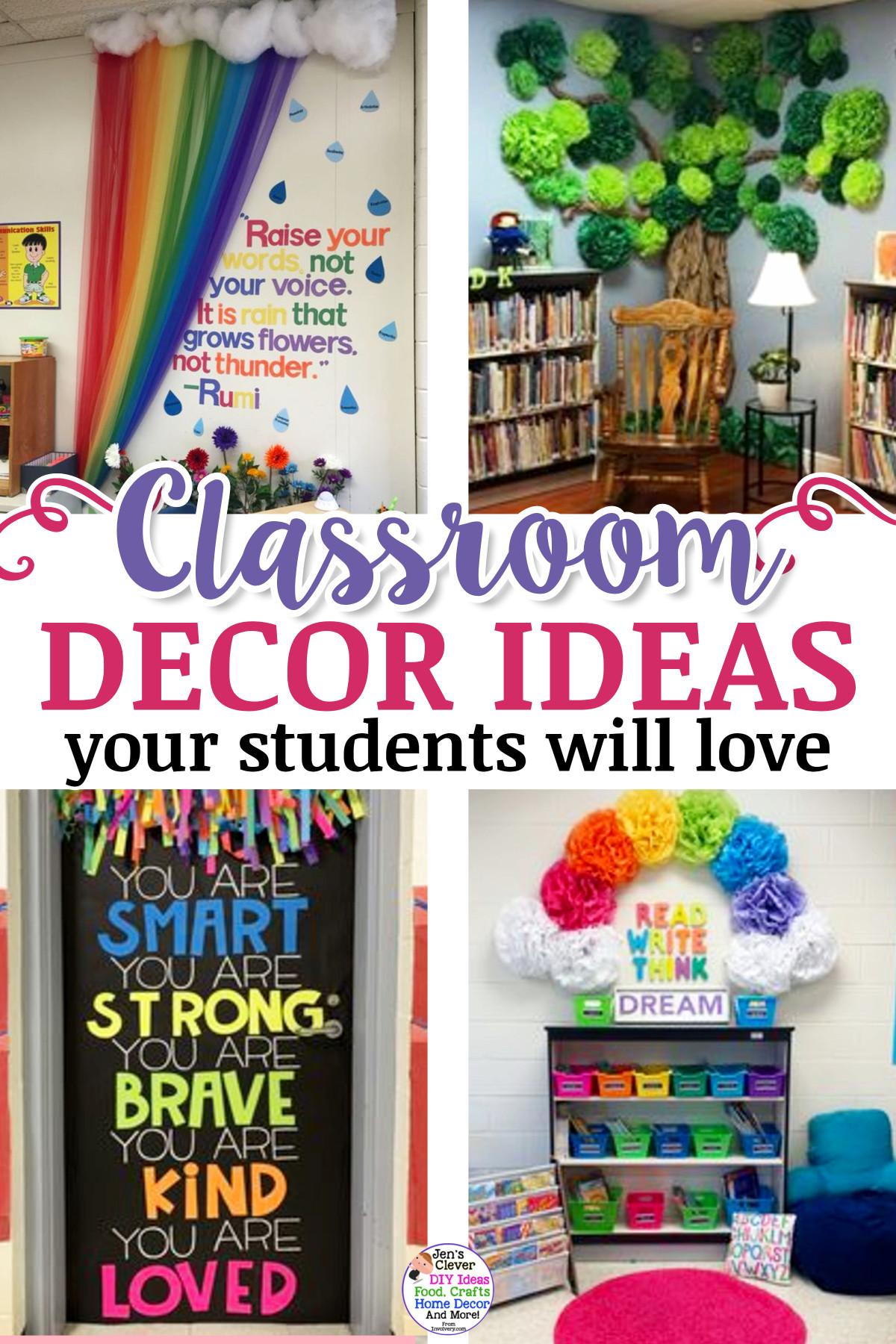 Let's get back to bulletin board ideas and take a look at some simple, yet unique and creative, bulletin board ideas, themes, borders, charts and decorating ideas. If you're looking for some clever ways to decorate your classroom bulletin board, you're sure to find an idea down below.
From motivational bulletin board ideas like this…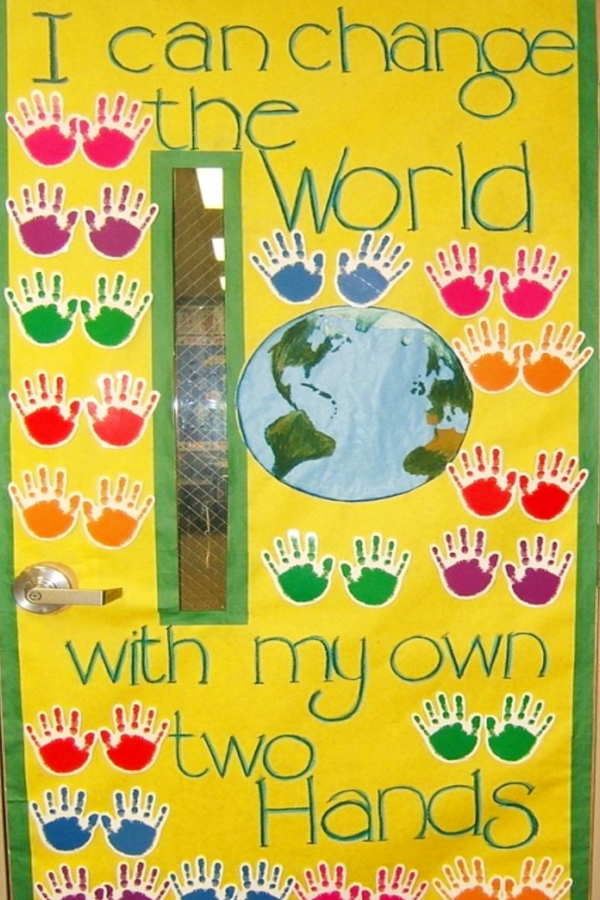 to simple and inexpensive homemade bulletin board decorating ideas like this…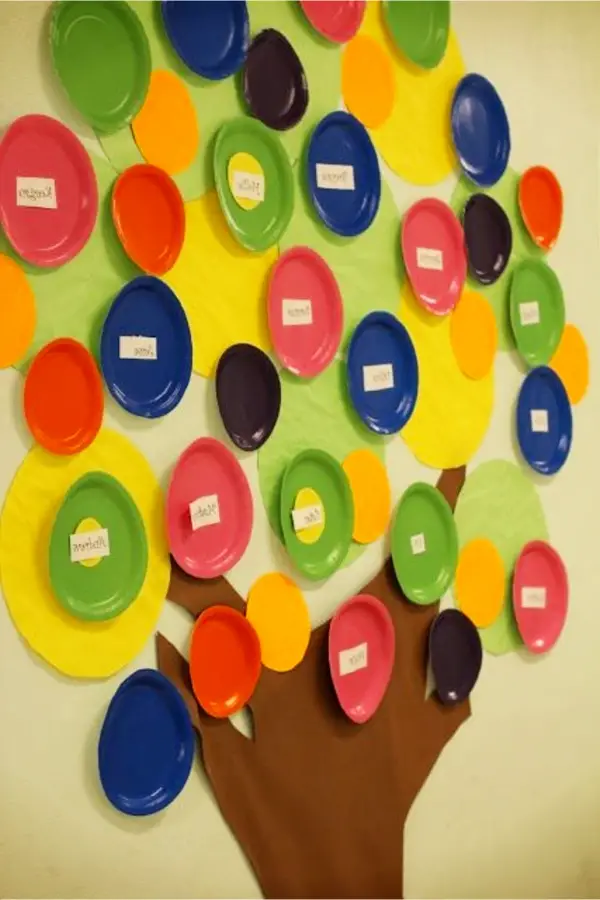 These are unique bulletin board ideas for High School, middle school, Pre-K and more. Such clever bulletin board ideas for teachers in their classroom – so creative and FUN!
Unique Bulletin Board Ideas on This Page:
Handmade Bulletin Board Decorations-see pictures.
Motivational & Positive Bulletin Board Themes-see below.
Welcome Back Classroom Board Ideas.
Seasonal Bulletin Board Ideas – Fall, Winter, Spring & Summer.
Unique Bulletin Board Ideas For All Holidays.
Early Childhood, Preschool Board Decorating Ideas.
School Display Board Themes For All Grade Levels.
Plus a LOT more ideas for the classroom, walls and doors in your school.
Let's look at the pictures!
Bulletin Board Theme Ideas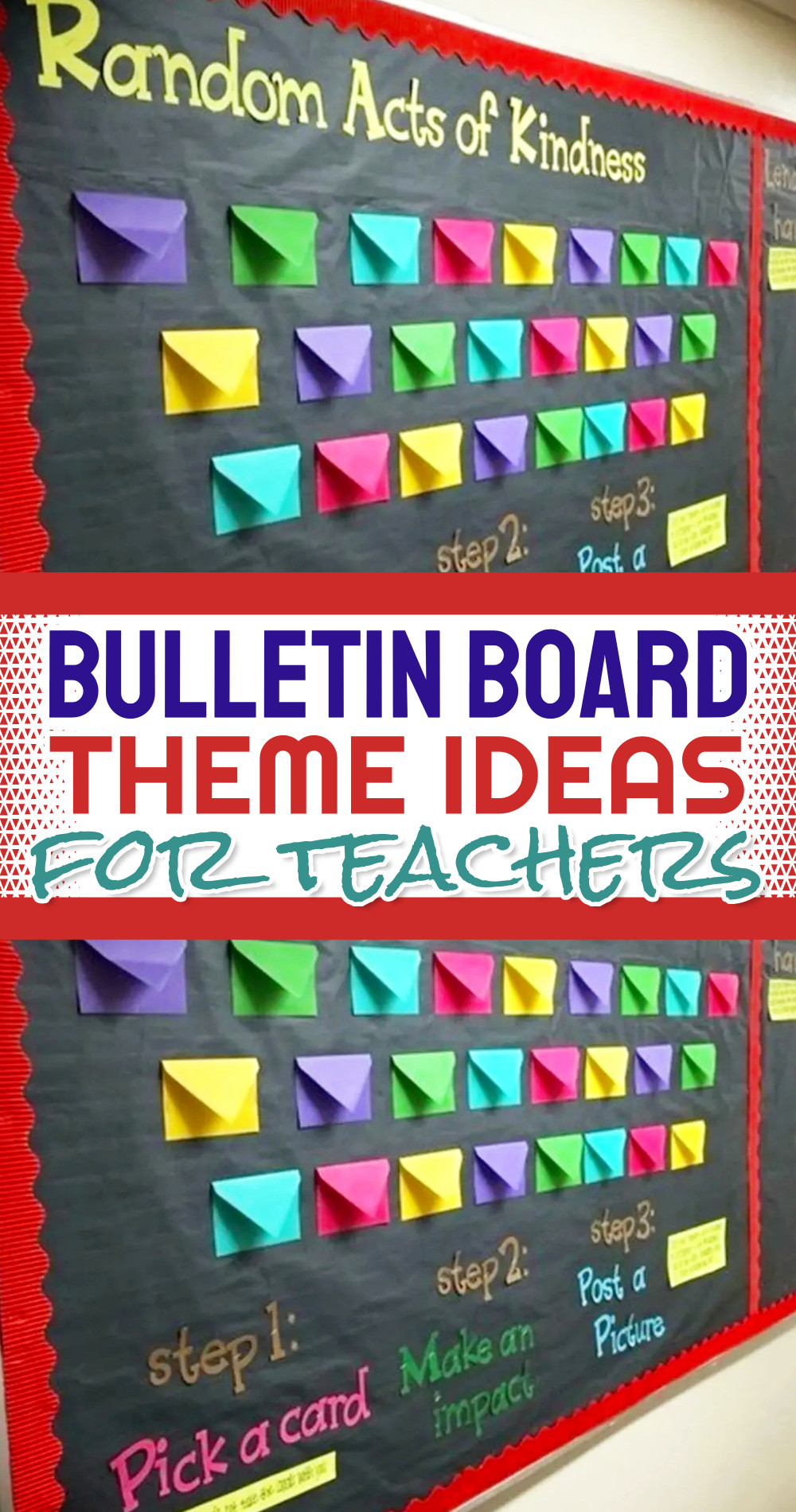 Below are lots of pictures of classroom bulletin board theme examples and decorating ideas for all classrooms, all seasons and all Holidays in the slideshow below.
Be sure to save your favorite ideas to pinterest!
SLIDESHOW: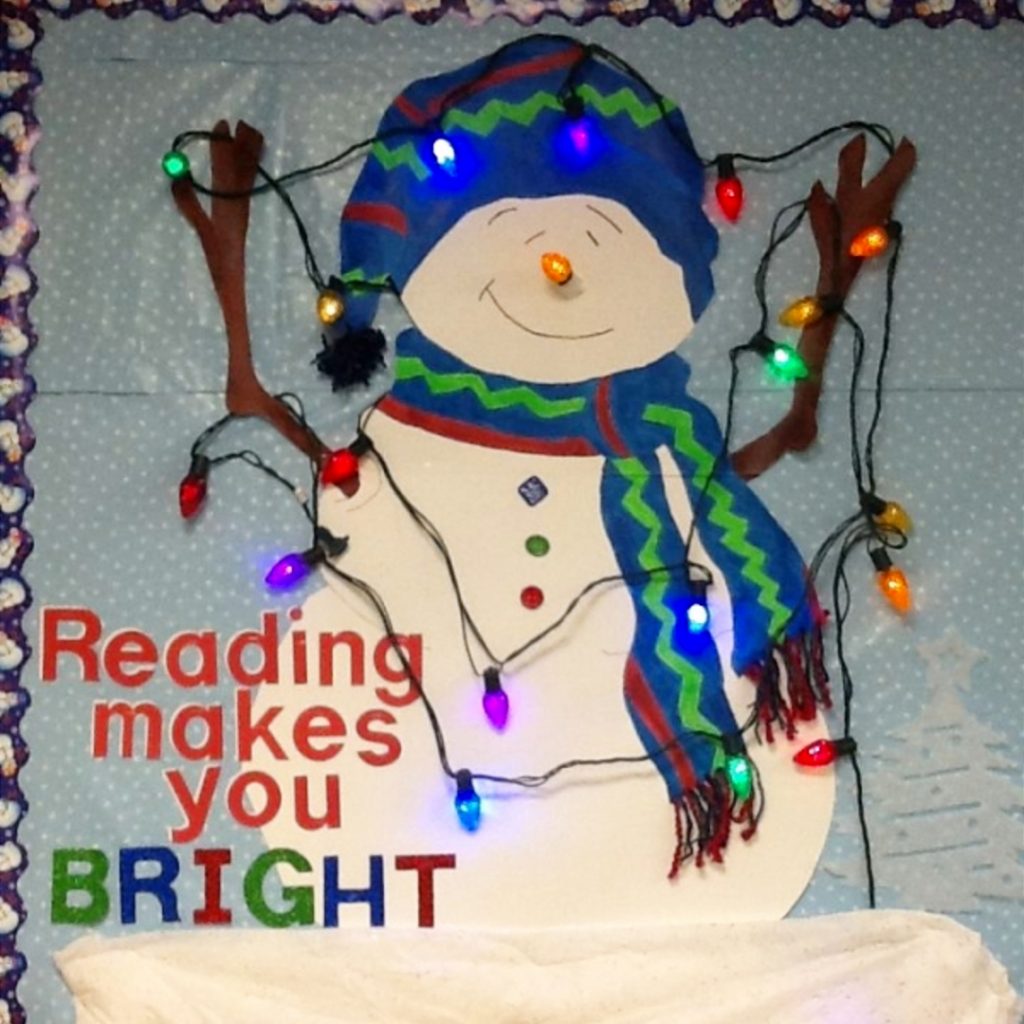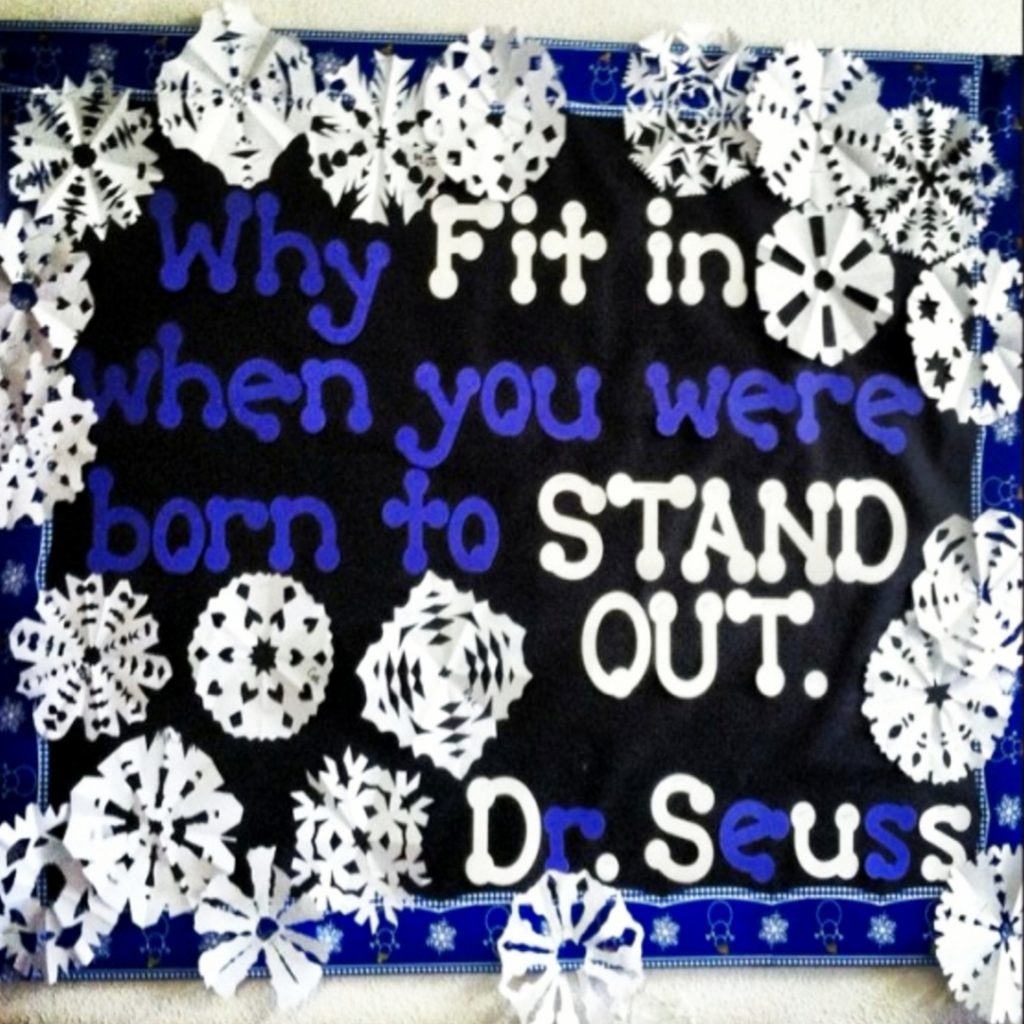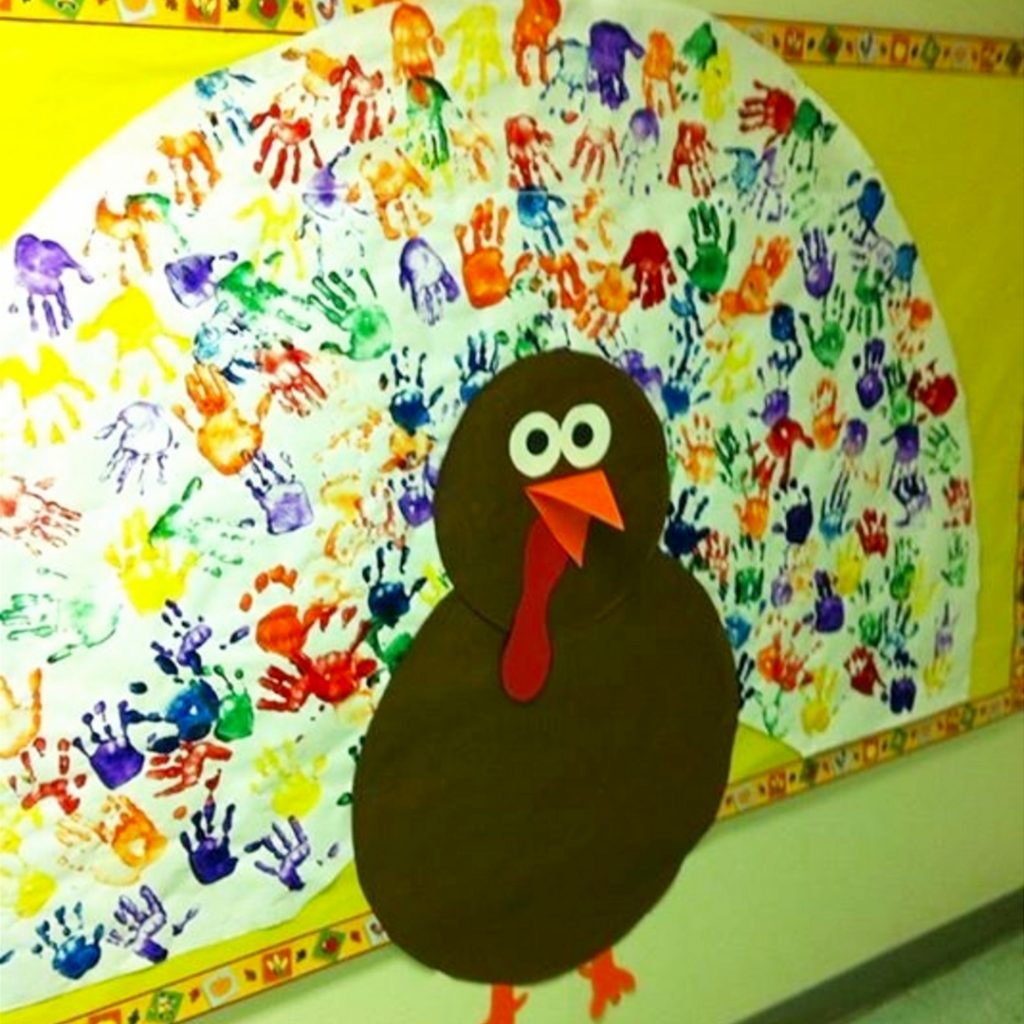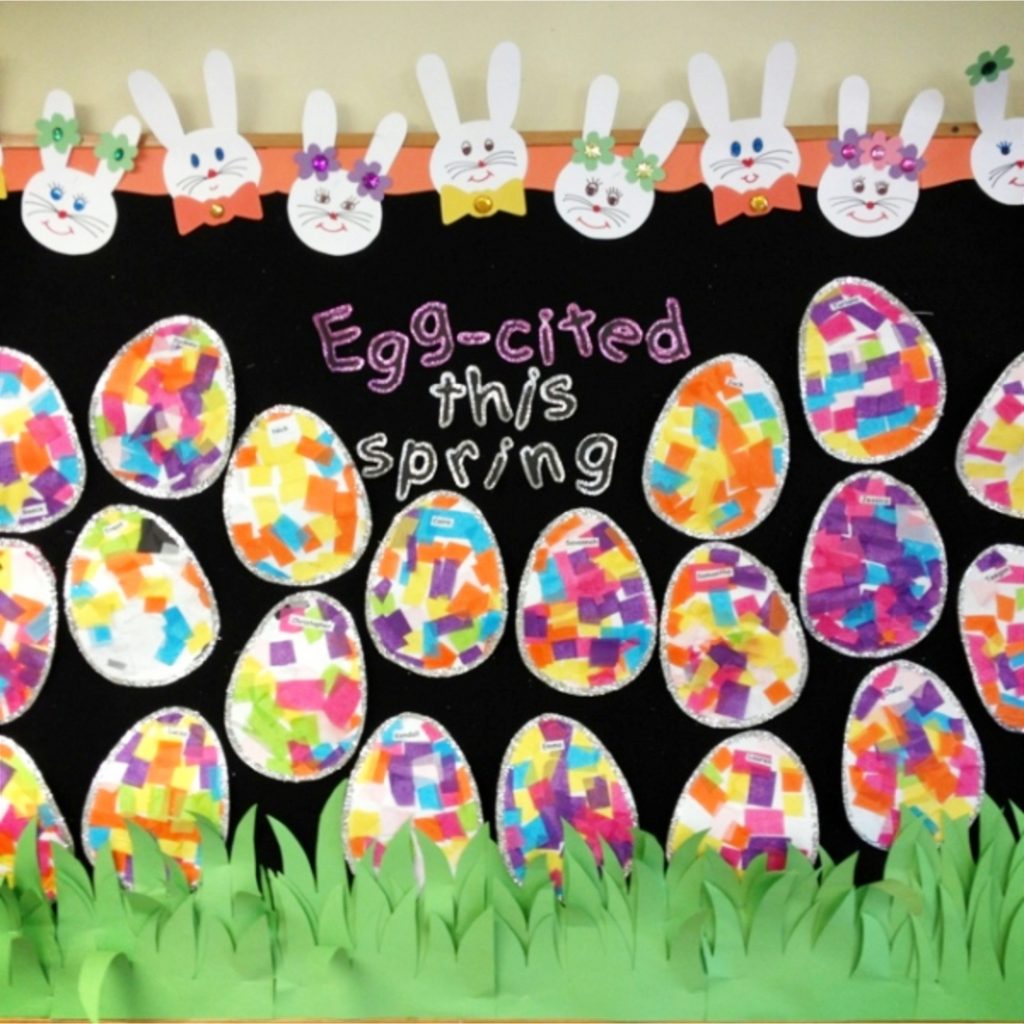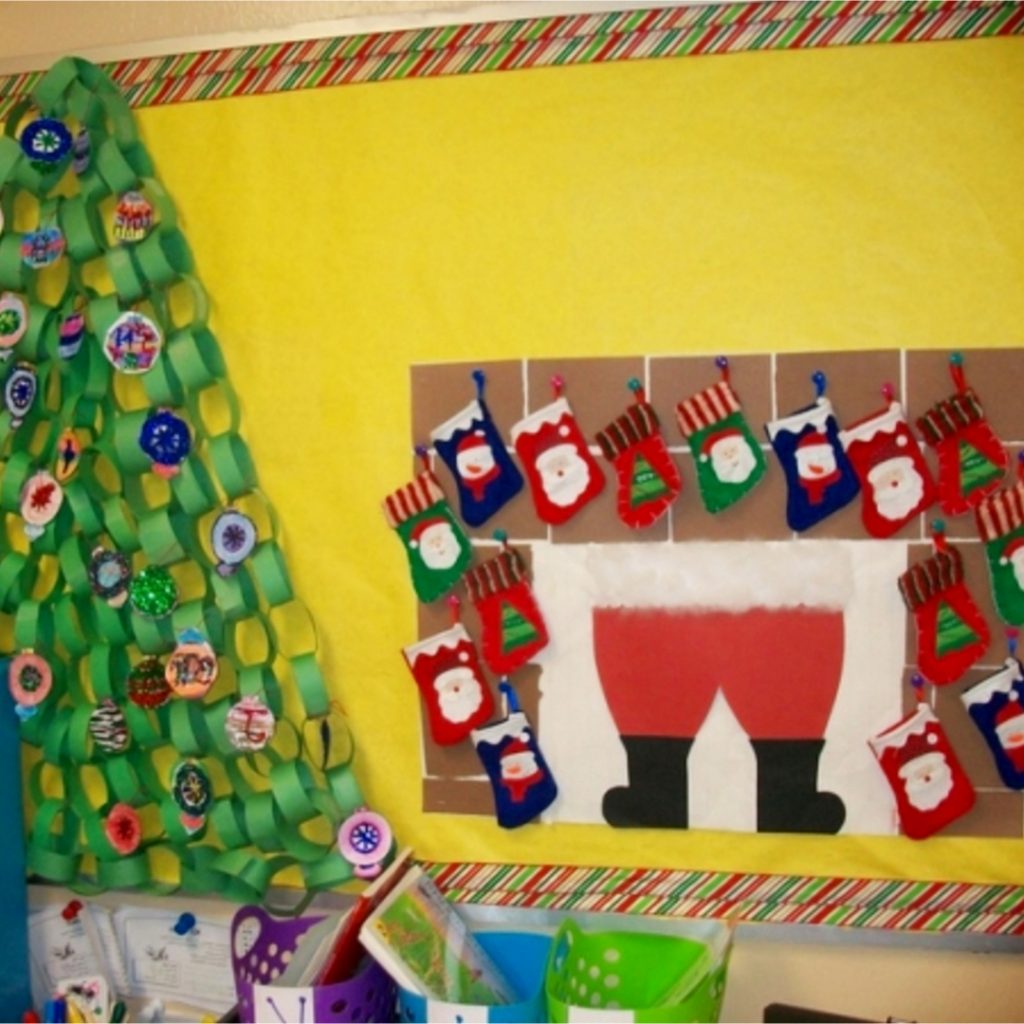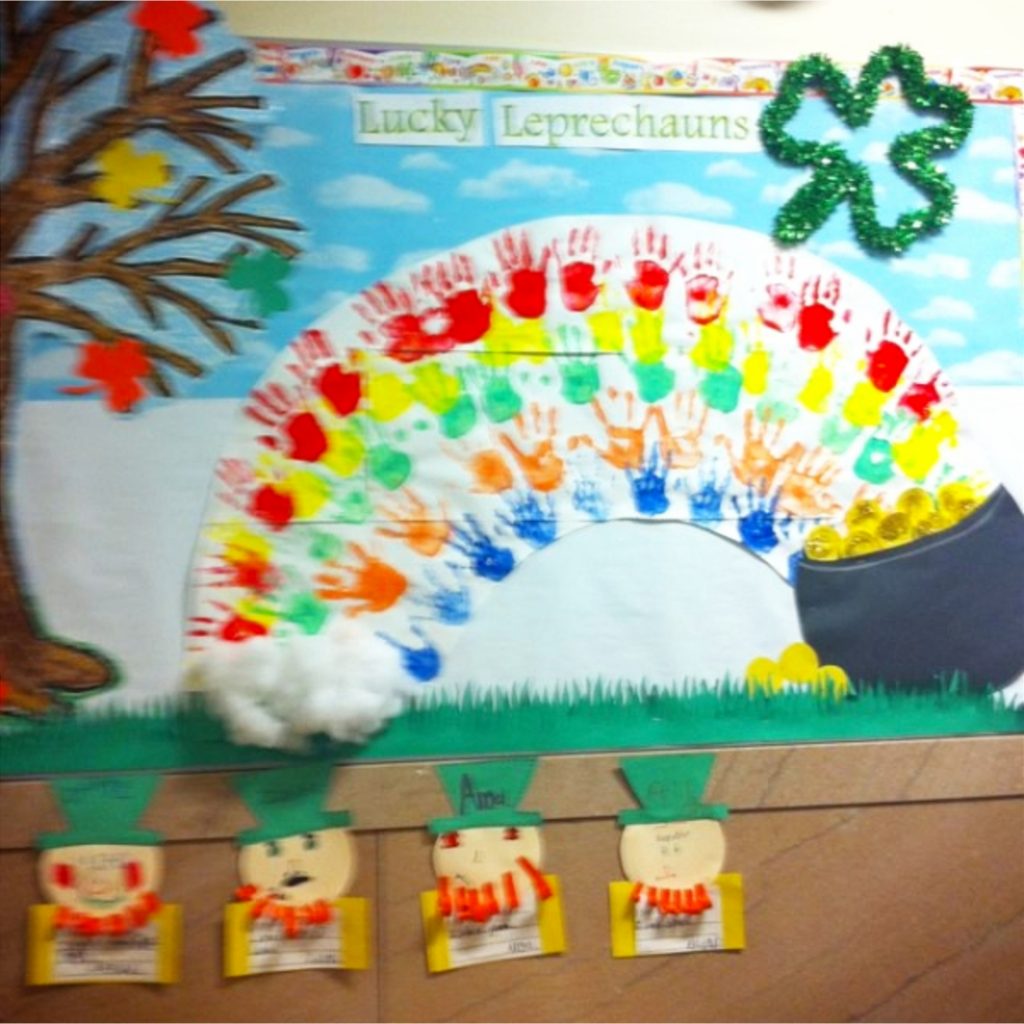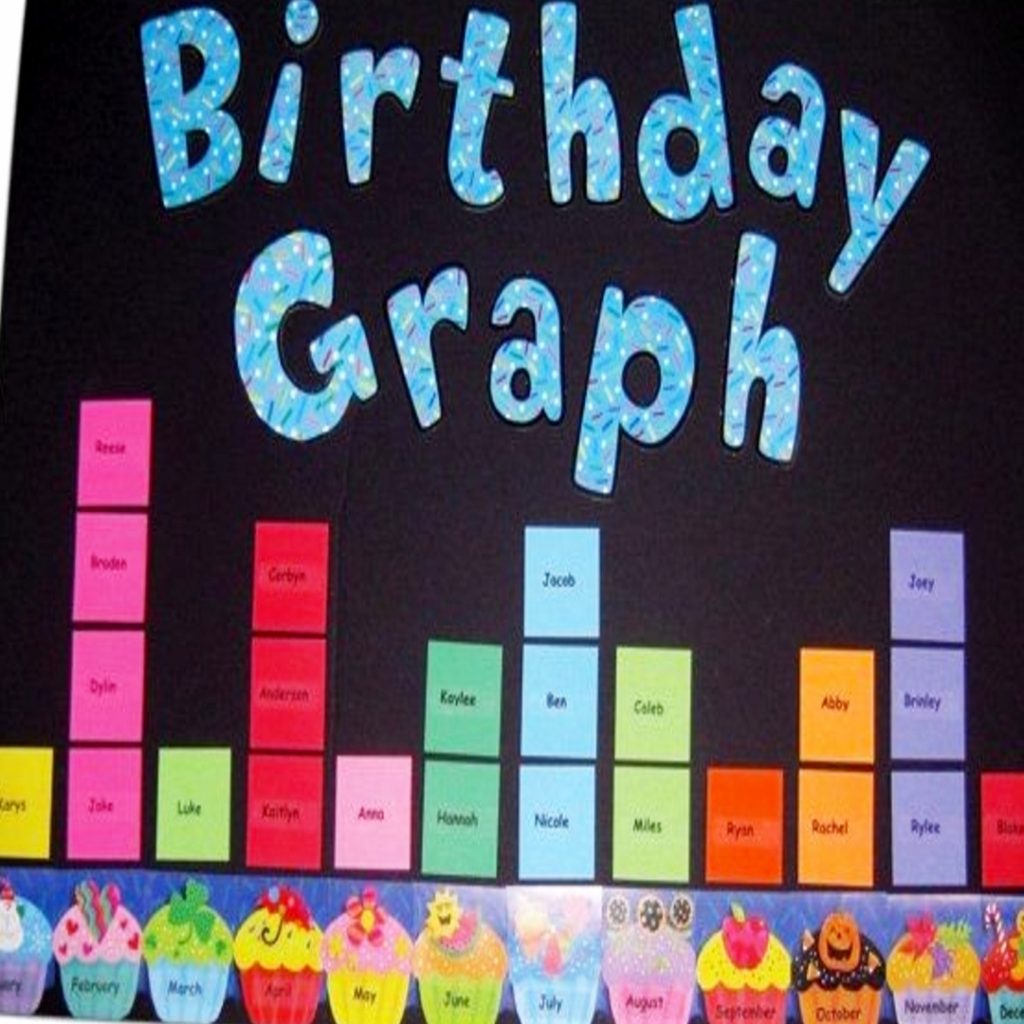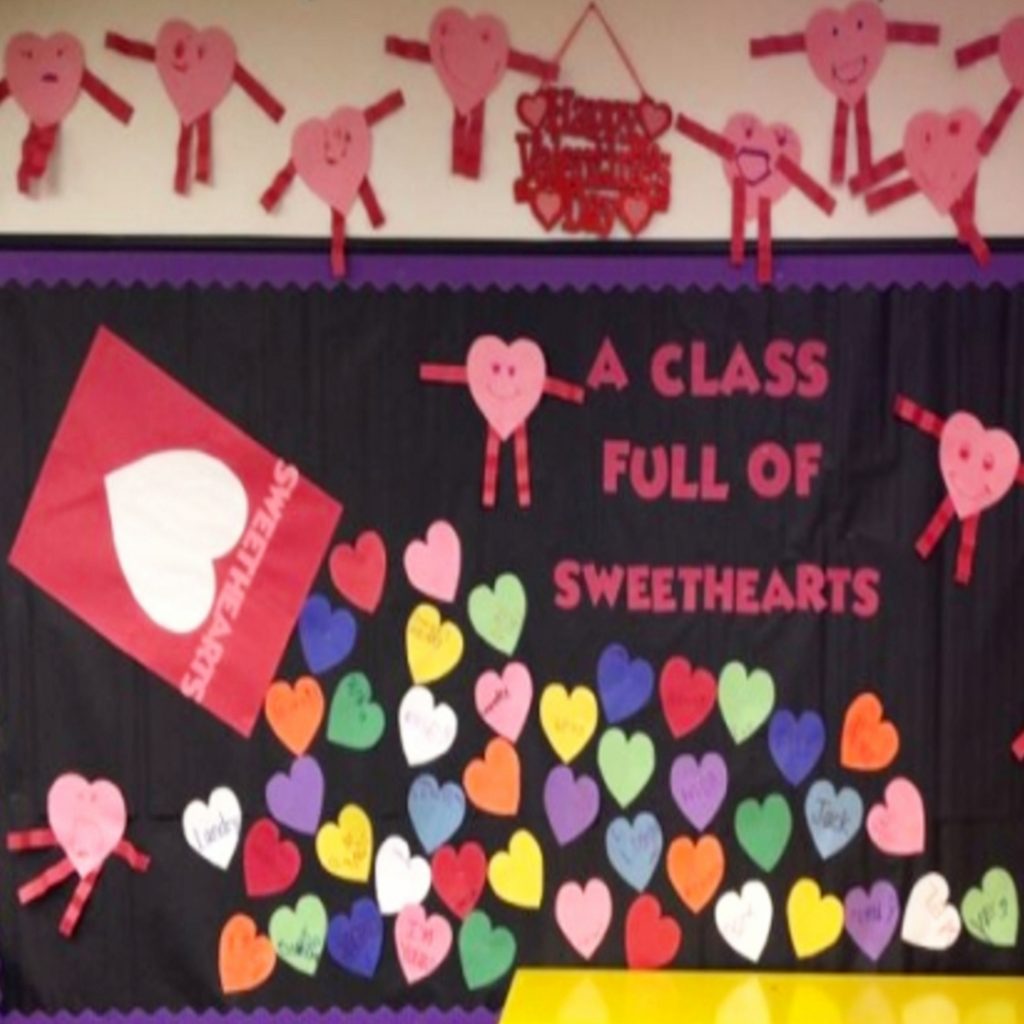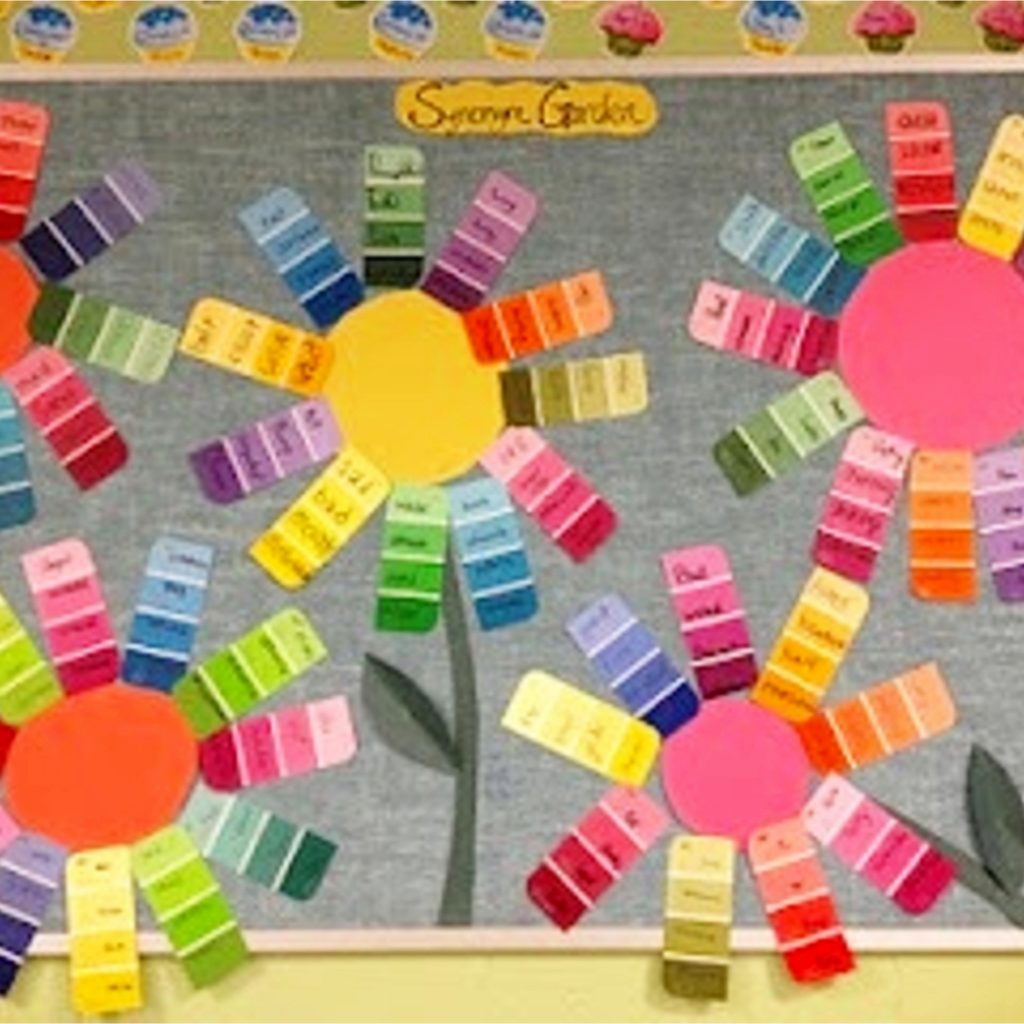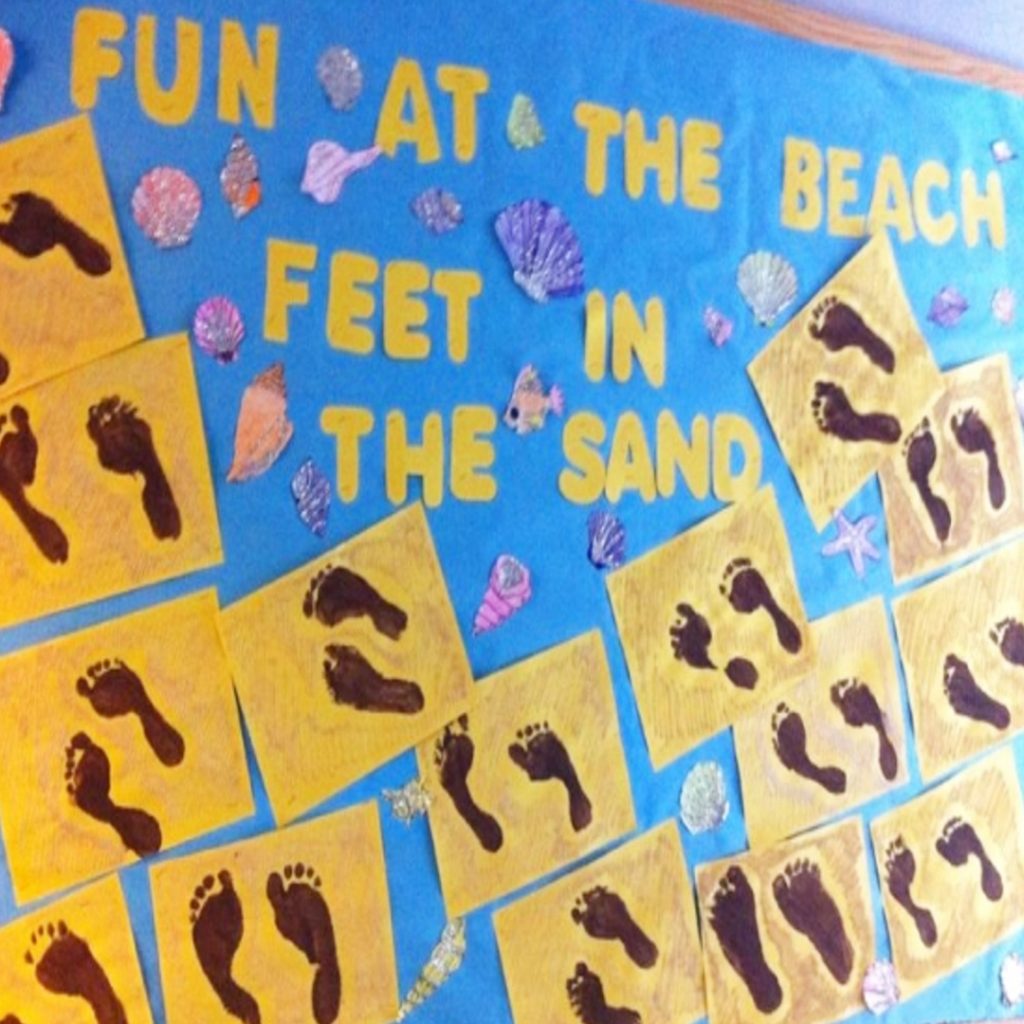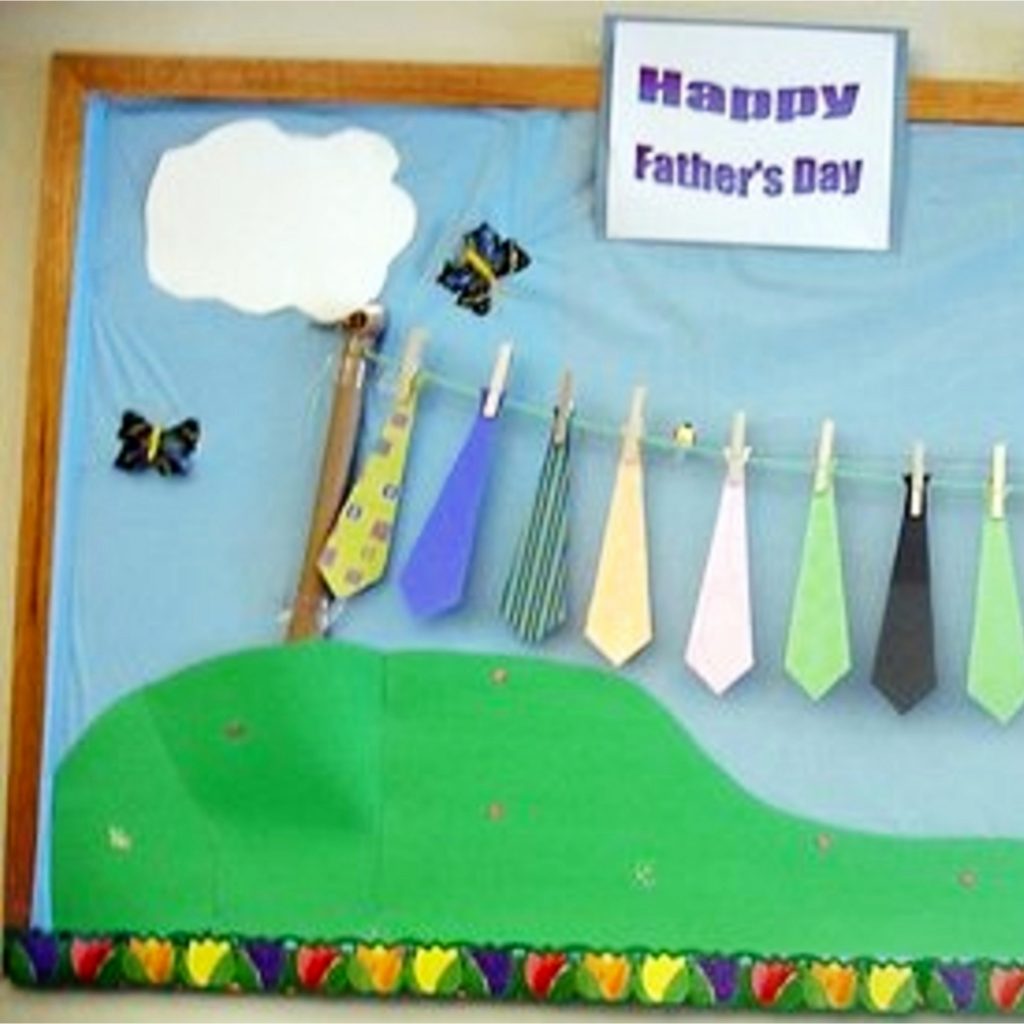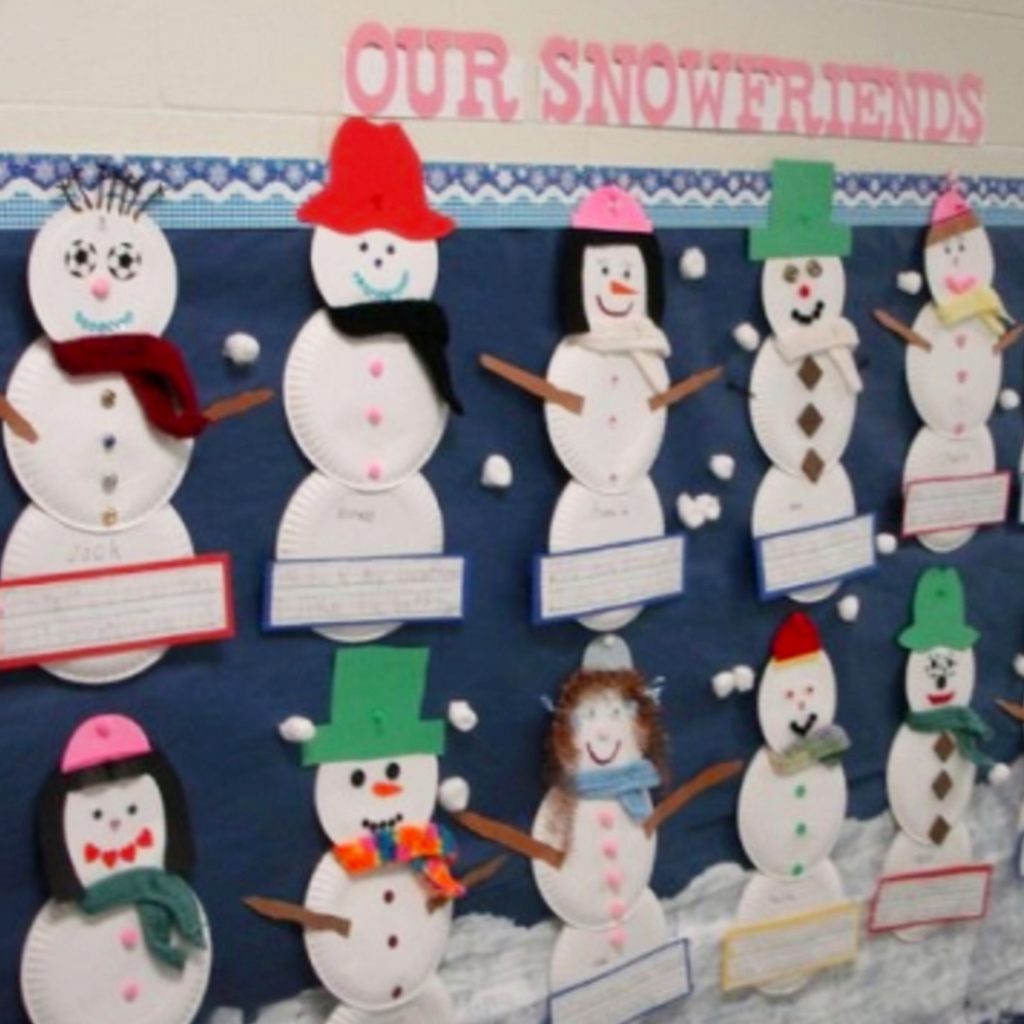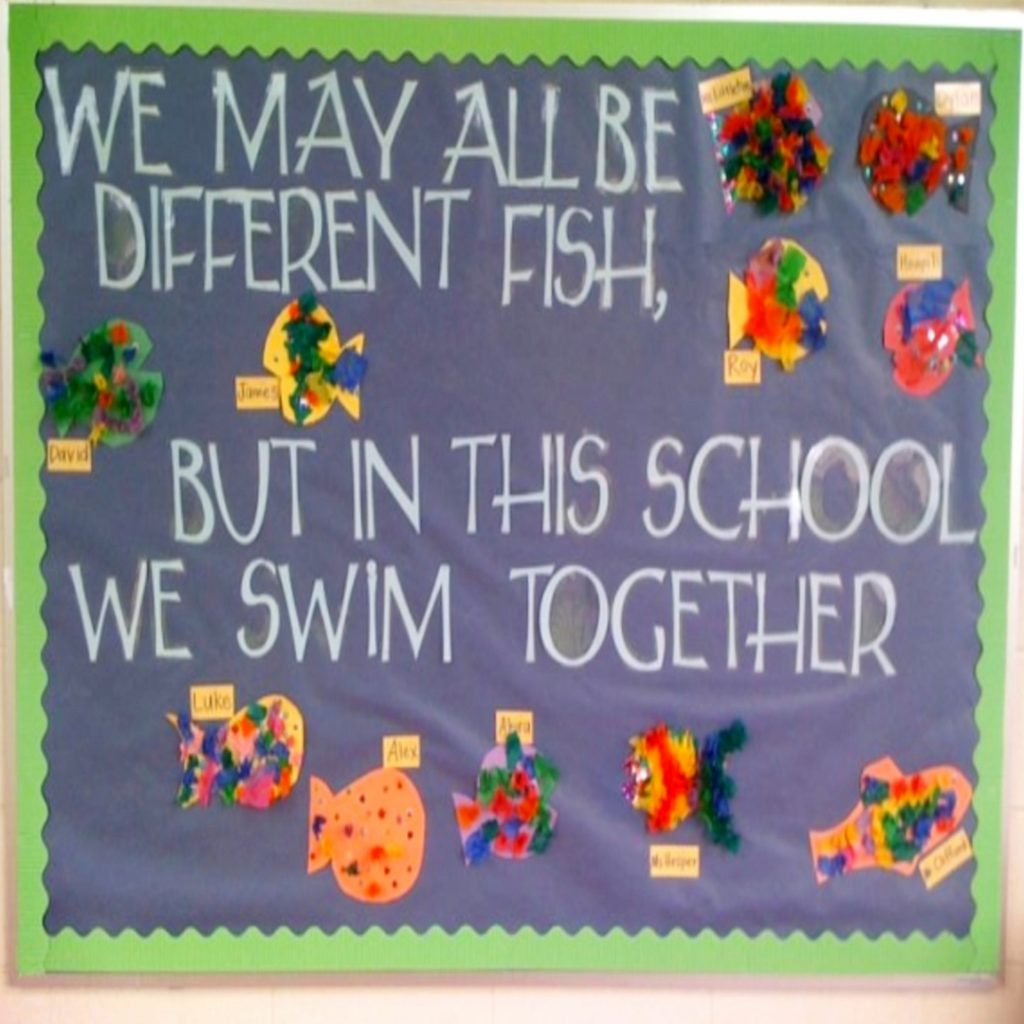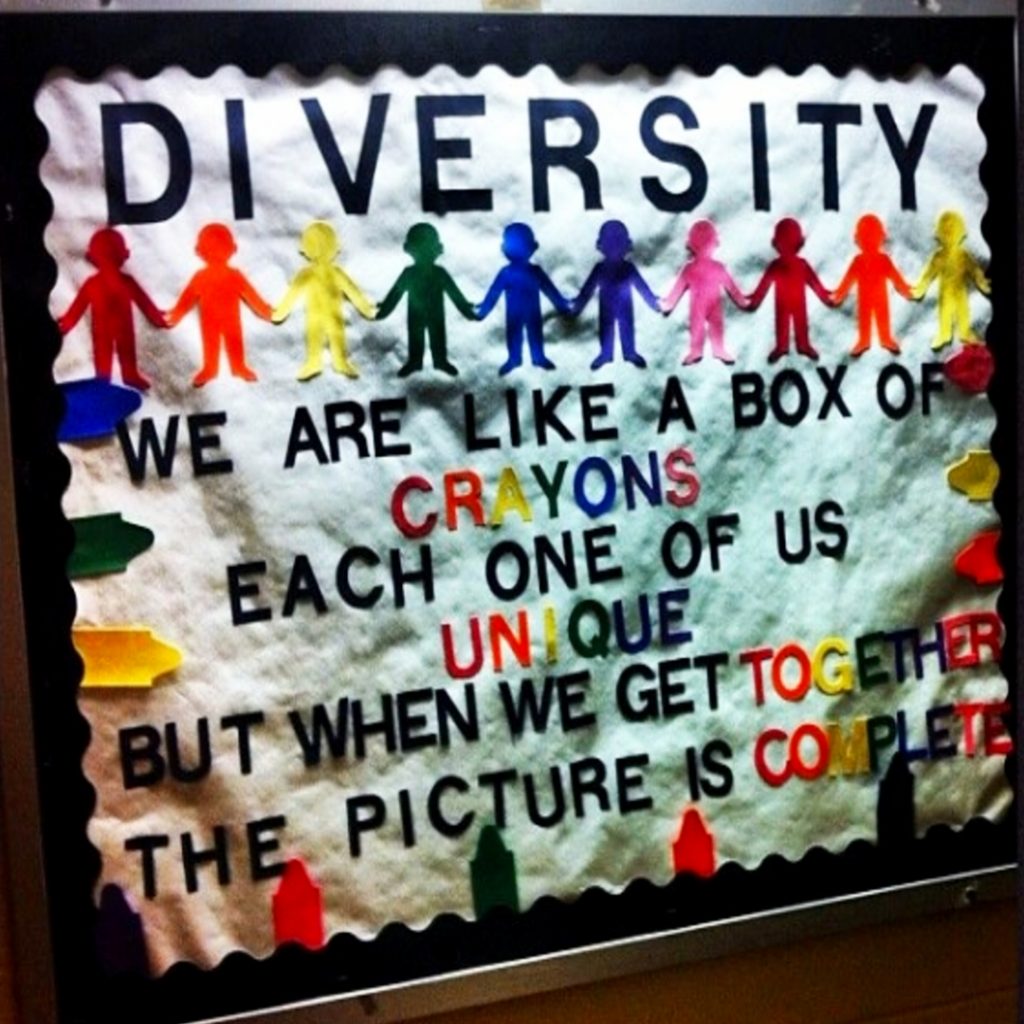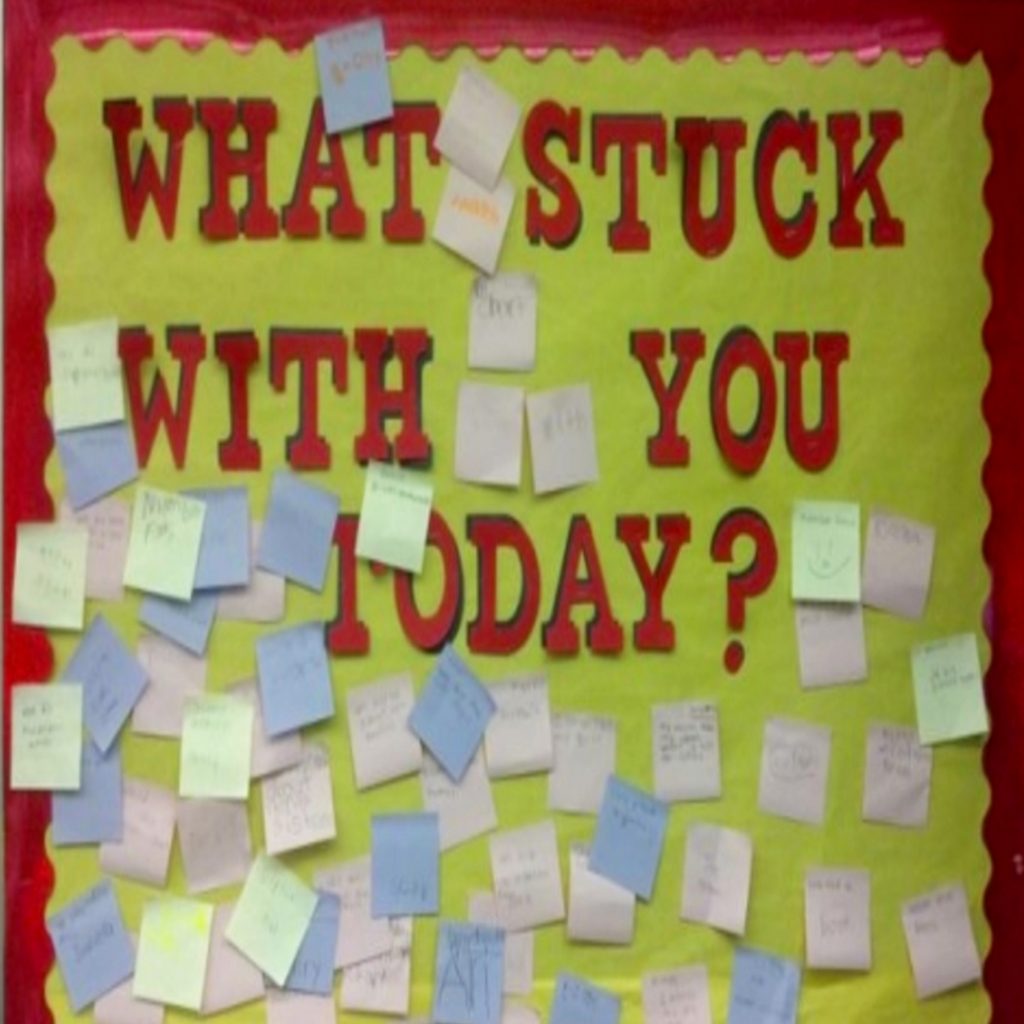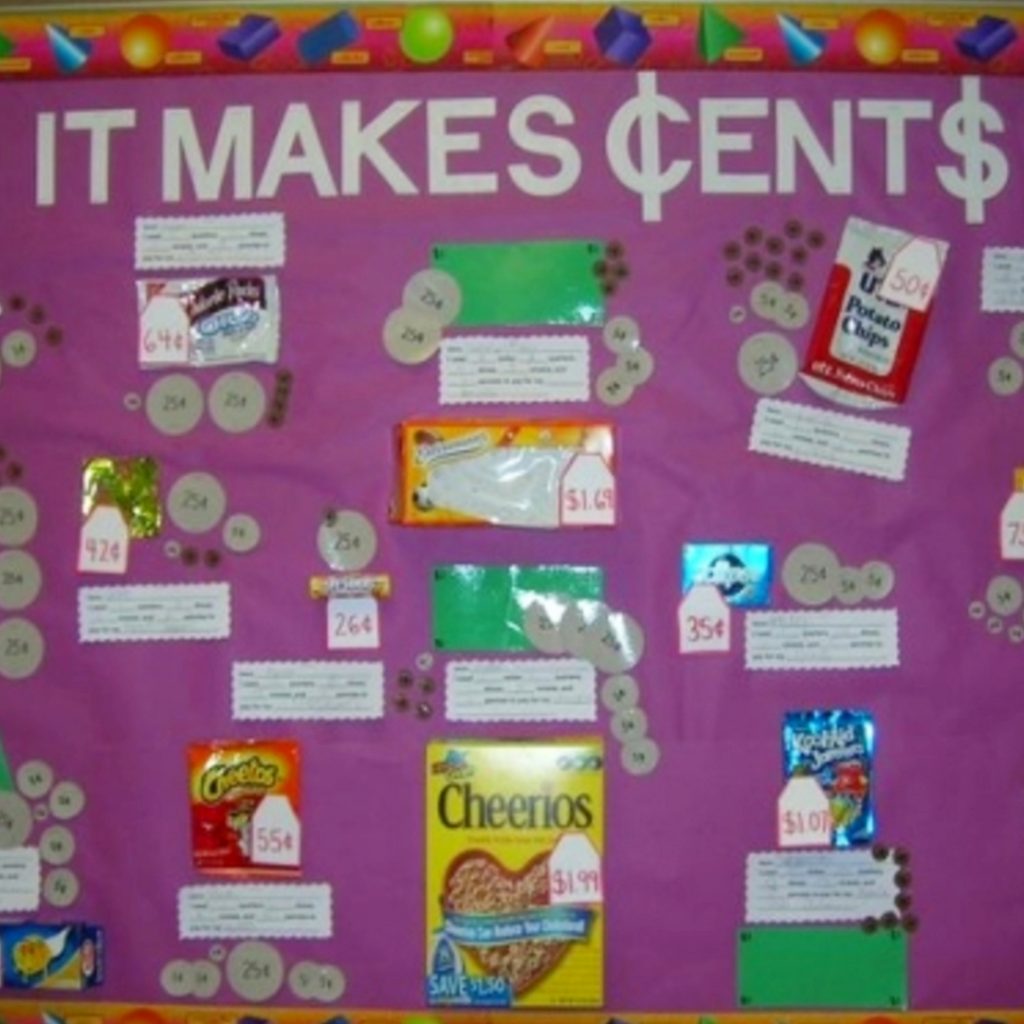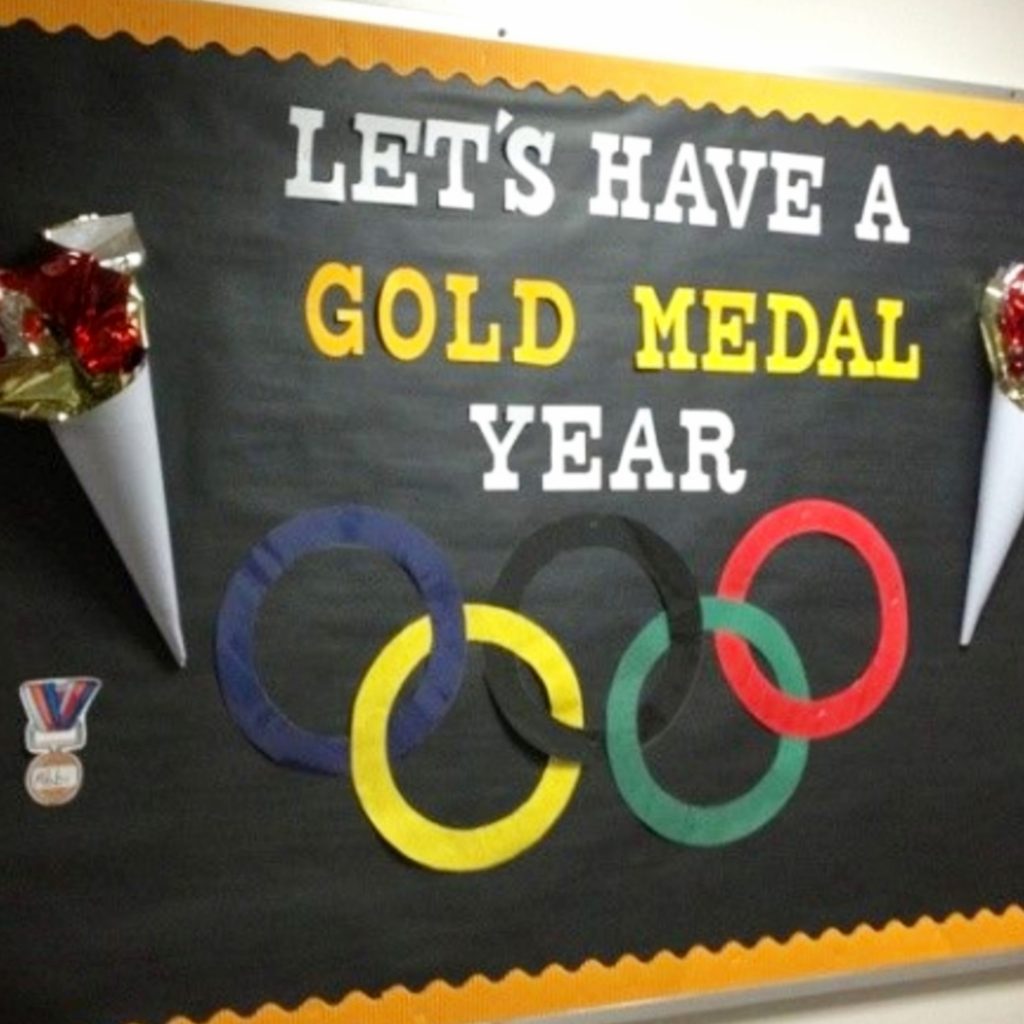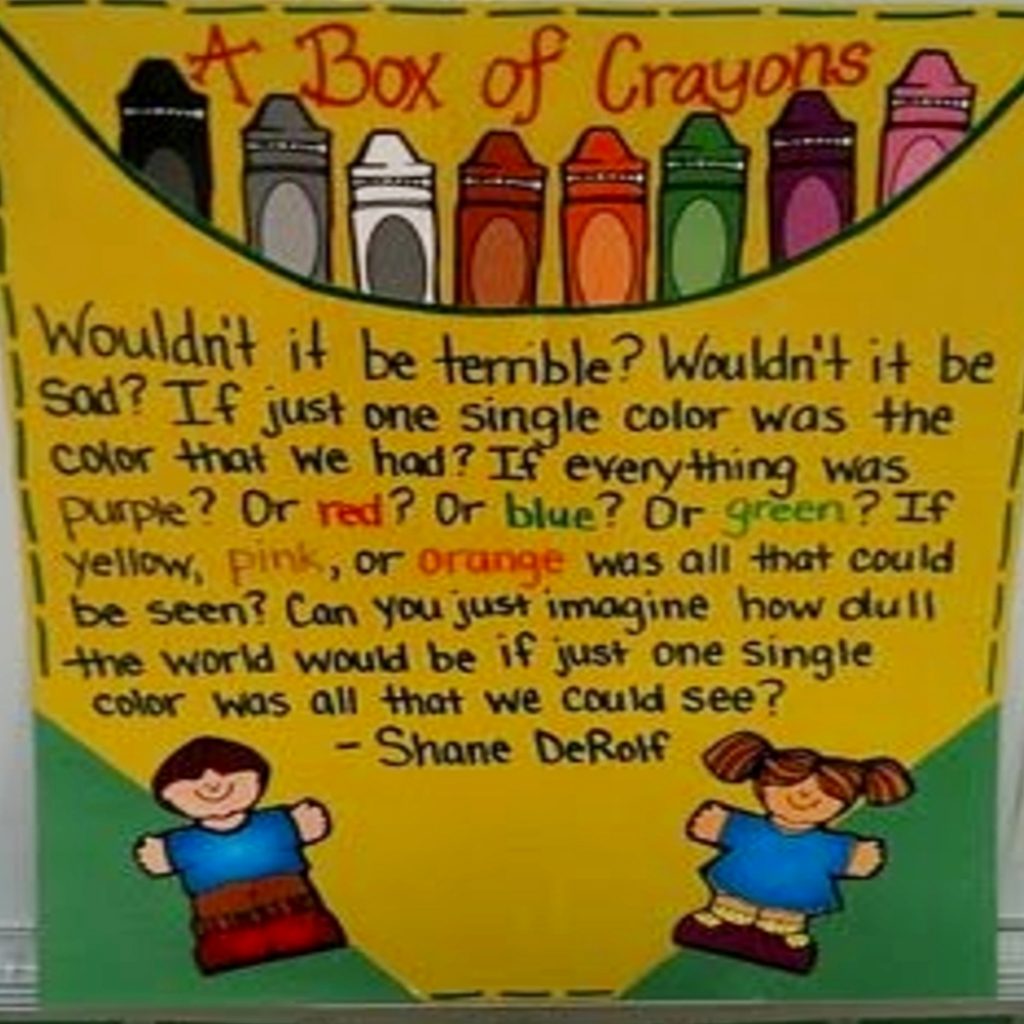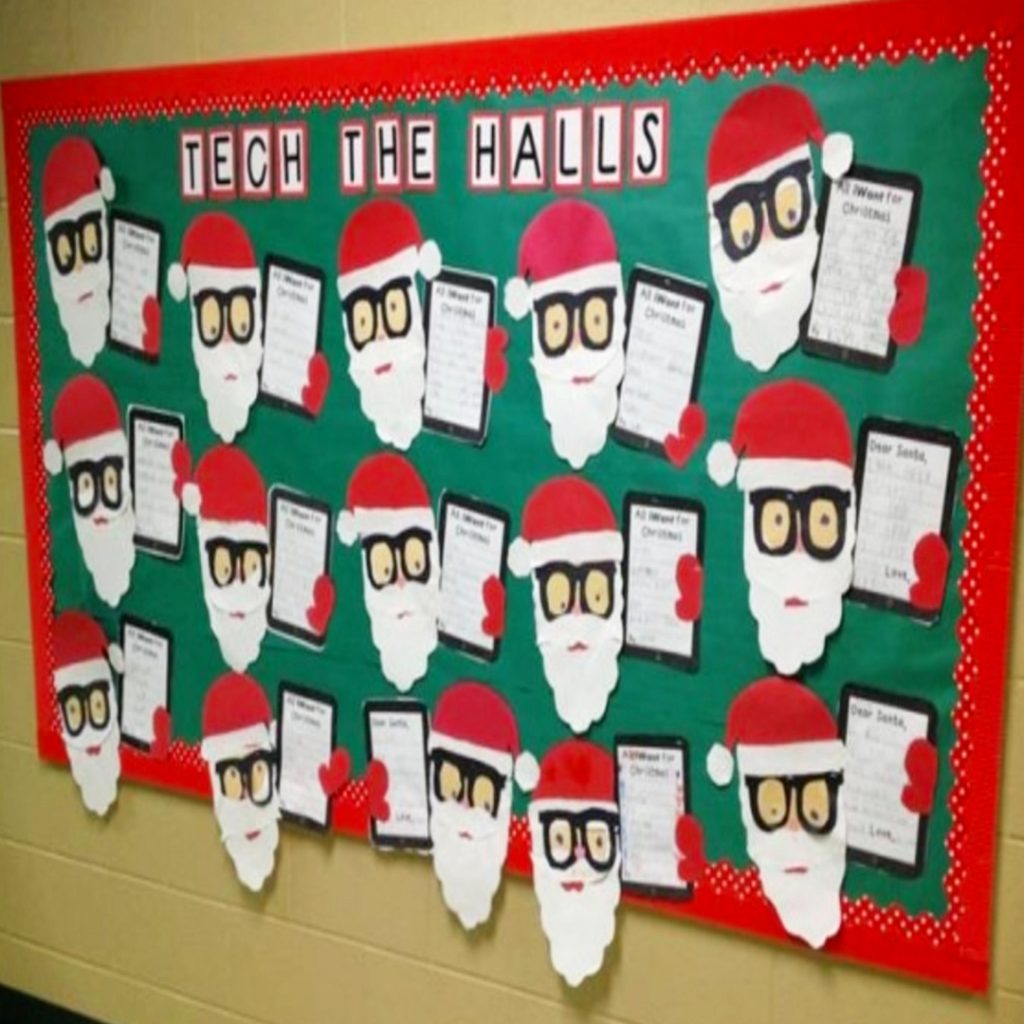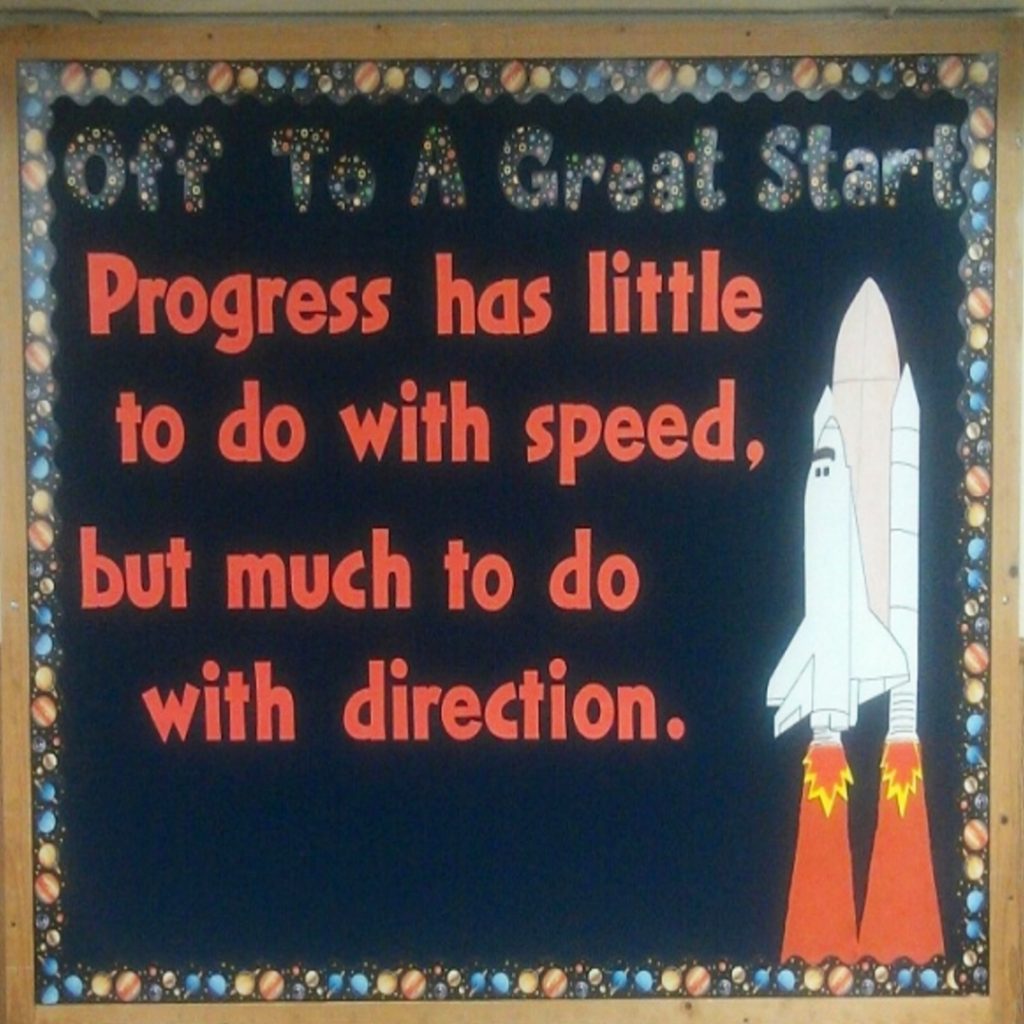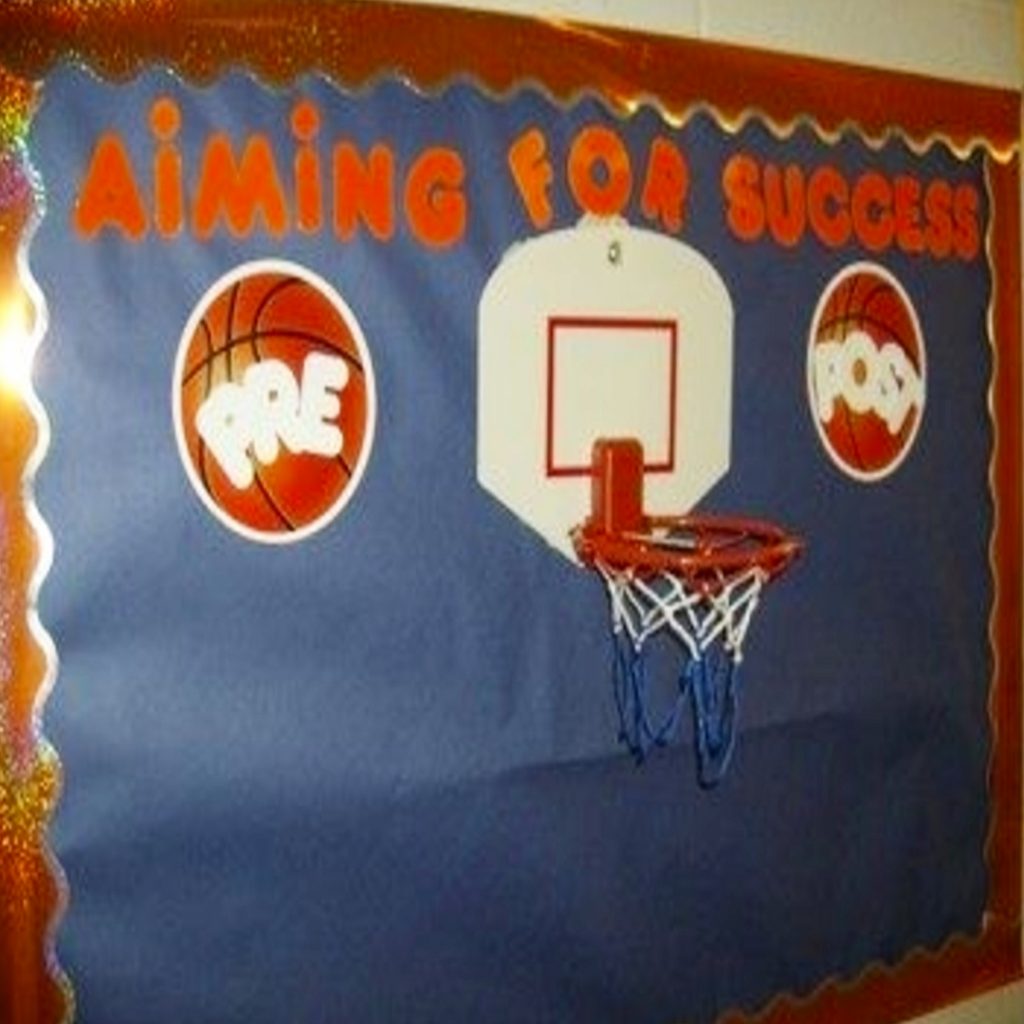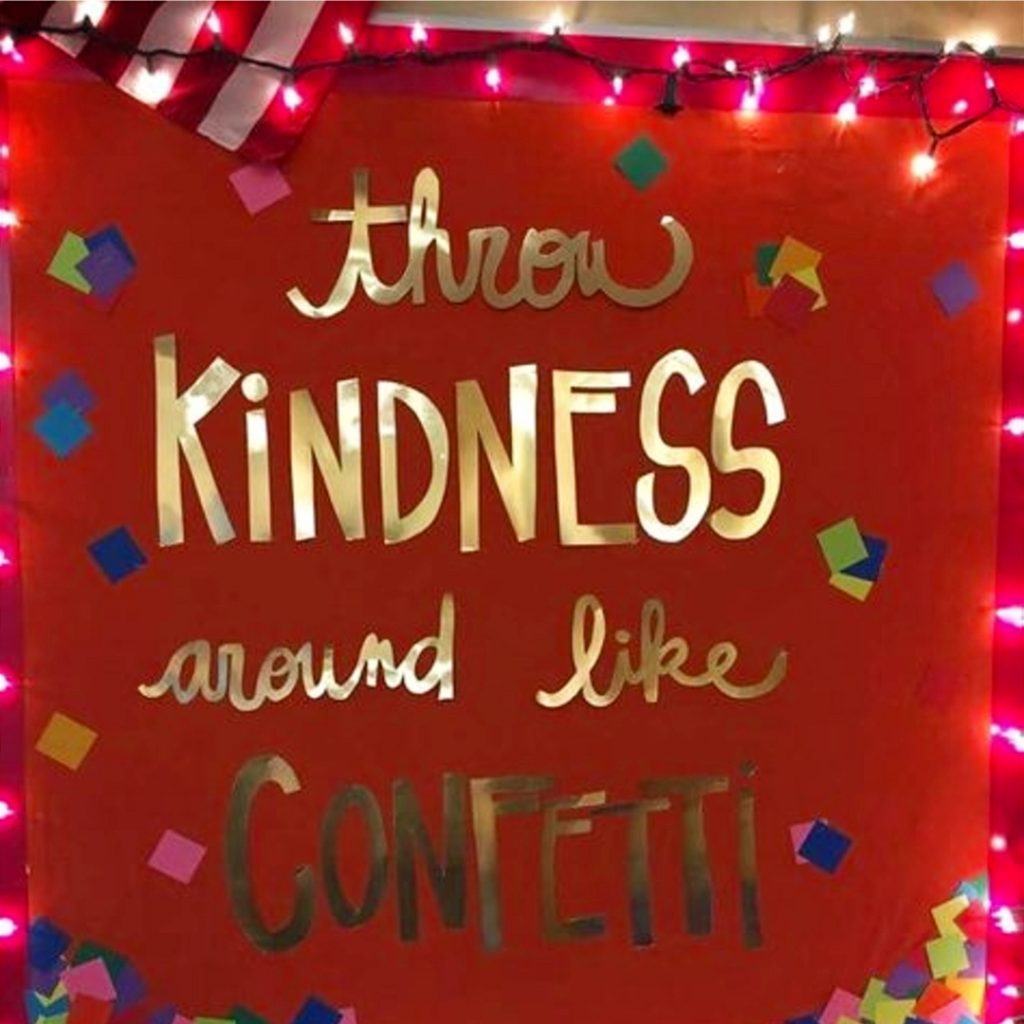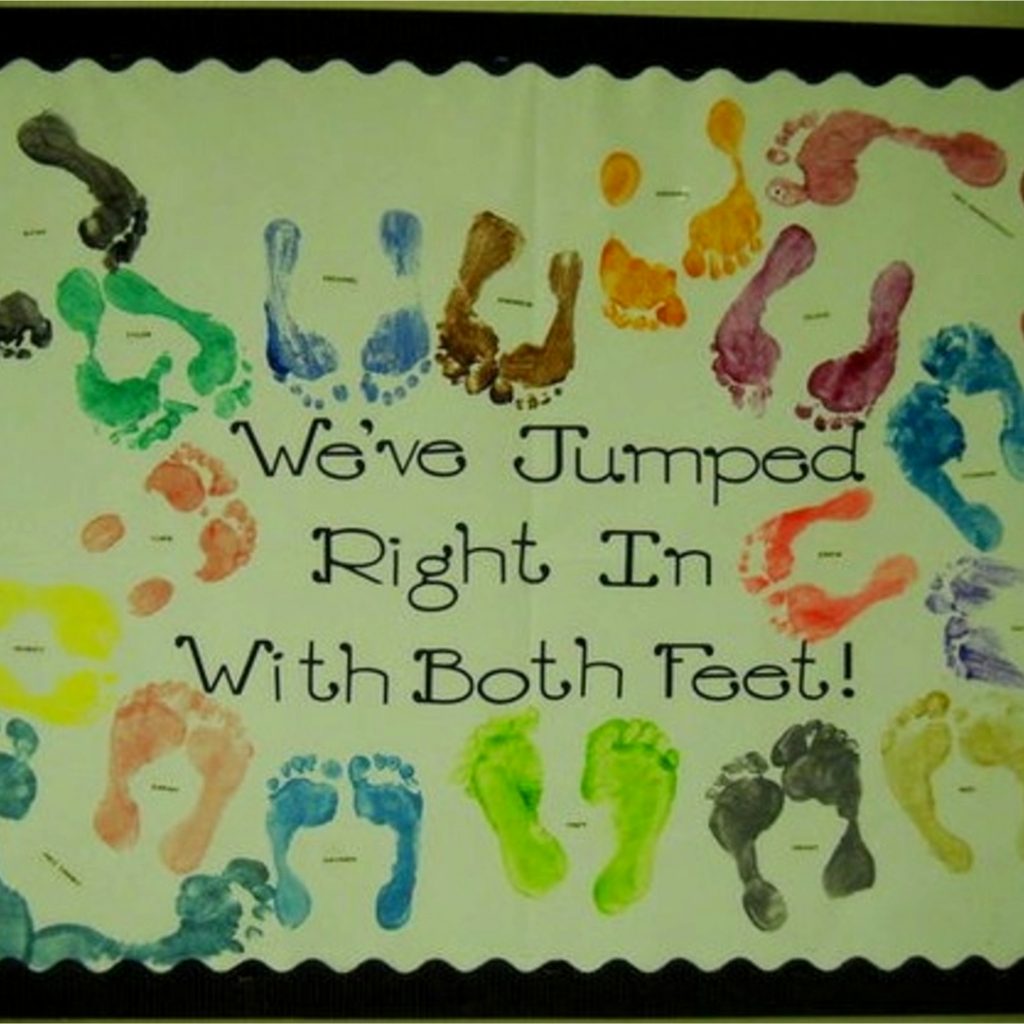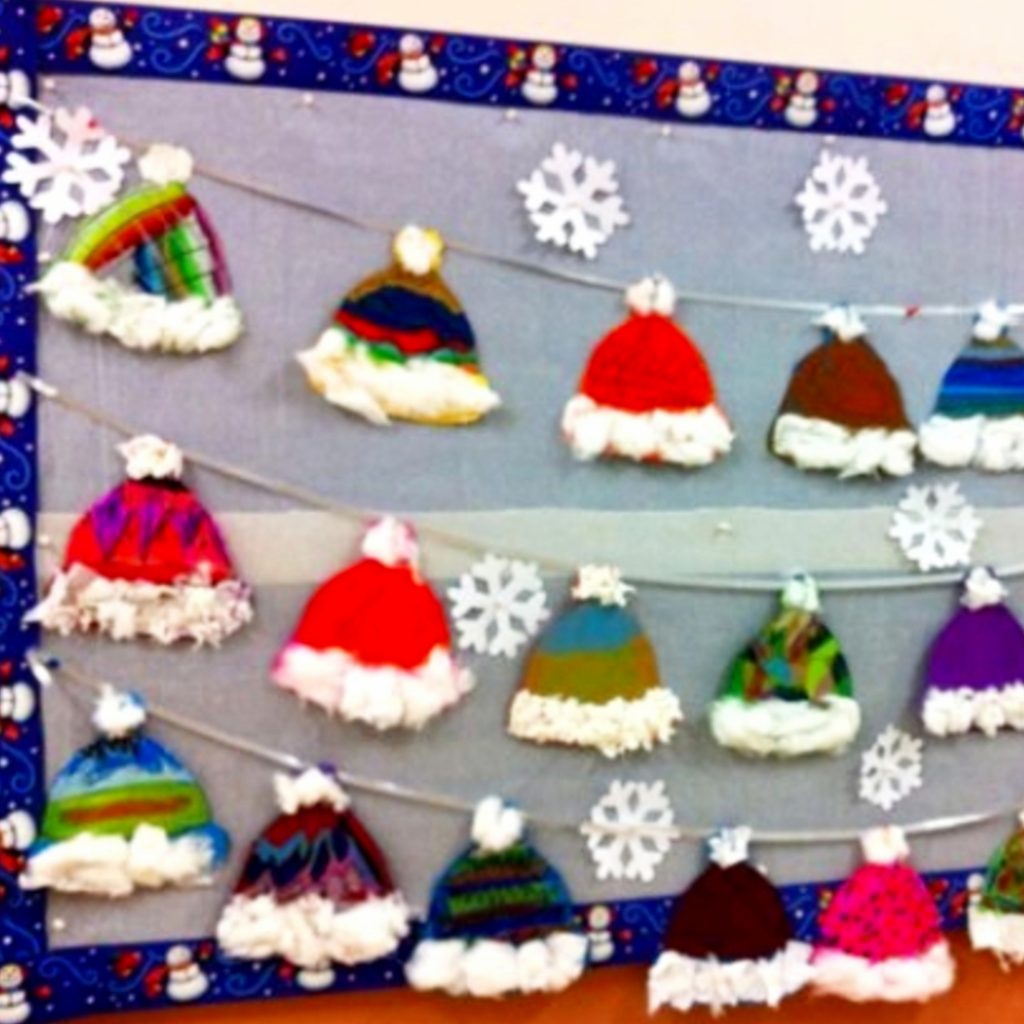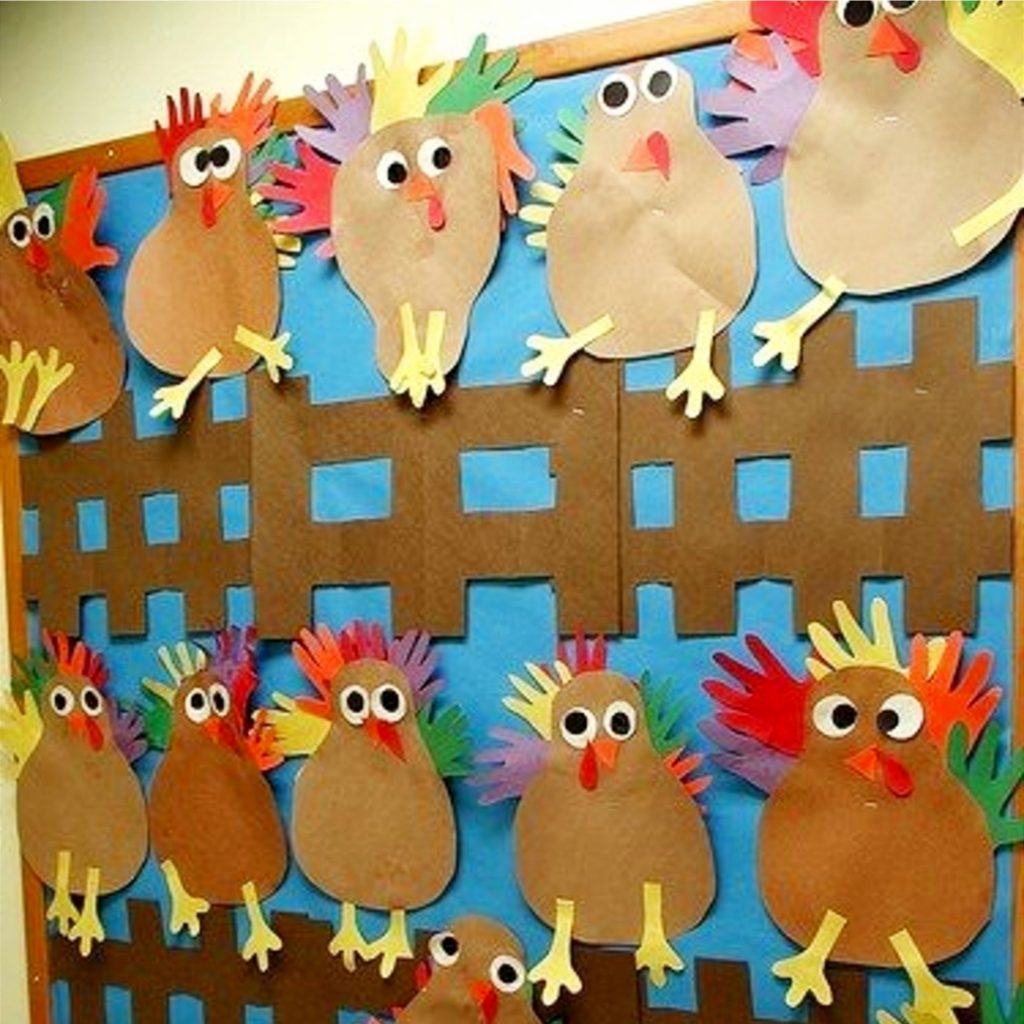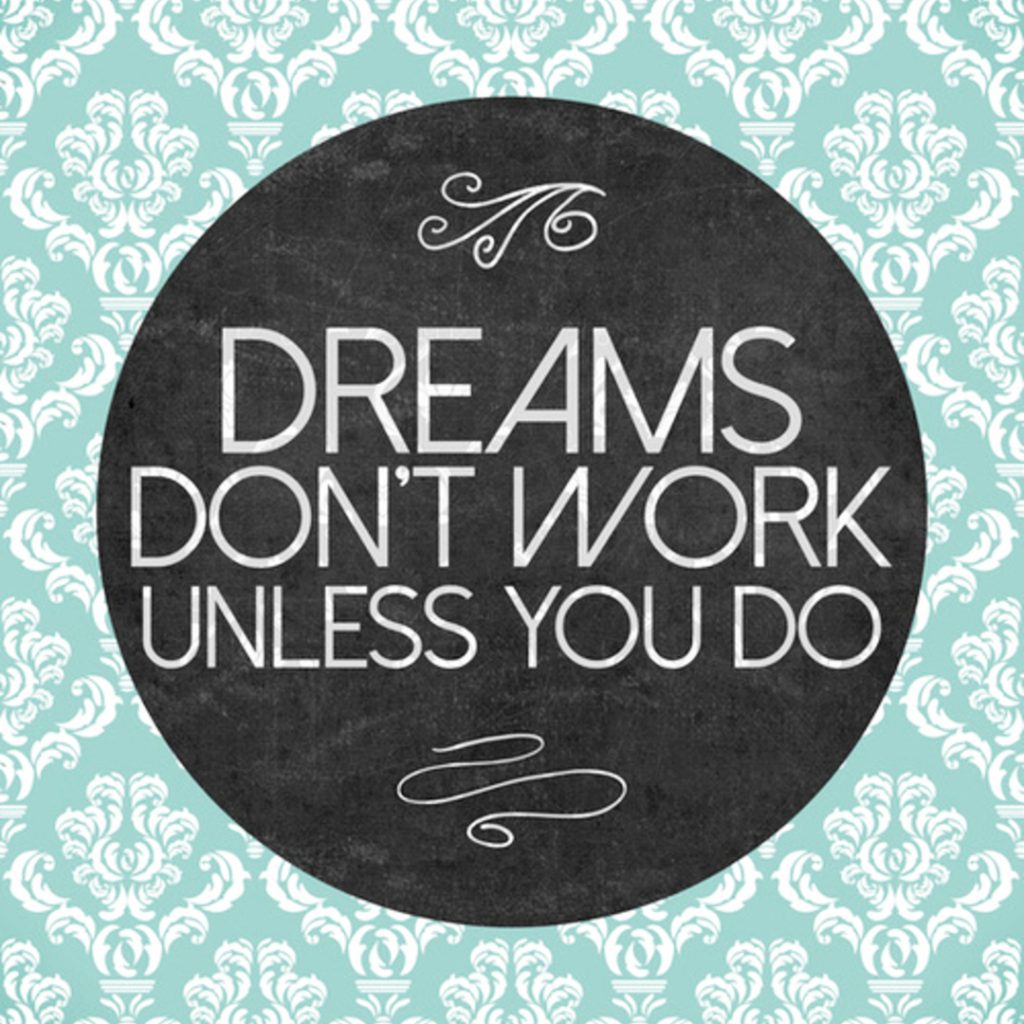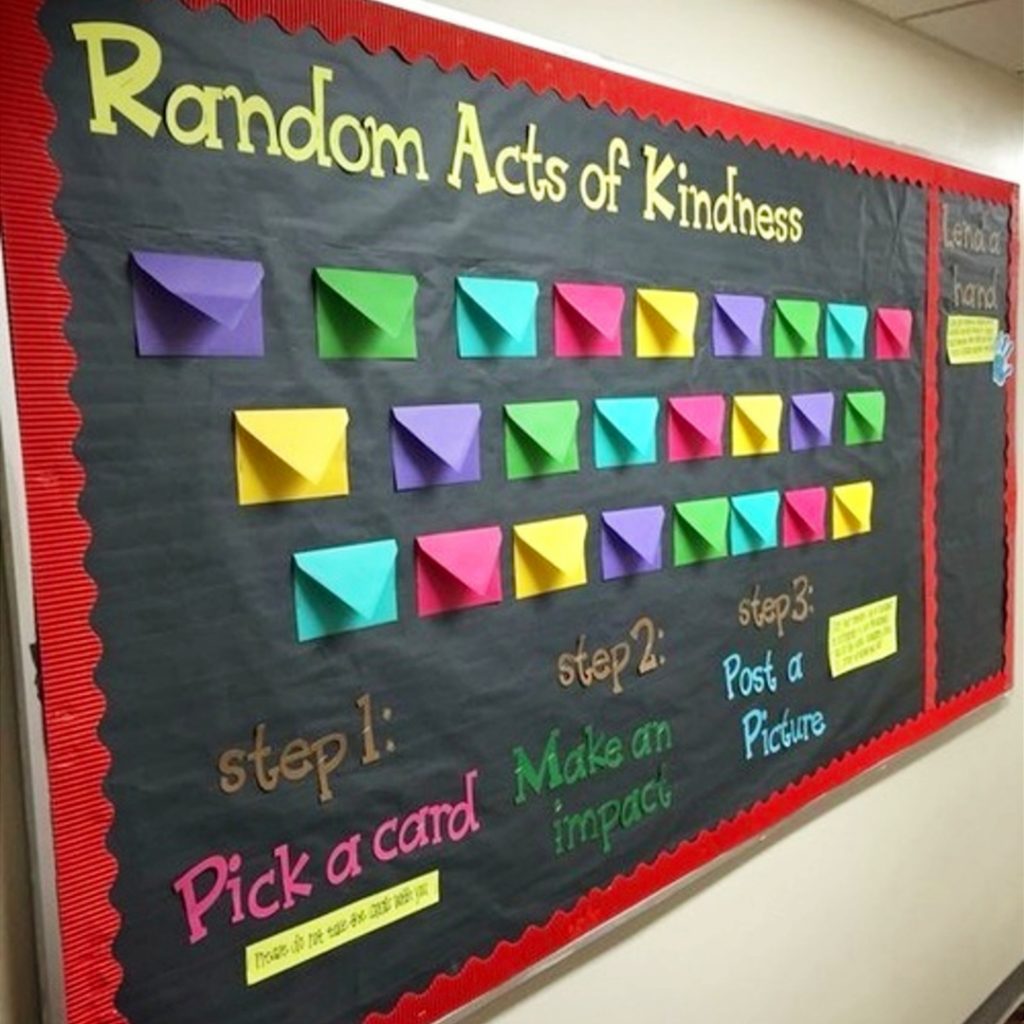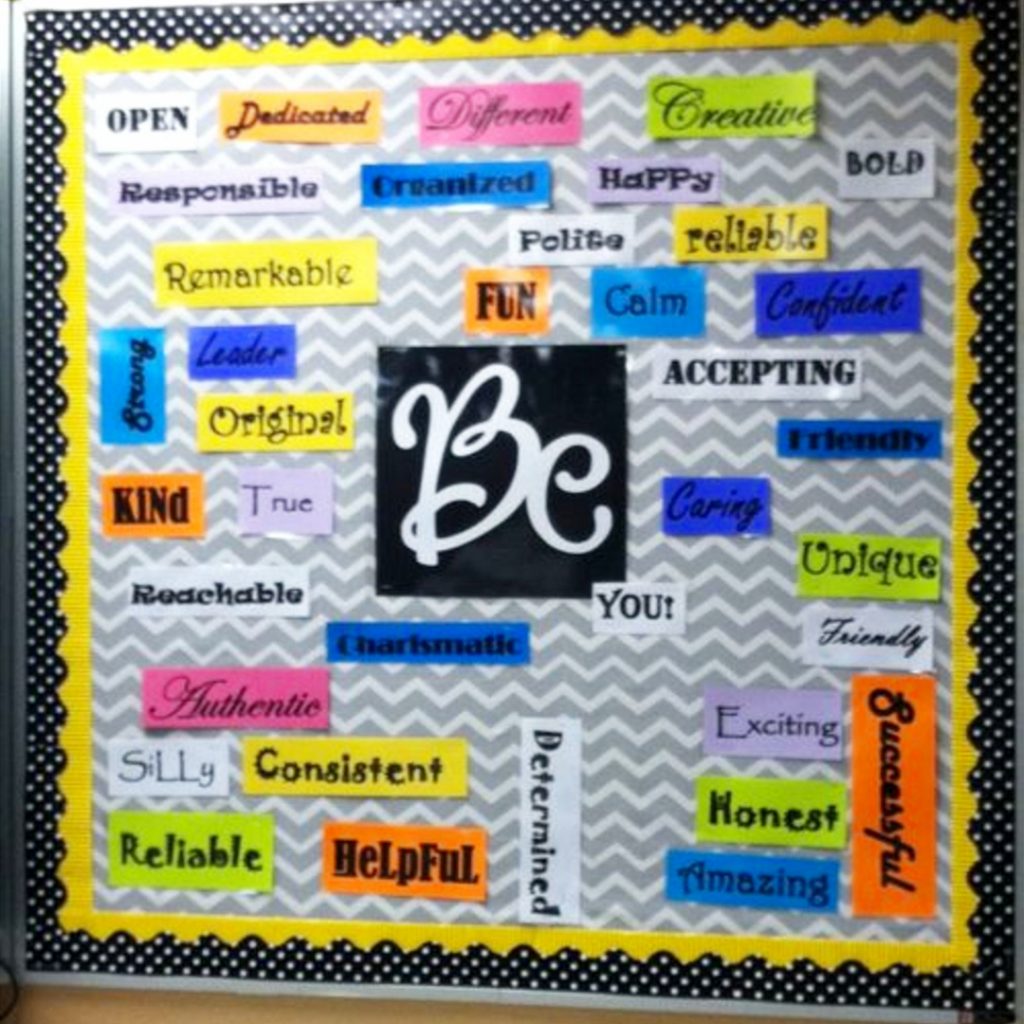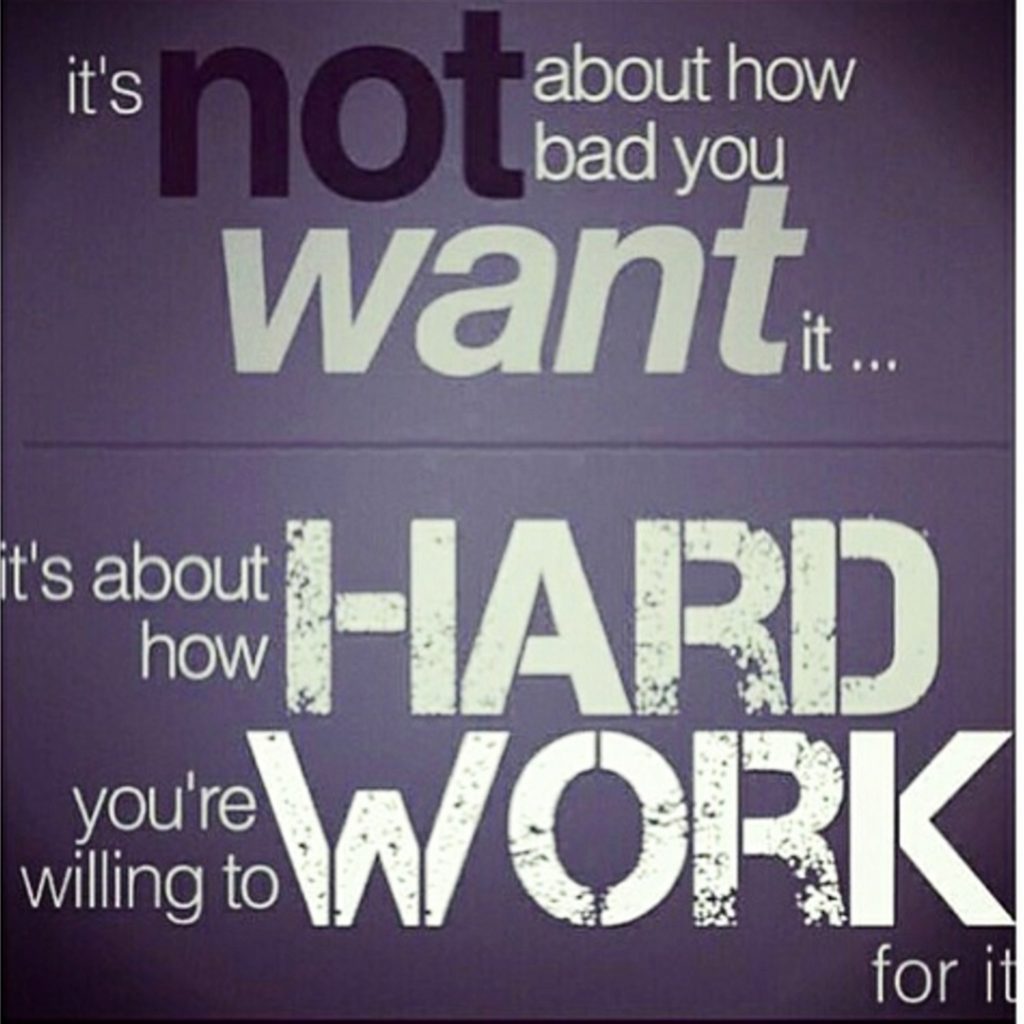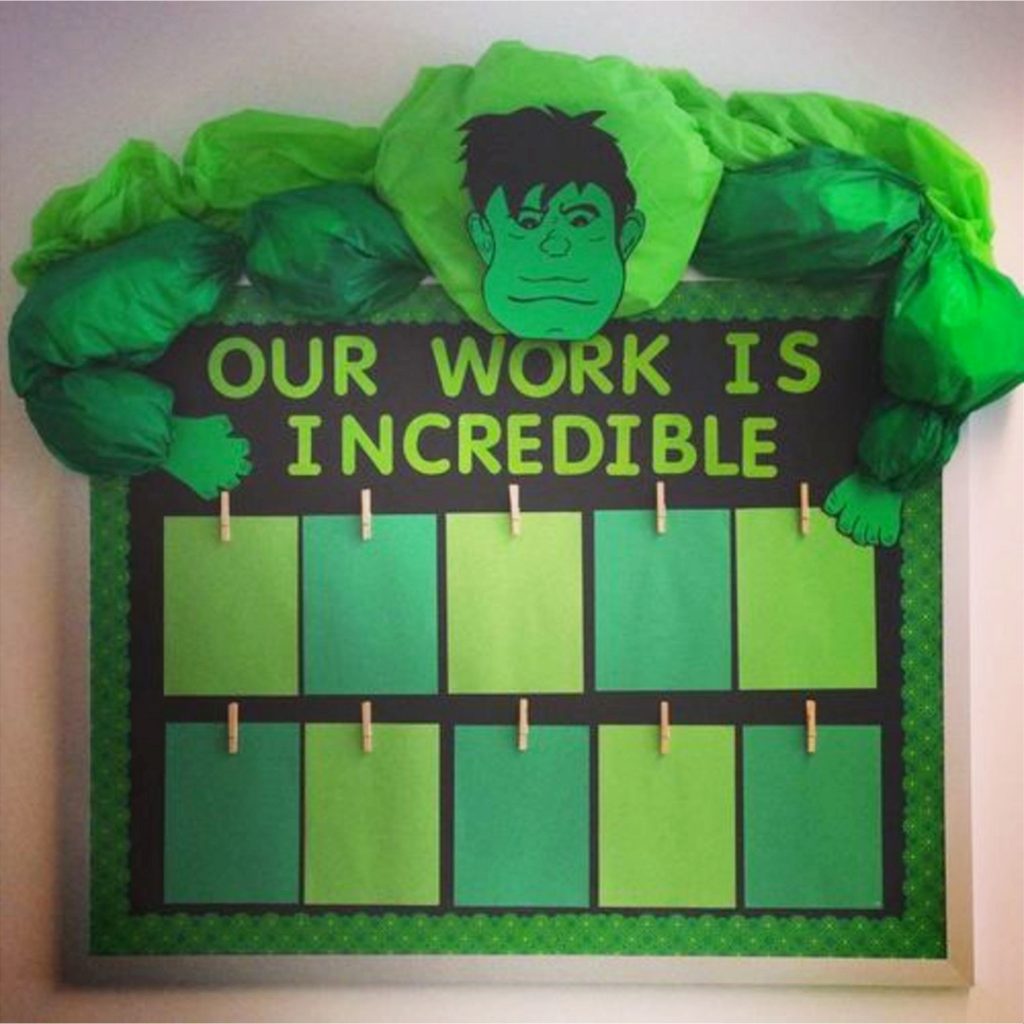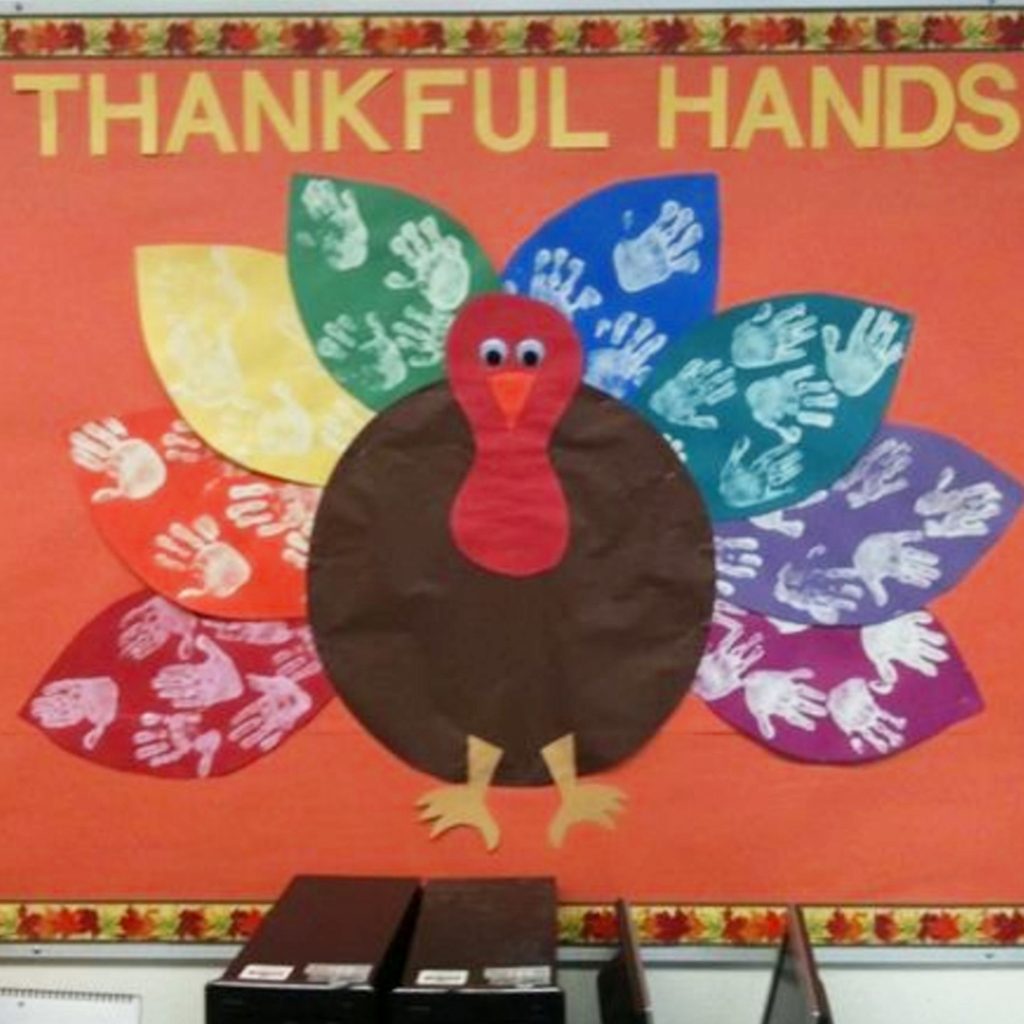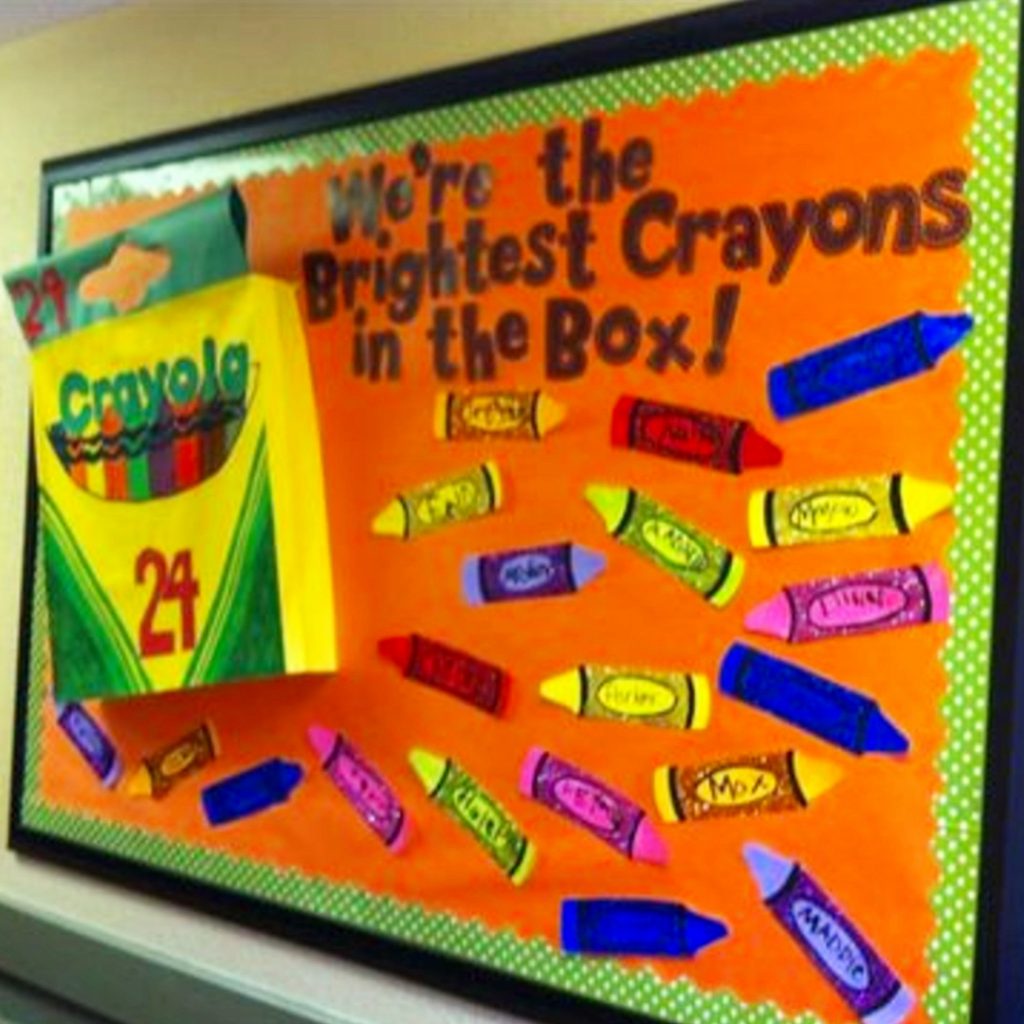 The simplest and most effective way to design a clever and eye-catching bulletin board display is to start with a theme. Themes should be related to the academic topic which the students have been working on or related to the season or current Holiday. Classroom bulletin boards can always be based around themes such as the four seasons, or specific holidays and celebrations.
I love RAINBOW bulletin board ideas and make handmade decorations to use the rainbow-theme any time I can.
Here are some of my favorite rainbow bulletin board ideas: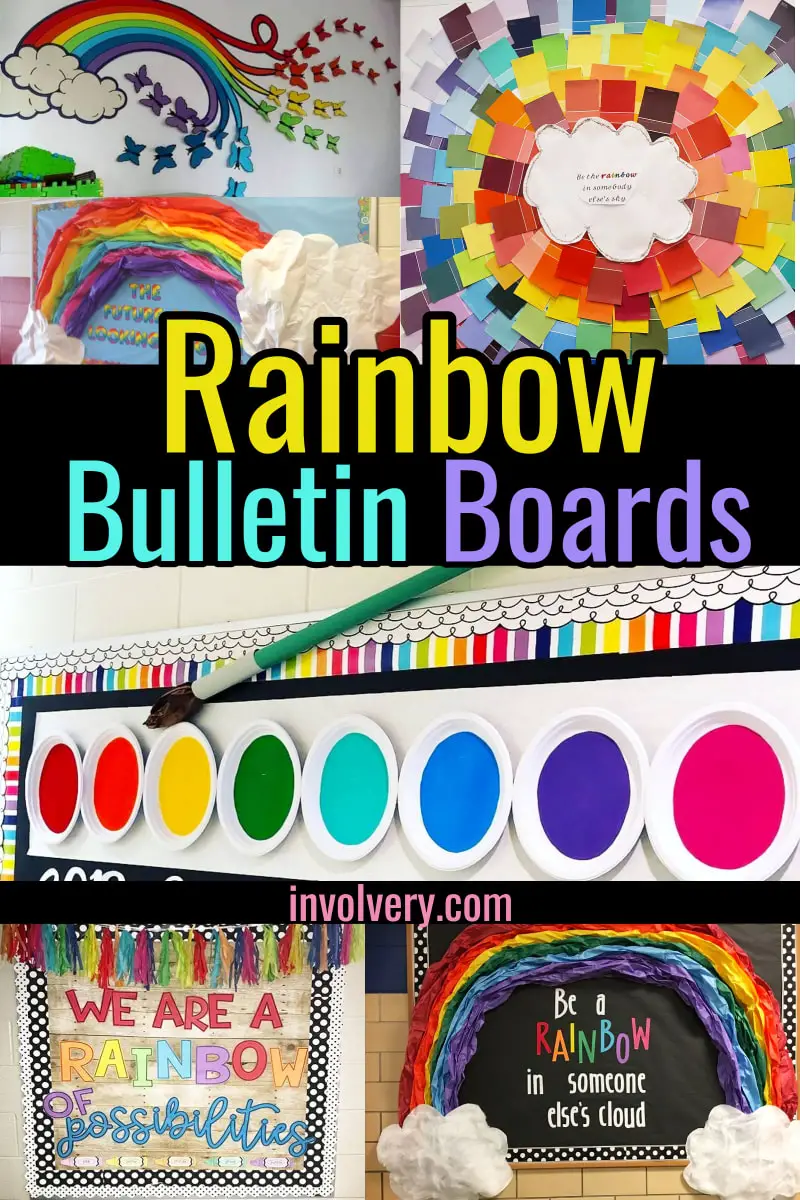 Rainbow colors are my favorite – it really brightens up the classroom, don't you agree?
Just so cheerful!
Like my painted rocking chair – I painted it in bright rainbow colors like this: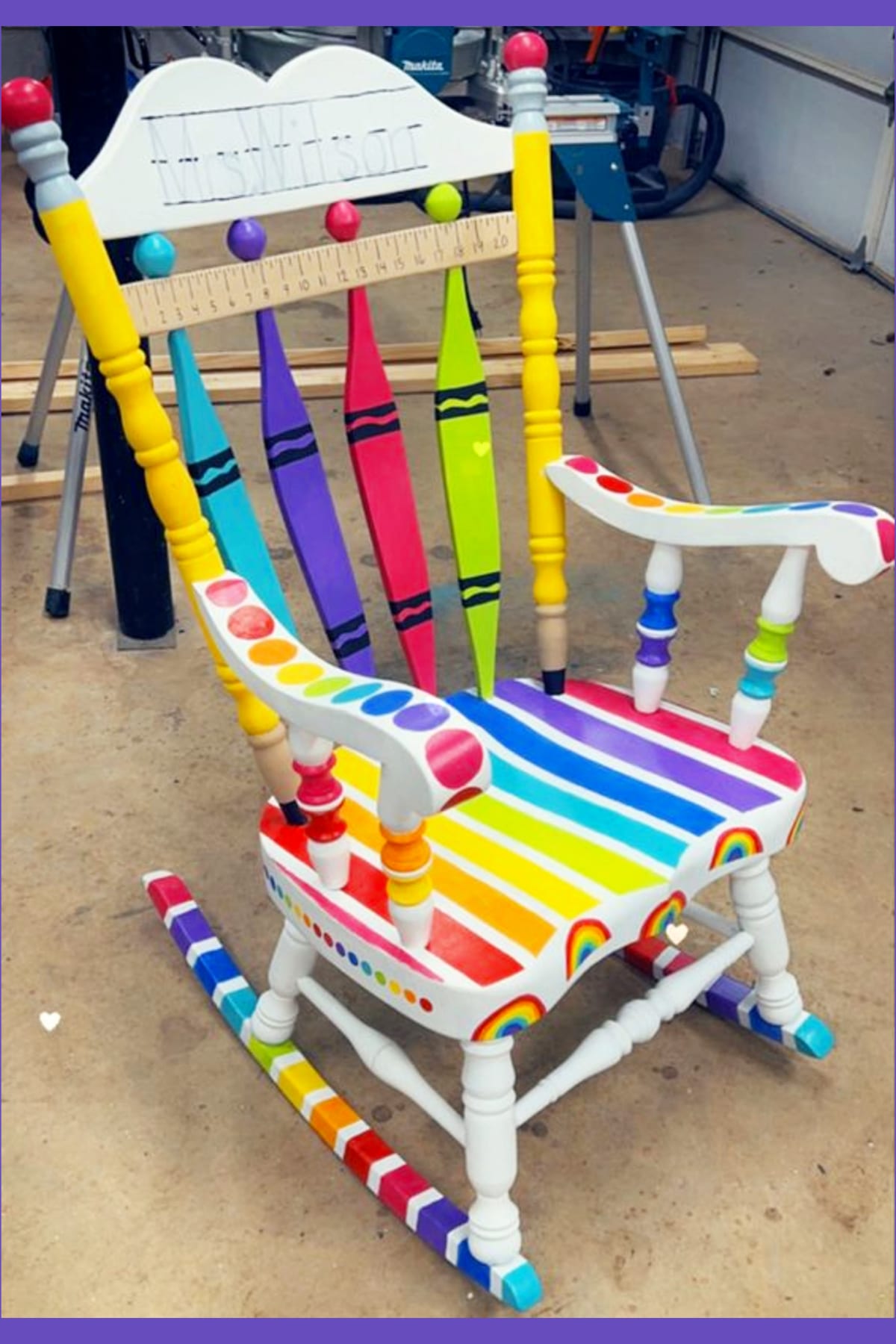 and YES, that is a repurposed yard sale rocking chair – so cute!
School year seasons are also super popular and pretty simple to put together in your classroom.
An Autumn-themed or back-to-school bulletin board is very easy to do, as long as you have some construction paper. Have the kids cut out large fall leaves. Pin up some shiny red apple cut-outs.
For the Fall October November (Halloween / Thanksgiving seasons), you can decorate the class bulletin board or classroom door like this.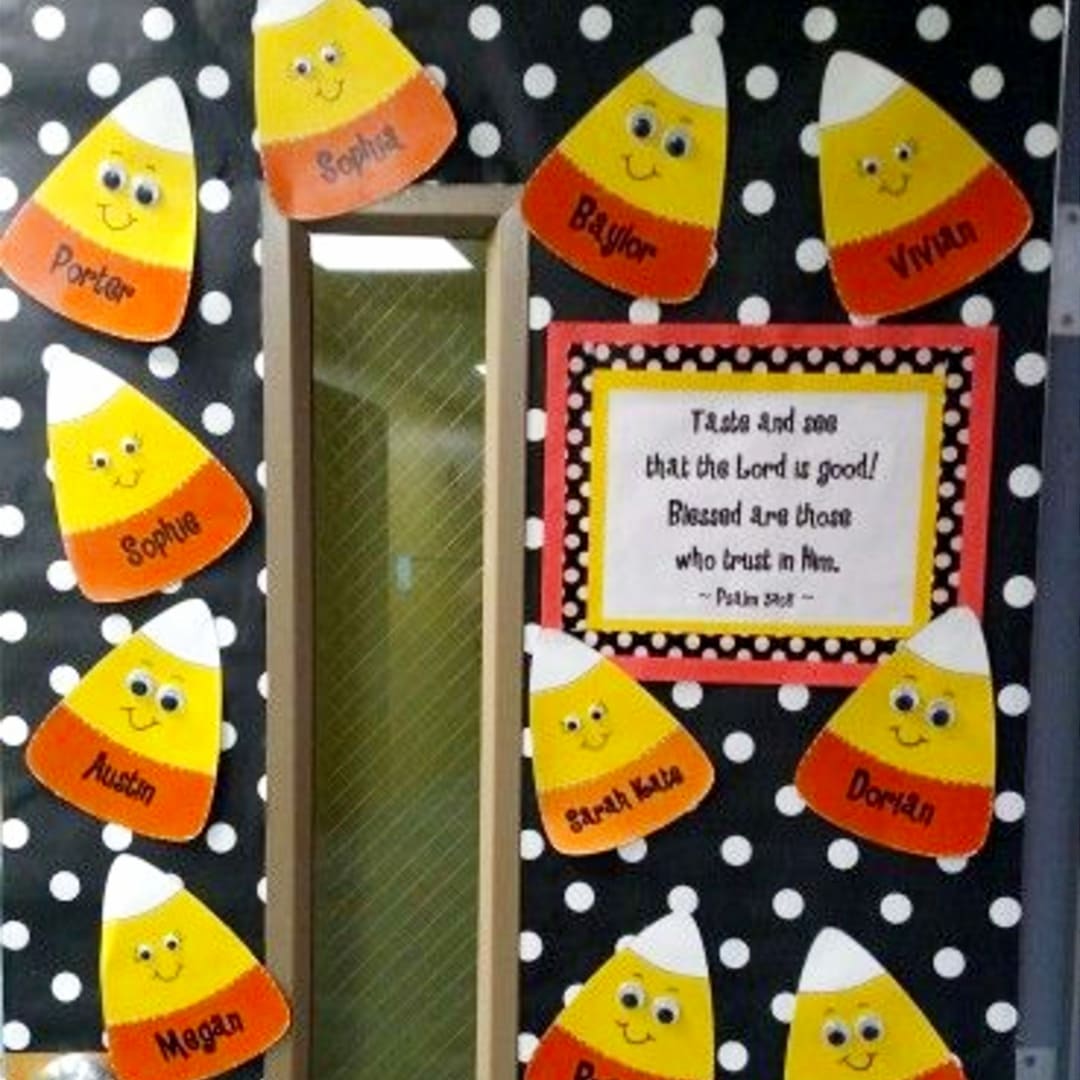 How cute for a Sunday school classroom or church Pre-K, right?
Speaking of Sunday School…
Need some church bulletin board ideas?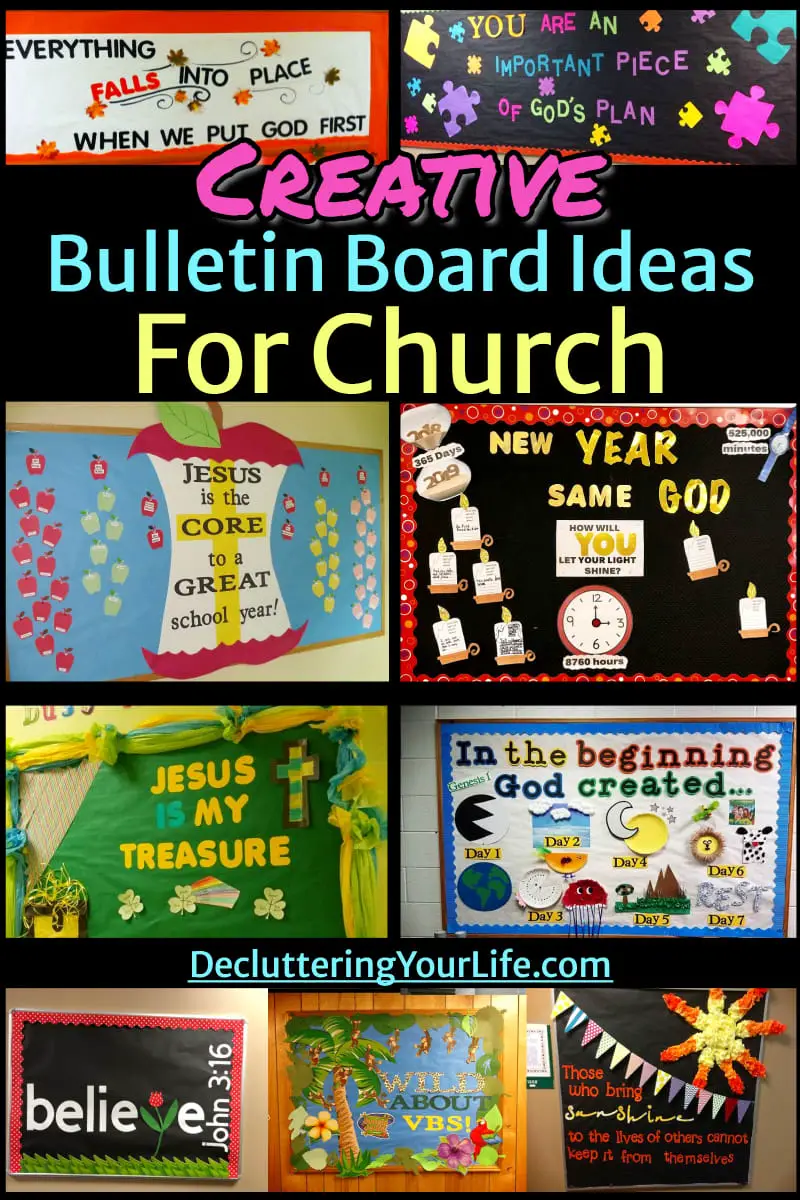 A creative bulletin board in school or church classrooms can incorporate ANY Holiday, motivational or positive message, school event character days and seasons.
It's easy to tie a season into almost any academic subject. Have the students write word problems all involving apples, volume of leaves raked, or the pencils sharpened in preparation for school. Hang up their work amidst the autumn decorations that you and the children made, and, viola! A gorgeous autumn-themed bulletin board has been created.
Other creative and unique handmade classroom bulletin board decorations can be created around any fun theme you can think up. I've done under-the-sea bulletin boards, which are great for science work. I once created a flower garden bulletin board, which I used to showcase the student's writing work.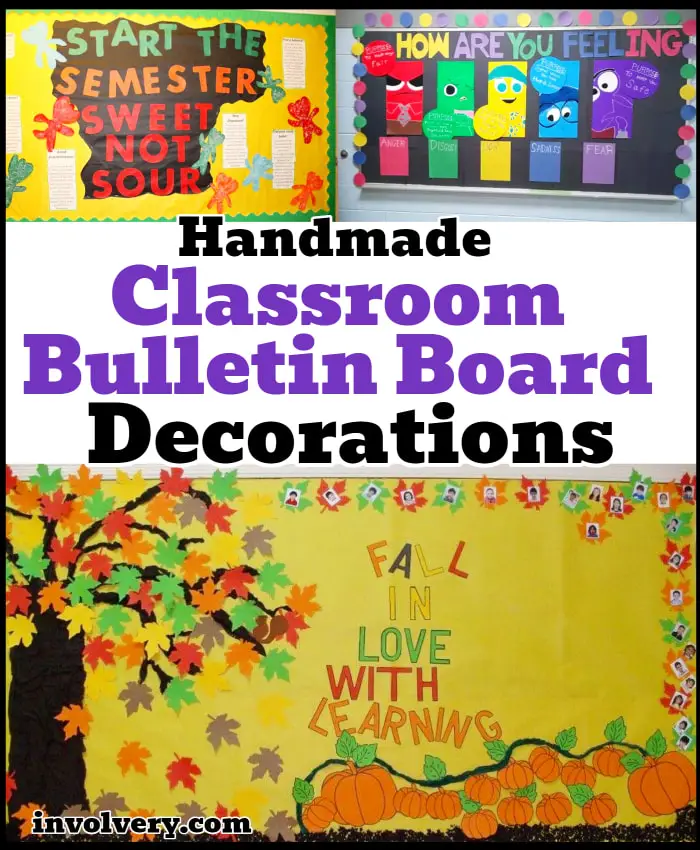 Since I use a process-based writing approach, each aspect of the flower garden represented a stage in the children's writing process – a seed for their original ideas, a stem representing their drafting and revising, and finally their published work was the flower at the top.
Seasonal bulletin boards are important in teaching children about the different seasons of the year.
Here are some Spring bulletin board ideas for everything "Spring" – perfect for preschool, daycare, toddlers, Kindergarten or even the library.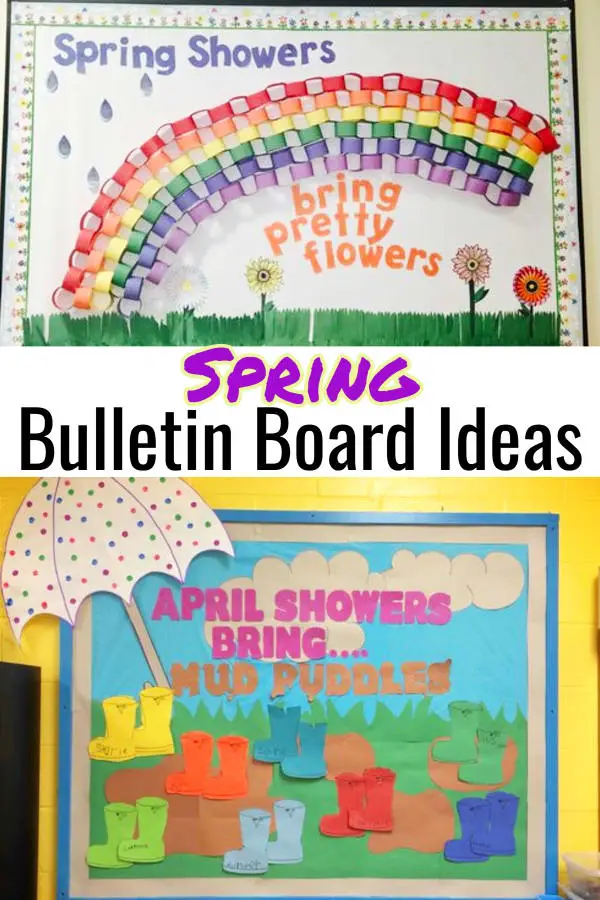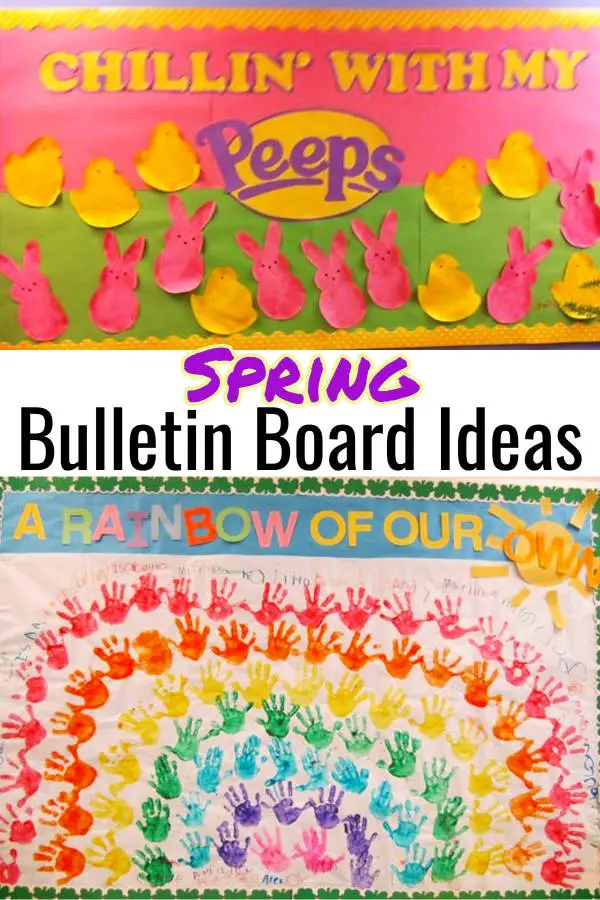 For fall, you could have each child trace their hand on colored paper to make "leaves" for a large tree. This can help them with tracing and cutting skills.
If they're learning to write their names, have them practice on their own leaves.
A similar idea can be used for Christmas where each child gets to design and make ornaments for the Christmas tree on your preschool bulletin board.
Preschool children may have a basic understanding of a few major holidays such as Christmas or Easter, but bulletin boards are a great way for them to learn about other important special days throughout the year.
Halloween, Thanksgiving, Valentine's Day, St. Patrick's Day, Mother's Day, and Earth Day can also be easily incorporated into a preschool bulletin board and can teach your preschoolers valuable lessons about history, as well as other important values such as conservation (Earth Day), gratitude (Thanksgiving) and love (Valentine's Day).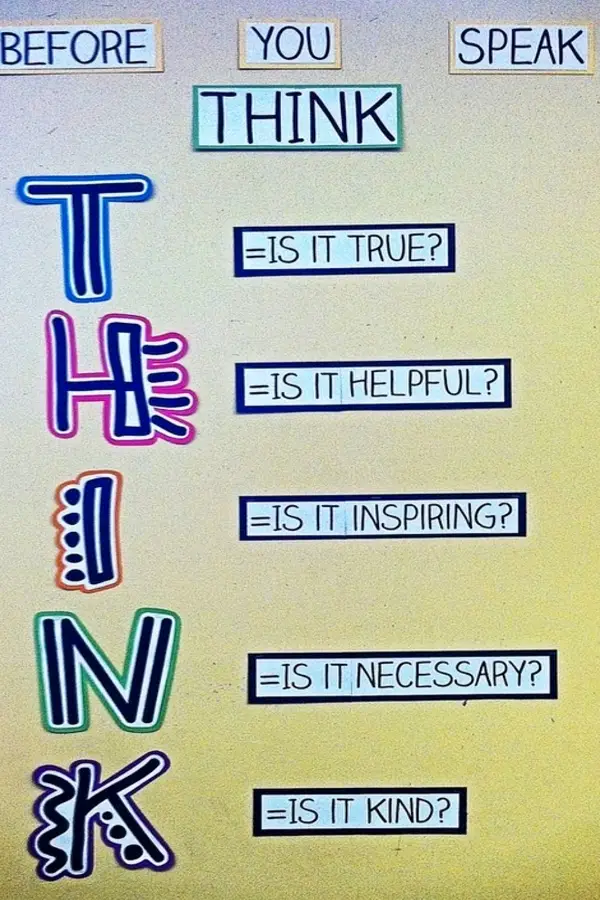 If you are learning about various shapes in your preschool class, try making a bulletin board that has plenty of multi-colored shapes attached with sticky tack.
The children can move the shapes around and learn about making patterns at the same time they are learning their shapes!
With a little creativity almost any bulletin board can be interactive. Children love seeing their handiwork showcased. It makes them feel important and special.
Having them "help" you make different materials for your preschool bulletin board may mean that it won't look absolutely perfect, but it will save you a lot of extra work!
Having your students help with your bulletin boards has other advantages too.
For example, when certain parents come in with a lengthy list of "helpful suggestions"
(translation: everything you are doing wrong)
you can distract them by saying,
Oh look what little Jimmy made in class today! He is so talented! You must be so proud!
Problem averted.
In all seriousness though, bulletin boards are a great way to showcase each child's development as they learn.
Even simple skills like coloring, drawing, gluing, tracing, and cutting are big milestones during this phase of life!
You may just find that your preschool bulletin board quickly becomes the focal point of the room. Now go brainstorm and you'll be amazed with what you can come up with!
Any theme you can think of can be used to construct imaginative teacher bulletin boards. Be creative, and have lots of fun.
Classroom White Board Idea
This classroom white board idea below sure has sparked some controversy.
Half of teachers and parents think this should be NO WHERE near a classroom…
The other half thinks it's the reality kids MUST learn.
Here's the white board….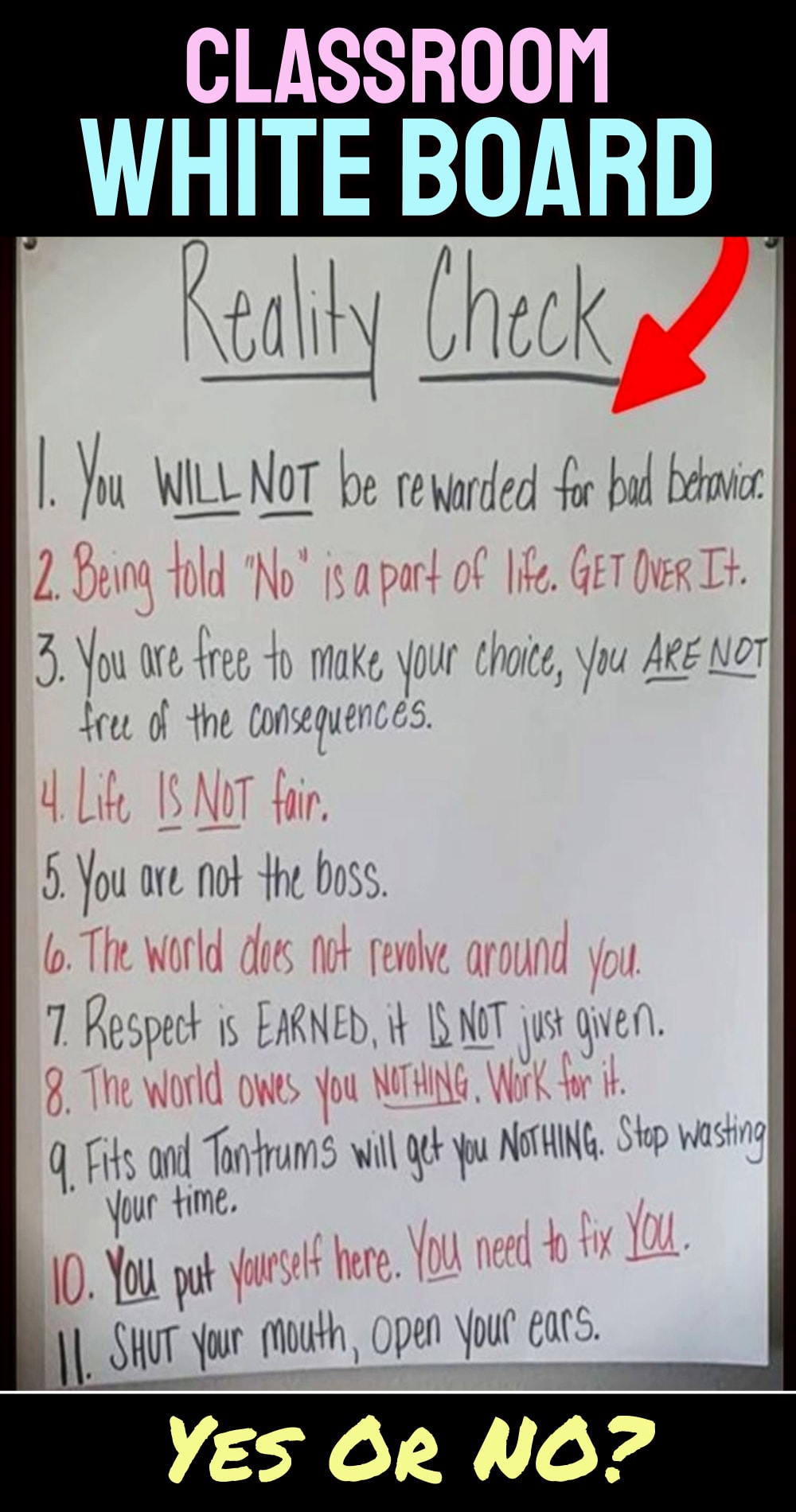 Pin it to Pinterest and tell me YOUR thoughts…
Is it too harsh? Or exactly the lessons kids need to learn as soon as possible about the harsh reality of LIFE?
Personally, I want a BIG poster of this hung up in my HOUSE haha! Tween-agers are ROUGH!
More Unique Bulletin Board Ideas
Below are some more very creative and unique bulletin board decorating ideas I've found: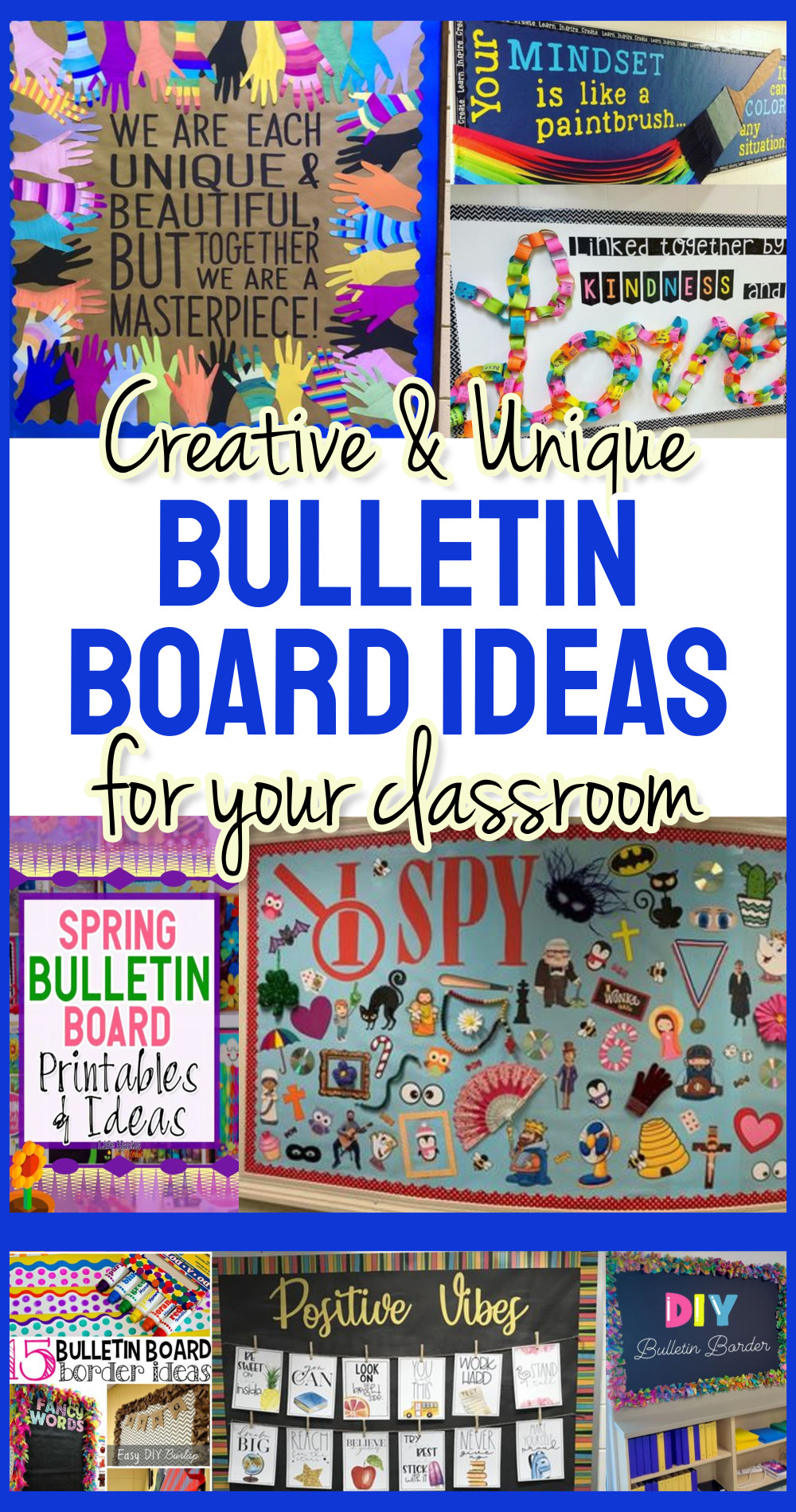 Ideas found in the picture:
We are each unique found on Pinterest here.
Mindset is like a paintbrush found on Instagram here.
Linked together in kindness found on boredteachers here.
Spring bulletin board printables and ideas found on Like Hacks for Moms here.
I Spy bulletin board found on Pinterest here.
Bulletin board border ideas found on craftymorning here.
Positive Vibes bulletin board found on Pinterest here.
DIY bulletin border found on Pinterest here.
Bulletin Board Resources For Teachers
Whether you need classroom bulletin board theme ideas, printable decor or ANYTHING to help you with your classroom bulletin board decorating, these resources below are exceptional.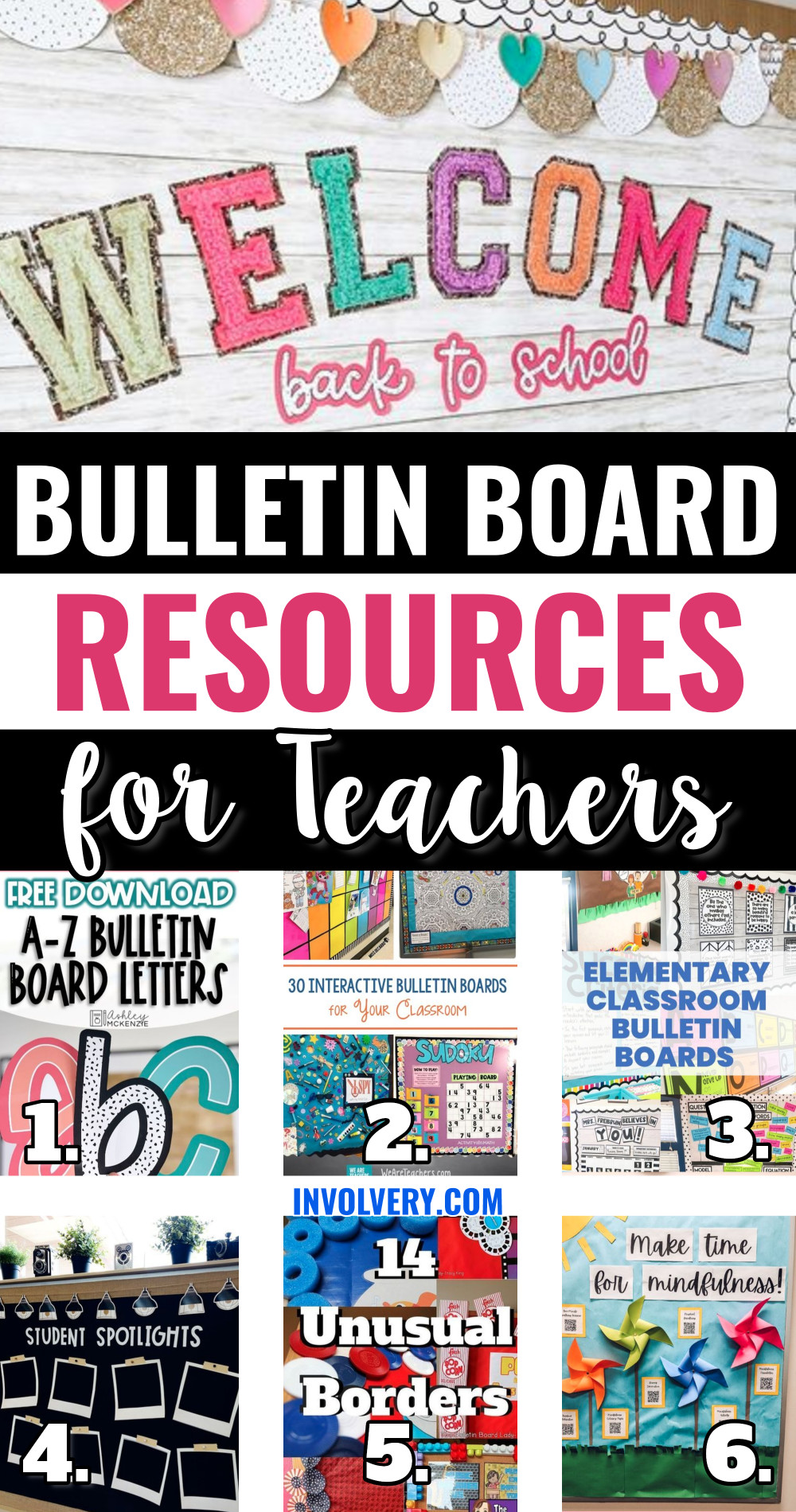 Resources in the image above:
Top: Back to School Bulletin Board With Fun Back to School Activity (on Etsy) – If you are looking for a fun back to school activity that doubles as a beautiful back to school bulletin board display, you have found it…See this.
---
1 – A-Z Bulletin Board Letters – Completely customize your classroom displays using Bulletin Board Letters! This is a FREE download, plus tips on how to use them… See this.
---
2 – 31 Interactive Bulletin Boards For Your Students – Because learning is best when it's hands-on… See this.
---
3 – Elementary Classroom Bulletin Boards – My favorite part about getting ready for back to school is getting all of the bulletin boards set up around my classroom. Here are some great ideas… See this.
---
4 – Student Spotlight Bulletin Board – Create a calm and welcoming classroom with the Modern Farmhouse Classroom Decor Theme… See this.
---
5 – 14 Unusual Bulletin Board Borders – Here are a few ideas for quick and funky borders using some non-traditional items that you may have laying around your house… See this.
---
6 – Spring Mindfulness Bulletin Board with QR Codes – Colorful, interactive, spring bulletin board for March & April PBIS theme, mindfulness… See this.
Need Craft Ideas For Your Students?
Valentine's Day Crafts for Kids
St Patrick's Day Crafts for Kids
Popsicle Stick Ornaments Crafts
Miss Anything?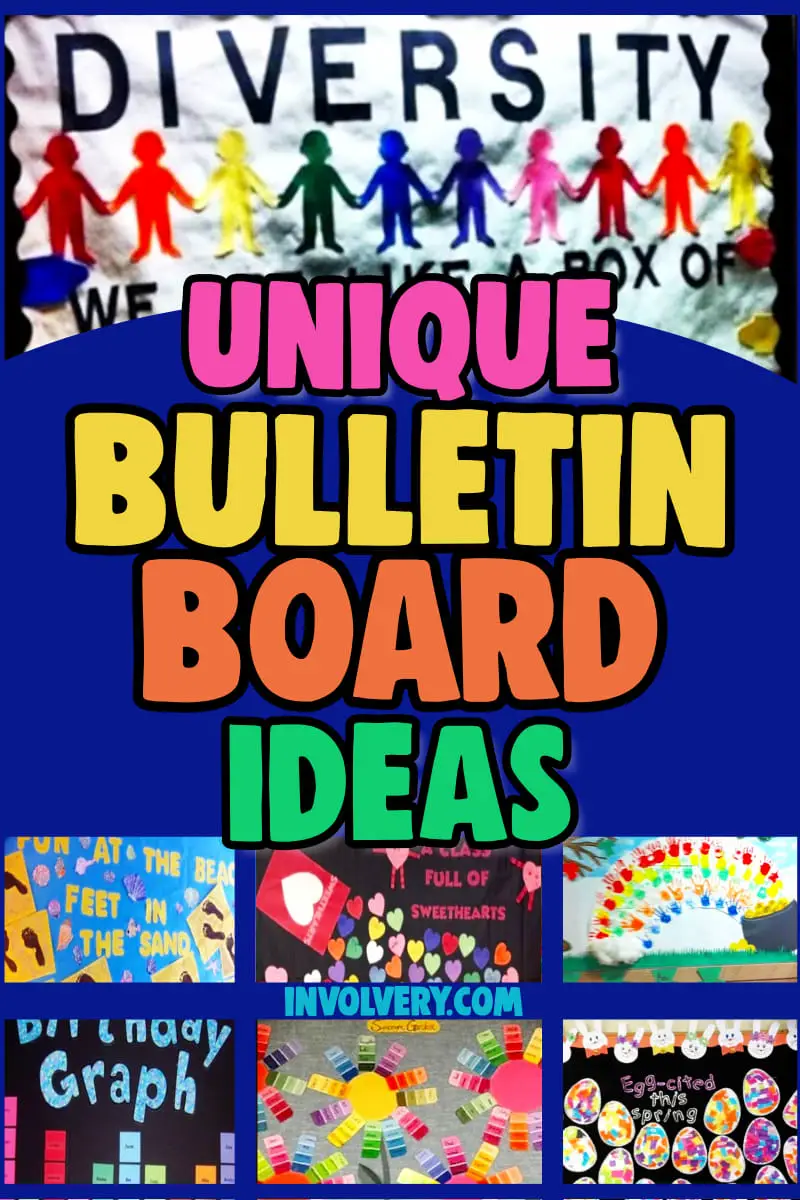 ---