---
• 50 Finger Foods For Your Toothless Baby •
Finger foods for a baby without TEETH? WHICH baby finger foods are best? How can babies eat solid food if they don't have any teeth to chew with? When can I START giving my baby finger foods? All that AND big lists of easy fingers foods for your baby with NO teeth below.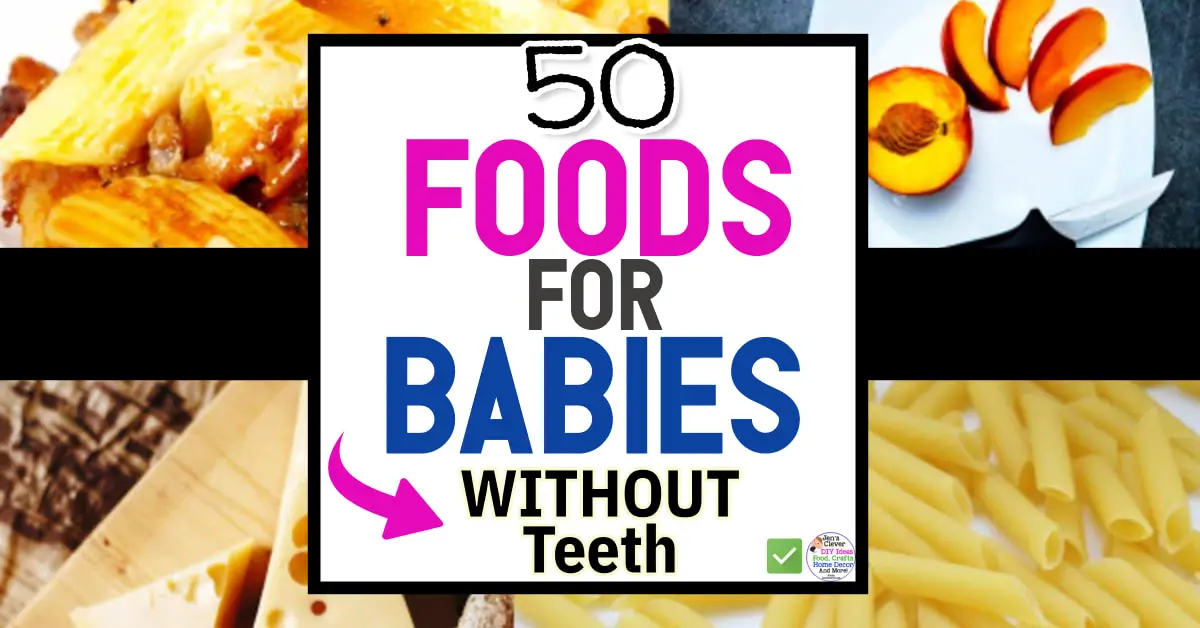 ---
Updated on April 22, 2022
posts may contain affiliate links -Enjoy and feel free to share with your friends!
---
50 Foods For Babies WITHOUT Teeth
This might amaze you, especially if you're a first time Mom, but babies with no teeth can eat almost anything. Their gums are tough and they'll try to mash any food you offer with those tough, toothless gums.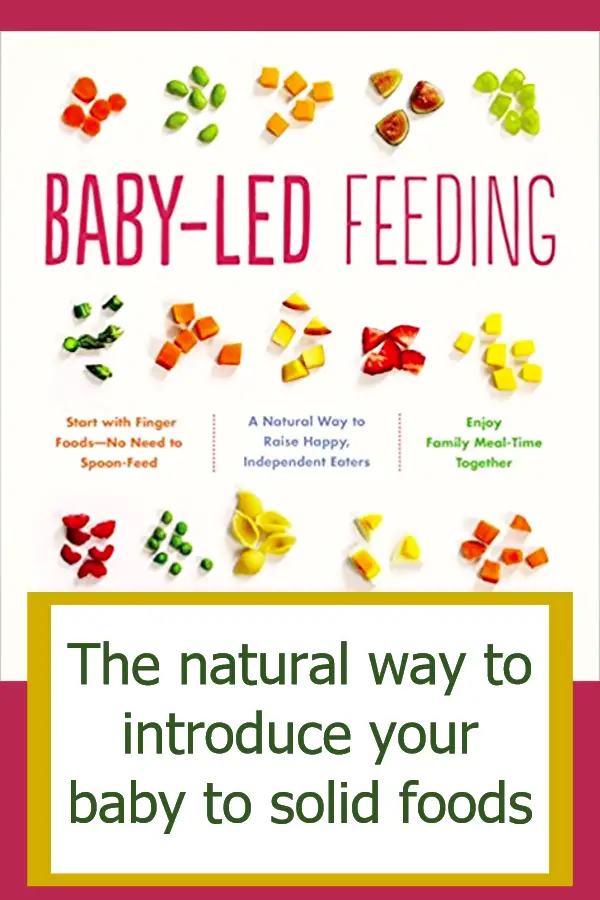 ✅ Read: Baby Led Feeding Tips
Most moms find that their adorable toothless baby will eat whatever the rest of the family is eating. The trick is to make sure what you offer is soft (fully cooked, totally ripe, etc) and that you don't offer spicy foods, exotic foods, or foods known to cause allergies (ask our doctor).
Is your family having lasagna for dinner – baby can eat that. Are you having meatloaf? Yep, baby can eat that too.
Just make sure you have an easy clean high chair haha!
Babies without teeth can even eat raw apples, broccoli, etc… BUT that is for moms feeding their baby with this Baby Led Weaning technique.
It's amazing what babies can eat with just a tooth or 2 – or no teeth at all.
But remember: SAFETY FIRST.
Always feed your baby while sitting up in a proper high chair and NEVER let them eat anything alone or while in the reclining position.
Baby's also have a VERY sensitive gag reflex that is designed by nature to protect them from choking.
But nature isn't always perfect, right?
Be sure you know the proper way to save a baby, or ANYONE, from choking.
---
✅ Tired of the MESS?
---
When Can I Give My Baby Finger Foods?
The average age for starting finger foods for most babies is between 6 and 9 months old (naturally, check with your pediatrician first). Many babies begin their experience with solid foods by eating finger foods rather than pureed or store-bought baby food – this is called Baby Led Weaning.
---
✅
What is Baby Led Weaning?
How does BLW work? Won't my baby choke? When to start baby led weaning? Can my baby do baby led weaning with NO teeth?
---
Finger Food List For Babies
Here is a great list of easy finger foods for baby with no teeth. Be sure any vegetables are cooked and soft and fruits are ripe and soft. Thanks to Baby Center for these baby finger foods ideas.
O-shaped toasted oat cereal
small chunks of ripe banana
mango
plum
pear
peaches
cantaloupe
seedless watermelon
small cubes of tofu
well-cooked pasta spirals
thin cheese strips
cut-up seedless grapes
cherries (pits removed)
blueberries
cooked carrots
cooked peas
cooked zucchini
cooked potato
cooked sweet potato
& 
Baby Finger Food Meal Combinations
Parents.com has this list of fingers foods for the baby with no teeth when you want to know what finger food combination works best.
If you need meal ideas for 10-month old with no teeth, this is a great list of ideas:
These Baby pancakes with pears
Butternut squash with peaches
Peas with plums
Carrots with apple
Banana with cherries
Fresh mozzarella with tomato
Cheddar cheese with figs
Sweet potato with apple
Banana with avocado
Roast chicken with apple
Cheese omelet with turkey-apple sausage
Elbow pasta with marinara sauce and foccacia
Cheese toast with sweet potato fries
Swiss cheese with apricots
Mac 'n' cheese with beets
What To Feed 6-7 Month Old Baby Without Teeth?
Remember, even if your baby is 8 months old and still doesn't have any teeth, it is totally normal. BUT he/she can still eat solids. The 50 foods for babies without teeth on this page will give you great ideas! (heck, it's a great list of finger foods for toddlers, too!)
Toasted Cheese Bread
Pasta
Soft Fruit
Cooked Sticks of Vegetables
Cooked Broccoli
Cooked Squash
Sticks Of Cheese
Strips of Cooked Chicken
Ripe Melon
Cheerios
Toasted Bagel
Scrambled Eggs
In short, you can give your baby pretty much any food your family eats (safety first) – and that IS your goal: to have your entire family all sitting down eating the same thing TOGETHER.
Got Fussy Eaters in YOUR House?
Me Too!
If I cook meatloaf, mashed potatoes and green beans – baby eats all that, too.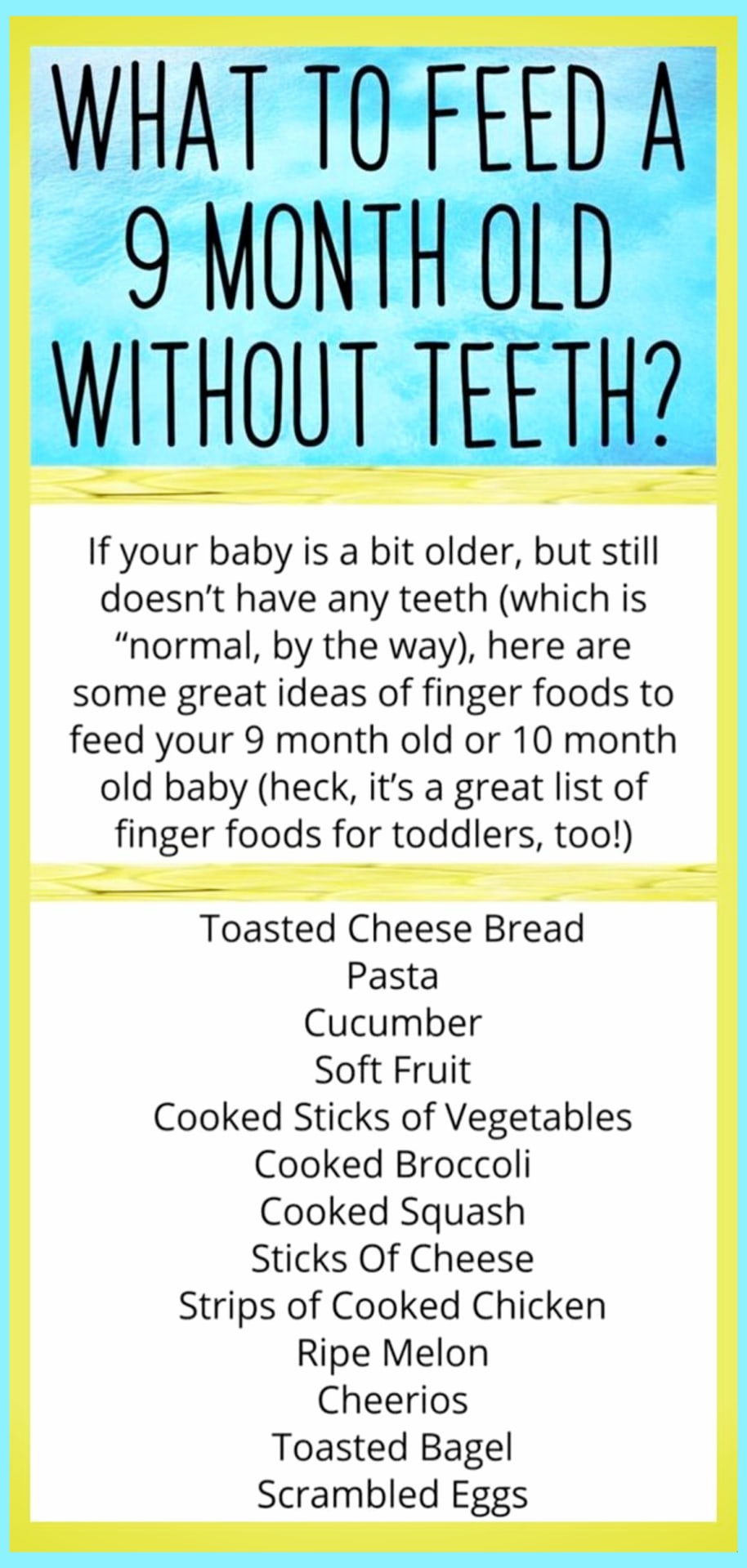 My Instant Pot has been a LIFE-SAVER for cooking for the entire family – it makes cooking SO much easier AND things are soft and perfect for the baby with NO TEETH =)
I cook just about everything in my Instant Pot – and it's SO fast and easy.
Here are Instant Pot Cooking Times – see how FAST it cooks!?!?
It's a VERY handy kitchen cooking gadget!
---
✅
Thinking About Getting an Instant Pot?
Read: Is Instant Pot WORTH the Hype?
I share 10 IMPORTANT Things I Wish I Knew BEFORE I Bought My Instant Pot – that YOU will want to know, too.
More Resources
 Baby Cereal Pancakes Recipes✅ See This Baby's First Foods Tracker✅ See This Best Highchairs For Starting Solids✅ See This Organic Baby Food & Finger Food Recipes✅ See This Healthy Snacks For 1-Year Olds✅ See This First Foods Survival Pack✅ See This
& 
---
Miss Anything?