Super simple crockpot breakfast casserole recipes to make in your slow cooker – Out of all the most popular brunch and potluck breakfast ideas, these are our favorite make ahead crock pot breakfast and brunch casseroles to cook in our slow cooker that we can make the night before, let them cook overnight and wake up to a big hearty breakfast for our hungry crowd. Perfect for guests, work/office potluck breakfast, Christmas morning (or ANY holiday morning), family gatherings / large groups, a breakfast or brunch potluck or just because you're about to have a busy day and need breakfast to be ready for your family when you wake up.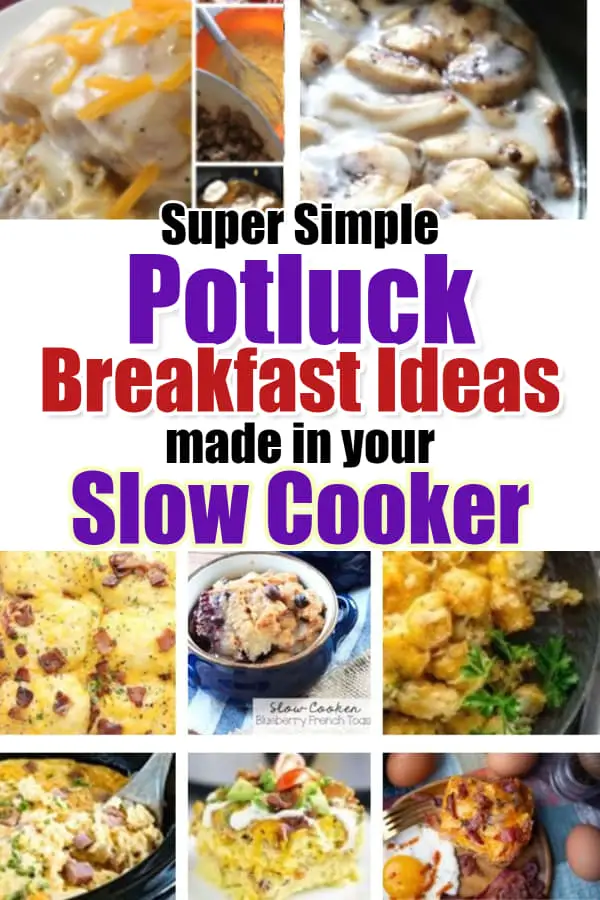 Easy Crockpot Breakfast Recipes
Below are our picks the the yummiest, easiest, and crowd pleasing favorite crockpot slow cooker breakfast recipes. Many can be made ahead of time and then slow cooked overnight which makes them PERFECT for an office potluck breakfast at work or an easy brunch for any sized crowd.
My kids LOVE the french toast crockpot breakfast casserole (they love ANYTHING sweet for breakfast), the hubby loves any crockpot breakfast with eggs, cheese, hashbrowns and grits, our out of town friends LOVE the tater tot breakfast casserole I make in my beloved crockpot…. and me?
I like a healthy crockpot breakfast (see the Keto-friendly make ahead breakfast casserole below if you're eating low carb – it's insanely good!)
9 Best Slow Cooker Breakfast Casseroles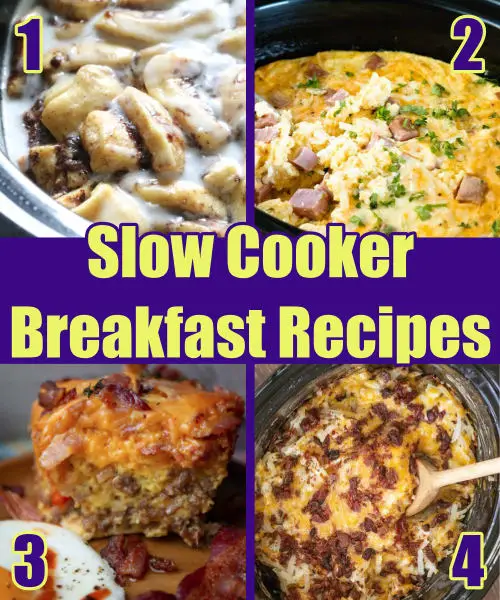 ---
---
1. Crockpot Cinnamon Roll Casserole
This slow cooker Cinnamon Roll Casserole is unbelievably delicious… AND it uses canned refrigerated cinnamon rolls. Super easy!
2. Crockpot Ham and Cheese Egg Casserole
I'm a HUGE fan of easy crockpot recipes – and this breakfast ideas is a personal favorite – it uses FROZEN hashbrowns and cubed ham you find in the grocery lunch meat department – so good and SO easy. My breakfast crowd loved it!
3. Keto Crockpot Breakfast Casserole
Sausage, bacon, eggs and CHEESE in this crockpot breakfast casserole – ready in only 2 hours!
4. Overnight Crockpot Hashbrown Casserole
Crock Pot Crack Hash Brown Potatoes, the quintessential comfort food gets an easy and delicious make-over with the addition of Ranch seasoning and bacon.
5. Crockpot Biscuit Casserole
Quick & easy Crockpot Biscuit Casserole that the whole brunch party crowd will love. Biscuits, eggs, cheese & bacon combine for the perfect slow cooker breakfast casserole recipe.
6. Slow Cooker Tater Tot and Cheese Casserole
One of our favorite overnight crockpot breakfast recipes – uses frozen hashbrowns to make it extra easy. Sausage, eggs, cheese and tater tots makes it perfect for any crowd – even if you have picky eaters.
7. Biscuits and Gravy Crockpot Breakfast Casserole
This easy and delicious Biscuits and Gravy Crockpot Breakfast Casserole is perfect for feeding a hungry crowd – perfect for a breakfast potluck, weekend guests or holiday mornings.
8. Blueberry Potluck Breakfast Casserole
This slow cooker blueberry French toast casserole is the ultimate crockpot brunch recipe – it is sure to impress any crowd. It not only LOOKS like you worked really hard on it, it tastes amazing!
9. Overnight Crockpot Breakfast Bake
This next slow cooker recipe is super easy – it's an OVERNIGHT crockpot breakfast bake that uses frozen hashbrowns.
What I love about it that she scoops it out of the slow cooker and wraps it up in soft burrito wraps – everyone loves it (especially the kids!)
More Make Ahead Breakfast Ideas
---
---