Wake Up to breakfast with these easy crockpot make ahead breakfast casserole recipes. Out of all the most popular crockpot breakfast recipe ideas, these are our favorite make ahead crockpot breakfast casseroles to cook in our slow cooker that we can make the night before, let them cook overnight and wake up to a big hearty breakfast for our hungry crowd. Perfect for guests, Christmas morning (or ANY holiday morning), brunch, family gatherings or just because you're about to have a busy day and need breakfast to be ready for your family when you wake up.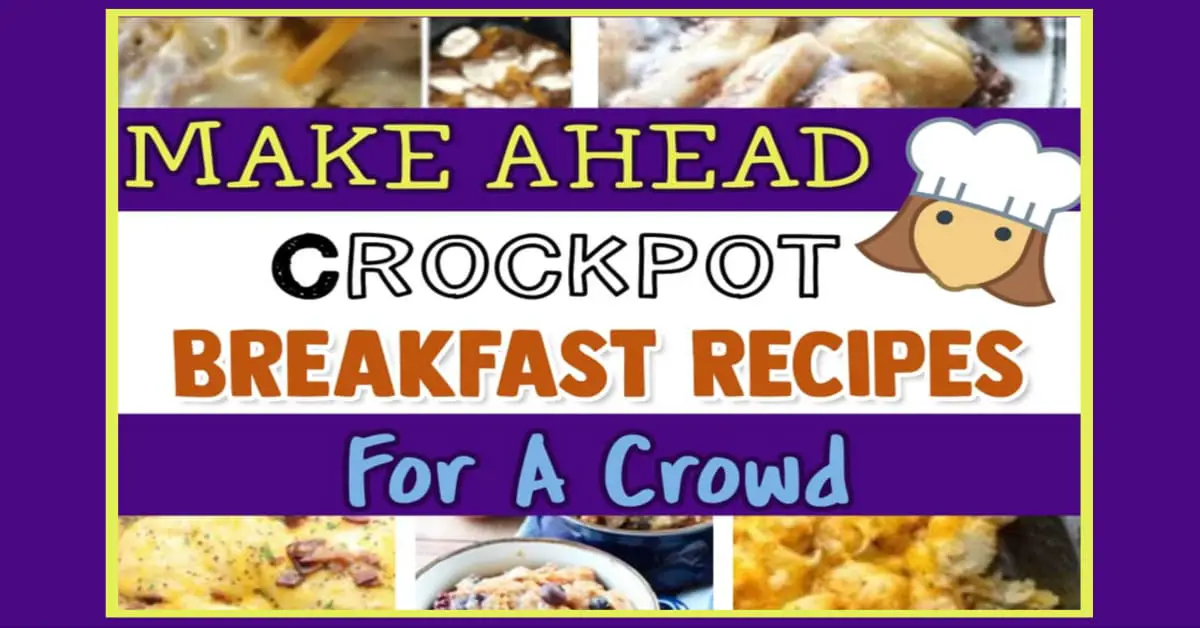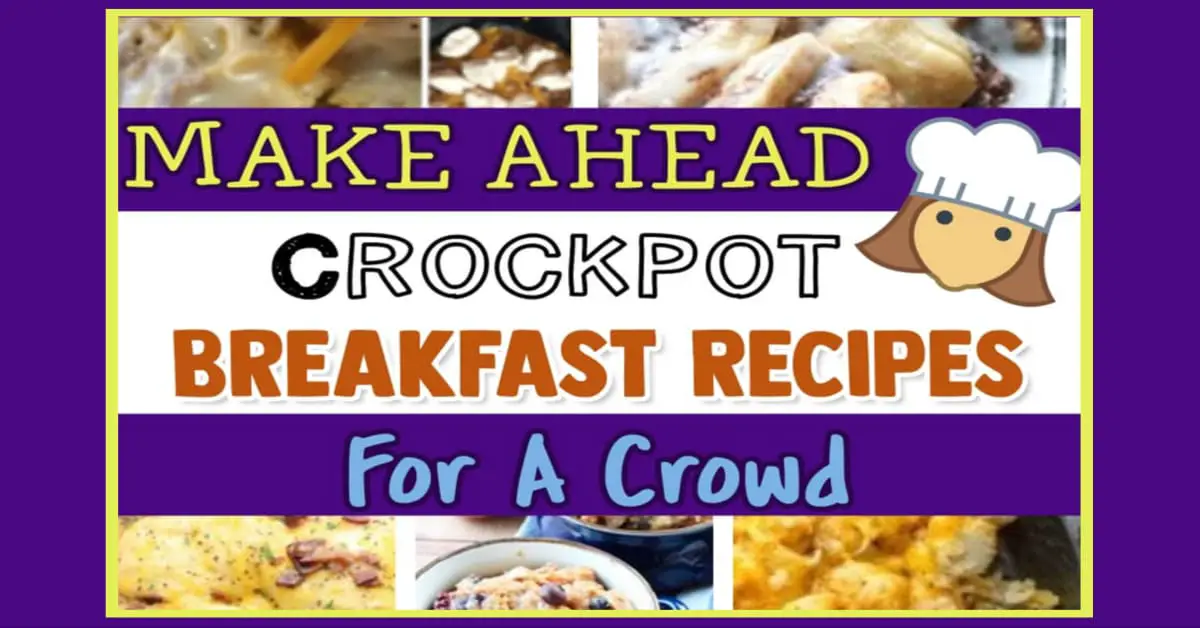 Alrighty, before we get started, I just want to let you know that all opinions are my own and that as an Amazon Associate I earn from qualifying purchases. Many links found on this page may take you to another website (and they should open in a new window so you don't lose your place).  Enjoy and feel free to share with your friends!
---
Easy Crockpot Breakfast Recipes
Below are our picks the the yummiest, easiest, and crowd pleasing favorite crockpot slow cooker breakfast recipes. Many can be made ahead of time and then slow cooked overnight.
My kids LOVE the french toast crockpot breakfast casserole (they love ANYTHING sweet for breakfast), the hubby loves any crockpot breakfast with eggs, cheese, hashbrowns and grits, our out of town friends LOVE the tater tot breakfast casserole I make in my beloved crockpot…. and me?
I like a healthy crockpot breakfast (see the Keto-friendly make ahead breakfast casserole below if you're eating low carb – it's insanely good!)
Crockpot Cinnamon Roll Casserole
Crock Pot Cinnamon Roll Casserole is where every bite tastes like the soft sweet center of a Cinnamon Roll. This Crock Pot Cinnamon Roll Casserole is quick to throw together and comes out perfect. Every bite melts in your mouth. Perfect weekend breakfast for the family.
Crockpot Ham and Cheese Egg Casserole
Tasty and easy and making it for the morning again
Keto-Friendly Crockpot Breakfast Casserole
My mom is one of my greatest partners in keto, and gosh darn it, she can make a mean breakfast bake! We usually save this for big family breakfasts, like Christmas or Thanksgiving morning before all the bigger cooking begins, and it's also great for a simple Sunday breakfast as long as someone is willing to get up early to prepare it!
---
---
Overnight Crockpot Hashbrown Casserole
Crock Pot Crack Hash Brown Potatoes, the quintessential comfort food gets an easy and delicious make-over with the addition of Ranch seasoning and bacon.
Make Ahead Crockpot Biscuit Casserole
A quick & easy Crock-Pot Biscuit Breakfast Casserole that the whole family will love. Biscuits, eggs, cheese & bacon combine for the perfect breakfast! This slow cooker breakfast casserole is the perfect way to start the morning off right with a hearty and delicious breakfast!
Slow Cooker Tater Tot and Cheese Casserole
Spray slow cooker well with nonstick cooking spray Add about 2/3 of the bag of tater tots in bottom of slow cooker crock Whisk together eggs with cream, thyme, garlic powder, salt and pepper Pour over tater tots in slow cooker In a skillet over medium high heat, brown sausage
Biscuits and Gravy Crockpot Breakfast Casserole
This easy and delicious Biscuits and Gravy Crockpot Breakfast Casserole is perfect for feeding hungry bellies on a weekend or holiday morning! To Make Sausage, Egg, & Biscuits: Brown sausage and drain well, set aside. Coat inside of crockpot well with nonstick cooking spray or wipe down with vegetable oil.
Crock Pot Blueberry French Toast Casserole
This Slow Cooker Blueberry French Toast is the perfect make ahead breakfast! French bread, eggs, milk, seasonings, and fresh blueberries with a sweet glaze to finish it off – delicious!
Crockpot Overnight Loaded Egg Casserole
Crockpot Overnight Breakfast Casserole is a classic breakfast casserole with eggs, sausage, bacon, hash browns, and cheese, Great for the holidays and a crowd. In a large skillet over medium heat, brown sausage with onion and peppers until cooked through and no longer pink. Drain and set aside.
Crockpot Breakfast Bake
Today I am sharing a really easy recipe that you can make overnight in your Crockpot, Breakfast Bake! We will definitely be making this again! You can easily change up this recipe each time! I used hashbrowns, sausage, eggs and cheese…
---
---
More Make Ahead Breakfast Ideas
Simple make ahead breakfast recipes for a crowd and healthy night before breakfast recipes for Holiday mornings, large groups, brunch party, girls weekend or for a full house. If you're looking for simple breakfast food you can make the night before or freeze for later, take a look at these …
Last updated on July 31, 2021 11:57 pm