---
99+ Breakfast Potluck Ideas For a Crowd, Work Brunch Party or Holiday Mornings – Must Make Overnight Potluck Dishes Too – Of all the popular brunch and potluck breakfast ideas, these are my favorite make ahead crockpot breakfast and overnight brunch casseroles to cook in your slow cooker crock-pot (which is as close to a NO cook breakfast we can get, right?)
These cheap and easy breakfast potluck ideas are perfect for guests, work/office potluck breakfast, Christmas morning (or ANY holiday morning), family gatherings / large groups, a breakfast or brunch potluck or just because you're about to have a busy day and need breakfast to be ready for your family when you wake up.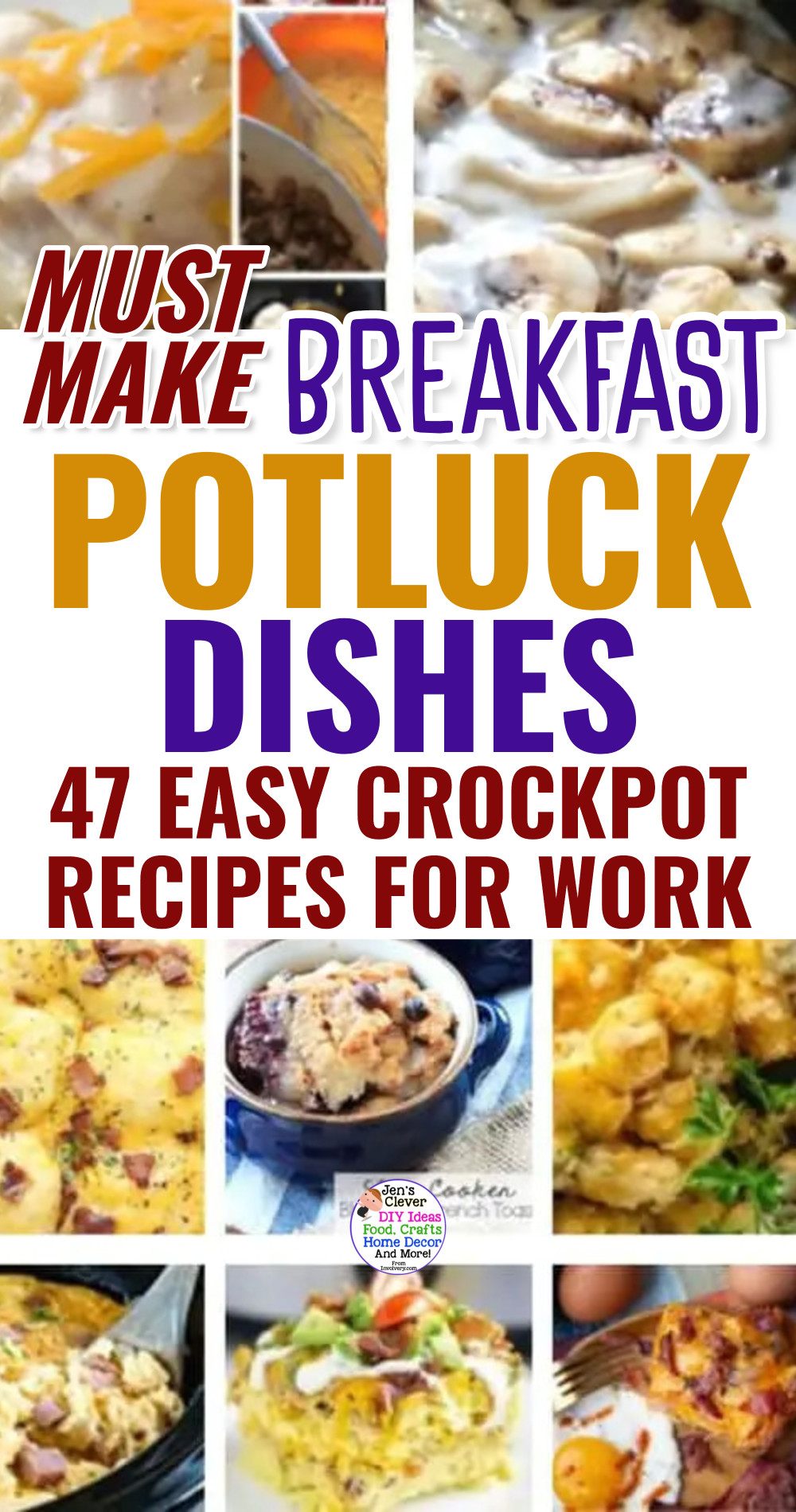 ---
Updated on October 2, 2023
posts may contain affiliate links -Enjoy and feel free to share with your friends!
---
Slow Cooker Brunch Recipes For a Crowd
Below are our picks the the yummiest, easiest, and crowd pleasing favorite crockpot slow cooker brunch recipes for a crowd. Many can be made ahead of time and then slow cooked overnight which makes them PERFECT for an office potluck breakfast at work or an easy brunch for any sized crowd.
My kids LOVE the french toast crockpot breakfast casserole (they love ANYTHING sweet for breakfast), the hubby loves any crockpot breakfast with eggs, cheese, hashbrowns and grits, our out of town friends LOVE the tater tot breakfast casserole I make in my beloved crockpot for our annual Christmas potluck…. and me?
I like a healthy crockpot breakfast (see the Keto-friendly make ahead breakfast casserole below if you're eating low carb – it's insanely good!)
Overnight Crockpot Breakfast Ideas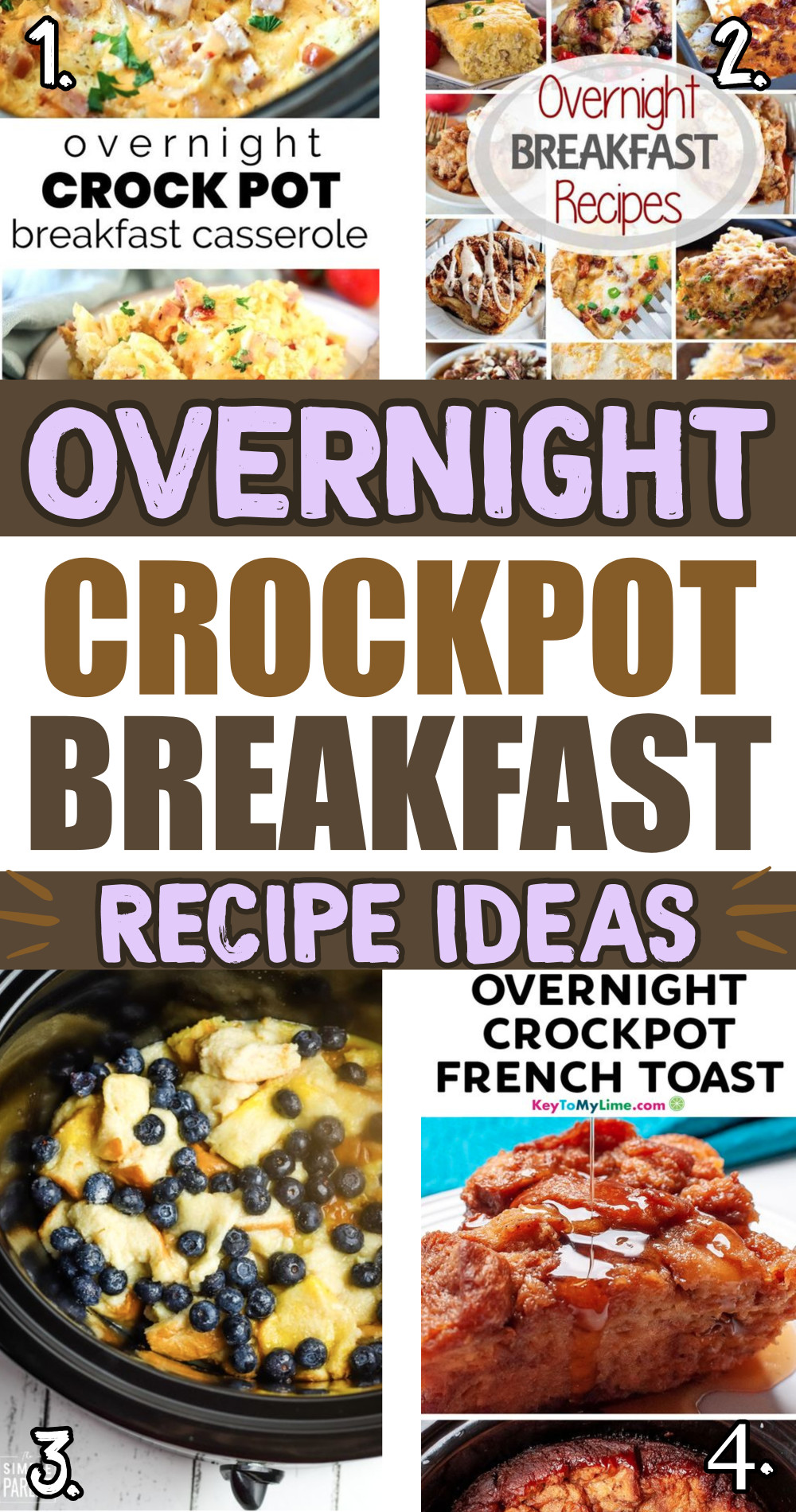 1 – Easy Overnight Crock Pot Breakfast Casserole – This easy Overnight Crock-Pot Breakfast Casserole is a delicious crowd-pleaser! Shredded potatoes are layered between savory ham, cheese, and eggs.
2 – Holiday Overnight Breakfast Recipes – Holiday Overnight Breakfast Recipes ~ If You Are Hosting Company for Breakfast This is the List of Recipes You Want for Breakfast.
3 – Overnight Crockpot French Toast Casserole is a Hit – Easy Overnight Crockpot French Toast Casserole is simple to make in the slow cooker. You can make it as quick as 2 hours.
4 – 8-Ingredient Overnight Crockpot French Toast Casserole – Crockpot French Toast Casserole is an easy overnight French toast that's great for Christmas morning! You'll love this easy family favorite.
Breakfast Potluck Ideas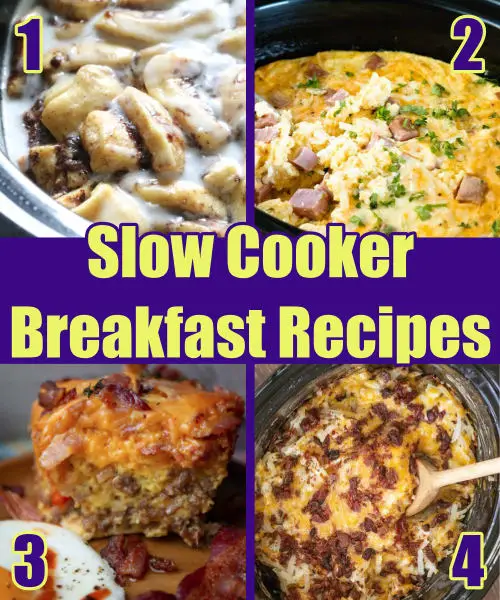 1. Potluck Cinnamon Roll Brunch Casserole
This slow cooker Cinnamon Roll Casserole is unbelievably delicious… AND it uses canned refrigerated cinnamon rolls. It's super easy and makes an easy potluck dessert too if you want something sweet.
2. Slow Cooker Breakfast Scramble
I'm a HUGE fan of easy crockpot recipes – and this slow cooker breakfast scramble is a favorite at any potluck – it uses FROZEN hashbrowns and cubed ham you find in the grocery lunch meat department – so good and SO easy. My breakfast crowd loved it!
3. Healthy Slow Cooker Brunch Casserole
Have anyone in your crowd that needs a healthy breakfast option at your potluck? This Keto brunch casserole is perfect – only sausage, bacon, eggs and CHEESE in this crock-pot casserole – and it's ready in only 2 hours!
4. Overnight Crockpot Hashbrown Breakfast Casserole
Crock Pot Crack Hash Brown Potatoes, the quintessential comfort food gets an easy and delicious make-over with the addition of Ranch seasoning and bacon.
5. Slow Cooker Biscuit Potluck Casserole
Quick & easy Crockpot Biscuit Casserole that the whole brunch party crowd will love. Biscuits, eggs, cheese & bacon combine for the perfect slow cooker breakfast casserole recipe.
6. Tater Tot and Cheese Breakfast Casserole
One of our favorite overnight slow cooker breakfast recipes – uses frozen hashbrowns to make it extra easy.
Sausage, eggs, cheese and tater tots makes it perfect for any crowd – even if you have picky eaters.
7. Biscuits and Gravy Crockpot Breakfast Casserole
This easy and delicious Biscuits and Gravy Crockpot Breakfast Casserole is perfect for feeding a hungry crowd – perfect for a breakfast potluck, weekend guests or holiday mornings.
8. Blueberry Potluck Brunch Casserole
This slow cooker blueberry French toast casserole is the ultimate crockpot brunch recipe – it is sure to impress any crowd. It not only LOOKS like you worked really hard on it, it tastes amazing!
9. Overnight Crockpot Breakfast Bake
This next slow cooker recipe is super easy – it's an OVERNIGHT crockpot breakfast bake that uses frozen hashbrowns.
What I love about it that she scoops it out of the slow cooker and wraps it up in soft burrito wraps – everyone loves it (especially the kids!)
Potluck Breakfast Ideas For Work
Need some really impressive (and EASY) potluck breakfast dishes and food ideas for work?
Here are MY favorite recipes to try: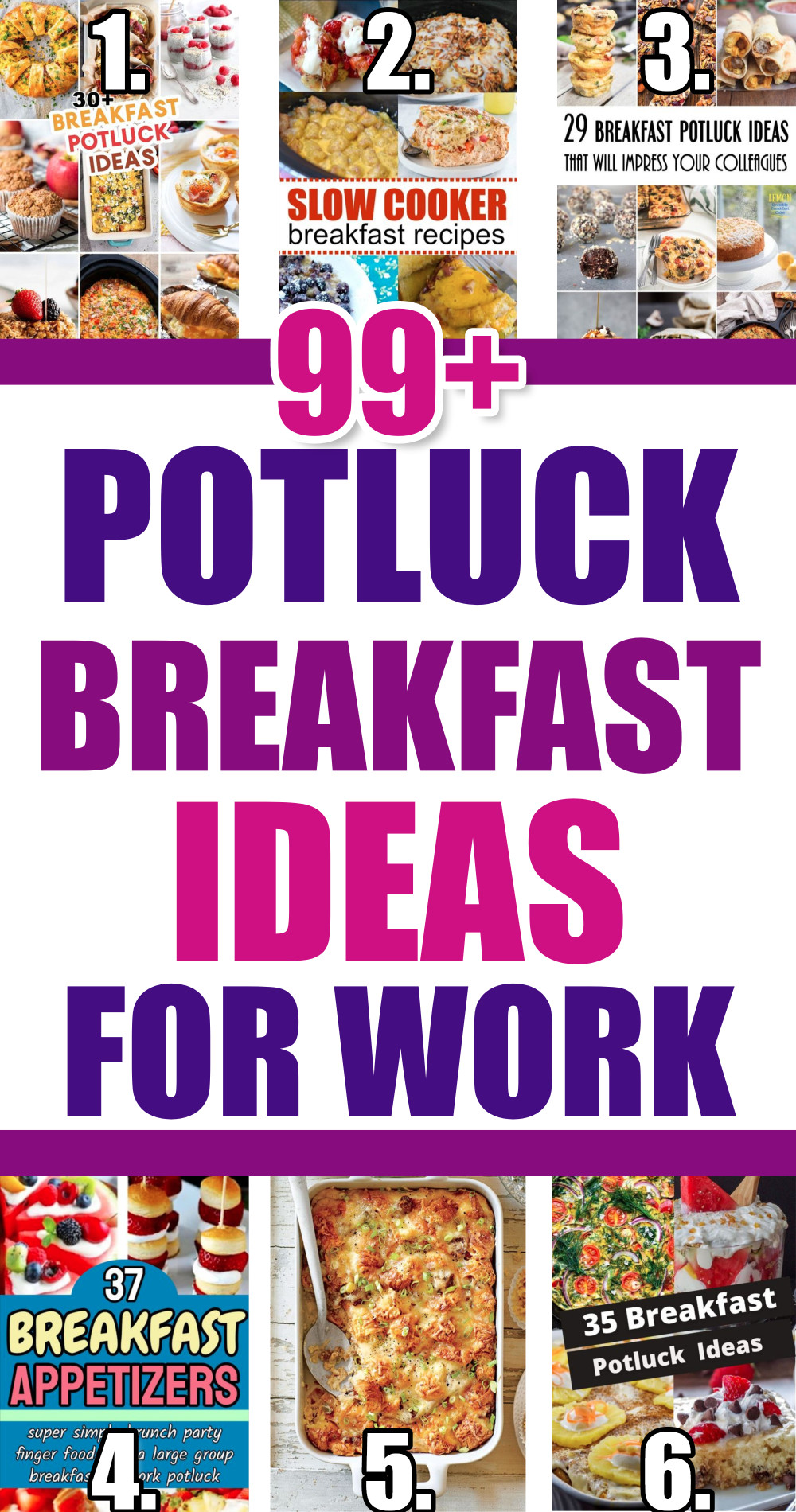 1 – 30+ Easy Breakfast Potluck Ideas – Going to a breakfast potluck? Work breakfast party? These easy and portable brunch/breakfast potluck dishes are PERFECT!
2 – Slow Cooker Breakfast Recipes – These Slow Cooker Breakfast Recipes are perfect for weekends when you have a little more time. They work for breakfast or brunch and are enough to feed a crowd!
3 – 29 Breakfast Potluck Ideas For Work That Will Impress Your Colleagues – Leave your colleagues at work in awe (in a good way) with these delicious and make-ahead friendly breakfast potluck ideas. Everything from muffins to pancakes, burritos, waffles, granola bars, and more!
4 – ✅ 37 EASY Breakfast Appetizers For a Brunch Party Crowd – Breakfast appetizers and finger foods for a crowd – 37 super simple brunch party finger foods and appetizers for a large group breakfast or work potluck.
5 – 50+ Easy Breakfasts Fit for A Southern Crowd – Cooking for a crowd? We've got the best big-batch breakfast ideas and morning sides to feed the whole crew.
6 – 35 Breakfast Potluck Ideas – These breakfast potluck ideas include everything from pancakes to breakfast casseroles and healthy breakfasts, as well as indulgent recipes.
More Make Ahead Breakfast Ideas
---
---
Miss Anything?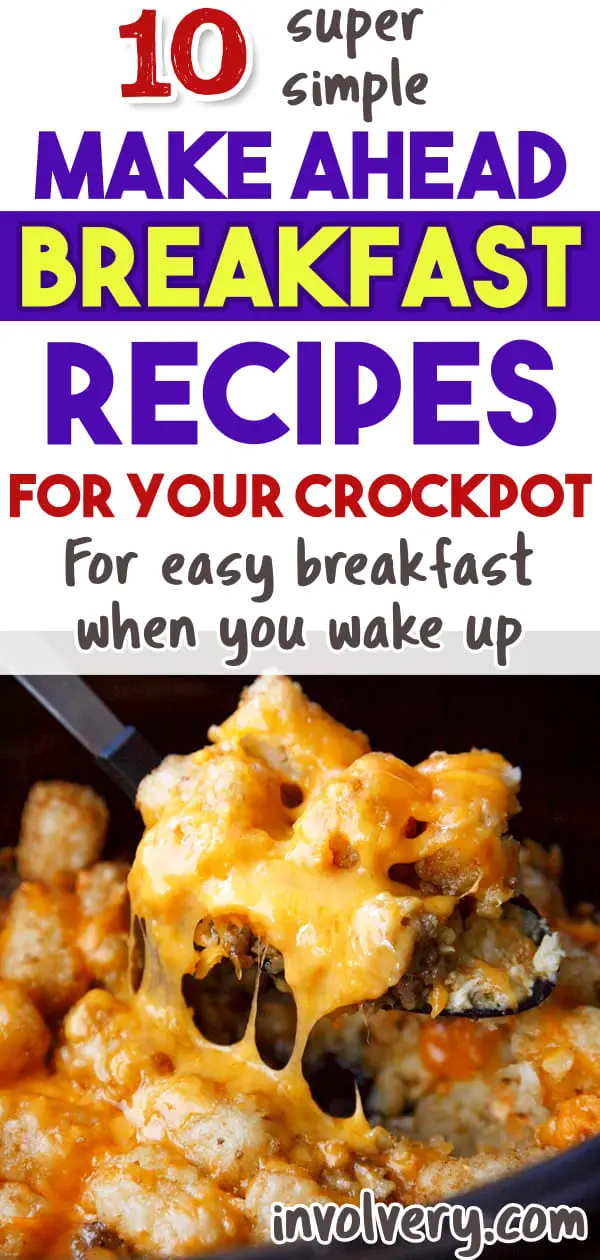 Last updated on December 1, 2023 1:34 pm
More Breakfast Potluck Ideas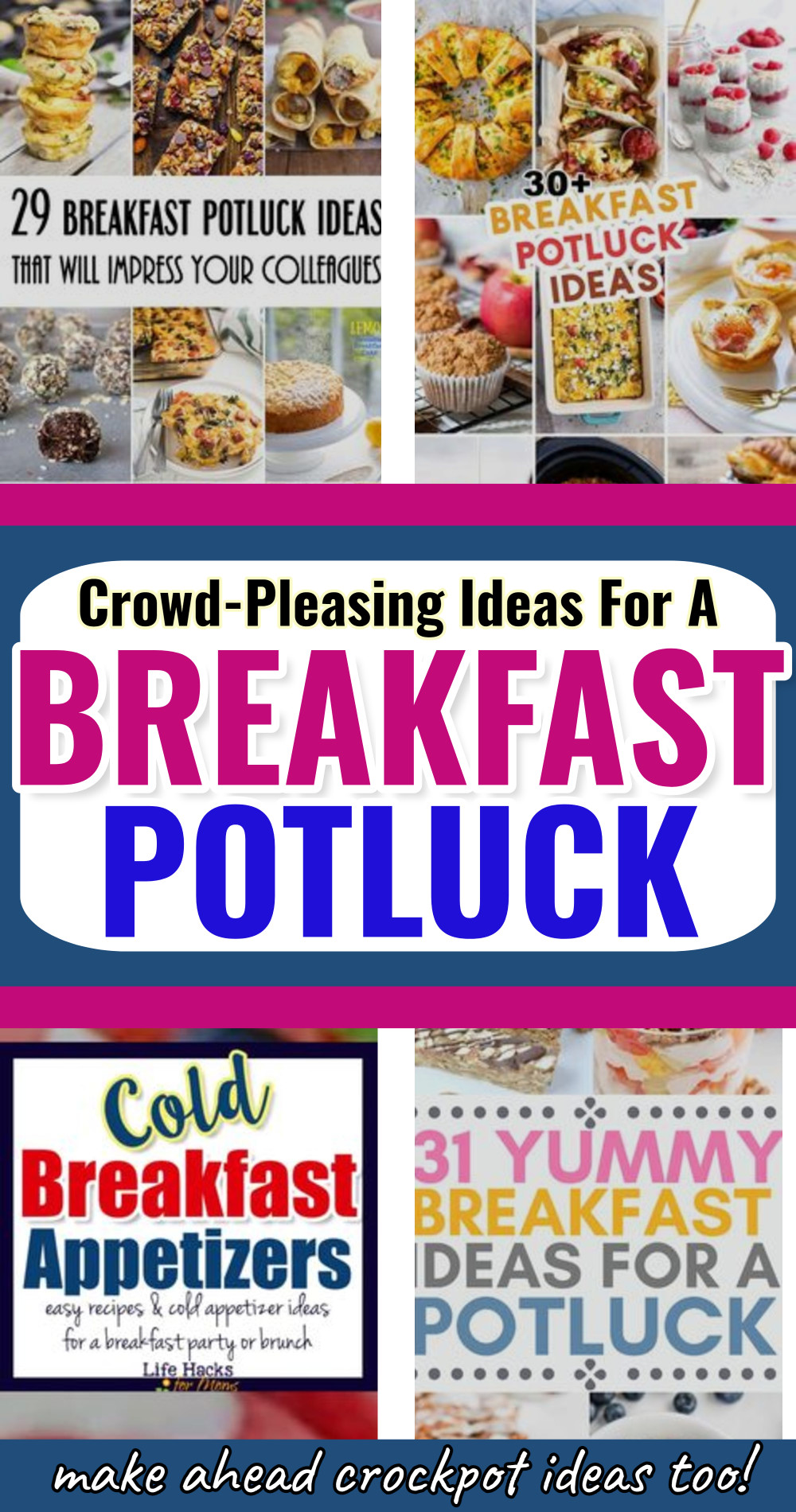 1 – 29 Breakfast Potluck Ideas That Will Impress Your Colleagues – Leave your colleagues at work in awe (in a good way) with these delicious and make-ahead friendly breakfast potluck ideas. Everything from muffins to pancakes, burritos, waffles, granola bars, and more… keep reading
2 – 30+ Breakfast Potluck Ideas – Have you been invited to a breakfast or brunch potluck? Looking for the perfect breakfast potluck ideas to take on-the-go? These recipes are delicious for work gatherings, holiday potlucks, or anytime you want an easy breakfast recipe for a crowd… keep reading
3 – ✅ Cold Breakfast Appetizers-Finger Food Ideas For a Brunch Potluck Party – the best breakfast finger foods and cold bite size breakfast appetizers for a brunch party or breakfast potluck…see the recipes and ideas
4 – 31 Yummy Breakfast Ideas For A Potluck – Want some healthy breakfast food ideas that taste amazing? These potluck recipes are a great choice when you need breakfast dishes to bring to a potluck… keep reading