---
Fast & Easy Weeknight Meals with Few Ingredients For a Quick Simple DIRT CHEAP Dinner For The Family With Picky Eater Kids (and adults!)
Need an easy meal idea for TONIGHT? You gotta try these super simple and FAST dinner recipes with few ingredients! These easy weeknight meals are serious crowd-pleasers in my house of EXTREMELY picky eaters – toddlers, kids, teens AND adults! These easy dinner ideas don't cost much to make either – some are DIRT CHEAP – they're the perfect QUICK family meals on a budget when you need weeknight dinner ideas for the family with fussy eaters.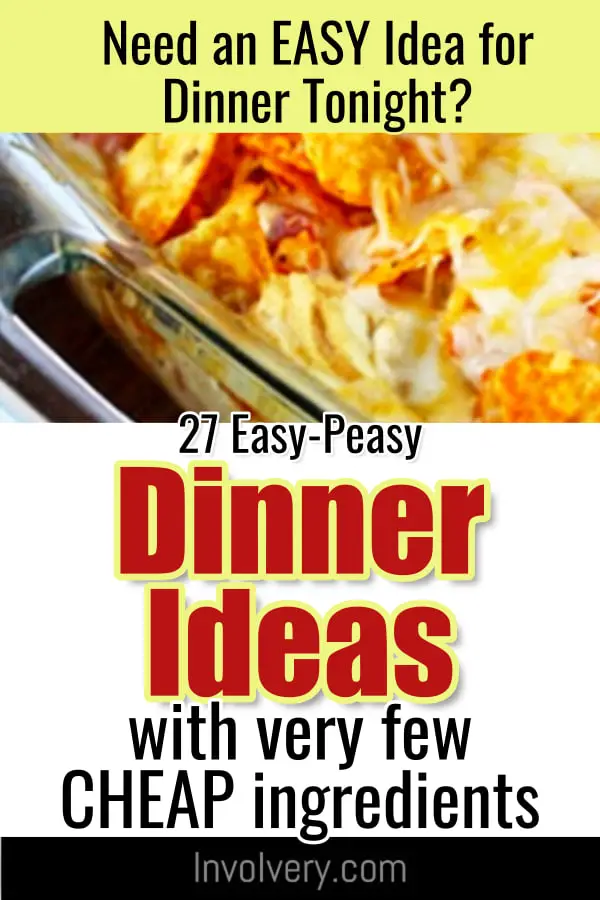 ---
Updated on January 30, 2023
posts may contain affiliate links -Enjoy and feel free to share with your friends!
---
Easy Weeknight Meal Ideas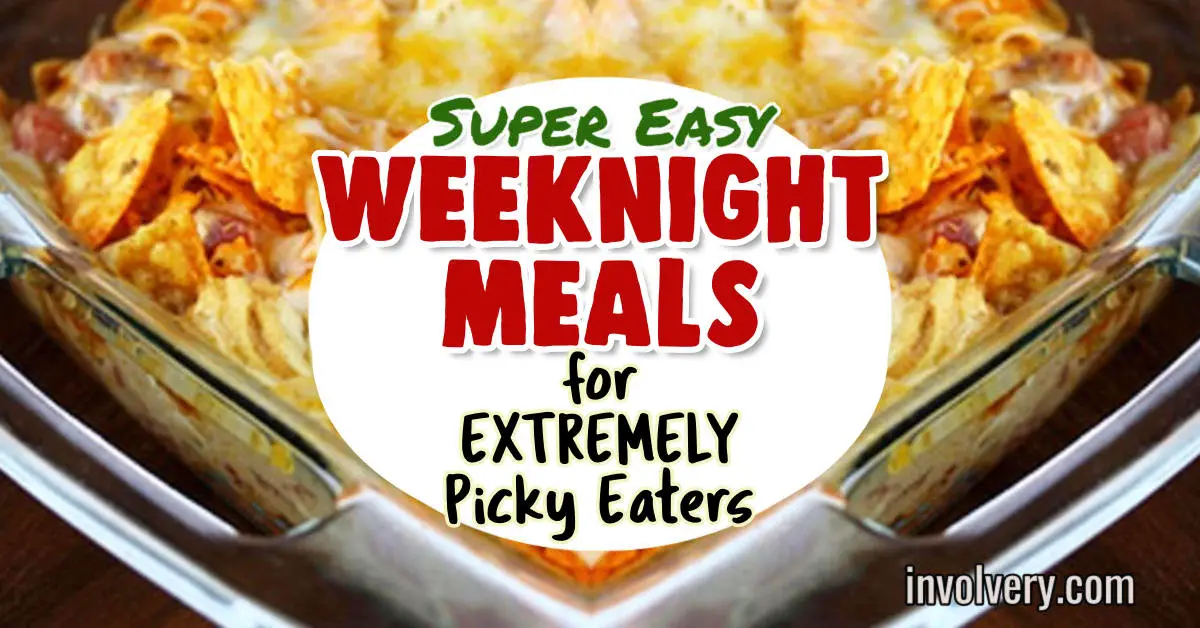 Below are my picky-eater family's FAVORITE easy weeknight meal recipes – that also happen to be MY favorites too because they're not only delicious, but they are so simple to make – and I almost always have the ingredients on-hand.
Budget Meals For Picky Eaters
If you already have some ground beef or chicken (even left-over chicken!), your family is going to love these easy budget meals for picky eaters too!
10 Easy Dinner Ideas For Picky-Eaters (recipes below):
Easy Dorito Taco "Salad"
4-Ingredient Hamburger Pie
Picky-Eater Chicken Dorito Casserole
5-Ingredient Chicken Breasts
3-Ingredient Baked Chicken
Easy Crock-Pot Chicken and Stuffing
Hidden Veggie Spaghetti
Saltine Chicken Tenders
Fussy Eater Meatballs with Mac and Cheese
Fabulous French Fries
Before we jump in, I just have to share something with you…
My family (a.k.a. my KIDS) are SUPER picky eaters and it can be a real challenge getting them to eat anything that's not PB&J or chicken nuggets.
If your kids are picky-eaters too…
My kids LOVE them – shocks me every, single time, but they really eat them!
And, if your kids like to COOK…
These kid-friendly recipes from Rachael Ray are wonderful.
It's funny how it works, but if my kids cook it, they tend to EAT it too =)
From main dishes to casseroles, let's jump in the easy dinner recipes to try TONIGHT.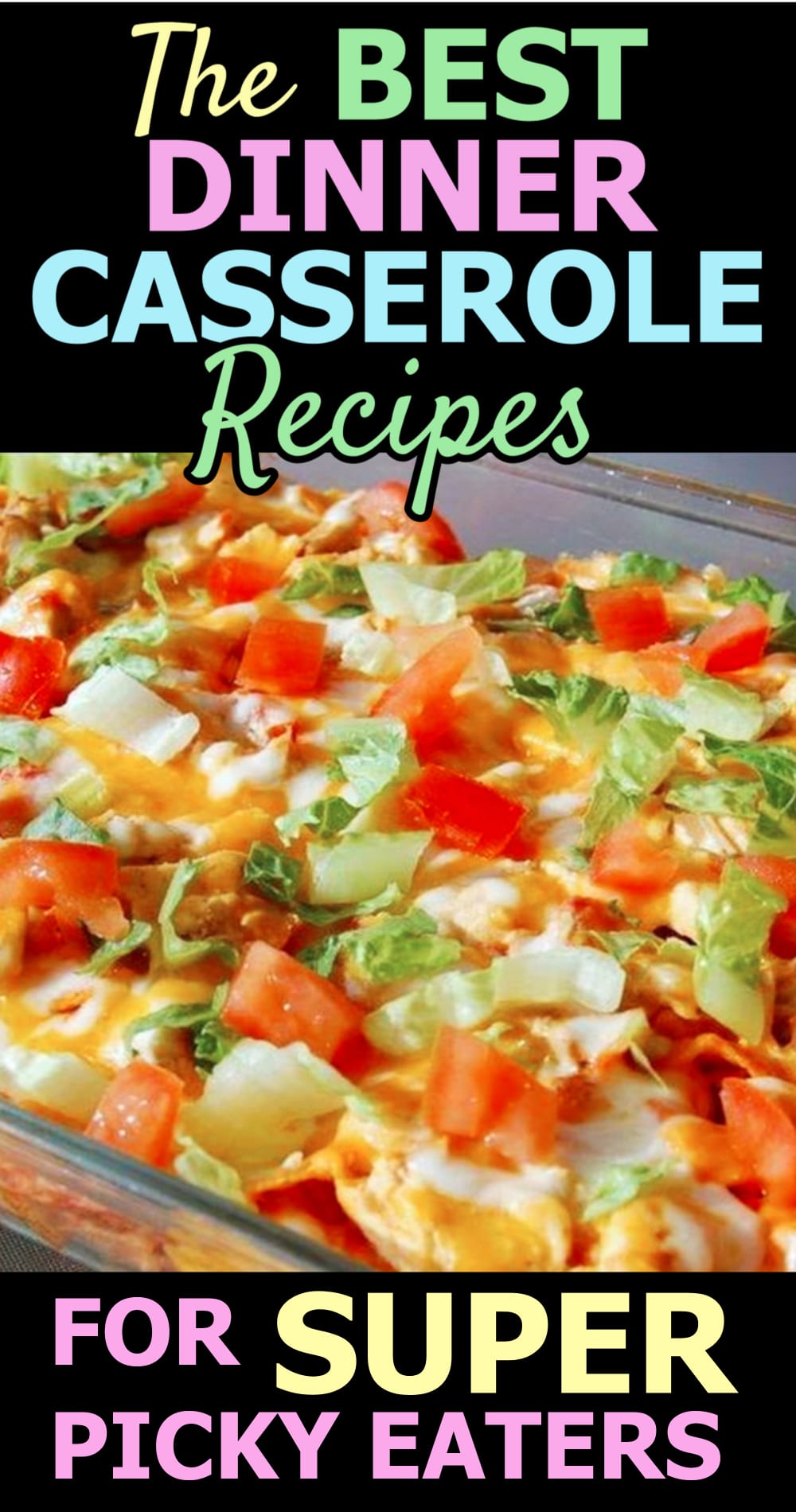 I'm ALL about super easy casseroles for picky eaters adults AND kids to eat – that they WILL eat. I get so tired of cooking – no one eats – and then I see a kid with a Pop Tart in their hand 20 minutes later because, and I quote – they're STARVING. Ugh.
That "walking taco" casserole in the picture above is not only VERY simple to make, but the kids EAT it.
You can print the recipe here.
It's one of my favorite recipes too when I need something easy to make with ground beef.
Easy Dorito Taco Salad
This super simple Dorito Taco Salad is my secret way to get my kids to eat lettuce!
It is SO good and really simple to make.
I've even made BIG batches of this taco salad for my family gatherings – it's one of my favorite potluck main dishes – everyone gobbles it up!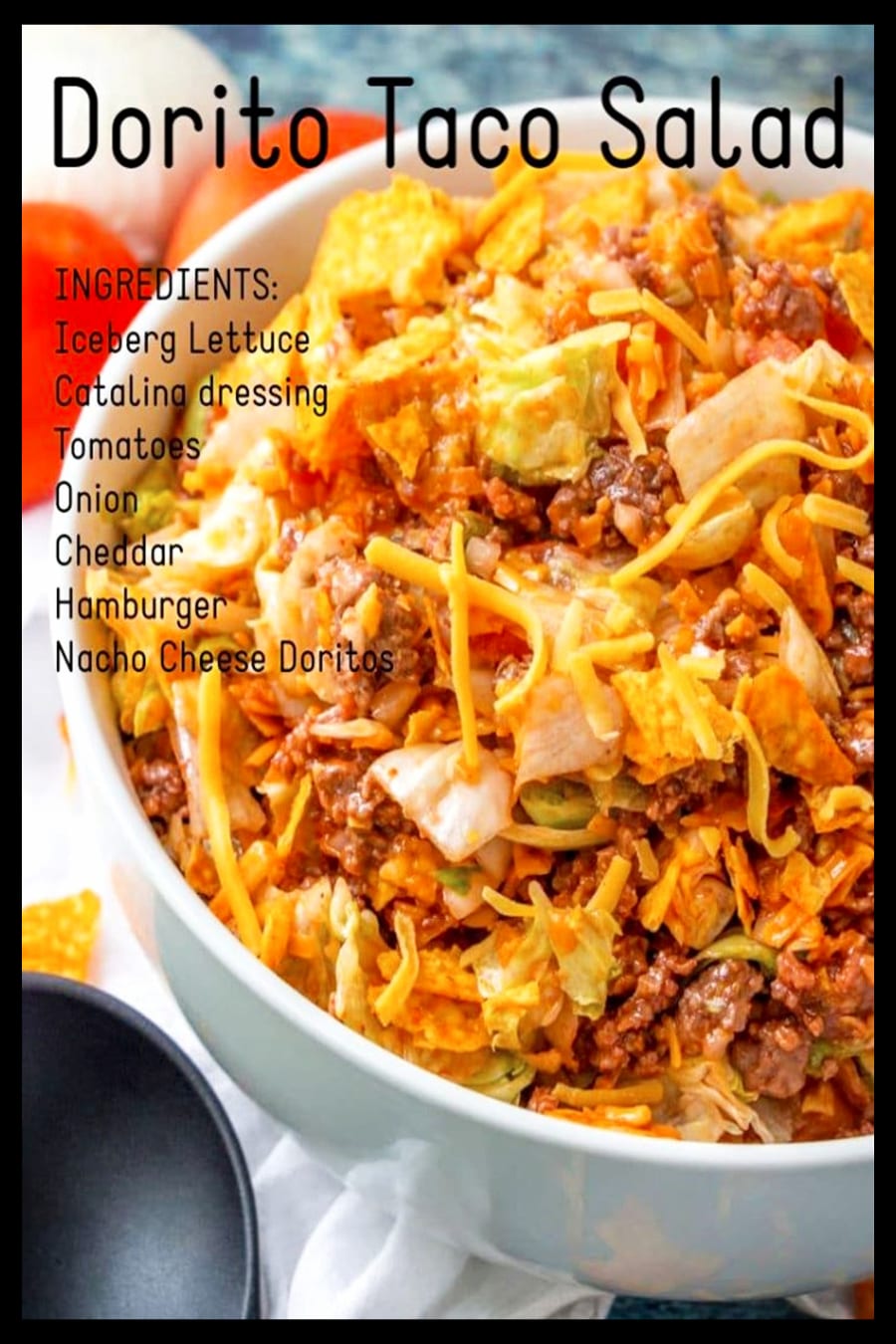 4-Ingredient Hamburger Pie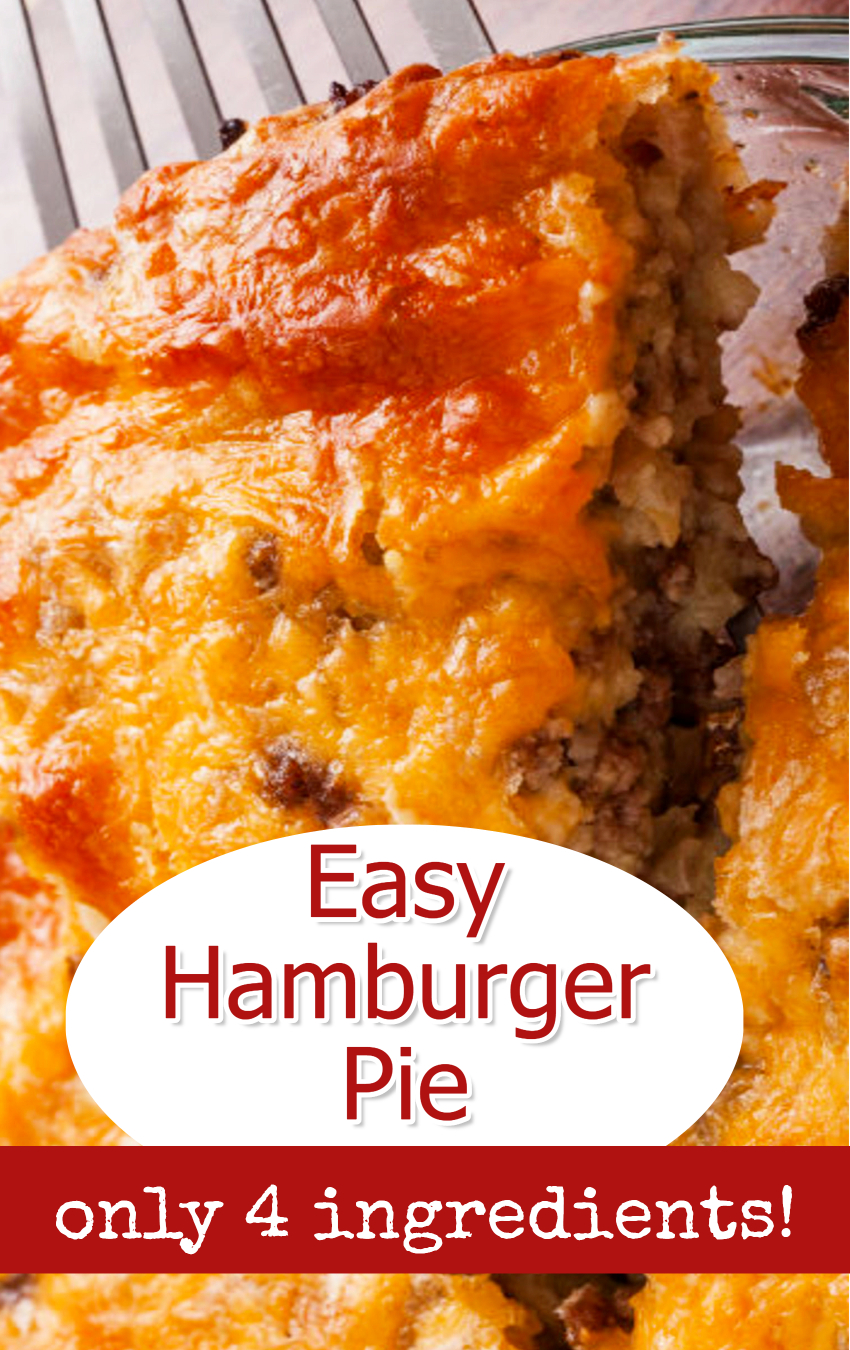 Easy Hamburger Pie Recipe
Ingredients:
1 1/2 pound ground beef
1 can (10.75-ounces) Campbell's Condensed Cream of Mushroom Soup
2 (8-ounces each) packages of refrigerated Pillsbury crescent rolls
1 cup your favorite Kraft shredded cheese
How To Make It:
Preheat oven to 350 degrees F.
Cook the beef in a 10-inch skillet over medium-high heat until well browned, stirring often to separate meat. Pour off any fat. Stir the soup in the skillet.
Unroll 1 package crescent roll dough and press on the bottom and up the sides of a 9-inch pie plate. Press the seams to seal.
Layer half the beef mixture and half the cheese in the pie plate. Repeat the layers.
Unroll the remaining dough. Place the dough over the filling and press the edges to seal, if desired.
Bake for 15 minutes or until the crust is golden brown.
Now, if your picky-eater kids love Doritos as much as mine do (and as much as *I* do), they will LOVE this next easy recipe.
Picky-Eater Chicken Dorito Casserole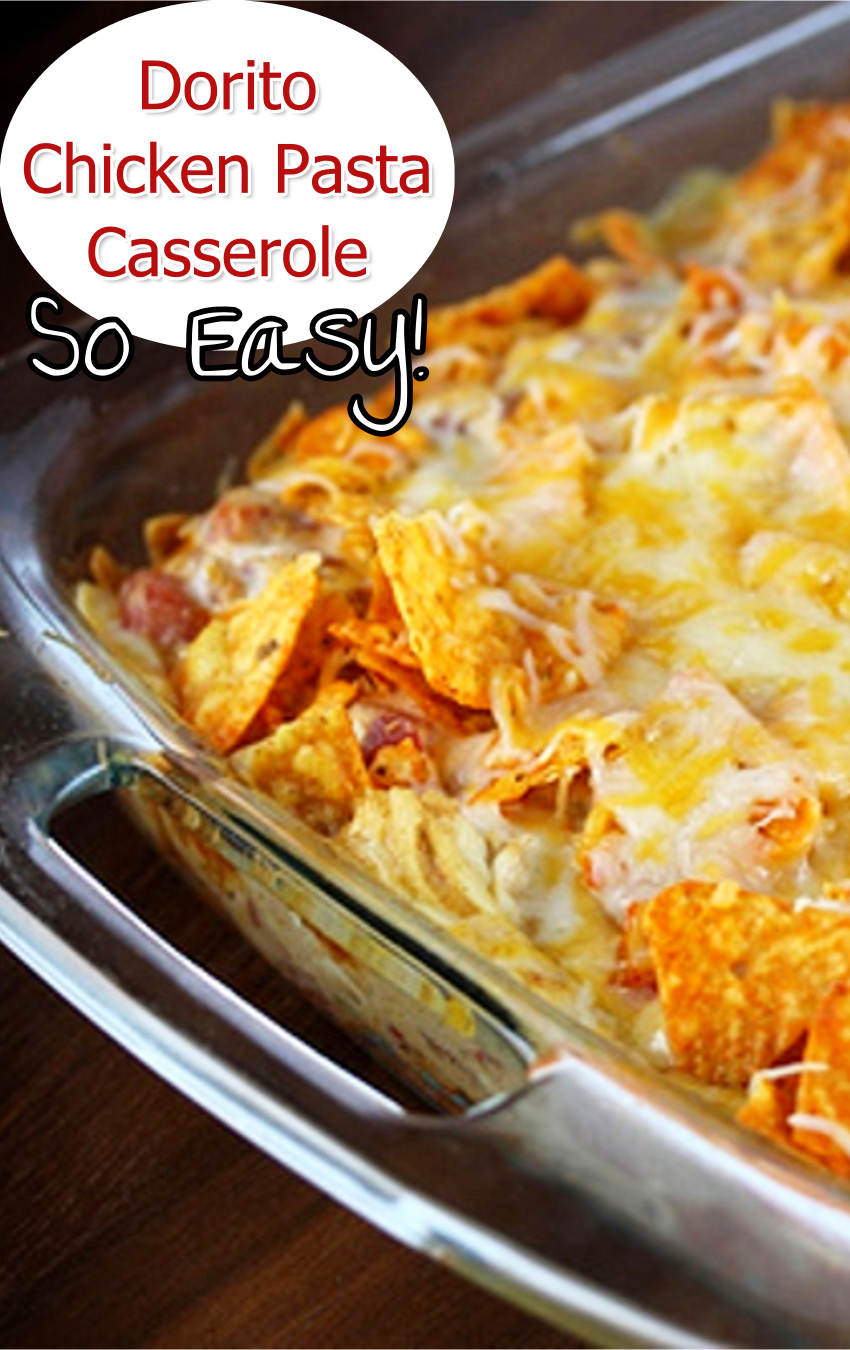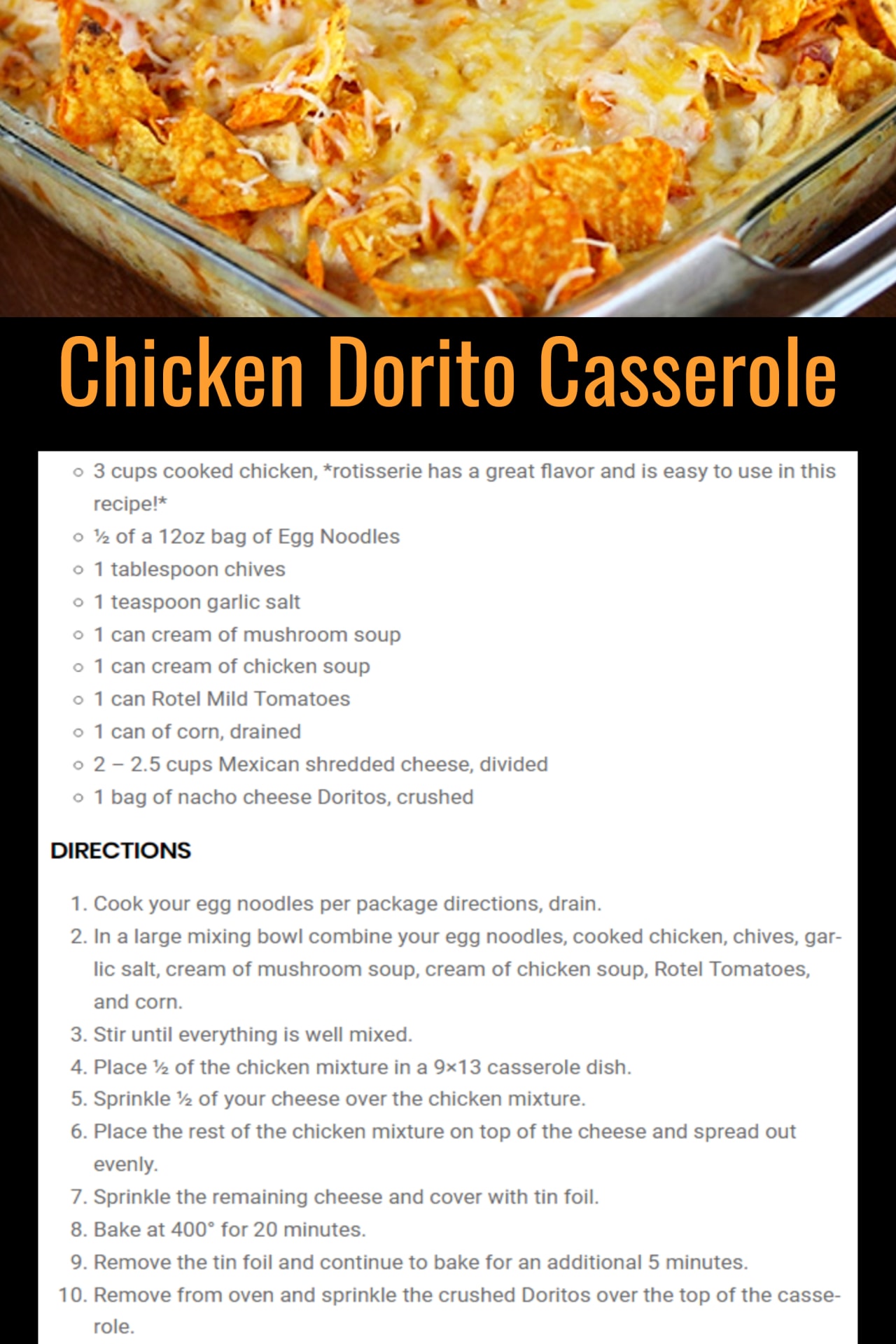 Easy Chicken Dorito Casserole Recipe
Ingredients:
3 cups cooked chicken(great with leftover chicken!)
½ of a 12oz bag of Egg Noodles
1 teaspoon garlic salt
1 can cream of mushroom soup
1 can cream of chicken soup
1 can Rotel Mild Tomatoes
1 can of corn, drained
2 – 2.5 cups Mexican shredded cheese, divided
1 bag of nacho cheese Doritos, crushed
How To Make It:
Cook your egg noodles per package directions, drain.
In a large mixing bowl combine your egg noodles, cooked chicken breast, chives, garlic salt, cream of mushroom soup, cream of chicken soup, Rotel Tomatoes, and corn – mix well.
Place ½ of the chicken mixture in a 9×13 casserole dish.
Sprinkle ½ of your cheese over the chicken mixture.
Place the rest of the chicken mixture on top of the cheese and spread out evenly.
Sprinkle the remaining cheese and cover with tin foil.
Bake at 400° for 20 minutes.
Remove the tin foil and continue to bake for an additional 5 minutes.
Remove from oven and sprinkle the crushed Doritos over the top of the casserole.
If you like chicken, and BACON… and CHEESE – this next easy recipe will be one of your favorites (we even make these as appetizers too)
5-Ingredient Chicken Breasts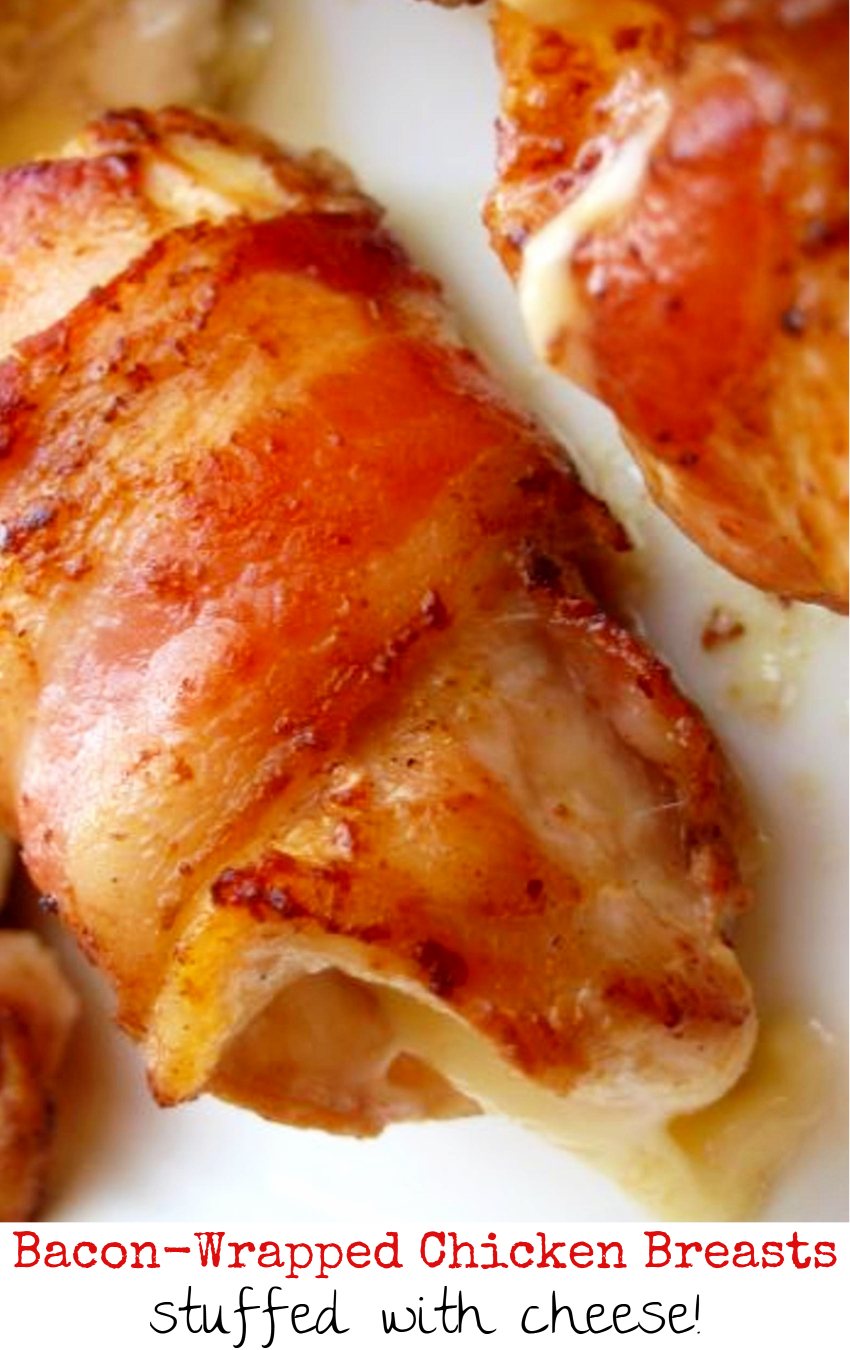 Easy Bacon Wrapped Chicken Breasts Recipe
Ingredients:
1 lb. Boneless skinless chicken breast cut into 4 – 4 ounce pieces
4 tablespoons cream cheese
¼ cup Pepperjack cheese, shredded
2 tablespoons green onion, chopped
4 to 8 pieces of bacon, uncooked
(note: our family doesn't "do" onions, so I leave the green onion out)
How To Make It:
Cut chicken into 4 equal size pieces. Pound breast so it is about ¼" thick.
Mix together softened cream cheese, chopped green onions and shredded pepperjack cheese. Put ¼ of this mixture into the middle of each piece of chicken.
Starting at the long side, roll chicken breast up, keeping the cheese mixture to the middle.
Wrap 1 to 2 slices of bacon around the chicken breast, secure with toothpick, if needed.
Place on baking sheet and bake for 30 minutes at 375 degrees F.
Broil topside for about 5 minutes to fully brown and crisp bacon.
Turn each breast over and broil for another 3 minutes or so to crisp up the bottom side.
Serve Hot
You want EASY recipes with very few ingredients?
This next easy chicken dinner recipe is going to knock your socks off! It tastes like SO much work went into it, but it only takes THREE ingredients (and one of the ingredients is the chicken!)
Three-Ingredient Baked Chicken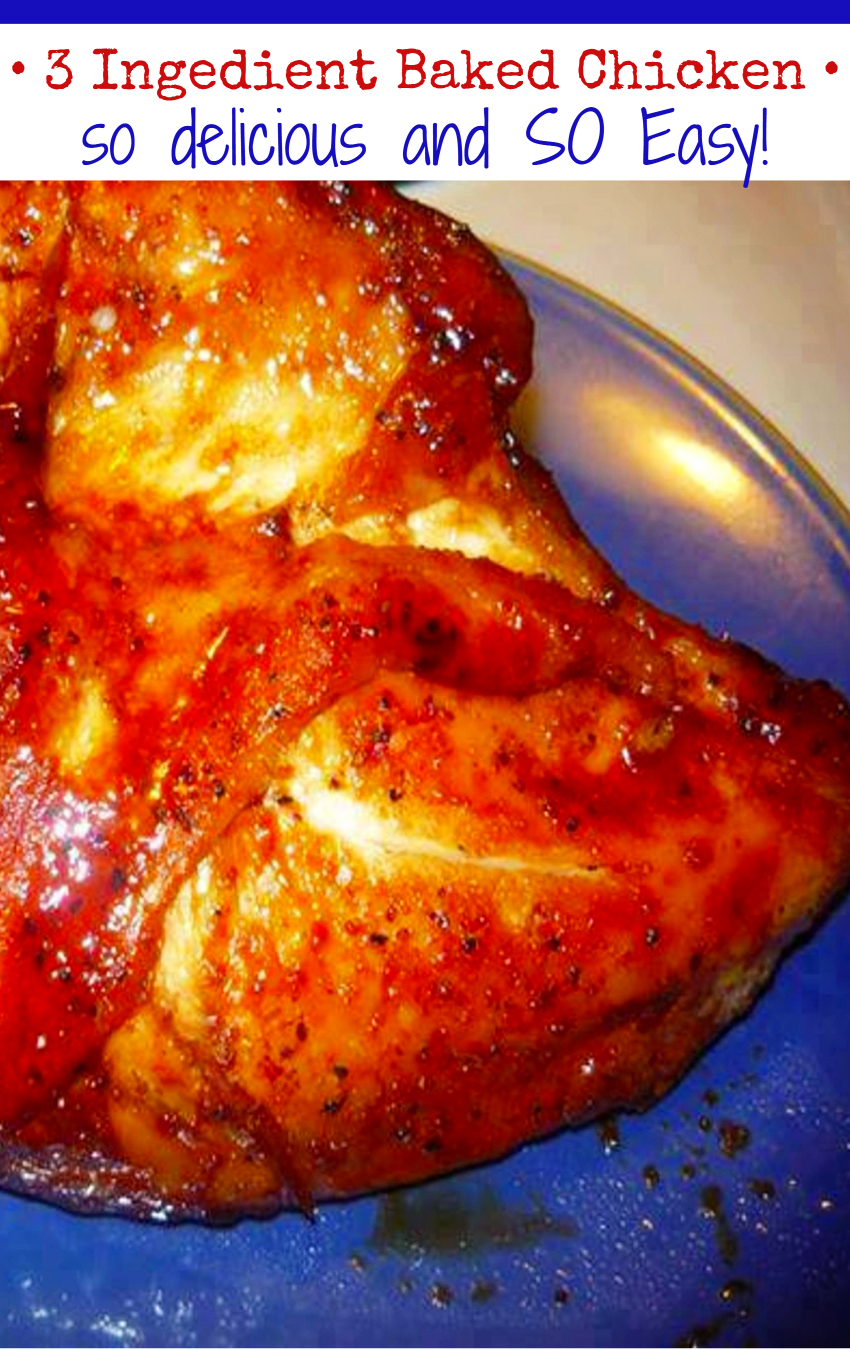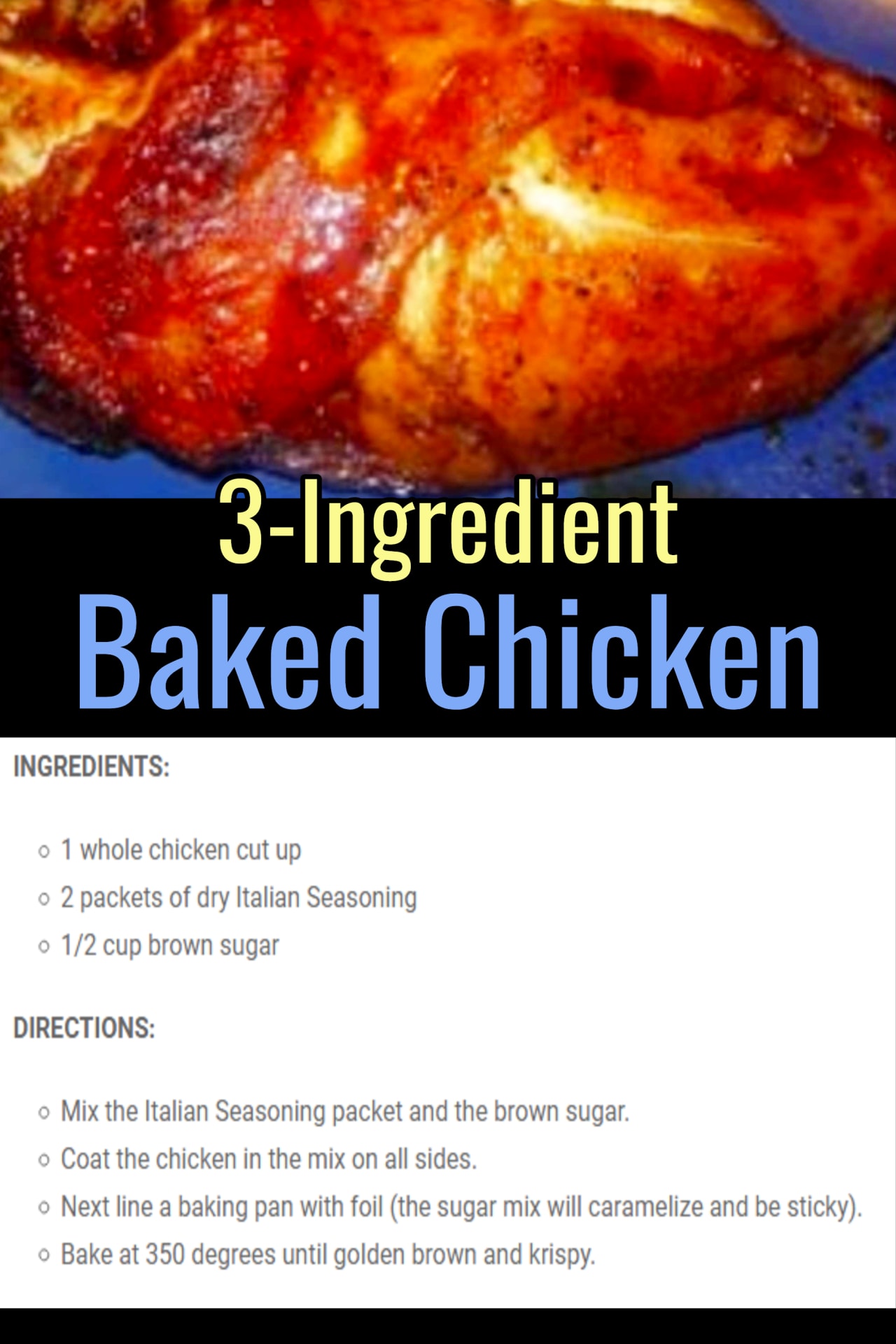 3-Ingredient Baked Chicken Recipe
note: this easy recipe calls for a whole cut-up chicken however, I make it with chicken breasts. Yes, it is much better with the skin from the whole chicken pieces, but this family prefers chicken breasts and white meat only – and it's still delicious!
Ingredients:
1 whole chicken cut up
2 packets of dry Italian Seasoning
1/2 cup brown sugar
Yes, that's it!
How To Make It:
Mix the Italian Seasoning packet and the brown sugar.
Coat the chicken in the mix on all sides.
Line a baking pan with foil (the sugar mix can get sticky and make for a messy clean up).
Bake at 350 degrees until golden brown and crispy and chicken is thoroughly cooked.
you simply will not believe how good it is!
What To Cook For Picky Eaters
Watch this quick recipe video below to find 5 more ideas of what to cook for picky eaters in your family.
French Fries On The Grill
This is one of my favorite Easy Summer Dinner Recipe Ideas – If you have picky eaters in your house (like I do), french fries are the 'go to' food for EVERY summer dinner – but who really wants to heat up the oven to cook frozen french fries, right?
Did you know, you can cook frozen french fries on your grill?
Yes, french fries on the grill is a very real thing – and wow, my kids LOVE them (and so do I!)
Here's how to cook "loaded" frozen french fries on your outdoor grill when cooking out or camping – they're delicious and so easy!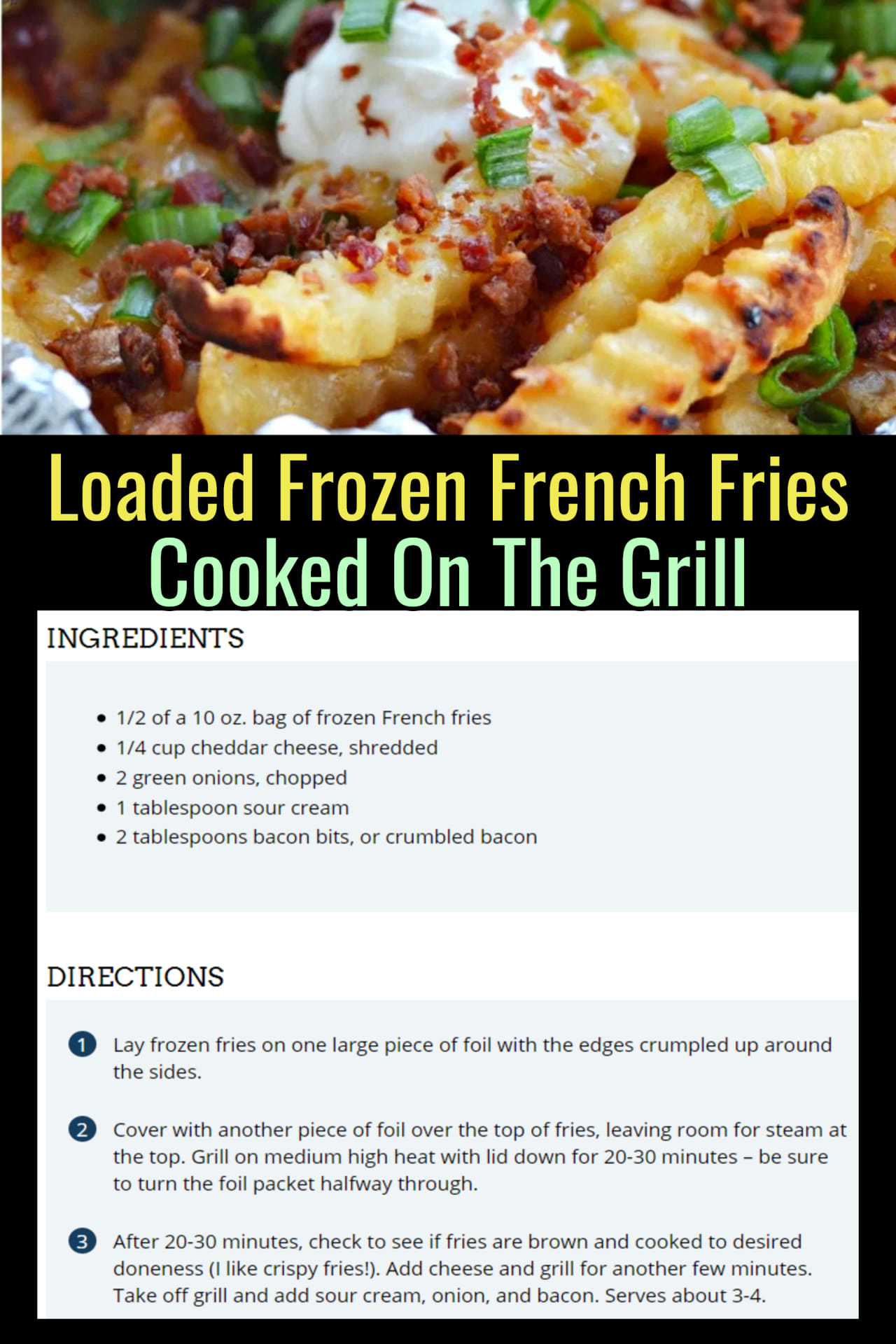 Best EASY French Fry Seasoning
Now this recipe is not one with few ingredients, but it is absolutely a BIG family favorite and a guaranteed crowd-pleaser – seasoned french fries.
The adults love them for the zest BUT they're not TOO spicy for the kids (in fact, my kids, who are SUPER picky eaters, LOVE this homemade french fry seasoning!
Best of all – you make this easy french fry seasoning for FROZEN french fries!
Here's the recipe: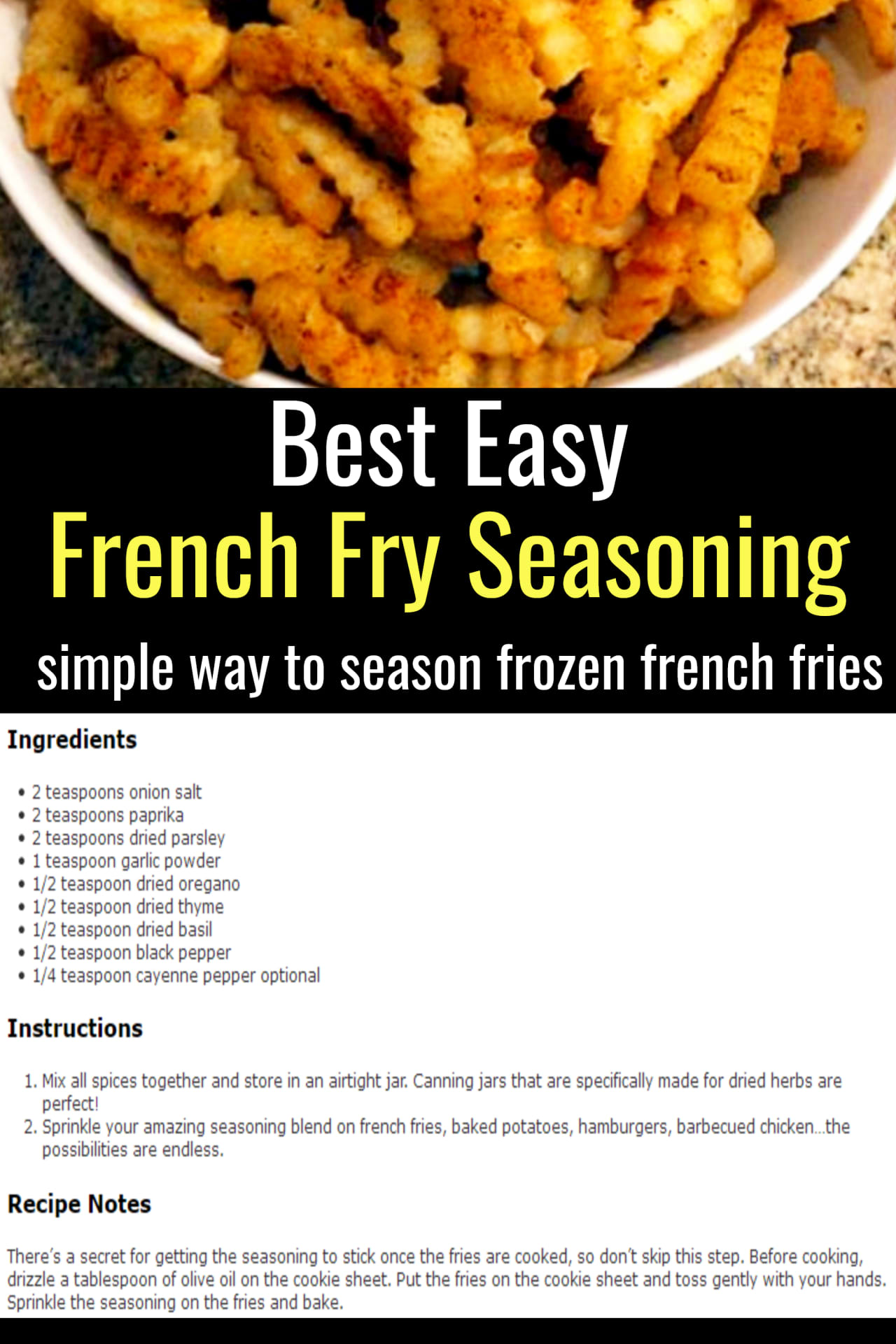 Easy Crock-Pot Chicken and Stuffing
When it comes to EASY dinner recipes that my family loves, this crockpot slow cooker chicken recipe is an all-time favorite – and it only has FOUR ingredients.
It's a Dump and Go dinner recipe – meaning, you just dump it all in your crockpot, cook on low for 4 hours, and presto!
A super easy one-pot family meal that even you're picky eaters will LOVE.
Note: this recipe, as is, can be a little on the bland side. If you prefer a bit more seasoned taste, be sure to toss in salt, pepper and other seasonings that your family loves on chicken breasts.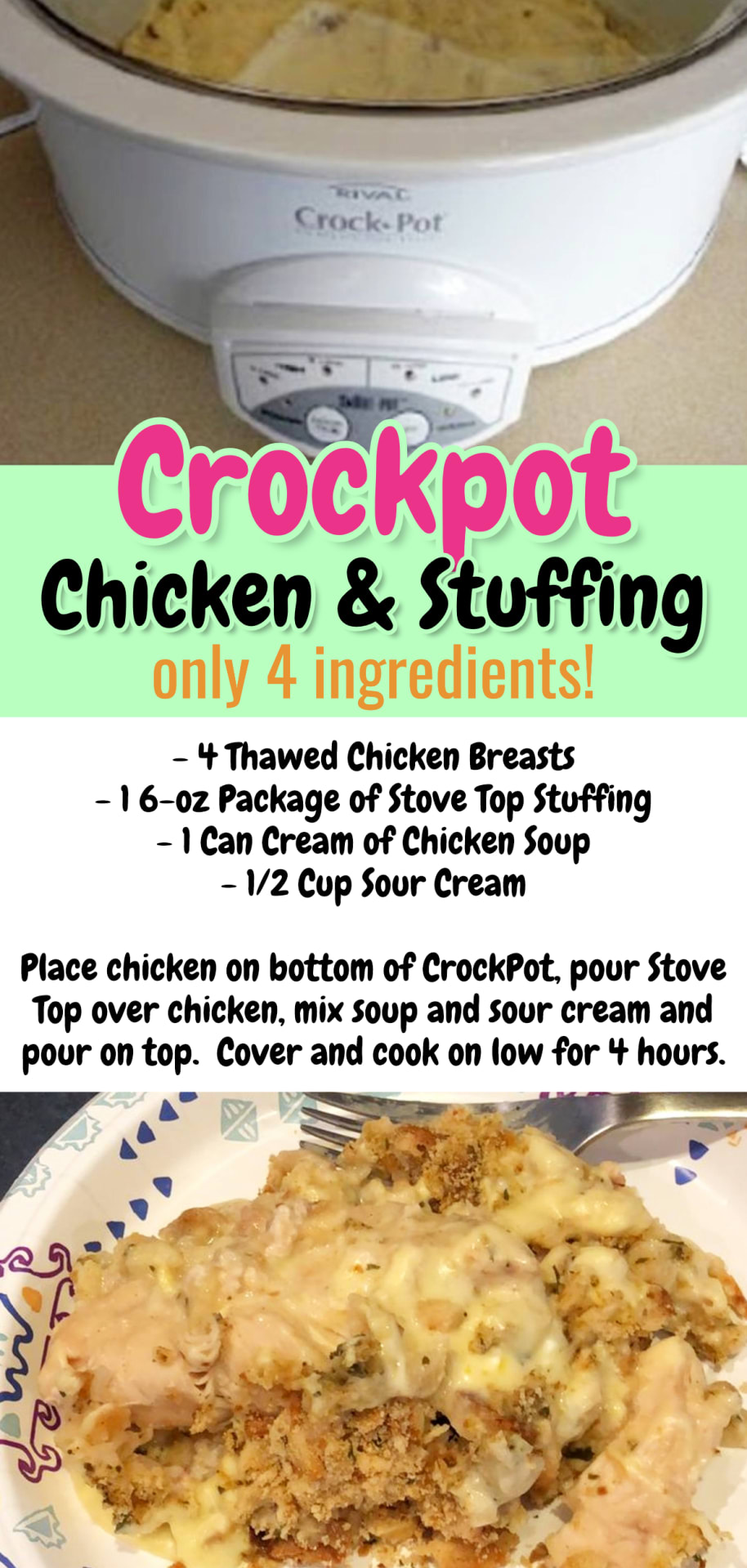 Miss Anything?
---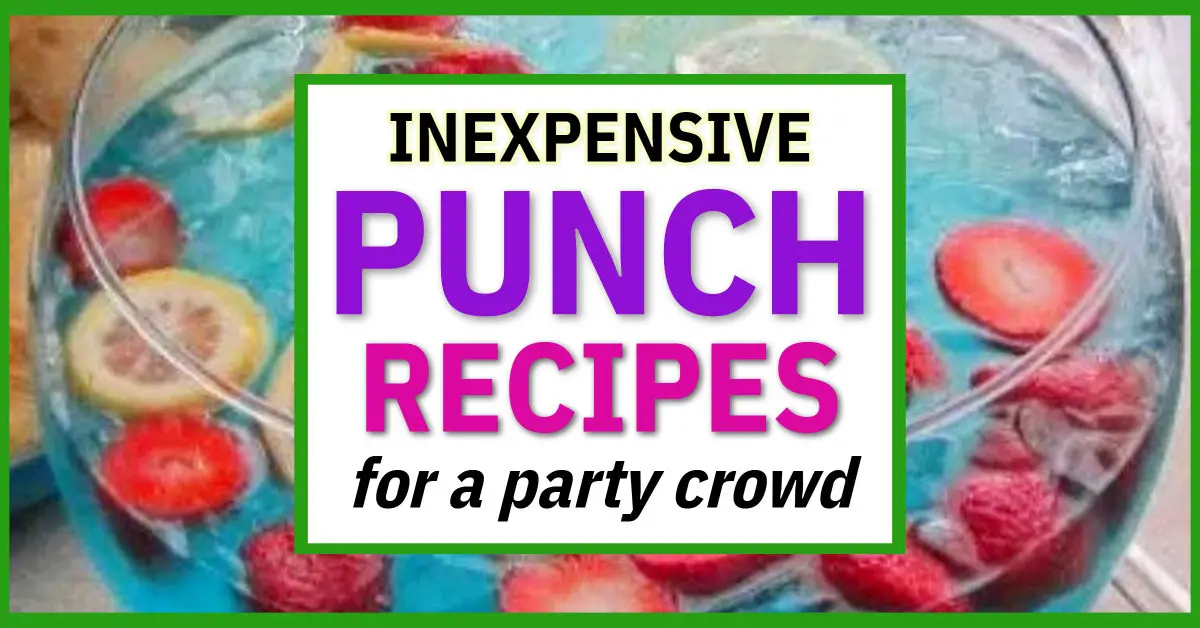 Simple & Easy Punch Recipes for a Crowd and Easy Party Drinks Ideas too! Lots of insanely good and inexpensive ...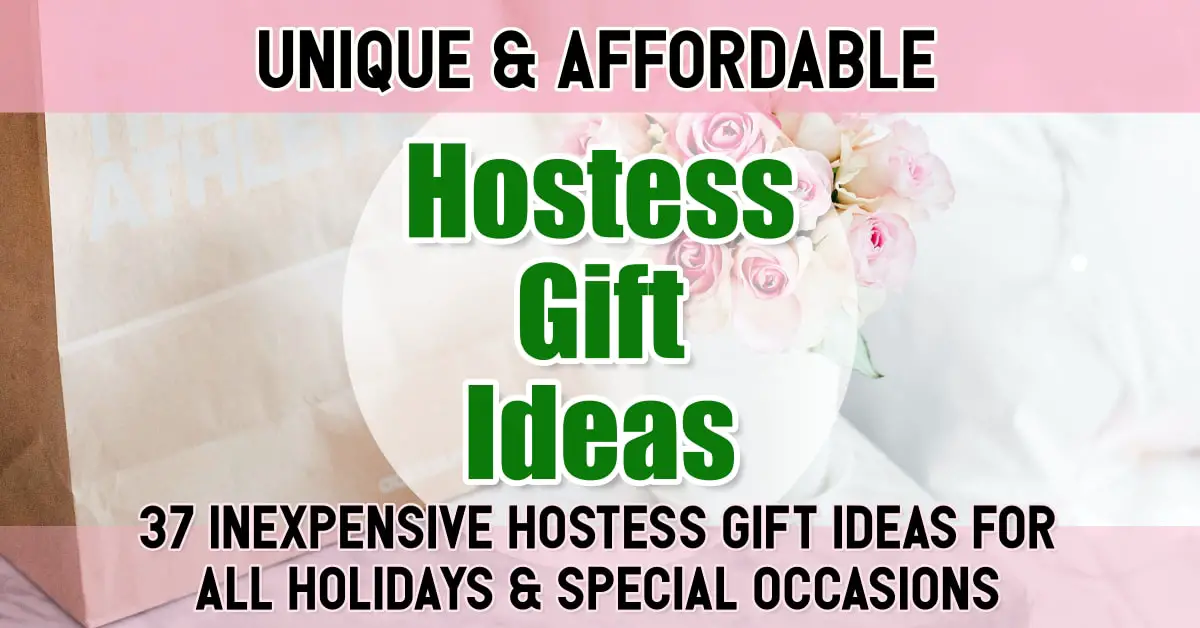 Inexpensive hostess gift ideas - Whether you're going to a baby shower, bridal shower, dinner party, a holiday get-together, a ...

---