---
Photo Walls Ideas For Hanging and Displaying Family Pictures – Family Picture Wall Arrangements, Layouts and Ideas for a Beautiful and TASTEFUL Family Photo Wall.
Displaying family photos on walls requires GOOD layout ideas. I really want a family wall, but I've been stuck trying to figure out how to tastefully display family photos on the walls in my living room, entrance hallway and other wall spaces in my home – below are some layout ideas I think look really good.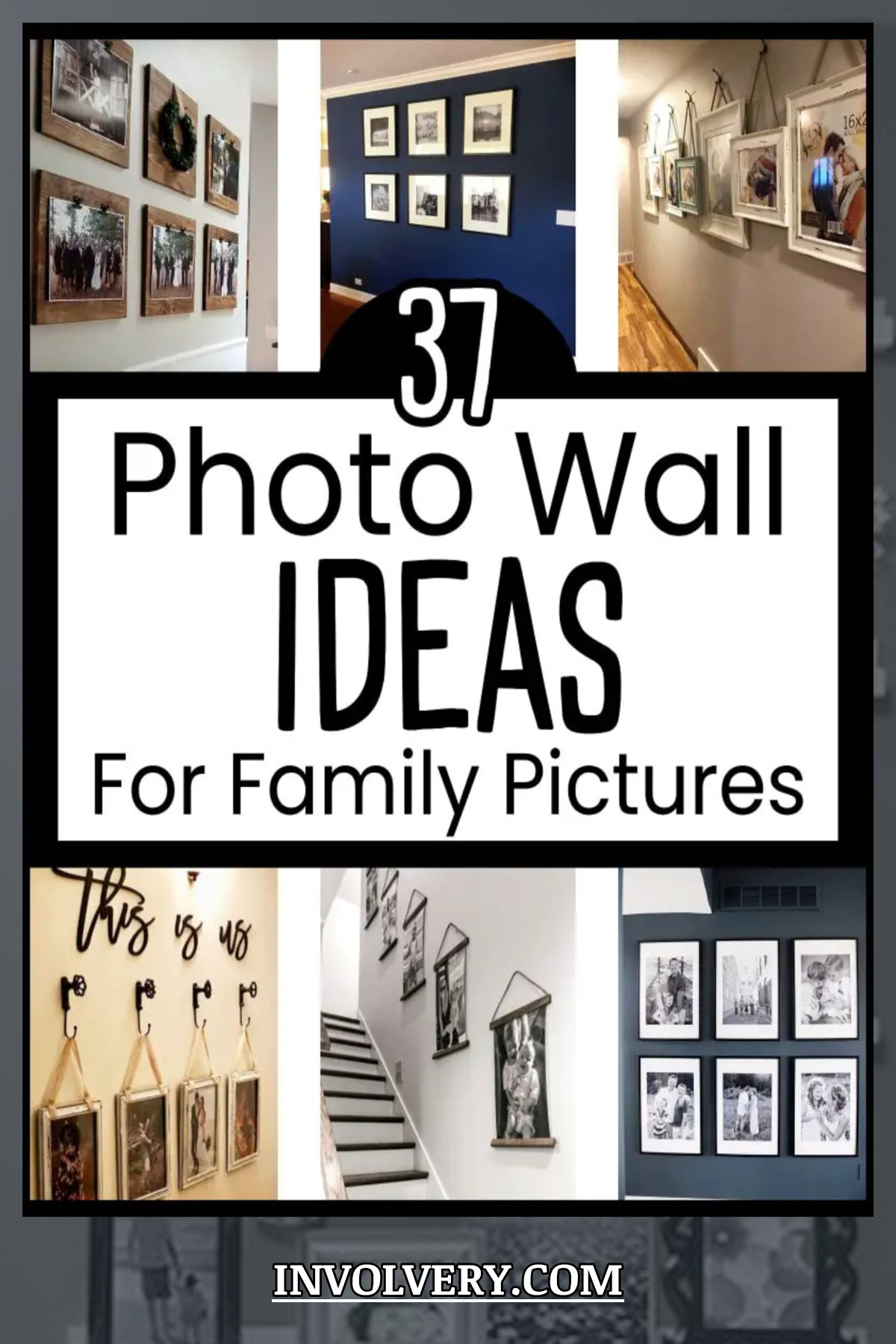 ---
Updated on September 10, 2023
posts may contain affiliate links -Enjoy and feel free to share with your friends!
---
Family Picture Wall Ideas
Let's look at how to display family photos-tasteful layouts and ideas for your walls. These are simple and aesthetic layout ideas that, to me, do NOT look cluttered at all.
To me, these ideas and ways of arranging family photos on a wall are very tasteful and look really nice.
I wanted a family photo wall layout that looked more like an accent wall with pictures – and that's what the ideas in the example pictures below are.
I found some minimalist-style layouts that are more level and balanced – some are staggered – and some are a bit more of a "farmhouse collage" in decor style – but these are the family photo wall layouts I am considering for my home.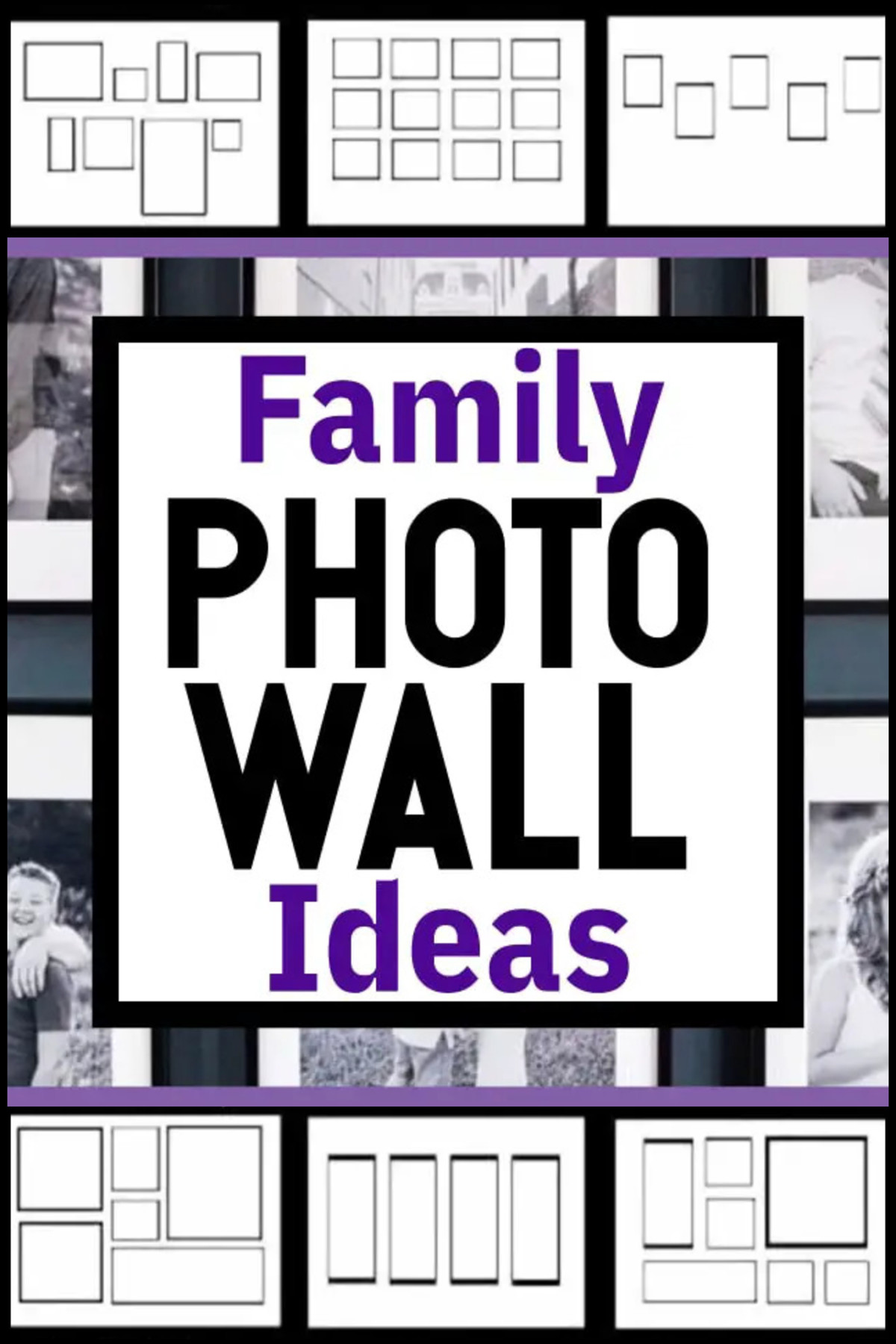 Before we jump in, let me answer a question I received from a reader.
She rents her home and can't put nails in the walls to hang her pictures.
She asked me:
Hey Jen! What's the easiest way to hang family pictures on my walls if I rent and can't use nails? TIA Shana!
For Shana, and all others that can't – or don't WANT to – use nails to hang wall photos, here are a few options:
One option is to use adhesive strips or picture hanging strips, which are removable and won't damage the walls.
You can also use putty (called "mounting putty") to hang your pictures without damaging the walls – I'll talk about using that kind of putty down below.
Another option is to use a picture rail or picture molding that you can install near the ceiling and hang your pictures from that using picture wire and hooks. This allows you to easily move the pictures around without damaging the walls.
I'll show you some examples of that option in the pictures below.
Ok, let's look at some tasteful layouts I think are just gorgeous!
For Living Room
I have 2 empty wall spaces I am considering hanging family pictures on – over my couch and over my fireplace. I'm pretty sure I'm gonna go with over my couch and then decorate my fireplace wall like this.
Naturally, the hubby wants his big a$$ flat screen over the fireplace, but I'm gonna veto that. That fireplace wall is a serious focal point and I want it to be really aesthetic and give that wow factor when you walk in the room.
So, over the couch it is.
I really like this simple, yet personal, family photo wall layout idea for my grey living room – I think it would look great over my couch!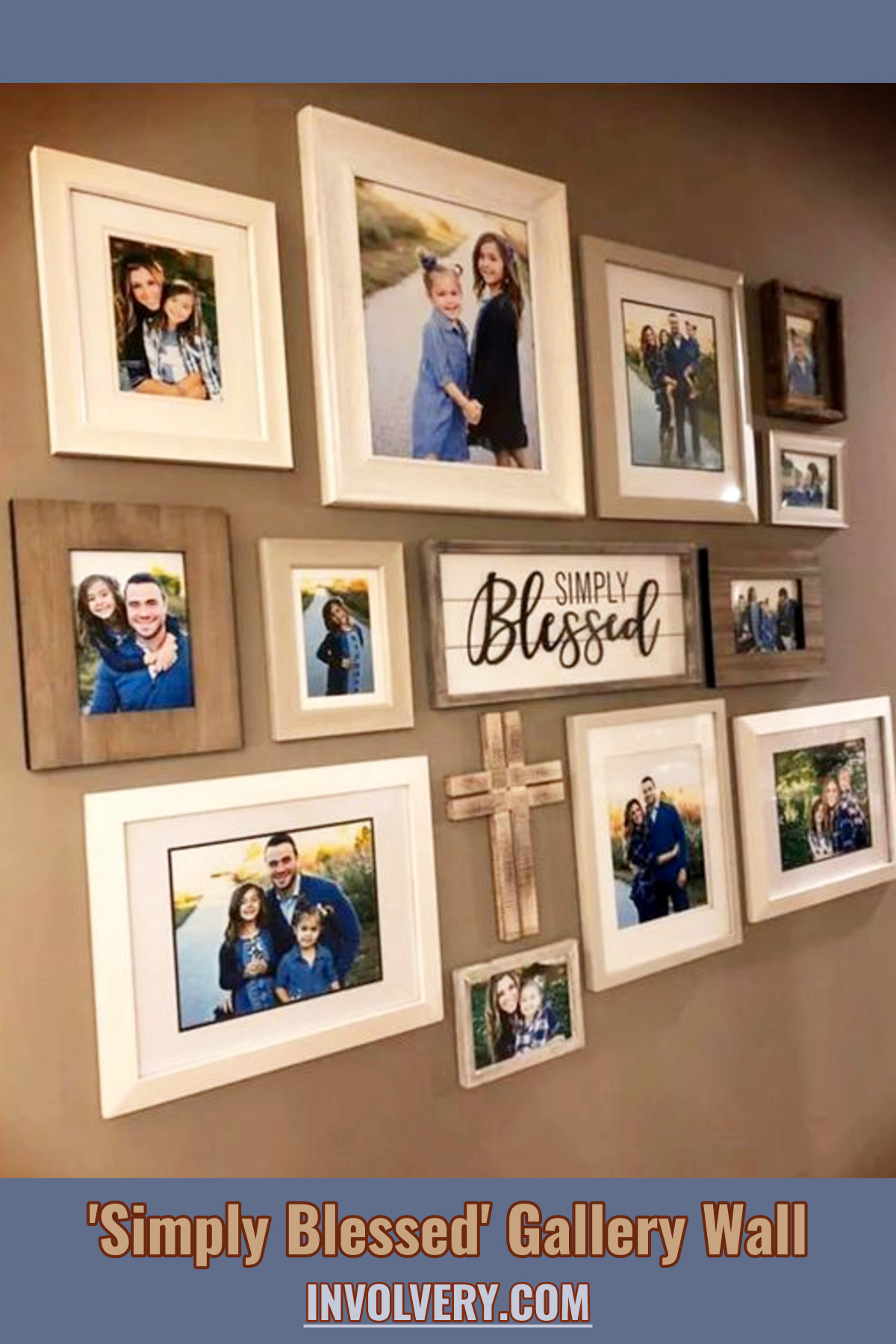 I love the "Simply Blessed" gallery wall theme with the various frame sizes and coordinating colors – very pretty and tasteful yet not cluttered or overwhelming!
For Hallway
I LOVE this family picture display wall idea for hanging photos in the narrow hallway outside our guest bathroom.
I was a HUGE fan of the show 'This Is Us' so naturally, this design idea is one of my favorites.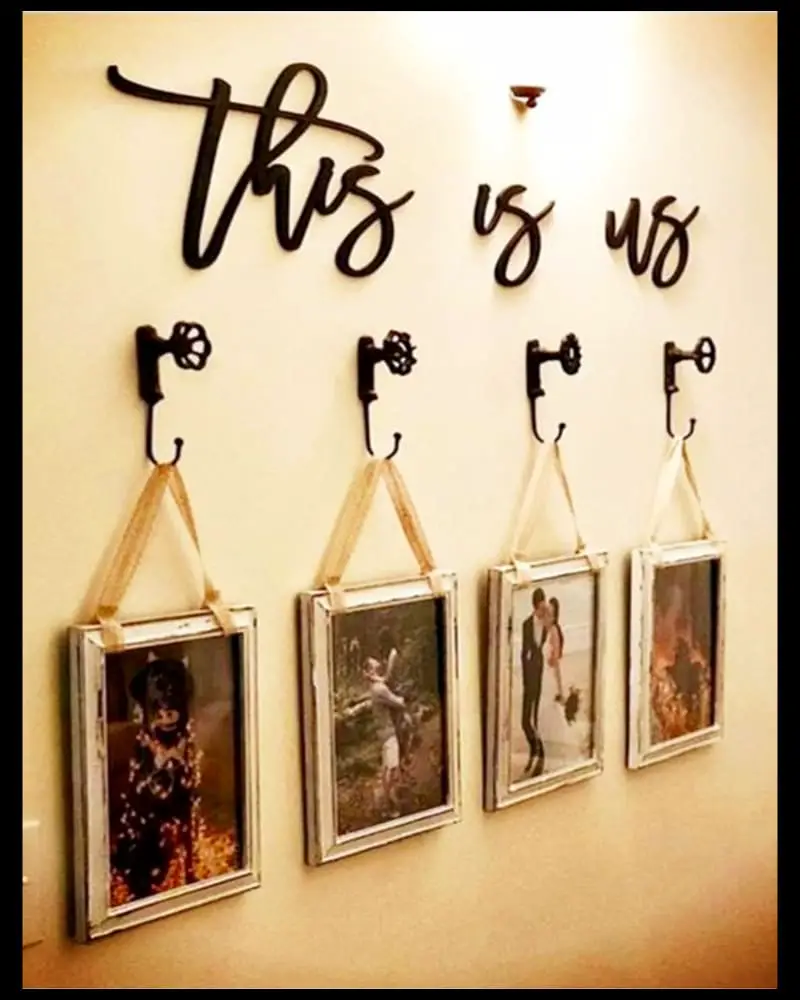 I have a long, narrow hallway going towards my master bedroom and the wall is totally empty, bare and BORING.
I didn't want to hang some favorite family pictures in a busy, overwhelming way – rather something more tasteful and simple.
This next idea is really pretty and unique.
Take a look at the arrow I put on the picture below…
Can you see what they hang those pictures with?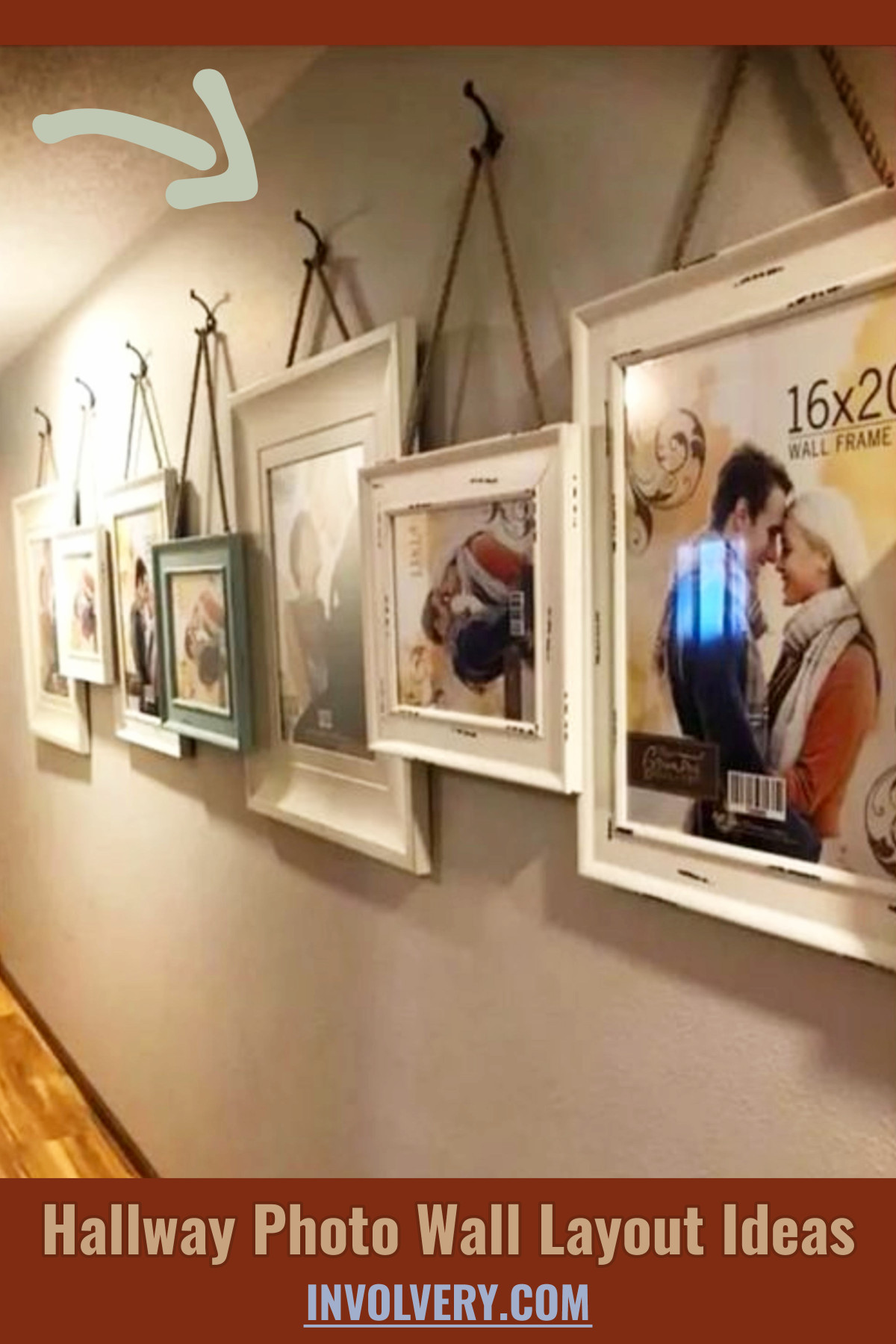 If you guessed Metal Wall Coat Hangers like these – you're right!
Pretty genius, right?
Here's all you need to recreate that photo wall layout:
 Use Coat Hangers✅ I Found It Here With Large Frames✅ I Found It Here Hung With Rope✅ I Found It Here
That's it!
Some large frames in two different sizes (photo above shows 16×20 and 8×10 frame sizes) – put your metal coat hangers on the wall and then user heavy duty rope to hang the pictures.
This next family photo wall decor idea I absolutely LOVE.
Just look at the layout in the example picture below: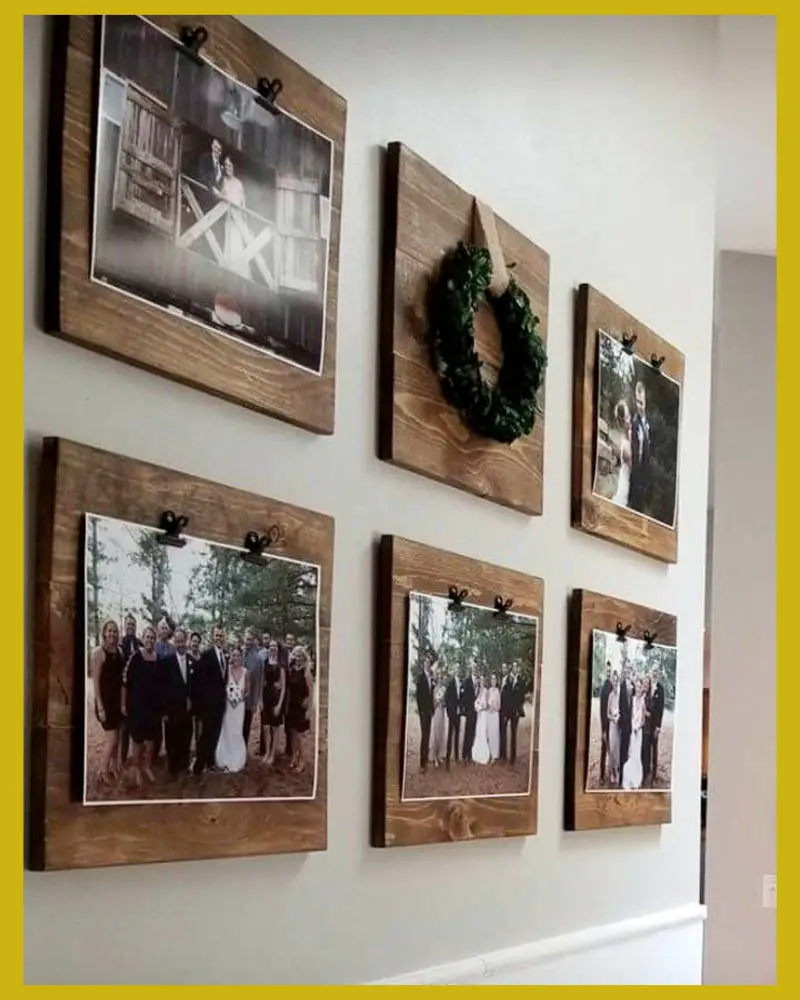 Instead of using frames around my pictures, I can display the family photos WITHOUT frames and hang them on pieces of rustic pallet wood.
Isn't it gorgeous!?!?
Arrangement Ideas
There are SO many truly unique and classy ways to hang your favorite family pictures on any wall in your home – I wish I had design vision like these ideas below!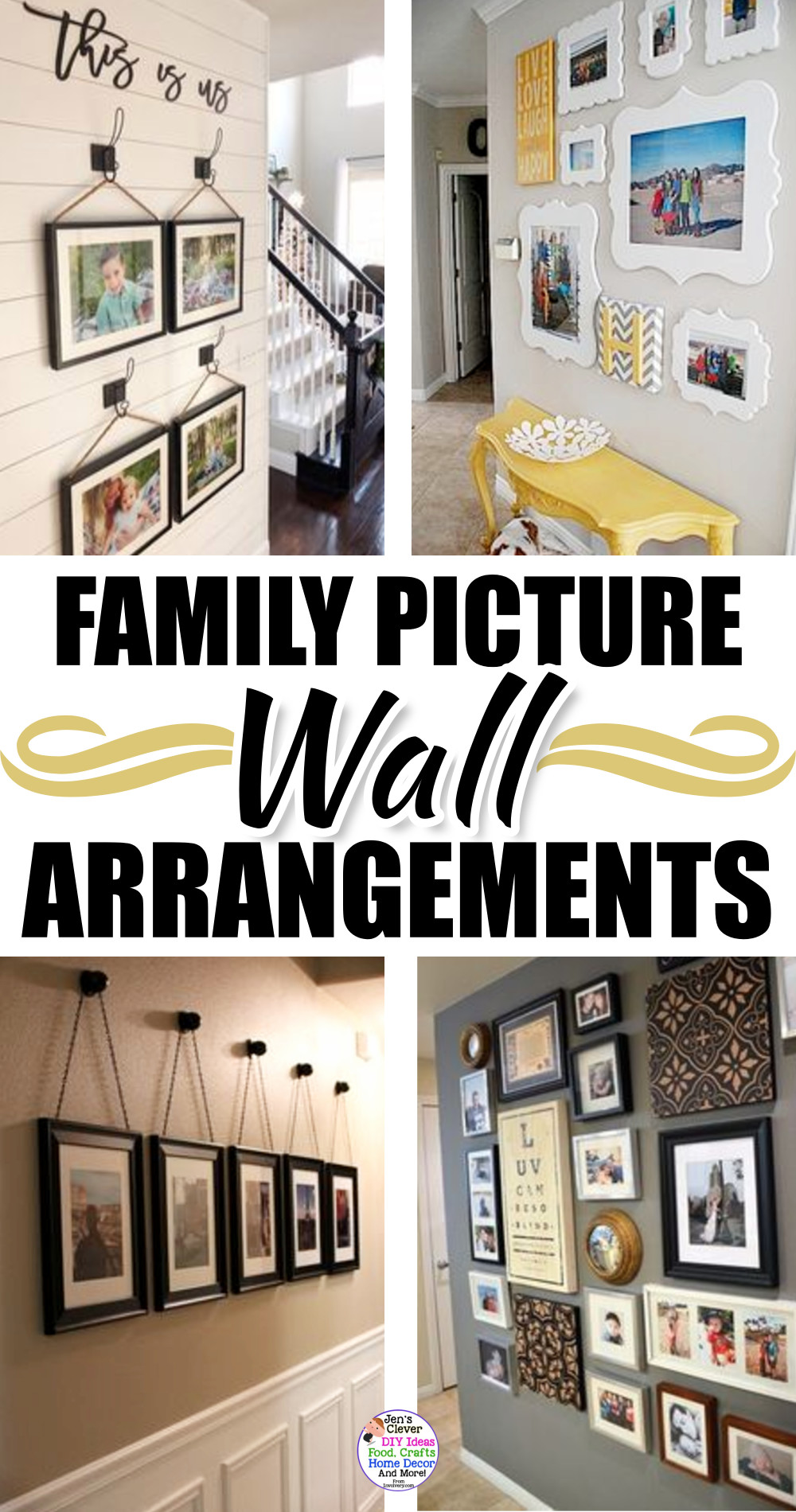 I'm naturally drawn to the This Is Us arrangement on that gorgeous white shiplap wall – so pretty!
But I gotta admit, that arrangement over the yellow entrance hall table is quite aesthetic – and just… well, FUN =)
I do believe I've seen those flat picture frame at Hobby Lobby. They come unpainted so you can paint the frames whatever color works for you (or stain them).
The large pictures hung on pegs down the hallway is really, REALLY pretty. It's just nice and balanced and even – and sills up that large empty wall space without cluttering it up.
I do love the idea of a full gallery wall layout like the bottom right picture, but I think that's a little too "eclectic" for MY taste – but it sure is pretty.
On this same page, I also found these ideas for displaying our family pictures on the wall: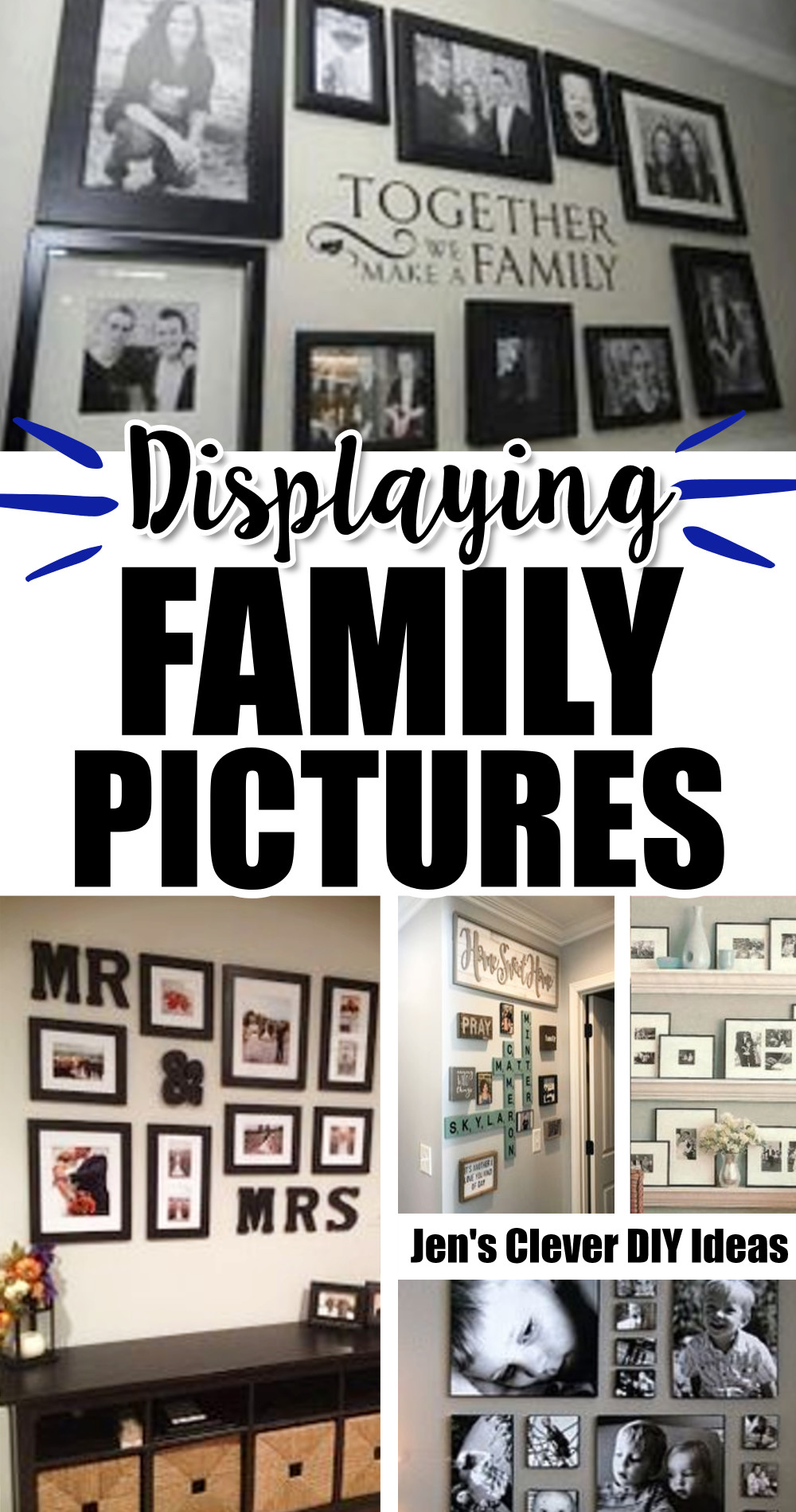 LOVE the black white "frameless" arrangement over the couch!
The Mr & Mrs foyer wall arrangement for wedding pictures is super cute. I've always wondered how to display a bunch of our wedding photos without looking "tacky" lol!
Above all, I LOVE a photo SHELF layout.
I'll show you a lot more of those wall shelf ideas for pictures below.
Adorable Home shared these two ideas that I think are really tasteful (would LOVE to know where they found them!):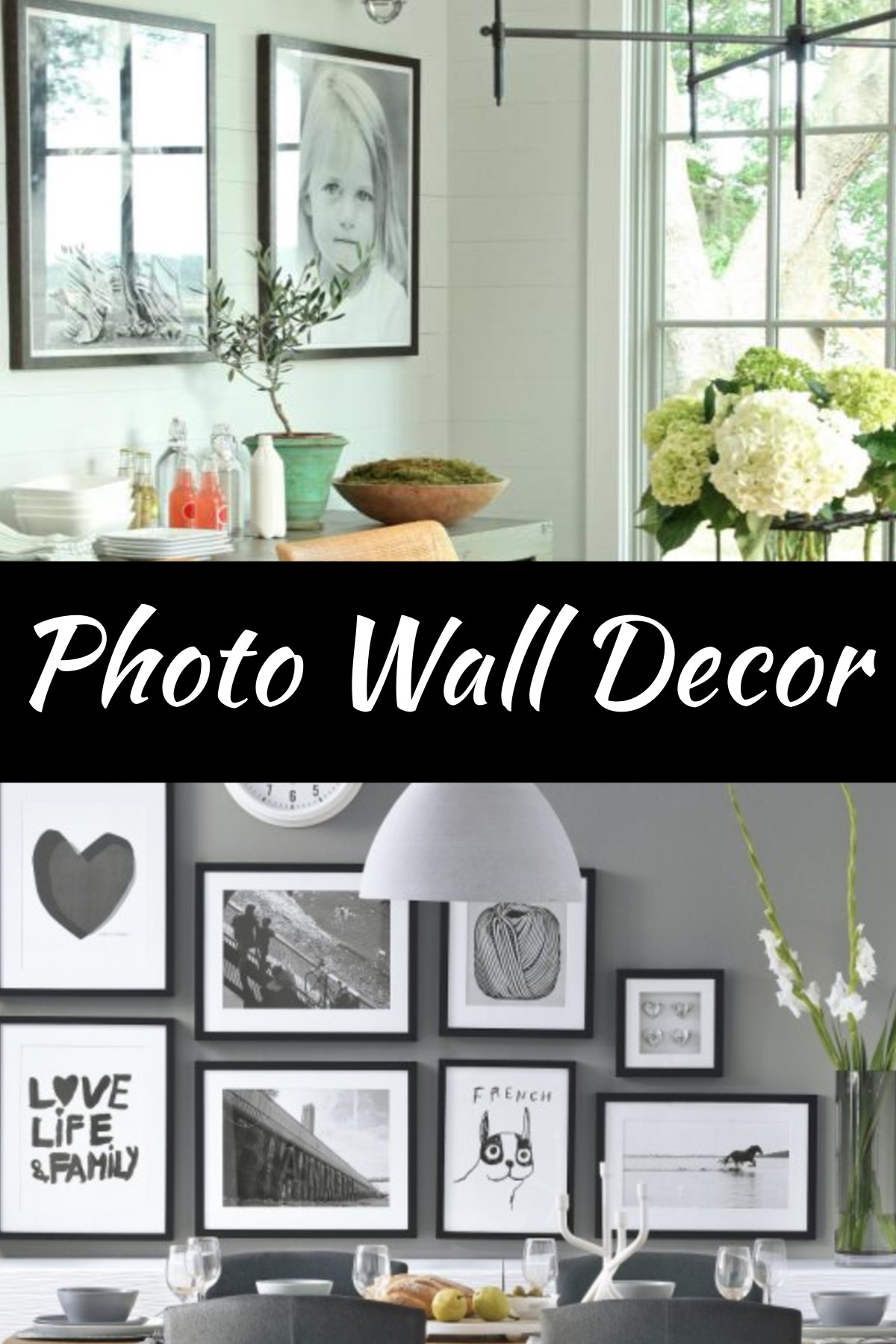 The top dining room wall ideas is here.
The bottom grey dining room wall ideas is here.
(however, there's no "source" links to give true credit to the owners. If anyone knows, PLEASE let me know!)
Photo Display Walls
I love the ideas of LARGE frames with large family photos like in the pictures below.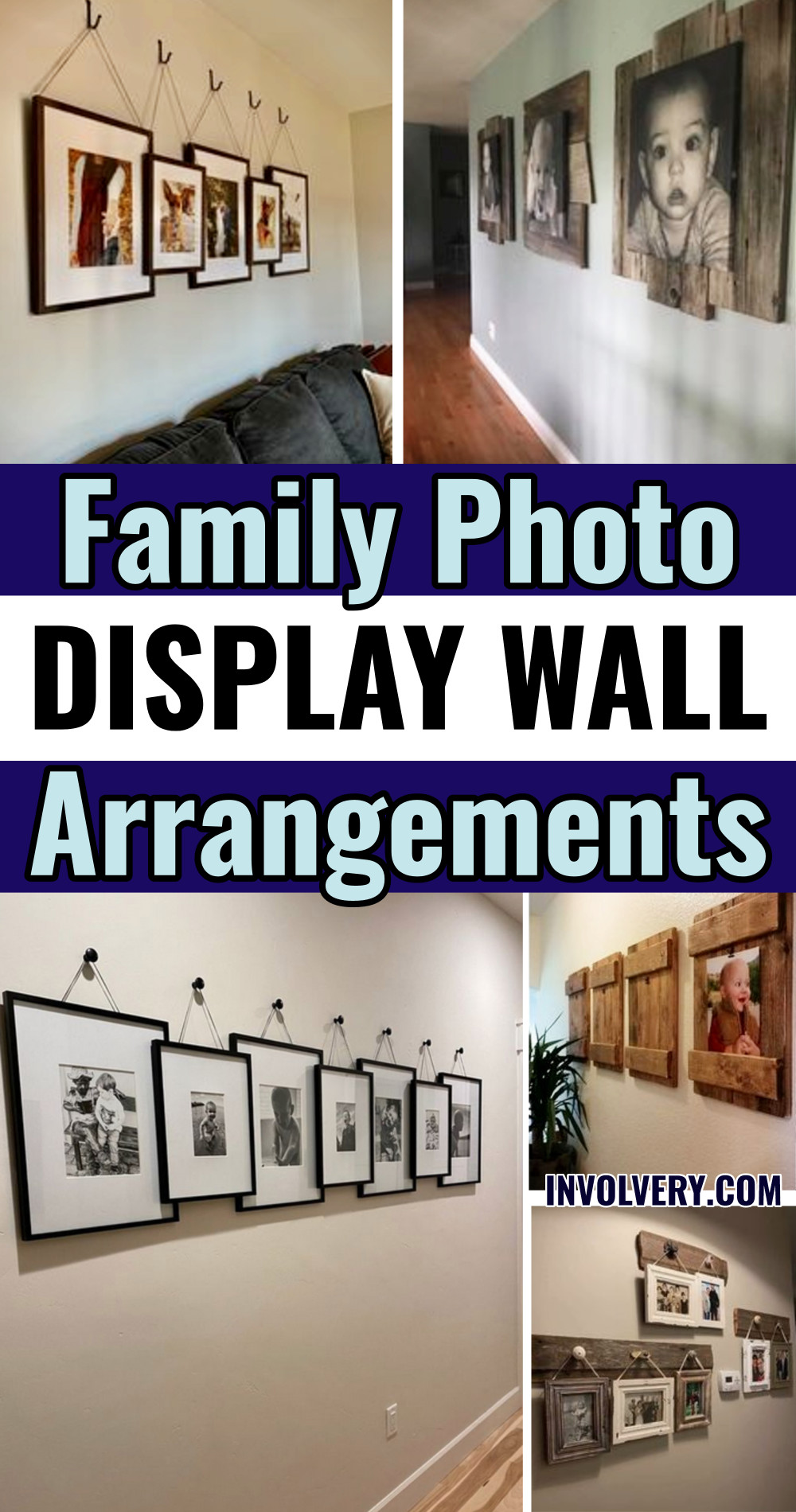 I really LOVE those hanging pictures frames and the pallet wood "barn" looking frames, don't you?
Over the Fireplace
Another idea is to hang your family pictures over your fireplace mantel in a gallery wall fashion.
Like this gorgeous tiled fireplace that is decorated for Christmas:
Like I said earlier, I nixed the flat screen over the fireplace idea my hubby wants. As much as I adore him, and his design "style" – I just don't want the tv over the fireplace.
I've considered making that our family photo wall and found these over fireplace picture wall ideas here.
If that's what YOU are looking for, here are a few ideas from that page: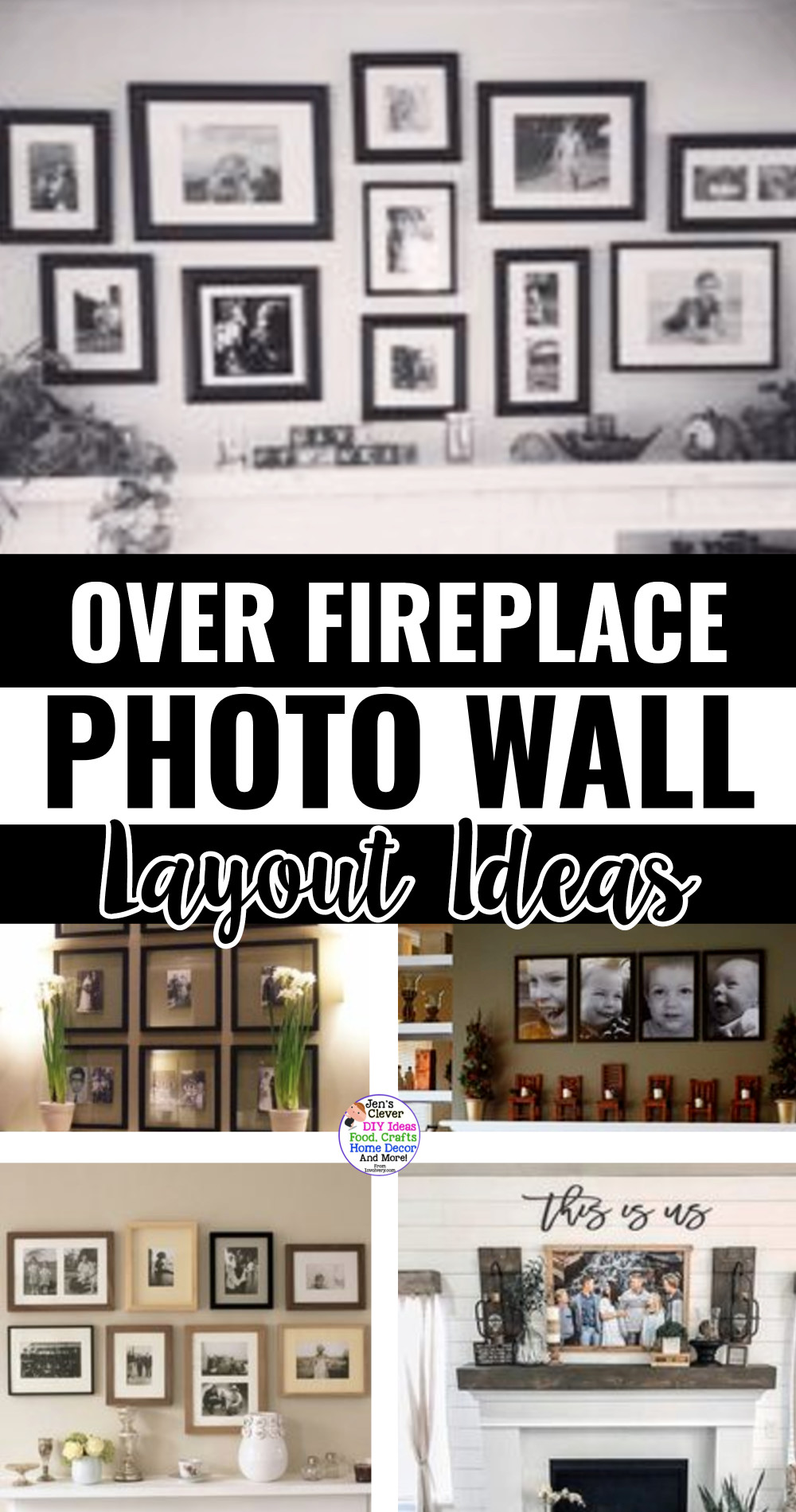 Ready to spruce up your fireplace?
For Staircase
Here is how to arrange photos on staircase walls – this layout template works for just about all stairway walls to be sure your family photos are balanced and even: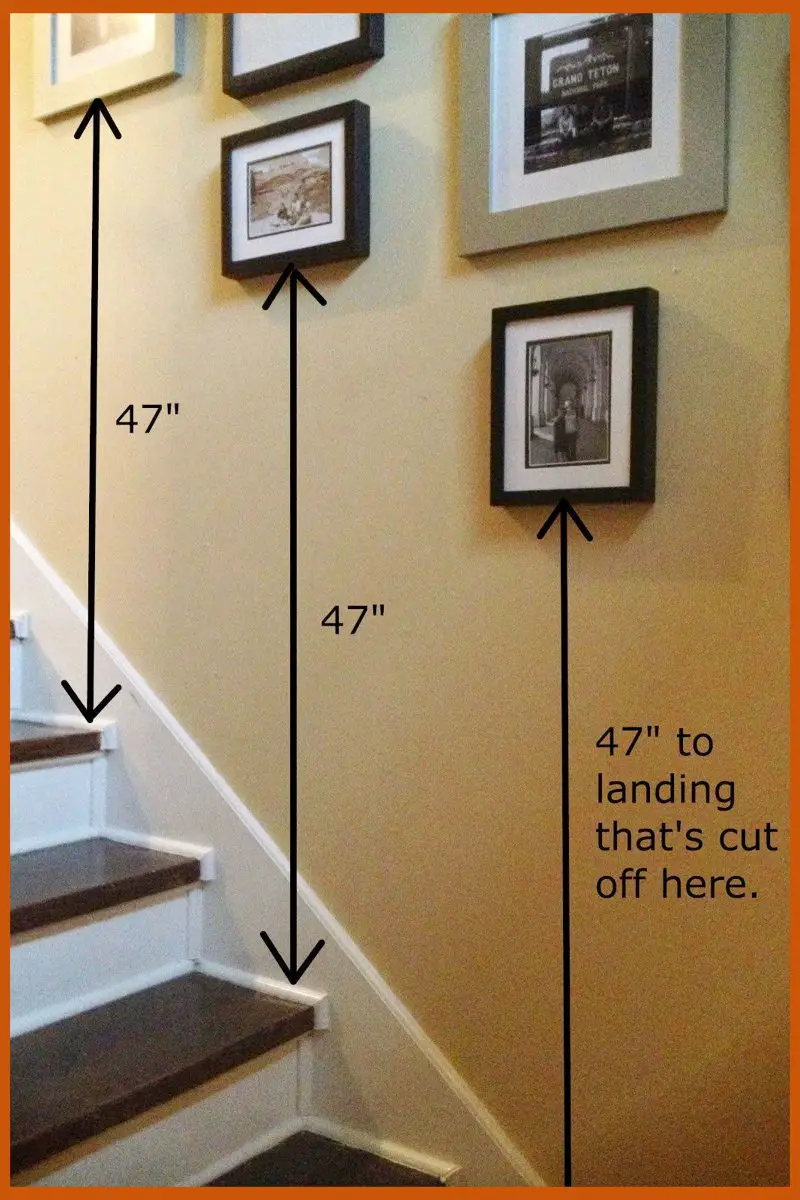 Be sure to measure from the BOTTOM of each picture to the top of the stair it is over and use that same distance for all photos along that staircase wall.
Here's some layout ideas for your family photos on your staircase wall that I think are tastefully arranged.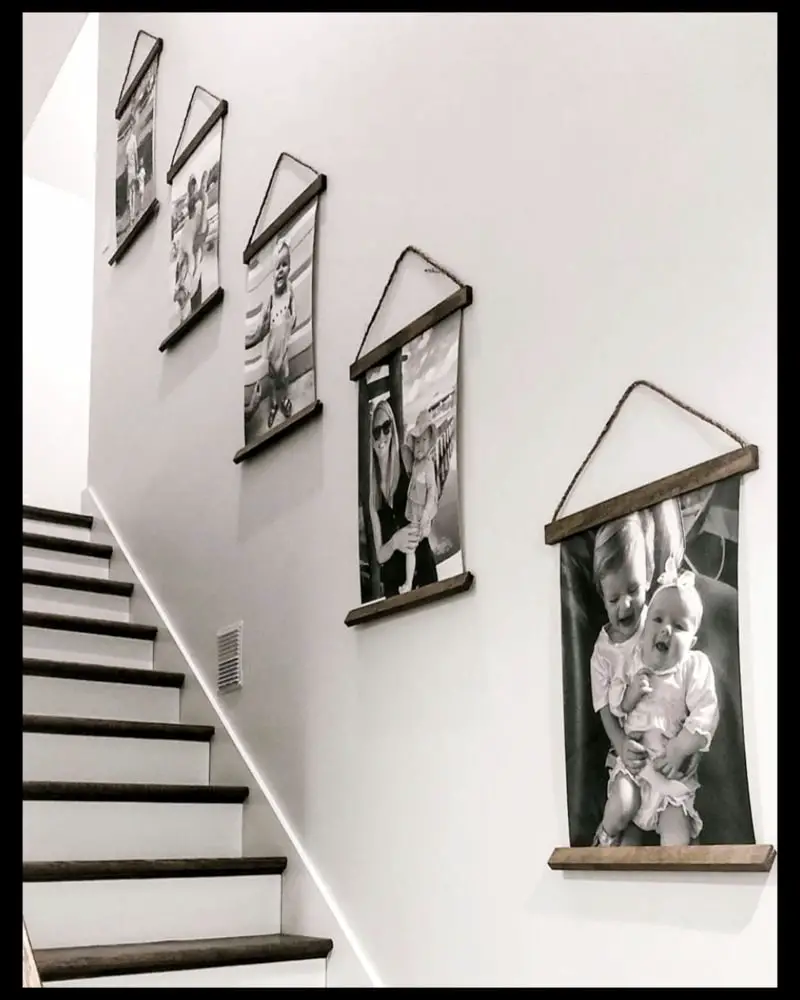 I LOVE that minimalist staircase photo wall layout above – simple and modern yet SO pretty… black and white pictures with NO frames.
If you like a more farmhouse gallery wall type layout for your staircase wall, this is a very pretty idea that I've seen on the stairway wall leading down to a small finished basement: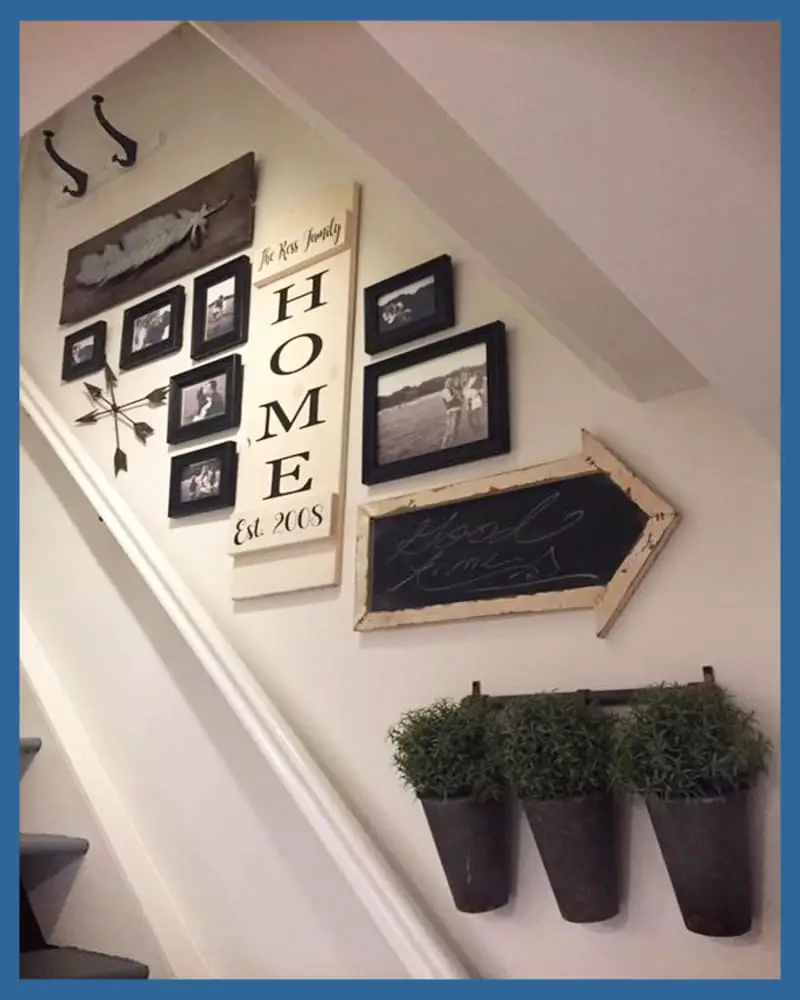 ✅ See More Stairway Wall Ideas Here
Layout Tips
Here are some layout and design tips for arranging your family photos on the wall.
If you're displaying family pictures over your couch in your living room, follow this design template and measurements: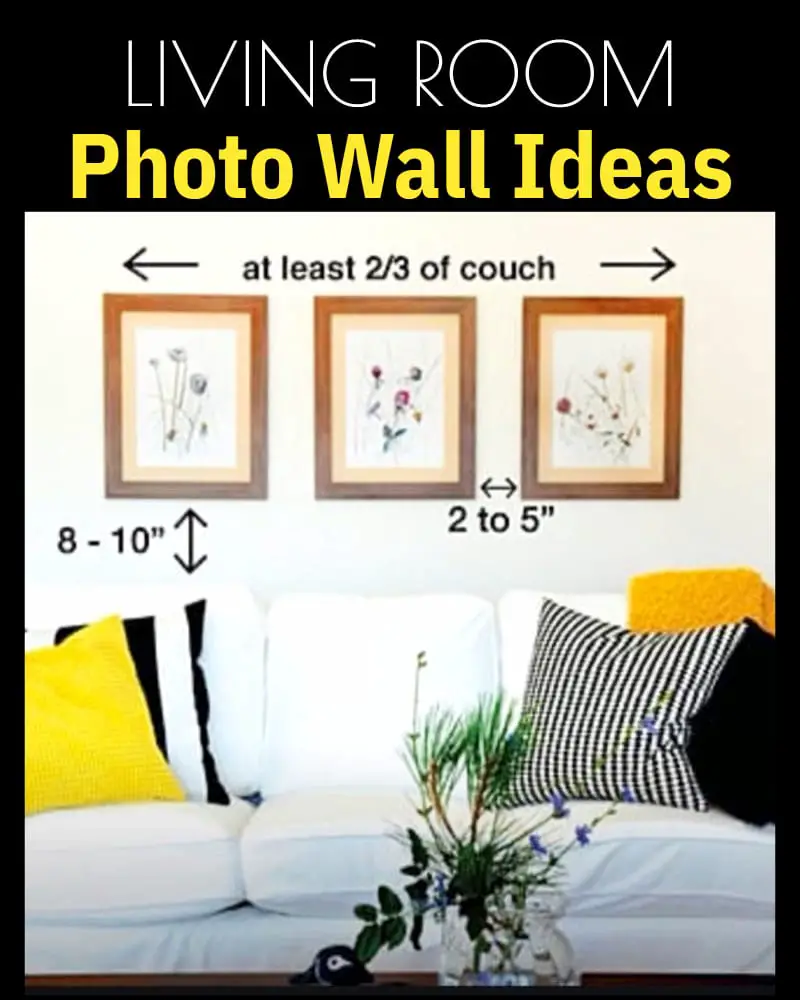 For all other family picture wall arrangements, use one of these design layouts: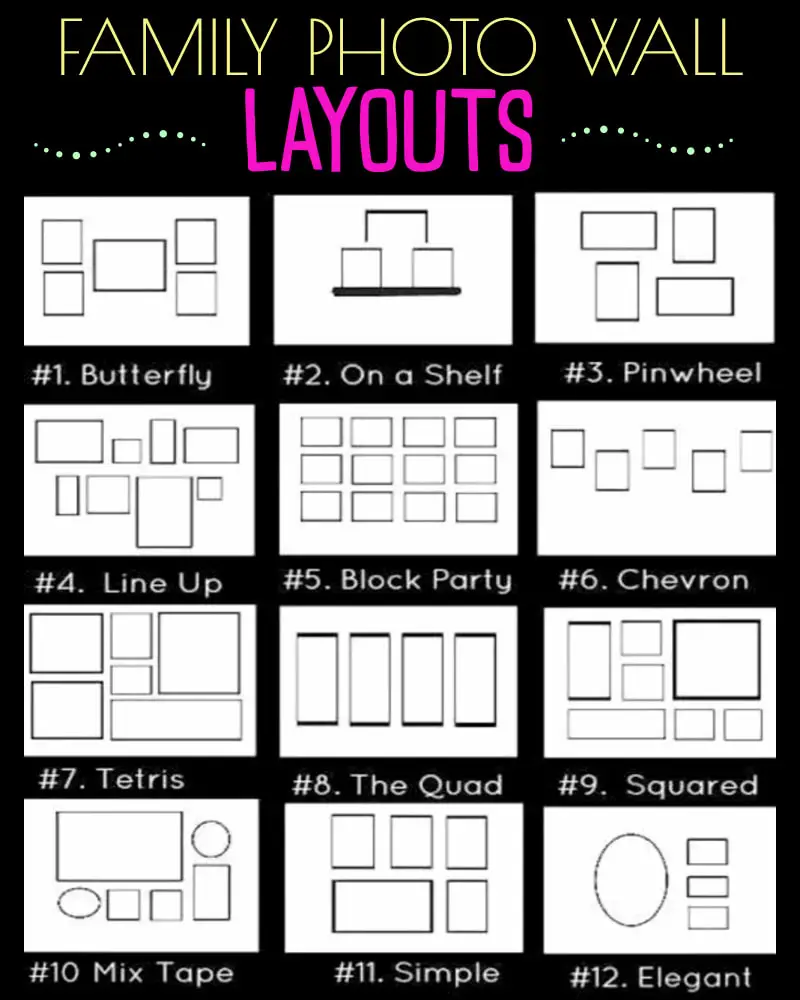 Large Photo Wall Ideas
Now, if you want to design a LARGE family photo wall, try this layout and measurements to keep it balanced with a more clean and modern look to it: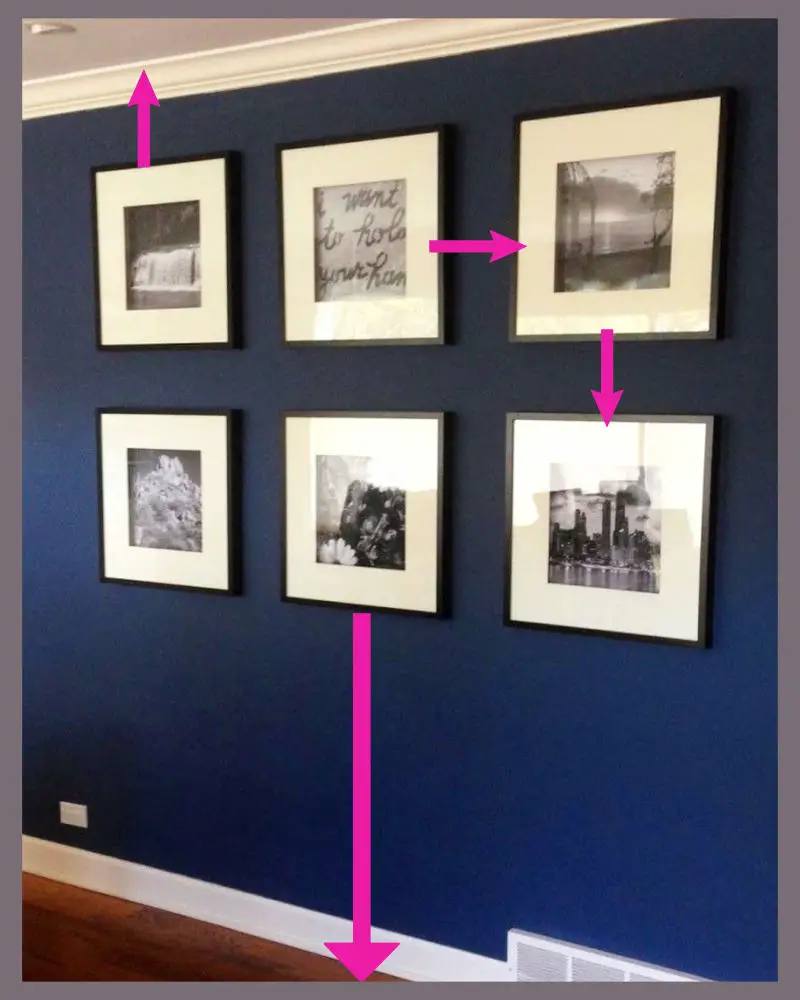 ✅ See all those pink arrows in the layout picture above?
Make sure all of those distances between your family photos are equal so you achieve a modern and more minimal look.
Here is an idea of a LARGE family photo wall I really like (and that blue accent wall paint color is GORGEOUS!)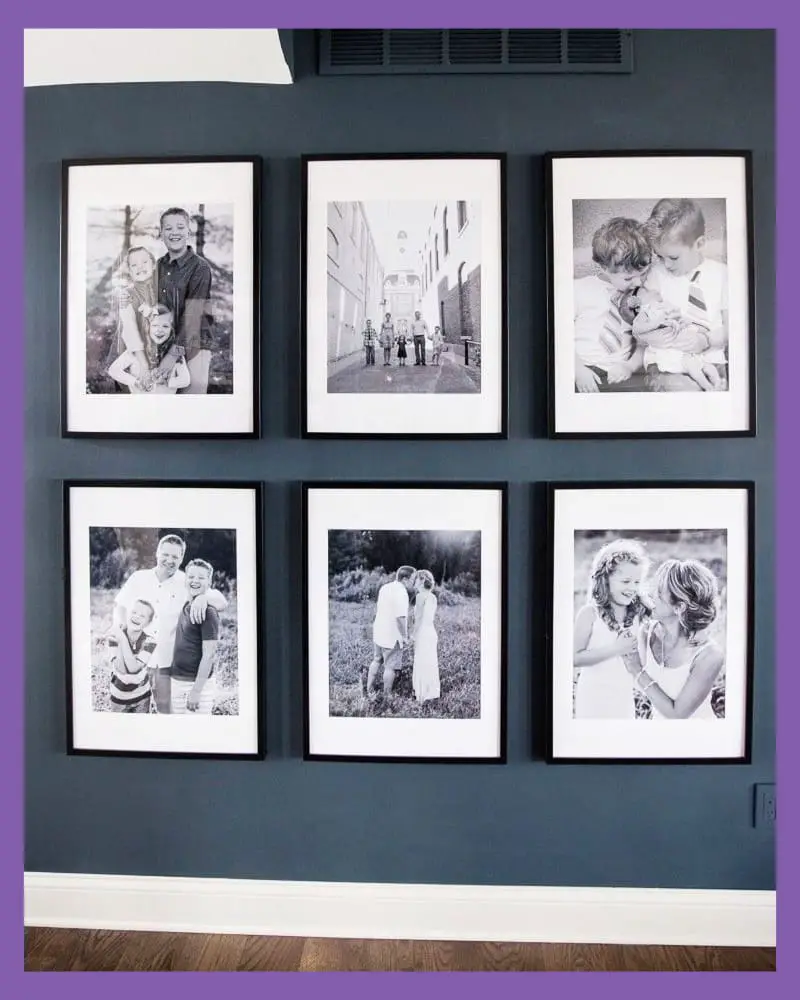 My only real problem with that photo wall layout?
I don't think I could pick only 6 photos for my wall haha!
We have SO many pictures – and I love the majority of them. It's so hard to pick only a few pictures to display, right?
Other Design Ideas
Here are 20 more ways to hang and display your favorite pictures on the wall:
Create a photo collage using frames of varying sizes and shapes.
Hang a photo gallery wall using a mix of black and white and color photos.
Display a selection of family photos in matching frames on a shelf or mantel.
Use clothesline-style string and clothespins to create a hanging display for your family photos.

 Mix & Match Frame Sizes like this…Found Here Or make a stunning Family WallFound Here

 

Hang a collection of family photos in matching frames on one wall to create a focal point in your room.
Use a large, decorative frame to showcase a single, special family photo.
Create a timeline of family photos, with pictures from different eras arranged in chronological order.
Use different shades of color in your frames to add visual interest to your family photo display.
Arrange family photos in a grid pattern on your wall for a modern look.
Hang a series of photo frames in a stair-step pattern for a unique display.
Create a collage of family photos on a large canvas or piece of plywood for a bold statement.

 Use a collage style photo frame like this…Found Here Or a hanging gallery wall photo displayFound Here

 

Use vintage frames to add a touch of nostalgia to your family photo display.
Hang a series of black and white family photos in matching frames for a timeless look.
Use clips or magnets to display your family photos on a metallic surface, like a fridge or filing cabinet.
Arrange your family photos in a circular or diagonal pattern for a dynamic display.
Use string lights or fairy lights to add a twinkling effect to your family photo wall.
Mix in other personal mementos, like artwork or notes, with your family photos for a more personalized display.
Use shadow boxes or other dimensional frames to add depth to your family photo wall.
Hang your family photos in a pattern or shape, like a heart or a star, for a creative and unique display.
 Wood Frame With ClipsFound Here Family Wall CollageFound Here Extra Large Rustic FramesFound Here Aesthetic Photo Frame KitFound Here Modern Photo Wall KitFound Here Rustic Photo Wall KitFound Here
Picture Ledge Layouts
One of my favorite family photo wall ideas is using a picture ledge or floating shelves to display your favorite photos.
I just LOVE ideas like these in the picture below!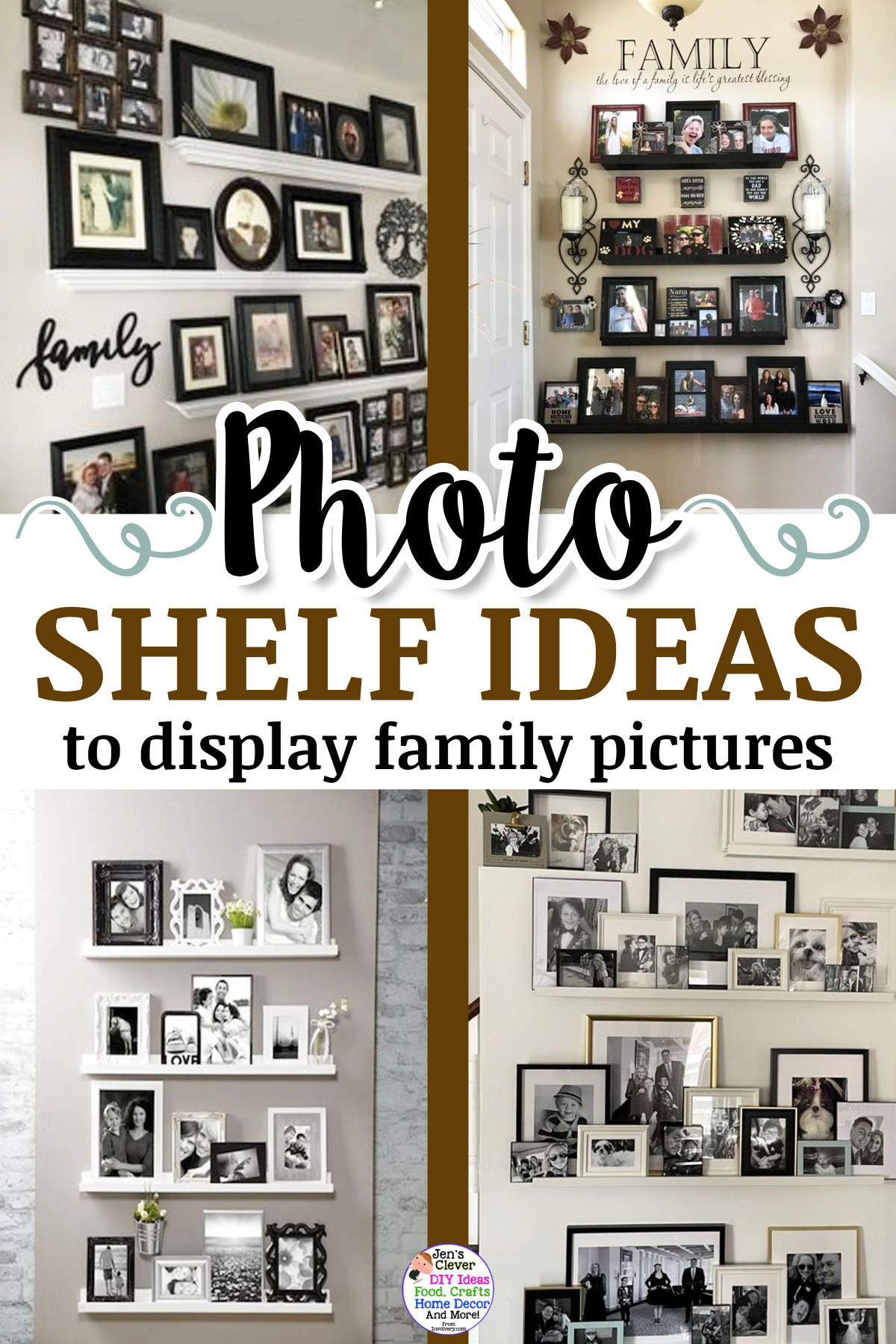 Just gorgeous and aesthetic…. and well, TASTEFUL, in my opinion.
I guess some might think it looks a bit too cluttered, but I like it – especially on the wall at the end of a hallway.
Below are many photo wall shelf arrangement ideas to try: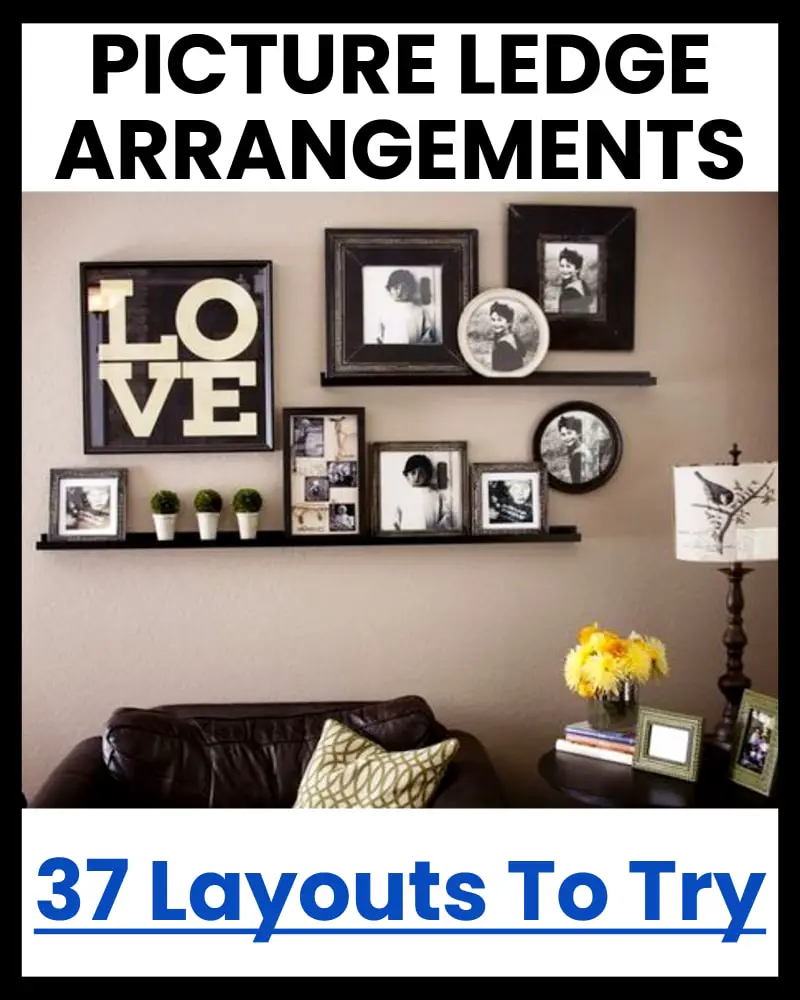 Pictures ledges can be used in so many ways – you use multiple long ledges to display LOTS of pictures or go with staggered picture ledges – see below:
 Large Wall Picture Ledge Layout✅ I Found It Here Staggered Picture Ledges Layouts✅ I Found It Here
Gallery Wall Ideas
More interested in a GALLERY wall layout instead of a minimal modern family photo wall?
Check out the gallery wall layout ideas below: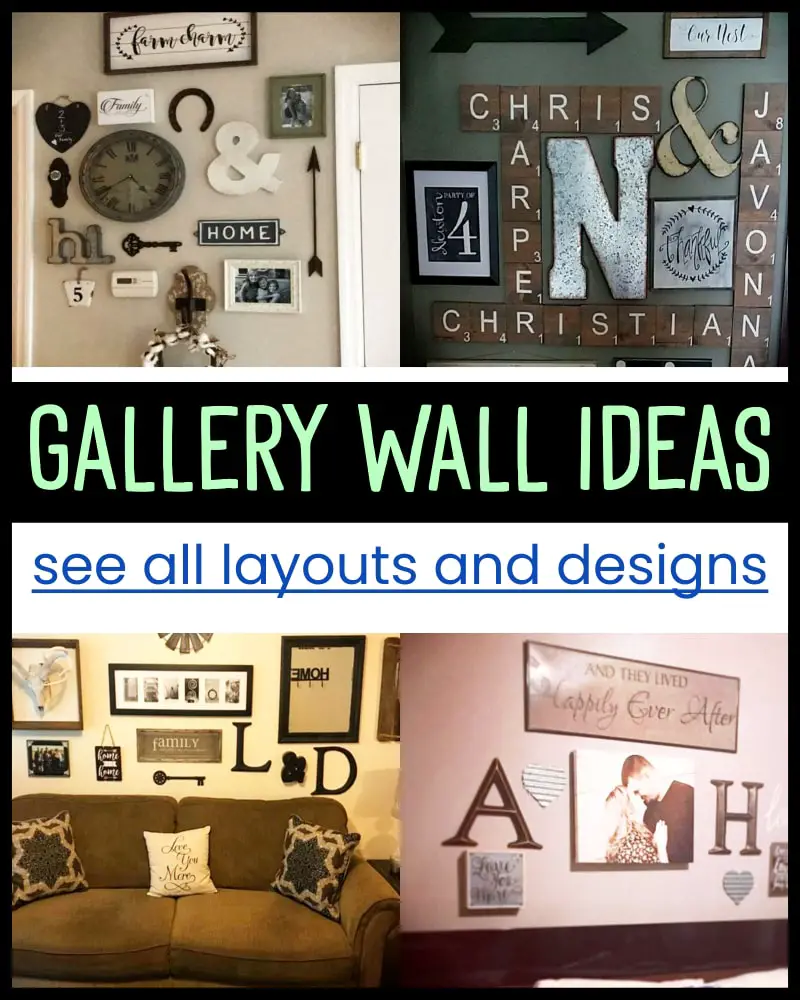 How To Hang Family Photos On Your Wall
The hanging part is definitely the hardest part of creating your family photo wall.
Watch below as Rebecca (an interior designer) shows the best way to hang your wall pictures so your photo wall is even, balanced and looks PERFECT.
Her method is unique and I use it all the time – it works great!
TIP: – there's a very nifty app for your phone called Hang-a-pic that helps you design your layout, right down to where nail holes and picture hangers go, BEFORE you touch anything on your wall. It's really cool.
More Decorating Ideas:
---
Miss Anything?
Back To Top Of: Family Photo Wall Ideas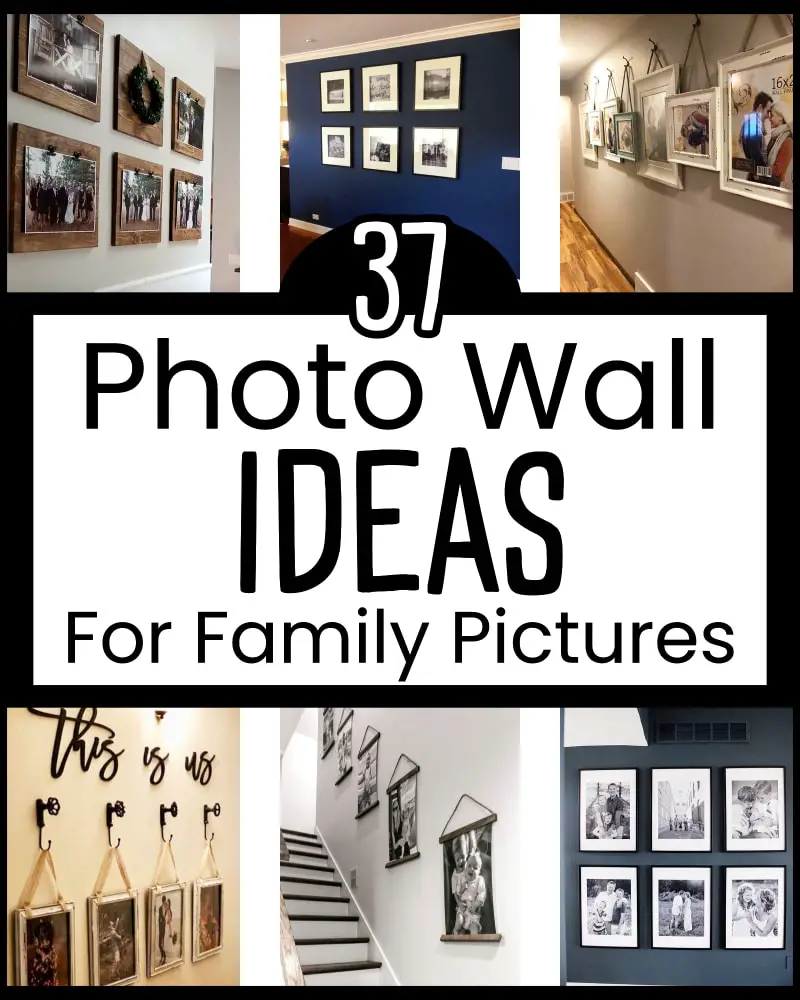 Click to go BACK to a specific photo wall idea: