---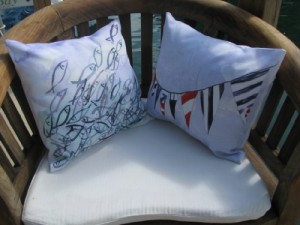 Whether you live on the coast or in the inland mountain ranges, a nautical theme can be used to make any room in the house shine. And what really brings a room together? Throw and decorative pillows!
In a rush?
---
Updated on March 26, 2017
posts may contain affiliate links -Enjoy and feel free to share with your friends!
---
See LOTS of nautical throw pillows here.
Designers have been using throw pillows for years as wonderful decorations in any room in the room. They are functional, comfortable, and look great no matter where you put them.
But what about nautical themed pillows exactly? What do they specifically do to bring a room together? In this article, we're about to "dive in" and find out.
Coastal Throw Pillows
Sometimes you just want to bring a taste of the salty sea into your room. With coastal throw pillows, you can do just that.
These pillows are usually decorated with a variety of seaside ventures: waves, creatures, birds, fish, and even sand castles. There are even "panoramic" pillows that make one giant picture when you put them all together.
These in particular look great in window nooks and on couches, as you can line them up and tell a great coastal story.
But they don't stop there. The great thing about coastal throw pillows is just how many varieties there are of them. If you want one part of your room to have a crustacean theme, get a pillow with a crab on it and put it there. The same goes for fish, birds, or anything else you can come up with that keeps with the theme. If you have a house overlooking the ocean, you can bring a part of that seaside beauty inside even on the dreariest days.

Anchor Throw Pillows
Anchors away! As a staple of any nautical themed room, anchor throw pillows do a great job of bringing some fun into any room. Most anchor pillows are anchor shaped… but unlike their real life counterparts, these ones are soft, squishy, and great for kids and animals to sleep on. They also add a bit of flair to a room, as they do not come in the conventional pillow shape. Of course, you can get regular square and rectangle pillows with a picture of an anchor on them too.
[houzz=https://www.houzz.com/photos/27239250/Entry-Design-beach-style-entry-other]
& 

Anchor Nautical Throw Pillow
Read Reviews

Indoor/Outdoor Anchor Throw Pillows
Read Reviews

Reversible Anchor's Away Throw Pillow
Read Reviews
& 
Nautical Decorative Pillows
Sometimes a pillow depicting a creature or the actual sea isn't what you want. What you really want is a pillow that strives for a pure nautical theme. As in, you want one that depicts the rough, the gruff, and the might that is working on the sea. Fishermen and explorers have used a great nautical theme in their homes for years, bringing their work indoors in a really wonderful way. With nautical decorative pillows, you can do the same.
& 

Sailing Nautical Decorative Toss Pillow
Read Reviews

Anchors Away Nautical Throw Pillows
Read Reviews

Linen Throw Pillow Nautical Chart
Read Reviews
& 
These are the pillows that make you feel like you're on a ship or in a seaside tavern inviting in the local fishermen. Motifs from sails, wheels, and lighthouses are all very popular in this realm. The biggest decision you have here is picking between the classic, good guy nautical or a very festive pirate theme! After all, pirates sailed the seven seas too, but they did it with their own darker flair.
Bringing in nautical throw pillows when decorating your home is one of the greatest ways to bring together your maritime look. From bedrooms, to living rooms, to offices, and even to bathrooms, you will soon discover that your new pillows do more than just look cute or fantastic – they also provide a very important and comforting function. So sit back, relax, and watch it all fit together like the best decorative puzzle you have ever undertaken.
Nautical Accent Pillows We Love
Seapoint "Welcome Aboard" Throw Pillow
[sc:code-fix ]
Set Of 3 Nautical Theme 14″ By 14″ Throw Pillows
[sc:code-fix ]
Pair of Blue / White Striped Nautical Throw Pillows 18 In. X 11 In.
& 
[sc:AMsearch ]