---
Ninja vs Instant Pot – Which is Better?
Should you buy an Instant Pot or one of the new Ninja Foodi multi-cooker pressure cookers? Which is best? Which is truly worth the money? Let's compare these 2 amazing multi-cooker pressure cookers to figure out which is the best for YOU and your cooking needs.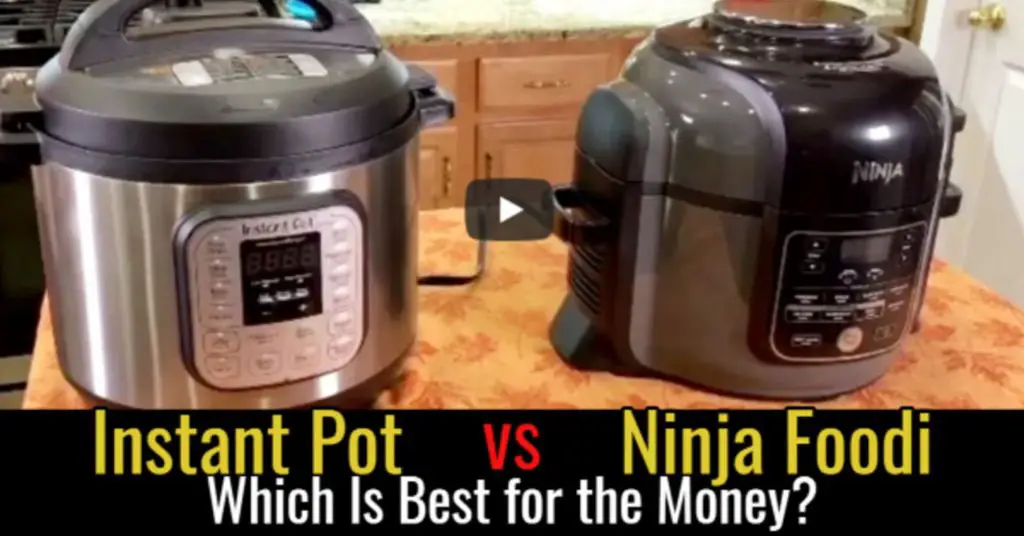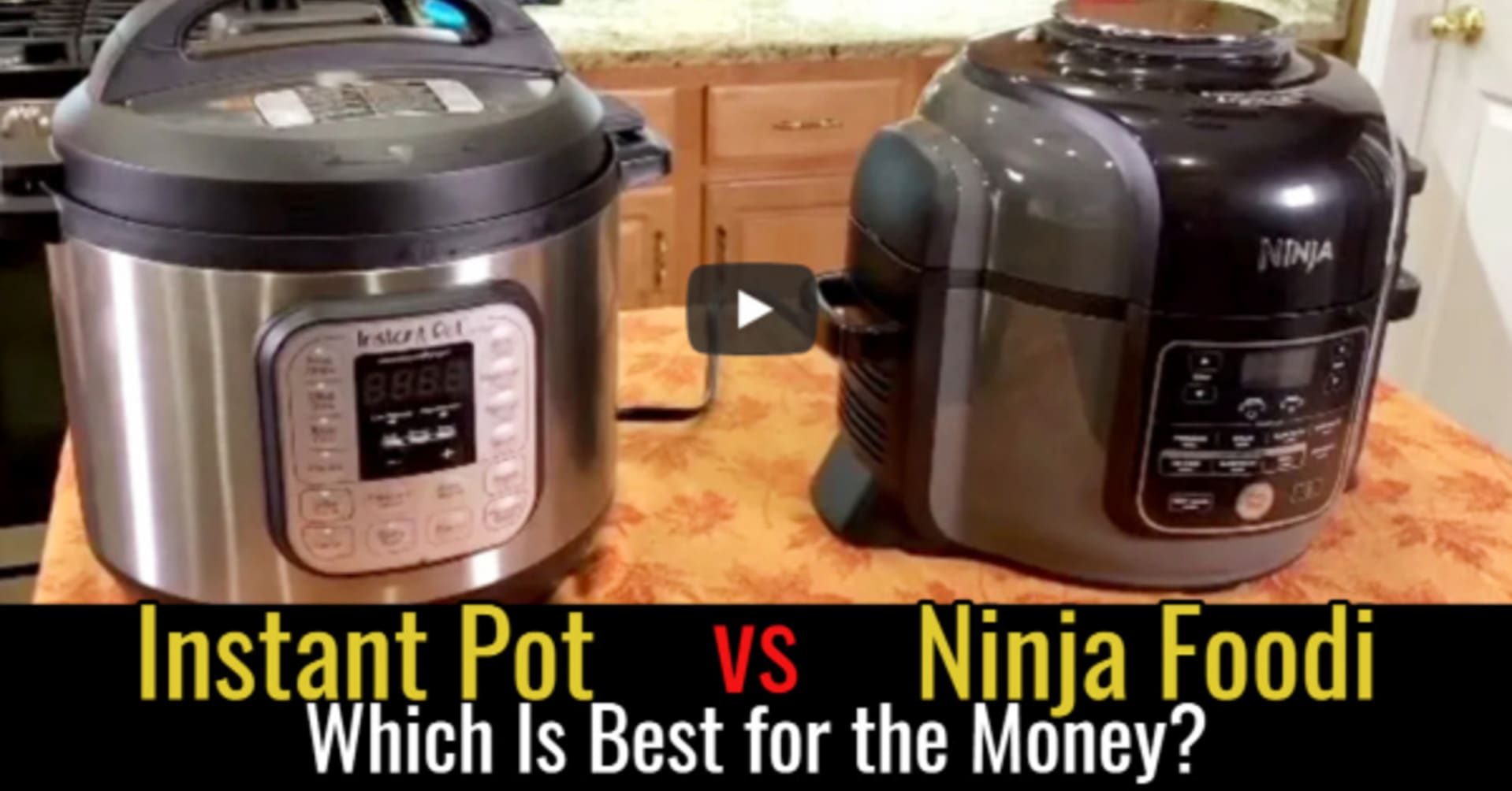 ---
Updated on November 21, 2019
posts may contain affiliate links -Enjoy and feel free to share with your friends!
---
First off, I have an Instant Pot – and yes, I love it (now that I know HOW to use it).
If you're thinking about buying an Instant Pot, I highly recommend you read:
Any new cooking gadget has a learning curve, and yes, the Instant Pot sure had one for me.
But now that I'm past the learning curve and had to learn this about the Instant Pot on my own, I absolutely ADORE my Instant Pot!
(by the way, have you see the new RED Instant Pot? I love it! It's hard to get because it sells out so quickly whenever it's available so if you want it and CAN get it – grab it before they're gone!)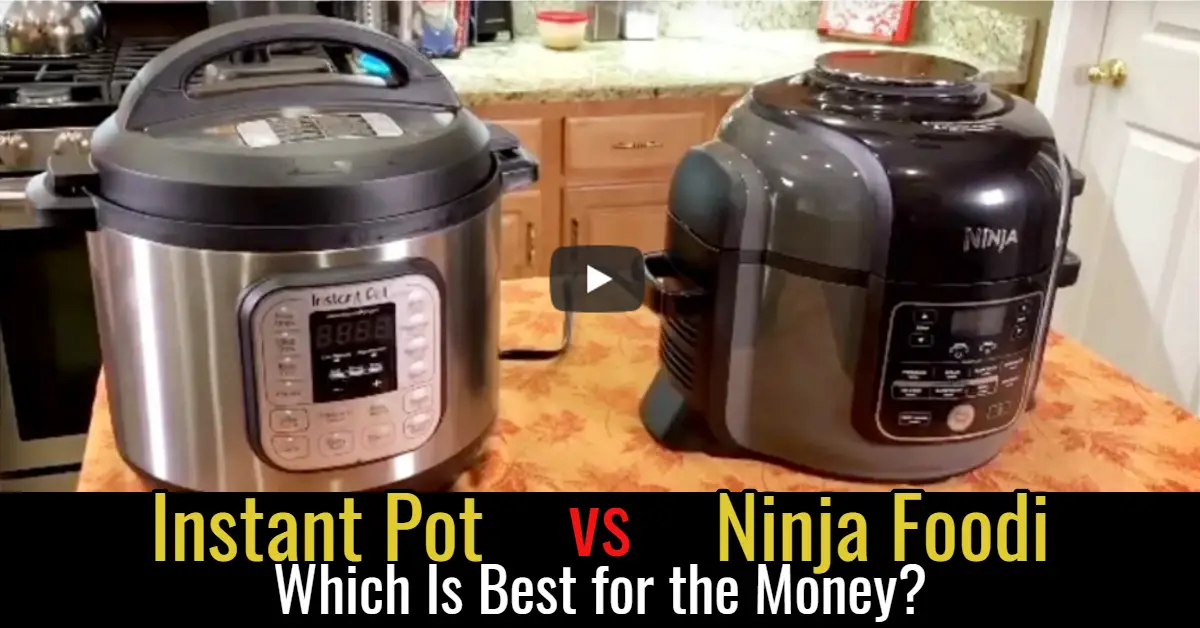 Ninja Foodi or Instant Pot?
I was so excited to see that there was a new Ninja instant pot – but the reviews caught my eye (as well as all the cool things the Ninja Foodi can do!)
The Foodi (or Foodie) is one of the strongest Instant Pot competitors to come along in quite awhile… it's about time for some Instant Pot competition, and they certainly have it with this new Ninja pressure cooker-crock pot-air fryer that does SO much more than the Instant Pot. This new system is NOT the old Ninja cooking system…. this Ninja instant cooker is WAY more than that!
So how does the Ninja Foodi cooker compare to the Instant Pot?
Are there any BIG differences?
The first thing you will probably notice when you look at the Ninja Foodi is…
Yikes!
Is it possible that a Ninja Foodi is REALLY worth the money? Is it better than an Instant Pot?
Heck, you could buy 2… or 3… Instant Pots for the price of ONE Ninja Foodi!
So, what makes the Ninja Foodi better than an Instant Pot?
and… IS a Foodi better?
It's being said the the Ninja Foodi is THE best pressure cooker for 2018 – BUT…
Is it all hype or is a Ninja Foodi really worth it?
Instant Pot vs Ninja Foodi Comparison Chart
Let's start by comparing the Instant Pot and the Ninja Foodi side by side. Take a look at this comparison chart below and see if there are any features that make the Ninja Foodi a better choice for you:
Price
$79.95
$129.95
Free shipping
9 new from $79.95
7 used from $99.95

as of October 31, 2023 6:41 pm
$229.99
Free shipping
7 new from $229.99

as of October 31, 2023 6:41 pm
Shop Now
✅ Show Me This!
amazon.com
✅ Show Me This!
amazon.com
Features
Duo Plus is the latest evolution in the #1 selling multi-cooker the Duo series with more custom...
Duo Plus replaces 9 common kitchen appliances including Pressure Cooker, Slow Cooker, Rice...
Up to 70% quicker. A great meal is a press of button away with 15 Microprocessor controlled...
All components in contact with food are food grade 304 (18/8) Stainless steel including the lid,...
The Ninja Foodi-The Pressure Cooker That Crisps. Pressure Cooker, Air Fryer, TenderCrisper
TenderCrisp Technology allows you to quickly cook ingredients, then the Crisping Lid gives your...
Pressure cook up to 70% faster versus traditional cooking methods.* Air fry with up to 75% less...
6.5-Quart Ceramic-Coated Pot: Nonstick, PTFE/PFOA-free, and easy to clean. Enough capacity to...
Color
Stainless Steel/Black
Silver
Product Group
Kitchen
Kitchen
Publisher
Instant Pot
Ninja
Release Date
2017-02-10
2018-10-24
Barcodes
EAN: 0853084004477
MPN: IP-DUO Plus60
UPC: 853084004477
Model: Duo Plus 60
Part Number: IP-DUO Plus60
EAN: 0622356553605
MPN: OP301
UPC: 720887066721
Model: OP301
Part Number: OP301
Images
Instant Pot vs Ninja Foodi Consumer Reports & Reviews
Now that you've looked at the comparison chart, take a moment to read the BAD reviews for EACH one-pot pressure cooker.
(also keep in mind that the Ninja Foodi is still very NEW so there isn't a whole of of feedback yet while the Instant Pot has these THOUSANDS of reviews – so consider that when you read the Ninja instant cooker review opinions)
PROS of a Ninja Foodi
Now that we've read the bad and the "cons" for each one-pot pressure cooker, let's talk about what attracted ME to the new Ninja Foodi cooker.
and it's "only" 4 main reasons that make me want a Ninja Foodi!
1 – You can start with FROZEN food (especially frozen MEAT) when you cook with a Ninja Foodi.
That is HUGE for me! Just grab out of the freezer and dinner is ready in minutes.
I'm all about saving time, aren't you?
Plus, I always forget to put meat out to defrost!
2 – You can CRISP your meat and any food with a Ninja Foodi.
This is also a BIG deal for me!
Take a look at the difference between a chicken cooked in a Ninja Foodi (on the right) and cooked in an Instant Pot (pressure cooker on the left):

Since the Ninja Foodi is also an Air Fryer, you can even make CRISPY frozen french fries in it!
3 – Since it browns and crisps, you really CAN cook EVERYTHING in a Ninja Foodi!
You know how with many Instant Pot recipes, you have to brown the meat or sear it BEFORE cooking it in your Instant Pot?
You do NOT have to do that with a Ninja Foodi
It's truly a ONE pot complete cooking solution!
(and that not only makes things easier, it also creates LESS CLEAN-UP! YAY!)
4 – The Foodi Is Easier To Learn How To Use
Many people have told me that there is much less of a learning curve to learn how to cook with a Ninja Foodi as opposed to learning how to cook with an Instant Pot.
As I said before, AFTER I learned these 10 things about my Instant Pot, things got easier – but there really shouldn't be SUCH a learning curve, right?
CONS of a Ninja Foodi
Yes, there are tons of excellent consumer reports and reviews of the Ninja Foodi multi-cooker, but what about the reasons NOT to buy a Ninja Foodi?
Here are 2 important reasons to NOT buy a Ninja Foodi (if these things matter to YOU):
☑ The Ninja Foodi is BIG – it is a large cooking appliance. Expect the Ninja Foodi to take up a good bit of counter space (if you choose to leave it out all the time – I don't leave my small appliances out on the counter so the size is not a real 'deal-breaker' for me, but how heavy it is to pick up and move might be a consideration)
See more pictures of the Ninja Foodi here to get an idea of its size.
☑ The new Ninja Instant Pot instant cooker (the 'Foodi') is EXPENSIVE compared to an Instant Pot – [on a budget? check today's sale prices here] If price is a big factor for you, then the Ninja Foodi may not be the most affordable one-pot instant cooking system for you.
WHY is it more expensive? Two reasons – 1) it does more than an Instant Pot and 2) it's new.
Ninja Foodi vs Instant Pot Comparison Video
If you really want to know who wins the Ninja Foodi vs Instant Pot contest, watch this video review below and see each cooker being used side-by-side. You really get an idea of which multi-use pressure cooker is best (hint: one of these is made how these pressure cookers SHOULD have been made all along!)
Ninja Foodi FAQ
Since most of us are already familiar with the Instant Pot, let's answer some questions about the Ninja Foodi, it's functions, benefits, etc.
Does the Ninja Foodi replace an Instant Pot?
Yes, a Ninja Foodi does replace an Instant Pot AND it does MORE than an Instant Pot.
✅ See all functions of a Ninja Foodie Here
when you see everything a Ninja Foodi can do that an Instant Pot can NOT do, you'll want one too!
Can You Dehydrate Food with a Ninja Foodi?
Yes, the Ninja Foodi DOES have a dehydrate function. You can use the rack that comes with it if you're only doing a small batch or purchase a separate dehydrator rack if that is a function you use often.
Is the Ninja Foodi also a Slow Cooker?
Yes, the Ninja Foodi DOES have a slow cooker function – and since you can brown etc IN the Ninja Foodi, you truly can prepare all your slow cooker meals in the ONE pot.
What comes with the Ninja Foodi multi-cooker?
When you buy a Ninja Foodi here, you get:
– The multi-cooker unit
– The pressure cooker lid
– a 6.5 quart ceramic-coated cooking pot
– a 4 quart ceramic coated Cook & Crisp basket
– a Cook & Crisp insert
– a stainless steel cooking rack
– Detailed Instructions
– 45 page Ninja Foodi CookBook
Does a Ninja Foodi also make rice?
Yes! the new Ninja Foodi cooker also can make rice.
How many boneless chicken breasts can a Ninja Foodi hold?
This was a BIG question for me since I cook a lot of chicken AND for a lot of family dinners. The Ninja Foodi can hold and cook 20 boneless chicken breasts.
Can you make homemade egg rolls in a Ninja Foodi AND get them crispy?
I know, might sound like an "off the wall" question, but this was important to me.
YES, you can not only cook handmade egg rolls in a Ninja Foodi, you can also CRISP them! yay!
Does the Ninja Foodi have a Saute function?
Yes! You can saute food with a Ninja Foodi (cool, right?!)
Can you cook Instant Pot recipes in a Ninja Foodi?
This is another big question for me! Answer: YES you CAN cook Instant Pot recipes in a Ninja Foodi (they'll just cook FASTER in the Foodi!)
Kid-Approved Instant Pot Freezer Meals – Easy Dump and Go Instant Pot Recipes For Busy Day Family Dinners – Having a super busy day and need to feed your picky eaters FAST? Why not make one of these freezer "dump" Instant Pot recipes below! And YES, you CAN cook frozen …
Where Can I Find Ninja Foodi Recipes?
If you're looking for easy and delicious recipes to cook in your Ninja Foodi, these recipes below are wonderful:
Instant Pot/Ninja Foodi Alternatives
If the Instant Pot isn't quite right for you and the Ninja Foodi is too darn expensive, here are some inexpensive multi-cooker pressure cooker options to get other than a Ninja Foodi or an Instant Pot.
Best Place To Buy
While there are lots of places to find either an Instant Pot pressure cooker or the new Ninja Foodi, my experience after buying TONS of kitchen gadgets and many, many other products is this:
THIS is always the best place to buy.
PLUS, if you keep an eye on that page, you can quickly grab deals and sale prices on the Ninja Foodi or an Instant Pot every time they go on sale.
I like saving money, don't you?
Ninja Foodi Buyer Reviews
Below is some feedback from those that have bought a Ninja Foodi…
"… THANK YOU for helping me decide to give the Ninja Foodi a try. Even tho it was more expensive than I wanted to pay, it is so worth it – what an amazing cooker! it does everything! I even gave away my Instant pot since I don't use it anymore"
"get this… I can make 3 POUNDS of crispy frozen french fries in my Ninja Foodi – and they're crispy! Best purchase ever!"
"…while i truly luv my foodi, it's the not the easiest to clean but i don't care – i use it almost everyday…"
"…and I have to tell you this – i put some breading on some chicken breasts then pressure cooked them in my Ninja Foodi for a few minutes – then i simply turned on the air fryer option and crisped them for a few more mintes. omg! they were SO good… better than any other way I've cooked them!…"
Last updated on October 31, 2023 6:41 pm