Large Party Food Ideas That Are Quick and CHEAP –
Below are some of the best party food ideas for large groups. If you're hosting a large party with lots of people, food can get expensive and very time-consuming. Here's some quick and easy large batch party food ideas for any size crowd.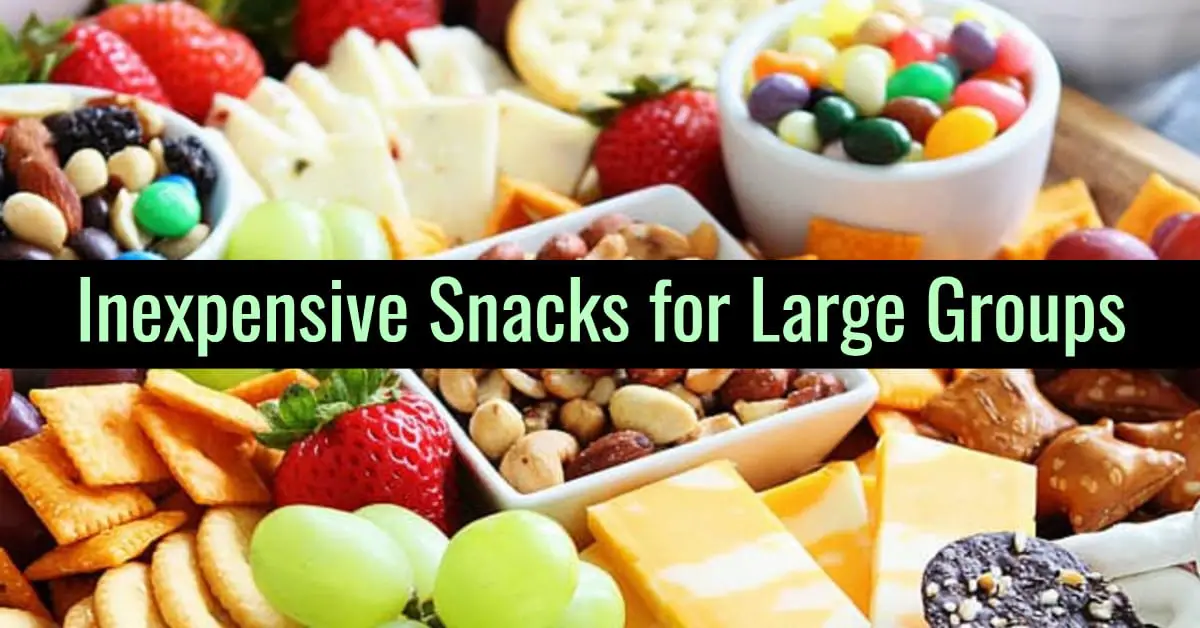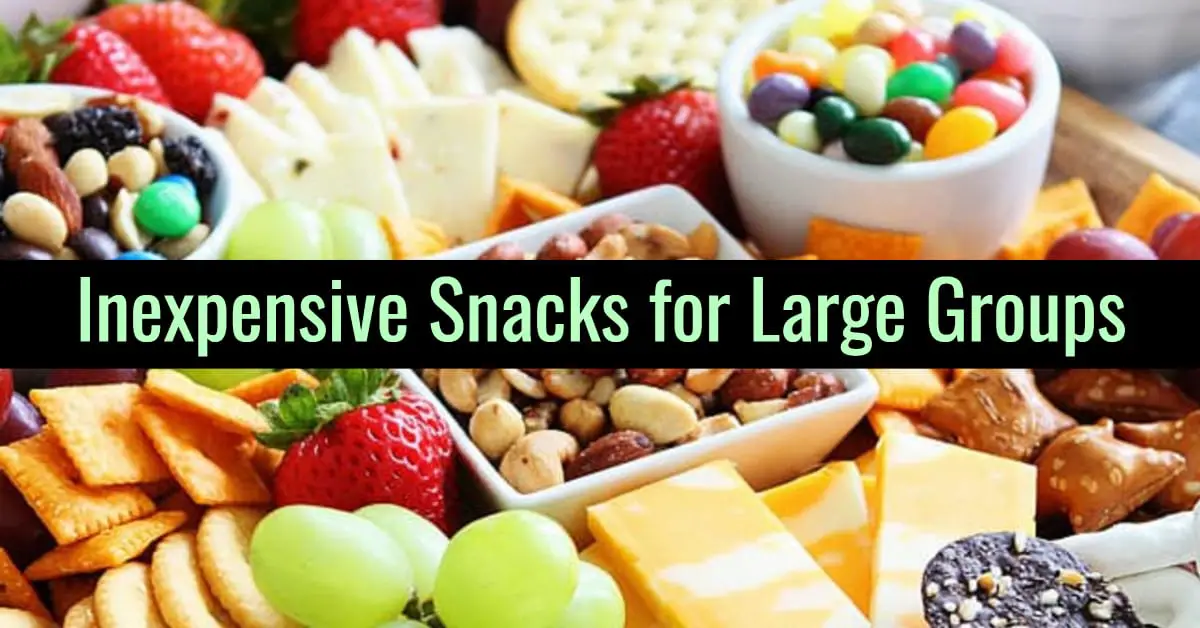 posts may contain affiliate links - Enjoy and feel free to share with your friends!
---
Most Popular Today...
---
Cheap Snacks for Large Groups
Need easy snack, Chex Mix and finger food ideas?
Try these large party appetizers for a crowd.
There are super easy meatballs and vegetable snack ideas and chicken bites and so many more cheap snacks and fingerfoods for any size crowd.
The hot dips (especially the 7 layer dip) are SOOOOO insanely good!
Easy Make Ahead 5 Star Party Appetizer Ideas and Fingerfood Recipes for a Crowd! Having a get-together for football, the Holidays, New Years Eve or a family gathering and looking for some delicious and SUPER SIMPLE appetizer ideas?
Want COLD snack ideas?
Try these cold appetizers for a large crowd
Easy Potluck Appetizers, Cold Dip Recipes for a Crowd and Fast & Easy Cold Finger Food Buffet Ideas – These cheap and quick 3 ingredient cold appetizers are my favorite fast and easy recipes with few ingredients for any potluck, work party, cold food buffet table or any party or …
Large Party Snack Platter Ideas
When it comes to coming up with large batch party food for big crowds, snack platters (like in the picture below) are THE way to go.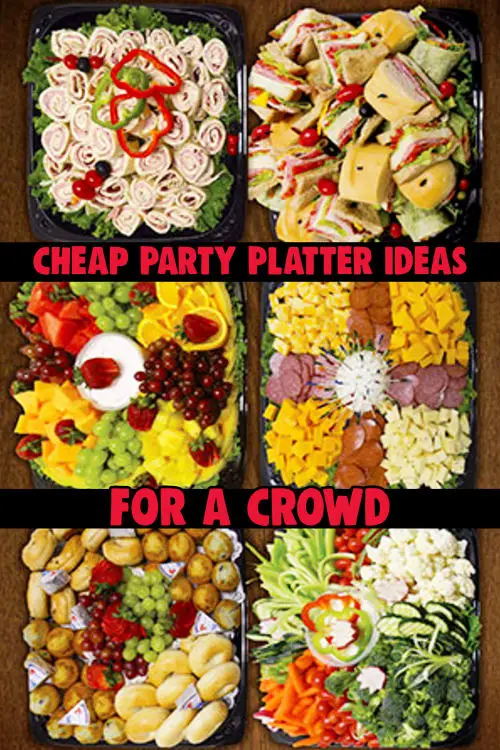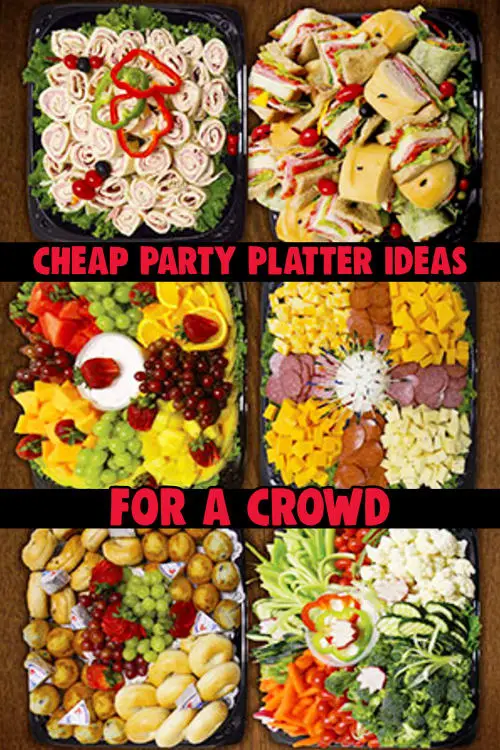 Remember, party snack platters and finger food platters are NOT about how much you spent or how hard they were to make – they ARE all about presentation.
As you can see in the party platters in the picture above, all of those party snacks are very inexpensive, but they LOOK (and taste) super good and as if you spent HOURS making them.
---
---
Large Potluck Party Food Ideas
When we have our VERY large family reunion potluck each year, I always make my super easy crockpot mac n cheese.
Just dump the few ingredients in your crock pot and you're done – you don't even have to boil the noodles!
Simple Slow Cooker and Crock Pot Macaroni and Cheese Recipes That Taste Gourmet – Here's my on-going collection of easy crockpot mac and cheese recipes that I cook at home and for family gatherings and potlucks (I love cooking mac and cheese for a crowd – and they sure love eating it!
Large Party Punch Ideas
Whether you're having a large group brunch party, a baby shower or ANY type of party, having a BIG batch of punch ready for your guests to drink is a MUST HAVE.
Here are my favorite large party punch recipes that are all cheap and super easy to make in big batches (even if you are feeding 50 people or more).
Easy Punch Recipes for a Crowd and Easy Party Drinks Ideas too! Lots of insanely good and super simple party punch recipes on this page! There are both non-alcoholic punch recipes and simple party punch recipes with alcohol in them.
Large Brunch Party Food Ideas
Speaking of brunch parties, if you're in charge of feeding a large group at a brunch party, try these easy brunch casseroles and cakes – you can make them ahead of time (and some you can freeze for later) and are perfect for a big group.
Easy Breakfast Bundt Cake & Make Ahead Brunch Casserole Recipes * I've been searching all over for EASY breakfast recipes and crowd-pleaser brunch food ideas that are great for a crowd. With the Holidays coming and lots of overnight guests and brunch get-togethers, I really want some simple and fast breakfast ideas that everyone will love.
Large Batch Party Dip Recipes
When it comes to inexpensive snacks for a large group, nothing is cheaper, easier and more crowd pleasing than these easy ranch dip recipes.
Super Simple Cold Dip Recipes for a Crowd – Below are my favorite cold ranch dip recipes for veggies and chips that are all super easy to make and insanely good crowd pleasing recipes. They are truly the perfect party food to set out for your guests or to take to a party where YOU are the guest!
Big Party Dessert Ideas
Desserts are ALWAYS the thing most requested at all the big parties and family gathering I make food for. And, as much as it drives me nuts, there are NEVER any leftovers for ME to enjoy haha!
These dump cake recipes are SO easy to throw together and make in big batches for any size group – and they're VERY cheap to make.
Super Simple Make Ahead Desserts That Are Perfect For A Crowd! These dump cake recipes below are the EASIEST and most super simple dessert recipes you'll ever make. When you need to make a quick dessert or sweet treat for a crowd, for your family, church, brunch, potluck, etc, these dump cakes are the perfect idea.
Now, if you're making dessert in large batches for a family gathering, you might want to try these easy old-fashioned dessert ideas (they're just like my grandmother used to make and everyone loves them).
Church Desserts: Old-Fashioned dessert recipes that your mom, your grandmother (or your lunch lady) used to make from scratch Yep, these are Grandma's Dessert recipes – all those mouth-watering dessert recipes that your mom, your grandmother, your sweet old Aunt Betty or your lunch lady used to make from scratch that everyone BEGGED her to bring to the next family reunion, potluck, baby shower or ANY family get-together because these ARE the proven crowd-pleasers!
My family and friends traditionally have a sweet tooth that only really sweet treats can satisfy. When I'm going for cheap snacks and party food for large groups, I make these simple 3 ingredient fudge recipes and they gobble them up!
When it comes to super simple desserts, these 3 ingredient fudge recipes are at the top of my list. I'm a HUGE fan of super simple sweet treats and desserts when I'm baking and cooking for a crowd or in large batches to give as homemade gifts.