---
DIY Painted Rocking Chairs For Teachers – Today I saw the cutest DIY projects to try – upcycled cheap yard sale rocking chairs transformed into painted teacher's reading chairs. Such creative ideas – I can't wait to try it with the examples and instructions below!
I can just imagine all the little kids in the classroom gathering around the teacher's reading rocking chair during story time – makes ME want to be a kid again!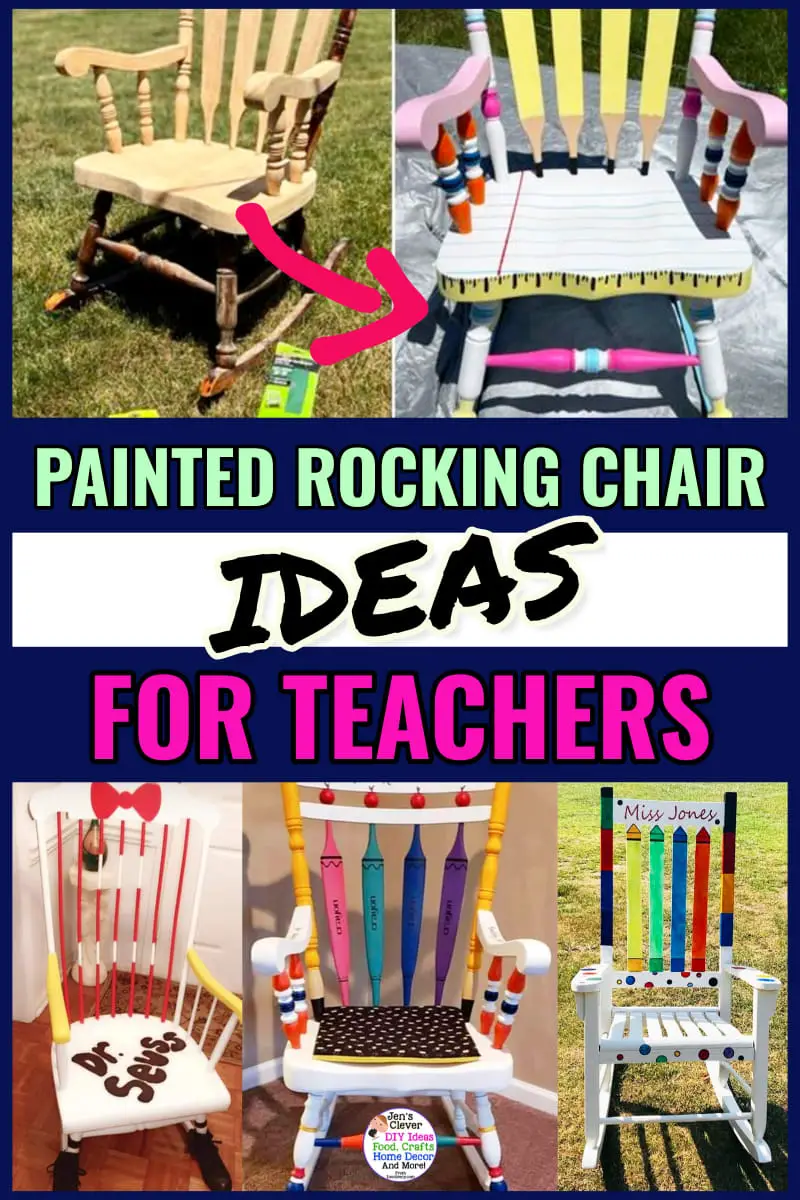 ---
Updated on August 6, 2023
posts may contain affiliate links -Enjoy and feel free to share with your friends!
---
DIY Painted Teacher Chairs
If you're looking for a unique way to add some additional color and personality to your classroom, these teacher chairs are a great idea! Not only does it give YOU a comfortable place to sit while reading and teaching during circle time, these painted rocking chairs sure can brighten up any classroom. Bottom line, they're just FUN for you AND for the kids.
On Facebook, I saw this classroom teacher rocking chair idea that started with this story:
My daughter is a 1st grade teacher. She has been wanting a rocking chair for her classroom. She found one for $25 and has spent her summer refurbishing it. Picture on left is after she stated stripping and sanding it. I think she did a fabulous job! She does not get her talent from me!
Yes, a $25 thrift store rocking chair turned into THIS gorgeous and FUN reading chair for teachers.
On the left – the old rocking chair after she sanded it down…. on the RIGHT, the AFTER – I just love it!
Did you notice the rocking chair seat?
If not, go back and LOOK…
It's painted like notebook paper – lines and all!
So much detail and creativity – I'm impressed!
I love repurposing old stuff into useful items, but this furniture makeover just might be one of my favorites (other than my ideas for old dressers without drawers).
These painted rocking chairs are the cutest, but left me wondering… How much artistic talent do I need to do this?
As you can see in the pictures of these rocking chairs below, some of them look WAY beyond MY hand-painting talent level haha!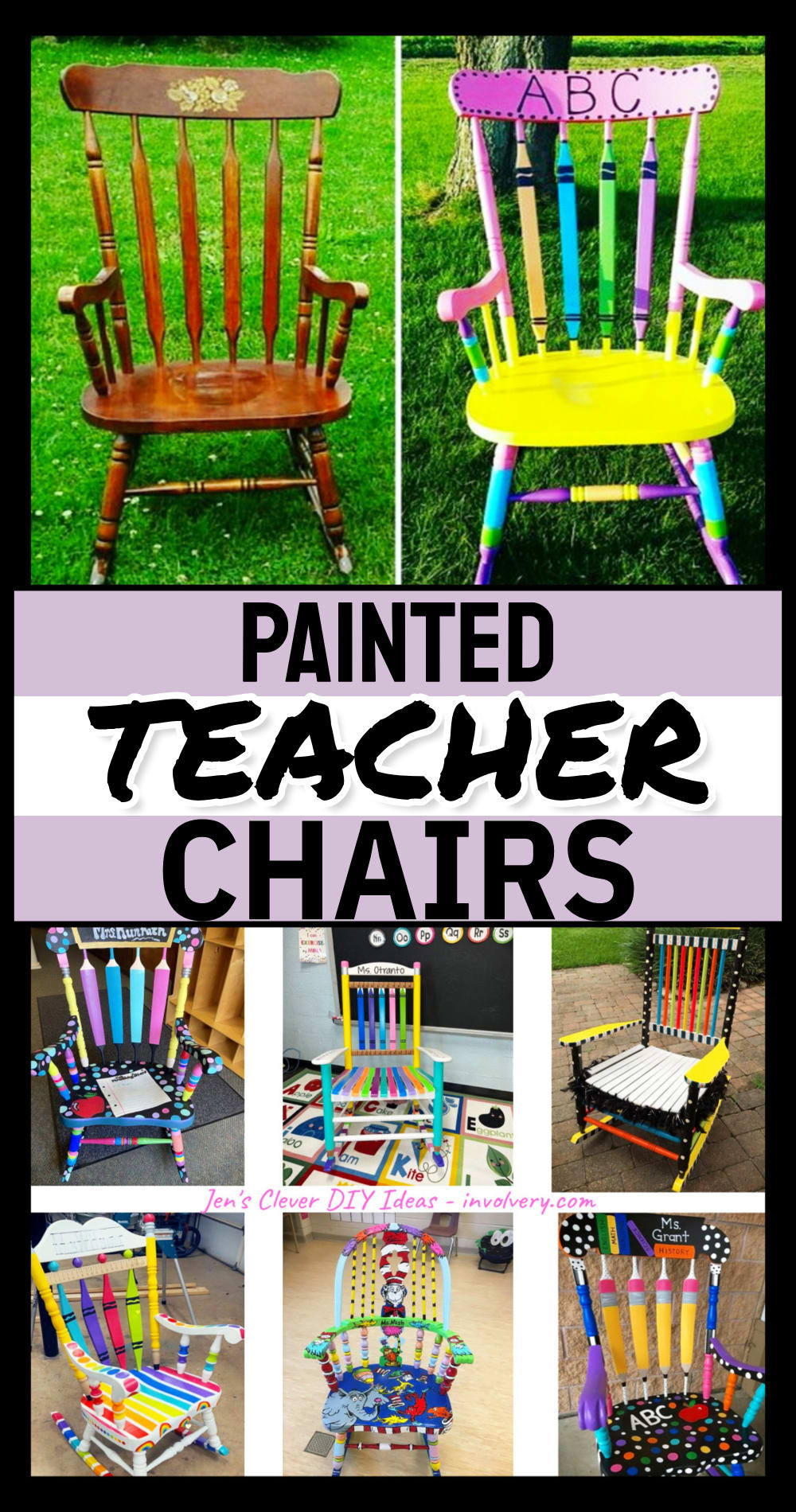 Tips and Tricks For Painting Your Chair
If you're wondering if you can do this yourself (like I am), here are a few tips for painting your teacher chair:
Start with a simple design: If you're new to painting, it can be helpful to start with a simple design that doesn't require a lot of detailed work. This could be a single color, a pattern made up of basic shapes, or an image with clearly defined lines.
Use stencils or templates: If you're not confident in your freehand drawing skills, you can use stencils or templates to help you create a precise design. You can find a wide range of stencils and templates online or at your local craft store.
Practice on a small surface: Before you start painting your rocking chair, you might want to practice your technique on a smaller surface, like a piece of paper or a cardboard box. This can help you get a feel for the paint and brush, and it will give you a chance to try out different techniques and styles.
Take your time: Painting a rocking chair can be a time-consuming project, so be sure to set aside plenty of time to complete it. Don't worry if it takes you a while to get the hang of it – painting is a skill that can be developed over time with practice.
Using stencils is the BEST idea for me haha!
 Motivational StencilsFound Here School-Themed StencilsFound Here
Pictures and Ideas
Before I show you HOW to turn an old cheap rocking chair into a teacher's reading rocking chair for your classroom (or the room you homeschool in), let me show you more creative ways to paint your teachers rocking chair.
This next idea for painting a rocking chair for the classroom is super cute – love the apple on the seat!
I think it would be perfect for in the library or a kindergarten class!
This next painted rocking chair is really creative….
Be sure to notice the ends of the rocking chair back!
They're painted like pencils! So cute!
Here's another ideas for painting a classroom rocking chair:
I'm not quite sure that rocking chair was found at a yard sale tho – it looks more like one of those unfinished front porch rocking chairs you can get at Home Depot or Lowe's, doesn't it?
Either way, it's REALLY cute!
Let's look at one more painted rocking chair idea before I show you HOW to do it and share even more cute classroom designs…
This classroom rocking chair is a bit more 'subtle' since it is painted with pastel colors as opposed to the bold, primary colors in the rocking chair pictures above.
Very pretty and would be a gorgeous furniture piece in any classroom.
How To Paint Your Chair
Ok, let me show you the teacher rocking chair DIY video tutorial where she's turning a cheap rocking chair into the CUTEST teacher reading chair:
Here's the basic step for painting your rocking chair:
Clean and prepare the chair: Before you begin painting, you'll want to make sure that your chair is clean and in good repair. Use a mild soap and water to wash the chair, and sand down any rough or splintered areas.
Prime the chair: To help your paint adhere to the chair and give it a smooth finish, you'll want to apply a coat of primer. You can use a brush or roller to apply the primer, and make sure to get it into all the nooks and crannies of the chair.
Choose your paint: Decide on the color scheme and design that you want to use for your chair. You'll want to use a paint that is specifically designed for use on wood, as it will have the right level of adhesion and durability.
Paint the chair: Once you have your paint ready, you can begin applying it to the chair. Use a brush or roller to apply the paint, and make sure to get good coverage and smooth out any brush strokes. You may need to apply multiple coats to get the desired effect.
Protect the paint: Once your paint is dry, you'll want to apply a sealant to help protect it from wear and tear. You can use a clear polyurethane or a wax finish, depending on your preference.
What type of paint should you use to paint your teacher's reading chair?
In the tutorial video above, she used used Behr paint and primer in the color POLAR CHAIR for the chair, and small Behr paint samples of primary colors for the pops of color.
These more affordable paints will work really well too.
 Flat White PrimerFound Here Chair Painting KitFound Here
Design Ideas To Try
Need some inspiration for WHAT to paint on your chair?
Here are 10 teacher chair designs you could do…
Use bright, fun colors to create a playful, welcoming atmosphere in your classroom. You could paint your rocking chair in shades of red, yellow, and blue, or use a rainbow of colors to make it really stand out.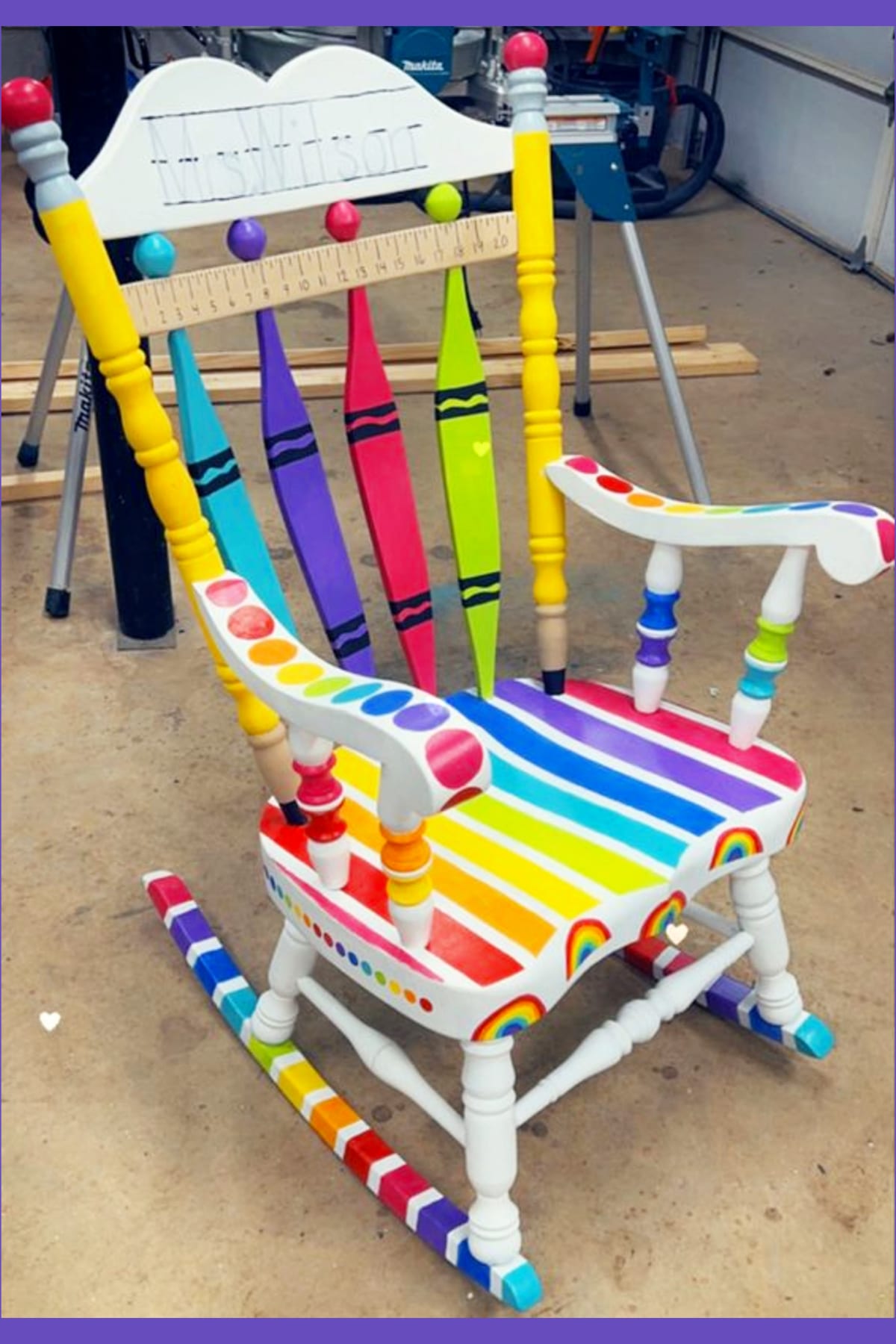 Create a nature-themed design by painting your rocking chair with images of flowers, trees, or animals. This could be a great way to bring the outdoors into your classroom and help your students feel connected to nature.
Use your rocking chair as a way to showcase your personality and interests. For example, you could paint it with images of your favorite books, movies, or sports team.
I ADORE this teacher chair painted in a Dr Seuss theme – so cute!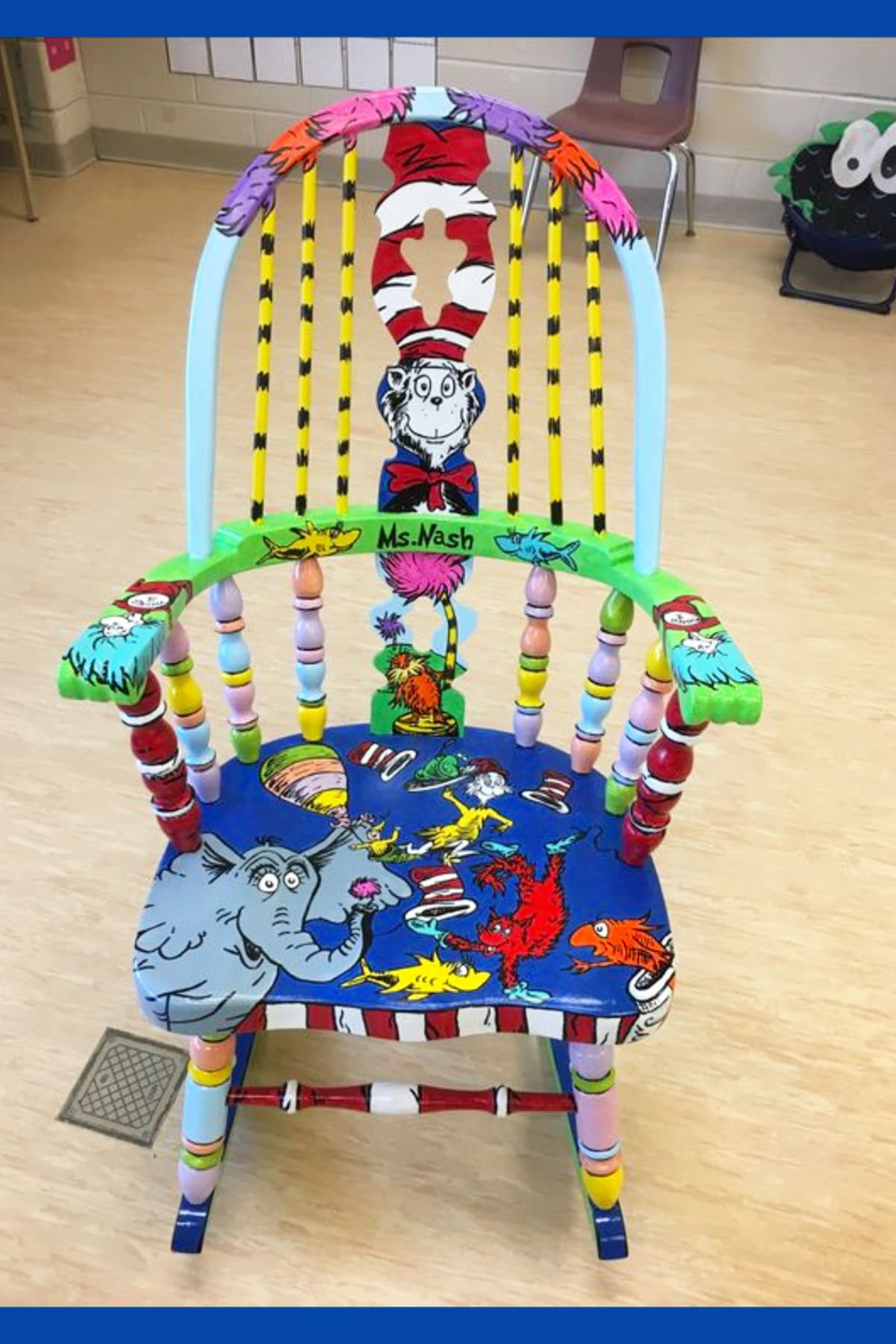 Use your rocking chair as a teaching tool by painting it with different colors, shapes, numbers, or letters. This could be a fun way to incorporate learning into your classroom decor.
Consider painting your rocking chair more calm colors, like soft pastels as opposed to bright primary colors. This could be a great way to create a peaceful atmosphere in your classroom, particularly for younger students (like preschool, pre-k, kindergarten, etc) who may benefit from LESS stimulation.
Use your rocking chair as a way to honor your students' cultural backgrounds. You could paint it with images or patterns that represent their heritage, or create a design that celebrates diversity and inclusion.
Create a beach-themed design by painting your rocking chair with images of sand, sea, and sky. This could be a great way to bring a little bit of summertime fun into your classroom all year round.
Use your rocking chair as a way to showcase your classroom's theme or curriculum. For example, you could paint it with images related to a science project, a history lesson or the best idea of ALL – promote and ecourage READING.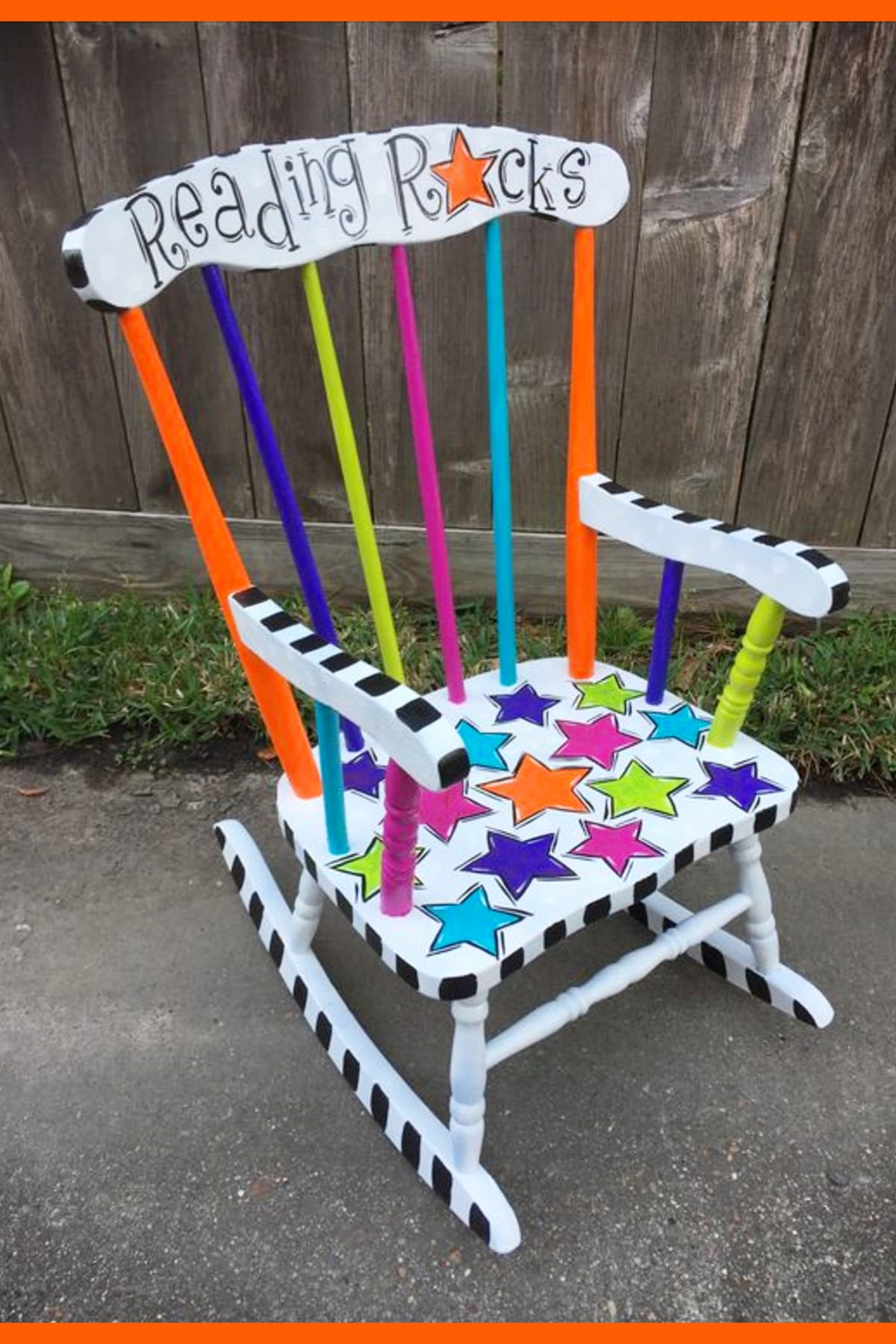 Paint your rocking chair with a blackboard or whiteboard design, and use it as a creative way to display messages or reminders in your classroom.
Paint your rocking chair with a mural-style design, using your students handprints.
For Preschool Classrooms
Painted teacher rocking chairs can be a great addition to a preschool classroom! Rocking chairs provide a comfortable and cozy item that young children relate to. They can be used as a place for students to sit around on the floor while you read to them – or for a special student-of-the-day to sit and read to the other kids.
In addition, rocking chairs can be a great teaching tool for young children. You can use them as a way to engage students in learning activities or to encourage them to think creatively. For example, you might use your painted rocking chair as part of a pretend play activity, or as a place for students to do independent work.
Overall, painted rocking chairs can be a fun and functional addition to a preschool classroom, and they can help create a warm and welcoming atmosphere for your students.
I sure hope all these ideas, tips and designs give you even more inspiration for your painted rocking chair project!
Many thanks to SimplisticallyLiving for sharing the original idea on Facebook that inspired this post!
More Ideas For The Classroom:
Miss Anything?
More DIY Furniture Ideas: