---
Today I saw such CUTE ideas for transforming a cheap yard sale rocking chair into a teachers reading chair. So creative!
I can just imagine all the little kids in the classroom gathering around the teacher's reading rocking chair during story time – makes ME want to be a kid again!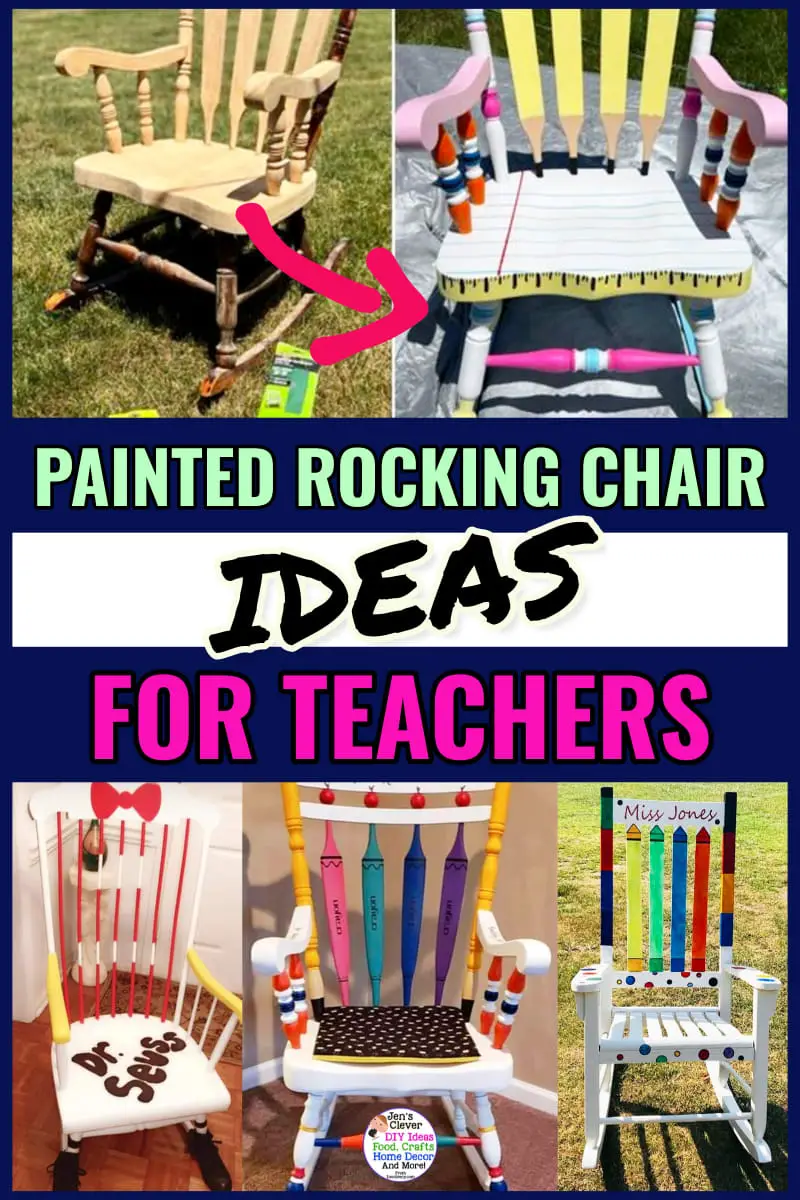 ---
Updated on October 28, 2022
posts may contain affiliate links -Enjoy and feel free to share with your friends!
---
On Facebook, I saw this classroom teacher rocking chair idea that started with this story:
My daughter is a 1st grade teacher. She has been wanting a rocking chair for her classroom. She found one for $25 and has spent her summer refurbishing it. Picture on left is after she stated stripping and sanding it. I think she did a fabulous job! She does not get her talent from me!
Yes, a $25 thrift store rocking chair turned into THIS gorgeous and FUN reading chair for teachers.
On the left – the old rocking chair after she sanded it down…. on the RIGHT, the AFTER – I just love it!
Did you notice the rocking chair seat?
If not, go back and LOOK…
It's painted like notebook paper – lines and all!
So much detail and creativity – I'm impressed!
I love repurposing old stuff into useful items, but this furniture makeover just might be one of my favorites (other than my ideas for old dressers without drawers).
Before I show you HOW to turn an old cheap rocking chair into a teacher's reading rocking chair for your classroom (or the room you homeschool in), let me show you more creative ways to paint your teachers rocking chair.
This next idea for painting a rocking chair for the classroom is super cute – love the apple on the seat!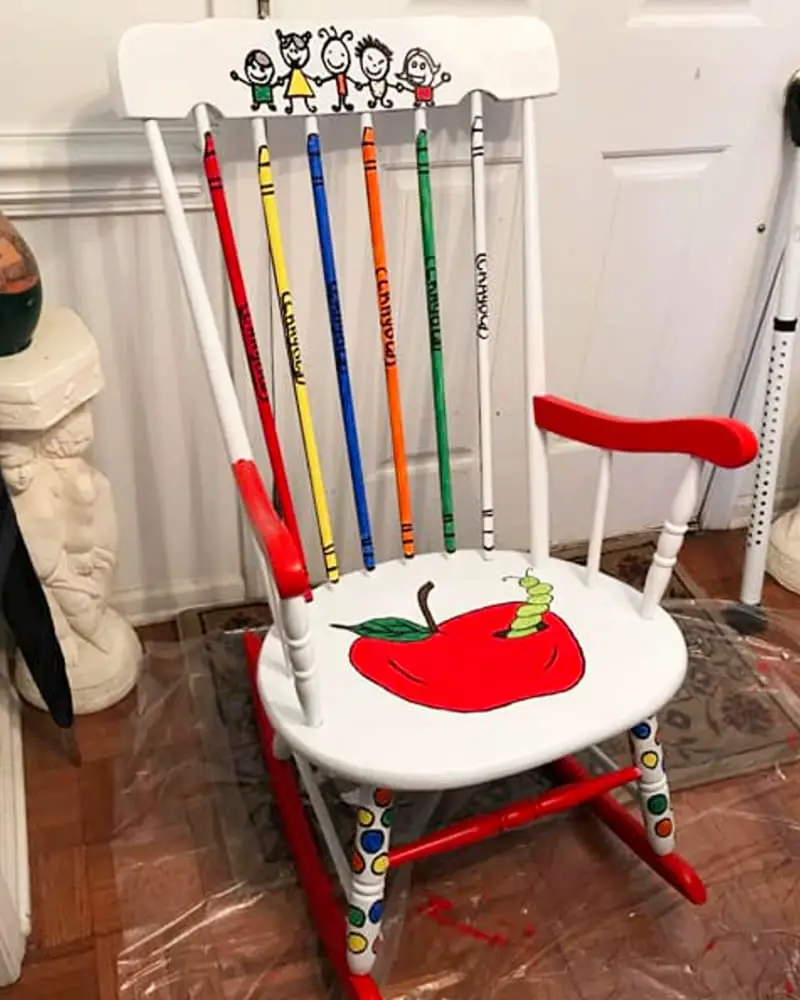 I think it would be perfect for in the library or a kindergarten class!
This next painted rocking chair is really creative….
Be sure to notice the ends of the rocking chair back!
They're painted like pencils! So cute!
Here's another ideas for painting a classroom rocking chair:
I'm not quite sure that rocking chair was found at a yard sale tho – it looks more like one of those unfinished front porch rocking chairs you can get at Home Depot or Lowe's, doesn't it?
Either way, it's REALLY cute!
Let's look at one more painted rocking chair idea with a school classroom theme…
This classroom rocking chair is a bit more 'subtle' since it is painted with pastel colors as opposed to the bold, primary colors in the rocking chair pictures above.
Very pretty and would be a gorgeous furniture piece in any classroom.
Ok, let me show you the teacher rocking chair DIY video tutorial where she's turning a cheap rocking chair into the CUTEST teacher reading chair:
What type of paint should you use to paint your teacher's reading chair?
She used used Behr paint and primer in the color POLAR CHAIR for the chair, and small Behr paint samples of primary colors for the pops of color.
Many thanks to SimplisticallyLiving for sharing these ideas on Facebook!
More Ideas For The Classroom:
More DIY Furniture Ideas: