Crowd-Pleaser potluck dessert recipes that my grandmother used to make for family reunions, church bake sales, work potlucks, summer BBQ family gatherings and our annual bring-a-dish Christmas party crowd –
Yep, these are Grandma's Quick and Easy Potluck Dessert recipes – from make ahead from scratch to last minute no bake – below are all her mouth-watering old school dessert recipes she used to make from scratch that everyone BEGGED her to bring to the next family reunion, potluck, picnics, baby shower or ANY family get-together because these ARE the proven crowd-pleasers!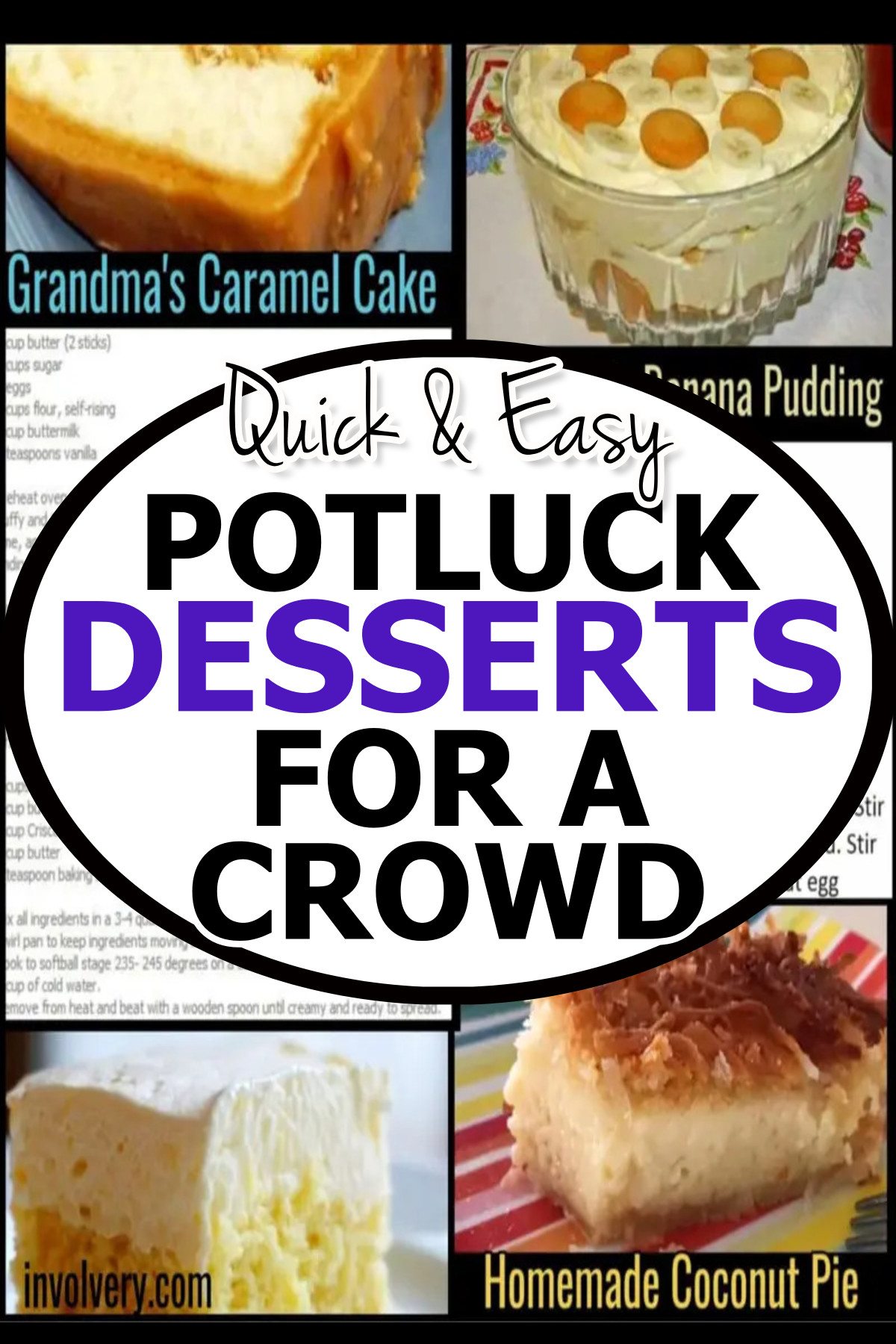 When it comes to QUICK potluck desserts, my grandmother's recipes are probably not the fastest (but they sure are show-stoppers!).
If you're really looking for quick and easy potluck desserts with few ingredients, no bake desserts or dessert recipes with few ingredients, I have a TON of recipes for MY favorite simple potluck desserts on this page too.
Here's a quick sample of the other potluck dessert recipes you'll find as you scroll down this page: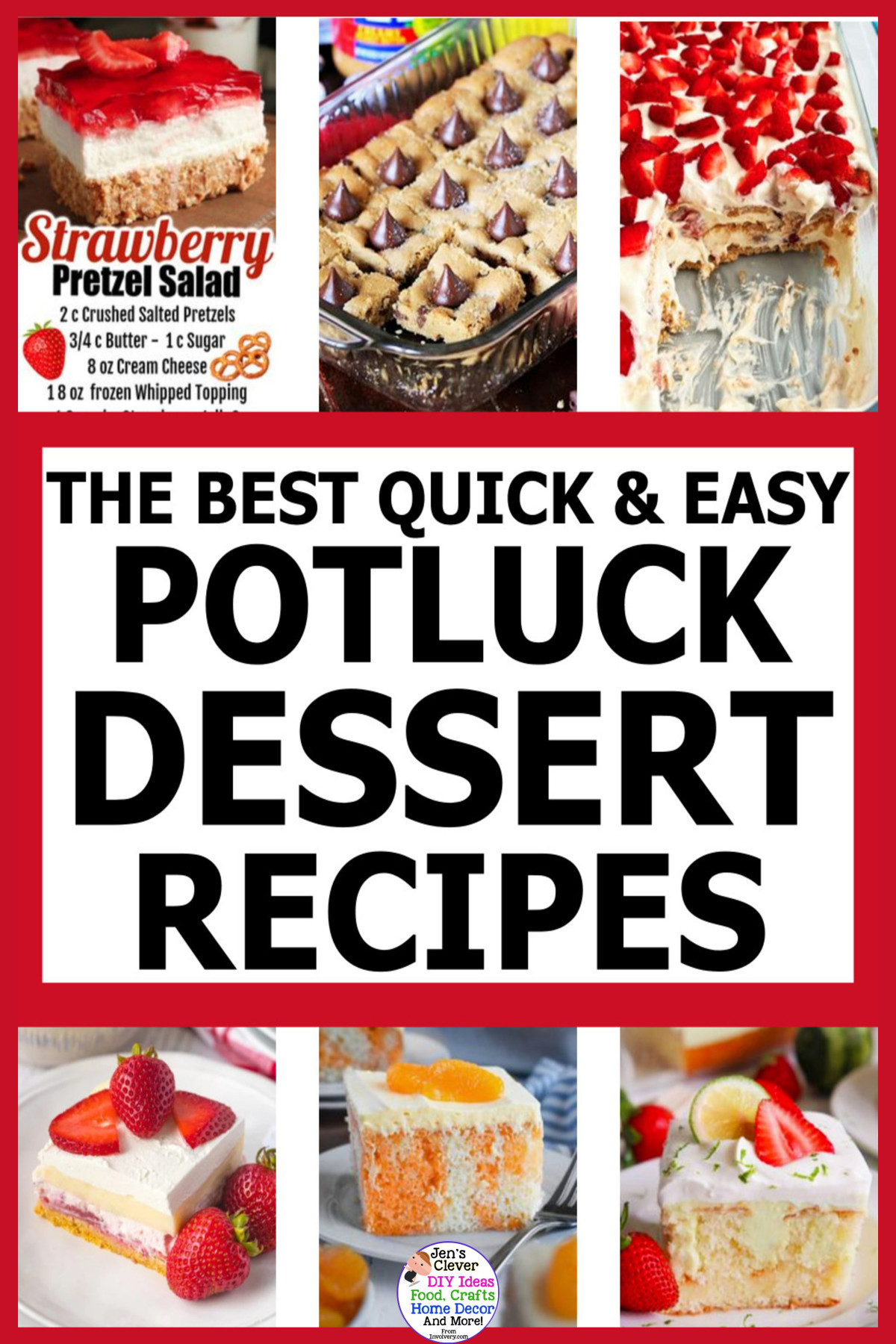 Alrighty – let's jump in and look at some yummy potluck dessert ideas ANY crowd will LOVE you for making and bringing!
Easy Potluck Desserts
If you're looking for an easy potluck dessert idea that is sure to impress even your family crowd, let me share my Grandma's potluck dessert recipes.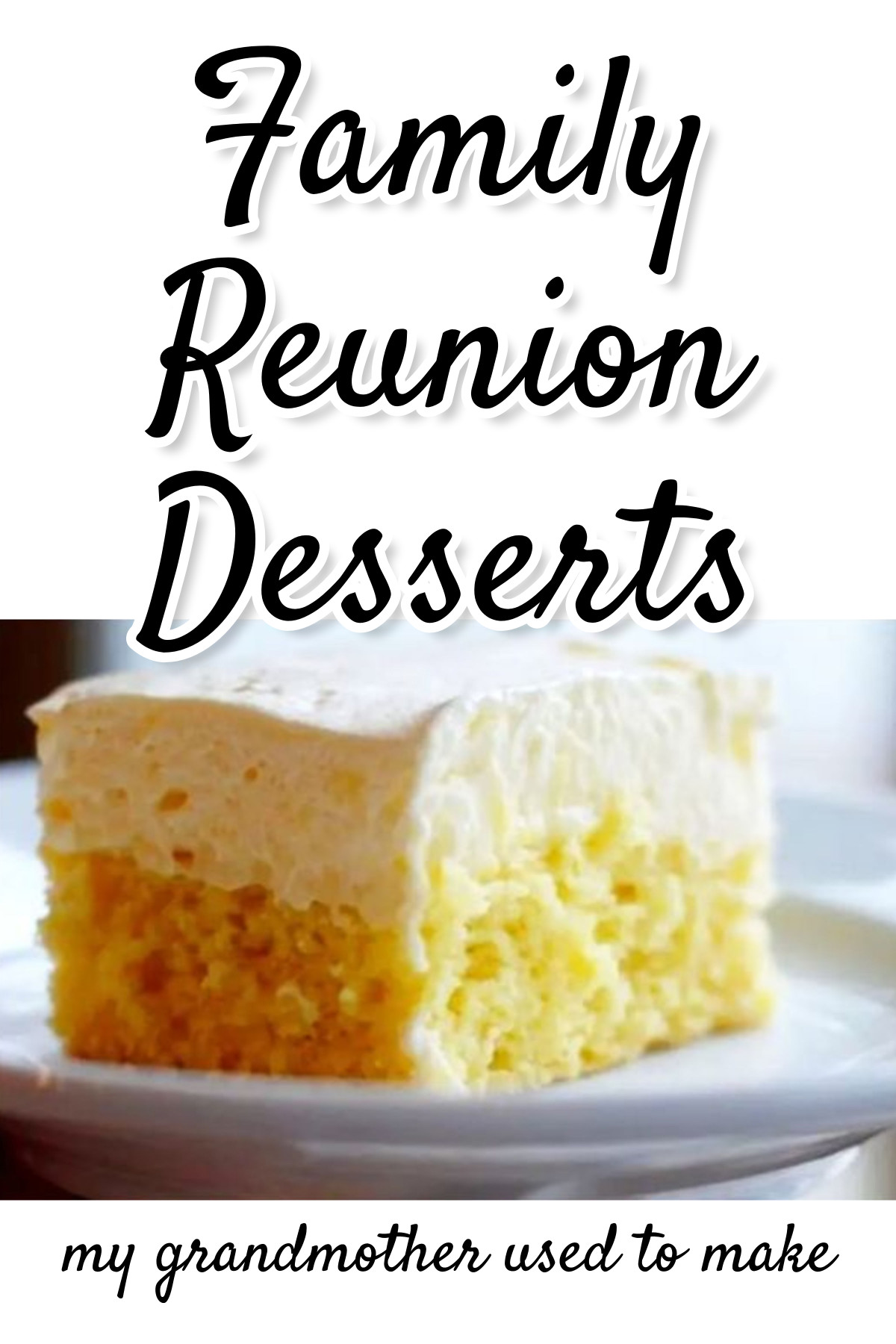 She brought these desserts to ALL the family reunions, Holiday parties and her monthly church potluck.
Some of these yummy family reunion dessert recipes are old fashioned recipes, others are easy 9×13 one pan no bake desserts.
She also held her recipes close and called them TOP SECRET – like Grandma's famous banana bread recipe below.
As you can see, Grandma's recipe wasn't really a secret since I found it on the back of the flour bag – haha!
I don't know about you, but just LOOKING at the pictures of these old-fashioned homemade potluck desserts makes my mouth water and brings back such wonderful memories! Everyone made the best desserts from scratch – no cake mix in those kitchens (or at least they acted like it was ALL from scratch haha!!)
If you've been looking for the vintage potluck recipes from your grandmothers kitchen, look no further – we found them!
Pecan Pie
Ah, pecan pie. I've been making this delicious treat for as long as I can remember, and it's still one of my favorite desserts to make. My recipe has been passed down through generations in my family, and now passed down to me from my grandmother.
Sometimes I get "fancy" with it like this pie made for our Thanksgiving potluck: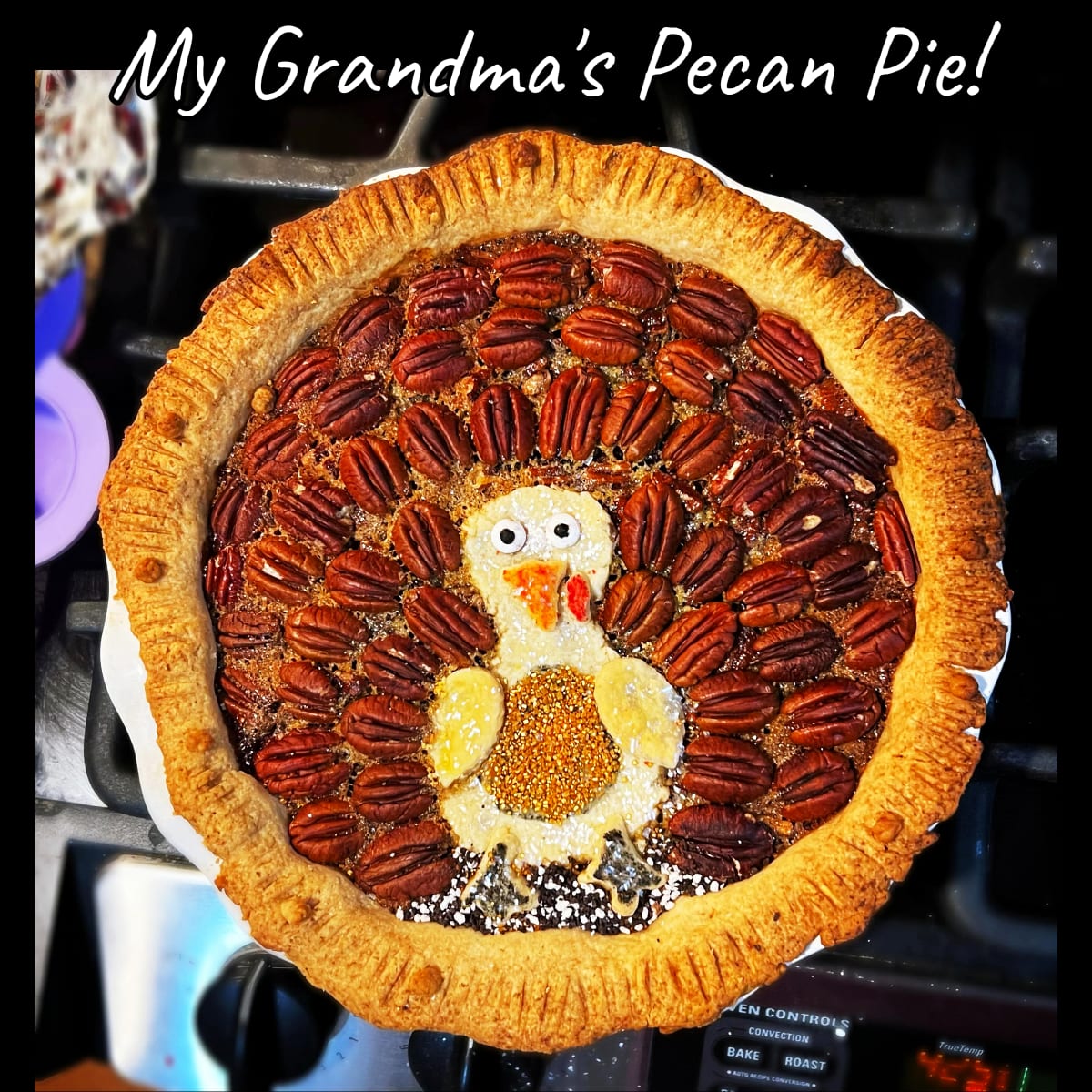 This traditional Southern dish is easy to make and so delicious that you won't be able to resist a second slice.
It starts with a simple pastry crust made from flour, butter, sugar and salt which is then filled with a sweet mixture of pecans, eggs, brown sugar and corn syrup. The combination creates an irresistible gooey filling that will have your mouth watering before it even hits the oven!
The key to perfecting this dish is to make sure your pecans are fresh and of the highest quality. I like to buy mine from my local farmer's market, but store-bought pecans work just fine. Once you have your pecans ready, it's time to get started!
To begin, preheat your oven to 375 degrees. Then roll out the pastry dough on a lightly floured surface until it's about 1/8th inch thick. Place this into an ungreased 9-inch pie plate and press firmly against the bottom and sides. To prevent soggy crusts, prick with a fork several times before baking for 10 minutes or until golden brown.
While that bakes, mix together the pecans, eggs, brown sugar and corn syrup in a medium bowl. Pour this mixture into the pre-baked crust and bake for an additional 25 minutes or until golden brown.
Once it's finished baking, let cool before slicing and serving. This pie is best when served warm with a scoop of vanilla ice cream or a big glob of Cool Whip on top – Yum!
Grandma's Lemon Cake Recipe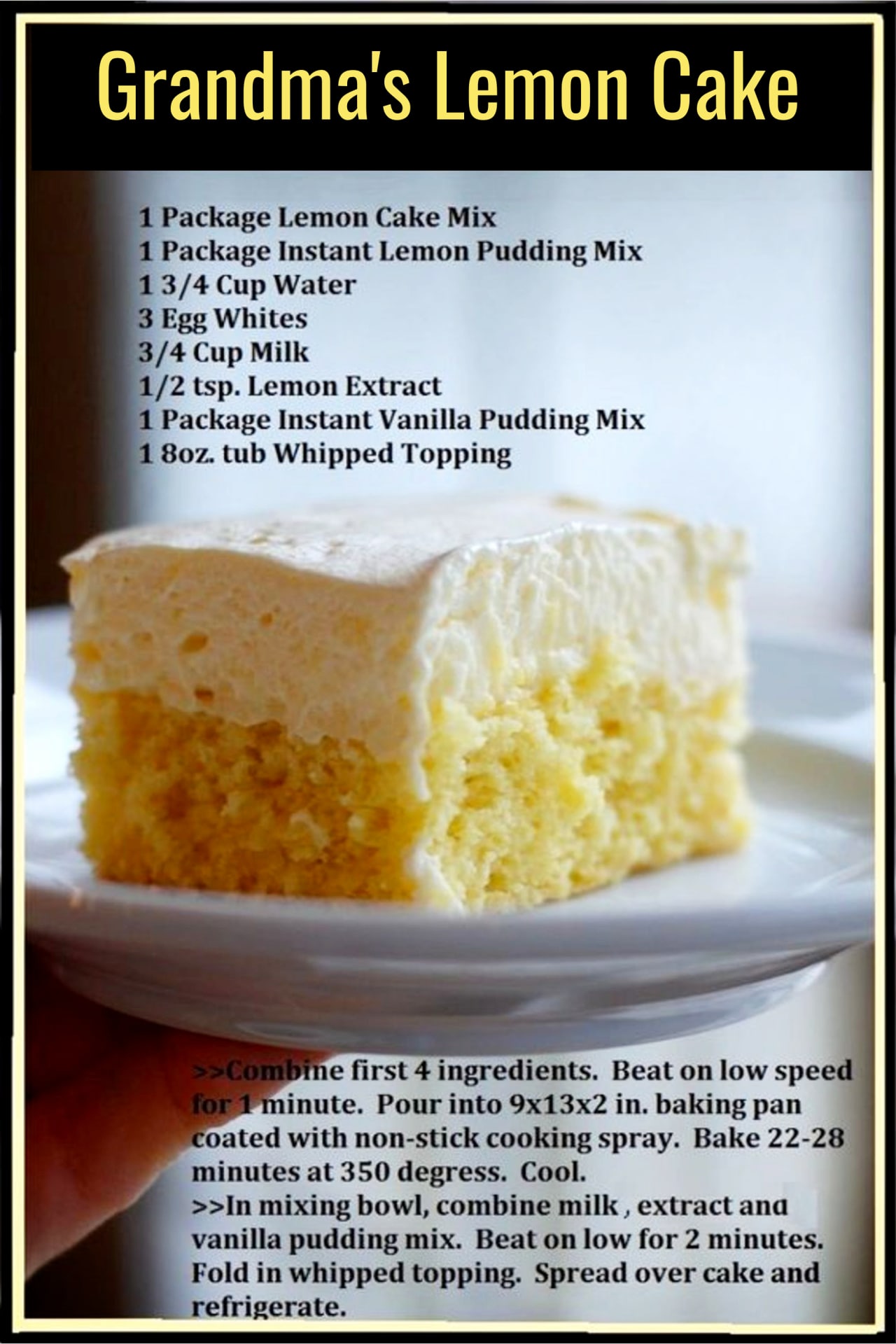 Grandma's Coconut Pie Recipe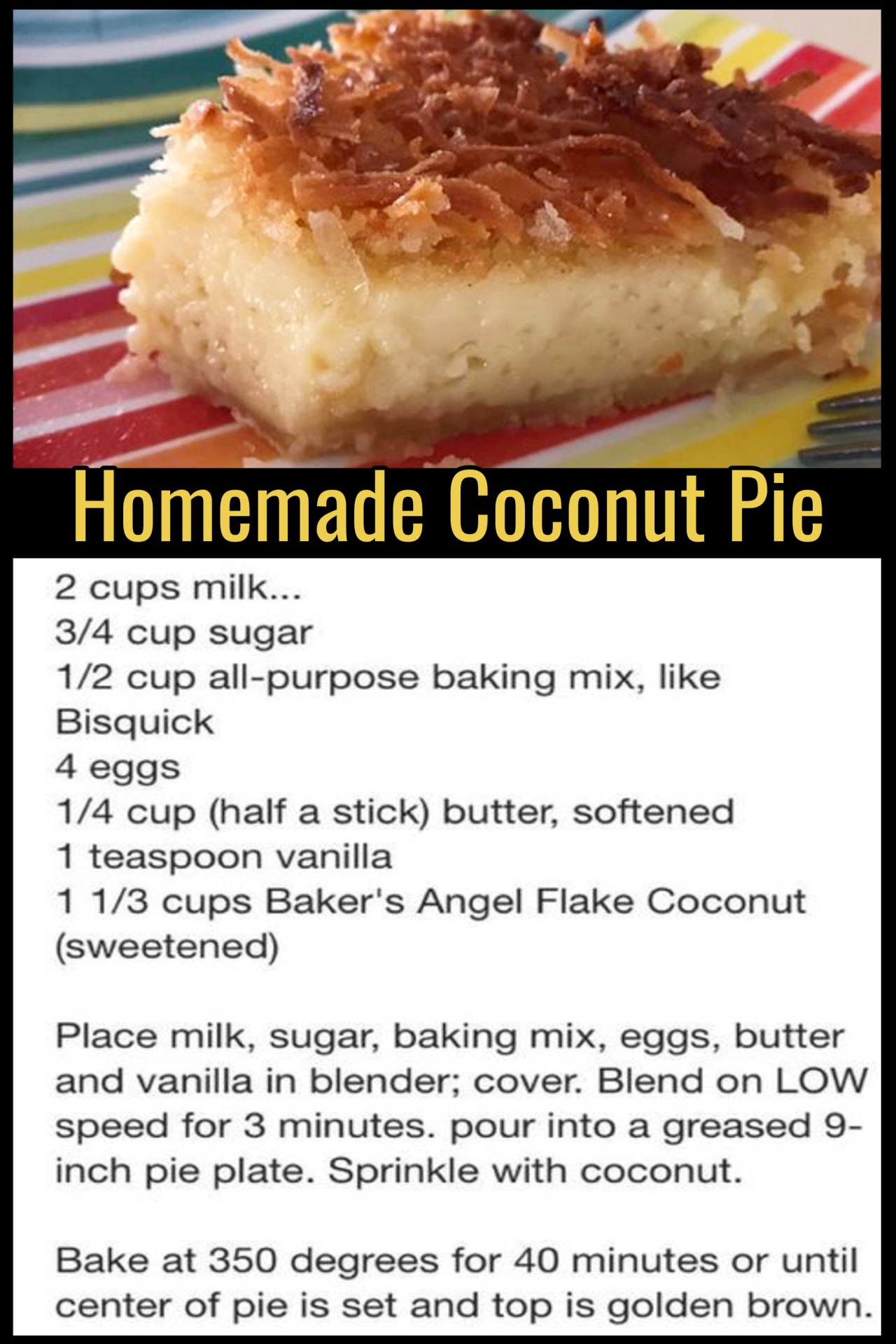 Grandma's Layered Oreo Delight Recipe
Lunch Lady Homemade Brownies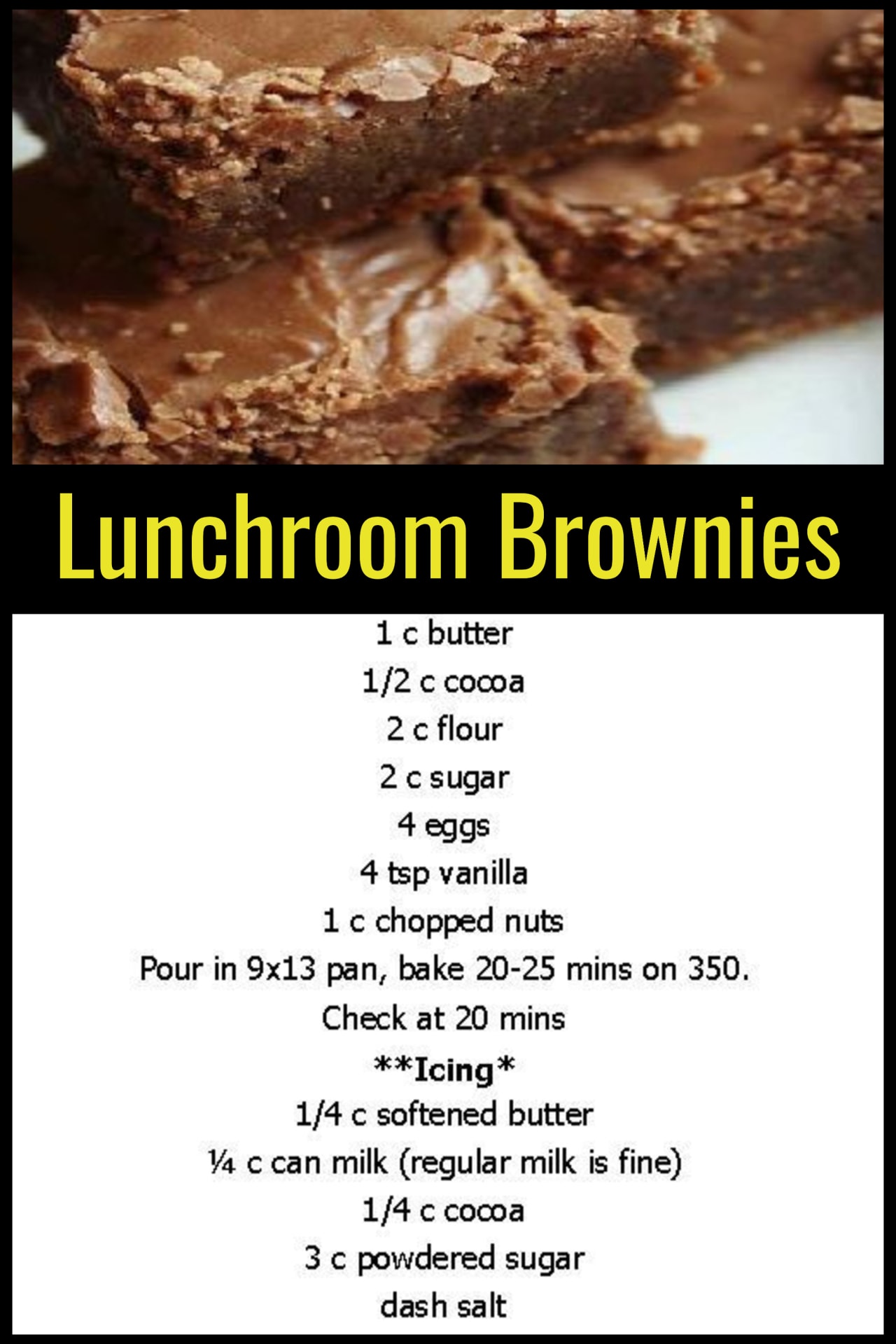 Grandma's Old-Fashioned Banana Pudding Recipe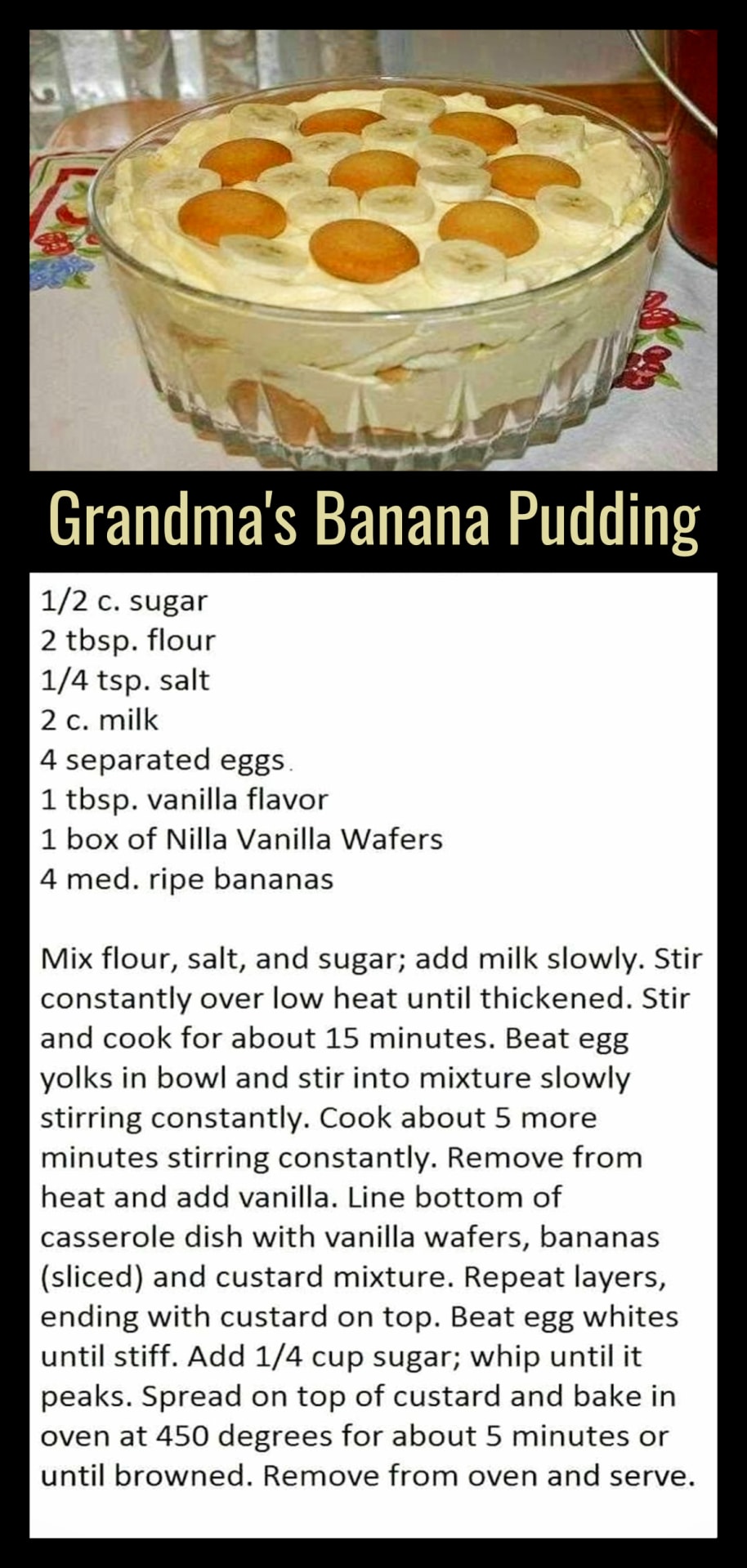 Grandma's Caramel Cake Recipe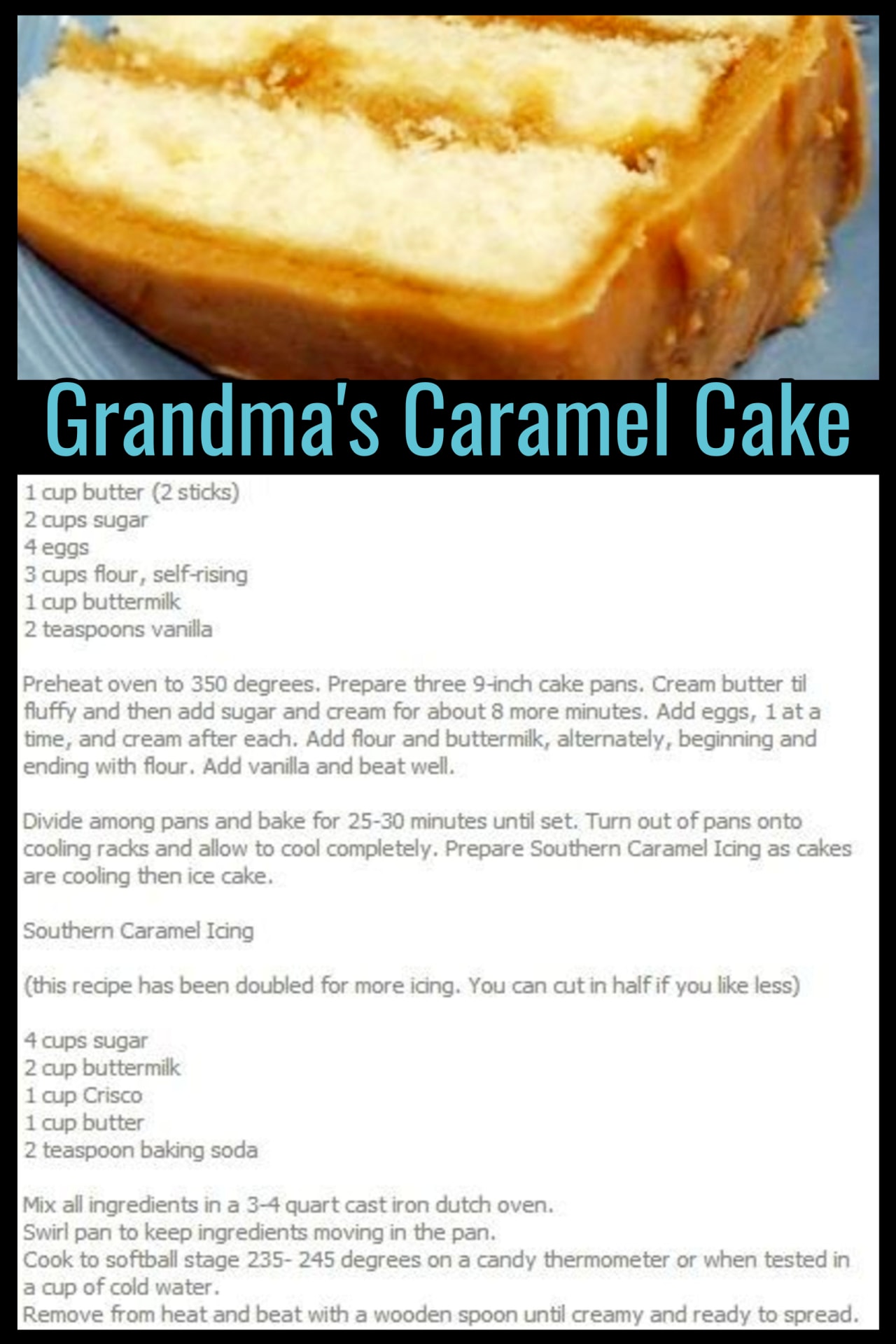 Grandma's Christmas Fudge Recipe
---
---
Grandma's Magic Pie
This Magic Pie is SO yummy!
WHY is it "magic"?
Because it makes it's own crust!
You just dump all the ingredients into a round baking dish and it magically creates a crust, a custard filling and coconut topping while it cooks.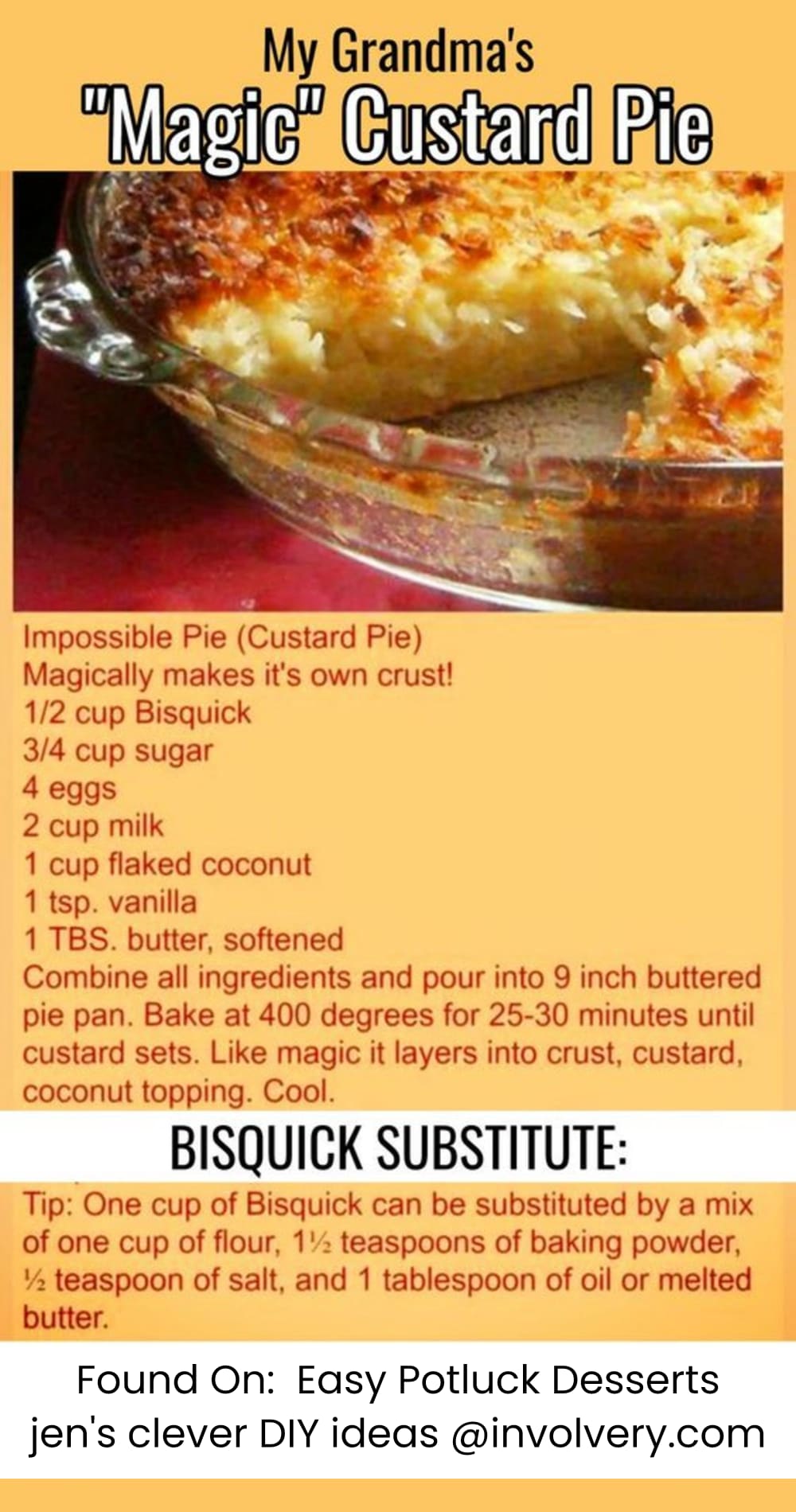 Grandma's Lemon Loaf Cake Recipe
This old-fashioned Lemon Loaf cake is literally to DIE for – it is so moist and I could drink the lemon glaze by the gallon lol!
It tastes just like Starbucks Lemon Loaf – and if you've had that, you KNOW it's good!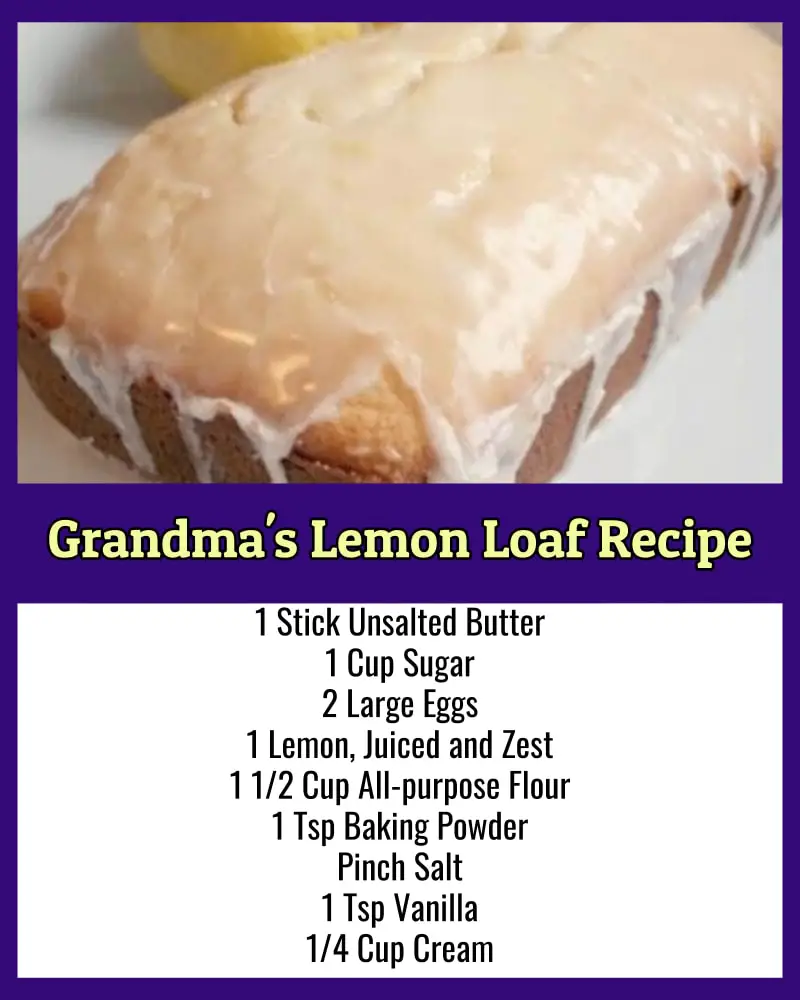 This is one of my favorite brunch cake recipes to make – everyone loves it!
I found the recipe on Facebook here.
To be honest, peaches are my SECOND favorite.
Blueberries are my #1 favorite!
I keep this blueberry desserts page bookmarked – such creative desserts made with blueberries!
My granddaughter loves the blueberry cookies on that page ALMOST as much as the Cinnamon Toast Crunch WAFFLES (and I have to admit, they're really good.
Desserts With Strawberries
If you want a super simple potluck dessert with strawberries, these 4 recipes below are MY picks.
From no bake to VERY few ingredients, these are all quick easy strawberry desserts: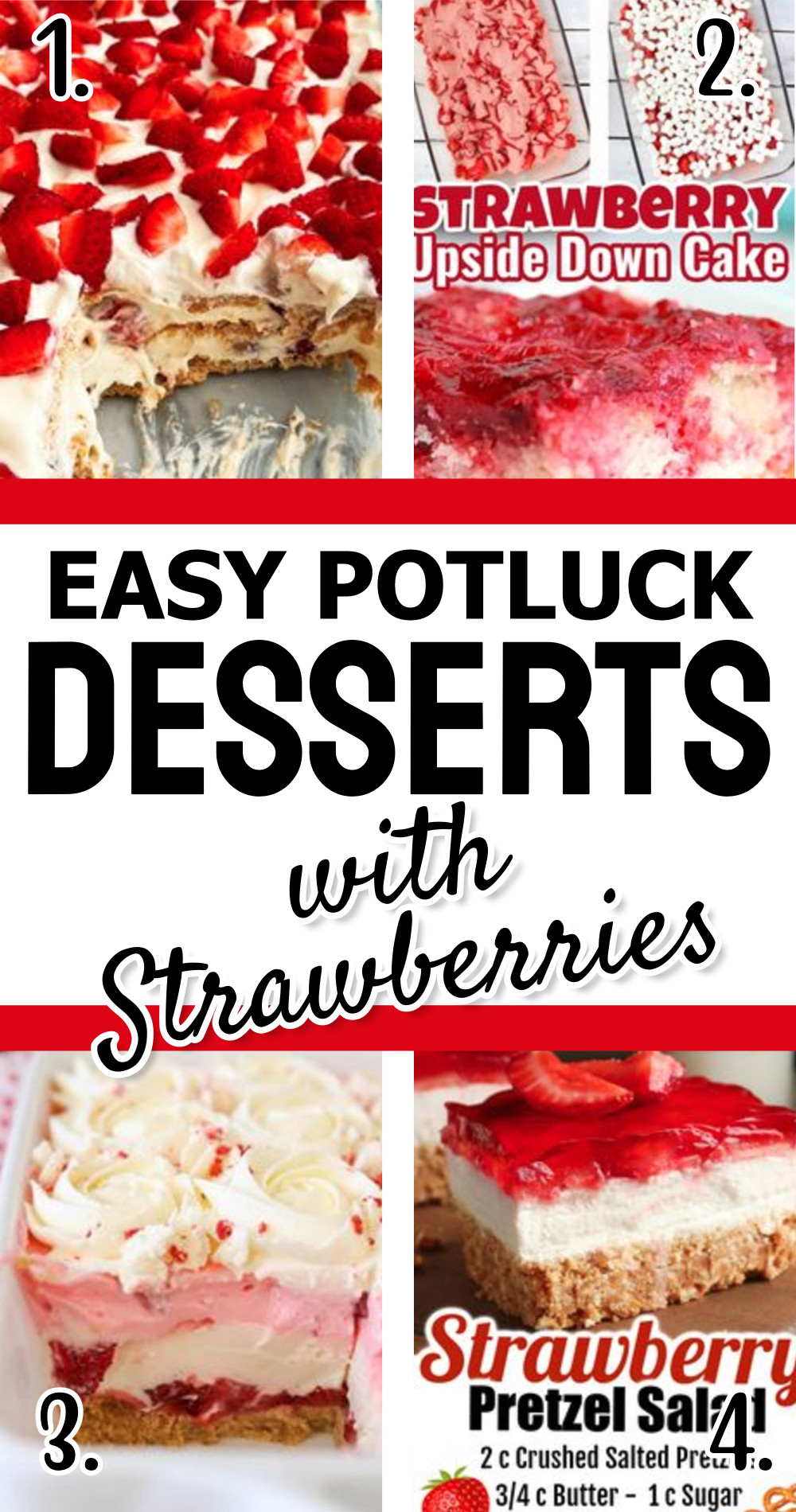 1 – No Bake Strawberry Icebox Cake – recipe
2 – 4-Ingredient Strawberry Upside down Cake – recipe
3 – Easy No Bake Strawberry Delight – recipe
4 – Strawberry Pretzel Salad – recipe
Pineapple Cake Recipe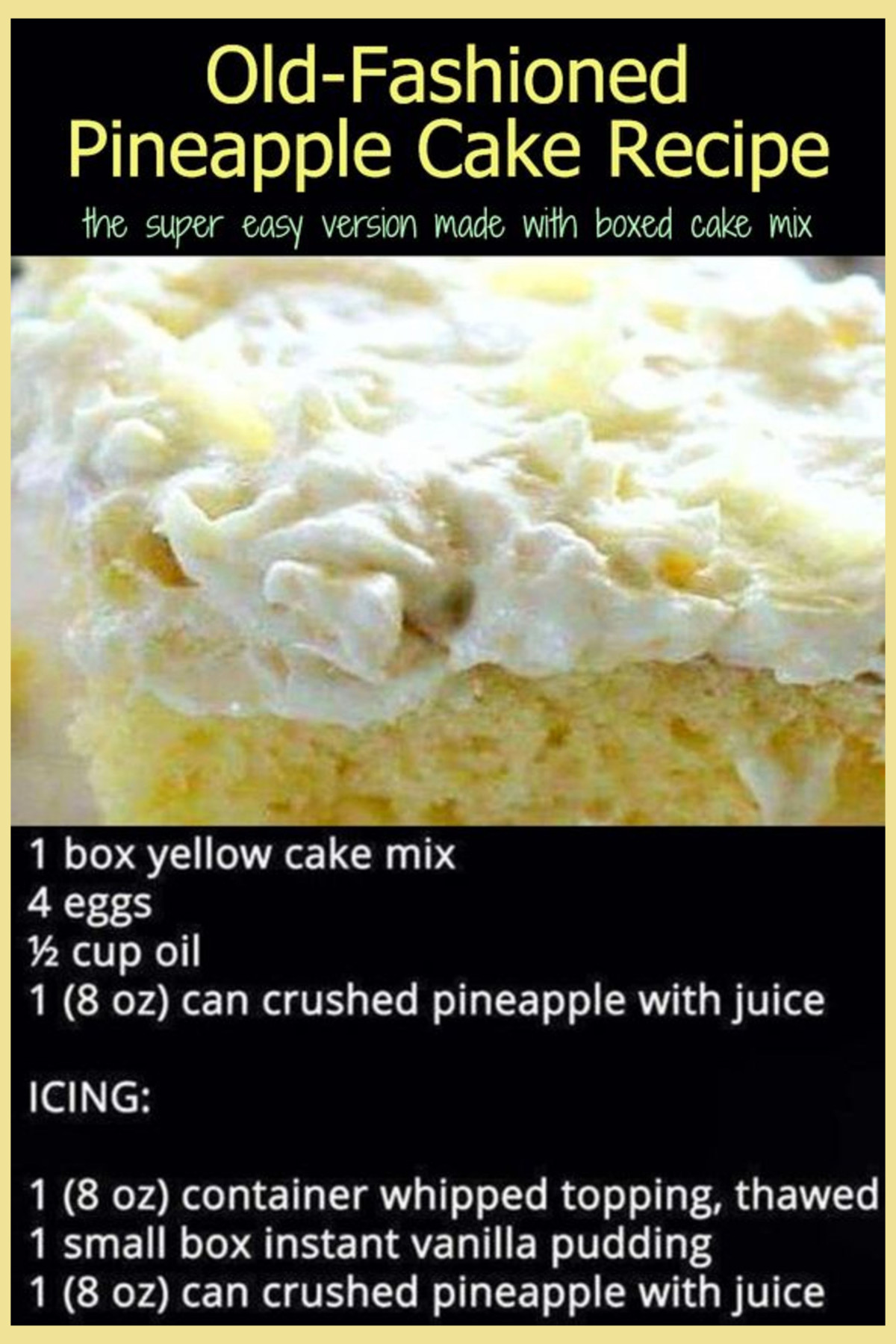 My grandmother made the BEST Pineapple Cake! I always thought she made it from scratch, but turns out – she used BOXED CAKE MIX.
The ingredients for the cake and icing are in the picture above.
Just mix the cake mix, eggs, oil and can of crushed pineapple (undrained!) and bake according to the box.
Then, when cool, mix the Cool Whip, instant pudding and another can of undrained crushed pineapple as the topping and ice the cake.
SO GOOD!
More Quick Easy Desserts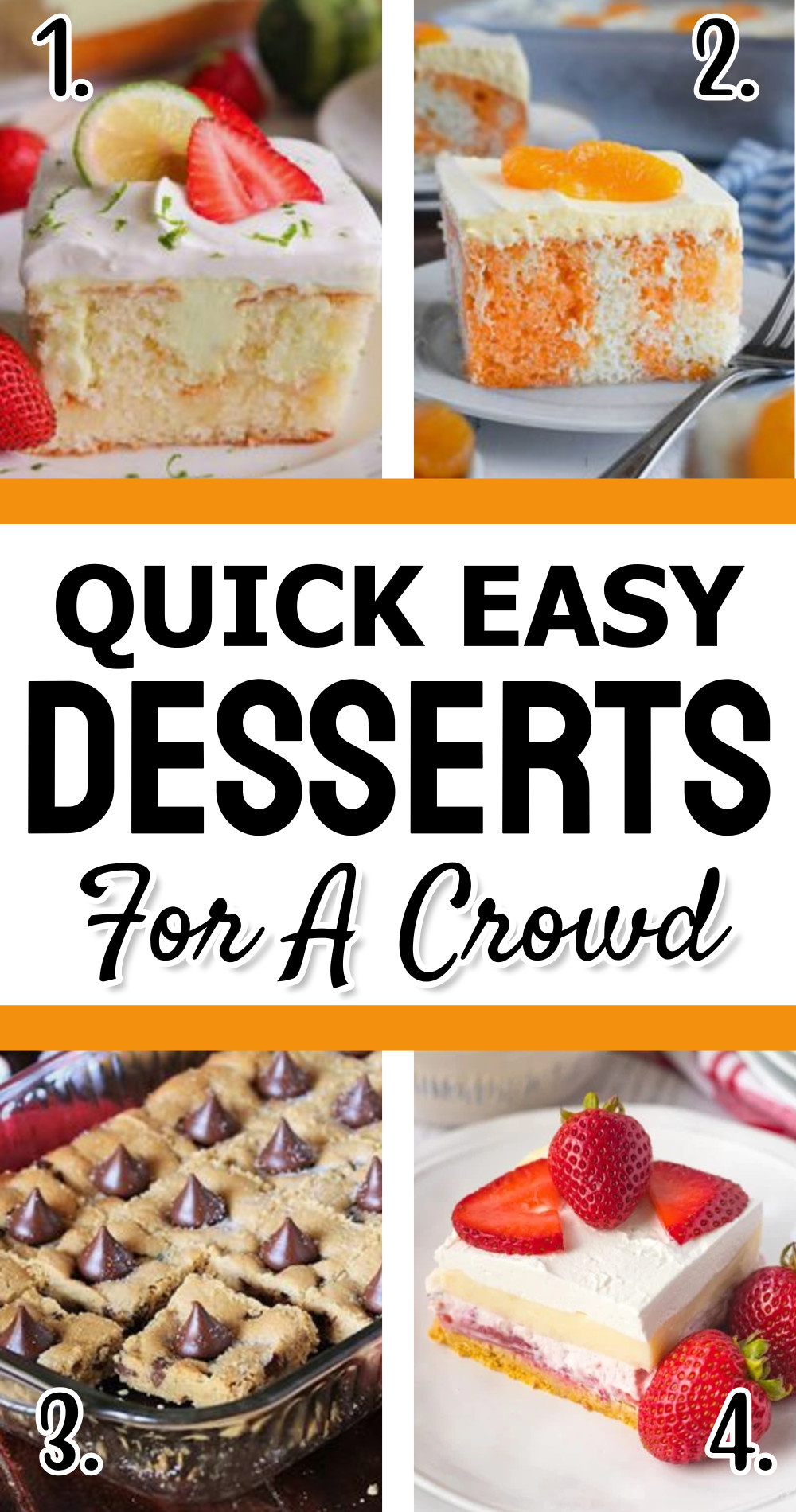 1 – Key Lime Poke Cake – recipe
2 – Orange Creamsicle Cake – recipe
3 – Peanut Butter Blossom Bars – recipe
4 – Strawberry Cheesecake Dream Bars – recipe
More Easy Potluck Ideas:
Easter Potluck Ideas – these are all such unique ideas for an Easter potluck, but even as much as I love to bake, the NO COOK desserts are my favorite!
---
Church Potluck Ideas – We cook for large groups at our church potlucks… these are some foods we make and take.
---
Breakfast Potluck Ideas – need ideas for a breakfast potluck? This page has a lot of breakfast recipes for a crowd all made in your crock-pot slow cooker.
---
Christmas Potluck Ideas – having a holiday potluck party at work for your office crowd? Find lots of Christmas potluck ideas here.
---
Easy Potluck Appetizers – quick and easy potluck appetizers and finger food ideas for a crowd.
---
---
More Easy Dessert Ideas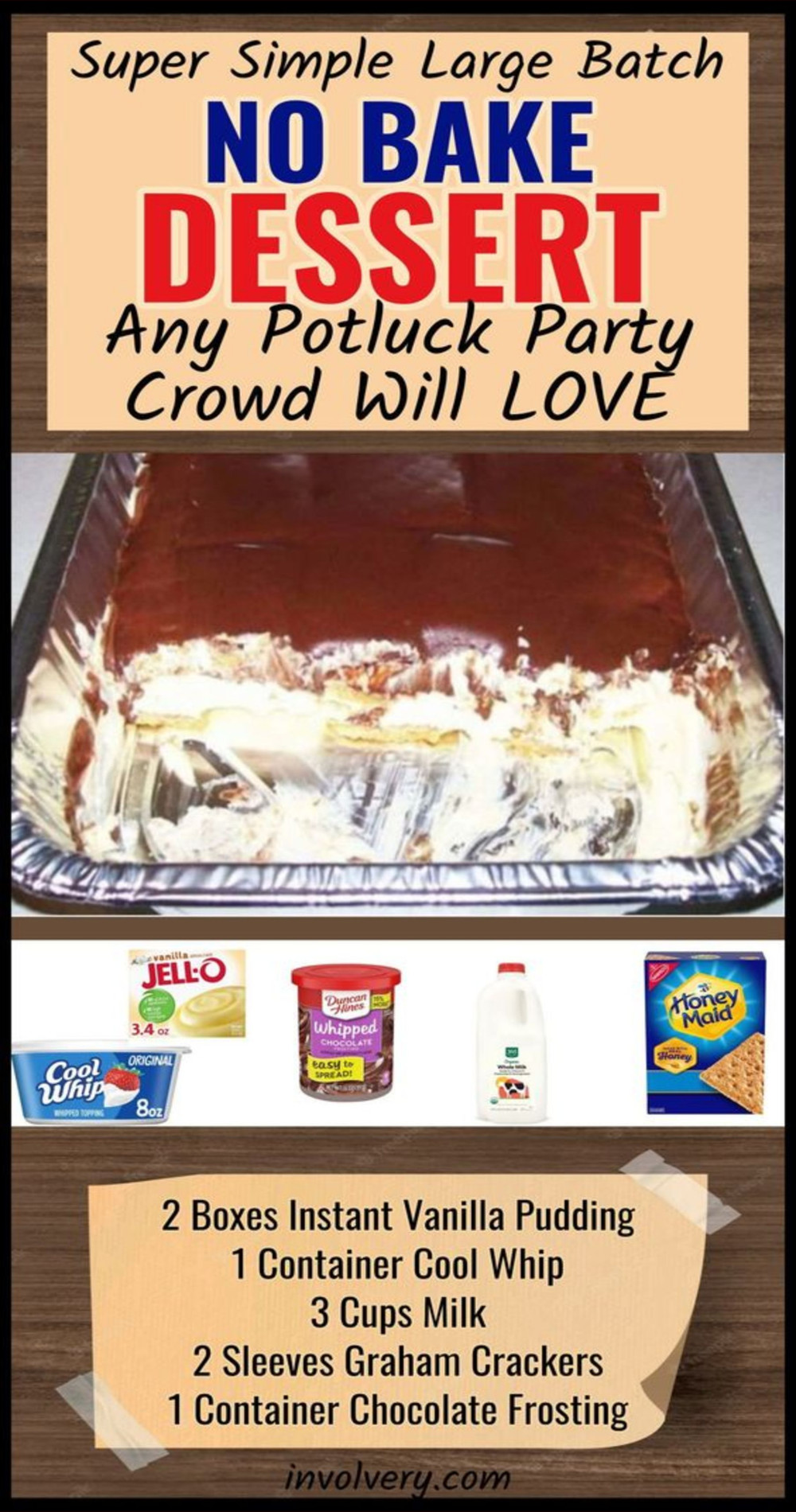 ✅ NO BAKE Potluck Dessert Ideas For a Large Group Party Crowd – super simple NO BAKE desserts for your work potluck, church party or family gathering… see the recipes
40 Best 5 Minute Dessert Recipes – 1. DIY Mason Jar Cheesecake · 2. 5-Minute Chocolate Mousse · 3. Easy 5-Minute Oreo Ice Cream Cake · 4. 5-Minute Super Berry Smoothie Bowl · 5. 5-Minute Chocolate … read more
81 Church Potluck Desserts Grandma Would Make – Need a praiseworthy recipe idea for an upcoming church potluck? Try any one of Grandma's tried-and-true desserts… read more
23 Best Brunch Desserts – Best Brunch Desserts ; 1. Coffee Cake ; 2. Cinnamon Rolls ; 3. Orange Rolls ; 4. Apple Dumplings ; 5. Banana Bread… read more
32 Easy Desserts To Make at Home – · 1. Easy Dark Chocolate Billionaires · 2. Easy Homemade Caramel Corn · 3. Quick and Easy Baklava Squares… read more
---
Back To A Specific Recipe: